Converting Your File Into A LoudDoc
Add your file to your LoudDoc and start sharing content that is professional, personal, and persuasive.
Converting Your File
We've made the process of adding your file to LoudDoc as simple and painless as possible.You can upload to LoudDoc the following file formats:
PDF
Powerpoint (ppt, pptx)
Word (doc, docx)
Excel (xls, xlsx)
Google Docs
Google Sheets
Google Slides
Apple Keynote
Apple Pages
Apple Numbers
Apple ePub
Kindle Mobi
We can convert any of these file formats into a LoudDoc. When we convert your file, we'll try to automatically surface and activate any links you already have built into your pages. We'll even try and activate any text we find that is meant to be a link. These will include weblinks, phone numbers, and email addresses.
# Limits on File Uploading
We limit the number of pages a LoudDoc can be to 200. You cannot upload a file larger than 200 pages.
On the starter plan, your file can be up to 25mb in size. On a paid plan, your file can be up to 250mb in size.
Important Tip: We do recommend using a service like https://ilovepdf.com/ to compress large files. This can often help improve the conversion of the file as well.
Uploading Your File
All new LoudDocs are created from the Dashboard. You can upload your file from your device, or from your cloud drive (google drive, dropbox).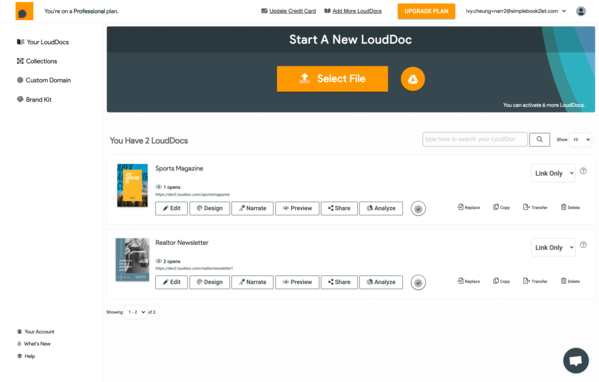 Tap the Select File Button at the top of your LoudDoc dashboard. Next, enter the title you would like to apply to your LoudDoc. We'll automatically use your filename but often you can use a more memorable title.
Tap the Complete button. Sit back while we convert your file into a LoudDoc.
Once your file is converted, we'll display a preview of your LoudDoc. The next step we recommend is customizing the presentation with our DESIGN tools.
Replacing An Existing LoudDoc
You may need to update the current LoudDoc you are sharing without losing the existing weblink and analytics associated to that LoudDoc. This is why we created the Replace button.
You can use the replace button to replace the pages of your LoudDoc. It will keep all of the enhancements, design, and narration elements you've added to the previous LoudDoc and apply them to this new LoudDoc. You'll also keep the weblink and analytics for this LoudDoc. If you've embedded, installed, or shared the link to your LoudDoc anywhere, all those locations are automatically updated with your new content.
Important Tip: The enhancements and narrations are not set to the page of your LoudDoc. So if you upload a replacement file for your existing LoudDoc that has more or fewer pages, or has different page dimensions, your enhancements may appear on the wrong pages or in the wrong locations on the page.