Features That Work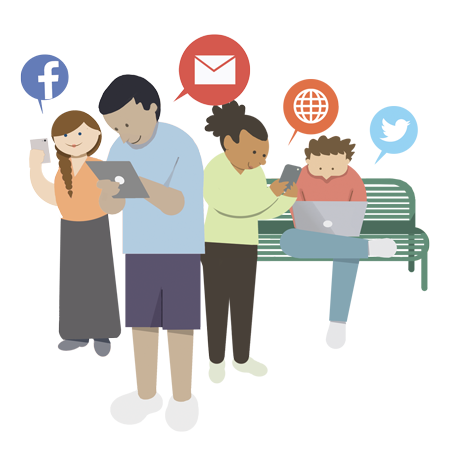 Publish On The Channels Your Customers Hang Out
check Your marketing collateral has its own easy to remember dedicated web address.
check Send your marketing collateral as a rich html email.
check Post your marketing collateral to social network feeds.
check Install your marketing collateral as a fully functioning native app.
check Download offline versions of your marketing collateral.
check Save your marketing collateral as a video or animated gif.
check Manage your marketing collateral access with passwords and lead gates you control.
check Use your own custom domain so customers know it's you.
check Get SEO results with powerful built in page content indexing.
check Present multiple brochures, flyers, and newsletters on a dynamic gallery.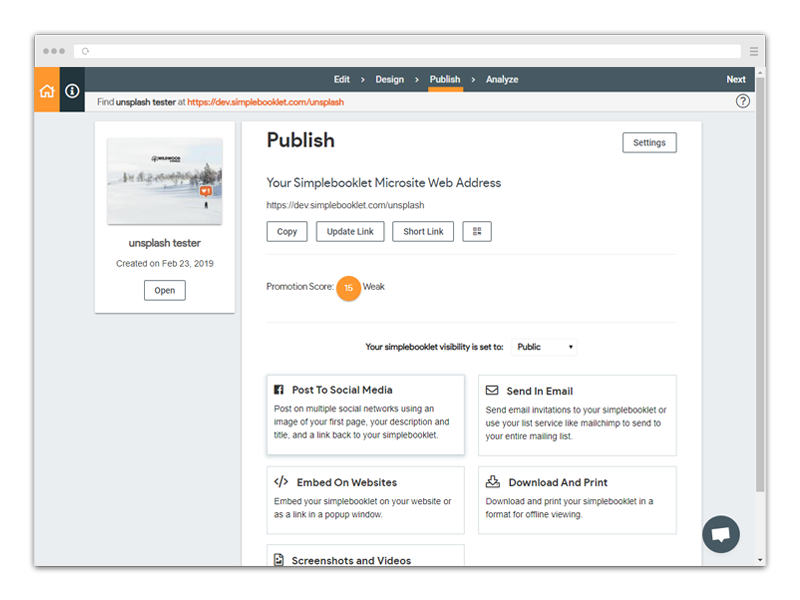 See How You're Doing
check Score card with recommended promotion and engagement strategies.
check Connect your Google Analytics account for detailed reporting.
check Understand your reach with visitor view counts and channel engagement.
check Get scheduled analytic emails and send reports to VIP stakeholders.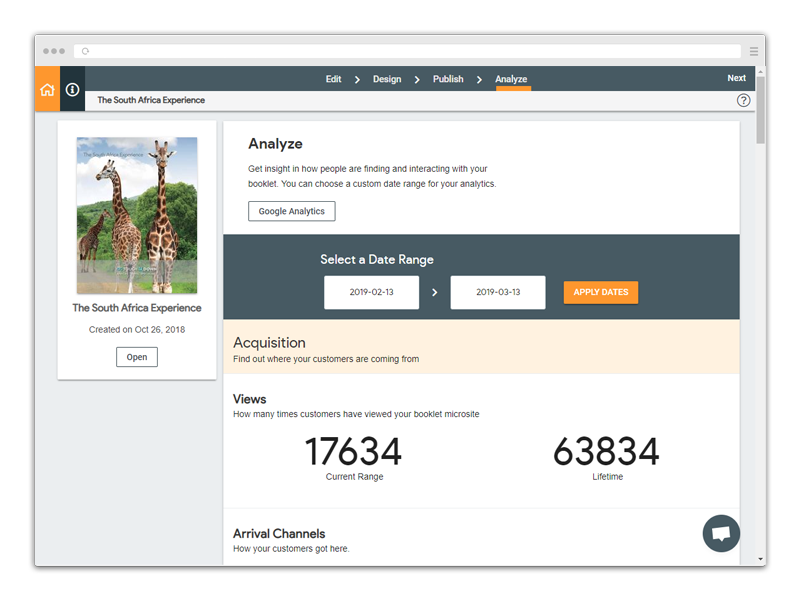 A Designer That Makes It Easy To Impress Customers
check Your logo and colors build your brand.
check A pages menu provides frictionless access to all your content.
check Popup menus (About, Contact Us, Share) make your microsite engaging.
check Customize the experience with page transitions, turn buttons, and multiple layouts.
check Give your customers the option to download your microsite pages and read it offline.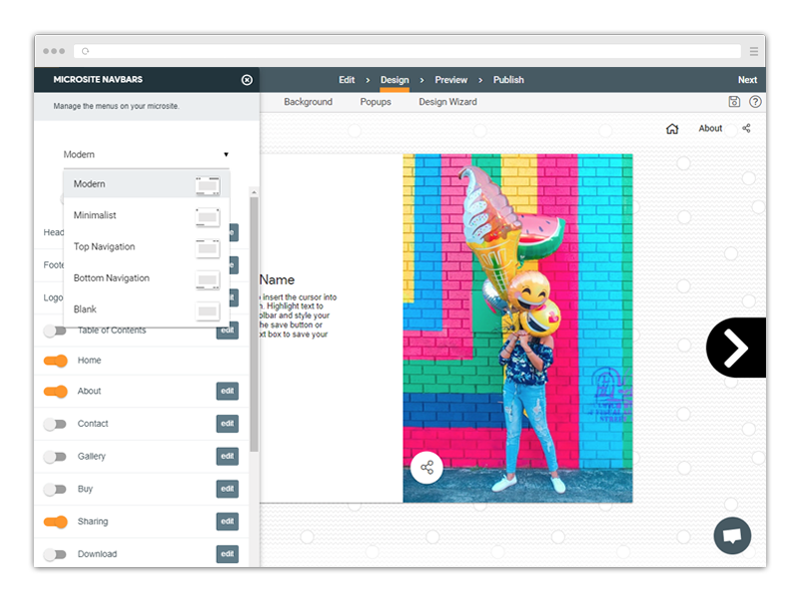 Simple Editor To Make Your Pages Come Alive
check Add and edit the text, images, code and media on your page.
check Use template content blocks to create professional page layouts with complete freeform placement.
check Add call to action buttons that drive customer engagement.
check Add popup videos, images and captions to augment on page content.
check Make any part of your page a hyperlink with link hotspots.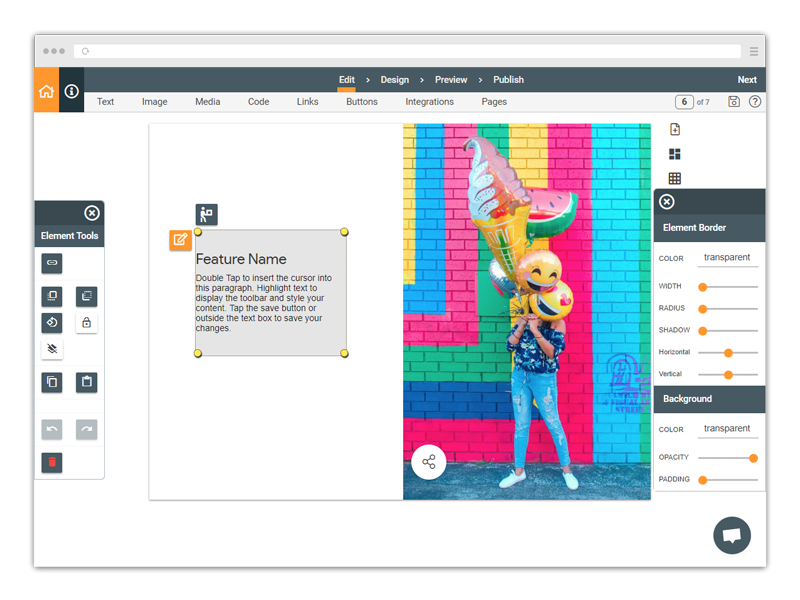 Work With The Apps You Already Use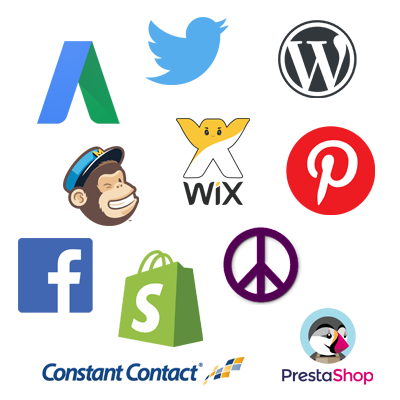 Send your marketing collateral with Mailchimp, Constant Contact and Email list services.

Wix, Wordpress, and embed code to add your marketing collateral to webpages and blogs.

Support customers with Shopify, Etsy and ecommerce integrations.

Make your new marketing collateral the destination for Google Adwords and Facebook Ads.

One click posting to Facebook, Twitter, Pinterest, Linkedin and more.
A Plan With The Features You Need
Marketing and Communications
Your Custom Domain
Unlimited
Unlimited
Push Notifications
clear
check
Secure Intranet Booklet Link
clear
check
Secure Paywall Booklet Link
clear
check
Installable Offline Brochures
check
check
Installable Custom Launch Icon
check
check
Password Access To Booklets
check
check
Multiple Passwords Per Booklet
check
check
Lead Gates For Booklets
check
check
Search Engine Optimization
check
check
Brochure Collection
Unlimited
Unlimited
Distribution Channels
PRO
BUSINESS
Send In Email
check
check
Post To Facebook
check
check
Post To Pinterest
check
check
Post To LinkedIn
check
check
Post To Twitter
check
check
Post To Youtube
check
check
Video Teaser Social Posts
check
check
Animated GIF Social Posts
check
check
Embed On Websites
check
check
Add To Google Maps
check
check
Embed On Wordpress
check
check
Print From Browser
check
check
QR Code For Booklet
check
check
Brand and Design
PRO
BUSINESS
Design Wizard
check
check
Professional Presentation Themes
check
check
Save Your Presentation Theme
check
check
Customizable Page Transitions
check
check
Mobile Specific Page Transitions
check
check
Customizable Page Turn Buttons
check
check
Customizable Navbar Header And Footer
check
check
Table Of Contents
check
check
Contact Us Menu
check
check
Customizable Menu
check
check
Microsite Page Search Tool
check
check
Customizable Navigation Layouts
check
check
Customizable Backgrounds
check
check
Royalty Free Backgrounds
check
check
Return On Investment Calculator
check
check
Apply Google Analytics ID
check
check
Measure Audience Arrival Tracking
check
check
Measure Audience Event Click Tracking
check
check
Suggested Distribution Strategies
check
check
Monthly Email Analytics Report
check
check
Customer Engagement Email Notifications
check
check
Content Enhancement
PRO
BUSINESS
Images And Photos
check
check
Royalty Free Photos
check
check
Clipart Library
check
check
Content Buttons For Video, Images, and Captions
check
check
Call To Action Buttons For Email, Website, Phone and Location
check
check
Custom Embed Code
check
check
Shopify, Etsy, and Mailchimp Content
check
check
Adding Brochures
PRO
BUSINESS
Concurrent Brochures (published microsites)
Pro 3 / Pro Extra 12
200
Managed Team Accounts
clear
5 Team Accounts
Create Brochures From Uploaded Files
check
check
Upload Formats
PDF, Docs, Pages, PPT, Keynote, Slides
Automatic Link Activation In Uploaded Files
check
check
Upload File Sizes
250mb
250mb
Create Brochures From Scratch
check
check
Maximum Number Of Pages
200
400
Integrations
PRO
BUSINESS
Mailchimp Export To Email Composer
check
check
Mailchimp List Subscription Form
check
check
Shopify Products Added To Page
Unlimited
Unlimited
Etsy Products Added To Page
check
check
3DCart Products Added To Page
check
check