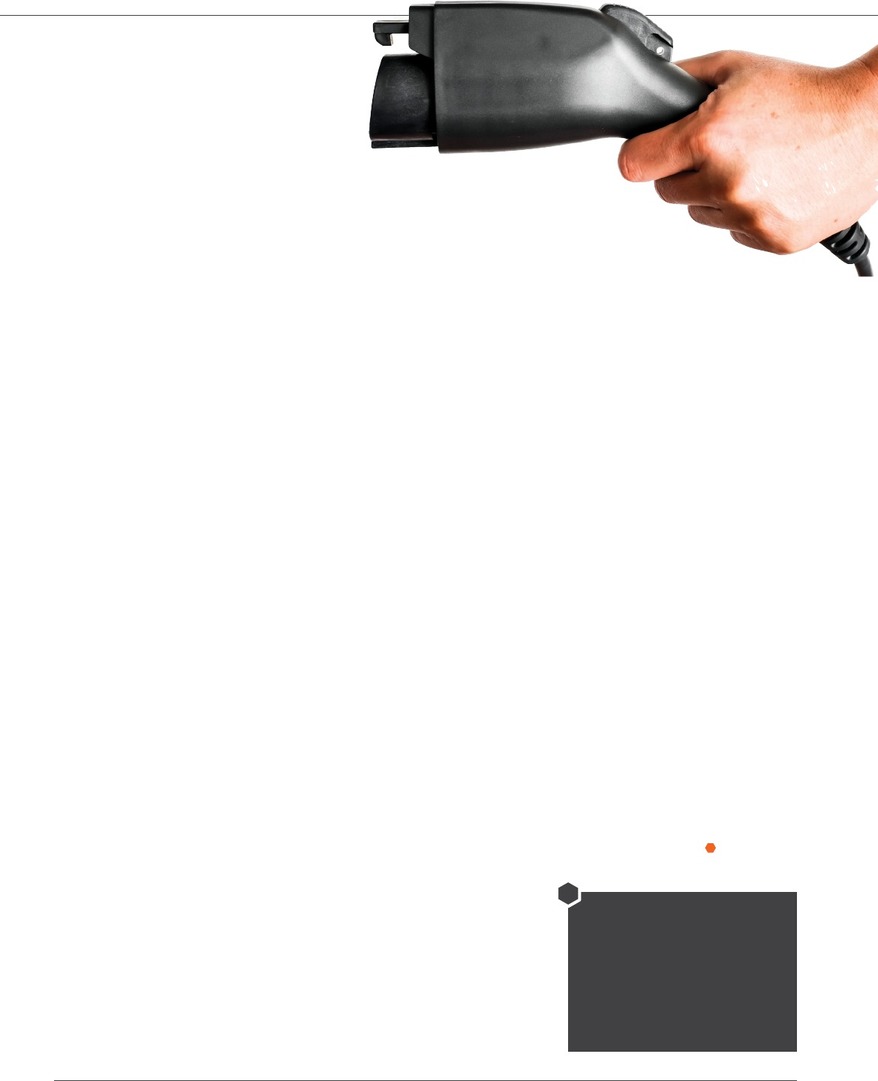 JANUARY 2021

37
through electrification, ChargePoint
can help. It uses its vast network
to monitor fleet charging data and
better understand the behavior
of various fleet types. This makes
the ChargePoint team experienced
in understanding how to best
scale fleet electrification and to
Fleet customers appreciate
ChargePoint's solutions because
they provide them the flexibility and
control over fueling their fleet and the
lowest total cost of ownership. They
can distinguish power conversion from
dispensation, allowing parking and
operational flexibility, energy, and cost
management. With the integration of
vehicle telematics and route planning,
fleet operators can get visibility and
control they have never had before—
tracking, mapping, and controlling
the fueling of vehicles has never

to keep in mind is that fueling behavior
shifts when owning and operating
an electric vehicle. Most fleets are
used to a "fuel when you need to"
model instead of a "fuel where you're
parked" model. This causes fleet
owners to think that they need to
charge their vehicles fast when the
target for optimal cost savings and
operational efficiency is to charge
slower to meet route requirements.

how fast vehicles charge and when,
and do so in a way that keeps costs
low. Peak charges for electricity can
be avoided with scheduled charging
that takes advantage of the longer
amount of time vehicles are parked
and generates significant savings in
avoided electrical capacity upgrades.
It is important that when
transitioning a fleet from petrol to
electric, a fleet operator understands
the changing pattern of behavior
around fueling. With an electric fleet,
vehicles don't need to charge as
fast as possible, nor do they need to
charge immediately upon returning

making the switch, also change
their fueling behavior from a "fuel
when you need to" model to a "fuel
when and where you can," model—
making the fueling behavior of an

and emphasizing the benefit of
controlling when and where you
This shift in behavior has the
potential to cause thousands of dollars
of cost savings. So when can this be a
reality for your fleet?
MAINSTREAM AVAILABILITY
When it comes to making the switch

consider the type of vehicle that works
best for your fleet as well as a charging

charging scales with increases in vehicle
volume in every segment in mobility.
We see one of the biggest barriers to

model availability. As we see more
vehicle makes and models come online,
we believe adoption will increase.
But once those vehicles become
available, the key to seamless
adoption will be creating access

possible, public and private entities

charging with states like California,
Colorado, and Maine paving the way.
Roaming integrations are expanding
access across North America, allowing
drivers to access charging through one
account. ChargePoint has entered into
roaming agreements with nearly all
of the other major charging networks
in the industry, which gives access to
more than 133,000 additional places
to charge globally.
From what we have seen with fleet
customers specifically, a well-planned
depot will minimize the need for "on-
the-road" infrastructure. We are helping
customers today with comprehensive
fleet
assessments
matching vehicles,
batteries, routes, and depot
locations to their requirements and
giving them comfort that they will be
able to meet their route requirements
without incident.
LEADING THE CHARGE
We think fleets will spearhead the

because more electric vehicle makes

availability has been the primary
constraint for the last few years for

buses and a handful of heavy-duty
and off-road vehicles have been made
available, there has been almost no
reliable supply of light- and medium-
duty vans, light-duty trucks, and many
heavy-duty vehicle classes. Now, we
see more "born electrics" like Rivian,
Lordstown, Lion, and Workhorse
promising vehicles and PACCAR,

production volume in the heavy-duty
sector. Meanwhile Ford, GM, and a

are prepping vans and light-duty trucks
that the market needs to electrify.
From our perspective it's only a
matter of time before the future of
fleets is in the present.
ABOUT THE AUTHOR
Michael Hughes is the chief revenue

is a network of electric vehicle

and Europe. Find out more, visit
www.chargepoint.com.