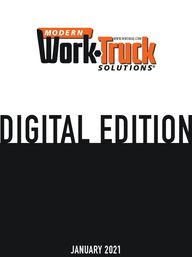 Return to flip book view
Modern Worktruck Solutions January 2021
Page 1
WWW.MWSMAG.COMJANUARY 2021DIGITAL EDITION
Page 2
Page 3
JANUARY 2021WWW.MWSMAG.COMLIGHT-DUTY SHOWCASE: FORD F-250 TREMOR REVIEW FOR WORK AND PLAYCONCRETE INDUSTRY TELEMATICSINVEST IN KNOWLEDGE THE TELEMATICS AND FLEET MANAGEMENT ISSUETHESEAMLESS TELEMATICS SYSTEMSSMART SOLUTIONS FOR FLEETS
Page 4
Page 5
Page 6
Page 7
Page 8
42CONNECT WITH US on Twitter (@mwsmag) and Facebook at www.facebook.com/modernworktruck20 EXPEDITE TRUCK REPAIR SIMPLIFY THE COMPLEXINDUSTRY NEWS .............................. INDUSTRY INSIGHT ...........................  PRODUCT SHOWCASE ......................IN EVERY ISSUEISUZUIsuzu trucks continue to be the number one best-selling low cab forward truck in the American market since 1986.www.isuzucv.comJANUARY 2021WWW.MWSMAG.COMLIGHT-DUTY SHOWCASE: FORD F-250 TREMOR REVIEW FOR WORK AND PLAYCONCRETE INDUSTRY TELEMATICSINVEST IN KNOWLEDGE THE TELEMATICS AND FLEET MANAGEMENT ISSUETHESEAMLESS TELEMATICS SYSTEMSSMART SOLUTIONS FOR FLEETSINSIDE THIS ISSUEJANUARY 2021 VOL-6 NO-1LIGHT-DUTYSHOWCASEFORD F-250 TREMOR REVIEWFOR WORK AND PLAYA BIDEN ADMIN'S EFFECT ON THE INDUSTRY ........................... 44MEDIUM-DUTYPREP TRUCKS FOR SPRING SPRING PREP FOR LANDSCAPERSHEAVY-DUTYTECHNOLOGYCONCRETE INDUSTRY TELEMATICS .............28Invest in knowledgeTECHNOLOGYSEAMLESS TELEMATICS SYSTEMS ......................38Smart solutions for fleetsCOVER STORIESTHE TELEMATICS AND FLEET MANAGEMENT ISSUETHE
Page 9
Page 10
OPERATIONS UNLOCKING THE FULL POTENTIAL OF PHYSICAL SECURITY INTEGRATION ..................................24 Combining video surveillance, access control, and information technology drives down costs and flags true dangersTECHNOLOGYCULTIVATE YOUR SAFETY CULTURE ........................................32 Tips from the prosTECHNOLOGYWHY THE FUTURE OF FLEETS IS ELECTRIC ............................36 Are commercial fleets ready to electrify?MAINTENANCEACHIEVE EPA COMPLIANCE WITH AUTOMATED WASTEWATER TREATMENT ....................................................40 Improve truck maintenance waste disposal wellsFEATURED PRODUCTSAGE OIL VAC ......................................................................47 Doesn't it feel wonderful to be rid of 2020? Although this year hasn't exactly gotten off to a great start, I'm confident we'll see some improvements from here onward. After all, there's much that can be accomplished with the right mindset and a go-getter attitude. That's what we're striving for on the MWS team, and that's what we want to help you grasp in the year ahead. Let us begin with a topic that's been hot for several years: telematics and fleet management. This month we've hooked you up with telematics solutions Industry Insight feature (page 18) and CarriersEdge safety programs on page 32. Be sure to also check out our Ford F-250 Tremor review on page 20. This truck was designed for work and play, so you can imagine how much fun I had reviewing it. We've also got something special coming soon—our very first video truck review! Look for it to drop on our website. Updates will come through our social channels. Now let's gear up for a great new year! Happy reading!Jade Brasher EditorEDITOR'S NOTE32 DONNA CAMPBELL Editor in Chiefdonna@mwsmag.com JADE BRASHER Editorjade@mwsmag.comRANDY MOON Associate Publisher randym@mwsmag.comVAL CARRIER Media Consultantval@mwsmag.comGARY BARKER Media Consultantgary@mwsmag.comTIM O'HARA Media Consultanttim.ohara@mwsmag.comLISA AVERY Art Director lisa@mwsmag.comSETH SAUNDERS Digital Media SpecialistINGRID BERKY No part of this publication may be reproduced or transmitted in any form or by any means, electronic or mechanical, including photocopy, recording, or any information storage-and-retrieval system without permission in writing from the publisher. The views expressed by those not on the staff of Modern WorkTruck Solutions, or who are not specifically employed by Highlands Publications are purely their own. All Industry News material has either been submitted by the subject company or pulled directly from its corporate website, which is assumed to be cleared for release. Comments and submissions are welcome, and can be submitted to jade@mwsmag.com.205.380.2048CHRIS GARMONDONNA CAMPBELLTIM GARMONRUSSELL HADDOCKPresidentTONYA BROWNING47Talk soon! Jade
Page 11
Page 12
Page 13
Page 14
MODERN WORKTRUCK SOLUTIONS WWW.MWSMAG.COM JANUARY 202110INDUSTRY NEWSMack Trucks announced that its driver-activated Mack® Mack Anthem®, Pinnacle™ and Granite® models, enabling customers to implement software updates themselves at a time when it's most convenient for them. The driver download activation feature is on models built beginning year and later Anthem, Pinnacle, and Granite models also are available. This service is free for the first two years of ownership, and drivers can extend it by subscription afterward. For more, visit www.macktrucks.com.Motiv Power Systems announced that it has secured $20 million in financing from Crescent Cove Advisors, LP. In 2020, Motiv had record customer orders and secured $15 million in funding from GMAG Holdings Corp. This funding will help Motiv scale operational and manufacturing capabilities to meet demand and continue to provide high-touch customer support. For more, visit www.motivps.com.Monroe Truck Equipment announced the acquisition of in Kernersville, North Carolina. Monroe Truck Equipment founded the acquisition on many great congruencies between the two companies. As a result, the companies' position offers the potential to bring the exemplary level of service that the industry demands.Southern Coach has been in business for over 40 years. It offers upfitting services for Chevrolet, GMC, Ford, and Georgia, Alabama, and Tennessee. Additionally, Southern Coach has won awards for customer service and has set an industry standard for integrity and commitment. For more, visit www.monroetruck.com.Designed to withstand the rigors and abuse of daily use, new covers from Reelcraft protect reels from the coating resists puncture and tears as well as abrasion.
Page 15
Page 16
MODERN WORKTRUCK SOLUTIONS WWW.MWSMAG.COM JANUARY 202112INDUSTRY NEWSAdditionally, the durable and long-lasting covers protect reels installed within harsh indoor environments, outdoors, or mobile applications. Ideally, the covers protect reels applied to fuel, diesel exhaust fluid (DEF), hydraulic fluid, welding gas, welding cable, pressure wash, and more. Furthermore, the reel covers come in six different sizes to accommodate hundreds of applications. For more, visit www.reelcraft.com.Stertil-Koni announced its production facility in Streator, Illinois, is on track to produce its 15,000th Mobile Column Lift in 2021. The significance of the milestone at the facility, Stertil ALM, is important. While Stertil-Koni offers a range of lifts, its Mobile Column Lifts represent its most popular lifting systems in North America. And growth is on a trajectory. These lifts, with capacities ranging from 14,000 lbs to 40,000 lbs per column, are indeed mobile. They permit users to safely lift a wide range of heavy-duty vehicles quickly and efficiently.The forthcoming production milestone follows a multi-year plant expansion at Stertil ALM. Previously, Stertil-Koni purchased a 4.5-acre parcel adjacent to its long-standing designed the expansion to deliver enhanced flow and efficiencies in production. What's more, the growth at Stertil ALM is part of a long-term strategic initiative to boost its in-sourcing capabilities. Earlier, Stertil ALM added 14,000 sq ft of production space. This included the purchase of state-of-the-art manufacturing equipment as well as the construction of a modern, hands-on training center. For more, visit www.stertil-koni.com.NTEA—The Association for the Work Truck Industry announced a climate change policy. It continues the association's commitment to facilitating productive use of alternative fuels and advanced technologies for commercial vehicles. The policy also explains how the work truck industry represents a positive force in reducing greenhouse gas emissions. Further, it provides the opportunity to educate the public, regulators, and legislators about the industry's solutions to society's environmental concerns.In the new policy, NTEA reiterates it's imperative that the national discussion includes work trucks. This is because commercial vehicles play a vital role in a productive economy. They also represent an opportunity to effectively and rapidly deploy alternative fuels and advanced technologies. For more, visit www.ntea.com.
Page 17
Page 18
MODERN WORKTRUCK SOLUTIONS WWW.MWSMAG.COM JANUARY 202114INDUSTRY NEWSCM Truck Beds introduced its new Gen 2 SB Service Body. Building on its SB model, CM added several upgrades that make the new SB even better suited to users' needs. Notable features of the Gen 2 SB combine enhanced functionality with head-turning good looks. New steel-braided door holdback cables deliver heavy-duty performance and easier toolbox accessibility. The cables also significantly reduce the chance of breakage, corrosion, or damage to the powder coat. Safety is also enhanced with oval LED lights protected by a lifetime warranty and a universal bolt-on crash zone bumper.Additionally, the Gen 2 SB retains all the quality and Galvanized steel body to the durable TexArmor powder-coat finish. Distributors will also appreciate that the Gen 2 SB now comes standard with a Universal Install Kit. This allows them to get trucks out the door faster and more easily. For more, visit www.cmtruckbeds.com.Dakota Bodies announced the release of its new weld together service body. From what started the company in improvements over the years. Dakota Bodies recently introduced some further developments to improve price, performance, and appearance. The weld together design of the Gen II Service Body provides a long-term, solid connection between parts to achieve exceptional structural integrity. The most notable update to this body is the included universal mounting kit designed to fit 2020 and newer Ford, Ram, and GM chassis. Additionally, the Gen II Service Body is completely customizable to fit each customer's needs. It is also immediately available for quotes. For more, visit www.dakotabodies.com.Booster, a same-day mobile fuel delivery service, was tapped to fuel essential fleets during inauguration week. Booster delivered more than 10,000 gallons of on-demand fuel to government and business vehicles during one of the city's most important security operations ahead of Inauguration Day. Booster expanded to the Washington, DC metro area last summer following an increase in fleet business as a result of the pandemic. The company's customers in the region include government and private entities, such as Traffic Management Incorporated, Fleet Transportation, and Reston Limousine. For more, visit www.trybooster.com.
Page 19
Page 20
Page 21
Page 22
MODERN WORKTRUCK SOLUTIONS WWW.MWSMAG.COM JANUARY 202118AQINDUSTRY INSIGHTNICK YATESCamera and Radar Technology for Fleet Vehicles We monitor the area surrounding the vehicle to alert the operator of potential collision risks.solutions enhances a company's reputation and reduces the number of incidents, thus reducing costs and maintenance to a fleet, while keeping operator, companies, and the communities they serve safer.Cameras allow the operator to see what is going on around them but provide no reminder or alert of what is important or whether there are unseen threats. Cameras can easily DOUBLE UP ON SAFETY
Page 23
JANUARY 2021 WWW.MWSMAG.COM MODERN WORKTRUCK SOLUTIONS 19be ignored, just like a side mirror. By with camera systems, it provides an active alert to focus the operator's attention when and where it is most needed.awareness of the outside world to the operator inside the cab. For complete ADAS systems, we do integrate into in-cab safety solutions and telematics systems.purpose-built from the ground up to address the specific problems and use-cases of heavy-duty on- and off-road applications in over-the-road trucking, refuse, mixer, utilities, last-mile delivery, mining, construction, and material handling. We build our radar sensors to last the life of the truck and to withstand the harshest environments and climates.Technologies company, is working on several different projects to expand our radar portfolio to meet the ever-growing needs of our customers. With social pressure and new safety regulations around the world, is broadening our solution scope to include not only radar but other advanced technologies in the Heavy-levels of autonomy.FOR MORE INFORMATIONNick Yates serves as the OEM Business Development Manager – On-Road for FMCW Radar in North America at PRECO Electronics LLC, a Sensata Technologies company. He 
Page 24
  JANUARY 202120FOR WORK AND PLAY By Jade BrasherFord F-250 Tremor ReviewLIGHT-DUTY WORKTRUCK SHOWCASELIGHT-DUTY WORKTRUCK SHOWCASE
Page 25
JANUARY 2021  21
Page 26
Getting the best of both worlds—that's tough these days. But what if your recreational toys could also be your workhorse. That was the idea behind the Ford Super Duty F-250 Tremor. Designed to work hard and play hard, this truck is capable of anything your job throws at it and ready to get you out in the woods for some thrills and relaxation.I was able to review the 2020 gas engine. I'll admit, it lived up to my expectations and offered a few pleasant surprises along the way. SUPER DUTY2020, the truck pumps out 430 hp joins the suite of engines available with Super Duty, including the lb-ft of torque.Enhancements in the newer models make the truck even more enticing to prospective heavy-duty pickup owners. Starting in 2020 models, the Super Duty features trailering technology with available Pro Trailer Backup Assist. This allows owners to back trailers into even the tightest spaces. With the Tremor specifically, drivers can select different drive modes based on their circumstances. The modes include normal, tow/haul, eco, slippery (for snow- and ice-covered roads), and deep snow/sand. The TorqShift 10-speed automatic transmission is standard engines. The transmission also features a rock-crawl mode that is specific to the Tremor. Also specific to the Tremor, the Super Duty gets Trail Control. It functions as cruise control for off-road driving in any mode.MAKINGS OF A TREMORThis truck is capable of hauling loads back and forth from the worksite, but also hauling toys back and forth from off-road campsites. The Tremor package is available in multiple trims, from the XLT to Platinum.Ford gave the Tremor 35-inch Goodyear Wrangler Duratrac tires (the largest available on a heavy-duty pickup). The tires are mounted on 18-inch matte black wheels. The tires along with a 2-inch front-end lift give the Tremor a ground clearance of 10.8 inches. It's also able to tread up to 33 inches of water.Adding to the 4x4 upgrades is a new Dana limited-slip front differential and a locking rear differential with electronic shift-on-the-fly engagement. When used in specific modes, the front axle senses when a tire loses traction and uses brakes to send power to the wheel that has traction. Finally, the Tremor features off-road running boards that retract under the body when the truck is in motion, extended-axle vent tubes, and skid plates.But Ford didn't stop simply with Super Duty power and off-road features for the F-250 Tremor. Ford packed the truck with technology, made it luxuriously comfortable, and found a way to meet the needs of fleet owners and recreational enthusiasts alike.TECH SAVVYIn the days when mobile office has taken on a new meaning, it's especially important the vehicle used for that mobile office has WiFi availability and plenty of USB outlets as well as power outlets for laptops and other devices. All of which can be found in the Ford F-250 Tremor. But technology doesn't only include mobile office capability. technology to 2021 F-250 models. This suite of safety technology includes Pro Trailer Backup Assist, pre-collision assist with automatic emergency braking (AEB), adaptive cruise control and forward collision warning with brake support, BLIS (blind spot information system) with trailer coverage, lane-keeping alert, auto high-beams, rear camera, Hill Descent Control, and the previously mentioned Trail Control. These features help simplify tasks in the driver's seat while acting as an extra layer of protection. If a driver finds themselves distracted from the road, the safety systems send alerts to get them back on track before it's too late.22LIGHT-DUTY WORKTRUCK SHOWCASE   JANUARY 2021
Page 27
JANUARY 2021 WWW.MWSMAG.COM MODERN WORKTRUCK SOLUTIONS 23TOUCH OF LUXURYI put many miles on the Ford F-250 Tremor. I took it out in the woods and drove it around town and on the highway. The retractable step bar and ergonomically placed handles made it easy to get in and out of the cab. The heated and vented leather seats along with the heated, leather steering wheel also helped make the truck my preferred vehicle.The truck features an 8-inch infotainment screen that is compatible with Apple CarPlay and Android Auto. It's where you'll use the truck's navigation system, connect Bluetooth devices, and connect with the truck's WiFi. It also displays camera views view on a split screen. The steering wheel houses audio and phone controls so drivers can keep their hands on the wheel when answering calls and cranking up the volume.WORK & PLAYFor those who want to crank up their workload as well as their recreational activities, this Ford F-250 Lariat Tremor could be an answered prayer. This particular truck came with stowable loading ramps that cling to each side of the truck bed. These ramps are made specifically for Ford trucks and slide securely onto the tailgate. The ramps can accommodate up to 800 lbs, so they are perfect for loading landscape equipment or recreational vehicles. Even though I didn't have a use for the ramps at the time, I took them out and put them away several times to see how easy they were to use. It takes so few steps to get these ramps work ready, and they are perfect for one-person jobs.When you're not on the job or on your way to a remote worksite, this truck can get you there pretty easily—as long as the trail you're running is wide enough for this massive truck to get through. This truck's 4x4 capabilities and its high ground clearance make it an easy choice for off-road adventures. I took it on a few trails, and I kept up with the Wranglers ahead of me with ease.When you make it to your destination, you'll enjoy the security of tools, equipment, or valuables with the truck's under-seat storage in the back of the crew cab. This storage unit is collapsible, allowing you to fold up the seats and use the entire flat floorboard for stowing items, or you can fold the seats down and use the lockable storage unit to hold your items safely and securely.UP TO YOUNo matter how you use your Ford F-250 Tremor, this Super Duty is ready for action. Enjoy your ride to the jobsite with the truck's comfortable interior and its towing capabilities, or take it out in the woods for a joyride. However you use the truck is up to you, but rest assured, it's capable of whatever you can throw at it.ABOUT THE AUTHOR Jade Brasher is the editor of Modern WorkTruck Soluons magazine. A graduate of The University of Alabama, Jade resides in Kennesaw, Georgia, and enjoys of course, work trucks. Reach her at jade@mwsmag.com. Find out more about the Ford F-250 Tremor, visit www.ford.com.
Page 28
  JANUARY 202124OPERATIONSUnlocking the Full Potential of Physical Security IntegrationCOMBINING VIDEO SURVEILLANCE, ACCESS CONTROL, AND INFORMATION TECHNOLOGY DRIVES DOWN COSTS AND FLAGS TRUE DANGERS By Del WilliamsFor any operation with assets that require protection from theft or vandalism—such as car dealerships, truck fleets, equipment rental companies, or contractor lots—fully integrating the latest capabilities of physical security and access control systems can drive down costs significantly.This "virtual" approach combines video surveillance, access control, and information technology (IT) integration to replace many of the functions of in-person security personnel, significantly reducing costs. a variety of loss prevention situations no matter the size of the operation or type of assets that need protection. Examples include preventing the theft of vehicles, batteries, catalytic converters, copper wire, scissor lifts, and other valuable items.The strategy takes full advantage of the interconnectivity of information across a broad range of systems and devices. Based on the organization's priorities, integrated systems can intelligently sift through millions of points of information and prioritize only the most relevant events to deter and prevent theft in ways that were previously not possible.COST OF SECURITYWhile such data has existed before today, many companies are unaware of another critical factor: that the costs for managed IT services and integration continue to drop while the capabilities of the various systems have increased.
Page 29
JANUARY 2021 WWW.MWSMAG.COM MODERN WORKTRUCK SOLUTIONS 25"Using off-the-shelf tools to create super secure environments would have cost hundreds of thousands of dollars a year for larger organizations to staff, monitor, and support," says Eric Brackett, president of BTI Communications Group, a technology convergence provider serving the logistics, aerospace, health care, and loss prevention sectors. "We are routinely implementing these solutions with better, faster response at a fraction of the client's current cost." "However, I find that most business professionals are too busy with their existing responsibilities to realize how much has changed and how valuable it could be to them," Brackett adds.DATA REVIEWWhile the status quo for physical security is familiar, the rapidly growing volume of data in the form of video, alerts, reports, etc. is threatening to hide the most important threats in the sheer volume of less important data. Yet such information continues to be continually reported and logged on sensors, cameras, servers, PCs, smartphones, two-way radios, and thermostats. The challenge has been sorting through these virtual mountains of data—often kept in separate, unconnected systems—quickly enough to act on threats in real time, according to Brackett. Furthermore, IT technicians usually do not have the expertise or time to manage all these separate systems by themselves."Now expert integrators have perfected the use of tools that bring all that information together into dashboards that convey needed information at a glance," Brackett says. "This is combined with technical and operational procedures to analyze, parse, and present it. So actual threats can be responded to and thefts deterred in real time."Where traditional systems can inundate security staff with mind-numbing nuisance alerts, many of which go ignored, the goal of the fully integrated virtual approach is to vigorously and promptly protect valuable assets from theft without unnecessary staffing, excess equipment, or complexity.In terms of video surveillance, that means instantly spotting any anomalies and escalating only those that need attention. It means preventively spotting any discrepancies in door or gate access control based on time of day, location, personnel involved, and other factors. It means "slicing and dicing" a host of variables specific to the business that must be considered and drawing
Page 30
MODERN WORKTRUCK SOLUTIONS WWW.MWSMAG.COM JANUARY 202126OPERATIONSthe attention of security personnel or managers when it is time to act and not when it is too late.CURRENT LIMITATIONSFor many businesses that have security cameras and access systems already installed, there may be some level of integration, but most are not able to unlock the full potential. So many simply "live with" what they have, accepting that it doesn't meet all their needs."People are disappointed when they hit the limits of their current physical security systems and become frustrated when their vendor is not proactive about helping them find solutions," Brackett explains. "For example, they may need the equipment to work even when it is raining and do not want to turn off equipment because it wakes them every time a spider crawls across a camera lens." System integration can be assigned to in-house IT staff, but many already find themselves overwhelmed with their existing responsibilities. Therefore, learning the intricacies and fine points of advanced networked video surveillance and access control, as well as the best way to integrate the systems to meet specific requirements, can be daunting. In many cases it simply doesn't get done."Traditionally, full physical security integration would require a team of engineers with specialized training to set it up, keep it working, and manage all these events day-to-day," Brackett says.OUTSOURCE TO IMPROVE Given the challenges and limitations of the traditional approach to physical security, many businesses with assets requiring protection are outsourcing to managed IT service providers who must increasingly be an expert in all systems. With broad expertise, managed IT vendors can extract value from each individual system while taking advantage of the tremendous added value in a more comprehensive, fully integrated implementation. Using such an integrated set of tools, along with enhanced system intelligence, can significantly reduce the need for traditional security guards. Instead of a full-time security operation center listening to an endless flow of Working with an expert video surveillance integrator means instantly spotting anomalies and drawing the attention of security personnel when it's time to act, not when it's too late. The goal of the integrated virtual approach, including access control, is to vigorously protect valuable assets without unnecessary staffing, equipment, or complexity.
Page 31
JANUARY 2021 WWW.MWSMAG.COM MODERN WORKTRUCK SOLUTIONS 27logs and events, such a system can be more proactive and provide essentially the cost. This is often accomplished without human intervention or the need for any payroll.Unfortunately, managed IT service providers rarely are experts in all disciplines—but they do exist. BTI, for example, can manage and integrate any and all systems down to installation of cabling and computer hardware."We are continually designing and installing these systems down to the wiring, so it's relatively easy for us to tailor them to the specific requirements of individual businesses needing asset protection," Brackett says. MEETING THE NEEDAccording to Brackett, such intelligent systems then prompt security guards, supervisors, or managers to take immediate, appropriate action in a variety of settings to keep people or property safe.As an example, he notes that a car dealership may need to protect its fleet from thieves entering its lots at night to steal catalytic converters that can cost thousands of dollars a dealership may need to defend against the theft of vehicles. A truck fleet operator may need to prevent battery theft. In such a case, cut locks and sliced cables not only cost thousands of dollars of damage to each vehicle, but also render it inoperable until repaired.In choosing a physical security integration partner, however, the best have an extensive knowledge of the available products and component parts of any system and are able to tie them together in a manner that extracts significant added value. In other words, the whole properly integrated system should be much greater than the sum of its parts.That being said, the price for such expert integration is much lower today than many business owners would expect for the quality of service and the effectiveness of the theft deterrence.Where old school security may involve renting guards round the clock or missing important threats because disparate systems are not communicating, taking advantage of physical security integration can ensure a prompt response when it is needed to prevent theft at much lower costs.ABOUT THE AUTHOR Del Williams is a technical writer based in Torrance, California. Find call 800.435.7284.
Page 32
MODERN WORKTRUCK SOLUTIONS WWW.MWSMAG.COM JANUARY 202128TECHNOLOGYConstruction schedule setbacks can appear to be an intractable problem, increasing each project's uncertainty, risk, and waste. According to McKinsey and Company's "Imagining Construction's Digital Future," large capital projects are typically 20 months behind. Delivering materials that aren't in specification is a major culprit in hampering jobs from on-time completion. Depending on the situation, it can also cost the ready mix producer a lot of money.Concrete's consistency changes with time due to the amount of water, type of aggregates, evaporation of the mix, ambient conditions, admixtures, the time it takes to deliver, and more. The more manual processes thrown into the mix while in transit, the more your materials are prone to error. There's a plethora of things that can go wrong when trying to obtain the proper specification while in transit to the job. You add too much water, you don't add enough water, or the mixture is at the wrong temperature.The need to pull up poured concrete of poor or questionable quality costs a lot of money—and addressing inconsistency in delivered material results in wasted time and money. Supply chain visibility is the key to making sure your concrete is correct when it arrives at the jobsite.CALCULATING COSTSA "cost of doing business" that producers accept is the overdesign of the strength of mix designs to ensure the An Investment in Knowledge Can Pay the Best InterestHOW COMMAND ALKON HELPS THE CONCRETE INDUSTRY WORK SMARTER By Je Hunter
Page 33
JANUARY 2021 WWW.MWSMAG.COM MODERN WORKTRUCK SOLUTIONS 29quality of the final delivered product. After all, living with the money spent on materials needed for overdesigns is better than the impact of delivering concrete that either gets rejected or gets placed and then must be removed.Industry averages on the overdesign with about 20% being necessary to ensure test results meet specified amounts. For an annual production of 500,000 cu yds and an estimate of 5% overdesign, the cement costs on excess overdesign would equal Furthermore, there are multiple critical parameters for quality control testing of ready mix concrete, which require taking a sample of the fresh mix to test:• Workability: Ensuring batch consistency is correct in terms of slump or spread• Temperature: Ensuring the concrete is delivered within standard or job-specific limits• Unit Weight, Yield, Air Content: To ensure correct volumes are delivered and the desired air content is achievedthe yard or at the jobsite testing and adjusting the slump. If producers had visibility into the concrete properties while a load is in transit, they could ensure the proper quality of the concrete without wasting time to make adjustments. The average cost estimate of one with the average time to adjust the slump equating to 5 to 15 minutes in every delivery cycle. A single truck the cost to adjust the load based on five-minute delays equates to around $3,800 per truck annually. If you have 100 trucks, that is $380,000 dollars spent per year for a fleet to make load adjustments at the jobsite.Producers don't realize that the cumulative results of the money spent on these small buckets of time and material over-usages has a significant impact on their bottom line.KNOW YOUR CONCRETESolutions are available to ensure quality concrete from batch to pour. Concrete telematics solutions help ready mix producers gain visibility in real time into the fresh concrete while in transit. A stainless-steel probe goes into the drum of the truck and integrates the data collected into other systems for production to dispatch to quality control. Having this data assures quality and job specification requirements are
Page 34
MODERN WORKTRUCK SOLUTIONS WWW.MWSMAG.COM JANUARY 202130TECHNOLOGYmet, while also providing significant safety improvement, material waste removal, and time-saving opportunities.The stainless-steel probe can measure: • Current concrete slump and temperature• • Water-to-cement ratio based on additional water added when using a meter on truck• Water allowed to be added based on water-to-cement ratio and volume of concrete remaining in the drum• Number of revolutions• Whether the concrete has reached a homogeneous state (fully mixed)• Drum RPM• Drum direction and unload rateThe ability to feed the data back to production enables producers to evaluate and optimize mix designs by reducing standard deviations therefore reducing the need for overdesign of mixes. The data can help with disputes to prove quality of the mix, and producers have proof that the concrete delivered was at the optimal quality for the job. The risk of replacing the concrete already poured can be reduced using the historical information and quality data.COMMAND SOLUTIONSCommand Alkon's concrete telematics than pays for itself by removing the costs of unnecessary truck time in yard and at the jobsite, mix overdesign, and material waste. All while demonstrating how your truck delivers the material ordered in spec, saving contractors and producers time on the job.The data that the system unlocks helps members across the construction supply chain overcome the leading causes of project delays, boost visibility, and keep jobs on schedule so they can quickly react to issues and remain far ahead of jobsite problems. Tools that provide better supply chain visibility and aid construction project coordination—including a central repository to keep tabs on all construction documents—are a great way to keep teams on schedule. No more finishing projects 20 months after the original timeline; get to know your concrete and bring jobs in on time and in budget.ABOUT THE AUTHORat Command Alkon, working directly with COMMANDassurance, Command Alkon's concrete 40 years of experience within the materials industries. Prior to his business from laborer to president of a commercial and industrial www.commandalkon.com.
Page 35
Page 36
MODERN WORKTRUCK SOLUTIONS WWW.MWSMAG.COM JANUARY 202132TECHNOLOGYWhat does it take to ensure your fleet is eligible for a great insurance rate? It all comes down to your fleet's safety culture. But how do you get there? The professionals weigh in.Any new fleet, regardless of size, must complete the New Entrant Safety Audit Program within the first 12 months of operation. It ensures a carrier has basic safety management controls in place to ensure compliance with applicable Federal Motor Carrier Safety Regulations (FMCSRs), Hazardous Materials Regulations (HMRs), and related record-keeping requirements. to be diligent about safety, especially in an age where trucking companies and truckers have a bulls-eye on them when it comes to accidents and litigation. According to Billy Stover, compliance consultant, fleets big and small should step up and take notice of the changing legal environment. Nuclear verdicts, though rare, carry a multi-million dollar price tag, and that impacts all those who are insured. "Someone has to pay for those verdicts, and it ends up being many of those that are insured that have subpar compliance and safety practices in place. It's why insurance companies are being more careful on who they insure." Fleetworthy works with vocational fleets of many types and sizes on safety and compliance, plus audits, and provides recommendations on ways to improve training and documentation. "With the legal environment—and the need for documentation coupled with comprehensive safety programs—we've continued to grow our business," Stover says. "And it's actually document everything digitally and help fleets stay compliant." DOCUMENT SAFETYWhile insurance agencies look at a myriad of factors to determine risk Cultivate Your Safety CultureTIPS FROM THE PROS
Page 37
JANUARY 2021 WWW.MWSMAG.COM MODERN WORKTRUCK SOLUTIONS 33and rates—past claims, CSA scores, routes, mileage, and safety technology used—the biggest red or green light to a good rate and "insurability" is the safety culture of the company and management's commitment to that culture. "Safety is driven from the top down," Stover says. "Top management has to be committed and that means best practices are in place and measured to make sure your house is in order. And everything must be documented." Tim Brewster, director of the loss prevention and recovery unit for National Interstate Insurance Company, agrees. "If it's not documented, it never happened," he says. "Plaintiff attorneys look for holes in a carrier's business, and if there is an accident they'll look to training, compliance, culture, etc. That's why maintaining documented training is so important. It is vital to ensure the motor carrier has checkpoints in place to set drivers up for success and to protect the public. All drivers regardless of experience should be trained initially upon hire, recurrently, and for remedial purposes. In my experience, organizations that have a weak or non-existent training program typically have other gaps throughout their safety and regulatory compliance programs. Having gaps within your program typically results in a carrier being less defensible." BUILD A CULTUREAccording to Brewster, culture is a combination of actions, attitudes, beliefs, and values. "The components of culture do not automatically exist within an organization and will not exist without a strong top-down and bottom-up approach," he says. "What's more, they need to have structure and programs that assist with supporting these components. An organization that lacks employee buy-in, has weak hiring practices, no training programs, non-existent policies, and minimal accountabilities will never have a strong culture; it takes vision and hard work. A vital component to support a strong safety culture is having a sound training program that equips new hires for success, continues to educate throughout the employment life cycle, and assists with re-educating if an incident occurs." "When we work with companies, we come up with a 'plan to protect,'" boot camp, and it's a combination of in-house training and online training. We work with CarriersEdge, which has a great library of online courses—The key for any online training program is information retention. The way the courses are set up, drivers get engaged. They learn. Plus if a driver struggles with any part of the test, then retraining can be done
Page 38
MODERN WORKTRUCK SOLUTIONS WWW.MWSMAG.COM JANUARY 202134TECHNOLOGYto help the driver. Again, the key is documentation and a plan of action for further training if it's required." TRAINING SUPPLEMENTFor ongoing training, Fleetworthy encourages its clients to use a combination of in-house training, coupled with more online training from CarriersEdge. "The beauty of online training is it can be conducted anytime and anywhere—drive time doesn't have to be lost due to bringing the driver pool in for sit-down training." Brewster agrees and feels online training is a good option. "Personally, no company should ever rely 100% on online training because it takes the engagement and relationship building factor out of training, which helps support culture. But, online training is training can assist with streamlining and enhancing the onboarding process and can ensure there is an easy method to push ongoing and remedial training to drivers throughout the year." Brewster says recurrent training is a vital component of any safety program. "Without it, drivers are training should take place multiple times throughout the year with knowledge checks to ensure drivers understand and can retain the information." When working with vocational fleets, Brewster says he offers these tips: • Provide training throughout the year on trends identified, seasonality factors, and topics that are needed to successfully operate, such as defensive driving, injury prevention, etc. • Ensure training is not too long in length and then hit on several key points to continue to set drivers up for success. Retention of information is vital. AUDITS & INSURANCEFor those setting up their own safety and compliance department, Fleetworthy's Stover suggests hiring a company to do an annual audit. "It's a service we offer, and it can help managers sleep better at night knowing they're either in compliance and safeguarded, or they have some action items. You just can't assume you have your ducks in a row. You an incident and you arrive in court, you may be exposed." Likewise, your insurance carrier can be one of your biggest ambassadors. prevention and cost containment," Brewster says. "The most successful companies are receptive and willing to work closely alongside an insurance carrier's loss prevention department to strengthen safety programs and regulatory compliance to minimize the likelihood of losses. If a loss occurs, it is vital a motor carrier proactively works alongside the claims department to contain costs to the best of their ability. It is all about controlling an outcome; this can be accomplished if you work closely with your insurance provider and have sound safety and regulatory compliance programs."FOR MORE INFORMATIONFind out more, visit and www.carriersedge.com.TOP 5 TIPS TO IMPROVE INSURABILITY 1 drivers, and don't deviate from your practices. 2Instill a culture that encompasses accountability, ownership of risk, buy-in from the top and bottom, and continuous improvement. 3Ensure all drivers receive training effectively, and make sure it's well documented. Train initially upon hire, recurrently, and remedially. 4Embrace and use technology such as dual vision cameras and telematics. These are great tools to proactively identify unsafe behavior, which allows a company to coach and train, reducing the likelihood of a loss. Positive behavior should also be reinforced often. 5It is vital to continue raising the bar. The environment companies operate in is changing rapidly meaning what worked yesterday may not work today. Regularly evaluate programs to determine effectiveness and take action as needed.
Page 39
Page 40
The future of fleets is electric. Whether it's fleets deployed every day to make deliveries, municipal vehicles used by government employees, or public transit transporting people every hour. The verdict is that fleets need to find an efficient and affordable way to fuel and move around the planet. A major factor that will play into the adoption of electric transport by fleets is ensuring that fueling needs and infrastructure are in place to provide consistent, reliable support.have transitioned to electric fueling to reduce operational and maintenance costs, meet organizational sustainability metrics, or in response to new government mandates focused on climate action through transport.The reality is that fleets are making the switch, and they are doing so in to reduce greenhouse gas (GHG) emissions by 20% by 2030, replacing all of its diesel-powered freight equipment with zero-emission and near-zero emission technologies. At its manufacturing facility located in Modesto, California, Frito-Lay is installing ChargePoint solutions that will help the fleet manage their many needs both in logistics and delivery.FUTURE IS ELECTRICIn the past several years, there has been a great focus on electric mobility. We have seen major and continuing strides in the consumer market. But the hype is stretching across the commercial market as well. We believe the future of fleets is electric for three reasons: the economy, regulations, and sustainability.From an economic standpoint, in most cases, electric fleets are less expensive to operate and maintain than internal combustion engine (ICE) vehicles. Electric vehicles of any type don't require as much upkeep as traditional ICE fleet vehicles. Maintenance costs can be relatively minimal, and fueling can be managed at the depot level, leaving the opportunity for the fleet manager to set and tailor charging times to fit their energy management and business needs.Looking at government regulations, fleet operators who deliver goods in California, London, Amsterdam, Florence, etc. are already working with zero emissions mandates made by local and state governments that go into effect in just a matter of years.With a push for sustainability, organizations like IKEA, Amazon, PepsiCo, and others are leading the way in electrification by setting and meeting aggressive sustainability targets. With big commitments made by those organizations, US deliveries and deployment of electric trucks are expected to double between 2021 and 2022, according to GreenBiz. Electric buses may be the next category transportation resumes. MEETING THE NEEDFor those interested in bringing their commercial fleets into the future   JANUARY 202136TECHNOLOGYWhy the Future of Fleets is ElectricARE COMMERCIAL FLEETS READY TO ELECTRIFY? By Michael Hughes
Page 41
JANUARY 2021  37through electrification, ChargePoint can help. It uses its vast network to monitor fleet charging data and better understand the behavior of various fleet types. This makes the ChargePoint team experienced in understanding how to best scale fleet electrification and to witness it firsthand.Fleet customers appreciate ChargePoint's solutions because they provide them the flexibility and control over fueling their fleet and the lowest total cost of ownership. They can distinguish power conversion from dispensation, allowing parking and operational flexibility, energy, and cost management. With the integration of vehicle telematics and route planning, fleet operators can get visibility and control they have never had before—tracking, mapping, and controlling the fueling of vehicles has never been this easy. to keep in mind is that fueling behavior shifts when owning and operating an electric vehicle. Most fleets are used to a "fuel when you need to" model instead of a "fuel where you're parked" model. This causes fleet owners to think that they need to charge their vehicles fast when the target for optimal cost savings and operational efficiency is to charge slower to meet route requirements. how fast vehicles charge and when, and do so in a way that keeps costs low. Peak charges for electricity can be avoided with scheduled charging that takes advantage of the longer amount of time vehicles are parked and generates significant savings in avoided electrical capacity upgrades. It is important that when transitioning a fleet from petrol to electric, a fleet operator understands the changing pattern of behavior around fueling. With an electric fleet, vehicles don't need to charge as fast as possible, nor do they need to charge immediately upon returning making the switch, also change their fueling behavior from a "fuel when you need to" model to a "fuel when and where you can," model—making the fueling behavior of an and emphasizing the benefit of controlling when and where you charge your fleet.This shift in behavior has the potential to cause thousands of dollars of cost savings. So when can this be a reality for your fleet?MAINSTREAM AVAILABILITYWhen it comes to making the switch consider the type of vehicle that works best for your fleet as well as a charging charging scales with increases in vehicle volume in every segment in mobility. We see one of the biggest barriers to model availability. As we see more vehicle makes and models come online, we believe adoption will increase.But once those vehicles become available, the key to seamless adoption will be creating access possible, public and private entities charging with states like California, Colorado, and Maine paving the way. Roaming integrations are expanding access across North America, allowing drivers to access charging through one account. ChargePoint has entered into roaming agreements with nearly all of the other major charging networks in the industry, which gives access to more than 133,000 additional places to charge globally.From what we have seen with fleet customers specifically, a well-planned depot will minimize the need for "on-the-road" infrastructure. We are helping customers today with comprehensive fleet assessments matching vehicles, batteries, routes, and depot locations to their requirements and giving them comfort that they will be able to meet their route requirements without incident.LEADING THE CHARGEWe think fleets will spearhead the because more electric vehicle makes availability has been the primary constraint for the last few years for buses and a handful of heavy-duty and off-road vehicles have been made available, there has been almost no reliable supply of light- and medium-duty vans, light-duty trucks, and many heavy-duty vehicle classes. Now, we see more "born electrics" like Rivian, Lordstown, Lion, and Workhorse promising vehicles and PACCAR, production volume in the heavy-duty sector. Meanwhile Ford, GM, and a are prepping vans and light-duty trucks that the market needs to electrify.From our perspective it's only a matter of time before the future of fleets is in the present.ABOUT THE AUTHOR Michael Hughes is the chief revenue is a network of electric vehicle and Europe. Find out more, visit www.chargepoint.com.
Page 42
  JANUARY 202138TECHNOLOGYFleet and safety managers are aware of the importance of telematics and fleet safety solutions. They also know how stressful implementation can be. It can be a long and challenging process with high costs rippling into logistics and administrative arenas.There are thousands of tracking device vendors offering different GPS-based solutions. The truth is, most tracking solutions are practically the same with very minor differences—mainly form factor and add-ons. Some require hard-wired installation, all of them require a professional should be professionally installed if it is to be concealed to protect it from tampering.Although there are multiple benefits of these systems, there are downsides to the installation, such as electrical problems, battery drain, installation costs, long wait times and scheduling, and vehicle and employee downtime. This makes deployment stressful, inconvenient, creates operational losses, and it affects the company's bottom line. STICK TO SIMPLEtraditional fleet management systems (FMS) for years. But its new product is I-STICKER that gives fleet managers the information they really need without risk or downfalls that could occur with other telematics systems. I-STICKER is for fleet managers who wish to:• know how drivers are doing• assess driving behavior• know how drivers use company vehicles• see route history• download logbooks• see possible traffic violations• manage hours of service• control fuel consumption• monitor geolocation and geofencing• be alerted to possible abuseI-STICKER is a tiny, flat, and lightweight GPS-based vehicular tracker that adheres to a vehicle's windshield and is ready to go in seconds. It is absolutely wireless and installation free. I-STICKER has its own power source, so there is no need to replace batteries. It uses innovative communications technologies that eliminate SIM cards and the hassle that goes with them, such as SIM management, contracts, monthly fees, Seamless, Quick, and Hassle-free Fleet Safety Solutions and Telematics SystemsSMART SOLUTIONS FOR SMART FLEETS
Page 43
I-STICKER is a flat, lightweight GPS-based tracker that adheres to the windshield. The wireless and installation-free device has its own power source.and maintenance. All you need to do is peel and stick, and say goodbye to the hassles of implementation and maintenance of wired telematics. CUSTOMIZED SOLUTIONSand integrator, partnered with leading vendors such as Geotab, MiX GreenRoad, Cloud-Wise, Mobileye, its customers customized, integrated solutions from its portfolio of vendors. In the end, customers receive ready, turnkey solutions.advanced driver assistance systems (ADAS) and FMS, giving the fleet and safety managers a comprehensive overview of its vehicles and its drivers, both in terms of fleet and safety management—including insight about accident prevention—and full visibility of what happened on the road with wide choices of reports and analytics.reports with recommendations for improvements, creates reports upon request, and assists fleet administrators with their challenges on a daily basis. The brand doesn't just provide raw "big data" that is useless in decision-making and overloads already busy fleet lighten the load.between driver monitoring systems (DMS) and FMS to help drivers correct bad driving habits to avoid eating, drinking, smoking, or using a cellphone while driving. The system also prompts drivers when they forget to fasten safety belts. When drivers' violations continue, the system can inform the fleet manager, encouraging collaboration and teamwork to improve driver habits and maintain good work relations.WORK SMART"We believe that fleet managers and company administration should not have to work hard, but work smart," Big brother systems, video telematics, dash cams, and big data might be trendy terms and many vendors lobby and promote them, but they are not necessarily beneficial for customers. "They are not only unnecessary, they are a real headache and, in some cases, even detrimental to maintaining a good, steady team of drivers. Instead, we offer detailed information in comprehensive reports … and only what you really need. We will not drown you with useless data and jam up your inbox and mail servers with video clips of every move in the cabin that nobody watches," Ferster adds. Why not focus on potentially dangerous activity? Why not prevent accidents instead of recording them? Why pay for extensive services when you really only need part of it? And do it all while saving the company money.JANUARY 2021  39FOR MORE INFORMATION RGRAUTO is a global provider of their requirements and budgets. Find out more, visit www.rgrauto.com.
Page 44
MODERN WORKTRUCK SOLUTIONS WWW.MWSMAG.COM JANUARY 202140MAINTENANCETruck repair and service shops with motor vehicle waste disposal wells—floor drains or sinks in service bays that connect to a septic system or dry well—are regulated by the EPA.During normal truck repair and maintenance, fluids such as engine oil, transmission fluid, power steering fluid, brake fluid, antifreeze, solvents, and degreasers may drip or spill into floor drains or sinks in service areas. Disposal of these fluids through such motor vehicle waste disposal wells may contaminate groundwater, so the EPA regulates these wells to prevent groundwater contamination in certain areas.According to the EPA, motor vehicle waste disposal wells are banned nationwide if the well was constructed after April 5, 2000, in groundwater protection areas near public water systems that provide groundwater used for drinking.However, some states may waive the ban and issue a permit if certain procedures are followed.The EPA states that "at a minimum, permits require … (that) waste fluids must meet drinking water standards called Maximum Contaminant Levels (MCLs) at the point of injection. This means that shop wastewater, before it is discharged into the ground, must not exceed any MCL."Additionally, the EPA requires that "you implement the best management practices described in your permit to minimize the amount of contaminants in your shop wastewater" and "you monitor the wastewater being discharged into the ground and sludge to ensure continued compliance with MCLs, as required by your permit."The EPA states that, "If your wastewater does not meet drinking water standards, you have two options: install 'pretreatment equipment' that treats the wastewater before it goes to the drain (or) close the well according to the permitting authority's directions."TREATMENT SYSTEMSFor any truck service shop, this means installing a wastewater treatment system that effectively separates the contaminants from the water so it can be legally discharged into motor vehicle waste disposal wells.However, traditional wastewater treatment systems can be complex, often requiring multiple steps, a variety of chemicals, and a considerable amount of labor. Even when the process is supposedly automated, too often technicians must still monitor the equipment in person. This usually requires oversight of mixing and separation, adding of chemicals, and other tasks required to keep the process moving. Even then the water produced can still fall below mandated requirements.Although paying to have truck maintenance wastewater hauled away is also an option, it is extraordinarily expensive. In contrast, it is much more cost effective to treat the wastewater at its source, so treated effluent can go into a motor vehicle waste disposal well. As an alternative, if necessary with sufficient treatment and accommodation, it could also potentially go into a sewer; and if treated sludge passes a TCLP (Toxicity Characteristics Leaching Procedure) test it could be disposed of as non-hazardous waste in a local landfill.Fortunately, complying with EPA and local wastewater regulation has become much easier with more fully automated, wastewater treatment systems. Such systems not only reliably meet regulatory wastewater Achieve EPA Compliance with Automated Wastewater Treatment IMPROVE TRUCK MAINTENANCE WASTE DISPOSAL WELLS
Page 45
JANUARY 2021 WWW.MWSMAG.COM MODERN WORKTRUCK SOLUTIONS 41requirements, but also significantly reduce the cost of treatment, labor, and disposal when the proper Cleartreat® separating agents are also used.AUTOMATED TREATMENTIn contrast to labor-intensive multiple step processes for truck stops and service bays, automated wastewater treatment can help streamline production, usually with a one-step process, while lowering costs at motor vehicle service facilities.An automated wastewater treatment system can eliminate the need to monitor equipment in person while complying with EPA and locally mandated requirements. Such automated systems separate suspended solids, emulsified oil and heavy metals, and encapsulate the contaminants, producing an easily de-waterable sludge in minutes, according to truck service consultants at Sabo Industrial Corp., a manufacturer, distributor, and integrator of industrial waste treatment equipment and solutions. The water is typically then separated using a de-watering table or bag filters before it is discharged into motor vehicle waste disposal wells or watering include using a filter press or rotary drum vacuum. The resulting solids are non-leachable and are considered non-hazardous, so solids pass all required testing.These systems are available as manual batch processors, semi-automatic, and automatic and can be designed to provide a legally dischargeable effluent suitable for the sewer system. A new, fully customized system is not always required. In many cases, it can be faster and more cost effective to add to or modify a truck facility's current wastewater treatment systems when this is feasible.The first step in evaluating the potential cost savings and effectiveness of a new system is to sample the wastewater to determine its chemical makeup followed by a full review of EPA and local water authority requirements, say truck service consultants at Sabo Industrial.The volume of wastewater that will be treated is also analyzed to determine if a batch unit or flow-through considerations include the size restrictions so the system fits within the facility's available footprint.SEPARATING AGENTSDespite all the advances in automating truck wastewater treatment equipment, any such system requires effective separating agents that agglomerate with the solids in the wastewater so the solids can be safely and effectively separated out. Because of the importance of separating agents for wastewater treatment, Sabo Industrial uses a special type of bentonite clay in a line of wastewater treatment chemicals called Cleartreat. This line of wastewater treatment chemicals is formulated to break oil and water emulsion, provide heavy metals removal, and promote flocculation, agglomeration, and suspended solids removal.Bentonite has a large specific surface area with a net negative charge that makes it a particularly effective adsorbent and ion exchange for truck shop wastewater treatment applications to remove pollutants, heavy metals, etc. As such, bentonite is essential to effectively encapsulate the materials. This can usually be achieved in one-step treatment, which lowers process and disposal costs.In contrast, polymer-based products do not encapsulate the toxins, so systems that use that type of separating agent are more prone to having waste products leach back out over time or upon further agitation.In the case of a heavy equipment dealer with six locations in New York and Connecticut, an EconoFlow wastewater treatment system using a bentonite-based Cleartreat formulation was required for wastewater created by equipment washdowns. The wastewater contained oil, grease, suspended solids, heavy metals, and cleaning agents.For the application, Sabo Industrial supplied an EconoFlow 10-gallon per minute unit, which included a 24-bag filter tank, a single stage bag filter housing, final polishing vessels, and an 850-gallon storage tank for water reuse. The system also has Human Machine Interface (HMI) capabilities that allow remote monitoring and adjustment of the equipment as needed. The system provides reliable, one-step wastewater treatment and legally dischargeable or reusable effluent.BE COMPLIANTToday's automated systems along with the most effective Cleartreat separating agents can provide truck service shops with an easy, cost-effective alternative so they remain compliant with the EPA and local ordinances. Although there is a cost to these systems, they do not require much attention and can easily be more economical than paying fines or hauling.FOR MORE INFORMATION Find out more, visit www.saboindustrial.com.
Page 46
  JANUARY 202142MAINTENANCEWhen a working truck goes down because of an accident, a claim-and-repair process swings into action. That means filing insurance claims, getting estimates, watching the dollars, and managing the repair cycle. The process can often be time consuming, filled with tedious paperwork, repetitive steps, and too many opportunities for mistakes. And if you have several trucks or a sizable fleet to manage in a world where time is money, it's a perfect scenario for slow-downs, a ton of frustration, and money lost in downtime.But here's some good news: There is a solution that business-savvy collision repair facilities are adopting. A web-based electronic commercial estimating system with mobile capabilities can ease, streamline, and improve the overall claims process and quickly produce a detailed, accurate estimate to speed decisions, expedite parts acquisition, and obtain approvals. PPG'S ADJUSTRITE There are a few such systems Expediting the Truck Repair and Claims ProcessA HIGH-TECH SOLUTION SIMPLIFIES THE COMPLEX By Eli Greenbaumheavy-duty feature
Page 47
JANUARY 2021  43ADJUSTRITE® commercial estimating system. The AdjustRite platform's proprietary automated features can dramatically reduce the time it takes to write an accurate estimate. In a few minutes, the system can access a comprehensive listing of parts and repair information as well as request, price, and order the parts required for a given repair. Since it is web based, users can log in to the system and write up an estimate from any internet-connected device—even when away from the office."If you've ever been involved in repairing collision damage, then you know that nothing happens without an estimate," says Ryan Woolfenden, PPG marketing manager, commercial programs. "Until there's an approved estimate, the truck is sitting and productivity is out the window. An advanced automated estimating system speeds the entire process and offers the critical features that make the estimating process more manageable. For a company or professional involved with the repair of commercial trucks or equipment, an electronic estimating platform makes a lot of sense. It saves time and money, and everyone can benefit from the savings."According to Woolfenden, a key feature of an electronic system is the use of actual commercial equipment information. In the case of the AdjustRite system, there is a comprehensive database of more than 150 heavy- and medium-duty truck makes and models and various commercial equipment—continuously updated with pertinent data in real time. Woolfenden points out that companies with automated estimating systems can realize a number of practical benefits:• Enriched estimate detail and accuracy• Reduced downtime and overall cycle time• Improved loss recovery• Enhanced productivity and efficiencyMOBILE TECH BENEFITSThe AdjustRite program presents a compelling illustration of what electronic systems can do. More multi-truck companies and fleets along with repair facilities, truck dealers, and even insurance companies and independent claims adjusters are interested in the benefits of this mobile technology. The more they know, the better they can determine whether such a system is appropriate for them.FOR MORE INFORMATIONFind out more about PPG's www.adjustrite.com. Eli Greenbaum is a freelance writer covering the eli.greenbaum@gmail.com.
Page 48
MODERN WORKTRUCK SOLUTIONS WWW.MWSMAG.COM JANUARY 202144MAINTENANCEPrep Trucks for the SpringSPRING PREP FOR LANDSCAPERSVEHICLE MAINTENANCE ❍ Check battery❍ Check windshield wipers❍ Clean and inspect undercarriage❍ Wash your truckFLUIDS  ❍ ❍ Coolant❍ Windshield wiper fluid❍ Brake fluid ❍ Transmission fluidTIRES ❍ Rotate tires❍ Align tires❍ Check wear and tear and replace if necessarymedium-duty feature
Page 49
JANUARY 2021 WWW.MWSMAG.COM MODERN WORKTRUCK SOLUTIONS 45One of the greatest tools of a landscaper is a hardworking, versatile vehicle that accommodates an incredible number of tasks throughout every season. A reliable truck can take you from snow removal and salt spreading to mulch dumping and branch removal. There's no more important tool than your truck. With the winter season already upon us, it's time to turn our eyes to the upcoming spring and the landscaping jobs it will bring. Monroe Truck Equipment put together a guide to help ensure your truck is in tip-top shape and ready for the jobs to come.ROTATE & ALIGN TIRES After a long and intense season of winter driving, your tires will likely need some attention. Taking the time to align and rotate your tires will ensure they are wearing equally. This way, you will get the longest life cycle from tires, and you will be safer on the roads. Take this opportunity to also monitor the tire tread and make sure there is no balding or major wear on the tires and that they are adequate for the months ahead. If there is too much wear and tear, now is the time to replace them. Alternatively, you can replace winter tires with all-season or summer tires at this point. CLEAN & INSPECT UNDERCARRIAGE The winter's slush, snow, salt, sand, and other road treatments take a great toll on the underside of your truck. While they are paramount in creating safe roads, it can lead to long-term damage. Right before the spring and summer season, take the time to get your undercarriage power washed. Removing debris and salt from your undercarriage will make it much less vulnerable to corrosion and rust. CHECK BATTERIESUsing your work truck through the winter season works your battery to the max, making it more likely to degrade. If there is a chance your battery life is low, take a look at the installation date. If it's older than four years, you should get your battery professionally checked and possibly replaced. PREPARE FOR RAIN Windshield wipers are one of the most important, but often overlooked, tools to keep you safe on the road. Windshield wipers are used often during winter, and even more during rainy season in the spring. As an all-season landscaper, you're using your wipers more than the average driver and therefore will need to replace them more often. The rubber will erode over time, becoming less effective. New windshield wipers will improve visibility and decrease chances of an accident related to visibility impairment. CHECK, REPLACE, & TOP OFF FLUIDS Now is the time to check all your fluids and see what needs topping off or replacing to make sure you are ready for a rigorous spring and summer landscaping season. Make sure to check: • Motor oil • Coolant• Windshield wiper fluid • Brake fluid• Transmission fluid WASH TRUCKS Spring cleaning applies to your trucks, too. After a long winter, take the time to thoroughly wash your vehicles. Internally, vacuum and clean all floors and seats to rid your vehicle of the salt, slush, and debris of winter. Replace your floor mats if they are at the end of their life cycle. Take out any winter-only tools and replace with summer landscaping tools. Then get a thorough exterior cleaning to start the season off right. VERSATILE TRUCKS GET THE JOB DONE A reliable and versatile service body helps contractors expand their service package without investing in multiple trucks or spending the time or money to change salt, landscapers need a truck to shovel rock, bark, and dirt into and out of the body, as well as loading pallets, skid products, and more. If you feel it's time for an upgrade to a better truck body, many truck body manufacturers such as Monroe Truck Equipment offer commercial users and landscape contractors several highly-versatile, all-season bodies that allow them to tackle a wide range of tasks easily.FOR MORE INFORMATION www.monroetruck.com. Spring cleaning applies to your trucks, too.
Page 50
MODERN WORKTRUCK SOLUTIONS WWW.MWSMAG.COM JANUARY 202146WORK TRUCK PRODUCTSCOXREELSCoxreels offers two upgraded swivel options for the 1125 Series. The medium pressure (up to 4,000 PSI) and high pressure (up to 5,000 PSI) can both be factory installed on the standard 1125 Series. The medium pressure swivel is precision machined from solid brass and features upgraded wall thickness and upgraded seals and backup rings. The high pressure swivel is machined from high strength steel and nickel plated for corrosion resistance. This ball bearing swivel features maximum flow and enhanced load bearing capabilities.UTILIMEDICUtilimedic launched a phone sanitizer designed for in-car use—the such as face masks, credit cards, and sunglasses. Constructed for use vehicle's dashboard while the material used can withstand extreme heat.BAR'S LEAKSGear Repair is a treatment additive designed to extend gear system life. The formula's seal conditioner protects and reconditions seals while extreme pressure anti-wear agents provide excellent metal-to-metal wear protection to reduce noise and gear temperatures. A friction modifier helps further reduce noise and wear to improve shifting in manual transmissions and stop chatter in limited slip positraction axles. A performance additive booster includes tackifier and highly sheer-stable multigrade viscosity modifiers to help keep oil on the gears and bearings where it can better lubricate, especially at higher temperatures. And a pour point depressant ensures that Gear Repair will flow even at low temperatures.AAMP GLOBALAAMP Global and its EchoMaster Fleet Solutions division have entered the telematics space with a new line of products incorporating hardware, software, and support. Featured products and services include asset and fleet trackers, an intelligent dash cam, live streaming video, real-time tracking, and nationwide customer service. The Telematics line expands AAMP Global's current vehicle technology and driving experience solutions for on-road, off-road, and off-shore vehicles. The new telematics products will allow companies to better monitor their fleets and make more informed and precise strategic business planning and fleet management decisions to increase margins, improve safety, and better manage assets.
Page 51
JANUARY 2021 WWW.MWSMAG.COM MODERN WORKTRUCK SOLUTIONS 47Sto create next-level professional lube equipment—all of which provide customers with the capability to cleanly and economically manage new and used fluids on the jobsite. And Sage does it so well, it's dubbed its customers among the cleanest on the jobsite. Given the wide range of product types (e.g., trucks, trailers, skids, carts, etc.) and functionality, Sage systems can be found in maintenance shops, mounted on service vehicles, and working on jobsites to make routine maintenance more efficient and cleaner to perform.1Diaphragm pumps have been the industry standard for decades, but this oil extraction method needs constant, high-volume compressed air while you're operating. Sage uses no-pump, vacuum technology to pull oil quickly and efficiently from equipment without any moving parts. No pumps with Sage means fewer maintenance problems and a lower cost of ownership.2Rectangular tanks are the norm for competitive products, but these tanks often develop rust spots in the seams and corners, causing leaks. Sage uses rounded, pressurized ASME tanks to reduce these wear risks. Most customers can run Sage equipment for 10-plus years before needing major part replacements.3The industry standard is 1/2-inch by 50-ft fluid reels, but Sage uses 5/8-inch and 3/4-inch fluid delivery reels to increase flow rates.4Sage fluid tanks are sealed during use. The enclosed, no-pump, non-vented system protects the operator and the environment as tanks are not vented to the atmosphere. Many competitive products use vented tanks that can lead to contaminated oil due to dirt and rainwater exposure.5Most lube trucks on the market have same system on its lube trucks but also offers standalone power, which a small diesel engine mounted on the body to run hydraulics for the fuel pump and the air compressor. That means fewer engine hours, less wear and tear, and reduced fuel consumption.6If no single complete capacity and features, the best option is a LubeBuilder system. With the LubeBuilder system, service technicians can create a lube vehicle system a la carte—this route means you select only the specific features you need and none of those you don't. The LubeBuilder system offers full customization (tank quantity, capacity and placement, additional accessories, and more) with a self-installation kit for your vehicle, be it a crane truck, van body, or enclosed truck. The entire kit arrives with all of the fasteners and tools you need to be able to hit the streets in no time.Find out more, visit www.sageoilvac.com.6 REASONS SAGE OIL VAC DOES IT BETTERSage Oil Vacfeatured product
Page 52
  JANUARY 202148Based on the Biden policy platform, transformative measures will be sought to address climate change and promote a clean energy transition, achieving net-zero greenhouse gas emissions by 2050. To get there, a variety of strategies are required across multiple industries, most notably transformation of the electric power sector to 100% renewable energy and major changes to transportation sector.NEW POLICIESThe Los Angeles Times reports that the Biden Administration is likely to reverse the Trump Administration's rules on auto emissions standards and institute more stringent auto standards while granting California authority to go-it-alone on separate tailpipe standards. Transportation sector changes beyond the restoration of more stringent tailpipe standards and California policy waivers are expected to include substantial incentives for accelerated electrification of passenger and commercial vehicles and the necessary supporting infrastructure, but also more effort to grow biofuels like ethanol and biodiesel. The Forum expects Mr. Biden to advance incentive-based clean energy transportation goals, but not seek to ban or eliminate fossil fuels outright, recognizing their continued essential role in the economy.EXISTING POLICIESAccording to the Pew Research Center, as cause for concern and want federal action. While the fate of a progressive Green New Deal is in doubt, we may see the advancement of smaller proposals.With the federal program that mandates the use of biofuels, the Renewable Fuel Standard (RFS), expiring in 2022, efforts to revamp the program to incentivize more advanced biofuels production could attract support from Midwest red states. As a senator, Biden supported the Diesel Emission Reduction Act in Congress, a bipartisan, clean air program that has generated big benefits for quite a few communities since funding was first appropriated in 2008. The Forum predicts there may be an appetite for red state senators and the Biden Administration to boost funding for the program. Major federal investments in infrastructure—also a pledge of Mr. Biden—would compel increasing demand for additional construction machines and equipment and the trucks and fuels that support them. Change is on the horizon, but likely to be more incremental than transformative, reflecting the practical realties of a narrowly divided government. For more, visit www.dieselforum.org.A BIDEN ADMINISTRATION'S EFFECT ON TRANSPORTATION AND ENERGY POLICIESTalk soon! Jade
Page 53
Page 54