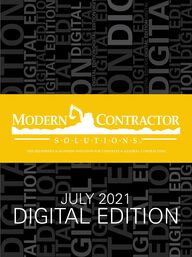 Return to flip book view
Modern Contractor Solutions July 2021
Page 1
Page 2
Page 3
JULY 2021WWW.MCSMAG.COMREDUCED REDUCED INJURIESINJURIESERGONOMIC ERGONOMIC TOOL BENEFITSTOOL BENEFITSSMART SMART PPEPPEWORKER HEAT WORKER HEAT MONITORINGMONITORINGCOLLECTIVE COLLECTIVE DATADATAINDUSTRY'S INDUSTRY'S SECRET WEAPONSECRET WEAPONLASER LASER SCANNINGSCANNINGGAME CHANGERGAME CHANGERSTATE STATE PROCESSPROCESSESTIMATING ESTIMATING & BIDDING& BIDDINGOF THEOF THE
Page 4
Page 5
Page 6
Page 7
Page 8
JULY 2021 VOLUME 15 special focus ISSUE 07 Inside This Issue technology 50 22 equipment solution Data Flight drones reshaping industry 46 technology solution Estimating Bidding technology solution Laser Scanning the current state of the process 32 game changer 48 44 technology solution Preventing Loss tech s safety benefit how to calculate the recoverable costs damages TwinTier RB401T E The cordless tool that provides an ergonomic solution for backbreaking slab work www twintier global us en Photo courtesy of MAX USA Corp 4 JULY 2021 IN EVERY ISSUE Industry News 08 Modern Construction Products 59 Coach s Corner 60 SOUNDPROOF WINDOWS DELIVER BENEFITS H streamlining human capital management legal solution Construction Claims EB LOG ON T management solution HR Workflows Guest Post by Devan Long When a commercial contractor in Reno Nevada who specializes in commercial renovation projects set out to solve an external noise problem for his customer he discovered a cure that unexpectedly provided the added benefits of significant energy savings and increased comfort This was achieved quickly without costly window replacement by simply adding a second insulative window His customer was thrilled with the results www mcsmag com
Page 9
Page 10
SUBSCRIPTIONS For all changes, go to:MCSMAG.COMClick the SUBSCRIPTIONS button in the main menuwww.mcsmag.com P.O. Box 660197 | Birmingham, AL 35266DONNA CAMPBELL Editor in Chiefdonna@mcsmag.comMIKE BARKER Publishermike@mcsmag.com RANDY MOON Media Consultantrandym@mcsmag.comMICHAEL FISCHBACH Media Consultantmichael@mcsmag.com JOHN FRIEND Media Consultantjohn@mcsmag.comKEVIN MCCLARAN Media Consultantkevin@mcsmag.comLISA AVERY Art Directorlisa@mcsmag.comCAMILLE BLACK Graphic Designercamille@mcsmag.com SETH SAUNDERS Digital Media Specialist seth@mcsmag.comINGRID BERKY Office Manageringrid@mcsmag.comTIM GARMONCEORUSSELL HADDOCKPresidentCHRIS GARMONCFODONNA CAMPBELLVice President, EditorialTONYA BROWNINGVice PresidentNo part of this publication may be reproduced or transmitted in any form or by any means, electronic or mechanical, including photocopy, recording, or any information storage-and-retrieval system without permission in writing from the publisher. The views expressed by those not on the staff of Modern Contractor Solutions, or who are not specifically employed by Highlands Publications are purely their own. All Industry News material has either been submitted by the subject company or pulled directly from its corporate website, which is assumed to be cleared for release. Comments and submissions are welcome, and can be submitted to donna@mcsmag.com.For reprint information, contact Chris Garmon at chris@mcsmag.com.Canada Post Publication Agreement #41578525. Undeliverables 355 Admiral Drive, Unit 4, Mississauga, ON L5T 2N1Modern Contractor Solutions Magazine@mcsmagModern Contractor SolutionsPROJECT PROFILESBuildable Space ......................................................... 14Hybrid Roofing Materials ........................................... 16EQUIPMENT SOLUTIONSCat Mulchers ............................................................. 18Piping Materials ........................................................ 20Data Flight ................................................................. 22Moisture Meters ........................................................ 24ENVIRONMENTAL SOLUTION Time Factor ............................................................... 26MANAGEMENT SOLUTIONS Collective Data .......................................................... 30HR Workflows ........................................................... 32PR Power .................................................................. 34SOFTWARE SOLUTIONS Digital Data Flows ..................................................... 38Integration Works: Part 2 of 2 .................................... 40LEGAL SOLUTIONConstruction Claims .................................................. 44TECHNOLOGY SOLUTIONSLaser Scanning .......................................................... 46Preventing Loss ......................................................... 48Estimating & Bidding ................................................. 50SAFETY SOLUTIONSSmart PPE ................................................................. 52Summer Jobsite Health ............................................. 54FEATURED PRODUCTJeffrey Machine: Shim Box ....................................... 58Donna CampbellEditor in ChiefREADY OR NOTWelcome to the July issue! This month's focus is on technology and the benefits it can offer your construction company. And, ready or not, it's summer.A year ago, the construction landscape looked different. The pandemic hit some areas of the country harder than others and this put a crimp in construction projects with social distancing, sick workers, supply chain issues, stay-at-home orders, and mask mandates. Hand-washing stations on jobsites made headlines and hand sanitizer became a toolbox staple. Construction companies looked for ways to streamline processes to do more with less. In essence, construction companies found themselves needing to be more efficient … and the answer was found in technology. First up for technology: drones. Check out the article on page 22 as drones begin to reshape the construction industry, both as a data collector and a safety tool. Data is king in this construction market. The article on page 30 gives a look into the near-term future of construction and how the industry has fared thus far. Next, the use of technology for human capital management (page 32) and company exposure to rebrand the scope of work (page 34). Plus, software platforms to ease processes (page 38) and focus on the business side of projects (page 40) are gaining ground for construction companies on the move.Finally, the current State of the Process when it comes to Estimating & Bidding (page 50). This article is a must-read for any contractor on the fence about adopting technology for their business. Enjoy the issue, and let technology be your friend.Cheers, COACH'S CORNERCheck out what the coach says to No-Feedback Frank in this month's column on page 60.PHILIPPINE SEA (June 26, 2021) Sonar Technician (Surface) 2nd Class Heath Hudson, from Birmingham, Alabama, monitors frequencies during an anti-submarine warfare exercise aboard Arleigh Burke-class guided-missile destroyer USS Benfold (DDG 65) during Pacific Griffin 2021. Pacific Griffin is considered the most complex and warfare-centric bilateral engagement between both navies and represents a continued investment in the strengthening of the solid partnership between the U.S. and Republic of Singapore. U.S. Navy photo by Mass Communication Specialist 2nd Class Deanna Gonzales
Page 11
Page 12
JULY 2021 www.mcsmag.com8industry newsSKYWARD INTRODUCES MAPPING AND MODELING POWERED BY PIX4DSkyward, A Verizon company, announces its integration with Pix4D, giving customers the ability to turn drone data into 2D maps and 3D models. Enterprises and drone pilots can now plan flights, receive approval to fly in controlled airspace with LAANC, fly with Skyward's InFlight ground control station, and process data using Pix4D—all from within the Skyward platform. Skyward Mapping & Modeling, powered by Pix4D, enables customers to create, view, measure, and export 2D orthomosaic maps and 3D photogrammetric models right from Skyward's web app. With the processing power of Pix4D, the market leader in photogrammetry software technology, Skyward customers can get business-ready data sets through a seamless plan, fly, process workflow. For more, visit, skyward.io. EMARS SUPPORTS DAVIS BACON ACT AND AMERICAN JOBS PLANeMars/Compliant Client was created in 2001 to give construction company owners an easy, flawless, paperless way to be compliant with the Davis Bacon Act that enforces a prevailing wage and 31 other compliance issues. Compliant Client web was designed with input from the Department of Labor and contractors. Government auditors are given a portal to view the progress of every project. A real-time environment was created to block contractors from altering pay rates then submitting payroll.The new American Jobs Plan that calls for the rebuilding of the U.S. infrastructure works hand in hand with the Davis Bacon Act. This 1931 act requires private contractors to be in compliance with each check paid to employees on all federally funded construction projects over $2,000. The American Jobs Plan offers fixed highways, rebuilt bridges, upgraded ports, airports, and transit systems built with properly paid American workers. Construction companies, however, need a streamlined way to stay in compliance with the Davis Bacon Act. Stiff fines and jail time can result if payroll checks are not in compliance. Many construction companies prepare their payrolls manually. A study of 100,000 manually prepared payrolls shows that 20% of these payrolls will contain one or more errors.More than 56,000 contractors handling projects in 45 states, Guam, the Virgin Islands, and Puerto Rico use Compliant Client. This system processes between 2,000 and 3,000 payrolls a day. Some payrolls have thousands of workers.Compliant Client provides immediate, concurrent, real-time visibility of all payroll records of the sub, prime, plus the owner agency. All screens are printable via this paperless system.
Page 13
Page 14
JULY 2021 www.mcsmag.com10industry newsEvery submitted payroll is audited, online, and in real time. The results are instantaneous, allowing for immediate corrections. A typical payroll is prepared in less than 5 minutes.Compliant Client requires a PC and about 30 minutes of training. Complete implementation takes less than 1 day. Users report an 80% productivity improvement over manual payrolls. Compliant Client also encrypts its' at rest data. "Security is tantamount", says Woody Chamberlain, president of eMars/Compliant Client. "Users have a choice of 13 different security roles. Each role enables the user to perform defined processes."Compliant Client clients have not had any random Department of Labor audits for the past 6 years. For more, visit emarsinc.com.FELLING TRAILERS ACQUIRES LARSON CABLE TRAILERSFelling Trailers, Inc. acquired the assets of Larson Cable Trailers, Inc. (Huron, South Dakota), a leader in fiber-optic cable handling trailer products. Felling Trailers has retained all of Larson Cable Trailers' employees and will continue operation in Huron. The company has plans for further investment to add more positions to meet the growing demands of the Larson product line.Larson Cable Trailers will continue operating as Larson Cable Trailers, Inc. as a separate division of Felling Trailers. With this acquisition, Felling has named original owner/founder Rick Larson as "product manager" for Larson Cable Trailers. For more, visit www.felling.com.HELIOS VISIONS BECOMES FIRST DRONE SERVICES COMPANY IN CHICAGO TO RECEIVE BEYOND VISUAL LINE-OF-SIGHT WAIVER FROM FAA Drone-based Infrastructure Inspection company Helios Visions recently became the first company in Chicago to receive a Beyond Visual Line-of-Sight (BVLOS) Waiver from the Federal Aviation Administration (FAA). This waiver, known as a Part 107.31 Waiver, allows approved companies the proper authority to safely operate drones Beyond Visual Line-of-Sight (BVLOS) of the pilot operating the drone. In the case of Helios Visions, the Part 107.31 BVLOS Waiver is specifically assigned for bridge sites. The FAA's approval of Helios Visions Part 107.31 Beyond Visual Line-of-Sight waiver makes the drone services organization the 55th company in the United States and one of approximately 38 Unmanned Aircraft Systems (UAS) service providers to receive this highly-coveted waiver designation. Helios Visions' efficient and accurate inspection of bridges using the Part 107.31 waiver is made possible through the use of www.rockwheelamericas.cominfo@rockwheelamericas.com | 814.466.7134OSHA Compliant Guardrail andStair Rail SystemsSafety Boot® Guardrail SystemStringerShield® Stair Rail System1.800.804.4741safetyboot.com• Non-Penetrating Design• Rugged Steel Construction• Exceeds OSHA Regulations• Simple, Aordable & Reusable• Residential, Multi-Family & Commercial Applications• Unique Free Standing Design• Keep Post Attached For Reuse On Next Level Or ProjectFeatured on osha.gov website!
Page 15
Page 16
JULY 2021 www.mcsmag.com12industry newsAmerican-made Skydio Drones; in-particular the Skydio Autonomy™ Enterprise Foundation which unlocks advanced Artificial Intelligence pilot assistance for complex inspections and situational awareness. Prior to the use of drones, bridge inspections required people to make dangerous climbs of the sides of bridges or expensive snooper trucks. With the impending passage of the new Federal Infrastructure Bill, Helios Visions is well-positioned to offer drone bridge inspection services to clients throughout the United States in a safe and cost-effective manner. For more, visit www.heliosvisions.com.PETERBILT RECEIVES ORDER FOR FIVE MODEL 579EVS FROM SUNBELT RENTALSPeterbilt Motors Company, a leader in battery-electric commercial vehicles, announces an order of five Peterbilt battery-electric Model 579EVs from Sunbelt Rentals for use delivering rental machinery to and from jobsites around the country. The order is the first step towards Sunbelt Rentals goal of reducing their greenhouse gas emissions 35% by 2030. Based in Fort Mill, South Carolina, Sunbelt Rentals has 15,000 rental experts, over 975 locations and a diversified fleet that exceeds $10 billion dollars. Sunbelt Rentals has provided unparalleled service for more than 35 years to customers ranging from commercial, industrial, residential, and municipal industries, delivering the equipment, service, and expertise to get customers exactly what they need for any project.Designed for optimal weight distribution and performance, the fully integrated, all-electric 579EV powertrain provides a range up to 150 miles. When used in conjunction with a recommended DC fast-charger, the state-of-the-art, high-energy density battery packs recharge in 3-4 hours, making the 579EV ideal for regional haul, drayage, pickup and delivery, and last mile operations. For more, visit peterbilt.com. JOHN DEERE ANNOUNCES AGREEMENT WITH MOBILE TRACK SOLUTIONSJohn Deere announces a master supply agreement with Mobile Track Solutions, L.L.C. to develop Deere-branded towed scrapers which will be distributed through John Deere's construction and agriculture equipment dealer networks. Through the agreement, Mobile Track Solutions will supply greater than 27 cubic yard capacity towed scrapers to be used with John Deere 460E-II Articulated Dump Trucks and 9R Series Scraper Tractors. The John Deere-branded scrapers will be compatible with its technology solutions, including an earthmoving productivity system, which debuted at CONEXPO 2020 and will be launched at a later date. For more, visit www.johndeere.com.
Page 17
Page 18
JULY 2021 www.mcsmag.com14project profileBuildable Spacecreated with segmental retaining wall systemINNOVATIVE URBAN DEVELOPMENTCalifornia-based developers Baldwin & Sons began the design and development of a housing complex on 99 acres of land in the city of Lake Forest, at the base of the Santa Ana Mountains, in 2014. About two-thirds complete, the 931-unit development, The Oaks at Portola Hills, is comprised of seven neighborhoods of both single-family and multi-family residences, and sits at the edge of the Limestone Whiting Ranch Wilderness Park, one of Orange County's largest wilderness preserves. Developing Portola Hills required converting the site from its natural state of valleys and steep hillsides into acres of construction-ready flat pads. A variety of Belgard Diamond Pro blocks engineered by Anchor Wall Systems as well as Belgard's Vertica Virtual Joint (VJ) and Planter blocks were chosen to make up the expansive segmental retaining wall system that created the buildable space. PROJECT EXPERTSTo design and build the retaining wall, Baldwin & Sons chose to work with Geogrid Retaining Wall Systems, Inc., the largest segmental retaining wall installer in Southern California. Geogrid's owner, Mike Stevenson, has more than 28 years' experience, including pioneering some retaining wall technologies. "Geogrid checked all the boxes in terms of the competency of their people, value-engineering and the products they were going to use. Their previous projects and references also gave us a high comfort level," says Jose Capati, vice president of land development for Baldwin & Sons. "They were very proactive and responsive from design stage to construction and we are happy with the result of the collaboration.""There's not much flat land left in Southern California, and there is a shortage of homes in Orange County, so installation of a retaining wall system is an investment in creating more property square footage to build homes on," explains Stevenson. The project was broken into three phases: Portola Northwest, Portola Northeast, and Portola South. While the first two feature single family homes, the last phase saw construction of 313 single-family, 256 multi-family, and 58 affordable housing/mixed use dwellings. Portola North West and Portola South are completed. Phase 1 of Portola North East is substantially completed and Phase 2 is currently being worked on as well, with completion scheduled for December 2023.Geogrid has an in-house design engineer, Matthew Merritt, P.E., of Red One Engineering, who exclusively designs the segmental retaining walls for their clients. For Portola Hills, the company designed and built walls comprising the entire perimeter of the project to develop "super pads," acres of flat land for Baldwin to build on. Many of these walls reached up to 49 feet tall and 1,000 feet long."We were involved with each phase of the project early in the design process and that allowed us to collaborate with the owner, civil engineer, and geotechnical engineer on incorporating the various Belgard wall products into the project," says Merritt. Weekly project meetings with the project management and engineering team also helped avoid issues during construction.Among the main concerns for the project initially, according to Capati, were the poor soil quality of the site and the weather. OVERCOMING CHALLENGESEarly in the project, they started to experience landslides because there were failure planes in the soil being excavated. A failure plane is weak clay layer that causes instability. These thin layers are like grease which, once exposed, cause landslides as dirt and rock slip over them—especially during significant rainfall. "We worked with the geotechnical engineer on the global stability analysis and incorporating the Mirafi global stability geogrids into the wall design. Portola South had a long (100'+) and very strong geogrid for global stability.
Page 19
www.mcsmag.com JULY 202115Portola NE had two walls incorporated into a large landslide buttress," says Merritt. "We also worked with a shoring contractor to incorporate the Diamond Pro block facing over the shoring elements."Another natural element to contend with was the fact that the project was in a seismic area. In addressing global stability, the team designed a system of secondary geogrids, placed between the standard grid layers. A grid's length is usually equal to 100 percent of wall height, so 40 feet long for a 40-foot-tall wall. At the Portola site, between every layer of standard-length grid and compacted fill was another, smaller grid of only 4 feet long. These strata of primary geogrid fabric, compacted fill, secondary grid, compacted fill, and so on provided the necessary additional stability in the seismic area. There were also design requirements the team had to meet for the project, including the city's demand that most of the walls be plantable. "For decades now, Southern California has required plantable walls so, over time, what passersby see is vegetation instead of standard concrete," says Stevenson. Geogrid's choice of Belgard plantable blocks gave them an advantage over the competition in the bidding process and, ultimately, gave Baldwin & Sons the maximum amount of space on which to build homes. This is because Belgard's Plantable system has an 8:1 batter and the competitor's block has a 4:1 batter.CLOSING THOUGHTIn total, the project utilized Belgard's Vertica®, Vertica Pro Stone Cut® Virtual Joint, Diamond Pro Stone Cut®, Diamond Pro Stone Cut Virtual Joint, Vertica Cap 8", Vertica Cap 4", and Belgard Plantable Unit."The fact that Belgard offers so many complementary products that we could use both as vertical and plantable walls was a huge asset," says Stevenson. "The manufacture of the product was also outstanding. We were installing more than 1,000 square feet of block a day and they were always timely with manufacturing and delivery." ON THE WEBRead how 8:1 is Read how 8:1 is achieved in this article achieved in this article on on mcsmag.commcsmag.comfor more informationBelgard, part of Oldcastle APG, offers a complete collection of paver and wall products for plazas, terraces, parking areas, roadways, rooftops, and retaining walls. Available in a range of styles, premium Belgard products have been found in the nation's finest developments and award-winning commercial and retail properties since 1995. Oldcastle APG is part of CRH's Building Products division. For more, visit belgardcommercial.com.
Page 20
JULY 2021 www.mcsmag.com16project profileInnovation is the name of the game for many industries seeking new solutions to solve problems, improve efficiency, or boost the bottom line. One of the last places most architects or contractors look to innovate, however, is up. While roofing materials have improved over time, there is little that can be done to the inherent structure of a roof. The reasons are obvious. For structural and performance reasons, there is little wiggle room in roof design. Roofs are not like pizza varieties. A recent project for the Virginia Department of Transportation at its hazardous chemical storage building debunks thoughts that there is a lack of creativity in roofing design.The team of architects and engineers at Gauthier, Alvarado & Associates designed a hybrid solution that is cost efficient, durable, and unique in the roof design of the building. The solution includes roof hatches, a coating material that is most often associated with truck beds, and EPDM roofing—an extremely durable synthetic rubber roofing membrane—that is expected to last up to 35 years. The primary objective of the solution was to stave off corrosion caused by materials that are stored in the building."Since this is a government project, longevity was a priority,'' says Stephanie Stein, the lead architect on the project for Gauthier Alvarado. "As a result, any surface that comes into direct contact with the salt needed to be corrosion resistant to increase the lifespan of the building in this extremely corrosive environment."SALT-INDUCED CORROSIONSalt for roads is the primary material stored in the building. This salt is applied to roadways to improve safety, but the material has a detrimental effect on building materials. Salt removes moisture from an environment, causing a hygroscopic reaction. The mineral retains water, which then promotes condensation. The water absorption allows corrosion to occur at lower humidity and for longer periods than otherwise expected. Salt also increases water's ability to carry current and hastens the corrosion process. As a building ages and the overall salt content of the building increases, the building fabric tends to become damper over time. When the wet salt dries out, it crystalizes and expands, creating pressure that over time breaks down the building fabric. Crumbling, spalling, flaking and cracking of the building fabric is largely related to the crystallization of salts.Roofing materials and other components in the Virginia building showed impacts of corrosion, requiring a new roof and some rebuilding of concrete walls. UNIQUE SOLUTIONThe building sits in a hilly region of the state, near the West Virginia border. Accessing the site is challenging, and one objective was to simplify delivery and loading operations. To solve that dilemma, architects specified three aluminum roof hatches manufactured by The BILCO Company. The hatches, 3-feet, 11-inches wide and 11-feet long, are manufactured with Type 316L stainless steel hardware, which is the most corrosion-resistant type of stainless steel. The roof hatch curbs were coated in an asphalt-based liquid coating to provide an additional layer of protection for the concrete inside the building. "BILCO offers stainless steel roof hatches, but since this is a project that is designed and built on a government budget, we provided a more economical solution," Stein says.Hybrid Roofing MaterialsVirginia DOT reduces impact of corrosionINNOVATIVE DESIGNBy Thomas RennerPhoto courtesy of Dylan Francis Photography
Page 21
www.mcsmag.com JULY 202117The unique solution to protect the hatches from corrosion came in the form of a liner. The spray-on material, installed by Rhino Linings of Winchester, Virginia, is most frequently applied to truck beds. The company has applied it in other applications as well, such as vans, boats, and even dugouts for baseball teams. The polyurethane material protects against corrosion while also providing excellent abrasion, impact, and chemical resistance."With this solution, we combined the durability associated with the BILCO pre-manufactured aluminum roof hatches with the corrosion-resistant properties of the truck bed liner," Stein says. Dinks Construction, the general contractor for the project, installed the roof hatches while a team from Don Largent Roofing installed an EPDM roof. ADDITIONAL MEASURESThe structural engineering team took additional steps to protect the durability of the hatches. "One of our prime concerns during the design phase was the additional force exerted on to the roof hatches during salt loading operations," Stein says.They designed a structural steel bumper to provide additional support to the roof hatch. When the hatches are open prior to loading the building with salt, the roof hatch covers rest upon the bumpers. "The additional force applied to the roof hatch covers during the salt loading is then directly transferred to the steel bumpers to protect the structural integrity of the roof hatches," Stein says. The building's design not only protects against corrosion, but also allows for a quicker, more efficient solution for storing the chemicals. For hazardous storage buildings without roof access, salt has to be moved by front-end loaders or some other type of conveyance. The drop-and-go solution is much quicker and even more environment-friendly. Road crews access the salt from the lower part of the building.CLOSING THOUGHTTucked away a short distance from the highway and nestled in the region's hills, the structure will not generate tremendous attention. It is nonetheless critical to improving roadway safety, and offers a long-term solution to a challenge that faces many communities in the storage of corrosive materials. "This was a fun project because it was quite different," Stein says. "This was our second roof and roof hatch system that we designed for VDOT. We had the opportunity to incorporate a few lessons learned from the first roof system replacement. It is our hope that we will continue to adapt this roof system prototype for additional VDOT sites in the future." about the authorThomas Renner writes on building, construction, engineering and other trade industry topics for publications throughout the United States. Photo courtesy of Dylan Francis PhotographyPLAY VIDEO
Page 22
equipment solution RELIABLE PERFORMANCE Cat Mulchers easy maintenance and safety a priority Two new Cat mulchers for tracked Key components on the mulchers replaceable to keep the HM3013 and and wheeled excavators and forest factor into their consistent reliable machines deliver reliable operation in performance The variable torque tough forestry applications With their hydraulic piston motor shifts between mulching door allows the operator to easy to maintain design these mulchers high speed low torque and low speed control the material throw increasing incorporate a number of safety features high torque to deliver speed when it s operating safety especially critical on to protect both workers and equipment needed and power when it counts roadside clearing applications or when at the jobsite With the addition of Hardened counter blades mounted working near powerlines Ground level the new Cat HM3013 and HM5515 inside the housing help break down the primary grease points increases daily models Caterpillar now offers a mulcher finished material which can increase the maintenance safety Bolt on replaceable attachment for Cat front reach machines rate of composting skids keep the mulcher from digging from 11 to 36 tons and long reach front machines from 40 to 52 tons HM5515 working at peak efficiency The ability to adjust the hydraulic into the ground or into materials that can EASY TO MAINTAIN increase wear or cause damage Maintaining these new mulchers KEY COMPONENTS is fast and simple Multiple service CLOSING THOUGHT The HM3013 has a new dedicated bite panels on each model provide easy Mulcher attachments are excellent for limiter drum while the HM5515 offers a access for quick adjustments Further handing vegetation and overgrowth and standard drum Featuring an aggressive simplifying maintenance and reducing for land clearing edge of the blade with the limiter and downtime internal components can counter knives the dedicated bite limiter be easily removed in the field through of the HM3013 produces an exceptionally the access panels The poly chain belt fine final product The bite limiter drum drive transmission eliminates slippage for more information design excels in mulching applications on startup increasing reliability and For more contact your local Cat dealer or visit where rocks are minimal with large reducing maintenance costs Most of www cat com amounts of standing timber the wear parts are made to be field 18 JULY 2021 www mcsmag com
Page 23
www.mcsmag.com JULY 202119sponsored contentResearch conducted by the National Institute for Occupational Safety and Health (NIOSH, a branch of the CDC) concluded that the use of battery powered rebar tiers can reduce the risk of back injuries, carpal tunnel syndrome, and other work-related musculoskeletal disorders. The study further concluded that using battery powered tools with an extension arm would further minimize stress on the upper extremities and lower back.STAND-UP SOLUTIONWith this knowledge, MAX Co. Ltd. designed the safety equipped TWINTIER® RB401T-E. The RB401T-E is the world's first and only battery powered Stand-up solution for tying #3 x #3 up to #6 x #6 rebar combinations. The tool's construction provides an ergonomic solution for backbreaking slab work. Its extended frame eliminates the time spent bent over in an uncomfortable position while tying slab.Compared to hand tying, this tool can greatly reduce the risk of musculoskeletal injuries. Users can adjust the tool's handles to 2 levels, to find the ideal position for tying at their height. Triggerless technology (patent pending) allows the tool to automatically tie when the contact switch is pushed, which occurs when the tool is inserted into the rebar cross section.PRODUCTIVITY INCREASETWINTIER technology allows the RB401T-E to form 4,000 ties per charge, while delivering just the right amount of wire for greater productivity and cost savings. The TwinTier's dual wire feeding mechanism forms ties twice as fast as conventional battery powered tying tools. This patented technology enables the tool to complete a tie in approximately ½ second; increasing jobsite productivity. CLOSING THOUGHTThe MAX TwinTier RB401T-E replaces the repetitive motion of manually tying rebar and prevents bending the back, replacing these motions with an automated injury preventive tying solution. For more, visit www.twintier.global/us-en/rb_401te or call 800.223.4293.MAX TwinTierfurther reduces risk of musculoskeletal injuries amongst rodbusters
Page 24
JULY 2021 www.mcsmag.com20equipment solutionOver the last 50 years, the plumbing industry has seen a huge shift in piping materials. Contractors and plumbers have swapped costly steel and metal piping in favor of less expensive plastic piping in most new construction projects, without sacrificing durability. Read on to learn more about the benefits and limitations of a variety of piping materials, and which are best suited for certain applications.PLASTIC PIPINGPVC Pipes: Polyvinyl chloride piping, also known has PVC, is a popular piping option for new construction projects, and for good reason. PVC piping is lightweight and less expensive than other piping materials. It can be installed in both warm and cold climates, as well. Durable PVC comes in two sizes: Schedule 40, which is more commonly used, and Schedule 80, which has thicker walls, increasing durability and costs. Both sizes are easy to install, requiring only solvent cement at the joints.While PVC is strong, it has a shorter lifespan than other piping materials. It also has heat limitations and cannot be used in applications where water temperatures top 140 °F. PVC shouldn't be used to transport drinking water but can be installed where higher water pressure is needed. Use PVC piping in drain lines, main water lines, vent stacks, and storm drainage. CPVC Pipes: Chlorinated polyvinyl chloride, or CPVC, piping is similar to PVC piping but with added chlorine. Plumbers and contractors will still enjoy many of the benefits of PVC piping, like its lightweight design and easy installation, but with added durability and heat resistance. Unlike PVC, which cannot be used with water temperatures exceeding 140 °F, CPVC can withstand temperatures up to 200 °F. It's also fire resistant and more flexible than standard polyvinyl chloride. These added features do come at a slightly higher price than PVC, but the versatility of CPVC may be worth the extra cost. Consider using CPVC piping in hot drain lines, wastewater disposal, and even transporting drinking water. Learn more about the differences here.PEX Pipes: PEX piping, also known as polyethylene cross-linked pipe, is another plastic piping material that has gained popularity in recent years. One benefit of PEX is its flexibility. It can easily snake through walls or in crawl spaces, and because it uses compression fittings, solvent cement is not necessary when joining and installing. PEX comes in a wide variety of sizes, which makes it a great option for retrofitting in older homes, as well. The initial cost of PEX piping is higher than other plastic piping, but installation and maintenance costs are typically much lower. While it is heat resistant, PEX cannot be attached directly to a hot water heater and must instead be connected to an 18-inch section of another heat resistant piping, like copper. PEX is often used for water supply lines and in areas of construction where bending and snaking are necessary. COPPER PIPINGCopper piping became a popular building supply in the 1960s, and because of its durability and long lifespan, many older Piping MaterialsPiping Materialsa breakdown for new constructionPLUMBING INDUSTRYBy Mark Ligon
Page 25
www.mcsmag.com JULY 202121homes still have original copper in them. One reason for the longevity of copper piping is that it is resistant to heat and corrosion. It's also antimicrobial, which means it's a good choice for drinking water supply lines, HVAC refrigerant lines, and underground services lines.Additional fittings and soldering are required when joining copper piping, which makes the process to install more tedious. However, it also creates a tight seal, which cuts down on the potential for leaking. Used copper can also be recycled. Copper piping is more expensive than other piping options. Unfortunately, the high price of copper often makes it a target of theft at unattended jobsites. BRASS PIPESAnother higher priced option, brass piping may be the right choice for a limited number of applications. It's long lasting and resistant to corrosion and heat damage. Because brass is softer than copper, a tighter seal can be achieved, as well. In the past, there were concerns that brass pipes may contain lead. However, plumbers and contractors can now purchase lead-free brass that is safe for supplying drinking water, as well as drain lines and gas lines. STAINLESS STEEL (SS) PIPESWhen it comes to appliances, stainless steel is a trend that doesn't seem to be ending anytime soon. Stainless steel piping, on the other hand, may look great, but it's not always the right choice. Like other piping materials, stainless steel is durable, and it also comes in both rigid and flexible options and a variety of sizes. Installation and retrofitting, however, can be more challenging with stainless steel because specific couplings are required. It also comes at a much higher price point than other materials. One important feature of stainless steel is that it is highly resistant to corrosion. Because of this, it is often used in areas where corrosion could occur, like coastal regions.CLOSING THOUGHTUnlike several years ago, when plumbers and builders had a limited number of piping options, today there are many, each with its own benefits and challenges. Consider the location and function of the piping needed, as well as the overall budget of the project when selecting the piping material that is best suited for your new construction building. about the authorMark Ligon is the marketing manager at Commercial Industrial Supply, a distributor of industrial piping, valves, and fittings. Since 2009, CIS has been dedicated to providing the best name brand products to customers in a wide range of industrial, commercial, and residential settings. For more, reach out to Mark at www.commercial-industrial-supply.com.
Page 26
JULY 2021 www.mcsmag.com22equipment solutionThe world is moving into the post-COVID era, and the economy continues to rebound. As a result, construction projects are kicking into high gear.Couple that with the all-time high prices of materials, and companies need a technology solution that allows them to optimize their procurement processes and make wise use of their precious and increasingly expensive resources.The good news is there is a readily available technology that will allow them to do so: drones.DRONE TECHNOLOGYThe adoption of drone technology has increased in heavy construction in recent years. Because drone systems are easier to use than ever before, they enable generalists to take advantage of the technology and deploy them to save time and money on critical projects.These systems provide increasingly accurate data. As a result, they offer a cost-effective way to use technology to tackle long-standing needs, such as safely capturing the accurate and robust data needed to make real-time decisions that can make or break a project's bottom line.According to the Federal Aviation Administration (FAA), there are more than 1.7 million drones, or unmanned aerial vehicles (UAVs). Additionally, 203,000 remote pilots are registered with the federal agency, numbers likely only to rise in the coming years.Recent data from The Civil Quarterly (TCQ), a quarterly research report on the current business health of contractors from Dodge Data & Analytics, revealed that the heavy civil sector has widely adopted many advanced tools and digital processes. For example, more than half of contractors said they used drones and ruggedized tablets.Heavy construction contractors need solutions that simplify their workflow and allow them to leverage vast amounts of data to make actionable decisions. Here are a few new ways drones are shaping commercial projects. DRONES CAPTURE ACCURATE DATA CONTRACTORS NEED TO MAKE INFORMED DECISIONSDrones capture more data in a 20-minute flight without disrupting jobsite operations than a team can capture during a week of traditional terrestrial measuring. This data leads to improved client visualization as a drone's detailed images show overall site progress against the design.Processing these images—known as orthomosaic images—as three-dimensional points on the ground can be combined with three-dimensional points from other collection sources. Those points can be used in computer-aided design (CAD) to create three-dimensional surfaces, contour lines, surface features, three-dimensional models, site progressions documentation, and volumetrics for earthwork calculations.Because the data is dense, rich and accurate, it enables more detailed analysis, translating into quicker and more complete decision-making at the project management level. DRONES HELP TEAMS SAVE TIME AND MONEYIn heavy construction, much of the focus has been to use drones to quantify earthwork volumes. For example, contractors often use drone technology to help with their pre-bid analysis.By ensuring they know the correct quantities needed, they can create optimal designs and implement efficient haul plans.Then, throughout the construction process, contractors can use drones to track earthwork volumes. With this information in hand, they can knowledgeably provide feedback on completed tasks and analyze the work remaining to inform project plans that allow for faster replanning cycles.Additionally, teams should use this technology to monitor their jobsites to gather data for progress reporting and stockpile management. This information should drive lean procurement management, ensuring teams have on-site the materials they need when they need it and that it is stored in the correct location to keep it safe and secure until the proper time.Similarly, operators should deploy drones to observe their on-site equipment to ensure it is appropriately utilized and verify Data Flightdrones are reshaping constructionTECHNOLOGY ON THE MOVEBy Troy Dahlinorthomosiac image
Page 27
www.mcsmag.com JULY 202123a location's conditions are safe and comply with all applicable regulations. Confirming this information and acting quickly when a problem arises will save the time, expense, and hassle of correcting a problem.This provides a feedback loop for the field to the office and back again to merge drone data with design, as-built, and on-site progress updates captured with photos, notes, and machine tracks.Contractors can also use drones to validate and hand over the asset to the owner, helping reduce the time needed with manual approaches. In addition, taking this approach ensures the final product is constructed within specification, eliminating the need for costly fixes. DRONES GO WHERE NO TEAMS CAN, LEADING TO INCREASED JOBSITE SAFETYWhile drones' most significant upside may be their fast and flexible data collection, the technology delivers reduced worker costs, enhanced jobsite safety, and faster surveying and construction time than traditional data capture techniques.Drones enable heavy construction contractors to safely, efficiently, and accurately capture data from hard-to-reach, potentially hazardous or otherwise inaccessible locations that would be too risky or expensive to capture traditionally. They are instrumental in urban environments or on heavily canopied construction sites.They permit safe automated data capture to create measurable 3D models and powerful 2D visuals to incorporate into workflows. Drone deliverables enable contractors to bring more eyes to a problem and do this within the safety of an office.Despite their proliferation, many contractors are unaware of the profound benefits drones bring to the modern jobsite. Many construction companies initially deployed drones thinking they would have them on hand at a site at all times, but they work best when they are not viewed as a tool to be used 24/7.Over time, companies' plans for drones evolved into having a dedicated team of professionals who travel from site to site where their drone operating services are needed.CLOSING THOUGHTSolutions today make jobsites safer while driving cost savings; contractors must view today's technology as the professional partner that will help them save time and money. When implemented correctly, technology provides the most potent tool in contractors' toolboxes. about the authorTroy Dahlin is vice president, heavy construction segment, US/CAN of Leica Geosystems, part of Hexagon. For more, visit www.leica-geosystems.com.
Page 28
JULY 2021 www.mcsmag.com24equipment solutionIn the construction industry, the quality of cast-in-place concrete foundations, superstructure, slabs, stairs, and architectural features, along with the speed of project completion, can largely depend on getting moisture measurement right—and the same is true with the masonry mortar used to build brick, block, or stone walls.Water is an essential element of both concrete (i.e., water, aggregate, cement) and mortar (i.e., water, aggregate, binding material). However, at the jobsite, everything from seasonal temperature, rain, humidity, and groundwater to circulating air can affect the moisture content in concrete and mortar greatly. This can impact setting and drying time—and incorporating the wrong moisture levels in concrete and mortar can be disastrous to quality, finish, longevity, and even safety.Although the construction industry has access to moisture meters, to some extent, these tools typically require calibration, sampling, and time. In addition, they are not always portable or durable enough to be used on jobsites.Fortunately, hand-held, durable, instant moisture measurement devices are now available that allow anyone without special training to spot check concrete and mortar at the jobsite to assure that it is properly mixed, set, and dry. In many cases, such pre-calibrated systems allow non-destructive, non-invasive testing on digital displays with no pin holes or discoloration. This approach facilitates construction work as soon as feasible, speeds project completion, and improves quality. SEASONAL HEAT, MOISTURE Concrete-water ratios can make a big difference in the permeability of concrete, but air humidity and summer heat also can affect the rate at which moisture migrates through drying concrete. "High humidity can increase the risk of fractures and other structural issues. Concrete can also gradually change from ductile to brittle when humidity decreases, which naturally occurs when summer heat affects concrete's evaporation time," says John Bogart, managing director of Kett US, a manufacturer of a full range of moisture and organic composition analyzers.He notes that concrete cures best between 70-80°F, so if temperatures rise above that and climb towards 90°F, concrete can be affected and cause surface problems as well as reduced strength.Hot weather, wind,and dry conditions can increase a concrete slab's rate of evaporation, which can threaten the integrity of the top layer of concrete. Water quickly evaporates from the surface layer, which can cause the mix to be drier and susceptible to surface cracking and shrinkage.Reduced strength can also become an issue with hot, dry weather, which can shorten the hydration portion of the curing process (when water is absorbed and crystals form in the concrete). Then the concrete mixture has less time to hydrate these forming crystals and create strong compressive strength. So, concrete curing in hot weather can suffer from limited strength and durability.On the other hand, in wetter seasons, excess moisture can do a great deal of damage to concrete and its protective coatings, as well as affect concrete-water ratios. Because concrete is porous, issues arise when water is trapped within the concrete.When it comes to structural concrete, including foundational slabs, construction contractors do not want to "guestimate" moisture levels, which can potentially jeopardize the whole project.MEASUREMENT BENEFITSAlthough traditional laboratory and online based moisture measurement techniques are useful in the right settings, they have lacked the simplicity and flexibility required for frequent spot checks on construction sites. Because such moisture tests are too slow, laborious, and alter or destroy the sample, they are not practical for the jobsite, where concrete or mortar must stay in place. Instead, what is needed is a fast, easy method to determine moisture content.So, industry innovators have developed a simplified approach with testing Moisture Metersensuring concrete and mortar are properly mixed, set, and drySPOT CHECKINGBy Del Williams
Page 29
www.mcsmag.com JULY 202125equipment that allows anyone in the field to get laboratory-quality measurements in any environment.As an example, using a hand-held device such as the HI520-2 concrete and mortar moisture meter by Kett, the worker would select the calibration (i.e., concrete or mortar), press it against the sample, and moisture is immediately displayed with accuracy of +/-0.5% (0-12% for concrete/0-15% for mortar). Automatic temperature compensation enhances measurement accuracy, and two "raw" modes allow the user to calibrate for deep or shallow samples. Up to 1,000 measurements can be stored in memory and downloaded to a PC for analysis.The device utilizes high-frequency capacitance, comparing the di-electric constant of the solid with water. A direct relationship exists between this and moisture content.According to Bogart, one construction contractor used the moisture meter to confirm that the concrete flooring on a 20-story building was ready for custom surface treatment. In fact, the contractor was able to test the entire project in one morning."With an instant moisture meter, flooring installers can test concrete humidity as water passes through the concrete's surface even after it hardens. This kind of testing is critical in indoor installations, where high levels of moisture and trapped water in concrete can create mold or lead to bubbling or degradation of its strength and integrity," says Bogart.This approach can be particularly helpful to contractors responsible for concrete subflooring."If you are building on a slab, you know the importance of a concrete subfloor that is fully dried and accurately prepared for use. Knowing how the concrete will act when the concrete is coated, flooring is installed, or the slab is prepared for final use, is key to success," says Bogart.For contractors who need more specialized applications of measuring moisture, such as for "wet" concrete, this is also available with other units. For instance, with such units, the sample moisture of slurry and aggregate can be instantly measured, allowing contractors to optimize batch mixing anytime, anywhere.CLOSING THOUGHTWhether summer, winter, spring, or fall, the bottom line for contractors working with concrete or mortar is that using hand-held devices that provide instant moisture measurement helps to ensure that quality work is done as soon as it is feasible, without excess or insufficient moisture, setting, or drying times. In the end, this facilitates project profitability. about the authorDel Williams is a technical writer based in Torrance, California. For more about Kett, visit www.kett.com.
Page 30
JULY 2021 www.mcsmag.com26environmental solutionThe total amount of time needed to complete the waterproofing system installation should be considered carefully when exploring the various product options. Commercial builders, designers, and architects should look closely at the time required for each step, from preparing the materials and substrate to applying the product and curing when evaluating the application. Each waterproofing system option is vastly different, especially when you compare cold-applied versus hot-applied waterproofing systems. CONSTRUCTION TIME FACTOR Construction projects are always on tight schedules, as they involve numerous tasks and jobs performed by a variety of vendors or trades, each within specific timeframes and deadlines. It's necessary to keep the numerous jobs moving along and meeting those deadlines. Delays incur added costs for equipment rentals and for labor, which can be costly as they sit idle waiting to come onsite to start or proceed with a job.Sequencing is critical as certain jobs on a construction site need to be completed before others can be started and may take some time before enabling a return to service. In the case of waterproofing, the system needs to be fully dried or cured before anyone can enter the area to walk or perform work.The time needed to complete a waterproofing job is especially vital in an emergency renovation or repair scenario. For example, if a multi-million (or billion) dollar commercial building in a city's downtown has water from the roof or horizontal deck penetrating the penthouse below, there is a very short window of time (typically only 4 hours) to resolve the issue in order to keep the tenant happy and avoid significant internal damage.WATERPROOFING TIME FACTORWaterproofing is a process that includes several steps: preparing the surface or substrate that is being waterproofed, preparing the materials, priming, detailing, applying the waterproofing product, applying a reinforcement or protection system, and ultimately drying or curing the system. When comparing cold-applied versus hot-applied liquid waterproofing systems, there are vast differences in the number of steps, what's required for each step and, ultimately—the time needed to perform each step. Note: Application Guidelines, including the minimum concrete cure time and required preparation, are provided by the waterproofing product manufacturer and should be reviewed specifically for each project. PREPARATIONHot-applied waterproofing requires a crew to clean and prepare the substrate, then prime and detail. Detailing is a separate step, demanding a separate setup as an additional material (a polyester fabric) needs to be obtained and applied for the detailing process. In new construction, the concrete must cure for a minimum of 28 days prior to beginning the preparation. It can take days to complete all the preparation required depending on the size and complexity of the project.With cold-applied liquid waterproofing, there are some systems that can go on 14-day-old concrete. The crew cleans and prepares the substrate in the same way; however, the detailing is greatly simplified. Generally, these steps take 1 to 2 days depending on the project size and complexity, about a third of the time required for hot-applied systems. Time Factorcold-applied vs hot-applied liquid waterproofingMEETING PROJECT SCHEDULESBy Greg Austin
Page 31
www.mcsmag.com JULY 202127Time-saving benefits of cold-applied versus hot-applied liquid waterproofing during preparation: Cold-applied, such as GCP's SILCOR® liquid waterproofing system, has 2-3 times faster preparation time than hot-applied. Waterproofing can begin 7 days earlier than with traditional hot applied methods. This equates to a 2-week schedule savings over using a hot-applied process.APPLICATIONBuilding the membrane with a hot-applied liquid waterproofing system requires five to six layers, including primer, rubberized asphalt and reinforcement, and the protection layers made of separate materials. In addition, there is the time needed—about 3 hours each day—to heat up the rubberized asphalt in a kettle and bring it to 375-400°F. The average hot-applied installation is 2,100 square feet per day in an open area, including primer, first ply, reinforcement, second ply, and protection board. The detail work is separate.The cold-applied liquid waterproofing membrane requires only two to three layers including primer, which only takes 1.5 to 3 hours to apply. No reinforcement layer is required as the membrane is self-leveling. A comparable cold-applied installation covers 7,000 square feet per day, or more, including primer, membrane and details, and it requires a crew of only three installers. The cold-applied liquid waterproofing application is clearly much simpler, saving time and labor compared to a hot-applied system. Also, the primer can serve as temporary waterproofing in the interim before the membrane is applied. There is virtually no preparation time needed for the membrane material as the crew only needs to mix the product components, per the manufacturer's instructions, and they are ready to go. Time-saving benefits of cold-applied versus hot-applied liquid waterproofing during application: With fewer steps involved, cold-applied is 3.5-4 times faster to install than hot-applied (installation time comparison is based on industry information).CURING/RETURN TO SERVICEThe time that it takes for the hot-applied installation to cure or harden and for the surface to be ready for return to service can be up to 24 hours. Cold-applied installation can withstand foot traffic in as little as 2 hours and enables faster construction sequencing. Time-saving benefits of cold-applied versus hot-applied liquid waterproofing during curing: Cold-applied can be 12 times faster than hot-applied to cure and enable a return to service.THE SPEED FACTORCold-applied liquid waterproofing is available in a spray-applied and a hand-applied version. With the spray-applied version, the liquid is simply mixed and applied. It's a faster application than the hand-applied version, as it allows the crew to immediately apply a single membrane. With the hand-applied version, the liquid is poured onto the concrete surface and spread quickly and easily with a squeegee. CLOSING THOUGHT Time is money when it comes to meeting project schedules on construction sites. The time savings offered by cold-applied liquid waterproofing over hot-applied translates to cost savings in terms of labor, materials, and equipment rentals. Among the liquid waterproofing options, cold-applied not only saves time and money, it also provides a more durable product and a safer solution. about the authorGreg Austin is the global product director, specialty building materials, for GCP Applied Technologies. He has a background in consulting and almost a decade of experience in waterproofing system development and construction materials. STAY UPDATED:@modern contractor solutions@mcsmag
Page 32
Page 33
Page 34
JULY 2021 www.mcsmag.com30management solutionEvery day, construction projects generate mounds of data that hold tremendous potential to inform business decisions and drive more efficient projects with better outcomes. Once thought only to be useful or financially accessible for large corporations, accurate data capture and analysis can be a secret weapon, providing insight into many aspects of the business, for any size of construction company. To help industry leaders better understand the current construction landscape and assess how their own companies are tracking against industry averages, Viewpoint, a Trimble company and construction ERP leader recently soured data from nearly 1,000 customers between Jan 1–March 31. The resulting insights into trends related to project starts, contract values, hiring metrics, and cash-flow movement are published within its Quarterly Construction Metrics Index: Q1 2021. As we look back at the first quarter of 2021, what do the trends in the Index reveal, and how can contractors use that information to their benefit? PROJECT BACKLOGS ARE SLOWLY REBOUNDINGProject starts are the lead indicator that business is getting back to normal. Without project starts, contractors can't hire employees, bid on contracts, or spend money on materials. Although the impact of the pandemic is still being felt, the rate of projects in the pipeline still hovers around 20% below where they were in the first quarter of 2020. That being said, there are currently 26,000 pending projects in the Q1 2021 backlog compared to 30,000 pending jobs in Q1 2020, a 15% decrease that suggests backlogs are slowly rebounding. When looked at by vertical, heavy highway and civil projects fared the best with 10% more pending projects in March 2021 than March 2020. This could be due to the fact that the vertical is largely funded by federal and state governments or municipalities whose budgets have already been allocated, with projects set to start accordingly.Backlogs for general contractors have largely been holding strong, though there are still about 10% fewer pending projects in Q1 2021 as compared to Q1 2020. The decrease could indicate that general contractors are lowering their risk threshold by taking smaller jobs, which would help account for lower project starts. Specialty contractors, who had the smoothest ride in 2020, had 25-35% fewer pending projects in January and February 2021 as compared to the previous year. This could be due to having service businesses and picking up work left behind by general contractors in 2020, resulting in an abundance of previous work finally catching up with them. CONTRACT VALUES MIRROR PROJECT STARTS Contract values have largely held steady since October 2020 but still saw a 52% decline as compared to Q1 2020. This is not surprising as contract values tend to mirror project trends. As projects decline, their values decline proportionately. The decline was seen across all three verticals during Q1 2021, with specialty and general contractors experiencing 50% declines in contract values, while heavy highway and civil saw a 30% decline.With contract values holding steady since October 2020, lower contract values indicate that there is still uncertainty in the market as contractors continue trying to mitigate their risk. One dynamic that could affect contract values moving forward is cost fluctuations with construction materials. Trade tariffs, production challenges, shorter supply cycles, and transportation issues have all contributed to higher material costs for contractors, with many eating potential contract profits to keep work moving. Additionally, lower contract values may be the result of more competition with fewer projects available for bid. HIRING STEADILY INCREASESAlthough we entered the pandemic with a labor shortage, hiring has been net positive in 2021, meaning more employees were hired than fired. Hiring Collective Datainsights into the industry's near-term futureSECRET WEAPONBy Anne Hunt
Page 35
www.mcsmag.com JULY 202131is still 12% below what it was a year ago but has steadily increased throughout the quarter with net employment up 45% in March 2021 as compared to March 2020. Geographically, the Southeast experienced the largest net hiring increase—103% as compared to a year ago—which was followed by the Northeast, which also saw a 75% increase. Regional hiring will likely follow the overall hiring trends, which suggest that hiring will remain down in 2021; however, the Southeast and Northeast might fare better than the Plains, Pacific West, and Midwest given their more consistent employment track records. Regions in which manufacturing and warehouse construction starts are strong, particularly the Plains and Midwest, may realize an increased need for skilled labor. CASH FLOW AND SPENDING VARY ACROSS VERTICALSIn 2020, construction companies tended to be more cash positive than in years past, as the pandemic and the uncertain business environment led them to hold on to cash rather than spend it on new projects. In Q1 2021, heavy highway and general contractors remained cash positive, while specialty contractors were cash negative, spending roughly 150% more as compared to Q1 2020. This uptick in spending could suggest increasing confidence among specialty contractors that new projects will soon be underway. Although the specialty trades were hit particularly hard by the workplace restrictions imposed by the pandemic, cash flows for the specialty sector should normalize in the coming months as restrictions continue to ease. CLOSING THOUGHTWhile it's always tough to predict the future, many are hopeful that the upcoming infrastructure bill will inject some much-needed investment into the industry, helping to modernize our aging infrastructure and stimulate the labor market. This could have a positive effect on all of the indicators examined above; however, if the bill doesn't pass in its current form, it's projected that even a more limited plan would still have a meaningful impact on the industry, leading to more projects, higher contract values, additional hiring, and greater cash flow. www.sunflowerboatandbarge.com • 563-583-0556• Sectional Barges• Spud Barges from 75x32 to 195x70• Hydraulic Dredges• Truckable Tugboats from 300 – 600 hp• Traditional Tugboats• Support EquipmentAvailable for Lease:about the authorAnne Hunt is the director of data and analytics for Viewpoint, a Trimble company that delivers leading-edge construction management software. Hunt leads the incubation and innovation of new data first services to revolutionize how clients and the construction industry operate. For more, visit www.viewpoint.com. The Quarterly Construction Metrics Index: Q1 2021 can be viewed at www.viewpoint.com/quarterly-construction-metrics-index.
Page 36
JULY 2021 www.mcsmag.com32management solutionAfter more than a year of dealing with a dismal pandemic, America's construction industry is bouncing back from the COVID-19 crisis with an expected growth rate of 15.6% this year, according to ResearchAndMarkets.com. With this predicted upturn comes the opportunity for construction companies to leverage the right technology to increase their growth, attract new talent, and remain compliant.As manual tracking of employee time, activities, production, and payroll informaiton can reduce efficiency, leveraging a human capital management (HCM) solution is critical to addressing the evolving complex HCM needs of the construction industry. By utilizing a robust platform to handle a company's payroll tracking, attendance management, and training to remain compliant gives HR managers more time to focus on what matters: company employees.For example, construction managers are all too aware that as today's workforce becomes more complex, so does payroll management. That's where HCM solutions come in. Rather than burdening HR manager's with time-consuming payroll management tasks, adopting the right software will alleviate the daunting administrative tasks placed on HR professionals and free them up to focus on value-added tasks for the organization. Here are three examples of how a robust HCM platform can address the needs of construction companies: INTEROPERABILITY BETWEEN PAYROLL AND ATTENDANCE Many companies continue to use antiquated technology to manage payroll and attendance separately. Utilizing software that combines the two increases efficiencies and accuracy by automating the application of complex performance based pay structures and addressing each employee's varying pay, so HR managers don't have to do it manually. ACCURATE EMPLOYEE CLASSIFICATIONS Part of managing a complex pay structure is ensuring each employee is accurately classified, whether they be an independent contractor or a full-time employee with an extensive benefits package. Guaranteeing that employees are appropriately classified helps take the burden off the HR manager, but most importantly, it ensures the company is regulation compliant. Misclassification comes with significant penalties from a state and federal tax revenue perspective. EFFICIENT TIME-TRACKING PROCESSES A time tracking system ensures the time, labor, and production data is collected efficiently and accurately and is the source to valuable business data analytics. Field employees can utilize technologies, such phone-in, mobile, tablet, and portable devices in order to accurately collect activities when and where they occur. Finally, an automatic time-tracking system helps keep companies compliant with the Fair Labor Standards Act (FLSA) regulations.CLOSING THOUGHTAfter reviewing the above capabilities available to the construction industry, companies should remember that the purpose of investing in HCM technology is for the benefit of employees. After all, they are a company's most important asset. Investing in their people is the best thing organizations can do for their business's operations, reputation, and functionality. HR Workflowsstreamlining human capital managementEMERGING TECHNOLOGYBy Teresa Levisabout the authorTeresa Levis is the vice president of presales at Ascentis. She has more than 30 years of experience in the HCM industry, with a focus on helping clients meet their needs through change management, technology, and best practices. As a senior leader with Ascentis, her teams' focus is working with companies to align their business strategies and processes to solutions.
Page 37
Page 38
JULY 2021 www.mcsmag.com34management solutionPR Powerbuilding media coverage and exposureHOW TO TELL YOUR STORYHeather Ripley, CEO and founder of Ripley PR, shares about the power public relations can have for both general contractors and the B2B companies that serve them.MCS: Creating market differentiation is sometimes a challenge in the construction industry. How does public relations fit into the equation?RIPLEY: It's pretty simple. All businesses benefit from media exposure. Studies consistently show that people are more trusting of third-party articles from credible sources than advertising messages. Public relations is about building a strong foundation of earned media coverage for your company, each story adding to the portrayal of the business as a credible industry expert. This is not to say that PR should replace paid advertising. It certainly does increase the effectiveness of marketing over the long term, though. It's easier to reach new clients if you're already top of mind as the best and most well-known contractor in the market. MCS: What is the difference between public relations and marketing?RIPLEY: Marketing encompasses everything you're doing to sell your company's services or products. Public relations is a tactic of marketing. PR is getting someone else to talk about your company and say how great you are. An effective and well-executed public relations plan will help with all of your company's efforts to be more visible online, no matter what the platform. A good PR strategy ensures your marketing efforts are guided by a consistent vision. The objective is to increase your brand's visibility, boost its reputation, and keep it top of mind with potential clients. Some of the tactics that can be used to accomplish this include securing earned media coverage and television appearances, regularly releasing informative and newsworthy press releases, and creating engaging social media and website content. MCS: What issues can contractors face when trying to boost their brands? RIPLEY: Have you ever thought word-of-mouth is dead? It's not. It's still one of the best ways to attract new clients. These days, it's taking place online through forums and online reviews, and you cannot afford to ignore them. Reputation management should be part of any comprehensive public relations strategy. Its usefulness shouldn't be underestimated. Word of mouth is still powerful, and ignoring what is being said about your company online means losing control of the narrative and giving someone else the power to define your company in negative ways. MCS: When it comes to promoting positive images of their businesses,
Page 39
www.mcsmag.com JULY 202135one question that construction business owners struggle with is whether they should draw attention to their charitable giving? Isn't that too self-serving?RIPLEY: Sharing your company's good deeds without coming across as overly self-promotional means walking a fine line. But I highly encourage it! Your company is able to donate more money or services than most individuals can, so you have the opportunity to make a greater difference in helping your chosen cause. Plus, you are raising awareness of the need and could potentially inspire others in your community to do good, too.We all know it's hard to find skilled labor right now. Sharing your company's charitable giving could help a candidate choose your company over someone else's. There are definitely ways to talk about your giving culture without it being overbearing or offensive. Make sure to keep your public relations efforts in line with your overall business brand. That lets your good deeds blend unobtrusively in with your business philosophy. MCS: How do you recommend a company share its charitable giving without coming across as too self-promotional?RIPLEY: For our clients, we always recommend that it be done sincerely and with consideration. The way to approach the issue is by putting the charity at the heart of the giving story and not putting the stoplight on the size of your donation. Public relations is a way to help the charity get needed attention and publicity. Charities need visibility to garner the donations that let them do their own good works. MCS: Closing thought?RIPLEY: When thinking about public relations, all construction businesses must be able to set clear goals to aim for in order to keep growing and thriving. The most successful companies are continually refining and retuning their marketing. Today, your goal might be to cement your image as the top contractor in the market. Tomorrow, your goal might be to get acquired. Either way, shining a media spotlight on your company will help you get there. about the authorHeather Ripley is founder and CEO of Ripley PR, an elite, global public relations agency specializing in home service and building trades. Ripley PR has been recognized by Entrepreneur Magazine as a Top Franchise PR agency 3 years in a row and was named to Forbes' America's Best PR Agencies for 2021. For more, visit www.ripleypr.com.
Page 40
Page 41
Page 42
JULY 2021 www.mcsmag.com38software solutionMany arduous processes plague the construction industry, such as data silos, process invisibility, and fragmentation, making it nearly impossible to track progress. The industry is realizing that feeding real-time data straight from the field is crucial for success. When working entirely around outdated information, project and financial managers can make mistakes that dramatically reduce a job's profit; but, when working from consistent, accurate data, guesswork and poor decision-making are greatly reduced. Adding real-time data to the management mix ensures efficient and productive decisions that will benefit every project. Real-time data allows teams to stay up-to-date with the project status and any issues that may arise. Identifying these issues early on allows management to adjust their plans to resolve issues before they cause real damage. Having data flow from field to office can also help team members learn from patterns and optimize workflows to get the best possible results, and the information gathered can be utilized to derive useful insights for future growth. BUILD A DATA RELATIONSHIP Cloud-based, platform-enabled solutions, like CONNEX Jobsite from Command Alkon, digitize information from paper tickets so the entire supply chain can see ticket data in real time, throughout the ticket's lifecycles, from anywhere. Projects reduce waste, eliminate manual tasks and duplicate data entry, standardize processes, improve materials yield, and track job costs daily with digital workflows from vendor to field to office. The CONNEX Jobsite solution has been a great value add to the team at Grand Parkway Infrastructure, LLC. Providing the streamlined workflow with ticketing, payments and materials tracking needed on such a large infrastructure project, providing a single source of info for multiple stakeholders, and keeping the entire team on the same page.Although platform-enabled jobsite technologies do wonders from a digitization standpoint, the majority of the tickets in the construction industry are still just pieces of paper that get passed through multiple touchpoints. TicketPro, part of the CONNEX Jobsite tech stack, makes it possible to digitize 100% of your material and haul tickets and invoices and do some incredible things with the digital data, such as job cost reporting, accruals reporting, automated invoice reconciliation, and delivery of more insights that can help to run a more efficient job.FUEL FIELD PRODUCTIVITY Capturing tickets on the jobsite takes just seconds using the TicketPro mobile app. The ticket signer simply selects the project, chooses the material being hauled, and snaps a picture of the paper ticket. The app even filters the projects that are displayed to the user by a 1-mile radius and attaches the GPS location of where the ticket was captured, to help eliminate fraud and errors at the jobsite. All of the tickets submitted show up at the top of the Tickets Page instantly, and the user can click on the details to view who signed the ticket, what time, the location, and more.TicketPro can also utilize scanner integration to upload and analyze tickets in half the time, while extracting data Digital Data Flowsget rid of paper management and reconciliation processes EFFICIENCY MATTERSBy Lori Allen
Page 43
www.mcsmag.com JULY 202139from tickets using OCR technology. Hundreds of tickets can be imported in minutes, and users can also capture tickets directly from the scale printer with an integration that imports the tickets as soon as they're created by the scale operator, or through an integration with CONNEX for companies that are already taking advantage of the platform. TicketPro has an army of people around the globe that are working 24 hours a day to verify data entry. This makes TicketPro part of a new generation of technology where robots and humans have a symbiotic relationship and work collaboratively to create a new level of service that traditional software systems do not provide.The TicketPro Trucking Cycle report displays the total loads and weights delivered to date, as well as monitoring for problematic trips that are running long or short. This report provides project managers and foremen with all of the information needed for job cost reporting. AUTOMATE RECONCILIATIONIn the past if an invoice had a discrepancy, it would take weeks to pass changes back and forth before it gets paid. With TicketPro's invoice portal, contractors can communicate with vendors in seconds to make sure their records match and then process the invoice within hours. Vendors can also request early payment to fill in those cash flow gaps. With the Reconciliation tool, the user can verify the work completed by simply scanning in a paper invoice and asking TicketPro to match tickets in the system with each line item on the invoice. TicketPro then highlights any missing, duplicate, or previously invoiced tickets for review, to ensure that the work being paid for has been completed, and that it hasn't been paid for previously. TicketPro integrates with multiple accounting software solutions, such as Viewpoint, Quickbooks, and more.CLOSING THOUGHTDigitizing the data from tickets that are coming into the jobsite requires field personnel to work more collaboratively with the back office. Taking this a step further, the relationships between suppliers or haulers and contractors has been contentious, and technology can act as a facilitator in improving and enhancing collaboration across the heavy building materials supply chain. Systems like CONNEX get everyone in the supply chain collaborating more, sharing the same data, and optimizing their business processes. about the authorLori Allen is the director of marketing at Command Alkon. In her 20 years with the company, she has worked in training, technical writing, product development, quality assurance, and process development roles. For more, visit www.commandalkon.com/getconnexjobsite.
Page 44
JULY 2021 www.mcsmag.com40software solutionsoftware solutionIntegration Worksfocusing on the business side of projectsEXPERT Q&ABy Donna Campbellfocusing on the business side of projectsBy Donna CampbellIntegration Worksfocusing on the business side of projectsEXPERT Q&ABy Donna Campbellfocusing on the business side of projectsBy Donna CampbellPART 2 OF 2In part 1 of this Q&A with Adeaca's vice president of market innovation and project business evangelist, Matt Mong, we spoke about Project Business Automation, a new category of software solutions designed to help project-based businesses, including AEC, to integrate all core project business processes into one comprehensive system.We also covered the importance of identifying as a project business and why focusing on the business side of projects is key to ensuring AEC projects are delivered on time and on budget. Now, I want to take a deep dive into Project Business Automation, or PBA, and how PBA could be the future of project business. MCS: What is Project Business Automation?MONG: Project Business Automation is a new category of solutions designed to help project-based companies integrate all core project business processes into one, end-to-end system. PBA is a new approach in solutions for project businesses. It rejects the status quo of disparate, disconnected applications in favor of one integrated business system. More specifically, one that includes support for all project business processes and connects them seamlessly in real time. The PBA approach is the future of project-based industries.MCS: So, how is PBA different than other "apps" claiming the same thing?MONG: Great question. Let's break it down. In order to create a complete business system, it must tie together support for all major business processes. For project businesses, including AEC, this not only includes backend ERP functionality, such as accounting, general ledger, customer management, HR, supply chain and MRP, but also project-driven processes such as project financials and accounting, project management and operations, project sales and proposals, project insight and analytics, as well as customer collaboration.PBA is the only system that reaches this level of comprehensiveness. Other apps only address part of these business areas, not all of them. Yes, you could implement a sophisticated project management application, but if it doesn't connect in real time to your backend financials, you'll have a difficult time running an enterprise based on projects. Most likely, you'll employ a hoard of IT and financial controller resources to maintain these applications separately and integrate the data between them. It's not only time consuming, but tedious.MCS: Makes sense. Can you tell me how PBA works?MONG: There are essentially three core elements of PBA: Project Financials, Project Operations, and Project Insight. Beyond these central functions, there are further enhancements and extension to PBA, but I'll just focus on the main three right now.The first is Project Financials. PBA provides the financial structure for any AEC company to operate. Effective financial management of AEC projects requires much more than what traditional project accounting systems provide. PBA closes the gap between what AEC companies need and what mainstream ERP solutions offer. While a solid accounting framework is required to track actual costs and invoices, revenue recognition, accruals and budgets; when it comes to securing AEC project profitability and support effective decision making, it's much more important to track cost and profit variances, contingencies and productivity while at the same time identifying trends and maintaining a full audit trail.The second main component if PBA is Project Operations. PBA goes beyond project management. For AEC companies, projects are not simply an internal exercise in productivity improvement. When delivering projects to your customer is how you generate revenue, your project operations are the lifeblood of your company. AEC companies know how critical it is to be able to accurately plan those engagements while managing resources, subcontractors, risks, deadlines, and related supply chain activities. A lack of real-time insight into your delivery operations will result in increased risk and decreased profitability. Project management applications were originally built to manage standalone projects. They are not meant to run your
Page 45
www.mcsmag.com JULY 202141entire business. PBA is a completely different approach to managing project operations. It offers a complete and real-time integration between back-end ERP functions and your operational project management activities. With PBA, all critical operational business processes are executed within a single solution with built-in processes and audit control. This means AEC companies can control process flows throughout the enterprise, establishing an enforceable and repeatable business model.The third core element of PBA is Project Insight. PBA brings leaders of AEC businesses the real-time insight they need to transform their companies into high-performing enterprises. It gets the right information to the right people instantly. When you bring all essential project functionality into one system, AEC companies have access to project and business intelligence faster than ever before. When you have access to the financial and operational status of all projects and the enterprise simultaneously, managers and executives are able to make decisions with the most accurate and updated information available. CLOSING THOUGHTThe bottom line is PBA for AEC companies is all about making the business more effective. That means delivering more projects on time and within budget. PBA helps AEC companies produce better outcomes for their customers, which ultimately leads to increased revenue and profitability. for more informationMatt Mong is a project business evangelist, leading thought leadership efforts for Adeaca. Matt has worked to define and expose the fundamental issues plaguing project-based companies. He coined the product category term Project Business Automation, now adopted by Forrester, as a new approach to digital transformation for project-driven businesses. For more, visit www.adeaca.com. Our digital marketing campaigns can identify prospects interested specifically in your product, and then tell you exactly who they are! See what our customers are saying:The reports are awesome! Thank you. If we can get that level of information from all of our suppliers, we will be very happy! We have already made one machine sale to a prospect from the eBlast and I am sure there will be more. Paul Gazik,Business Development/International Salesfor Call us today to get started at 205.795.0223 or email us at russell@mcsmag.comYou Need Leads!You Need Leads!We Have the We Have the Solution!Solution!PBA FOR AEC BLUEPRINT DOWNLOAD: www.adeaca.com/project-business-automation-blueprintSCHEDULE A DEMO: www.adeaca.com/project-business-automation-demonstrationmore resources
Page 46
Page 47
Page 48
Construction Claimshow to calculate the recoverable costs and damagesRISK ASSESSMENTBy Aman KahlonJULY 2021 www.mcsmag.com44legal solutionWhen negotiating a complex change order or preparing to litigate a claim, calculating actual recoverable costs incurred can be a difficult exercise. You will want to first review your contract to determine what kinds of costs are compensable. For example, the change order provision of your contract may provide a specific markup that can be included in a change request or limit the recovery of indirect costs and overhead associated with a change. Similarly, a termination for convenience provision may prohibit recovery of profit or provide a defined demobilization fee. Your contract may also include liability caps or waivers of certain types of damages (e.g., consequential damages). Damages waivers may try and limit exposure of both parties to indirect, hard-to-determine costs. ECONOMIC LOSS DOCTRINE Beyond the contract terms, recoverable costs will also be limited by the different methodologies or approaches used by various courts. One of the primary limitations on recovery in contract disputes, including those involving construction, is the economic loss doctrine. Most states have adopted the economic loss doctrine in some form. While a detailed discussion could fill up several pages, the basic premise of the doctrine is that a party cannot avoid contractual limitations on recovery by alleging a tort (e.g., negligence) for purely economic losses. ACCOUNTING METHODOLOGIES Other challenges to calculating recoverable costs relate to the accounting methodologies used by a party in developing a claim. When things go wrong on a construction project, it may be difficult to adequately track costs or assign costs to particular impacts. Concurrent delays, acceleration directives, interference with the work, and other issues all complicate the cost accounting exercise. Even the most sophisticated contractors, can have a hard time tracking their costs. Courts are not always forgiving of the complexity involved in tracking construction costs, so be careful about trying to submit your claim as a total cost claim (i.e., here's what we bid and here's what it actually cost to build the project; pay us the difference). If you cannot adequately connect your damages to the claimed impacts and demonstrate their reasonableness, many jurisdictions will not permit recovery based on this total cost exercise, although there are exceptions and caveats. ENSURE CLAIM IS CREDIBLEBefore you submit a claim, you should consult internally or with a lawyer to make sure you are adequately calculating your damages in way that you can later justify to a judge or arbitrator. The size and credibility of your damages claim will likely factor into the risk assessment that your company makes in pursuing a claim in arbitration or litigation. The size and credibility of your damages claim will likely factor into the risk assessment that your company makes in pursuing a claim in arbitration or litigation.
Page 49
consultant. The industry has a number of experts who address construction delay and accounting matters and can help you work through a difficult or complex claim. www.mcsmag.com JULY 202145For instance, if a project manager presents a claim that estimates total losses of $10 million, at first glance, that may appear like a sizable claim that is worth pursuing. However, if on further reflection, you recognize that the project manager failed to account for contractual limitations on recoverable costs or has not done a poor job of tracking and assigning costs to the particular impact giving rise to your claim, the actual amount of the claim you can legitimately support may be much smaller. If your $10 million claim turns out to really be worth only $1 million, the expected attorneys' fees and uncertainty of the litigation process may cause you to re-think pursuing the matter aggressively.CLOSING THOUGHTThis article touches very briefly on some of the complexities of determining construction damages, but this is not an exhaustive discussion. There are other methodologies and approaches contractors use to calculate their damages (e.g., loss productivity claims) that may be worth exploring depending on the type of claim you are pursuing. Aside from contacting your lawyer, you may also consider reaching out to a construction about the authorAman Kahlon is a partner in the Construction Practice Group at Bradley Arant Boult Cummings (www.bradley.com) in Birmingham, Alabama. He represents owners, general contractors, and subcontractors in construction and government contracts matters. His litigation experience covers a wide variety of disputes, including substantial experience in power and energy matters. He also advises clients on delay, interference, defective design, and negligence claims. He can be reached at akahlon@bradley.com. The industry has a number of experts who address construction delay and accounting matters and can help you work through a difficult or complex claim.Be careful about trying to submit your claim as a total cost claim.
Page 50
JULY 2021 www.mcsmag.com46technology solutionTracy Raver is a builder at heart. As a pipefitter with 27 years of experience in the field, he's had his head and hands deep in the work of assembling complex mechanical systems for commercial and industrial facilities of every sort. Over the last 16 years with Apollo Mechanical Contractors, Raver has seen his employer grow from a local sheet metal fabricator in Kennewick, Washington, to a nationally respected Mechanical Contracting powerhouse with eight offices stretching from Washington to Tennessee. Of all the factors contributing to the firm's steady growth during Raver's tenure, perhaps no innovation is more significant than embracing prefabrication's virtually unlimited potential.ADVANCES IN TECHNOLOGY"For me, the most exciting thing about construction is the continually changing technology that is improving how we work and what we produce," says Raver. Apollo believes in building people who build great things. The firm focus on employees starts with a drive for safety, a willingness to put the customer first always, and a resolute insistence on installing only the best quality products that anybody could supply. Apollo also takes great pride in innovating in response to change. During the aftermath of the 2008 recession, like many union contractors, Apollo was pressed to find ways to become more productive on the work."Setting up a prefabrication shop dedicated to building and pre-assembling components in a controlled facility away from the jobsite has been a huge success for us," continues Raver. Starting with just a few common building systems, Apollo's prefabrication shop quickly enabled the company to become much more competitive on price, while increasing product profitability, ease of assembly, speed to market, and workforce safety significantly. As Apollo's prefabrication capacities have steadily expanded in the decade since establishing the prefab shop, their technological capabilities and resources also had to keep pace with the digital world."Datum Tech Solutions is a local laser scanning technology firm that has been an important resource in our toolbox," shares Raver of a consulting relationship several years in the making. Based in Seattle, Washington, and serving clients nationally, Datum Tech Solutions represents the leading edge of digital geometric shape-data capture through point cloud generation. REPLACEMENT PROJECTWhen Apollo was awarded a complex, equipment replacement project at Packaging Corporation of America's Wallula Full-Line Plant in Wallula, Wshington, Datum Tech was the first resource Raver turned to."The scope at the Wallula plant was to replace an intricate system of vacuum headers on some large paper processing machinery that had become clogged with sludge and wasn't maintaining pressure," Laser Scanningprefabrication and point-cloud technology go hand-in-hand GAME CHANGERBy Sean O'Keefe
Page 51
www.mcsmag.com JULY 202147continues Raver. "The assembly was a tangled mess of some 30 to 40 different pipe and valve components connecting beneath the mainline of a processing run in a fairly tight space. The client was very concerned about any prolonged plant shut down and lots of other work was being scheduled concurrently. Our objective was to recreate the entire configuration in our prefab shop and save significant time assembling it at the plant."PIPING CHALLENGESIn addition to the intense complexity of the piping configurations, the machinery had also been subjected to many years of ad hoc repairs and patch welds. Raver estimates that before prefabrication, Apollo likely would have had a six-man crew on the project for more than a month. In the case of the Wallula plant, the client originally anticipated a 2-week shutdown but narrowed that window down to just one week before the scope, schedule, and costs were fully aligned with their expectations."In terms of site constraints during construction, the preconstruction process revealed there would be quite a few," continues Raver. "There were roughly 30 other contractors doing work in the same space the same week and layers of scaffolding rising around this apparatus on two sides. The prefabrication shop became incredibly important. I estimate that 80% of the manhours took place in our shop and just 20% in the field. Having Datum's virtual model of the machinery to build from is what made that possible."PRACTICAL USE OF TECHBob Rice is also a builder at heart. He's been in the construction and design industry for more than 30 years, maintaining a focus on the intersection of technology and practical hands-on reality. As the general manager for Datum Tech, Rice has his eyes on everything the firm touches."Our team excels where conditions are extreme and require best-in-class technology and an outside-of-the-box approach," says Rice of the work and ethos at Datum Tech. "This company loves a challenge."As a scanning assignment, the Wallula plant scan certainly had its fair share of challenges. The vacuum pump assembly was located in a 20 ft by 75 ft maintenance vault with a 10 ft ceiling beneath the production run. The heat and steam of the machinery turned the surrounding air into a stifling soup of more than 100 degrees F. The clouds of air were so thick, and the Leica RTC360 3D Laser Scanner Datum used to capture the scan so precise that parts of the clouds rendered as tangible data points that had to be removed from the recap file. In a single afternoon, Datum's technician shot the entire assembly in exacting detail to produce a like-for-like virtual model of the machinery from which Apollo Mechanical recreated the components in exacting detail."From hiring the next generation of builders to getting the work done, technology drives our industry," says Raver. "Datum's laser scan produced a model that allowed us to prefabricate the entire assembly off-site, and we installed it in less than a week."CLOSING THOUGHTHaving finished their work early, Apollo invited the plant owners on a tour, and they were astonished."They said they had never seen anything like it," finishes Raver. "We all immediately began discussing ways laser scanning of this caliber could save us even more time and money in the future. It's a real game-changer." TECHNOLOGY • MANAGEMENTMANAGEMENT • ENVIRONMENTALEQUIPMENT • SAFETYSAFETY • TECHNOLOGYSAFETY • TECHNOLOGYENVIRONMENT • EQUIPMENTENVIRONMENT • EQUIPMENTSOLUTIONSSOLUTIONSSOLUTIONSSOLUTIONSSOLUTIONSSOLUTIONSSOLUTIONSSOLUTIONSTECHNOLOGY • MANAGEMENTTECHNOLOGY • MANAGEMENTMANAGEMENT • ENVIRONMENTALEQUIPMENT • SAFETYSAFETY • TECHNOLOGYENVIRONMENT • EQUIPMENTENVIRONMENT • EQUIPMENTSOLUTIONSSOLUTIONSSOLUTIONSSOLUTIONSSOLUTIONSSOLUTIONSSOLUTIONSLET MCS BE YOUR RESOURCE.LET MCS BE YOUR RESOURCE.SEEKING A SOLUTION?SEEKING A SOLUTION? Search mcsmag.com for solution-based articles with insight from industry experts.about the authorSean O'Keefe is a writer crafts architecture and construction writer stories for Datum Tech Solutions (datumtechsolutions.com) and others based on 20 years of experience and a keen interest in the people who make projects happen. He can be reached at sean@sokpr.com.
Page 52
JULY 2021 www.mcsmag.com48technology solutionDue to the advances in technology designed for the construction industry, there are more innovative solutions to choose from for estimating and bidding, project readiness, and safety measures. I had the opportunity to speak with Casey Banks, senior regional risk control consultant at Travelers, about his thoughts regarding technology's impact on today's construction jobsites. Here's an excerpt of our exchange via Q&A.MCS: How are you seeing technological innovations reshape the construction industry? BANKS: Innovative technologies continue to play an important role in enabling safer, more efficient jobsites. We've seen many of our customers benefit from incorporating a variety of solutions designed to address some of the main pain points they're facing—such as the lack of skilled labor, real-time project visibility, and the rising costs of worker injuries. For instance, smarter, more connected jobsites that provide instant data on worker locations can reduce response times to anyone who gets injured. The improved visibility has been proven especially critical during the COVID-19 pandemic, allowing companies to respond rapidly in the event of a positive case. Another benefit is that these tools can aid in maintaining control over who is or is not allowed on the jobsite.With all the new types of technology, many contractors are trying to figure out the best approach to leveraging advanced systems to help them improve safety, while staying competitive in a world where projects are becoming "smarter" and more connected across the industry. MCS: How can new technologies—such as drones for site surveillance or smart wearables for physical safety—be used to improve safety on the jobsite?BANKS: Each technology brings with it the potential to address a specific challenge. Take drones, for example. Historically, workers would climb up on a roof or other elevated platform to inspect a building or a piece of equipment. Today, we are seeing more contractors realizing the benefits of using drones to get that bird's-eye view without risking potential falls. You also mentioned smart wearables. While they can differ, many are designed to help prevent worker accidents and injuries. For instance, a worker wearing a proximity sensor could receive an audible or vibratory alert to notify them when they're too close to a piece of heavy equipment or entering unauthorized or hazardous areas.Another example would be having workers with less experience take simulation-based training through mixed-reality platforms. This type of solution allows workers to experience real-life situations without physically being in harm's way. This can be especially useful in training workers to use equipment, including cranes, and on how to protect themselves against falls.MCS: Why is it important that construction businesses constantly evolve their protective measures to minimize risks to employees and their business, especially around new technology? BANKS: We've seen the industry continue to evolve, especially over the last few years, with increased use of technology on jobsites. You may recall that, not too long ago, there was resistance to devices such as cameras and tablets. Once contractors and workers realized usage benefits, Preventing Lossadvances in technology provide safety benefitEXPERT Q&ABy Donna Campbell
Page 53
www.mcsmag.com JULY 202149including how easy they were to use and how they could help with safety, production, and quality control, acceptance grew.Even with all the technological advances, maintaining a sharp focus on worker safety will always be critical, as physical labor remains vital to every project. This reality requires understanding the risk landscape on each project and knowing which prevention and mitigation tactics to put in place to reduce the potential for accidents and injuries. MCS: How is Travelers helping construction businesses foster safe working environments and the safe use of technology?BANKS: As one of the largest providers of insurance in the construction industry and a leader in the workers compensation space, we understand how things can go wrong on construction sites. One of the reasons we work so closely with our customers is to help them find ways to improve worker safety and avoid workplace injuries.Our dedicated underwriters, Claims professionals, and Risk Control consultants work with contractors to share industry insights, assist in analyzing risk, manage claims to improve outcomes, and provide information on safety, health, and risk management programs to prevent loss.We're testing and piloting many emerging-technology solutions, such as proximity sensors and wearable devices for worker safety, as well as water sensors designed to help identify potential risks associated with water damage. These efforts allow us to better understand their uses, risks, and benefits so that we can pass those observations on to our customers and help them make more informed decisions.We also work with customers to help them understand how they can use all the data from these solutions to improve jobsite safety. For instance, this information can empower managers to provide feedback to workers to help prevent unsafe behaviors and as part of longer-term planning and strategy development. CLOSING THOUGHTRegardless of the technology that's being used, establishing an effective safety culture that starts with top management will remain a critical component of preventing loss. It is important for managers to lead by example and to hold workers accountable to established safety programs. THE LEADER in Innovative Productsfor more informationCasey Banks is a senior regional risk control consultant at Travelers. For more, visit www.travelers.com/business-insurance/construction.
Page 54
JULY 2021 www.mcsmag.com50technology solutionEstimating and bidding go hand-in-hand. It's the previous job experience that informs the resume. The ingredients that make up the recipe. To have a successful, best-in-class bid, you first must have the needed insight from data you can trust to create the well-rounded, accurate result that keeps people coming back for more, not unlike a family-secret recipe for cherry cobbler that you guard for your life. No one can steal your secret sauce when you realize that estimating is both a science and art that truly informs the bid. The scientific component of estimating includes determining the precise quantities needed for each material. For those contractors ready to optimize processes, this most likely includes utilizing technology to develop a Building Information Modeling (BIM) model and automate the quantity takeoff function. The art of estimating goes far beyond quantities. It means including logistics, crew, and time estimates that factor potential difficulties, risks, and waste into decisions, painting a complete picture of what the project might look like far beyond just materials. This art form is what sets apart the estimating experts from the pack, resulting in more winning bids.After combining the science and art components of estimating, contractors can feel assured they are submitting accurate estimates that will deliver on time and budget, including potential external factors with the easy-to-determine quantity numbers. IMPROVING WITH TECHHistorically, contractors completed the estimating and bidding processes within spreadsheets, submitting bids in Excel. Traditional estimating software includes variations of spreadsheets disconnected from actual work performed. It's high time this was disrupted, and new technology is here to evolve these processes, helping to make estimates more precise and saving teams time and resources. Similarly, contractors can utilize this technology to review findings and data from similar past projects, meaning they're not starting from scratch with every estimate. This also helps better inform the Estimating & Biddingthe current state of the processTECHNOLOGY'S IMPACTBy Raghi IyengarInnovative, best-in-class software is already improving and informing the art of estimating by providing increased visibility and transparency into a project and its expected risk factors.
Page 55
www.mcsmag.com JULY 202151understanding of potential risks based on actual data. And it provides visibility that impacts the construction site layout. At the same time, teams can save time, all thanks to the wealth of historical information from previous and current projects. In turn, all of this is making the industry interesting as we effectively industrialize construction by leveraging AI and simulation to support better decision-making. TECHNOLOGY EVOLUTIONOffsite construction software remains the top-tier option for the industry in industrializing the construction process. This technology can provide real-time insights, visibility, and control into who is building what components, assemblies and modules, and where and when for the largest construction projects. These end-to-end construction technology platforms allow you to look at buildings from the product perspective. It informs time and costs estimates while also providing insight into relationships between specific suppliers and manufacturers to give better estimates. At the same time, it helps further establish supply chain relationships where it is beneficial. For example, the industry can rely on machine learning to make sense of all the data presented and identify trends and lessons learned across previous projects to reduce and identify risk factors, providing a much richer data set that truly optimizes decision-making. And, when this technology is paired with visual intelligence (VI) software, things become even more intuitive. VI technology, in the context of digital twins, provides an immersive experience powered by AI for complete visibility into products, processes, people, and more. CLOSING THOUGHTTechnology is truly revolutionizing the construction industry starting from the very beginning: estimating. And, as the fourth Industrial Revolution becomes more real for the industry, it's time we think about how technology can evolve and improve the industry, elevating the role of our teams while also equipping the sector to make construction projects faster, cheaper, better, and greener. BREAKING POWER WHEN IT COUNTS!POWERFUL | STRONG | EFFICIENTINDEPENDENT BREAKER PRODUCTS are Powerful, Strong, Highly Efficient, & Service Guaranteed. NO ONE CAN BEAT OUR PRICE • Wholesale Pricing ONLY • Best Product At The Best Price • Excellent Quality • Strong Power • Service Guaranteed • Precision Process • Excellent Quality Guaranteed• All Parts For All Products Are Readily AvailableBecome an Independent Breakers Dealer Today • Dealer Inquiries Welcomed150 Schuler Dr. Bardstown, KY 40004 • www.independentbreakers.com • 502-817-3323Call Call today! today!about the authorRaghi Iyengar is the president of Manufacton, a SaaS (mobile/web) platform that helps construction firms plan, track, and manage both prefabrication and regular material handling. For more, visit www.manufacton.com. It's high time estimating and bidding were disrupted, and new technology is here to evolve these processes.PLAY VIDEO
Page 56
JULY 2021 www.mcsmag.com52safety solutionSmart PPE trackable heat susceptibility and sweat rate WORKER HEAT MONITORINGWith summer comes sun and heat, two factors that impact the safety conditions on jobsites. Workers need the proper hydration and PPE to remain safe on the job during the hot days of summer. One company adds to its smart PPE system to lessen the worry of heat risk, Kenzen.Kenzen adds two important features to its smart PPE system for monitoring workers' heat risk on the job. Kenzen technology can track the heat susceptibility and sweat rate of individuals—key indicators in the detection and prevention of heat-related stress, injury, and fatality risk of workers in hot environments.HEAT SUSCEPTIBILITY The Kenzen system calculates heat susceptibility of a worker and then classifies them into low, moderate, or high heat-risk categories. Kenzen's proprietary algorithm determines the person's heat risk category by evaluating their medical or physical conditions, physical fitness, heat-acclimatization status, history of heat injury and illness, medications, chronic illnesses, and age. The classification does not reveal personal information or reasons why someone is in a particular heat risk category; it is only used to help supervisors monitor and manage people according to their individual heat susceptibility. "Managers have so much to worry about at their worksite, including if their workers are physically able to work safely to get the job done well and on time," says Nicole Moyen, vice president of research and development at Kenzen. "This new feature tells managers which workers to monitor closely on hot days, and when and how to alter an individual's schedule or workload."SWEAT RATE MONITORING Kenzen also has a new sweat rate monitoring feature that uses a worker's information and physiological data to calculate and predict their sweat rate, in liters per hour. A manager can view an individual's sweat rate on the Kenzen analytics dashboard, which also indicates how much water that person needs to drink each hour to stay hydrated. The data eliminates the guesswork in how to keep workers safely hydrated and makes the Kenzen system an even more valuable planning tool. Now managers can bring enough water to the worksite to hydrate their teams sufficiently based on each individual's sweat rate and the predicted environmental conditions that day. Kenzen's proprietary sweat rate feature gives a hydration plan that is accurate within one quarter of a liter (1 cup of water), so that every worker will know the specific amount of water they need to drink that day to stay safe."There is no 'one size fits all' when it comes to hydration, which is why it's important to use each person's sweat rate for an individualized hydration plan," says Moyen. "Dehydration is a major problem on worksites and increases the chances of someone getting a heat injury or illness, having an accident at the worksite, or suffering from cognitive impairment. Staying hydrated is a simple fix to avoid most of these problems." PPE WITH SENSORSKenzen devices worn by workers contain sensors that monitor, in real time, an individual's physiological responses. The worker is warned when their core temperature is too high and they are in danger of a heat-related injury or illness
Page 57
www.mcsmag.com JULY 202153via a smartphone app and a device vibration. Managers have a corresponding app that alerts them when a worker needs an intervention to stop work, rest, and hydrate, and a second alert for when it's safe to return to work. EHS leaders use the Kenzen analytics dashboard to make decisions to minimize heat-related injury and illnesses on the jobsite.With the Kenzen solution, only workers can view the details of their personal health information, while safety managers and other EHS leaders only see what's necessary to keep the workers safe. CLOSING THOUGHTThis summer, Kenzen has a rental program for companies to quickly deploy the technology with packages of 10, 20, and 50 devices. The program includes the monitoring app for managers and can be rented for a 2-month period online at store.kenzen.com, where training videos provide instructions for use and deployment. for more informationFounded in 2016, Kenzen is the premier physiological monitoring platform to keep workforces safe from heat, fatigue, and over exertion on the job while providing data driven insights to maintain productivity. For more information about heat stress and how to integrate the system into a safety plan, visit kenzen.com. CUTTING EDGE IMPALEMENT PROTECTIONCARNIE CAP is the most effective way to cap exposed rebar while keeping your workers safe and on the job.National OSHA Compliant • CAL-OSHA ApprovedPatent #5826398, 6073415ORDER TODAY!(888) 743-7725 www.carniecap.comWORKS IN HORIZONTAL, VERTICAL & INCLINATIONAPPLICATIONS✓ ASSEMBLE WITH 2X4 OR 2X6 LUMBER ALREADY ON SITE✓ SAFELY DISTRIBUTES WEIGHT ACROSS ENTIRE SYSTEM✓ NO MORE CAPPING EVERYREBAR!✓
Page 58
JULY 2021 www.mcsmag.com54safety solutionIt's that time of year again. The sun is out and the heat is here. According to the National Oceanic and Atmospheric Administration (NOAA), July is the warmest month for most of the country. For those working on the jobsite, it can feel even warmer.High temperatures pose more risks to workers than extra sweat. Two dangers to watch out for are heat exhaustion and heatstroke. Both conditions can be life-threatening and are caused by overexertion in hot environments where the body is unable to cool itself down efficiently or effectively. Another risk is skin cancer, the most prevalent form of cancer in the United States. The leading cause of skin cancer is UV radiation from the sun's ultraviolet rays and those who regularly spend time working outdoors are naturally at more risk. That being said, there are ways for workers to protect themselves against the sun and warm weather. Below are some tips to beat the heat while working outdoors during the summer. PROTECT YOUR SKINAccording to the Cancer Society, outdoor workers are 10 times more likely to develop conditions from UV radiation. All skin tones can be damaged by UV radiation and the damage is not only permanent, but increases with each exposure. UV radiation is almost always present outdoors and can be affected by factors including sun elevation, latitude, altitude, and cloud cover. Reflective surfaces from materials often found on the jobsite can even bounce UV radiation onto exposed skin. Despite this, only 18% of outdoor workers report always wearing sunscreen on the job. It is understandable—sunscreen is sticky, attracts dust and debris, and does not last a full day. But as inconvenient as it might be, sunscreen is vital for protection.CLOTHING AS PROTECTIONFor the 82% of workers who are not using sunscreen, there are alternatives, such as protective clothing that covers vulnerable areas such as the arms and neck. Workers should specifically be looking for clothing with Ultraviolet Protection Factor. Also known as UPF, this is the numerical rating given to clothing to indicate effectiveness at blocking UV radiation. There are a variety of protective clothing options including Truewerk's T.5 WerkHoody or Cloud Shirt, made with lightweight, fast-drying, and breathable fabric designed to keep workers cool. And don't forget about protecting the head! Wear a hat and invest in durable sunglasses with UV protection.STAY HYDRATEDAccording to Water Natura, 75% of Americans are dehydrated. If you're reading this, that means you are probably due for a water break!Drinking water is essential—especially for those in the trades who always need to operate at peak performance. H20 is critical when it comes to regulating and maintaining body temperature, removing waste, and moistening your mouth, eyes, nose, hair, skin, joints, and digestive tract. About 85% of the brain is made of water and when functioning on a full reserve, people are able to think faster, be more alert, and concentrate more effectively. Water is also critical for efficiently delivering nutrients and removing toxins from the brain.Although it depends on H20, the brain does not actually have any way to store water. Even slight levels of dehydration can cause the brain to shrink in size. Research from Water Benefits Health indicates that when water loss is merely 2% of body weight, brain functions such as short-term memory and visual motor tracking can be impaired. Those who are slightly thirsty Summer Jobsite Healthways to outsmart the sun and heatBEST PRACTICESBy Brian Ciciora
Page 59
www.mcsmag.com JULY 202155are already on the way to experiencing dehydration and slower reaction times. This can be extremely dangerous for anyone on a jobsite. Here are some tips to help workers avoid dehydration:• Drink at least 16-20 ounces of fluid an hour or two before starting the day. • People should drink 6 to 12 ounces of fluid every 10 to 15 minutes they are outdoors. Estimates suggest that workers in heavy PPE can lose as much as 2.25 liters every hour. • Even after clocking out, stay hydrated. To replace what was lost throughout the day, drink at least another 16 to 24 ounces (2 to 3 glasses).• Keep water cool; the body absorbs water in the 50-60 degrees F range much faster. Insulated stainless steel water bottles from brands like HydroFlask can keep water cold almost all day and Truewerk's Hydra WerkPack ensures H20 is always readily available. • 20% of daily water intake comes from food. High-water foods include watermelon, cantaloupe, cucumbers, berries, and leafy greens. All of these foods also offer key nutrients. RECOGNIZING WARNING SIGNSIt is essential that workers are able to recognize signs of dehydration and heat exhaustion. These include fatigue, dizziness, and confusion. Urination can also provide indicators about hydration. Everyone should know the "golden rule" test—if urine is clear to pale, you are hydrated. If it appears more golden, you should drink more water. It is important to be proactive about looking for warning signs—when not treated promptly, heat exhaustion can lead to heatstroke, which can be life-threatening. CLOSING THOUGHTThere are unique risks when it comes to working outdoors in the summer, but there are ways for workers to protect themselves against the sun and heat. Workers should also be aware of how to catch warning signs of conditions of working outdoors in the heat early. The risks associated with outdoor work in the summer are serious, but when vigilant about taking the necessary precautionary steps, workers can successfully stay cool on the job. It is always worth it to take the extra time to hydrate. about the authorBrian Ciciora is the founder and CEO of Truewerk, a direct-to-consumer performance workwear brand driven to protect, promote, and empower industrial athletes through comfortable, high-performance workwear. Committed to improving lives by setting a higher performance standard for workwear, Truewerk utilizes elite materials and technical design that keeps you safe, comfortable, and looking professional. For more, visit truewerk.com. SOLUTIONS FOR 80 YEARSBUILDING INNOVATIVE TRANSPORT TALBERTMFG.COM | 800-348-5232NOTHING BETTER BETWEEN THE LOAD AND THE ROAD!Contractor's #1 Choice for Flat FloorsA great power screed using straight flat screed bars. The❝Black Beauty❞GET FLAT FLOORS!Screed bars are available in lengths up to 20 feet.▼ Equilateral screed bars stay straight through years of use.▼ Now available with "T" handle (shown) or "Bicycle" handle.▼LOCATE A DEALER AT advancedconcretescreeds.com OR CALL US AT 800-648-0542.
Page 60
JULY 2021 www.mcsmag.com56TECHNOLOGY • MANAGEMENTTECHNOLOGY • MANAGEMENTMANAGEMENT • ENVIRONMENTALEQUIPMENT • SAFETYSAFETY • TECHNOLOGYENVIRONMENT • EQUIPMENTSOLUTIONSSOLUTIONSSOLUTIONSSOLUTIONSSOLUTIONSTECHNOLOGY • MANAGEMENTMANAGEMENT • ENVIRONMENTALEQUIPMENT • SAFETYSAFETY • TECHNOLOGYENVIRONMENT • EQUIPMENTSOLUTIONSSOLUTIONSSOLUTIONSSOLUTIONSSOLUTIONSLET MCS BE YOUR RESOURCE.LET MCS BE YOUR RESOURCE.SEEKING A SOLUTION? SEEKING A SOLUTION? Go to mcsmag.com for solution-based articles withinsight from industry experts.PLAY VIDEO
Page 61
Page 62
JULY 2021 www.mcsmag.com58featured productAt Jeffrey Machine, they make tool buying easy and simple. They focus on having the latest technology with an emphasis on innovation and safety. Jeffrey Machine builds safer, more secure tools to help eliminate jobsite hazards. The Jeffrey Machine shim box is yet another innovation for the drilling community that pushes us further into the future of our industry. When it comes to the size and functionality of drilling equipment like rigs and augers, companies have a variety of choices. As most contractors know, earth-drilling jobs are all unique and require different equipment to get the job done and Jeffrey Machine's business is providing drilling solutions for any job. Jeffrey Machine has recently designed a shim box that fits directly inside the kelly box to accept a smaller kelly bar. Shim boxes are fabricated with American-made steel, cut on high-definition CNC plasma machines, and robot-welded to allow the use of multiple rigs on the same tool. In cases where there is a tool with a larger kelly box than the rig can accommodate, it is not necessary to purchase an adapter. If there are multiple sizes of kelly bars you can buy one tool and three shim boxes instead of buying four different tools! Another great benefit to having a shim box vs. an adaptor is that you will not lose your auger in the hole that's being dug. Losing an auger in a hole can be problematic and time-consuming, but this complication can be avoided by acquiring a shim box. Shim boxes can also increase the torque output on your drilling rig which saves time on the job. Jeffrey Machine offers standard shim boxes to fit Jeffrey tools along with stocking several standard sizes of shim boxes. They can also custom build when needed. "This type of solution in the field cuts down time and minimizes costs to help companies who own multiple sizes of kelly bars and rigs," says Jeffrey Sager, president of the company. Jeffrey Machine continues to raise the bar in the industry with another first in drilling technology. Jeffrey Machine shim boxes are readily stocked in both the Texas and Alabama location. Contact them today and a sales team member will be happy to assist any customer with any needs or questions. They can be contacted at 205.841.8600 (Birmingham) or 817.545.8677 (Euless). For more, visit www. jeffreymachine.com. JEFFREY MACHINEShim BoxThe Jeffrey Machine shim box is yet another innovation for the drilling community that pushes us further into the future of our industry.7" drive box to 130mm shim box200mm drive box to 7" shim box
Page 63
www.mcsmag.com JULY 202159The Cat D4 (formerly D6K2) Dozer is a favorite because of its power, precision, and optimized balance for smooth grading performance. The D4 has a net power of 130 hp. A lower sloping hood line provides up to 30 percent better visibility to the area in front of the blade. The shorter sight lines mean the visual distance between the blade and the material pile is shortened by about 40 percent, so less time is spent backing up to get a full view of the material and the job gets done faster. Customers can also add factory integrated Cat Grade with 3D. For more, contact the local Cat dealer or visit www.cat.com. CATERPILLARD4 DozerApplied Machinery Sales introduces a new Merlo product: the DBM 3500 Cement Mixer. The DBM 3500 is a self-contained mini cement mixer. It has a drum volume of 1,321 gallons delivering 4.6 yd3 of concrete. The self-loading bucket handles up to 25 cu/ft of aggregate at each load cycle. The pump moves 66 gallons of water per minute into the mixing drum, suppling up to 37.7 sq ft of concrete in less than 15 minutes. The DBM cement mixer is suitable for working in confined, difficult-to-reach spaces. The large water tank allows operation in areas without a water supply. For more, visit ams-merlo.com. AMS-MERLOMini Cement MixerWerk-Brau introduces a multi-tined rake attachment. Designed specifically for use with compact excavators, this rugged grading/grapple rake features tine serrations along the complete underside of the rake to prevent material from slipping loose and to maintain gripping force. Wear-resistant, high-strength steel throughout the weldment, and hardened, greaseable bushings utilized at all pivot points ensure a long service life. Each heavy-duty tine is supported by reinforcing plates, with gussets placed between tines for added strength and durability. Ideal for gathering demolition debris, sorting materials, brush removal, and other land clearing/demolition tasks. For more, visit www.werk-brau.com. WERK-BRAUCompact Excavator RakeThe Husqvarna DM 200 is a tough and versatile D-handle drill motor optimized for handheld drilling of holes from 1–3 inches. Delivering top class drilling performance in both wet and dry applications. The uncomplicated and sturdy design, all-around usability makes it an ideal part of any craftsman's toolkit as well as for rental purposes. The Husqvarna DM 200's casing is made of sturdy impact-proof polyamide plastic with ball valve coupling for wet drilling, vacuum coupling for dry drilling, detachable front handle, wrenches, and user manual. The two integrated levels make it easy to enable exact horizontal and vertical working positioning. For more, visit husqvarnacp.com. HUSQVARNAHandheld Core DrillThe Alliance 585 radial's steel-belted construction and unique hybrid tread pattern—combining the traction of curved lugs with the firm ground contact and scrub resistance of block tread—helps telehandlers, backhoes, and compact loaders deliver more horsepower. The multi-directional design grips equally well in forward and reverse on paved or loose ground, while reduced rolling resistance boosts fuel economy. In addition, reinforced sidewalls and steel radial belts protect against punctures and impact damage. Ask your tire dealer or visit yokohama-oht.com. YOKOHAMA OHTAlliance 585 RadialPettibone introduces the Traverse T1056X telehandler, the first 10,000-lb-capacity Traverse model it its X-Series lineup. Traverse is the industry's only new telehandler product line with a traversing boom carriage with the capability to move loads by traveling horizontally. The T1056X has a specified lift height of 56 ft, 6 inches and the landing height is identical. The traversing boom provides up to 70 inches of horizontal boom transfer, which extends its maximum forward reach to 45 ft, 10 inches. Delivering a max load capacity of 10,000 lbs, the telehandler is powered by a 117 hp Cummins QSF 3.8 Tier 4 Final diesel engine. For more, visit www.gopettibone.com. PETTIBONET1056X Telehandlermodern construction products
Page 64
JULY 2021 www.mcsmag.com60Dear No-Feedback Frank,It's apparent you know that giving feedback to employees is key to improved performance. That's good. What's not apparent is your belief about them not wanting feedback. Everyone wants feedback. They want to know if they are doing a good job or not, and they want to get better. Without your feedback, good or bad, how will they ever know? Here are some key points to consider when giving employees feedback:✖ ENSURE EXPECTATIONS ARE SET AND UNDERSTOODStart with setting the proper expectations for your employees. Once expectations are properly set, you can fairly evaluate their performance. And when they meet these expectations, you can lead the celebration of accomplishment. However, when expectations are not properly set, in addition to dealing with unsatisfactory results, you may have difficulty holding people accountable. Your expectations should be: • Reasonable and clearly understood• Come with stated consequences✖ GIVE CONSTRUCTIVE FEEDBACKFeedback means acknowledging a job well done, suggesting actions for improvement, and more. Consider these tips when providing feedback: • Be prepared. Shooting from the hip is a losing formula and affects your credibility. Gather the data and get the facts straight. • Ensure feedback is timely. The perfect moment to provide feedback is when it happens. Waiting for a better time dilutes its effectiveness.• Watch your tone. Feedback should not be threatening or judgmental; rather, it should be helpful and constructive. Focus on the issue, not the person. Do not be timid, apologetic, or emotional. • Be specific. Include detailed examples when appropriate. ✖ SEEK FEEDBACK YOURSELFIt's good practice to seek feedback from your team on your own performance as a way to gain insight into areas that need improving. Consider these tips for receiving feedback: • Listen. Acknowledge what you heard and seek clarity. Don't debate or argue or defend. Just listen.• Say thank you. Acknowledge the feedback from others and, if appropriate, say what you will do.• Ask for more. This demonstrates you appreciate the feedback you're receiving and are willing to accept more. CLOSING THOUGHTWhen delivering feedback, choose your words wisely so you can generate excitement, enthusiasm, and engagement. When you choose poorly, you could find yourself in an uncomfortable situation or even a confrontational mess. HEY COACH, I've always had difficulty giving feedback to my team. When I have to provide ways to improve, I get concerned that what I say will cause a problem. So instead of running the risk of confrontation and potentially losing key employees, I look the other way. They usually do a good job, but I think they could do better if they're given more feedback. Any tips?about the coachAs a leadership development expert, Randy Goruk works with construction industry leaders to improve employee engagement and business growth. Register to receive his Leadership Tip of the Week at www.LeadersEdge360.com, or contact him directly to learn how he can help you and your team: randy@LeadersEdge360.com.
Page 65
Page 66