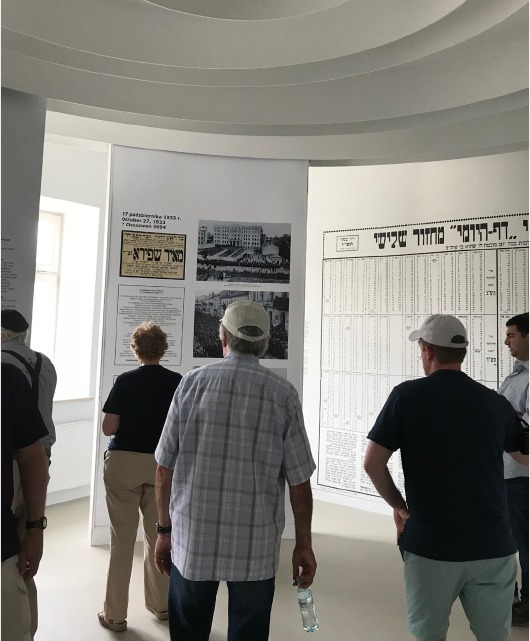 14
A Void in Need of Filling
I
n the spring of 2018, after
the March of the Living
reported that two-thirds of
universities and colleges in
the United States don't offer
a course in Holocaust studies,
the March of the Living/George
Washington University Faculty
Fellow Program was launched,
directed by Ilana Weltman at
GW. I designed and developed
it to engage more universities in
Holocaust education.
This past year alone, we
witnessed extensive need for
Holocaust education, as the US
suffered the most murderous
attack in its history on one of
its Jewish communities. At the
same time, the Anti-Defama-
tion League (ADL) reported a
signicant increase in anti-Se
-
mitic incidents in the US.
In 2014, the ADL con-
ducted a comprehensive global
study which found that only 54
percent of those polled had ever
heard of the Holocaust. More
than half of those 54 percent
said the Holocaust was either
greatly exaggerated or had
never even occurred.
As the pilot year of the
MOTL/George Washington
University program wraps up,
students at participating univer-
sities will see new Holocaust
courses offered. The program's
rst year included the recruit
-
ment of professors from Liberty
University, Utah State Univer
-
sity, George Mason University,
Rutgers University, George
Washington University and the
University of Akron. None had
offered a Holocaust course at
the colleges they represent.
Last summer, the pilot
fellowship began in Washing-
ton with an intensive one-week
program during which profes-
sors engaged with educators,
scholars and professionals to
learn pedagogy, facts and new
trends in Holocaust education.
The educators included many
Addressing the lack of Holocaust studies in many American universities, March of
the Living launches two higher education programs.
By DR. DAVID MACHLIS
scholars from the nearby Unit-
ed States Holocaust Memorial
Museum; Chief Academic Of-
cer of the program, Professor
Steven Katz of Boston Univer-
sity; Professor Sarah Horowitz
of York University and Profes-
sor Peter Hayes of Northwest-
ern University, among others.
The Faculty Fellows then spent
a week in Poland where they
engaged with Holocaust sites
and fully understood the impact
Holocaust education can have
by experiencing it rst-hand.
"Traveling to Germany
and Poland was an impor-
tant experience," says Mark
Helmsing, a professor in the
original Faculty Fellows cohort
of professors from George
Mason University. "It allowed
me to see in person historical
sites, centers and programs
that deeply impressed on me
the signicance of strengthen
-
ing and supporting Holocaust
education in the United States
and globally."
Brad Maguth, professor
of education at the University
of Akron, also found himself
teaching at a university with no
Holocaust education.
"As a result of this expe-
rience, I feel extremely well
prepared to plan and teach a
Holocaust course, the rst ever
at my university," says Prof.
Maguth. "This program has
armed me with the necessary
experiences, content knowledge
and networks to best reach
my students in teaching this
difcult topic. Without this
funded fellowship, my teaching
a Holocaust course wouldn't
have been possible."
David Snead, a professor
at Liberty University and a
graduated Fellow who partic-
ipated in the Faculty Fellows
program, felt the trip was
extremely important.
"Classes on the Holocaust
need to be taught on every cam
-
pus," says Prof. Snead. "In my
view, the March of the Living is
an excellent vehicle for prepar-
ing educators to do so."
MOTL plans to contin-
ue building this program and
expand the cohort of professors
in the coming year. To develop
Holocaust education, inno-
vative programs must target
schools not offering a course,
with an in-service model, such
as the GWU Faculty Fellow
Program, created with GWU's
Graduate School of Education
and Human Development and
directed by Ilana Weltman.
The educational impact
from this rst year alone will
reach hundreds of college
students. At George Mason
University, Prof. Mark Helms-
ing's new Holocaust education
course will now be a require-
ment for all Master's of Social
Studies Education students.
In its ongoing efforts to ac
-
cess new audiences, in particu-
lar those with educational inu
-
ence, MOTL recently launched
a program for university deans
of schools of education. Coordi-
nated in partnership with the
Miller Center for Community
Protection and Resilience at
Rutgers University, the 2019
inaugural program will host 12
deans who will benet from a
specially coordinated itinerary
in Poland coinciding with the
main March of the Living.
The goal of the initiative,
which I developed, is to allow
educators to better understand
the need for innovative Hol-
ocaust education. The Miller
Center, under the direction of
John Farmer, himself a Dean
of the Rutgers Law School and
former Attorney General of
New Jersey, is involved with
numerous efforts with MOTL
focused on this goal. The 2019
inaugural Deans Mission will
also include education sympo
-
sia in both the US and Poland,
featuring some of the academ-
ic world's leading Holocaust
scholars including Professor
Steven Katz of Boston Univer-
sity, who will be the program's
Scholar in Residence.