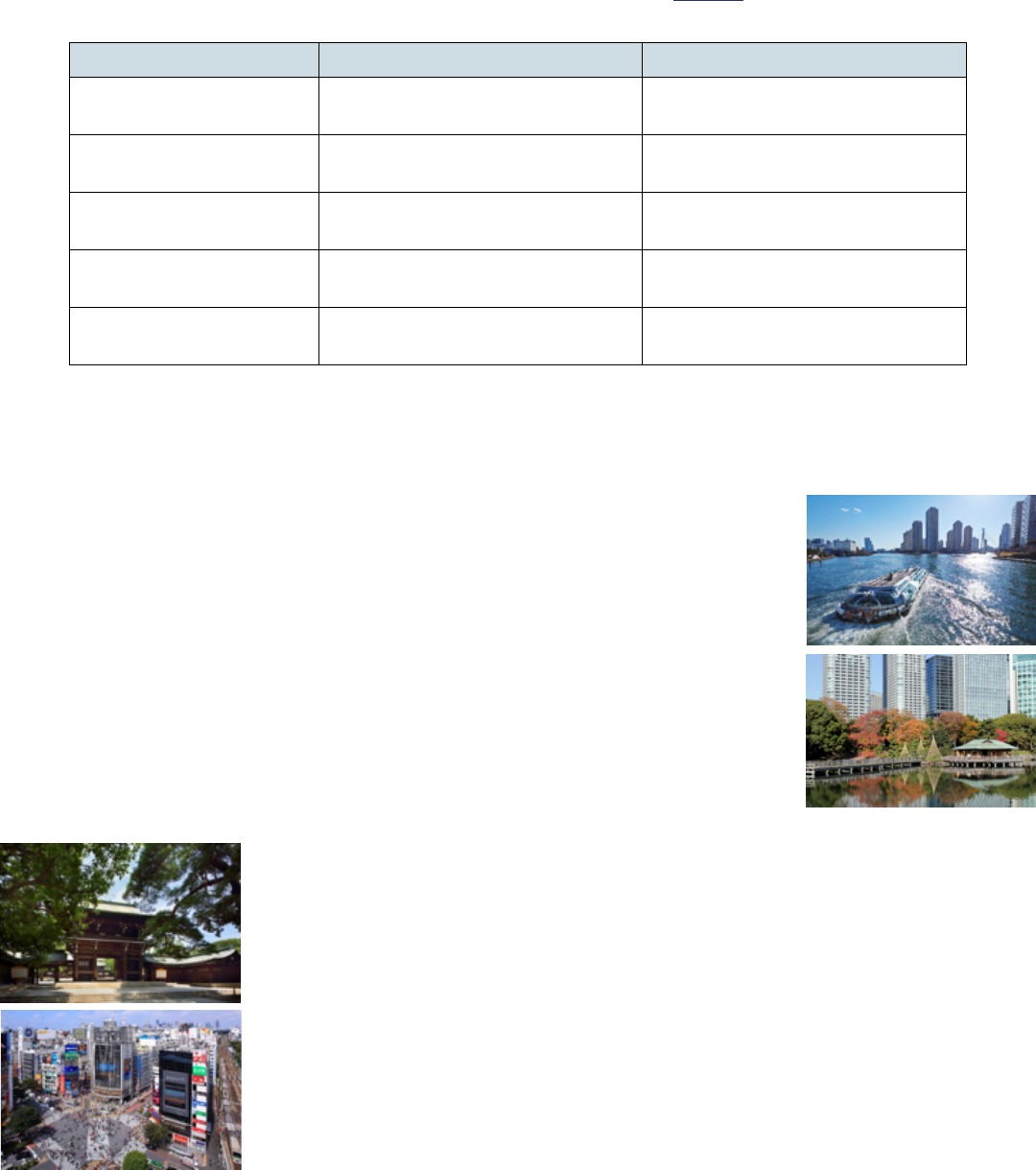 Complimentary Tokyo City Tours
Tokyo Metropolitan Government will provide complimentary bus tours with an English-speaking guide for conference
registrants and their guests to enjoy the most popular sightseeing areas in Tokyo.
Departure/Arrival: Hilton Tokyo
Duration: approx. 3.5-4 hours for a half day tour
Fare: Free
Registration:
Registration will commence in early September
Schedule:
Date
AM (9:00-12:30)
PM (13:30-17:00)
Nov. 12 (Tuesday)
River Cruise & Hama-rikyu
Japanese Gardens (20ppl)
Nov. 13 (Wednesday)
Meiji Jingu Shrine &
Harajuku Shopping (40 ppl)
Nov. 14 (Thursday)
TOKYO SKYTREE
®
(40 ppl) &
Solamachi Shopping
Nov. 15 (Friday)
Edo Tokyo Museum
& Asakusa (40 ppl)
Nov 16 (Saturday)
River Cruise & Hama-rikyu
Japanese Gardens (40 ppl)
First-come, rst served. Tour itineraries are subject to change.
Tour Highlights
River Cruise & Hama-rikyu Japanese Gardens
This half-hour boat cruise down the Sumida River travels under some 14 bridges spanning
Tokyo's main river, showing the capital's famous landmarks along the way. The cityscape
of Tokyo seen from the river is refreshing to the eye. The cruise will arrive at the majestic
Hamarikyu Gardens, located along the Tokyo Waterfront. Visitors can enjoy a walk in the
beautifully preserved garden which the family of the ruling Tokugawa Shogun owned from
17th to mid- 19th century, and used for hunting with falcons.
Autumn leaves can be enjoyed in Tokyo from late November to December. The reection
of the colorful trees on the waters of the ponds are spectacular, making this a beautiful
viewing spot. Together with the autumn leaves, enjoy the sculpted beauty of this vast
Japanese garden in the middle of the city.
Meiji Jingu Shrine & Harajuku Shopping
See the the iconic and bustling Shibuya scramble intersection from the bus window, be
-
fore heading to Meiji Jingu Shrine. The Meiji Jingu Shrine, a Shinto shrine dedicated to
Emperor Meiji and his wife Empress Shoken, was established in 1920. Over 100,000 trees
were donated by people all over Japan at the time of the shrine's establishment, creating
the extensive forest and garden that can be seen today. Meiji Jingu Shrine is also the place
where Japanese people honor life events, such as births and weddings. If you are lucky,
you may encounter a happy bride dressed in a white Kimono with her groom.
After a pleasant stroll around Meiji Jingu Shrine, you can head towards Harajuku and
Omotesando district. This area is one of the most fashionable streets in Tokyo today.
4