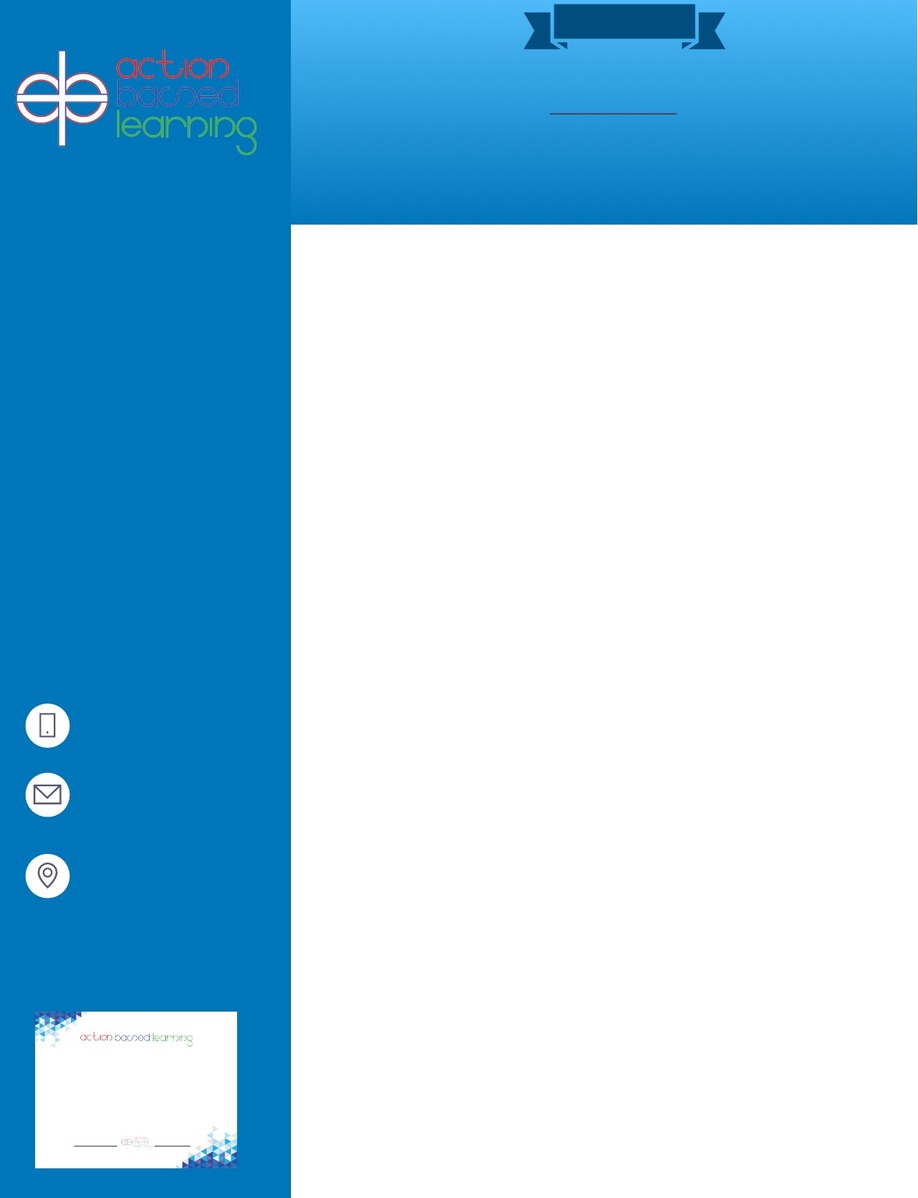 ACTION BASED LEARNING CERTIFIED
LAB FACILITATOR
The Lab facilitator
!
certification
is a specialized certification
specifically for implementing,
managing, and enhancing the
effectiveness of your ABL Lab
program. This certification is
designed for Lab Facilitators,
classroom teachers, and
administrators involved in
creating and maintaining a
successful lab in your school.
!
DIGITAL RESOURCES AND
COURSE MATERIALS
LIFETIME ACCESS TO
ABL COMMUNITY
Introduction to Action Based Learning ($195)
Lab Management and Facilitation ($195)
Lab Progressions | Enhancing Student Success in the Lab ($195)
The 12 Foundations of Learning Readiness ($195)
There are no pre-requisites. A total of 4 courses are required. These
courses can be purchased in a bundle upfront, or you can pay for
each course as you go.
!

There is no limit on the time to complete
the certification. Some educators may prefer to space out their
courses, and enroll in 1 course every few months. Others may take
all 4 courses consecutively, to speed up the process of becoming
certified. With this in mind, the time to obtain certification varies.
Average time to complete: 2-4 months
This certificate acknowledges the successful completion of 7 credit hours of
continuing education in Action Based Learning Instruction
Certification is designed to support Lab Facilitators in the areas of
planning, implementation, and management of a successful Action
Based Learning Lab Program. The ABL-LF is trained on day to day lab
management and best practices to provide structure to the ABL Lab in
the areas of scheduling, set-up, room layout, student progressions, and
on-going care of the labs . Training includes, student assessment,
progressions, the layering of academic content, Classroom variation,
Safety & Classroom/Lab Rules, and Operating Equipment / Proper Use