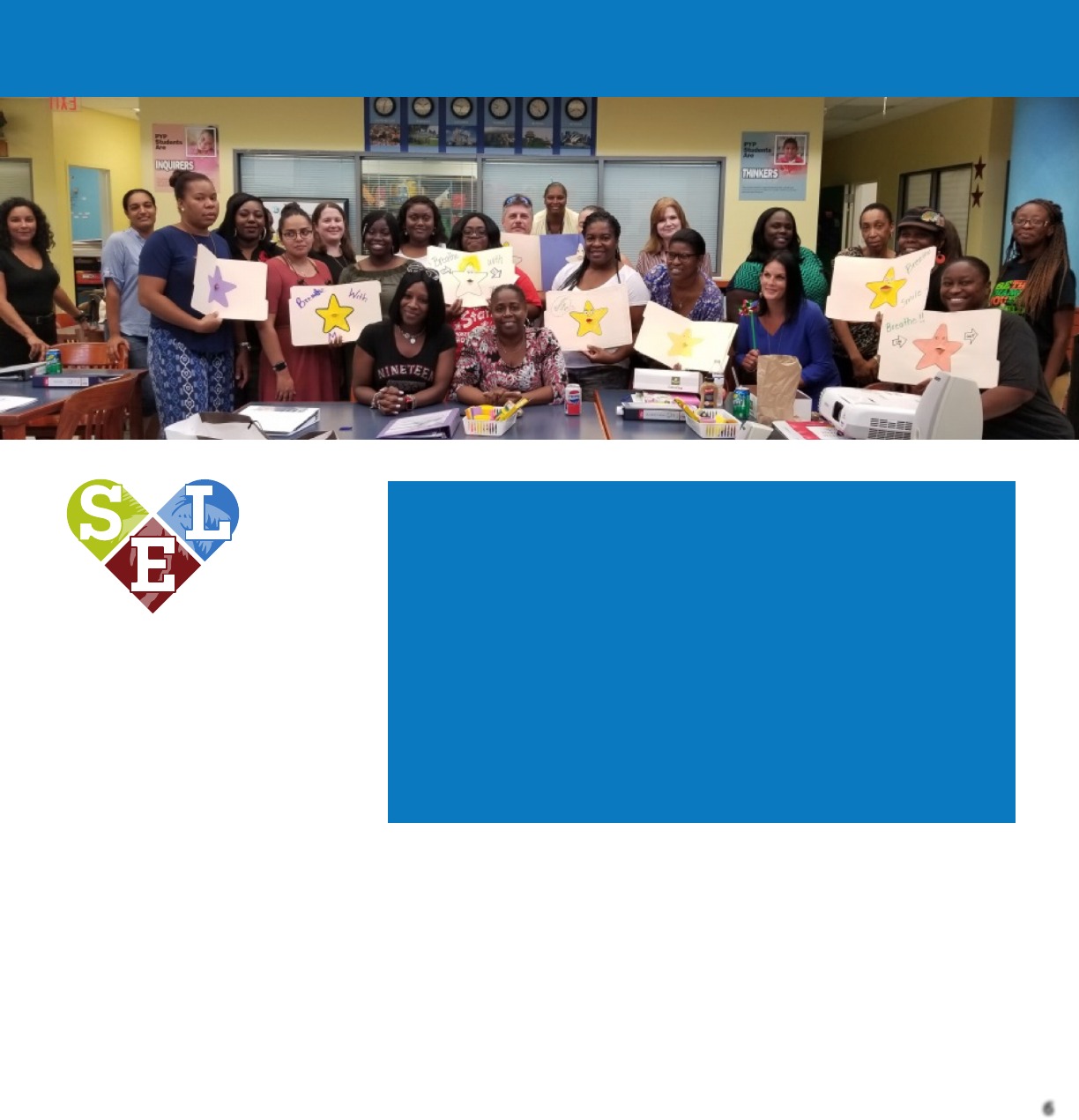 In 2017-2018, Prime Time and the School
District of Palm Beach County kicked
off the first implementation of the
Partnerships for Social and Emotional
Learning Initiative (PSELI). School-day
and out-of-school time (OST) staff at
seven pilot elementary schools received
extensive training, coaching and support,
equipping them to foster social and
emotional learning (SEL) in children and
adults. An additional seven comparison
schools conducted "business as usual" in
order to illuminate effects of the enhanced
strategies at the pilot schools. Highlights
from the year included formation of
an SEL team at each pilot school, along
with adoption of the evidence-based
SEL curriculum Second Step and related
practices across both school day and
OST. To enhance the impact of academic
instruction and OST learning experiences,
teachers and afterschool practitioners
facilitated Morning Meeting (during school
day) and Afternoon Meeting (during OST),
structured group activities designed to
increase children's self-awareness, self-
regulation and other SEL skills. While
schools ramped up these efforts, initiative
partners tested SEL-related key messages
for use at schools and the broader Palm
Beach County community. PSELI Points,
a weekly project newsletter, informed
stakeholders of progress. In addition, all
pilot and comparison schools participated
in research and data collection to help
assess PSELI's positive effects.
The Partnerships for Social and Emotional
Learning Initiative afforded Prime Time
the opportunity to partner with the
School District of Palm Beach County,
while offering the two-day 2018 PSELI
Summer Institute to school and out-of-
school time (OST) staff. The Institute
was held over a two-day period (totaling
15 hours). The Institute focused on the
integration of the evidenced- based
social and emotional learning curriculum
- Second Step - and Morning/Afternoon
Meeting lesson plans for grades K-5.
Participants put their imaginations
to work while developing Breathing
Stars and other tools to increase self-
management skills, practiced mindfulness
in relation to self-awareness skills, and
were encouraged to be self-reflective
while participating in one of the most
popular sessions titled "I Wish My Teacher
Knew."
Paicipants Included
Fifteen administrators, 51 OST directors
and practitioners, 270 teachers, seven
Pre-K staff, six school counselors and 29
other staff members and guests.
SUPPORT FOR SOCIAL AND EMOTIONAL LEARNING
SOCIAL & EMOTIONAL
LEARNING
P A L
M
B
E
A C
H
C
O
U
N
T
Y
6