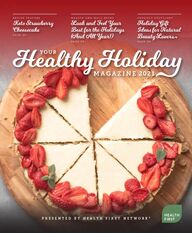 Return to flip book view
Your Healthy Holiday Magazine 2021
Page 1
PRESENTED BY HEALTH FIRST NETWORK®RECIPE FEATUREKet StrawberrCheesecakPAGE 20 PRODUCT SPOTLIGHTHolida Gif Idea fo Natura Beaut Lover PAGE 40 HEALTH AND WELL-BEINGLook and Feel Your Best for the Holidays (And All Year!)PAGE 34
Page 2
Your kids will love the great taste, and "U" can be sure they are great for themn-g • VeAn ArIIcA FlVu o SwEEnR@sisuvitaminsA GREAT STOCKING STUFFER! ALSO AVAILABLE IN VITAMIN C AND CALCIUM PLUS DThese products may not be right for you. Always read and follow the label.MMuuttVViiaaNN MmeMme
Page 3
Content healthfirst.ca | 3ONE BIGFAMILY.ONE BIGCOMMUNITY.What do snowmen and shellsh and monsters have to do with Health First's brand new Family First line of natural health supplements? They're just some of the answers to the trivia questions about Canada that you'll nd right on our Family First labels. Health First is bringing family fun and learning to the supplement aisle!#LIVEFAMILYFIRSTFamily First. One product for the whole family. Parents just got (a little) less busy.SNOWMEN AND SHELLFISH AND MONSTERS, OH MY!Dosing for everyone in the family, from kids to grandparents and everyone in between!Highly absorbable nutrients because why shouldn't kids have the best quality supplements too?Clean non-medicinal ingredients and sweetenersLiquid and chewable formatsFree from common allergens, articial colours, articial avours, preservatives, and GMOsMade in Canada in sustainable packagingA little healthy fun for kids and the whole family!The Health First and Family First lines of ne natural health supplements are exclusive to Health First Member Stores, your community destination for natural health and wellness.Family First checks all the boxes for busy parents:4. Health First's New Line for the Whole Famil33. Your Health First Winter Medicine Cabine12. Healthy Holiday Recipe6. Putting "Happy" in All You Do!8. Are You Dreaming of a Great Sleep? 10. Healthy Holiday Food Gift Idea 30. Holiday Health & Wellness Tip32. Thriving Through the Holiday 34. Look and Feel Your Best for the Holiday (And All Year!)36. Immune Protection for the Whole Famil38. Achieving Optimal Digestive Healt 40. Health and Beauty Holiday Gift Ideas42. The Key to a Merry and Stress-Free 2022 Fo th Lov o Famil.As one big family in natural health communities across Canada, Health First Network is thrilled to announce our new Family First product collection that focuses on you and your family. We know that parents across our nation want the best in health for their children, and we also know that you're really, really busy! So our line checks all the boxes for busy parents: see page 4 for more info!The Family First collection is available exclusively at your local Health First Member Store. Visit healthfirst.ca to find yours!RECIPES | ARTICLES | HEALTHY TIPS | WELL-BEING 12 Day o Givin!To kick o the holiday season, we're giving away 24 prizes from some of our cherished brand partners, all geared towards helping you manage stress, support mental health, and optimize immunity during this busy time of year! From December 1st to 12th, we'll be running a dierent giveaway each day. Head to healthrst.ca and enter for your chance to win! There are so many amazing gifts! You will NOT want to miss this!*No purchase necessary. Visit healthrst.ca for contest rules and regulations. @healthrstnetwork28. Iron for Good Health and Happines
Page 4
ONE BIGFAMILY.ONE BIGCOMMUNITY.What do snowmen and shellsh and monsters have to do with Health First's brand new Family First line of natural health supplements? They're just some of the answers to the trivia questions about Canada that you'll nd right on our Family First labels. Health First is bringing family fun and learning to the supplement aisle!#LIVEFAMILYFIRSTFamily First. One product for the whole family. Parents just got (a little) less busy.SNOWMEN AND SHELLFISH AND MONSTERS, OH MY!Dosing for everyone in the family, from kids to grandparents and everyone in between!Highly absorbable nutrients because why shouldn't kids have the best quality supplements too?Clean non-medicinal ingredients and sweetenersLiquid and chewable formatsFree from common allergens, articial colours, articial avours, preservatives, and GMOsMade in Canada in sustainable packagingA little healthy fun for kids and the whole family!The Health First and Family First lines of ne natural health supplements are exclusive to Health First Member Stores, your community destination for natural health and wellness.Family First checks all the boxes for busy parents:
Page 5
ONE BIGFAMILY.ONE BIGCOMMUNITY.What do snowmen and shellsh and monsters have to do with Health First's brand new Family First line of natural health supplements? They're just some of the answers to the trivia questions about Canada that you'll nd right on our Family First labels. Health First is bringing family fun and learning to the supplement aisle!#LIVEFAMILYFIRSTFamily First. One product for the whole family. Parents just got (a little) less busy.SNOWMEN AND SHELLFISH AND MONSTERS, OH MY!Dosing for everyone in the family, from kids to grandparents and everyone in between!Highly absorbable nutrients because why shouldn't kids have the best quality supplements too?Clean non-medicinal ingredients and sweetenersLiquid and chewable formatsFree from common allergens, articial colours, articial avours, preservatives, and GMOsMade in Canada in sustainable packagingA little healthy fun for kids and the whole family!The Health First and Family First lines of ne natural health supplements are exclusive to Health First Member Stores, your community destination for natural health and wellness.Family First checks all the boxes for busy parents:
Page 6
We're looking forward to all the planning and preparation, and most of us are ready to take on the challenge! Yet, between the planning, the indulgences, and the change of pace after being low-key for so long, we may feel a little less calm and a bit o-kilter. This is where WomenSense® HappySense® 5-HTP can help in so many ways as your gatherings approach! Serotonin is one of the major neurotransmitters in the body that plays an important role in emotional well-being, sleep, pain, and appetite. Low serotonin can be an underlying factor in multiple 6 | healthfirst.caPutting "Happy" in All You D!The year is winding down! Many of us cherish this time of year and love playing host to our families and loved ones. We may be planning to put even more eort into gatherings this year and giving more thought about what these gatherings mean to us. Certainly, gratitude for being together will be a common theme.
Page 7
chronic health problems, including bromyalgia and migraines. Naturally sourced from the seed of the African plant Grionia simplicifolia, HappySense® 5-HTP readily crosses the blood-brain barrier and is converted directly into serotonin by the body. This, in turn, helps promote healthy mood balance, relieve symptoms of bromyalgia, and reduce the severity and duration of migraine headaches when taken preventatively. 5-HTP can even help promote better sleep by boosting melatonin production in your body. Along with a reduced intake of dietary calories and increased physical activity, 5-HTP can also help in weight management by reducing carbohydrate cravings. To get ready for the holiday season we have a few tips to help keep you healthy and in a celebratory spirit:• It's OK to indulge – in moderation. You don't have to deprive yourself of all the tasty holiday treats, just plan wisely. If a party is coming up on the weekend, concentrate on a clean diet the week leading up to it.• Get enough zzz's. Not enough sleep will increase the "stress hormone" cortisol. When cortisol is elevated, you can bet you'll gain weight, feel unbalanced, and be an easy target for viruses and bacteria.• Avoid excess alcohol. Alcohol can make you feel good temporarily, but it actually acts as a depressant, alters mood and judgment, and negatively aects sleep. Most alcohol is also high in calories.• Relax and breathe. Treat yourself to a massage, practice deep breathing exercises, learn to say "no" once in a while, and take time for yourself whether it's to read a book, take a walk, meditate, or sneak o for a relaxing bath.• Keep up with exercise. When stressed, exercise can alter your body chemistry to calm and soothe upset nerves. The end of the year can often be a dicult time to maintain an exercise routine so try working out rst thing in the morning or plan fun family activities such as walking or ice skating.HappySense® can be taken daily, so you can start planning your "serenity" well in advance of your holiday preparations. While it won't keep those last-minute emergencies from happening, it may help change your response to them. The sudden volume increase may take some getting used to, so plan early. This way you can enjoy the time spent with loved ones and sleep well at the end of your busy days!Naturally enhances serotonin levelsHappySense® 5-HTP 50/100 mgImproves mood and sleep • Reduces cravingsRelieves bromyalgia and migraine symptomsNOW in timed-release capletswomensense.comenhances9224671
Page 8
Holidays are happier when you feel relaxed and rested, which is usually the opposite of what happens this time of year. We get caught up in the hustle and bustle - shopping lists, events, traditions, and obligations - leaving sleep at the top of our wish list. If you have ever felt sluggish and groggy after a poor sleep, you understand how the lack of good quality rest can impact your mood and ability to function. A healthy amount of sleep is vital for the brain's ability to adapt to the busy and often stressful holiday season. Researchers now recognize that adequate sleep is as essential for good health as diet and exercise. Experts recommend at least 7 to 9 hours of sleep per night for most people and note that those who regularly get fewer than 6 hours of sleep are at a higher risk for degenerative conditions such as diabetes, heart disease, stroke and cognitive decline.Holida Tip t Hel wit Slee and RelaxationAs your day begins to slow down, take a few minutes to prepare yourself for tomorrow. This will help to clear your mind from the busyness of today and prevent overthinking once you lay down to sleep. • Prepare a healthy lunch and any dishes you need to take to events • Lay out your clothes and any changes you need for the next day • Make a to do list and try to get a few items checked o everydayFind activities that help you relax and create bedtime patterns. Set an alarm to tell yourself to stop wrapping gifts, reminding yourself that it's time to start your unwind routine. • Prevent blue light exposure (computer screens & TVs) 30 mins prior to bedtime • Read a book • Relax in a warm bath • Turn o the lights • Listen to calming music • Stretch or meditateDuring the day limit caeine and sugar consumption, eat a diet rich in superfoods and move your body.Add supplements to your unwind routine to help ease you to sleep:• Pharma GABA® is scientically studied for improvements in sleep quality. GABA (Gamma-Aminobutyric Acid) is an amino acid produced naturally in the brain. Its main action is to calm, ease anxiety and quiet the mind. It helps with insomnia and improved sleep quality.8 | healthfirst.caAre You Dreaming of a Great Sleep?
Page 9
• Lemon balm naturally increases your levels of the neurotransmitter GABA which has a positive eect on your overall mood and reduces anxiety.• Passionflower (Passiflora incarnata) contains compounds that help relax the central nervous system. This plant has been extensively researched, with several clinical studies supporting its use in the treatment of insomnia and anxiety. • L-Theanine promotes relaxation and encourages sleep by helping to elevate levels of GABA and other "calming chemicals" (serotonin and dopamine). Research shows L-Theanine improves quality of sleep not through sedative action but by helping lower anxiety and promoting relaxation.• 5-Hydroxytryptophan (5-HTP) is produced during the conversion of the essential amino acid L-Tryptophan to serotonin. Serotonin is one of the principal neurotransmitters involved in regulating mood, happiness and sleep cycles.• Melatonin reduces the time needed to fall asleep and increases the total amount of sleep time. Prairie Naturals® Sleep Solution is a safe, non-habit forming liquid sleep aid designed to quickly ease the transition to sleep. Formulated with lemon balm, passionower, L-Theanine, 5-HTP, melatonin and PharmaGABA® (a natural and superior form of GABA) Sleep Solution will help you sleep soundly and wake up feeling refreshed, never groggy. Sleep Solution is synergistically blended to decrease the time required to fall asleep, reduce the number of sleep interruptions, create feelings of peace and calm and support a good night's sleep.Are You Dreaming of a Great Sleep?
Page 10
10 | healthfirst.caGiddy Yo Chocolate Bars Looking for holiday indulgences that are actually good for you? Giddy Yo handcrafts single origin, organic, plant-based, allergen-free, delicious and nutritious dark chocolate that kids and adults LOVE! Imagine the look of delight as loved ones discover Giddy Yo chocolate in their stockings… priceless!Beekeeper's Naturals Holiday KitMadeGood® Soft Baked & Crunchy CookiesSoft and moist or crunchy goodness – cookies, just how Santa likes them! What he doesn't know is that these are low in sugar, gluten- free, and packed with a hidden serving of vegetables. Both MadeGood® Soft Baked & Crunchy Cookies make a great holiday snack!Healthy Holiday Treats for Everyone on Your Lis Show your love this holiday season with these wholesome goodies, perfect for a faraway loved one, a co-worker or that foodie friend who loves a great snack!'Tis the season to focus on your health and well-being with the Beekeeper's Naturals Holiday Kit. Protect your immune system every day with propolis, a powerful ingredient from the beehive that contains a host of vitamins – including vitamin C, zinc, iron and so much more!
Page 11
healthfirst.ca | 11 healthfirst.ca | 11Prana® Sumsuma Chocolate Sesame BitesOrganic, crunchy and totally irresistible! Sesame bites that have a thin layer of 62% dark chocolate for an even more delicious treat. Use these for a party tray, late night holiday snack or the perfect stocking stuer for your loved one.Wedderspoon™ Manuka Honey DropsSoothe away your winter blues and your throat at the same time with these delicious, highly eective Manuka Honey drops. Give the gift of wellness to your family and friends this holiday season!Theo® Organic Peanut Butter Cups A childhood favourite improved by pairing smooth, rich, fair-trade chocolate with organic peanut butter. Made by a true chocolatier, soy, and palm free so you can feel good about gifting them to your whole family!Alter Eco® TruesA silky smooth, outer chocolate shell with a creamy, rich lling. Enjoying a true is a special experience, and gifting them to a loved one or handing them out as after dinner treats to guests is even more special. healthfirst.ca | 11Stash Christmas TeasCreated especially for the holidays, these festive blends enliven the spirit of the season. Stash Teas are as tasty, delightful and warming as ever. Enjoy the season with a mug full of flavour to warm you up from head to toe.Made with all natural, plant-based ingredients, these light and uy treats melt just like regular marshmallows but without corn syrup or gelatin. They are the perfect addition to your holiday baking or for topping your hot chocolate.Dandies® Vegan Marshmallows
Page 12
Manitob Harvest ®ROOT VEGETABLE SALAD & POMEGRANATE HEMP VINAIGRETTE12 | healthfirst.caROOT VEGETABLE SALAD & POMEGRANATE HEMP VINAIGRETTE with MANITOBA HARVEST®INGREDIENTS:1/4 cup avocado oil1 bulb fennel, sliced lengthwise into 1/2-inch thick pieces2 parsnips, peel & chop into 1/2-inch pieces4 carrots, peel & chop into 1/2-inch pieces1-2 red beets, peel & chop into 1/2-inch pieces (about 1/4 cup)1 tsp sea salt1/4 tsp black pepper2 cups arugula1 orange, peeled and sliced into rounds1/4 cup Manitoba Harvest® Hemp Hearts1-2 Tbsp fennel leavesPOMEGRANATE HEMP VINAIGRETTE1/4 cup pomegranate vinegar1 Tbsp stone ground mustard2 Tbsp Manitoba Harvest® Hemp Oil2 Tbsp olive oil1/4 tsp sea saltDIRECTIONS:Preheat oven to 400°F.On a baking sheet, toss chopped root vegetables, avocado oil, salt and pepper.Roast in oven 30-40 minutes until tender and golden, turning once after 20 minutes.Meanwhile, whisk together or shake in a jar vinaigrette ingredients until combined.Toss warm root vegetables in 1/2 of the vinaigrette.On large serving plate, layer arugula, root vegetables and sliced oranges.Drizzle with more vinaigrette and top with Manitoba Harvest® Hemp Hearts, pomegranate seeds and fennel leaves.
Page 13
Eart Balanc® SLOW COOKER SAUS'AGE STUFFING healthfirst.ca | 13SLOW COOKER SAUS'AGE STUFFING with EARTH BALANCE®INGREDIENTS:1 pkg (190g) Gardein® Original Breakfast Plant-Based Saus'age Patties 1/2 cup Earth Balance® Original Buttery Spread 1 small onion, chopped 3 medium ribs celery, chopped 1 tsp dried thyme leaves 1 tsp dried rosemary 1 tsp dried sage leaves 1 tsp kosher salt 1/2 tsp ground black pepper 1 loaf (680g) sourdough bread, cut in 1-inch cubes (about 10 cups) 2 cups vegetable brothDIRECTIONS:Melt 1 Tbsp of Earth Balance® in a large non-stick skillet over medium heat. Cook saus'age in skillet according to package directions. Remove from skillet and chop into small pieces. Melt remaining Earth Balance® in skillet. Add onion and celery and cook until tender, about 5 minutes. Stir in thyme, rosemary, sage, salt and pepper. Place bread cubes in large bowl. Pour in saus'age, onion mixture and broth; stir until well combined. Pour into slow cooker. Cover and cook on low 3 hours. Sprinkle with smoked paprika and chopped chives. Serve warm.Recipe courtesy of readyseteat.com
Page 14
KOMBUCHA INFUSED CRANBERRY SAUCE with GT'S KOMBUCHAINGREDIENTS:12 oz fresh cranberries1/3 cup maple syrup1/4 cup water1/4 cup GT's KOMBUCHA Cosmic Cranberry1/3 cup fresh orange juicezest from one orangepinch of salt1 whole cinnamon stickDIRECTIONS: Add in the cranberries, maple syrup, GT's KOMBUCHA Cosmic Cranberry, and water to a small saucepot and bring to a boil.Once boiling, reduce to low heat and simmer for 10 minutes, uncovered.Once the desired thickness is reached, remove from heat and stir in the orange juice, zest, and salt. Garnish with a whole cinnamon stick and orange zest.GT ' KombuchKOMBUCHA INFUSED CRANBERRY SAUCE14 | healthfirst.ca
Page 15
ROASTED WINTER VEGETABLE & BEET GALETTE with FLORA®INGREDIENTS:10-inch pie crust1 small kabocha squash1/4 cup coconut cream1/4 cup Flora® Red Beet Crystals1/2 Tbsp olive oil1 small white onion, diced2 tsp dried thyme1 tsp sea saltpepper to tasteFlora® Manuka Honey, for drizzlingDIRECTIONS:Preheat oven to 375°F. Slice kabocha squash in half, rub the exposed esh with coconut oil and sea salt, and roast until soft (about 30-45 minutes). Spoon out the esh when cooled and discard seeds.Turn oven up to 400°F and line a baking sheet with parchment paper.In a skillet, add ½ Tbsp olive oil, onion, salt and pepper. Toss for 30 minutes until onions are beginning to caramelize.In a mixing bowl add squash, Flora® Red Beet Crystals, coconut cream, thyme, salt and pepper. Mash until well combined. Fold in cooked onion.Remove the pie crust from its shell and lay on a oured surface. Spoon beet and squash mixture onto the pie crust, leaving 1 ½ inches bare around the circumference. Fold the crust edges over its lling.Bake for 40-45 minutes, remove and drizzle with Flora® Manuka Honey to serve.Recipe and photo courtesy of @eatyoungnutritionFlor®ROASTED WINTER VEGETABLE & BEET GALETTE healthfirst.ca | 15
Page 16
16 | healthfirst.caCamin® CRANBERRY CHOCOLATE TARTCRANBERRY CHOCOLATE TART with CAMINO®INGREDIENTS:CHOCOLATE TART CRUST1-1/4 cup organic all-purpose our1/4 cup Camino® Cocoa Powder1/3 cup organic icing sugar1/4 tsp salt1/2 cup organic unsalted butter1 large organic egg yolk2 tsp organic heavy cream (35%)1/2 tsp organic vanilla extractCRANBERRY FILLING1 cup Camino® Golden Cane Sugar1 cup water 4 cups frozen organic cranberriesZest from half a large orangeWHIPPED CREAM 1 cup organic heavy cream (35%)Zest from the other half of the orangeChocolate shavings from Camino® Bittersweet Baking Chocolate Bar (71% cacao)16 | healthfirst.caDIRECTIONS:CHOCOLATE CRUSTIn a bowl, mix the butter, our, cocoa powder, sugar and salt until it resembles a crumble. Add the egg yolk, cream and mix until the dough holds together.Wrap in plastic wrap and chill for 1 hour.When ready, roll dough until 1/8-inch thick and press into a tart tin. Preheat oven to 375°F and bake for 20 minutes. Remove crust and let cool.CRANBERRY FILLINGIn a saucepan, bring water and sugar to a boil until sugar dissolves. Add in cranberries and bring to a boil. Cook until cranberries open then simmer for 10 minutes. Add in zest of half an orange. Remove from heat and cool.ASSEMBLING THE TARTWhip cream to form sti peaks. Fill chocolate tart with cranberry lling. Add whipped cream, remainder of orange zest and chocolate shavings.Recipe and photo courtesy of inspiringolivia.com
Page 17
BUY HEALTH FIRST®GET A SWEET GIFT FREE!Keep yourself and your family healthy this season and cross those last-minute gifts and stocking stuers o your list at the same time!Buy any ONE HEALTH FIRST product Get ONE FREE GIFT BOX of Camino organic, fairtrade, mini dark chocolates*.*Exclusive to Health First Network stores, while quantities last!ONE BIG FAMILY. ONE BIG COMMUNITY. Health First partners with the top natural health brands in Canada. Camino is a perfect t in our big family community, with their worldwide support of 47,500 family farmers who help to bring their delectable, organic and fairtrade chocolates to Canadians.
Page 18
PROBIO COCONUT YOGURT with HEALTH FIRST® INGREDIENTS:2 capsules Health First® ProBio Supreme1 L full fat coconut milkDIRECTIONS:Empty the capsules of Health First® ProBio Supreme into 2 clean glass jars.Pour coconut milk into each jar, lling each jar equally.Place the lids securely on your jars and shake them up!Remove the lids, place your jars in your Instant Pot and select the Yogurt button.When the program completes, carefully remove your jars and let them cool, then refrigerate.Coconut yogurt can be served plain or topped with fruit, chia seeds, or granola. Enjoy!Recipe courtesy of @healmeinthekitchenHealt Firs® PROBIO COCONUT YOGURT18 | healthfirst.ca
Page 19
Brag® GLUTEN FREE VEGAN CHOCOLATE ZUCCHINI DONUTS healthfirst.ca | 19GLUTEN FREE VEGAN CHOCOLATE ZUCCHINI DONUTS with BRAGG®INGREDIENTS: FOR THE DONUTS3/4 cup gluten-free all-purpose baking our1/3 cup coconut sugar1/4 cup unsweetened cocoa powder1/2 tsp baking soda1/2 tsp salt2 Tbsp + 2 tsp melted coconut oil1/3 cup non-dairy milk1/4 cup zucchini, shredded and excess liquid removed1 tsp Bragg® Apple Cider Vinegar1/4 tsp vanilla extractFOR THE GLAZE 1 1/2 oz vegan dark chocolate1 tsp coconut oilDIRECTIONS:Preheat the oven to 355°F.In a medium bowl, mix the our, coconut sugar, cocoa powder, baking soda and salt.Add coconut oil, dairy-free milk, zucchini, Bragg® Apple Cider Vinegar and vanilla and stir to combine.Grease a donut pan and divide batter evenly among molds. Bake for 10-12 minutes, or until baked through.Let donuts cool in the pan. Once cool, run a toothpick or knife along the edges of each and turn the pan over onto a baking sheet. Gently tap until donuts fall free.Prepare the glaze by bringing about 1/2 inch of water to a low boil in a saucepan. Put chocolate in a heatproof bowl and set on top of the saucepan, making sure it doesn't come in contact with the water. Add coconut oil to the bowl and stir slowly as the chocolate melts.Frost the cooled donuts by dipping them in melted chocolate glaze.
Page 20
Good T G™KETO STRAWBERRY CHEESECAKE KETO STRAWBERRY CHEESECAKE with GOOD TO GO™ INGREDIENTS:6 GOOD TO GO™ Strawberry Macadamia Nut Bars2 Tbsp butter32 oz cream cheese, room temperature1 1/4 cup powdered erythritol3 large eggs, room temperature1 Tbsp lemon juice1 tsp vanilla extractDIRECTIONS:Preheat oven to 350°F. Line the bottom of a 9-inch pan with parchment paper.MAKE THE CRUSTCombine GOOD TO GO™ bars and melted butter in the food processor until crumbly. Press the mixture into the bottom of the pan. Bake for 10 minutes.MAKE THE CHEESECAKE MIXTURE In the bowl of a stand mixer, beat the cream cheese and powdered sweetener on medium speed until uy. Add the eggs one at a time, and mix in the lemon juice and vanilla. Pour mixture over baked crust and smooth the top. Tap the pan gently to remove any air bubbles.Bake the cheesecake at 350°F for 50-55 minutes. Keep the cheesecake in the oven, turn the oven o and let the cheesecake cool for 1 hour in the oven before transferring it to the refrigerator to chill for 4 hours. Top with fresh strawberries and serve cold.20 | healthfirst.ca
Page 21
BROWN BUTTER SWEET POTATO PIE & ALMOND SHORTBREAD with ALMOND BREEZE® INGREDIENTS:1/4 cup butter1/2 cup Vanilla Almond Breeze®1/2 cup brown sugar1/4 cup sugar1 tsp each: vanilla and rum extract1 tsp cinnamon1/4 tsp ground ginger2 eggs2 cups mashed sweet potatoes Whipped creamFinely chopped Blue Diamond® Honey Roasted AlmondsDIRECTIONS:BROWN BUTTER SWEET POTATO PIEPreheat oven to 350°F. Melt butter in a small skillet over medium heat. When it begins to foam, reduce heat and swirl pan until it begins to brown. Remove from heat and swirl pan until butter is golden brown; let cool.Whisk together brown butter, Almond Breeze®, sugars, extracts, spices and eggs in a large bowl. Whisk in sweet potatoes until well mixed.Spoon into twelve buttered oven-safe paper baking cups and bake for 30 minutes or until mixture is set when gently tapped.Let cool, then refrigerate until chilled.Unmold onto small plates and top each with dollop of whipped cream, a sprinkle of nely chopped almonds and serve with slices of Almond Shortbread.ALMOND SHORTBREADStir 1/4 cup softened butter until uy. Stir in 2 Tbsp sugar and 2 Tbsp very nely chopped Blue Diamond® Honey Roasted Almonds, then stir in 1/2 cup our.Roll into a 1-inch diameter log and cover tightly with plastic wrap. Chill until very rm.Once chilled, cut into 1/4-inch thick slices and bake on a baking sheet at 350°F for 10 minutes.Almond Breez® BROWN BUTTER SWEET POTATO PIE & ALMOND SHORTBREAD healthfirst.ca | 21
Page 22
Swerv® GINGERBREAD SHEET CAKE22 | healthfirst.caGINGERBREAD SHEET CAKE with SWERVE® INGREDIENTS:CAKE2 cups almond our2/3 cup Brown Swerve®1/3 cup coconut our1/3 cup unflavored whey protein powder2 Tbsp cocoa powder (for colour)1 Tbsp baking powder1 Tbsp ground ginger1 tsp ground cinnamon1/8 tsp ground cloves1/2 tsp salt3 large eggs1/2 cup butter, melted2/3 cup water1 tsp vanilla extractFROSTING12 oz cream cheese, softened2/3 cup Swerve® Confectioners1/2 cup heavy whipping cream, room temperature1/2 tsp vanilla extractDIRECTIONS:CAKEPreheat the oven to 325°F and grease a 10x15 jelly roll pan very well.In a large bowl, whisk together the almond our, Brown Swerve®, coconut our, protein powder, cocoa powder, baking powder, spices, and salt. Stir in the eggs, melted butter, water, and vanilla extract until well combined.Spread the batter in the prepared baking pan as evenly as possible. Bake 18-22 minutes, until golden brown and rm to the touch. Remove and let cool completely.FROSTINGIn a large bowl, beat the cream cheese until smooth, then beat in the Swerve® Confectioners. Beat in the cream and vanilla extract until smooth.Spread the frosting over the cake.
Page 23
healthfirst.ca | 23VEGAN NOG with VEGA™INGREDIENTS:1 ripe frozen banana1 serving Vanilla Chai Vega One™ Nutritional Shake2 cups coconut milk1/2 tsp vanilla extract1/2 tsp ground cinnamon1/8 tsp ground nutmeg + 1 pinch for garnishTOPPING SUGGESTIONSCoconut whipped creamShaved chocolateCrushed candy caneDIRECTIONS:Add all ingredients to a blender and blend until well combined. Pour into two glasses, top with your choice of topping and enjoy!Veg™VEGAN NOG
Page 24
24 | healthfirst.caHOLIDAY POM-ALOE PUNCH with HEALTH FIRST® INGREDIENTS:2 ½ oz Health First® Aloe Vera Juice – Natural Pomegranate Flavour1 lime (juice half and slice other into wedges for garnishing)1 Tbsp honey cinnamon syrup (see instructions below)1 oz Cointreau (optional)Cinnamon sugar for the rims of your glasses (optional)Cinnamon stick for garnishIceHONEY CINNAMON SYRUPMix 1/2 Tbsp honey and 1/2 Tbsp water with a dash of cinnamon.DIRECTIONS:Add Health First® Aloe Vera Juice, lime juice, honey cinnamon syrup and optional Cointreau into a cocktail shaker with ice and shake well. Strain into a cinnamon sugar rimmed glass, add a lime wedge and one cinnamon stick. Cheers!Healt Firs® HOLIDAY POM-ALOE PUNCH
Page 25
healthfirst.ca | 25Healt Firs®SPARKLING CHLORITASPARKLING CHLORITA with HEALTH FIRST®INGREDIENTS:1 Tbsp Health First® Chlorophyll – Natural Mint Flavour2-3 sprigs of mintJuice of half a lime1 cup of sparkling waterIce 1 oz of vodka (optional)DIRECTIONS:In a large glass lled with ice, add all ingredients and top with sparkling water.
Page 26
26 | healthfirst.caHealt Firs®COUGH DROP GUMMIESCOUGH DROP GUMMIES with HEALTH FIRST®INGREDIENTS:2 Tbsp gelatin (organic if possible)1/3 cup water3 Tbsp Health First® Respir First1 Tbsp honey1 silicone gummy moldDIRECTIONS:Gently heat the water on the stovetop or in a microwave until lukewarm (don't let it get too hot!).Add gelatin to water, stirring gently with a whisk until it dissolves. Be careful not to stir too hard or you will end up with bubbles in your gummies! Add Health First® Respir First and honey and stir evenly into gelatin. Pour into a silicone mold greased with a touch of coconut, avocado or MCT oil. Place in refrigerator for 2 to 3 hours to set. Recipe and photo courtesy of @itsrachaelalexandra
Page 27
CINNAMON, SPICE & EVERYTHING NICE with NOW® SEASONAL DIFFUSION RECIPEAdd the following oils to a diuser and enjoy:5 drops NOW® Orange Oil24 drops NOW® Cinnamon Bark Oil4 drops NOW® Nutmeg Oil10 drops NOW® Ginger Oil Now® SEASONAL DIFFUSION RECIPES healthfirst.ca | 27HOLIDAY EGGNOG with NOW® SEASONAL DIFFUSION RECIPEAdd the following oils to a diuser and enjoy:10 drops NOW® Vanilla Oil Blend1 drop NOW® Cinnamon Bark Oil2 drops NOW® Nutmeg Oil
Page 28
After a year of learning to cherish closeness with family and friends, as well as mental and physical health, it's time to continue prioritizing the simple and important things in life!In the cold winter months, we are more prone to sickness and fatigue. We are getting outside less, are less active, and might suer from more stress and anxiety. Iron is a key component of red blood cell formation, containing 60-70% of the body's iron levels. Red blood cells are responsible for transporting oxygen (and more!) throughout the body, and are essential for respiration. Without adequate respiration, our body can't function in a healthy way, we fatigue, and our stress and anxiety levels increase! Iron is also a building block of many enzymes, proteins and neurotransmitters. It is vital for proper metabolism and neural functioning. Metabolism controls energy production, and proper neural functioning supports mental and emotional homeostasis. Iron is an important part of immune and mental health, but not everyone requires supplementation. People who are more likely to experience iron deciency include vegetarians, vegans, 28 | healthfirst.caIron for Good Health and Happines
Page 29
pregnant women, those with a heavy menstrual ow or another cause for signicant blood loss, and those dealing with digestive or intestinal conditions that hinder proper absorption. Common signs of iron deciency include extreme fatigue, general weakness, increased heart rate, shortness of breath, low blood pressure, headache, dizziness or light-headedness, cold hands and feet, and pale skin. Iron absorption can be aected by frequent use of antacids, excessive caeine consumption (due to tannic acids in coee and tea), low stomach acid production or fast gastric motility. If you or someone you know exhibits signs of iron deciency, check with your primary health care provider for diagnosis. Garden of Life® mykind Organics Plant Iron & Organic Herbs is a highly absorbable formula, perfect for anyone, especially those with absorption issues. As a whole food, plant-based iron, it is of the highest bioavailability, on top of coming in an easily absorbable liquid form. Each serving contains 10mg of iron extracted from organic curry leaves and 15mg of whole food vitamin C from organic amla berries for increased assimilation. Whole food forms of vitamins B6 (2mg) and B12 (100mcg methylcobalamin) are also added to assist with red blood cell formation. It is the rst and only Vegan Certied, Certied USDA Organic and Non-GMO Project Veried iron formula. And the rst and only liquid iron supplement to include vitamin C, B6 and B12, as well as Ashwagandha (a traditional Ayurvedic remedy) to create a real-food powered formula. mykind Plant Iron is also specically formulated to be non-constipating.Stringent cultivation and patented extraction processes ensure a high-quality formula with complementary nutrient concentrates. mykind Plant Iron comes in a delicious sugar-free cranberry lime flavour and is made without chemical preservatives.Gifting Garden of Life® mykind Organics Plant Iron & Organic Herbs contributes to mental and physical health through the cold winter months and beyond. Give your loved ones the nest this holiday season, with real-food supplements for their real-food health and happiness!Iron for Good Health and HappinesA whole Food Liquid Iron and vitamins extracted from Certified Organic and Non-GMO verified Botanicals. Our plant iron is made from Organic Curry Leaves, which absorbs easily; is gentle and non-constipating.gardenoflifecanada.com @gardenoflifecanada #gardenoflifecanadamykind Organics PLANT IRON & ORGANIC HERBS
Page 30
The holiday season is here and many of us are welcoming this very merry season with open arms, excited to bring back a new normal. The season sparks joy within us, allows us to connect with our friends and family and participate in traditional family activities. However, life is often a blur during the holidays.From shopping for the perfect gifts to preparing the most delicious feasts, the holidays can be a stressful and busy time for many people. So much so that the true meaning of the holidays – gratefulness and connection – is often lost and worst of all, our health is often put on the back burner. So where to begin? Feeling calm and relaxed is a goal for many people, along with feeling connected and engaged during seasonal festivities. Here are a few lifestyle habits you can implement to give yourself the gift of resilience, gratitude, and health during the holiday season: • Maintain time for yourself. It's easy to forget about your own needs and health goals, so keep half an hour to yourself and do things that spark joy within you. This could be as simple 30 | healthfirst.caHoliday Health & Wellness Tip
Page 31
as enjoying your cup of coee in solitude or a quick 30-minute workout. • Engage in deep breathing (especially when you are stressed). Find a moment to take a deep breath in and out. This helps to engage the parasympathetic nerve which decreases the stress response within our body. • Practice gratitude. Begin each morning with 3 things you are grateful for. This will guide your perspective throughout the day and remind you of the holiday spirit.• Think less and give the gift of health and wellness with Progressive®!Giv th Gif o HealthHere are the top 3 supplements every member of your family can benet from. Bonus tip: these essentials are the perfect stocking stuers!1. Progressive® Multivitamins: Available for each lifestyle, from your active spouse to your children! Why is a multivitamin important and considered essential? Our food systems and farming practices have changed over time, soil has become nutrient depleted, and food is often harvested too early and shipped across the globe, impacting its overall nutrient value. Progressive® Multivitamins help ll in the gaps of your nutrition, particularly vitamins and minerals, and give your body all the support it needs.2. Progressive® OmegEssential®: Available for each family member and even in two delicious avours. Our diet has changed over time, so much so that we are currently eating a diet closer to 20:1 ratio between omega-6 and omega-3. The support of an omega-3 supplement like Progressive® OmegEssential® can help ensure you meet your daily requirements to maintain good health.3. Progressive® VegeGreens®: A tasty and refreshing way for you and your family to meet your daily intake of fruits and vegetables. "An apple a day keeps the doctor away" as the saying goes, but who actually eats 6-8 servings of fruits and vegetables every day? We all know the importance of eating plenty of fruits and vegetables, yet it often doesn't happen for a variety of reasons. A great addition to a balanced diet and to ll in nutrition gaps is a superfood powder like VegeGreens® or Phytoberry that is packed full of fruits, vegetables and antioxidants to support your body, and "keep the doctor away".1 Make the most of the holidays with Progressive®! REFERENCE:1. Dias, J. (2012). Nutritional Quality and Health Benets of Vegetables: A Review. Food and Nutrition Sciences, 3(10): 1354-1374.YOU DESERVE EXCEPTIONAL NUTRITIONAL SUPPORTMULTIVITAMINShelp to maintain immune function & fill in nutritional gapsVEGEGREENS®provides antioxidants & is formulated with real food ingredients OMEGESSENTIAL®is sustainably sourcedTM, supports cardiovascular health & mood balancePROGRESSIVENUTRITIONAL.COMPROGRESSIVE® GIVES YOU MOREINGREDIENTS.POTENCY.QUALITY.GIVES YOUMORE
Page 32
Thriving Through the HolidaysSTRATEGIES TO STAY HEALTHY AND STRESS-FREE THIS HOLIDAY SEASONThroat Spray directly targets the back of the throat where infections commonly begin. Together they strengthen your immune response to keep you feeling your best all season long.Host Defense®MYCOSHIELD®Host Defense® MycoShield® Spray combines ve powerful polypore mushroom species: Agarikon, Red Reishi, Chaga, Birch Polypore and Turkey Tail. These ve mushrooms provide a unique "shield" of immune support, available in a perfect traveler's size. Flavoured with certied organic cinnamon or peppermint oil, Host Defense® MycoShield® Sprays oer a refreshing taste and are a must-have item for anyone looking for immune support on the go.Health First®STRESS RELEASE SUPREMEYou don't have time to feel run down and burnt out! Stress Release Supreme is a non-drowsy formula to support a healthy stress and immune response. L-theanine ensures that you maintain an alert yet relaxed state, while reishi and cordyceps mushrooms keep your energy and immunity high. Lastly, schisandra helps to increase your resistance to stress and keep you going through the workday and holiday hustle! It's important to take care of yourself during this busy holiday season. While a change in routine is to be expected when celebrating the holidays, remember to rest, exercise, and support your body with well-balanced meals and supplements so you can get the most out of your celebrations! ability to enter into a deep sleep state, SLEEP-GREAT works by enhancing the body's natural sleep hormone pattern so that you enter all ve stages of a healthy sleep, allowing you to wake up feeling refreshed every day.Platinum Naturals®OREGANO-8 COLD & FLU AND OREGANO + D3 THROAT SPRAYOregano oil is a powerful cold and u ghter. Platinum Naturals®' Oregano-8 and Oregano + D3 Throat Spray use the strength of oregano to ward o symptoms of cold and u. Oregano-8 combines eight cold and u-ghting ingredients and Oregano + D3 32 | healthfirst.caWhile the holidays are a time of joy and celebration, they can also be a time of stress. These supplements can help you to support your mind and body, so that you can enjoy the holidays with those you love and carry that health forward into next year. HealthologySLEEP-GREAT SLEEP FORMULADo you wake up feeling well-rested every day? SLEEP-GREAT is a complete formulation that helps you fall asleep quickly, stay asleep and achieve deep, restful sleep. Unlike medications that may assist with falling asleep but limit your body's
Page 33
healthfirst.ca | 33Health First® ZINC PLUS COPPERIf you're noticing a loss of appetite, slower wound healing, skin issues, hair loss, and/or poor mental performance, you may need a little boost via zinc supplementation. What's unique about this formula is the addition of copper: zinc supplementation without copper may cause a copper deciency, so it's important to look for a formula that combines the two. Health First Zinc Plus Copper is a winning combination!Health First® COLD DEFENSE SUPREMEIf this cold and u season has turned you into a mucous-y mess, you want something that works fast. Cold Defense Supreme is a unique combination of traditional Chinese herbs that attack your cold from all angles. Andrographis is added to reduce symptoms, ginseng to ush toxins, huo xiang to support the digestive system, and astragalus to build immunity and increase energy. Last but not least, fang feng defends against future infections!Health First® VITAMIN DEver notice you feel healthier in the summer? That's because sunshine gives you plenty of vitamin D! During our darker winter days, Canadians often become decient in vitamin D, which is essential for mood, bone, immune, and hormone health. No matter your age, it's never been easier to obtain adequate levels of vitamin D. Health First oers convenient ways to take the "sunshine vitamin" in liquid, tablet, soft gel, and even yummy chocolate chewable form.Health First ® BERRY C SUPREMEVitamin C is important for a multitude of functions, such as tissue growth and repair and healthy bones, cartilage and teeth. It's also a powerful antioxidant that can help strengthen the immune system. Berry C Supreme features calcium ascorbate, a buered form of vitamin C that's easy on your digestive system, and well as black pepper extract to increase absorption. This unique formula is also enhanced with red bioavonoids to deliver an unparalleled level of antioxidant protection!Your Health First Winter Medicine CabineTo maintain tip top health this winter, be sure to stay active, manage stress and eat a balanced diet. Easier said than done, we know! The products below can be your little helpers this season to keep your immune system primed!
Page 34
Everyone is hopeful that as this year comes to an end, we'll be able to participate in or host gatherings even if small. Social events are occasions that many of us are looking forward to, now that we're starting a "new normal." Dressing up and looking and feeling our best will be on the agenda. What a luxury it is to do our hair and nails as well! So many of us just haven't dressed to the nines in so long, the preparation alone will be an event!As you think ahead to the various plans you may be part of – small parties, a fancy night out with your sweetie, or perhaps a formal dinner party at home with a few couples with tasty items on the menu and a little bubbly – you 34 | healthfirst.caLook and Feel Your Best for the Holiday (And All Year!)might take a long look in the mirror. Do you nd yourself wondering if your nicest dress will still t? Are you pondering the lines on your face? Are you concerned that your hair hasn't seen much of your hairdresser in the last couple of years? Do you look at your nails and hands and nd that at-home manicures leave them wanting? Never fear, Total Body Collagen is here and it's beauty for your whole body!Total Body Collagen™ contains Verisol® collagen, which has undergone double-blind, placebo-controlled trials to show its eectiveness on skin and nail health. It has been shown to help reduce eye wrinkles and ne facial
Page 35
lines in four weeks, as well as increase skin elasticity and density. It is formulated with a proprietary hydrolyzed collagen formula containing type I and type III bovine collagen, as well as vitamin C, hyaluronic acid, and biotin. Each serving provides 10g of non-GMO, hydrolyzed collagen peptides that easily absorb into the body, where they help in collagen synthesis. If you start taking Total Body Collagen now to prepare for your social calendar, you will notice a dierence in your hair, skin, and nails by the time you're putting on your favourite holiday dress!But there's more! Maybe you'll also want to start getting more exercise to not only look good, but also feel COLLAGENNON-GMO · MASS SPECDocumentation Lab Testedtotalbodycollagen.comBEAUTY FOR YOUR WHOLE BODYTotal Body Collagen™ and Total Body Marine Collagen™with essential nutrients that promote healthy skin, muscles, hair, and connective tissueyour best. Most women over 30 who take collagen supplements do so for their skin, hair, and nails. But the fabulous bonus with adding collagen to your wellness routine is the positive eects to your connective tissues – especially bones, cartilage, tendons, and ligaments. This is great news for women of any age who are very active, have demanding physical jobs, or want to give a bit of extra emphasis to their workout routine. Since we have more collagen in our bodies than any other type of protein, replacing it as we age will help us move and feel better!If you prefer, you can also take a marine collagen powder. Total Body Marine Collagen™, featuring Collactive™ collagen and elastin peptides is a clinically supported source of marine collagen that helps reduce wrinkles in 28 days! It comes from sustainable, wild-caught whitesh and is free of contaminants including heavy metals, PCBs, and dioxins. Total Body Marine Collagen with hyaluronic acid, glutamine & biotin adds synergistic nutrients to the Collactive collagen to enhance skin elasticity and support connective tissue and joint health. Marine Collagen is also avour- and odour-free, and a perfect addition to any recipe or smoothie.Start now by adding Total Body Collagen™ to your wellness routine and feel and see the benets! Not only will you be excited to get back to living, but you'll also feel and look great doing it!Yo wil notic  differenc i you hai, ski, and nail b th tim you'r puttin o you favourit holida dres!
Page 36
Every year we welcome the holidays with joy and excitement, and this year is extra memorable, as we reunite with both our loved ones and our traditions. There's so much to be grateful for as we celebrate the holidays in the "new normal" – and come together with a greater appreciation of just how valuable staying healthy is.But, being closer to others also means greater exposure to the latest cold or flu. Plus, this wonderful time of the year also tends to be stressful – which can impact our immune health. Ensuring that your immunity is in top form is essential to staying healthy and enjoying the holidays to the fullest! Deepe you ImmunityA key approach to protecting your health is to be proactive in supporting the body's own natural defenses by building strong immune systems, so you can best shield yourself from viral infections. You can ensure that your health and immune defense are both at their best throughout the holiday season with a routine built on simple healthy daily habits.Get plenty of rest. Be sure to rest between holiday engagements. Restorative sleep is crucial for a strong immune system, as the body requires it to recover and carry out essential functions in all systems.Manage your stress. Too much 36 | healthfirst.caImmune Protection for the Whole Famil
Page 37
stress can throw the body out of balance. Yoga, meditation, deep breathing, exercise, journaling and getting outside in nature can all help to manage stress.Eat your veggies. Reach for the veggie plate at holiday gatherings. For immune-specic nutrients, "eating the rainbow" is a good rule of thumb to get vitamin C, zinc, and protective antioxidants from brightly coloured plant foods.Exercise regularly. Frequent movement promotes healthy circulation, mood, muscle tissue, lymphatic ow, and helps with the circulation of immune cells throughout the body.Ensure equilibrium... of your immune system. Because a balanced immune system is your strongest immune system! Plant medicine can uniquely help boost your body's ability to naturally ght Daily Protection for the whole familyDEEPEN your IMMUNITYShield yourself with Canada's #1 Immunity Tonics.* Deep Immune® directly strengthens & optimizes the immune system, helping to prevent viral infections, colds & u.*Health First Network, Natural Health Food Channel, Immunity General, 2020SILVERSILVERLearn more:o illness with adaptogens.Adaptogens are specic plant medicines that have been used for centuries for their natural ability to recalibrate the body. They work to return the body to a state of balance – optimizing its resiliency and functioning – and supporting healthy immunity!Deep Immune® from St. Francis Herb Farm harnesses the unique benets of adaptogens in easy-to-take daily immune tonics that directly strengthen and optimize the immune system, helping to prevent viral infections, colds and u. These #1 selling* daily immune tonics were formulated with specic plant medicines referred to as "immune adaptogens," which have greater anity in supporting the immune system.Deep Immune® combines 8 carefully selected, targeted immune adaptogens, including astragalus, reishi mushroom and Siberian ginseng, that work to fortify your immune system every day so when illness tries to strike, you are prepared and protected!Deep Immune® Kids combines astragalus with codonopsis – 2 herbs that specically support the immune system in a safe, mild tasting, and highly eective formula just for children.Make the most of the season by being proactive about shielding yourself from illness. Practicing healthy daily habits can help you celebrate with comfort and joy, plus peace of mind that you and your family are protected over the holidays and into the year ahead. Happy Holidays*Health First Network, Natural Health Food Channel, Immunity General, 2020
Page 38
It's been a highly volatile and stressful couple of years, and perhaps your digestive system has paid the price. Stress can cause a wide range of gastrointestinal problems such as indigestion, cramping, spasming, bloating, constipation, diarrhea, inflammation, and a loss of appetite. On top of that, the holidays are coming, which could mean overindulging. For many people, deciding what to wear includes which outfit will hide a bloated belly after eating.Improving your digestion can include managing stress, being mindful of what you eat, the way you eat it, including supportive supplements and expressing simple but powerful gratitude.B MindfulLet's start with what you eat. Whole, nutritious foods full of vitamins, minerals and nutrients are essential. Diets high in processed foods have been linked to a higher risk of digestive disorders. Include plenty of fibre to help promote regular bowel movements and add healthy fats such as raw nuts, seeds and small cold-water sh, which include omega-3 fatty acids to help reduce inammation. And don't forget to stay hydrated! Now for the way that you eat. Many people have poor digestion simply because they don't chew their food enough. How many of us are so starved or distracted by TV that we gulp down our food without hardly chewing it? We should be chewing our food until it's a mushy paste. Achieving Optimal Digestive Healt 38 | healthfirst.ca
Page 39
Be mindful; slow down and savour your food. Pay attention to texture, temperature and taste. Make it an enjoyable part of your day, a time to relax so that your digestive system is relaxed and can do its job correctly. Eat at the table with family or friends and avoid eating in front of the TV while you watch the evening news. Also pay attention to portion sizes as smaller meals are easier to digest.Supplement fo Bette DigestionKeeping your digestive tract running smoothly may require more than just changing your diet. Digestive enzymes and probiotics can help. Digestive enzymes are proteins that help break down food; similar to how a jackhammer breaks down concrete. They work by breaking digestive health solutions made for youWe don't believe in one size fits all.From everyday balance to targetedrelief, our digestive health solutionsare created with a variety of uniqueneeds in mind.apart the bonds that hold nutrients together. Supplemental enzymes are eective over a wide range of pH levels in the body and can help digest many dierent types of food. Renew Life® carries a range of DigestMORE® formulas to meet your digestive needs. Probiotics on the other hand, are friendly bacteria that primarily live in your digestive tract and support the health of the digestive and immune systems. Bacteria in the gut digest fibre and help support your body's natural digestive processes. They can also have a positive inuence on the digestion and the utilization of proteins. Renew Life® Ultimate Flora® Critical Care is a 50 billion active culture probiotic formula in a convenient once a day capsule to support intestinal and gastrointestinal health. Giv anksBlessing your food before you consume it may be an everyday occurrence for some and a perplexing idea for others, but the blessing of food creates a little window of consciousness about what you are eating. Giving thanks to the plant and animal world for their sacrice to create abundance in you as well as thanks to all the people along the way that have allowed this food to be on your table can change the way you perceive food and what it means to you.As your digestion improves, you may notice that your gas and bloating decreases, you feel less tired and sluggish and that your energy levels increase. The bottom line is that the better your body can digest your food, the better you will feel overall.
Page 40
40 | healthfirst.caHoliday Gift Ideas for 1. Andalou Naturals Get Started KitsCan't decide whether to give the gift of an amazing face wash or a hydrating skin cream for those cold winter months? What if you could give both AND even more?! Five skin care essentials in one compact kit. Perfect for trial or travel!2. Herbatint® Permanent Haircolour GelFor the health-conscious person on your list who wants to achieve long lasting, beautiful hair colouring results without all of the nasty chemicals that certainly wouldn't make it onto Santa's "nice" list. Free from ammonia, parabens, alcohols, and fragrances. 3. Every Man Jack® Kits These men's kits will elevate your grooming routine! Every Man Jack® uses as many naturally derived and plant-based ingredients as possible, while still delivering exceptional performance. These body kits include deodorant, body wash and 2-in-1 shampoo in their best-selling fragrances. 4. Giddy Yo Love ButterStart the new year o right with Giddy Yo Love Butter! This organic, plant-based and cruelty-free body care is an edible moisturizer that nourishes the skin and smells and tastes like chocolate! 5. The Green Beaver Company™ Natural Toothpaste Treat yourself and your family to a fabulous natural toothpaste! With a slice of local and exotic flavours and all-natural plant derived ingredients, these toothpastes will have you looking forward to brushing your teeth every day!6. Le Comptoir Aroma Jingle Pebble Diuser Stones A wonderful, portable and convenient diuser solution! Allows the person receiving this gift to enjoy the benets of diusing essential oils wherever they go! Available in a variety of beautiful designs, including the Jingle Pebble, just in time for the Holidays!34652
Page 41
healthfirst.ca | 41 healthfirst.ca | 41Natural Beauty Lover7. Prairie Naturals® Hair Care Beautiful hair without dangerous ingredients is the wish of every hair-loving, health conscious, environmentally minded person on your list! Choose one of Prairie Naturals® 40 exceptional salon quality formulas and give the gift of naturally healthy hair.8. Radius® Radius® toothbrushes and oss are eco-friendly additions to any stocking! With products designed for the whole family, you can help your favourite people smile throughout the holiday season! 9. routine. Sexy Sadie Collection Amplify your pheromones and enlighten your olfactories. The most life-changing deodorant is now accompanied by everything you need for your routine. Introducing the Sexy Sadie Collection – Soy Candle, Solid Perfume, and Classic Jar Deodorant. The perfect trio to gift any clean beauty lover.10. Urban Spa® Heel-to-Toe Foot Brush For the people in your life whose feet could use a little pampering, Urban Spa® has just what they need! This foot brush will help exfoliate dry skin, leaving behind clean, smooth feet all season long.11. Weleda Let It GlowTreat yourself or a loved one to this luxurious moisture set from Weleda! The whipped texture of Skin Food Body Butter goes on silky and hydrates skin, while Skin Food Lip Butter nourishes lips, leaving them feeling soothed. 12. DERMA-E® Hydrate & Go KitThis skin care set is enriched with hyaluronic acid to keep skin hydrated, especially important in those dry winter months. In convenient, travel-sized packaging within a stylish cosmetic bag, this set is ideal for anyone on the go! 101179128
Page 42
However you look at it, 2021 has not been an easy year. The good news is, a new year is approaching, and along with it comes the prospect of a fresh start. It's a great time to take a look at what's been working and what's been causing unwanted stress in your life. A solid place to start is with your nutrition. Are you getting enough magnesium? This could be a factor behind increased stress. Did yo kno tha magnesiu ca reduc you stres and anxiet?Magnesium is a mineral that relaxes your muscles and nerves while also calming your mind. It does this by stabilizing the membranes of nerve cells and promoting serotonin production.Ho doe thi minera wor it magi?Magnesium attaches to and stimulates GABA receptors in the brain to reduce stress. GABA (gamma-aminobutyric acid) is a naturally-occurring amino acid that acts as a key inhibitory neurotransmitter, slowing brain activity. When GABA levels are low, your brain can get stuck in a The Key to a Merry and Stress-Free 202242 | healthfirst.ca
Page 43
hyperactive "on" state, making it dicult to relax. Magnesium also helps to reduce stress hormones such as cortisol, which contributes to a variety of mental disorders such as anxiety, brain fog and depression. Ho ca I increas m magnesiu intak?Incorporating foods that are high in magnesium, such as legumes, tofu, leafy greens, dark chocolate and nuts, into your daily diet can help you combat your stress and anxiety. I die enoug? Our body's demand for magnesium often exceeds the amount we can get from our diet, which is where magnesium supplements, such as CanPrev™ Magnesium Stress Release, come in handy. Alongside that extra magnesium boost, this formula also contains ashwagandha, which has been associated with a signicant reduction in stress levels and an improvement in one's overall quality of life. This will give your body and brain what it needs to keep calm in the new year!Wha els ca I d t hel m manag m stres and anxiet? • Talk it out with friends, family, or the help of a professional • Make time for the things you love doing • Exercise regularly • Practice mindfulness • Maintain a healthy and supportive community While living a life completely free of stress may not be realistic, managing our body's response to stress is a practical way to ease the mind and breeze into the new year. Gentle form Powerful resultGMO FreeSoy FreeDairy FreeGluten FreeVegan200mg of highly absorbable magnesium per capsule. Essential for every cell in the body.
Page 44
ADULTS, CHILDREN & INFANTSThis homeopathic medicine may not be right for everyone. Always read and follow the label.Flu-like Symptoms?Oscillococcinum is a homeopathic medicine that reduces the duration of flu-like symptoms and relieves body aches, headache, fever and chills.Reducesthe durationof flusymptoms is a homeopathic medicine that reduces the duration body aches, headache, fever and chills.