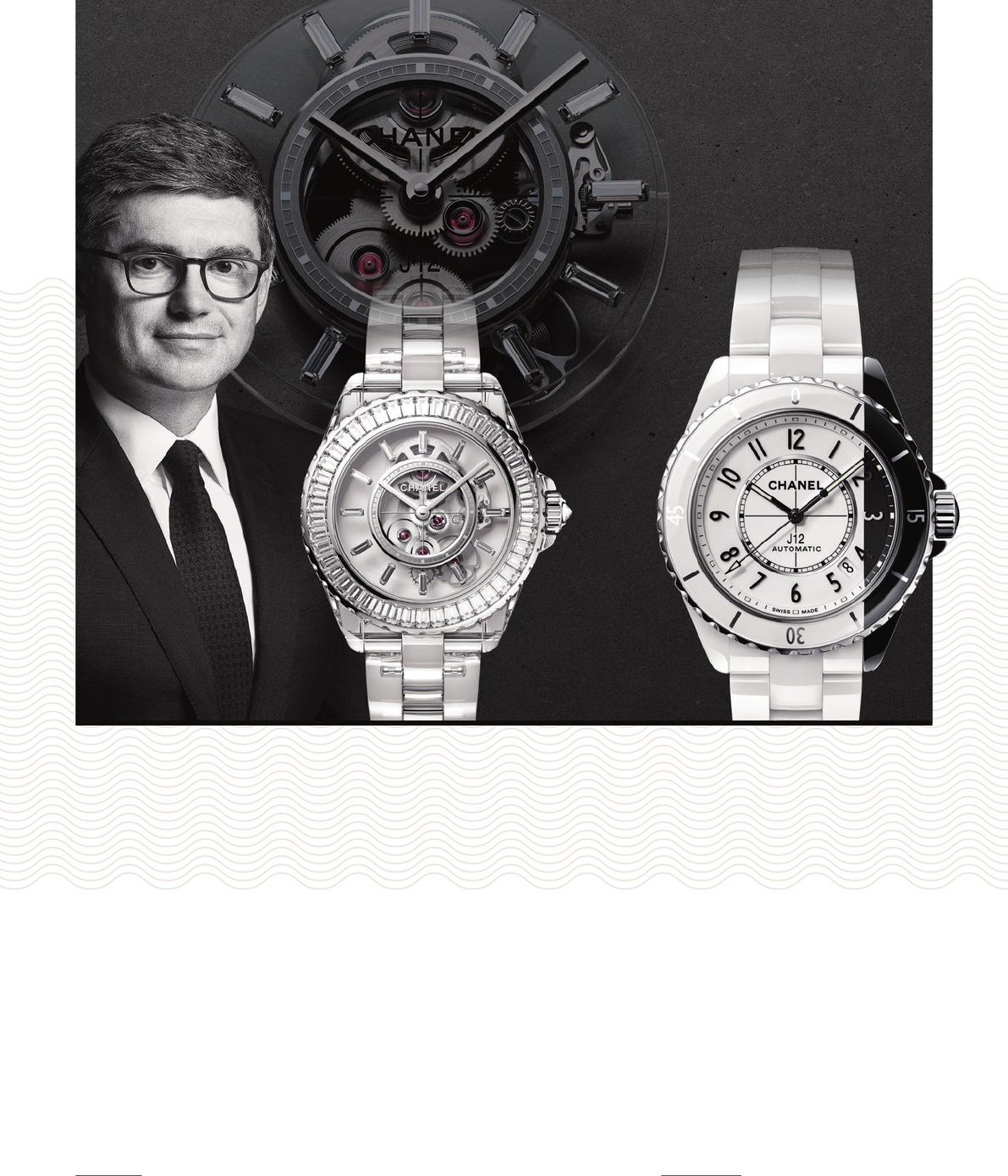 One thing we have learned from Chanel is to always
expect the unexpected, and perhaps nowhere more
than with its watches. Each is an accumulation of tiny
details, all carefully studied, that never fails to take fans
by surprise. The Code Coco watch is an excellent example
of how the brand cultivates this art of the unexpected.
Unveiled in November 2017, the concept behind this
wristwatch was to create an original piece of jewellery
that also gave the time on a dial that cross-references
the immediately recognisable clasp of the 2.55 handbag.
The project remained strictly under wraps right up until
the launch, which only added to the surprise and no
doubt emotion of the couture house's numerous aficio
-
nadas. The response to the Mademoiselle Privé Bouton
will likely be the same. It is another remarkable demon
-
stration of the artistic crafts or métiers d'art that are so
much a part of Chanel — a brand that has banned the
use of exotic skins for its watch straps as part of its
commitment to ethical and sustainable practices.
The one that's making the biggest impact in 2020 is,
however, the J12, and for a simple reason: the watch that
was hailed a twenty-first century icon almost as soon as it
was launched turns twenty this year. Chanel already piqued
our curiosity a year ago, when the J12 was given a subtle
revamp under the expert eye of Arnaud Chastaingt, Director
of Chanel's Watch Creation Studio since 2013. Rather than
sweeping changes, Chastaingt introduced almost imper-
ceptible updates to the vast majority of design elements,
thus giving the J12 a completely new appearance without
altering its essence. The result, in the words of Frédéric
Grangié, President of Chanel Watches and Jewellery, is
"an impalpable but very real impression of lightness that is
both visible and invisible. Because the J12 can only ever
be itself, it had to evolve. Without changing!".
Manufacture movements
The most obvious transformation came from within, namely
Calibre 12.1, a chronometer-grade movement, certified by
the Contrôle Officiel Suisse des Chronomètres, that delivers
70 hours of power reserve. Winding is by a tungsten rotor
which Chanel's Watch Creation Studio insisted be a perfect
circle: one of the signatures of a Chanel Fine Watch. As usual,
the brand caught everyone off-guard when it revealed that
the new calibre was manufactured by Kenissi, which also
supplies movements to Tudor, sister brand to Rolex. And
because Chanel swears by long-term collaborations, it went
on to announce it had taken a stake in Kenissi. Chanel had
already proved itself capable of developing and producing
high-quality movements at its own facilities, G&F Châtelain
(which also supplies the brand's signature ceramics), as bril
-
liantly demonstrated by the Haute Horlogerie Calibres 1, 2
and 3. This time, though, it was entering a new dimension.
Calibre 12.1 has given Chanel a robust, precise and
reliable base movement; a strategic advantage for any
watch brand. "The J12 is one of our icons," notes Frédéric
Grangié. "The new J12, remarkably remodelled by Arnaud
Chastaingt, has been given an exceptionally positive
reception. We can truly say the back is as worthy of
attention as the front, as it is now possible to admire
the movement through a sapphire crystal. The J12 is in
a category of its own. Not only is it such an important
pillar for Chanel, it exists beyond the brand as an icon of
watchmaking. This reworking guarantees its long-term
future. A lot has happened since Chanel's watchmaking
division was set up 33 years ago, from the point of view
of creations and integration, with Manufacture Chatelain,
as well as partnerships and stakeholdings, such as with
Romain Gauthier, F.P.Journe and Kenissi. This gives us
true legitimacy. Now Chanel can expand its technical
excellence, in particular with the new J12 and its new
movement."
Marking this anniversary year are the J12 X-Ray, made
entirely from sapphire — a world-first — with Calibre 3.1 for
the movement, and the J12 Paradoxe whose case fuses
black and white ceramic in a technical tour de force. Both
are stunning creations, but coming from Chanel, are we
really surprised?
Eric Dumatin
CHANEL
J12 X-RAY. IN

2020 CHANEL

CELEBRATES THE TWENTIETH

ANNIVER

-
SARY OF THE J12, A TIMEPIECE THAT WAS HAILED AS THE T
WENTY-FIRST CENTU
-
RY'S FIRST ICONIC WATCH. LAST YEAR, AHEAD OF THIS MILESTONE, THE BRAND
INTRODUCED
A
SUBTLE
REVAMP, MAKING
ALMOST IMPERCEPTIBLE
UPDATES
THAT GAVE THE J12 A NEW APPEARANCE WHILE PRESERVING ITS IDENTITY. THIS
J12 X-R
AY IS A LIMITED EDITION OF 12, FITTED WITH A SPECIALLY SKELETONISED
VERSION OF THE CALIBRE
3.1 IN-HOUSE
MOVEMENT. ENTIRELY TRANSPARENT,
TH
E X-R
AY IS CLOA
KED IN SAP
PHIR
E FROM CAS
E TO BR
ACE
LET TO DIAL
. EVEN TH
E
MAINPLATE, MINUTE TRACK BRIDGE AND THE BRIDGE FOR THE GEARTRAIN ARE
SAPPHIRE: A TECHNICAL TOUR DE FORCE AS WELL AS A WORLD-FIRST. ADDING
BRILLIANCE TO TRANSPARENCY ARE THE BAGUETTE DIAMONDS THAT GARNISH
THE BEZEL AND THE DIAL.
CHANEL
J12 PARADOXE. THE PAR

A

DOXE COM

BINES THE J12'S SIG

NAT

URE BLACK
AND WHITE IN A SINGLE CERAMIC CASE. THE TWO PARTS OF DIFFERENT DIMEN
-
SIONS ARE CUT, FUSED THEN ASSEMBLED ON A METAL FRAME, WHICH IS FITTED
WITH A SAPPHIRE CRYSTAL FOR THE CASEBACK. KEEPING THE BEAT IS CALIBRE
12.1, MANUFACTURED BY KENISSI FOR CHANEL.
Pioneer of time
Chanel's J12 is twenty years young. After last year's
subtle but significant transformation, the Parisian
house presents two stunning new iterations: one,
a world-first, entirely in sapphire, and one merging
black and white ceramic.
FRÉDÉRIC GRANGIÉ,
WATCHES & FINE JEWELLERY
* A la poursuite de demain / Chronographe de course original / Ne craquez pas sous la pression / Photographie retouchée
Carrera_Elegant_Chrono_Lifestyle_driver_FR_280x380mm.indd 1
Carrera_Elegant_Chrono_Lifestyle_driver_FR_280x380mm.indd 1

13.08.20 16:23

13.08.20 16:23