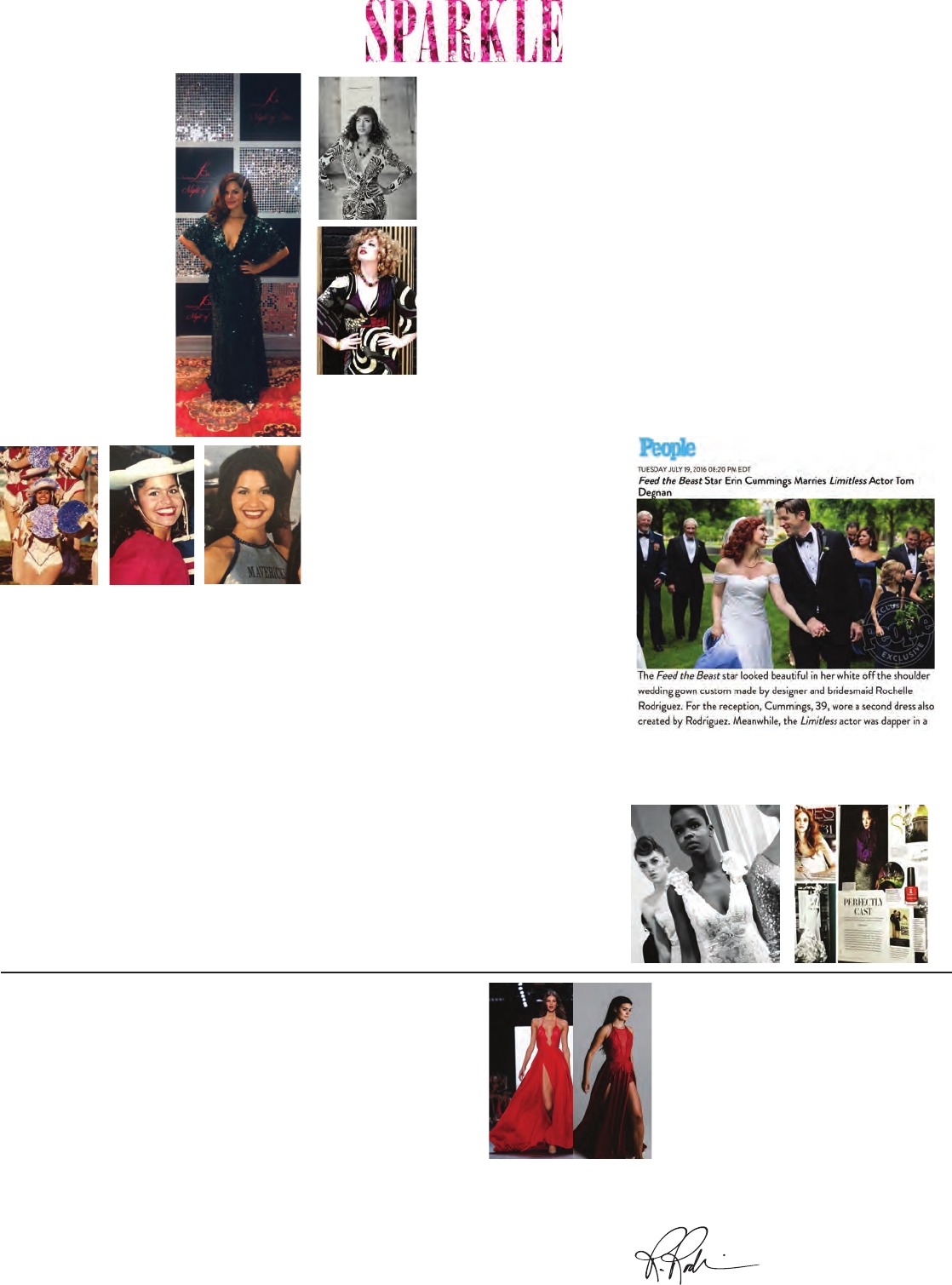 am Rochelle Rodriguez,
fashion designer and
owner of SPARKLE. We
located in Dallas, Texas.
I spent over half my life
dancing before entering
the exciting fashion
world. From high
school drill team to the
World Famous Kilgore
College Rangerettes to
the Dallas Maverick
Dancers, I've certainly
worn my share of
costumes.
In 2001, I le Dallas for Los Angeles to
continue dancing. at was a glorious time
of waiting tables and auditioning. In that
process, I spent so much time creating my
own unique audition looks that I found a
new passion. Soon aer, I made the dicult
decision to stop dancing and return to
school for a degree in fashion.
I enrolled at the Fashion Institute of Design
and Merchandising in downtown Los
Angeles. at was a glorious time of waiting
tables, sketching and learning to sew. In
2007, I launched my very own women's wear
collection: Rochelle Rodriguez Clothing. I
quit waiting tables and started taking orders
from boutiques. My very rst collection
was carried in 60 stores across the country
and life was great! at is,
until the economy crashed
in 2008. My small business
was too new to survive as
boutiques began closing le
and right.
Aer almost a decade in
Los Angeles, I moved home
back to Texas. I went from
the excitement of launching
a new collection to the
disappointment of debt and
back to waiting tables-again.
en a few angels found me.
e director at my old high school, Sara
Nash, called to ask if I could make one of my
women's wear dresses, the "Maggie," for her
ocers. I. WAS. BROKE. So, of course I said
"Yes!" Little did I know, this small request
would be the beginning of a new career path.
Around the same time, my long-time
mentor and close friend, Lisa Fortenberry,
said I should consider pivoting into
dancewear. She's always been a genius when
it comes to business, but dancewear was not
something I had ever thought about it. And
if I'm being honest, I was thinking
I can't do
sequins and leotards.
I laugh at that now. I
was naive and it took some time for that idea
to settle in and begin to grow.
A few more directors started calling for
more "high fashion" looks and before long
I nally understood what my mentor meant.
I could still be a "high-fashion" designer, but
for dancers! With my background, it made
perfect sense. I loved fashion, but I also
knew about movement and choreography
and what could compliment them.
Aer that, I was all in and life started to
make sense again. I buckled down and
created my rst dance collection in 2013.
Aer I launched the catalog, I was able to
quit waiting tables, for the last time, and
haven't looked back since.
From time to time, I will still create runway
looks, and I have done a dozen custom
bridal looks.
Now, I have combined my two loves to
create danceable designs with a high-
fashion feel. My mission is simple:
help you elevate your performance with
runway inspired designs.
My inspiration comes straight from
fashion week. Specically, the "BIG 4" runway shows (New York,
London, Milan, and Paris) held in February and September each
year. Inspiration comes in many forms. Sometimes it is a color,
sleeve, or fabric, and other times it is the entire garment.
Case in point, the stunning Michael Costello gown in red (pictured
le). e entire dress was full of inspiration. I thought,
How can
this be redesigned to be more danceable?
So, I attached briefs and
lined the center for coverage, but I
kept a lot of these details from his
original design. Fittingly, she is named
MICHAELA.
I truly LOVE getting to work with you
and your girls. SPARKLE is a smaller
boutique costume company and
because of that, my priority is YOU! I
want to make your dancers feel as special as possible when they
put on their SPARKLE. Any questions, thoughts, concerns, I am
always here for you!
Michael Costello
"That was a glorious
time of waiting tables,
sketching and learning
to sew."
The Story
What makes
SPARKLE
so special?