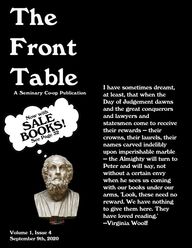 Return to flip book view
Volume 1, Issue 4 - Seminary Co-op Bookstore Front Table
Page 1
Page 2
Page 3
Page 4
Page 5
Page 6
Message to Our Folks: The Art Ensemble of Chicago
(University of Chicago Press)
By Paul Steinbeck
Paul Steinbeck combines musical analysis and historical inquiry to give us the definitive study of the Art Ensemble. In the book, he proposes a new theory of group improvisation that explains how the band members were able to improvise together in so many different styles while also drawing on an extensive repertoire of notated compositions. Steinbeck examines the multimedia dimensions of the Art Ensemble's performances and the ways in which their distinctive model of social relations kept the group performing together for four decades. Message to Our Folks is a striking and valuable contribution to our understanding of one of the world's premier musical groups.
Rising: Dispatches from the New American Shore (Milkweed Editions)
By Elizabeth Rush
With every passing day, and every record-breaking hurricane, it grows clearer that climate change is neither imagined nor distant—and that rising seas are transforming the coastline of the United States in irrevocable ways. In Rising, Elizabeth Rush guides readers through some of the places where this change has been most dramatic, from the Gulf Coast to Miami, and from New York City to the Bay Area. For many of the plants, animals, and humans in these places, the options are stark: retreat or perish in place. Weaving firsthand testimonials from those facing this choice, with profiles of wildlife biologists, activists, and other members of these vulnerable communities, Rising privileges the voices of those too often kept at the margins.
Page 7
Atomistic Intuitions: An Essay on Classification
(State University of New York Press)
By Gaston Bachelard
Atomistic Intuitions, published in 1933, considers past atomistic doctrines as a context for proposing a metaphysics for the scientific revolutions of the twentieth century. As his subtitle indicates, in this book Bachelard proposes a classification of atomistic intuitions as they are transformed over the course of history. More than a mere taxonomy, this exploration of atomistic doctrines since antiquity proves to be keenly pedagogical, leading to an enriched philosophical appreciation of modern subatomic physics and chemistry as sciences of axioms. Though focused on philosophy of science, the perspectives and intuitions Bachelard garnered through this work provide a unique and even essential key to understanding his extensive writings on the imagination. Roch C. Smith's translation and explanatory notes will help to make this aspect of Bachelard's thought accessible to a wider readership, particularly in such fields as aesthetics, literature, and history.
The Children's Crusade
(Wakefield Press)
By Marcel Schwob
Marcel Schwob's 1896 novella The Children's Crusade retells the medieval legend of the exodus of some 30,000 children from all countries to the Holy Land, who traveled to the shores of the sea, which instead of parting to allow them to march on to Jerusalem, instead delivered them to merchants who sold them into slavery in Tunisia or to a watery death. It is a cruel and sorrowful story mingling history and legend, which Schwob recounts through the voices of eight different protagonists: a goliard, a leper, Pope Innocent III, a cleric, a qalandar, and Pope Gregory IX, as well as two of the marching children, whose naïve faith eventually turns into growing fear and anguish. Though it is a tale drawn from the early thirteenth century, Schwob presents it through a modern framework of shifting subjectivity and fragmented coherency.
Seven Pillars of Statistical Wisdom (Harvard University Press)
By Stephen M. Stigler
Even the most basic idea—aggregation, exemplified by averaging—is counterintuitive. It allows one to gain information by discarding information, namely, the individuality of the observations. Stigler's second pillar, information measurement, challenges the importance of "big data" by noting that observations are not all equally important: the amount of information in a data set is often proportional to only the square root of the number of observations, not the absolute number. The third idea is likelihood, the calibration of inferences with the use of probability. Intercomparison is the principle that statistical comparisons do not need to be made with respect to an external standard. The fifth pillar is regression, both a paradox and the basis of inference, including Bayesian inference and causal reasoning. The sixth concept captures the importance of experimental design—for example, by recognizing the gains to be had from a combinatorial approach with rigorous randomization. The seventh idea is the residual: the notion that a complicated phenomenon can be simplified by subtracting the effect of known causes, leaving a residual phenomenon that can be explained more easily.
Page 8
Page 9
Page 10
Upcoming Events
Action Park: Fast Times, Wild Rides, and the Untold Story of America's Most Dangerous Amusement Park
(Penguin Group)
By Andy Mulvihill with Jack Rossen
A kind of de-mythologizing project aimed at providing us with the true story behind America's most notorious theme park. Known for its almost libertarian commitment to handing the control—and with it, the consequences—of the park experience to the visitor, this is a history that seeks to narrate, explain, and personify the character of the park in the figure of its founder, Gene Mulvihill. As much a book about a son paying homage to his father and his upbringing as it is a tracking of changes in culture that have made such a place as Action Park seem unconscionable today. There is tragedy and violence, but alongside such a celebration of personality and exuberance, a portrait emerges of a place and a family full of life. —Bryce
Fathoms: The World in the Whale
(Simon & Schuster)
By Rebecca Giggs
Beautiful and thoughtful and historically rich and deep, it is, so far, probably the top book I've encountered that attempts to reckon with the full cultural, environmental, and historical relevance of "the whale" beyond Moby Dick. Which is another book I recommend, even if it's a little older. - —Bryce
Page 11
Transcendent Kingdom (Penguin Random House) by Yaa Gyasi
One of the few instances in which an author's follow up matches and potentially even exceeds expectations set by their debut. An absolutely captivating read, one that is nearly impossible to put down. Gyasi is among the best writers of her generation—her prose is delicate and stunning, her characters well-developed and uncannily human, and her grace in writing of intergenerational trauma and the lingering mental illness stigma in immigrant communities is perhaps unmatched. —Meghana
The Baudelaire Fractal (Coach House Books) by Lisa Robertson
I've been thinking about this book for months, ever since I first read it in the first quarter of the year. Upon a recent reread, I have become further convinced that it is perhaps a once in a lifetime kind of read. I fear my own words cannot describe the magnitude of what Robertson has achieved with this work, so I'll quote hers instead:
"If I repeat the word girl very often, it's for those who, like me, prefer the short monosyllable, its percussive force. I wonder if in repeating I might exhaust the designation that fixed me, flood it with the lugubrious excess it named, and so convert the diminutive syllable to a terrain of the possible...I want to force the category to produce, monstrously, a subjectivity outside subjection."
The only word that comes to mind is sublime. —Meghana
Telephone
(Graywolf Press)
By Percival Everett
With Telephone, Everett once again proves his rightful claim to the title of the contemporary American literary landscape's best kept secret. Named for the childhood bus ride game in which a message is passed on and jumbled from person to person, the book was published in three distinct iterations, with variations in the plot and ending of each different version. In almost anyone else's hands, I would have chalked this up to cheap gimmick. But in Everett's, this phenomenon actually allows the novel and its characters to achieve greater depth and heart. The reader unwittingly chooses their own adventure, and is swept up in the characters' own adventures along the way, tied together by Everett's signature humor and style. Everett is a masterful chameleon of a writer. I have always admired his ability to guide the reader to find beauty in the most serious of moments, particularly in moments that could just as easily evoke immeasurable sadness. I leave each of his novels, even the more somber ones, feeling fuller in heart and soul, and Telephone is no exception. —Meghana
Page 12
Page 13
Under the Red White and Blue: Patriotism, Disenchantment and the Stubborn Myth of The Great Gatsby (Yale University Press)
By Greil Marcus

Renowned critic Greil Marcus takes on the fascinating legacy of F. Scott Fitzgerald's The Great Gatsby. An enthralling parable (or a cheap metaphor) of the American Dream as a beckoning finger toward a con game, a kind of virus infecting artists of all sorts over nearly a century, Fitzgerald's story has become a key to American culture and American life itself. Marcus follows the arc of The Great Gatsby from 1925 into the ways it has insinuated itself into works by writers such as Philip Roth and Raymond Chandler; found echoes in the work of performers from Jelly Roll Morton to Lana Del Rey; and continued to rewrite both its own story and that of the country at large in the hands of dramatists and filmmakers from the 1920s to John Collins's 2006 Gatz and Baz Luhrmann's critically reviled (here celebrated) 2013 movie version—the fourth, so far.
White Christian Privilege: The Illusion of Religious Equality in America (New York University Press)
By Khyati Y. Joshi

The United States is recognized as the most religiously diverse country in the world, and yet its laws and customs actually keep the Constitutional ideal of "religious freedom for all" from becoming a reality. Christian beliefs, norms, and practices infuse our society; they are embedded in our institutions, creating the structures and expectations that define the idea of "Americanness." In White Christian Privilege, Khyati Y. Joshi traces Christianity's influence on the American experiment from before the founding of the Republic to the social movements of today. Through the voices of Christians and religious minorities, Joshi explores how Christian privilege and White racial norms affect the lives of all Americans, often in subtle ways that society overlooks. By shining a light on the inequalities these privileges create, Joshi points the way forward, urging readers to help remake America as a diverse democracy with a commitment to true religious freedom.
The Dawning of the Apocalypse: The Roots of Slavery, White Supremacy, Settler Colonialism, and Capitalism in the Long Sixteenth Century (Monthly Review Press)
By Gerald Horne

Deploying illuminating research, The Dawning of the Apocalypse is a riveting revision of the "creation myth" of settler colonialism and how the United States was formed. Here, Gerald Horne argues forcefully that, in order to understand the arrival of colonists from the British Isles in the early seventeenth century, one must first understand the "long sixteenth century"—from 1492 until the arrival of settlers in Virginia in 1607. In retelling the bloodthirsty story of the invasion of the Americas, Horne recounts how the fierce resistance by Africans and their Indigenous allies weakened Spain and enabled London to dispatch settlers to Virginia in 1607. These settlers laid the groundwork for the British Empire and its revolting spawn that became the United States of America.
semcoop.com
The Front Table
1
Page 14
2
The Front Table
Alaric the Goth: An Outsider's History of the Fall of Rome (W. W. Norton & Company)
By Douglas Boin

Stigmatized and relegated to the margins of Roman society, the Goths were violent "barbarians" who destroyed "civilization," at least in the conventional story of Rome's collapse. But a slight shift of perspective brings their history, and ours, shockingly alive. Romans were deeply conflicted over who should enjoy the privileges of citizenship. They wanted to buttress their global power, but were insecure about Roman identity; they depended on foreign goods, but scoffed at and denied foreigners their own voices and humanity. In contrast to the rising bigotry, intolerance, and zealotry among Romans during Alaric's lifetime, the Goths valued religious pluralism and tolerance. The marginalized Goths preserved virtues of the ancient world that we take for granted. Combining vivid storytelling and historical analysis, Douglas Boin reveals the Goths' complex and fascinating legacy in shaping our world.


Pleasure in the News: African American Readership and Sexuality in the Black Press (University of Illinois Press)
By Kim Gallon
Critics often chastised the twentieth-century black press for focusing on sex and scandal rather than African American achievements. In Pleasure in the News, Kim Gallon takes an opposing stance—arguing that African American newspapers fostered black sexual expression, agency, and identity. Gallon discusses how journalists and editors created black sexual publics that offered everyday African Americans opportunities to discuss sexual topics that exposed class and gender tensions. While black churches and black schools often encouraged sexual restraint, the black press printed stories that complicated notions about respectability. Informative and empowering, Pleasure in the News redefines the significance of the black press in African American history and advancement while shedding light on the important cultural and social role that sexuality played in the power of the black press.
Support the Co-op

Taking Children: A History of American Terror (University of California Press)
By Laura Briggs

Taking Children argues that for four hundred years the United States has taken children for political ends. Black children, Native children, Latinx children, and the children of the poor have all been seized from their kin and caregivers. As Laura Briggs's sweeping narrative shows, the practice played out on the auction block, in the boarding schools designed to pacify the Native American population, in the foster care system used to put down the Black freedom movement, in the US's anti-Communist coups in Central America, and in the moral panic about "crack babies." In chilling detail we see how Central Americans were made into a population that could be stripped of their children and how every US administration beginning with Reagan has put children of immigrants and refugees in detention camps. Yet these tactics of terror have encountered opposition from every generation, and Briggs challenges us to stand and resist in this powerful corrective to American history.
Page 15
From Darwin to Derrida: Selfish Genes, Social Selves, and the Meanings of Life (MIT Press)
By David Haig

In From Darwin to Derrida, evolutionary biologist David Haig explains how a physical world of matter in motion gave rise to a living world of purpose and meaning. Natural selection, a process without purpose, gives rise to purposeful beings who find meaning in the world. The key to this, Haig proposes, is the origin of mutable "texts"—genes—that preserve a record of what has worked in the world. These texts become the specifications for the intricate mechanisms of living beings. Meaning, Haig argues, is the output of a process of interpretation; there is a continuum from the very simplest forms of interpretation, instantiated in single RNA molecules near the origins of life, to the most sophisticated. Life is interpretation—the use of information in choice.
Stigma: The Machinery of Inequality (Zed Books)
By Imogen Tyler

Stigma is a corrosive social force by which individuals and communities throughout history have been systematically dehumanised, scapegoated and oppressed. From the literal stigmatizing (tattooing) of criminals in ancient Greece, to modern day discrimination against Muslims, refugees and the 'undeserving poor', stigma has long been a means of securing the interests of powerful elites. In this radical reconceptualization, Tyler precisely and passionately outlines the political function of stigma as an instrument of state coercion. Through an original social and economic reframing of the history of stigma, Tyler reveals stigma as a political practice, illuminating previously forgotten histories of resistance against stigmatization, boldly arguing that these histories provide invaluable insights for understanding the rise of authoritarian forms of government today.
Critique & Praxis (Columbia University Press)
By Bernard E. Harcourt

Critical philosophy has always challenged the division between theory and practice. Yet today's critical theory often seems to engage only in critique. These times of crisis demand more. Bernard E. Harcourt challenges us to move beyond decades of philosophical detours and to harness critical thought to the need for action. In a time of increasing awareness of economic and social inequality, Harcourt calls on us to make society more equal and just. Only critical theory can guide us toward a more self-reflexive pursuit of justice. Critique and Praxis advocates for a new path forward that constantly challenges each and every one of us to ask what more we can do to realize a society based on equality and justice. Joining his decades of activism, social-justice litigation, and political engagement with his years of critical theory and philosophical work, Harcourt has written a magnum opus.
semcoop.com
The Front Table
3
Page 16
4
The Front Table
Black Samson: The Untold Story of an American Icon (Oxford University Press)
By Nyasha Junior and Jeremy Schipper
Before Harriet Tubman or Martin Luther King was identified with Moses, African Americans identified those who challenged racial oppression in America with Samson. In Black Samson: The Untold Story of an American Icon, Nyasha Junior and Jeremy Schipper tell the story of how this biblical character became an icon of African American literature. Along the way, Schipper and Junior introduce readers to a cast of historical characters, including Fredrick Douglass, Ida B. Wells, Richard Wright, Ralph Ellison, James Baldwin, Malcolm X, Huey P. Newton and others. From stories of slave rebellions to the Harlem Renaissance to the civil rights era and the Black Power movement, invoking the biblical character of Samson became a powerful way for African American intellectuals, activists, and artists to voice strategies and opinions about race relations in America. As this provocative book reveals, the story of Black Samson became the story of our nation's contested racial history.
Cross of Snow: A Life of Henry Wadsworth Longfellow (Knopf Publishing Group)
By Nicholas A. Basbanes

In Cross of Snow, the result of more than twelve years of research, including access to never-before-examined letters, diaries, journals, and notes, Nicholas Basbanes reveals the life, the times, the work–the soul–of the man who shaped the literature of a new nation with his countless poems, sonnets, stories, essays, and translations, and whose renown was so wide-reaching that his deep friendships included Charles Dickens, Nathaniel Hawthorne, Ralph Waldo Emerson, Julia Ward Howe, and Oscar Wilde. A portrait of a bold artist, experimenter of poetic form and an innovative translator–the human being that he was, the times in which he lived, the people whose lives he touched, his monumental work and its place in his America and ours.


Support the Co-op

Straighten Up and Fly Right: The Life & Music of Nat King Cole (Oxford University Press)
By Will Friedwald

One of the most popular and memorable American musicians of the 20th century, Nat King Cole (1919-65) is remembered today as both a pianist and a singer, a feat rarely accomplished in the world of popular music. Now, in this complete life and times biography, author Will Friedwald offers a new take on this fascinating musician, framing him first as a bandleader and then as a star. Friedwald brings his full musical knowledge to bear in putting the man in the work, demonstrating how this duality appears over and over again in Cole's life and career: jazz vs. pop, solo vs. trio, piano vs. voice, the good songs vs. the less-than-good songs, the rhythm numbers vs. the ballads, Cole as an advocate for the Great American Songbook vs. Cole the intrepid explorer of other options: world music, rhythm & blues, country & western. Cole was different from his contemporaries in other ways; for roughly ten years after the war, the majority of hitmakers on the pop charts were veterans of the big band experience, from Sinatra on down.
Page 17
The Price of Peace: Money, Democracy, and the Life of John Maynard Keynes (Random House)
By Zachary D. Carter

At the dawn of World War I, a young academic named John Maynard Keynes hastily folded his long legs into the sidecar of his brother-in-law's motorcycle for a journey that would change the course of history. Swept away from his placid home at Cambridge University by the currents of the conflict, Keynes found himself thrust into the halls of European treasuries to arrange emergency loans and packed off to America to negotiate the terms of economic combat. The terror and anxiety unleashed by the war would transform him from a comfortable obscurity into the most influential and controversial intellectual of his day—a man whose ideas still retain the power to shock in our own time. In this riveting biography, veteran journalist Zachary D. Carter unearths the lost legacy of one of history's most fascinating minds. The Price of Peace revives a forgotten set of ideas about democracy, money, and the good life with transformative implications for today's debates over inequality and the power politics that shape the global order.
Jesus and John Wayne: How White Evangelicals Corrupted a Faith and Fractured a Nation (Liveright Publishing Corporation)
By Kristin Kobes Du Mez

Jesus and John Wayne delves beyond facile headlines to explain how white evangelicals have brought us to our fractured political moment. Challenging the commonly held assumption that the "moral majority" backed Donald Trump for purely pragmatic reasons, Kristin Kobes Du Mez reveals that Donald Trump in fact represents the fulfillment, rather than the betrayal, of white evangelicals' most deeply held values. Jesus and John Wayne is a sweeping account of the last seventy-five years of white evangelicalism, showing how American evangelicals have worked for decades to replace the Jesus of the Gospels with an idol of rugged masculinity and Christian nationalism. A much-needed reexamination, Jesus and John Wayne explains why evangelicals have rallied behind the least-Christian president in American history and how they have transformed their faith in the process, with enduring consequences for all of us.
Feeding the People: The Politics of the Potato (Cambridge University Press)
By Rebecca Earle

Potatoes are the world's fourth most important food crop, yet they were unknown to most of humanity before 1500. Feeding the People traces the global journey of this popular foodstuff from the Andes to everywhere. The potato's global history reveals the ways in which our ideas about eating are entangled with the emergence of capitalism and its celebration of the free market. It also reminds us that ordinary people make history in ways that continue to shape our lives. Feeding the People tells the story of how eating became part of statecraft, and provides a new account of the global spread of one of the world's most successful foods.
semcoop.com
The Front Table
5
Page 18
6
The Front Table
Support the Co-op
Begin Again: James Baldwin's America and its Urgent Lessons for Our Own (Crown Publishing Group)
By Eddie S. Glaude Jr.
We live, according to Eddie S. Glaude Jr., in a moment when the struggles of Black Lives Matter and the attempt to achieve a new America have been challenged by the election of Donald Trump, a president whose victory represents yet another failure of America to face the lies it tells itself about race. We have been here before: For James Baldwin, these after times came in the wake of the civil rights movement. In these years, Baldwin transformed into a more overtly political writer, a change that came at great professional and personal cost. But from that journey, Baldwin emerged with a sense of renewed purpose about the necessity of pushing forward in the face of disillusionment and despair. Mixing biography—drawn partially from newly uncovered interviews—with history, memoir, and trenchant analysis of our current moment, Begin Again is Glaude's endeavor, following Baldwin, to bear witness to the difficult truth of race in America today.
Radical Wordsworth: The Poet Who Changed the World (Yale University Press)
By Jonathan Bate

Published in time for the 250th anniversary of William Wordsworth's birth, this is the biography of a great poetic genius, a revolutionary who changed the world. Wordsworth rejoiced in the French Revolution and played a central role in the cultural upheaval that we call the Romantic Revolution. He and his fellow Romantics changed forever the way we think about childhood, the sense of the self, our connection to the natural environment, and the purpose of poetry. But his was also a revolutionary life in the old sense of the word, insofar as his art was of memory, the return of the past, the circling back to childhood and youth. This beautifully written biography is purposefully fragmentary, momentary, and selective, opening up what Wordsworth called "the hiding-places of my power."



America through Foreign Eyes (Oxford University Press)
By Jorge G. Castañeda

Do Americans care what foreigners think about the United States? This book makes the case that they should. In these pages, Jorge Castañeda writes from his unique vantage point as a former Foreign Minister of Mexico who has lived, studied, and worked in America. He offers an impressionistic, analytical, and intuitive review of his experience in the country over the last half-century, and shows how foreigners can provide perspective on the United States' true nature. Castañeda admits that most Americans have never cared much about what a foreigner thinks about their country, but the dynamic is shifting. The outside world means more to the US than ever before, and Americans should care about what foreigners think since they are now so sensitive to what foreigners do. Now, the questions that serious, knowledgeable, and sympathetic foreigners address to Americans may be the ones Americans ask--or should ask--for themselves.
Page 19
Forgotten Peoples of the Ancient World (Thames & Hudson)
By Philip Matyszak


Beyond the Greeks, Romans and Hebrews of the Classical and Biblical eras, a rich diversity of peoples helped lay the foundations of the modern world. Philip Matyszak brings to life these cultures and individuals that made up the busy, brawling multicultural mass of humanity that emerged from the ancient Middle East and spread across the Mediterranean and Europe. He explores the origins of 40 forgotten peoples, their great triumphs and defeats, and considers the legacy they have left to us today, whether it be in fine art or everyday language. This carefully researched and illuminating history is the perfect introduction for the modern reader, packed with surprising facts and fascinating stories, detailed maps and beautiful illustrations of artifacts and sites of interest. Forgotten Peoples of the Ancient World offers a new understanding of these important civilizations that have been obscured by the passage of time.
Being Property Once Myself: Blackness and the End of Man (Belknap Press)
By Joshua Bennett

Throughout U.S. history, black people have been configured as sociolegal nonpersons, a subgenre of the human. Being Property Once Myself delves into the literary imagination and ethical concerns that have emerged from this experience. Each chapter tracks a specific animal figure—the rat, the cock, the mule, the dog, and the shark—in the works of black authors such as Richard Wright, Toni Morrison, Zora Neale Hurston, Jesmyn Ward, and Robert Hayden. The plantation, the wilderness, the kitchenette overrun with pests, the simultaneous valuation and sale of animals and enslaved people—all are sites made unforgettable by literature in which we find black and animal life in fraught proximity.
The Year of Peril: America in 1942 (Yale University Press)
By Tracy Campbell

The Second World War exists in the American historical imagination as a time of unity and optimism. In 1942, however, after a series of defeats in the Pacific and the struggle to establish a beachhead on the European front, America seemed to be on the brink of defeat and was beginning to splinter from within. Exploring this precarious moment, Tracy Campbell paints a portrait of the deep social, economic, and political fault lines that pitted factions of citizens against each other in the post–Pearl Harbor era, even as the nation mobilized, government-aided industrial infrastructure blossomed, and parents sent their sons off to war. This captivating look at how American society responded to the greatest stress experienced since the Civil War reveals the various ways, both good and bad, that the trauma of 1942 forced Americans to redefine their relationship with democracy in ways that continue to affect us today.
semcoop.com
The Front Table
7
Page 20
8
The Front Table
The Polymath: A Cultural History from Leonardo da Vinci to Susan Sontag (Yale University Press)
By Peter Burke

From Leonardo Da Vinci to John Dee and Comenius, from George Eliot to Oliver Sacks and Susan Sontag, polymaths have moved the frontiers of knowledge in countless ways. But history can be unkind to scholars with such encyclopaedic interests. All too often these individuals are remembered for just one part of their valuable achievements. In this engaging, erudite account, renowned cultural historian Peter Burke argues for a more rounded view. Identifying 500 western polymaths, Burke explores their wide-ranging successes and shows how their rise matched a rapid growth of knowledge in the age of the invention of printing, the discovery of the New World and the Scientific Revolution. It is only more recently that the further acceleration of knowledge has led to increased specialization and to an environment that is less supportive of wide-ranging scholars and scientists. Spanning the Renaissance to the present day, Burke changes our understanding of this remarkable intellectual species.
The Life and Death of Ancient Cities: A Natural History (Oxford University Press)
By Greg Woolf
The growth of cities around the world in the last two centuries is the greatest episode in our urban history, but it is not the first. Based on the most recent historical and archaeological evidence, The Life and Death of Ancient Cities provides a sweeping narrative of one of the world's first great urban experiments, from Bronze Age origins to the demise of cities in late antiquity. Greg Woolf chronicles the history of the ancient Mediterranean city, against the background of wider patterns of human evolution, and of the unforgiving environment in which they were built. Richly illustrated, the book vividly brings to life the abandoned remains of our ancient urban ancestors and serves as a stark reminder of the fragility of even the mightiest of cities.
Support the Co-op

Hearing Happiness: Deafness Cures in History (University of Chicago Press)
By Jaipreet Virdi

At the age of four, Jaipreet Virdi's world went silent. A severe case of meningitis left her alive but deaf, suddenly treated differently by everyone. It wasn't until her thirties that she began to actively assert her deafness and reexamine society's—and her own—perception of life as a deaf person in America. Through lyrical history and personal memoir, Hearing Happiness raises pivotal questions about deafness in American society and the endless quest for a cure. Taking us from the 1860s up to the present, Virdi combs archives and museums in order to understand the long history of curious cures: ear trumpets, airplane diving, skull hammering, and many more. Hundreds of procedures and products have promised miracles but always failed to deliver a universal cure—a harmful legacy that is still present in contemporary biomedicine. Weaving Virdi's own experiences together with her exploration into the history of deafness cures, Hearing Happiness is a story that America needs to hear.
Page 21
The Nine Lives of Pakistan: Dispatches from a Precarious State (W. W. Norton & Company)
By Declan Walsh


Declan Walsh is one of the New York Times's most distinguished international correspondents. His electrifying portrait of Pakistan over a tumultuous decade captures the sweep of this strange, wondrous, and benighted country through the dramatic lives of nine fascinating individuals. On assignment as the country careened between crises, Walsh traveled from the raucous port of Karachi to the salons of Lahore, and from Baluchistan to the mountains of Waziristan. He describes a country on the brink—a place of creeping extremism and political chaos, but also personal bravery and dogged idealism that defy easy stereotypes. Intimate and complex, attuned to the forces of history, identity, and faith, The Nine Lives of Pakistan offers an unflinching account of life in a precarious, vital country.
The Politics of Humiliation (Oxford University Press)
By Ute Frevert

In a brilliant procession through the last 250 years, Ute Frevert looks at the role that public humiliation has played in modern society, showing how humiliation - and the feeling of shame that it engenders - has been used as a means of coercion and control, from the worlds of politics and international diplomacy through to the education of children and the administration of justice. We learn the stories of the French women whose hair was compulsorily shaven as a punishment for alleged relations with German soldiers during the occupation of France, and of the transgressors in the USA who are made to carry a sign announcing their presence when walking down busy streets. Bringing the story right up to the present, we see how the internet and social media pillorying have made public shaming a ubiquitous phenomenon. Using a multitude of both historical and contemporary examples, Ute Frevert shows how humiliation has been used as a tool (and how it still is today), a story that reveals remarkable similarities across different times and places.
Exile and the Nation: The Parsi Community of India & the Making of Modern Iran (University of Texas Press)
By Afshin Marashi

In the aftermath of the seventh-century Islamic conquest of Iran, Zoroastrians departed for India. Known as the Parsis, they slowly lost contact with their ancestral land until the nineteenth century, when steam-powered sea travel, the increased circulation of Zoroastrian-themed books, and the philanthropic efforts of Parsi benefactors sparked a new era of interaction between the two groups. Tracing the cultural and intellectual exchange between Iranian nationalists and the Parsi community during the late nineteenth and early twentieth centuries, Exile and the Nation shows how this interchange led to the collective reimagining of Parsi and Iranian national identity—and the influence of antiquity on modern Iranian nationalism, which previously rested solely on European forms of thought.
semcoop.com
The Front Table
9
Page 22
10
The Front Table
Beyond Belief, Beyond Conscience: The Radical Significance of the Free Exercise of Religion (Oxford University Press)
By Jack N. Rakove
Today, Americans believe that the early colonists came to the New World in search of religious liberty. What we often forget is that they wanted religious liberty for themselves, not for those who held other views that they rejected and detested. Yet, by the mid-18th century, the colonists agreed that everyone possessed a sovereign right of conscience. How did this change develop? In Beyond Belief, Beyond Conscience, Pulitzer Prize-winning author Jack Rakove tracks the unique course of religious freedom in America. As Rakove explains, America's intense religiosity eventually created a new set of problems for mapping the relationship between church and state. He goes on to examine some of our contemporary controversies over church and state not from the vantage point of legal doctrine, but of the deeper history that gave the U.S. its own approach to religious freedom. In this book, he tells the story of how American ideas of religious toleration and free exercise evolved over time, and why questions of church and state still vex us.
Hegel in a Wired Brain (Bloomsbury Academic)
By Slavoj Žižek

In celebration of the 250th anniversary of the birth of G.W.F. Hegel, Slavoj Žižek gives us a reading of the philosophical giant that changes our way of thinking about our new posthuman era. No ordinary study of Hegel, Hegel in a Wired Brain investigates what he might have had to say about the idea of the 'wired brain' – what happens when a direct link between our mental processes and a digital machine emerges. Žižek explores the phenomenon of a wired brain effect, and what might happen when we can share our thoughts directly with others. He hones in on the key question of how it shapes our experience and status as 'free' individuals and asks what it means to be human when a machine can read our minds. With characteristic verve and enjoyment of the unexpected, Žižek connects Hegel to the world we live in now, shows why he is much more fun than anyone gives him credit for, and why the 21st century might just be Hegelian.
Support the Co-op

Poulenc: A Biography (Yale University Press)
By Roger Nichols

Francis Poulenc is a key figure in twentieth-century classical music, as well as an unorthodox and striking individual. Roger Nichols draws upon Poulenc's music and other primary sources to write an authoritative life of this great artist. Although associated with five other French composers in what came to be called "Les Six", Poulenc was very much sui generis in personality and in his music, where he excelled over a wide repertoire—opera, songs, ballet scores, chamber works, piano pieces, sacred and secular choral works, orchestral works and concertos. This book fully covers this wide range, while also describing the vicissitudes of Poulenc's life and the many important relationships he had with major figures such as Satie, Ravel, Stravinsky, Diaghilev, Cocteau and others.
Page 23
Geschlecht III: Sex, Race, Nation, Humanity (The University of Chicago Press)
By Jacques Derrida

A significant event in Derrida scholarship, this book marks the first publication of his long-lost philosophical text known only as "Geschlecht III." The third, and arguably the most significant, piece in his four-part Geschlecht series, it fills a gap that has perplexed Derrida scholars. The series centers on Martin Heidegger and the enigmatic German word Geschlecht, which has several meanings pointing to race, sex, and lineage. In Geschlecht III, Derrida calls attention to Heidegger's problematic nationalism, his work's political and sexual themes, and his promise of salvation through the coming of the "One Geschlecht," a sentiment that Derrida found concerningly close to the racial ideology of the Nazi party. Amid new revelations about Heidegger's anti-Semitism and the contemporary context of nationalist resurgence, this third piece of the Geschlecht series is timelier and more necessary than ever. Meticulously edited and expertly translated, this volume brings Derrida's mysterious and much awaited text to light.
I You We Them: Walking into the World of the Desk Killer (Farrar, Straus and Giroux)
By Dan Gretton

Vast and revelatory, Dan Gretton's I You We Them is an unprecedented study of the perpetrators of crimes against humanity: the "desk killers" who ordered and directed some of the worst atrocities of the modern era. Gretton probes the depths of the figure "who, by giving orders, uses paper or a phone or a computer to kill, instead of a gun." Over the past twenty years, Gretton has interviewed survivors and perpetrators, and pored over archives and thousands of pages of testimony. Woven into the narrative are his contemplative interludes—perspectives gleaned during walks in the woods, reminiscences about a lost love, and considerations of timeless moral conundrums. A synthesis of history, reportage, and memoir, I You We Them is the first volume of a groundbreaking journal of discovery that bears witness to and reckons with the largest and most pressing questions before humanity.
On Inhumanity: Dehumanization and How to Resist It (Oxford University Press)
By David Livingstone Smith

Drawing on numerous historical and contemporary cases and recent psychological research, On Inhumanity is the first accessible guide to the phenomenon of dehumanization. David Livingstone Smith walks readers through the psychology of dehumanization, revealing its underlying role in both notorious and lesser-known episodes of violence from history and current events. In particular, he considers the uncomfortable kinship between racism and dehumanization, where beliefs involving race are so often precursors to dehumanization and the horrors that flow from it. On Inhumanity is bracing and vital reading in a world lurching towards authoritarian political regimes, resurgent white nationalism, refugee crises that breed nativist hostility, and fast-spreading racist rhetoric. The book will open your eyes to the pervasive dangers of dehumanization and the prejudices that can too easily take root within us, and resist them before they spread into the wider world.
semcoop.com
The Front Table
11
Page 24
12
The Front Table
The Coming Good Society: Why New Realities Demand New Rights (Harvard University Press)
By William F. Schulz and Sushma Raman
Drawing on their vast experience as human rights advocates, William Schulz and Sushma Raman challenge us to think hard about how rights evolve with changing circumstances, and what rights will look like ten, twenty, or fifty years from now. Against those who hold that rights are static and immutable, Schulz and Raman argue that rights must adapt to new realities or risk being consigned to irrelevance. To preserve and promote the good society—one that protects its members' dignity and fosters an environment in which people will want to live—we must at times rethink the meanings of familiar rights and consider the introduction of entirely new rights. Now is one of those times. The Coming Good Society details the many frontiers of rights today and the debates surrounding them. Schulz and Raman equip us with the tools to engage the present and future of rights so that we understand their importance and know where we stand.
Anger: The Conflicted History of an Emotion (Yale University Press)
By Barbara H. Rosenwein

All of us think we know when we are angry, and we are sure we can recognize anger in others as well. But this is only superficially true. We see anger through lenses colored by what we know, experience, and learn. Barbara H. Rosenwein traces our many conflicting ideas about and expressions of anger, taking the story from the Buddha to our own time, from anger's complete rejection to its warm reception. Rosenwein explores how anger has been characterized by gender and race, why it has been tied to violence and how that is often a false connection, how it has figured among the seven deadly sins and yet is considered a virtue, and how its interpretation, once largely the preserve of philosophers and theologians, has been gradually handed over to scientists—with very mixed results. Rosenwein shows that the history of anger can help us grapple with it today.
Support the Co-op

Dare to Speak: Defending Free Speech for All (Dey Street Books)
By Suzanne Nossel

The daily hazards and debates surrounding free speech dominate headlines and fuel social media storms. In an era where one tweet can launch—or end—your career, and where free speech is often invoked as a principle but rarely understood, learning to maneuver the fast-changing, treacherous landscape of public discourse has never been more urgent. In Dare To Speak, Suzanne Nossel, a leading voice in support of free expression, delivers a vital, necessary guide to maintaining democratic debate that is open, free-wheeling but at the same time respectful of the rich diversity of backgrounds and opinions in a changing country. Centered on practical principles, Nossel's primer equips readers with the tools needed to speak one's mind in today's diverse, digitized, and highly-divided society without resorting to curbs on free expression. Replete with insightful arguments, colorful examples, and salient advice, Dare To Speak brings much-needed clarity and guidance to this pressing—and often misunderstood—debate.
Page 25
Theory of the Gimmick: Aesthetic Judgement and Capitalist Form (Belknap Press)
By Sianne Ngai

Repulsive and yet strangely attractive, the gimmick is a form that can be found virtually everywhere in capitalism. It comes in many guises: a musical hook, a financial strategy, a striptease, a novel of ideas. Above all, acclaimed theorist Sianne Ngai argues, the gimmick strikes us both as working too little (a labor-saving trick) and as working too hard (a strained effort to get our attention). Focusing on this connection to work, Ngai draws a line from gimmicks to political economy. Despite its status as cheap and compromised, the gimmick emerges as a surprisingly powerful tool in this formidable contribution to aesthetic theory.
Inky Fingers: The Making of Books in Early Modern Europe (Belknap Press)
By Anthony Grafton

In this celebration of bookmaking in all its messy and intricate detail, renowned historian Anthony Grafton invites us to see the scholars of early modern Europe as diligent workers. Meticulously illuminating the physical and mental labors that fostered the golden age of the book—the compiling of notebooks, copying and correction of texts and proofs, preparation of copy—he shows us how the exertions of scholars shaped influential books, treatises, and forgeries. Above all, Grafton makes clear that the nitty-gritty of bookmaking has had a profound impact on the history of ideas—that the life of the mind depends on the work of the hands.
The Oxford Illustrated History of the Book (Oxford University Press)
Edited by James Raven

In 14 original essays, The Oxford Illustrated History of the Book reveals the history of books in all their various forms, from the ancient world to the digital present. Leading international scholars offer an original and richly illustrated narrative that is global in scope. The history of books is not simply a question of material form, nor indeed of the history of reading and reception. The larger question is of the effect of textual production, distribution and reception - of how books themselves made history. To this end, each chapter of this volume, succinctly bounded by period and geography, offers incisive and stimulating insights into the relationship between books and the story of their times.
semcoop.com
The Front Table
13
Page 26
14
The Front Table
Support the Co-op
Memorial Drive: A Daughter's Memoir (Ecco Press)
By Natasha Trethewey
At age nineteen, Natasha Trethewey had her world turned upside down when her former stepfather shot and killed her mother. Grieving and still new to adulthood, she confronted the twin pulls of life and death in the aftermath of unimaginable trauma and now explores the way this experience lastingly shaped the artist she became. Memorial Drive is a compelling and searching look at a shared human experience of sudden loss and absence but also a piercing glimpse at the enduring ripple effects of white racism and domestic abuse. Animated by unforgettable prose and inflected by a poet's attention to language, this is a luminous, urgent, and visceral memoir from one of our most important contemporary writers and thinkers.
A Philosopher's Economist: Hume and the Rise of Capitalism (University of Chicago Press)
By Margaret Schabas and Carl Wennerlind

Although David Hume's contributions to philosophy are firmly established, his economics has been largely overlooked. A Philosopher's Economist offers the definitive account of Hume's "worldly philosophy" and argues that economics was a central preoccupation of his life and work. Margaret Schabas and Carl Wennerlind show that Hume made important contributions to the science of economics, notably on money, trade, and public finance. Hume's imprint on modern economics is profound and far reaching, whether through his close friend Adam Smith or later admirers such as John Maynard Keynes and Friedrich Hayek. Schabas and Wennerlind's book compels us to reconsider the centrality and legacy of Hume's economic thought—for both his time and ours—and thus serves as an important springboard for reflections on the philosophical underpinnings of economics.

Menopause: A Comic Treatment (Penn State University Press)
Edited by MK Czerwiec

Like so many other issues surrounding women's reproductive health, menopause has been treated as a cultural taboo. On the rare occasions that menopausal and perimenopausal women are depicted in popular culture, they are stereotypically cast as the butt of demeaning jokes that encourage us to laugh at their deteriorating bodies and emotional volatility. The result is that women facing menopause often feel isolated and ashamed. In a spirit of community and support, this collection of comics presents a different view of menopause that enables those experiencing it to be seen and to feel empowered. Featuring works by a host of pioneering and up-and-coming comics artists, Menopauseis a perfect foil to the simplistic, cheap-joke approach society at large has taken to this much-derided women's health issue. Readers will revel in the sly humor and universal truths found here.
Page 27
We're Not Here to Entertain: Punk Rock, Ronald Reagan, and The Real Culture War of 1980s America (Oxford University Press)
By Kevin Mattson

Many remember the 1980s as the era of Ronald Reagan, a conservative decade populated by preppies and yuppies dancing to a soundtrack of electronic synth pop music. However, the decade also produced some of the most creative works of punk culture. In We're Not Here to Entertain, Kevin Mattson documents what Kurt Cobain once called a "punk rock world" --the all-encompassing hardcore-indie culture that incubated his own talent. Mattson shows just how widespread the movement became -and how democratic it was due to its commitment to Do-It-Yourself (DIY) tactics. Throughout, Mattson puts the movement into a wider context, locating it in a culture war that pitted a blossoming punk scene against the new president. By reconstructing the world of punk, Mattson demonstrates that it was more than just a style of purple hair and torn jeans. In so doing, he reminds readers of punk's importance and its challenge to simplistic assumptions about the 1980s as a one-dimensional, conservative epoch.
Tales from the Ant World (Liveright Publishing Corporation)
By Edward O. Wilson

"Ants are the most warlike of all animals, with colony pitted against colony.... Their clashes dwarf Waterloo and Gettysburg," writes Edward O. Wilson in his most finely observed work in decades. In a myrmecological tour to such far-flung destinations as Mozambique and New Guinea, the Gulf of Mexico's Dauphin Island and even his parents' overgrown yard back in Alabama, Wilson thrillingly evokes his nine-decade-long scientific obsession with more than 15,000 ant species. Wryly observing that "males are little more than flying sperm missiles" or that ants send their "little old ladies into battle," Wilson eloquently relays his brushes with fire, army, and leafcutter ants, as well as more exotic species: the Matabele, Africa's fiercest warrior ants; Costa Rica's Basiceros, the slowest ants in the world; and New Caledonia's Myrmecia apicalis, the most endangered of them all. A personal account by one of our greatest scientists, Tales from the Ant World is an indispensable volume for any lover of the natural world.
Twilight of Democracy: The Seductive Lure of Authoritarianism (Doubleday Books)
By Anne Applebaum


In Twilight of Democracy, Anne Applebaum, an award-winning historian of Soviet atrocities who was one of the first American journalists to raise an alarm about antidemocratic trends in the West, explains the lure of nationalism and autocracy. She contends that political systems with radically simple beliefs are inherently appealing, especially when they benefit the loyal to the exclusion of everyone else. Applebaum describes many of the new advocates of illiberalism in countries around the world, showing how they use conspiracy theory, political polarization, social media, and even nostalgia to change their societies. Twilight of Democracy is a brilliant dissection of a world-shaking shift and a stirring glimpse of the road back to democratic values.
semcoop.com
The Front Table
15
Page 28
16
Paperback Front Table
Intimations (Penguin Books)
By Zadie Smith
Written during the early months of lockdown, Intimations explores ideas and questions prompted by an unprecedented situation. What does it mean to submit to a new reality–or to resist it? How do we compare relative sufferings? What is the relationship between time and work? In our isolation, what do other people mean to us? How do we think about them? What is the ratio of contempt to compassion in a crisis? When an unfamiliar world arrives, what does it reveal about the world that came before it? Suffused with a profound intimacy and tenderness in response to these extraordinary times, Intimations is a slim, suggestive volume with a wide scope, in which Zadie Smith clears a generous space for thought, open enough for each reader to reflect on what has happened–and what should come next.
Let the People See: The Story of Emmett Till (Oxford University Press)
By Elliott J Gorn

In August 1955, the fourteen-year-old Chicago boy supposedly flirted with a white woman named Carolyn Bryant, while visiting family in Mississippi. Three days later, his mangled body was recovered in the Tallahatchie River, weighed down by a cotton-gin fan. Till's killers, Bryant's husband and his half-brother, were eventually acquitted on technicalities by an all-white jury despite overwhelming evidence. In 2005, fifty years after the murder, the FBI reopened the case. New papers and testimony have come to light, and several participants, including Till's mother, have published autobiographies. Using this new evidence and a broadened historical context, Elliott J. Gorn delves more fully than anyone has into how and why the story of Emmett Till still resonates, and always will.
Support the Co-op

To the Friend Who Did Not Save My Life (Semiotext(e))
By Herve Guibert

First published by Gallimard in 1990, To the Friend Who Did Not Save My Life describes, with devastating, darkly comic clarity, its narrator's experience of being diagnosed with AIDS. Guibert chronicles three months in the penultimate year of the narrator's life as, in the wake of his friend Muzil's death, he goes from one quack doctor to another, describing the progression of the disease and recording the reactions of his many friends. The novel scandalized the French media, which quickly identified Muzil as Guibert's close friend Michel Foucault. To the Friend became a bestseller, and Guibert a celebrity. Guibert continued to document the daily experiences of his body in a series of novels and diaries, mostly published posthumously. To the Friend has since attained a cult following for its intimate and candid tone, its fragmented and slippery form.
Page 29
Islam and Asia: A History (Cambridge University Press)
By Chiara Formichi

Chiara Formichi explores the ways in which Islam and Asia have shaped each other's histories, societies and cultures from the seventh century to today. Challenging the assumed dominance of the Middle East in the development of Islam, Formichi argues for Asia's centrality in the development of global Islam as a religious, social and political reality. Readers learn how and why Asia is central to the history of Islam, and vice versa, considering the impact of Asia's Muslims on Islam; and how Islam became an integral part of Asia, and its influence on local conceptions of power, the sciences, arts, and bureaucracy. Grounding her argument in specific case studies, Formichi ultimately concludes that the existence of Islamized interactions across Asia have allowed for multi-directional influences on Islamic practices and interpretations throughout the Muslim world.
The Lions' Den: Zionism and the Left from Hannah Arendt to Noam Chomsky (Yale University Press)
By Susie Linfield

In this lively intellectual history of the political Left, cultural critic Susie Linfield investigates how eight prominent twentieth-century intellectuals struggled with the philosophy of Zionism, and then with Israel and its conflicts with the Arab world. The book includes philosophers, historians, journalists, and activists such as Hannah Arendt, Arthur Koestler, I. F. Stone, and Noam Chomsky. In their engagement with Zionism, these influential thinkers also wrestled with the twentieth century's most crucial political dilemmas. In other words, in probing Zionism, they confronted the very nature of modernity and the often catastrophic histories of our time. By examining these leftist intellectuals, Linfield also seeks to understand how the contemporary Left has become focused on anti-Zionism and how Israel itself has moved rightward.
Outsiders at Home: The Politics of American Islamophobia (Cambridge University Press)
By Nazita Lajevardi
Discrimination against Muslim Americans has soared over the last two decades with hostility growing especially acute since 2016 - in no small part due to targeted attacks by policymakers and media. Outsiders at Home offers the first systematic, empirically driven examination of status of Muslim Americans in US democracy, evaluating the topic from a variety of perspectives. To what extent do Muslim Americans face discrimination by legislators, the media, and the general public? What trends do we see over time, and how have conditions shifted? What, if anything, can be done to reverse course? How do Muslim Americans view their position, and what are the psychic and sociopolitical tolls? Answering each of these questions, Nazita Lajevardi shows that the rampant, mostly negative discussion of Muslims in media and national discourse has yielded devastating political and social consequences.
Paperback Front Table
semcoop.com
17
Page 30
18
Paperback Front Table
Designing in Dark Times: An Arendtian Lexicon (Bloomsbury Visual Arts)
Edited by Eduardo Staszowski and Virginia Tassinari
Building on the revival of interest in Hannah Arendt, and on the increasing turn in design towards the expanded field of the social, this unique book uses insights and quotations drawn from Arendt's major writings (The Human Condition; The Origins of Totalitarianism, Men in Dark Times) to assemble a new kind of lexicon for politics, designing and acting today. Taking 56 terms – from Action, Beginnings and Creativity through Mortality, Natality, and Play to Superfluity, Technology and Violence – and inviting designers and scholars of design world-wide to contribute, Designing in Dark Times: An Arendtian Lexicon, offers up an extraordinary range of short essays that use moments and quotations from Arendt's thought as the starting points for reflection on how these terms can be conceived for contemporary design and political praxis. Neither simply dictionary nor glossary, the lexicon brings together designing and political philosophy to begin to create a new language for acting and designing against dark times.
Support the Co-op
Letters and Other Texts (Semiotext(e))
By Gilles Deleuze, edited by David Lapoujade, translated by Ames Hodges

Letters and Other Texts is the third and final volume of the posthumous texts of Gilles Deleuze, collected for publication in French on the twentieth anniversary of his death. It contains several letters addressed to his contemporaries (Michel Foucault, Pierre Klossowski, François Châtelet, and Clément Rosset, among others). Of particular importance are the letters addressed to Félix Guattari, which offer an irreplaceable account of their work as a duo from Anti-Oedipus to What is Philosophy? Later letters provide a new perspective on Deleuze's work as he responds to students' questions. his volume also offers a set of unpublished or hard-to-find texts, including some essays from Deleuze's youth, a few unusual drawings, and a long interview from 1973 on Anti-Oedipus with Guattari.

Wittgenstein's Family Letters: Corresponding with Ludwig (Bloomsbury Academic)
Edited by Brian McGuinness, translated by Peter Winslow

Translated into English for the first time, the letters collected here bring to life one of the greatest thinkers of the twentieth century, Ludwig Wittgenstein. In letters written over forty years, we see how his ideas and relationships developed during his time as a prisoner of war, a school teacher, an architect and throughout his years at Cambridge. Always frank and often brutally honest, these letters between Wittgenstein, his brother Paul and his three sisters, Hermine, Margaret and Helene, are filled with a familiarity and an intimacy. They allow us to enter the bygone world of an extraordinary family, revealing a side of Wittgenstein we have never seen before.
Page 31
Female Monarchs and Merchant Queens in Africa (Ohio University Press)
By Nwando Achebe

In this unapologetically African-centered monograph, Nwando Achebe considers the diverse forms and systems of female leadership in both the physical and spiritual worlds, as well as the complexities of female power in a multiplicity of distinct African societies. From Amma to the goddess inkosazana, Sobekneferu to Nzingha, and the daughters or umuada of Igboland, Female Monarchs and Merchant Queens in Africa documents the worlds and life histories of elite African females, female principles, and (wo)men of privilege. Chronologically and by theme, Achebe pieces together the worlds and experiences of African females from African-derived sources, especially language. From centralized to small-scale egalitarian societies, patrilineal to matrilineal systems, North Africa to sub-Saharan lands, Female Monarchs and Merchant Queens in Africa offers an unparalleled history of the remarkable African women who occupied positions of power, authority, and influence.
Josie Mpama/Palmer: Geet Up and Get Moving (Ohio University Press)
By Robert R. Edgar
While African National Congress narratives dominate much of the scholarship on South Africa's freedom struggle, Josie Mpama/Palmer's political life offers a different perspective. Highly critical of the patriarchal attitudes that hindered black women from actively participating in politics, Mpama/Palmer was an outspoken advocate for women's social equality and encouraged black women to become more involved in national conversations. The first black woman to join the Communist Party of South Africa and an antiapartheid activist, Josie Mpama/Palmer remained involved in critical issues all her life, especially protests against Bantu Education and other forms of racial and sexist discrimination. She was an integral figure in establishing the Federation of South African Women, an organization open to women of all races. Mpama/Palmer's activism and political legacy would become an inspiring example for women in South Africa and around the world to get up and get moving.
Becoming Human: Matter and Meaning in an Antiblack World (New York University Press)
By Zakiyyah Iman Jackson

Rewriting the pernicious, enduring relationship between blackness and animality in the history of Western science and philosophy, Becoming Human: Matter and Meaning in an Antiblack World breaks open the rancorous debate between black critical theory and posthumanism. Through the cultural terrain of literature by Toni Morrison, Nalo Hopkinson, Audre Lorde, and Octavia Butler, the art of Wangechi Mutu and Ezrom Legae, and the oratory of Frederick Douglass, Zakiyyah Iman Jackson both critiques and displaces the racial logic that has dominated scientific thought since the Enlightenment. In so doing, Becoming Human demonstrates that the history of racialized gender and maternity, specifically antiblackness, is indispensable to future thought on matter, materiality, animality, and posthumanism.
Paperback Front Table
semcoop.com
19
Page 32
20
Paperback Front Table
Forms of Contention: Influence and the African American Sonnet Tradition (University of Georgia Press)
By Hollis Robbins
Forms of Contention argues for the centrality of sonnet writing to African American poetry, focusing on significant sonnets, key anthologies, and critical debates about poetic form to show that the influence of black sonnet writers on each other challenges long-standing claims that sonnet writing is primarily a matter of European influence. The banishment of much nineteenth- and twentieth-century formal poetry from the black poetry canon in the 1960s because it was too "traditional" long concealed the African American sonnet's legacy. In the twenty-first century, the sonnet has blossomed as a black poetic form, even while sonnet writers rarely acknowledge the rich history of black sonnets. With digital technology, a century of sonnets published in African American newspapers has reemerged to reveal surprising patterns of influence.
This Is One Way to Dance (University of Georgia Press)
By Sejal Shah

In the linked essays that make up her debut collection, This Is One Way to Dance, Sejal Shah explores culture, language, family, and place. Throughout the collection, Shah reflects on what it means to make oneself visible and legible through writing in a country that struggles with race and maps her identity as an American, South Asian American, writer of color, and feminist. This Is One Way to Dance draws on Shah's ongoing interests in ethnicity and place: the geographic and cultural distances between people, both real and imagined. Her memoir in essays emerges as Shah wrestles with her experiences growing up and living in western New York, an area of stark racial and economic segregation, as the daughter of Gujarati immigrants from India and Kenya. These essays also trace her movement over twenty years from student to teacher and meditate on her travels and life in New England, New York City, and the Midwest, as she considers what it means to be of a place or from a place, to be foreign or familiar.
Support the Co-op

Black People Are My Business: Toni Cade Bambara's Practices of Liberation (Wayne State University Press)
By Thabiti Lewis

Black People Are My Business: Toni Cade Bambara's Practices of Liberation studies the works of Bambara (1939–1995), an author, documentary filmmaker, social activist, and professor. Thabiti Lewis's analysis serves as a cultural biography, examining the liberation impulses in Bambara's writing, which is concerned with practices that advance the material value of the African American experience and exploring the introspection between artist production and social justice. This is the first monograph that focuses on Bambara's unique approach and important literary contribution to 1970s and 1980s African American literature. It explores her unique nationalist, feminist, Marxist, and spiritualist ethos, which cleared space for many innovations found in black women's fiction.
Page 33
The Birds (British Film Institute)
By Camille Paglia

Drawing on Daphne du Maurier's short story and contemporary newspaper reports of bird attacks in California, Alfred Hitchcock's The Birds (1963) featured Tippi Hedren in her first starring role. Camille Paglia's compelling study considers the film's aesthetic, technical and mythical qualities, and analyses its depiction of gender and family relations. A film about anxiety, sexual power and the violence of nature, it is quintessential Hitchcock.
Camille Paglia's foreword to this new edition reflects upon the relationship between Hitchcock and his leading lady Hedren in the light of recent debates about male power, female agency and the #MeToo movement.
The Essential Mòzï: Ethical, Political, and Dialectical Writings (Oxford University Press)
By Mòzï, translated by Chris Fraser
The Mòzï is among the founding texts of the Chinese philosophical tradition, presenting China's earliest ethical, political, and logical theories. The collected works introduce concepts, assumptions, and issues that had a profound, lasting influence throughout the classical and early imperial eras. In this new translation, Chris Fraser focuses on the philosophical aspects of the writing and allows readers to truly enter the Mohists' world of thought. This abridged edition includes the essential political and social topics of concern to this vital movement. Informed by traditional and recent scholarship, the translation presents the Mohists' ideas and arguments clearly, precisely, and coherently, while accurately reflecting the meaning, terminology, and style of the original.
Do the Right Thing (British Film Institute)
By Ed Guerrero

Spike Lee's Do The Right Thing (1989) is one of the most popular and celebrated examples of the African-American new black film wave. Contrary to Hollywood's markedly cautious treatment of 'race' and its confinement to the South and the past, Do The Right Thing offers a nuanced portrayal of black urban life. In his insightful study of the film, Ed Guerrero discusses how it epitomizes Spike Lee's powerful impact on the representation of race and difference in America, the progress of black film-making and the rise of multicultural voices in the media. This new edition includes a foreword by the author reflecting on Lee's subsequent film-making career and on an America in which African-Americans still contend with racial discrimination and police brutality. Guerrero emphasizes Lee's especially timely understanding of black film-making as a complex act, mixing the skills of art, politics, and business in order to fashion a creative practice that confronts institutional discrimination and power relations head on.
Paperback Front Table
semcoop.com
21
Page 34
22
Paperback Front Table
Stupid Black Girl (Street Noise Books)
By Aisha Redux

A first-generation American New Yorker, Aisha Redux uses her bold voice and unique point of view in this provocative collection. Weaving between the worlds of contemporary Black urban culture, traditional African religion and plant-based medicine, and modern tenets of Islam, she shares her life experiences, powerful observations, and evolving belief system through the lens of race, culture, gender, sexuality and spirituality. Exploring topics ranging from night terrors to schizophrenia, to gentrification, to the author's personal September 11th story. With stunning artwork created by Brianna McCarthy in response to each of the essays.
The Possibility of Reddish Green: Wittgenstein Outside Philosophy (Terra Nova Press)
By David Rothenberg
The expression of his eyes remained the same, a cold, piercing sadness. Yet his final words were "Tell them I had a happy life." This poetic book examines the way Ludwig Wittgenstein has influenced artists of the word beyond his own field, thereby touching the subject of how philosophy can be relevant at large. By studying the ways Wittgenstein's theories have been bent, transformed, and expanded, David Rothenberg shows that responses to the reading of philosophy can take many deep, reflective, and different forms. Aphoristically constructed in the style of E. M. Cioran or Edmond Jabès, carefully illustrated with paintings and drawings by Doug Hall, Leif Haglund, and Debra Pughe, The Possibility of Reddish Green situates Wittgenstein in the age of the sound bite and the artistic fragment, promoting the aesthetic of detachment and yet seeking to find a route through the sea of disconnected, jumbled ideas and changes that mark our time.
Support the Co-op

Life Death (University of Chicago Press)
By Jacques Derrida, edited by Pascale-Anne Brault and Peggy Kamuf, translated by Pascale-Anne Brault and Michael Naas

One of Jacques Derrida's richest and most provocative works, Life Death challenges and deconstructs one of the most deeply rooted dichotomies of Western thought: life and death. Here Derrida rethinks the traditional philosophical understanding of the relationship between life and death, undertaking multidisciplinary analyses of a range of topics, including philosophy, linguistics, and the life sciences. Derrida argues that death must be considered neither as the opposite of life nor as the truth or fulfillment of it, but rather as that which both limits life and makes it possible. Through these captivating sessions, Derrida thus not only questions traditional understandings of the relationship between life and death, but also ultimately develops a new way of thinking about what he calls "life death."
Page 35
The Pandemic Century: One Hundred Years of Panic, Hysteria, and Hubris (W. W. Norton & Company)
By Mark Honigsbaum

How can we understand the COVID-19 pandemic? Ever since the 1918 Spanish influenza pandemic, scientists have dreamed of preventing such catastrophic outbreaks of infectious disease. Yet despite a century of medical progress, viral and bacterial disasters continue to take us by surprise, inciting panic and dominating news cycles. In The Pandemic Century, a lively account of scares both infamous and less known, medical historian Mark Honigsbaum combines reportage with the history of science and medical sociology to artfully reconstruct epidemiological mysteries and the ecology of infectious diseases. We meet dedicated disease detectives, obstructive or incompetent public health officials, and brilliant scientists often blinded by their own knowledge of bacteria and viruses—and see how fear of disease often exacerbates racial, religious, and ethnic tensions. Now updated with a new chapter and epilogue.
Ascent to Glory: How One Hundred Years of Solitude Was Written and Became a Global Classic (Columbia University Press)
By Álvaro Santana-Acuña

Ascent to Glory is a study of Gabriel García Márquez's novel One Hundred Years of Solitude, from the moment García Márquez first had the idea for the novel to its global consecration. Using new documents from the author's archives, Álvaro Santana-Acuña shows how García Márquez wrote the novel, going beyond the many legends that surround it. He unveils the literary ideas and networks that made possible the book's creation and initial success. Santana-Acuña then follows this novel's path in more than seventy countries on five continents and explains how thousands of people and organizations have helped it to become a global classic. Shedding light on the novel's imagination, production, and reception, Ascent to Glory is an eye-opening book for cultural sociologists and literary historians as well as for fans of García Márquez and One Hundred Years of Solitude.
Irony and Sarcasm (MIT Press)
By Roger Kreuz

Irony and sarcasm are two of the most misused, misapplied, and misunderstood words in our conversational lexicon. In this volume in the MIT Press Essential Knowledge series, psycholinguist Roger Kreuz offers an enlightening and concise overview of the life and times of these two terms, mapping their evolution from Greek philosophy and Roman rhetoric to modern literary criticism to emojis. Kreuz describes eight different ways that irony has been used through the centuries, proceeding from Socratic to dramatic to cosmic irony. Kreuz outlines the prerequisites for irony and sarcasm (one of which is a shared frame of reference); clarifies what irony is not (coincidence, paradox, satire) and what it can be (among other things, a socially acceptable way to express hostility); recounts ways that people can signal their ironic intentions; and considers the difficulties of online irony. Finally, he wonders if, because irony refers to so many different phenomena, people may gradually stop using the word, with sarcasm taking over its verbal duties.
Paperback Front Table
semcoop.com
23
Page 36
24
Poetry
Every Hour, Every Atom: A Collection of Walt Whitman's Early Notebooks & Fragments (University of Iowa Press)
By Walt Whitman
Some of the dimmest years in Walt Whitman's life precede the advent of Leaves of Grass in 1855, when he was working as a jour­nalist and fiction writer. Starting around 1850, what he'd begun writing in his personal notebooks was far more enigmatic than anything he'd done before. One of Whitman's most secretive projects during this timeframe was a novel, Life and Adventures of Jack Engle; serialized anonymously in the spring of 1852, and rediscovered and properly published in 2017. The key to the novel's later discovery were plot notes Whit­man had made in one of his private notebooks. Whitman's invaluable notebooks have been virtually inacces­sible to the public, until now. Maintaining the early notebooks' wild, syncretic feel and sample illustrations of Whitman's beauti­ful and unkempt pages, scholars Zachary Turpin and Matt Miller's thorough transcriptions have made these notebooks available to all; sharing Whitman's secret space for developing his poetry, his writing, his philosophy, and himself.
Not Go Away is My Name (Copper Canyon Press)
By Alberto Rios
Resistance and persistence collide in Alberto Rios's sixteenth book, Not Go Away Is My Name, a book about past and present, changing and unchanging, letting go and holding on. The borderline between Mexico and the U.S. looms large, and Ríos sheds light on and challenges our sensory experiences of everyday objects. At the same time, family memories and stories of the Sonoron desert weave throughout as Ríos travels in duality: between places, between times, and between lives. In searching for and treasuring what ought to be remembered, Ríos creates an ode to family life, love and community, and realizes "All I can do is not go away. / Not go away is my name."
Support the Co-op Hot with the Bad Things (Alice James Books)
By Lucia LoTempio
These poems take a closer look at violence against women, both physical and psychological. Follow the intersection of fear, identity, and the malleability of the speaker's own experiences of violence enacted on her by men, particularly a past partner. Imagistic and evocative, the poems ask how are we conditioned into living with violence, and how do we move forward?
Page 37
Beowulf (MCD x Fsg Originals)
By Maria Dahvana Headley

A new, feminist translation of Beowulf by the author of the much-buzzed-about novel The Mere Wife. Nearly twenty years after Seamus Heaney's translation of Beowulf—and fifty years after the translation that continues to torment high-school students around the world—there is a radical new verse translation of the epic poem by Maria Dahvana Headley, which brings to light elements that have never before been translated into English, recontextualizing the binary narrative of monsters and heroes into a tale in which the two categories often entwine, justice is rarely served, and dragons live among us.
My Baby First Birthday (Tin House Books)
By Jenny Zhang
My Baby First Birthday is a collection that examines innocence, asking us who gets to be loved and who has to deplete themselves just to survive. Jenny Zhang writes about accepting pain, about the way we fetishize womanhood and motherhood, and reduce women to their violations, traumas, and body parts. She questions the way we feminize and racialize nurturing, and live in service of other people's dreams. Her poems explore the obscenity of patriarchy, whiteness, and capitalism, the violence of rescue and heroism. The magic trick in My Baby First Birthday is that despite all these themes, the book never feels like some jeremiad. Zhang uses friendship as a lyric. She seeks tenderness, radiant beauty, and having love for your mistakes. Through all this, she writes about being alone—really alone, like why-was-I-ever-born alone—and trying, despite everything, to reach out and touch something—skin to skin, animal to animal.
Nobody (W. W. Norton & Company)
By Alice Oswald
A collage of water-stories from the Odyssey, reconstructed as a mesmeric and hallucinatory book- length poem by acclaimed poet Alice Oswald. In Memorial, her unforgettable transformation of the Iliad, Alice Oswald breathed new life into myth. In Nobody, she returns to Homer, this time fixing her gaze on a minor character in the Odyssey—a poet abandoned on a stony island—and the sea that surrounds him. Several voices drift in and out of the poem; though there are no proper names, we recognize familiar characters and the presiding spirit of Proteus, the shape-shifting sea-god. Reading Nobody is like watching the ocean; we slip our earthly moorings and follow the circling shoal of sea voices into a mesh of sound and light and water--fluid, abstract, and moving with the wash of waves.
semcoop.com
Poetry
25
Page 38
Poetry
26
semcoop.com
Concordance (New Directions Publishing Corporation)
By Susan Howe
"Only artworks are capable of transmitting chthonic echo-signals," Susan Howe has said. In Concordance, she has created a fresh body of work transmitting vital signals from a variety of archives. "Concordance," a collage poem originally published as a Grenfell Press limited edition, springs from slivers of poetry and marginalia, cut from old concordances and facsimile editions of Milton, Swift, Herbert, Browning, Dickinson, Coleridge, and Yeats, as well as from various field guides to birds, rocks, and trees: the collages' "rotating prisms" form the heart of the book. The final poem, "Space Permitting," is collaged from drafts and notes Thoreau sent to Emerson and Margaret Fuller's friends and family in Concord while on a mission to recover Fuller's remains from a shipwreck on Fire Island. The fierce ethic of salvage in these three very different pieces expresses the vitalism in words, sounds, and syllables—the telepathic spirit of all things singing into air.
Spontaneous Particulars: The Telepathy of Archives (New Directions Publishing Corporation)
By Susan Howe
Great American writers — William Carlos Williams, Jonathan Edwards, Emily Dickinson, Noah Webster, Hart Crane, Wallace Stevens, Henry James —in the physicality of their archival manuscripts (reproduced here in the beautiful facsimiles)—are the presiding spirits of Spontaneous Particulars: Telepathy of Archives. Also woven into Susan Howe's long essay are beautiful photographs of embroideries and textiles from anonymous craftspeople. The archived materials create links, discoveries, chance encounters, the visual and the acoustic shocks of rooting around amid physical archives. These are the telepathies the bibliomaniacal poet relishes. Rummaging in the archives she finds "a deposit of a future yet to come, gathered and guarded…a literal and mythical sense of life hereafter—you permit yourself liberties —in the first place—happiness." Digital scholarship may offer much for scholars, but Susan Howe loves the materiality of research in the real archives, and Spontaneous Particulars "is a collaged swan song to the old ways."
So Forth (W. W. Norton & Company)
By Rosanna Warren

With irony, in mourning tinged with eros, one of our most extraordinary poets blends the personal and the political to meditate on damage, aging, and injustice. The poems in So Forth surge back in memory, pondering guilt and forgiveness. Consciousness flows from singular to plural; identity in these poems does a round dance with other personae, with formidable women artists of the past in the powerful sequence "Legende of Good Women," with pre-Socratic philosophers, and with lovers, children, and strangers—the strangest of whom is the face in the mirror. In response to griefs both historical and contemporary, So Forth contemplates the quest for the holy and traditions of the sacred.
Page 39
The Complete Works of Alberto Caeiro (New Directions Publishing Corporation)
By Fernando Pessoa

Here, in Margaret Jull Costa and Patricio Ferrari's splendid new translations, are the complete poems of Alberto Caeiro, the imaginary master of the "heteronym" coterie created by the Portuguese modernist Fernando Pessoa. This imaginary author was a shepherd who spent most of his life in the countryside, had almost no education, and was ignorant of most literature; yet he (Pessoa) wrote some of the most beautiful and profound poems in Portuguese literature. This edition of The Complete Works of Alberto Caeiro is based on the magnificent Portuguese Tinta-da-china critical edition, published in Lisbon in 2016, and contains an illuminating introduction by the editors, Jerónimo Pizarro and Patricio Ferrari, some facsimiles of the original Portuguese texts, and prose excerpts about Caeiro and his work written by Fernando Pessoa as well as his heteronyms Álvaro de Campos and Ricardo Reis, and other fictitious authors such as Antonio Mora and I. I. Crosse.
The Saddest Thing is that I Have Had to Use Words: A Madeline Gins Reader (Siglio Press)
Edited by Lucy Ives
Poet, philosopher, speculative architect and transdisciplinary artist, Madeline Gins (1941–2014) is well-known for her collaborations with her husband, the artist Arakawa, on the experimental architectural project Reversible Destiny, in which they sought to arrest mortality by transforming the built environment. Yet, her own writings—in the form of poetry, essays, experimental prose, and philosophical inquiries—represent her most visionary and transformative work. Expansive and playful, Gins's vigorous and often ecstatic exploration of the physicality of language challenges us to sense more acutely the ways in which we can—and could—write and read. The Saddest Thing Is That I Have Had to Use Words: A Madeline Gins Reader is a revelatory anthology, edited and with an introduction by the writer and critic Lucy Ives. Long out of print or unpublished, Gins's poems and prose form a powerful corpus of experimental literature, one which is sure to upend existing narratives of American poetics at the close of the twentieth century.
27
Support the Co-op
Poetry
Page 40
28
Fiction
Posthumous Memoirs of Bras Cubas (Liveright Publishing Corporation)
By Joaquim Mari Machado De Assis
Joaquim Maria Machado de Assis, the son of a mulatto father and a washerwoman, was not, originally, expecting literary encomiums in his lifetime, especially not for Brás Cubas. And yet, his prodigious output of novels, plays, and stories would influence generations of South American writers. Now, with this coruscating new translation of one of his most compelling novels, esteemed translators Margaret Jull Costa and Robin Patterson reveal a pivotal moment in Machado's career, as his flights of the surreal became his literary hallmark. In eloquent, contemporary prose, Costa and Patterson breathe new life into the dynamic character of Brás Cubas and reveal the vivid, tempestuous Rio de Janeiro of his time. Fantastical in structure and enthralling in tone, Posthumous Memoirs of Brás Cubas is a deeply human story of a somber life—how much of it reflects the author's own personality we will never know. At once a work of uproarious mockery and great sympathy, this is Machado de Assis at his most pathbreaking: an incisive observer of the human condition, and a founding father of modernist fiction.
Dark Satellites (Fitzcarraldo Editions)
By Clemens Meyer
International Booker-longlisted author Clemens Meyer returns with Dark Satellites, a striking collection of stories about marginal characters in contemporary Germany. A train driver's life is upended when he hits a laughing man on the tracks on his night shift; a lonely train cleaner makes friends with a hairdresser in the train station bar; and a young man, unable to return to his home after a break-in, wanders the city in a state of increasing unrest. From the home to places of work, Meyer transforms the territories of our everyday lives into sites of rupture and connection. Unsentimental and yet deeply moving, Dark Satellites is a collection of stories from our time, as dark as the world, as beautiful as the brightest of hopes.
Support the Co-op
The Lightness (William Morrow & Company)
By Emily Temple

One year ago, Olivia's father left home for a meditation retreat in the mountains and never returned. Yearning to make sense of his shocking departure and to escape her overbearing mother, Olivia runs away from home and retraces his path to a place known as the Levitation Center. Once there, she enrolls in their summer program for troubled teens. Soon, she finds herself drawn into the company of a close-knit trio of girls determined to transcend their circumstances, by any means necessary. The girls decide this is the summer they will finally achieve enlightenment. But as desire and danger intertwine, it becomes increasingly clear that this is an advanced and perilous practice, and there's a chance not all of them will survive. Set over the course of one fateful summer that unfolds like a fever dream, The Lightness juxtaposes fairy tales with quantum physics, cognitive science with religious fervor, and the passions and obsessions of youth with all of these, to explore concepts as complex as faith and as simple as loving people—even though you don't, and can't, know them at all.
Page 41
I Live in the Slums (Yale University Press)
By Can Xue
Can Xue's stories observe no obvious conventions of plot or characterization. That is the only rule they follow. Instead, they tend to limn a disordered and poetic state given structure by philosophical wonder and emotional rigor. Combining elements of both Chinese materiality—the love of physical things—and Western abstract thinking, Can Xue invites her readers into an immersive landscape that blends empirical fact and illusion, mixes the physical and spiritual, and probes the space between consciousness and oblivion. She brings us to a place that is both readily familiar yet unmappable and can make us hyperaware of the inherent unreliability in our relationship to the world around us. Delightful, enchanting, and filled with secrets, Can Xue's newest collection shines a light on the forces that give contours to the visible terrain we acknowledge as reality.



The Third Walpurgis Night (Yale University Press)
By Karl Kraus
The first complete English translation of a far-seeing polemic, written in 1933 by the preeminent German-language satirist, unmasking the Nazi seizure of power. Austrian satirist and polemicist Karl Kraus's Third Walpurgis Night was written in immediate response to the Nazi seizure of power in 1933 but was withheld from publication for fear of reprisals against Jews trapped in Germany. Acclaimed when finally published by Kösel Verlag in 1952, it is a devastatingly prescient exposure, giving special attention to the regime's corruption of language as masterminded by Joseph Goebbels. Bertolt Brecht wrote to Kraus that, in his indictment of Nazism, "you have disclosed the atrocities of intonation and created an ethics of language." This masterful translation, by the prizewinning translators of Kraus's The Last Days of Mankind, aims for clarity where Kraus had good reason to be cautious and obscure.
Skyland (Nightboat Books)
By Andrew Durbin
On the Greek island of Patmos, where St. John received the Book of Revelation, two writers find themselves mired in an uneasy sense of timelessness, where history and the present jumble together. As they hunt for a lost portrait of the iconic gay novelist Hervé Guibert, they discover that the island's insistent isolation from the global catastrophe surrounding it, from the refugees interned on nearby Samos to the fascist rise in Europe and the United States, is more pose than reality.
semcoop.com
Fiction
29
Page 42
Art
30
Saturation: Race, Art, and the Circulation of Value (MIT Press)
By C. Riley Snorton

Essays, conversations, and artist portfolios confront questions at the intersection of race, institutional life, and representation. Controversies involving race and the art world are often discussed in terms of diversity and representation—as if having the right representative from a group or a larger plurality of embodied difference would absolve art institutions from historic forms of exclusion. This book offers another approach, taking into account not only questions of racial representation but also issues of structural change and the redistribution of resources. In essays, conversations, discussions, and artist portfolios, contributors confront in new ways questions at the intersection of art, race, and representation. The book uses saturation as an organizing concept, in part to suggest that current paradigms cannot encompass the complex realities of race. Saturation provides avenues to situate race as it relates to perception, science, aesthetics, the corporeal, and the sonic.
Georg Simmel: Essays on Art and Aesthetics (University of Chicago Press)
By Georg Simmel
Georg Simmel is one of the most original German thinkers of the twentieth century and is considered a founding architect of the modern discipline of sociology. Ranging over fundamental questions of the relationship of self and society, his influential writings on money, modernity, and the metropolis continue to provoke debate today. Fascinated by the relationship between culture, society, and economic life, Simmel took an interest in myriad phenomena of aesthetics and the arts. This is the first collection to bring together Simmel's finest writing on art and aesthetics, and many of the items appear in English in this volume for the first time. The more than forty essays show the protean breadth of Simmel's reflections, covering landscape painting, portraiture, sculpture, poetry, theater, form, style, and representation. An extensive introduction by Austin Harrington gives an overview of Simmel's themes and elucidates the significance of his work for the many theorists who would be inspired by his ideas.
semcoop.com
Monet and Chicago (Art Institute of Chicago)
By Gloria Groom

In 1903 the Art Institute of Chicago became the first American museum to buy a canvas by Claude Monet (1840–1926), beginning a tradition of collecting that has inextricably connected this midwestern city to the French Impressionist painter. Tracing Chicago's bold embrace of the artist and his innovative work, this generously illustrated volume not only features well-known works in the Art Institute's holdings, such as the six Stacks of Wheat paintings and four Water Lilies, but also includes works on paper and rarely seen still lifes, landscapes, and photographic ephemera from private Chicago collections. Stunning reproductions of details at actual size, a curatorial introduction, and a delightful essay by Adam Gopnik, together with a richly illustrated chronology, combine to reveal the depth of the city's essential role in fostering modern art in the United States.
Page 43
Art
Young Rembrandt: A Biography (W. W. Norton & Company)
By Onno Blom
Seeking the roots of Rembrandt's genius, the celebrated Dutch writer Onno Blom immersed himself in Leiden, the city in which Rembrandt was born in 1606 and where he spent his first twenty-five years. There are almost no written records by or about Rembrandt, so Blom tracked down old maps, sought out the Rembrandt family house and mill, and walked the route that Rembrandt would have taken to school. Blom, a native of Leiden himself, brings to life all the places Rembrandt would have known. He investigated the concerns and tensions of the era: burial rites for plague victims, the renovation of the city in the wake of the Spanish siege, and more. And he examined the origins and influences that led to the famous paintings that marked the beginning of Rembrandt's career as the paramount painter of the Dutch Golden Age. Young Rembrandt is a portrait of the artist and the world that made him. With more than 100 color images, it is a superb biography that captures Rembrandt for a new generation.
The "Black Art" Renaissance: African Sculpture and Modernism Across Continents (University of California Press)
By Joshua I. Cohen
The "Black Art" Renaissance tracks a series of twentieth-century engagements with canonical African sculpture by European, African American, and sub-Saharan African artists and theorists. Notwithstanding its occurrence during the benighted colonial period, the Paris avant-garde "discovery" of African sculpture—known then as art nègre, or "black art"—eventually came to affect nascent Afro-modernisms, whose artists and critics commandeered visual and rhetorical uses of the same sculptural canon and the same term. "Black art" evolved as a framework for asserting control over appropriative practices introduced by Europeans, and it helped forge alliances by redefining concepts of humanism, race, and civilization. Through this study, Joshua I. Cohen argues that art history's alleged centers and margins must be conceived as interconnected and mutually informing. The "Black Art" Renaissance reveals just how much modern art has owed to African art on a global scale.
Walker Evans: No Politics (University of Texas Press)
By Stephanie Schwartz
"No politics whatever." Walker Evans made this emphatic declaration in 1935, the year he began work for FDR's Resettlement Administration. Evans insisted that his photographs of tenant farmers and their homes, breadlines, and the unemployed should be treated as "pure record." The American photographer's statements have often been dismissed. In Walker Evans: No Politics, Stephanie Schwartz challenges us to engage with what it might mean, in the 1930s and at the height of the Great Depression, to refuse to work politically. This book is a major departure from the standard accounts of Evans's work and American documentary. Documentary, Schwartz reveals, is not a means of being present—or being "political." It is a practice of record making designed to distance its maker from the "scene of the crime." That crime, Schwartz argues, is not just the Depression; it is the processes of Americanization reshaping both photography and politics in the 1930s. Historicizing documentary, this book reimagines Evans and his legacy—the complexities of claiming "no politics."
31
Support the Co-op
Page 44
Sale
32
Almost Nothing: The 20th-Century Art and Life of Jozef Czapski (New York Review Books)
By Eric Karpeles
$9.98 While Supplies Last

Józef Czapski (1896–1993) lived many lives during his ninety-six years. He was a student in Saint Petersburg during the Russian Revolution and a painter in Paris in the roaring twenties. As a Polish reserve officer fighting against the invading Nazis in the opening weeks of the Second World War, he was taken prisoner by the Soviets. For reasons unknown to this day, he was one of the very few excluded from Stalin's sanctioned massacres of Polish officers. He never returned to Poland after the war, but worked tirelessly in Paris to keep alive awareness of the plight of his homeland, overrun by totalitarian powers. Czapski was a towering public figure, but painting gave meaning to his life. Eric Karpeles, also a painter, reveals Czapski's full complexity, pulling together all the threads of this remarkable life.
semcoop.com
Citizen Illegal (Haymarket Books)
By José Olivarez
$8.00 While Supplies Last

In this stunning debut, poet José Olivarez explores the stories, contradictions, joys, and sorrows that embody life in the spaces between Mexico and America. He paints vivid portraits of good kids, bad kids, families clinging to hope, life after the steel mills, gentrifying barrios, and everything in between. Drawing on the rich traditions of Latinx and Chicago writers like Sandra Cisneros and Gwendolyn Brooks, Olivarez creates a home out of life in the in-between. Combining wry humor with potent emotional force, Olivarez takes on complex issues of race, ethnicity, gender, class, and immigration using an everyday language that invites the reader in. Olivarez has a unique voice that makes him a poet to watch.
Black Queer Hoe (Haymarket Books)
By Britteney Black Rose Kapri
$8.00 While Supplies Last

Black Queer Hoe is a refreshing, unapologetic intervention into ongoing conversations about the line between sexual freedom and sexual exploitation. Women's sexuality is often used as a weapon against them. In this powerful debut, Britteney Black Rose Kapri lends her unmistakable voice to fraught questions of identity, sexuality, reclamation, and power, in a world that refuses Black Queer women permission to define their own lives and boundaries.
Page 45

Essayism: On Form, Feeling, and Nonfiction (New York Review Books)
By Brian Dillon
$7.98 While Supplies Last

Essayism is a book about essays and essayists, a study of melancholy and depression, a love letter to belle-lettrists, and an account of the indispensable lifelines of reading and writing. Brian Dillon's style incorporates diverse features of the essay. His is a branching book of possibilities, seeking consolation and direction from Michel de Montaigne, Virginia Woolf, Roland Barthes, Theodor Adorno, Walter Benjamin, Georges Perec, Elizabeth Hardwick, and Susan Sontag, to name just a few of his influences. His command of language, his erudition, and his own personal history serve not so much to illuminate or magnify the subject as to discover it anew through a kaleidoscopic alignment of attention, thought, and feeling, a dazzling and momentary suspension of disparate elements, again and again.
Friend of My Youth (New York Review Books)
By Amit Chaudhuri
$7.98 While Supplies Last

Friend of My Youth, Amit Chaudhuri's deceptively casual and continually observant and inventive novel, makes us see and feel the great city of Bombay while bringing us into the quizzical, tender, rueful, and reflective sensibility of its central character, Amit Chaudhuri, not to be confused, we are told, with the novelist who wrote this book. Friend of My Youth reflects on the nature of identity, the passage of time, the experience of friendship, the indignities of youth and middle age, the lives of parents and children, and, for all the humor that seasons its pages, terror, the terror that can strike from nowhere, the terror that is a fact of daily life.


Electric Arches (Haymarket Books)
By Eve L. Ewing
$8.00 While Supplies Last
Electric Arches is an imaginative exploration of Black girlhood and womanhood through poetry, visual art, and narrative prose. Blending stark realism with the surreal and fantastic, Eve L. Ewing's narrative takes us from the streets of 1990s Chicago to an unspecified future, deftly navigating the boundaries of space, time, and reality. Her visual art is spare, playful, and poignant—a cereal box decoder ring that allows the wearer to understand what Black girls are saying; a teacher's angry, subversive message scrawled on the chalkboard. Electric Arches invites fresh conversations about race, gender, the city, identity, and the joy and pain of growing up.
33
Support the Co-op
Sale
Page 46
Sale
34
semcoop.com
Journey to Armenia (Notting Hill Editions)
By Osip Mandelstam
$6.98 While Supplies Last

"At once a travel narrative, an allegorical journey, a withering comment on State-Building, a humanist philosophy of life, a preparation for death and a prophecy of resurrection (both for Armenia and for himself), this breathtaking, elliptical prose first appeared in the Soviet magazine Zvezda in 1933. Journey was the last piece Mandelstam saw published, and it takes its place among the outstanding masterpieces of twentieth century literature" — Bruce Chatwin
This edition also includes the companion-piece, "Conversation about Dante," "Osip Mandelstam's astonishing fantasia on poetic creation" (Seamus Heaney).
Men Explain Things to Me (Haymarket Books)
By Rebecca Solnit
$6.48 While Supplies Last
In her comic, scathing essay, "Men Explain Things to Me," Rebecca Solnit took on what often goes wrong in conversations between men and women. She wrote about men who wrongly assume they know things and wrongly assume women don't, about why this arises, and how this aspect of the gender wars works, airing some of her own hilariously awful encounters.This updated edition of this national bestseller book, with two new essays, features that now-classic essay as well as "#YesAllWomen," an essay written in response to 2014 Isla Vista killings and the grassroots movement that arose with it to end violence against women and misogyny, and the essay "Cassandra Syndrome."
Gaslight (New York Review Books)
By Joachim Kalka, translated by Isabel Fargo Cole
$8.98 While Supplies Last

In Gaslight, Joachim Kalka delves into the mythos of the nineteenth century, exploring our fascination with its "auratic gaslight," its mingling of romanticism and modernity, enlightenment and darkness. Here we find the roots of our contemporary preoccupations: gender roles and sexuality, terrorism and technology, mad scientists and serial killers, kitsch and commodification. Mustering a wealth of cultural references, Kalka draws illuminating connections between Balzac and Billy Wilder, Mickey Mouse and the arms race, the cake fights of Laurel and Hardy and Madame Bovary's wedding cake. He brings the nineteenth century to life with all its contradictions, aspirations, and absurdities, inviting us to reexamine that era and our own, and the stories we tell ourselves about history.
Page 47

Orphic Paris (New York Review Books)
By Henri Cole
$7.98 While Supplies Last

Henri Cole's Orphic Paris combines autobiography, diary, essay, and poetry with photographs to create a new form of elegiac memoir. With Paris as a backdrop, Cole, an award-winning American poet, explores with fresh and penetrating insight the nature of friendship and family, poetry and solitude, the self and freedom. Written under the tutelary spirit of Orpheus—mystic, oracular, entrancing—Orphic Paris is an intimate Paris journal and a literary commonplace book that is a touching, original, brilliant account of the city and of the artists, writers, and luminaries, including Cole himself, who have been moved by it to create.
My Katherine Mansfield Project (Notting Hill Editions)
By Kirsty Gunn
$9.48 While Supplies Last
When Kirsty Gunn received a Randell Fellowship from the British Academy and Carnegie Foundation in 2009, she returned to spend the winter in Wellington, near the childhood home of Katherine Mansfield, the writer to whom she'd always felt most connected. In this lyrical essay, Gunn explores the ideas of home and belonging – and of her own deep connection to a place where every flower and gatepost seems embroidered with the memory of some story or another.
The BreakBeat Poets Vol. 3: Halal If You Hear Me (Haymarket Books)
Edited by Fatimah Asghar and Safia Elhillo
$9.98 While Supplies Last

A BreakBeat Poets anthology of writings by Muslims who are women, queer, genderqueer, nonbinary, or trans. The collected poems dispel the notion that there is one correct way to be a Muslim by holding space for multiple, intersecting identities while celebrating and protecting those identities. Halal If You Hear Me features poems by Safia Elhillo, Fatimah Asghar, Warsan Shire, Tarfia Faizullah, Angel Nafis, Beyza Ozer, and many others.
35
Support the Co-op
Sale
Page 48
36
Sale
The Torture Machine: Racism and Police Violence in Chicago (Haymarket Books)
By Flint Taylor
$13.50 While Supplies Last
With his colleagues at the People's Law Office (PLO), Taylor has argued landmark civil rights cases that have exposed corruption and cover-ups within the Chicago Police Department (CPD) and throughout the city's corrupt political machine. Joining forces with community activists, torture survivors and their families, other lawyers, and local reporters, Taylor and the PLO gathered evidence from multiple cases to bring suit against the CPD officers and the City of Chicago. As the struggle expanded beyond the torture scandal to the ultimately successful campaign to end the death penalty in Illinois, and obtained reparations for many of the torture survivors, it set human rights precedents that have since been adopted across the United States.
Wandering Jew: The Search for Joseph Roth (Notting Hill Editions)
By Dennis Marks and Joseph Roth
$9.48 While Supplies Last

Joseph Roth, whose many novels included The Radetsky March, was one of the most seductive, disturbing, and enigmatic writers of the twentieth century. Born in the Habsburg Empire in what is now Ukraine, and dying in Paris in 1939, he was a perpetual displaced person, a traveler, a prophet, a compulsive liar, and a man who covered his tracks. In this revealing "psycho-geography," Dennis Marks makes a journey through the eastern border­lands of Europe to uncover the truth about Roth's lost world. The result is a riveting and involving documentary that reunites Roth with his creative and spiritual landscape.
Support the Co-op

Things That Make White People Uncomfortable (Haymarket Books)
By Michael Bennett
$12.48 While Supplies Last

Michael Bennett is a Super Bowl Champion, a three-time Pro Bowl defensive end, a fearless activist, a feminist, a grassroots philanthropist, an organizer, and a change maker. He's also one of the most scathingly humorous athletes on the planet, and he wants to make you uncomfortable. Bennett adds his voice to discussions of racism and police violence, Black athletes and their relationship to powerful institutions like the NCAA and the NFL, the role of protest in history, and the responsibilities of athletes as role models to speak out against injustice. Written with award-winning sportswriter and author Dave Zirin, Things that Make White People Uncomfortable is a sports book for our turbulent times, a memoir, and a manifesto as engaging as it is illuminating.
A version for young adults is also available ($9.50 While Supplies Last).

Page 49
The Long Term: Resisting Life Sentences Working Toward Freedom (Haymarket Books)
Edited by Alice Kim, Erica Meiners, Jill Petty, Audrey Petty, Beth E. Richie, and Sarah Ross
$9.00 While Supplies Last

Long Term Offenders, or LTOs, is the state's term for those it condemns to effective death by imprisonment. Often serving sentences of sixty to eighty years, LTOs bear the brunt of the bipartisan embrace of mass incarceration. The Long Term brings these often silenced voices to light, offering a powerful indictment of the prison-industrial complex from activists, scholars, and those directly surviving and resisting these sentences. This collection of essays gives voice to people both inside and outside prison struggling for liberation, dismantles claims that the "tough on crime" agenda and LTO sentencing keep us safe, and reveals the white supremacism and patriarchy upon which the prison system rests. In its place, the contributors propose far-reaching reforms and raise the even more radical demand of abolition, drawing on the experience of campaigns in the United States and beyond.
The House of Twenty Thousand Books (New York Review Books)
By Sasha Abramsky
$13.98 While Supplies Last

The House of Twenty Thousand Books is the story of Chimen Abramsky, a polymath and bibliophile who amassed a collection of socialist literature and Jewish history. For over fifty years Chimen and his wife hosted gatherings in their house of books that brought together many of the age's greatest thinkers. Journalist Sasha Abramsky re-creates here a lost world, bringing to life the people, the books, and the ideas that filled his grandparents' house, from gatherings that included Eric Hobsbawm and Isaiah Berlin to books with Marx's handwritten notes, William Morris manuscripts and woodcuts, and an early sixteenth-century Bomberg Bible. The House of Twenty Thousand Books is a wondrous journey through our times, from the vanished worlds of Eastern European Jewry to the cacophonous politics of modernity.
Also available in hardcover ($8.98 While Supplies Last).
The Shipwrecked Mind: On Political Reaction (New York Review Books)
By Mark Lilla
$7.98 While Supplies Last

We don't understand the reactionary mind. As a result, argues Mark Lilla in this timely book, the ideas and passions that shape today's political dramas are unintelligible to us. Lilla begins with three twentieth-century philosophers—Franz Rosenzweig, Eric Voegelin, and Leo Strauss—who attributed the problems of modern society to a break in the history of ideas and promoted a return to earlier modes of thought. He then examines the enduring power of grand historical narratives of betrayal to shape political outlooks since the French Revolution, and shows how these narratives are employed. We live in an age when the tragicomic nostalgia of Don Quixote for a lost golden age has been transformed into a potent and sometimes deadly weapon. Mark Lilla helps us to understand why.
semcoop.com
Sale
37
Page 50