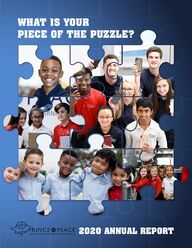 Return to flip book view
2019 - 2020 Annual Report
Page 1
WHAT IS YOUR PIECE OF THE PUZZLE?2020 ANNUAL REPORT
Page 2
Page 3
Page 4
Faculty & StaffDonorsVolunteersA Letter FromThe HeadmasterThe Changing Faceof Lower School EducationRay FrickeGood Shepherd AwardAbout UsA Letter From The Chief Advancement OfficerWhy We GiveThe Miller and Adams FamiliesEaglE FundSummaryEaglE FundPlanned PurchasesSenior Legacy GiftClass of 2020CumulativeGiving161721222527040506070809TABLE OFCONTENTSTO MAKE A CONTRIBUTION OR PLEDGECONTACT KRISTA BATES krista.bates@popcs.org or 972.598.1112Alumni FamilyDonorsGrandparentDonorsCorporate, Business & Foundation DonorsEndowment, Tribute& Legacy Donors1213141530313334HeadmasterAwardIn Memory ofRobert NicholsAlumniUpdatesThe LegacySociety
Page 5
s we close the book on what is sure to be a year we will never forget, I want to pause and take a moment to reect on all of the blessings that happened during the 2019-2020 school year, both before and during the pandemic.We know that God is faithful to complete the good works He has begun, and that was never truer than in this year. I am humbled and excited to share how the Lord moved our community during this time.As Team Blue, you gave over 4,300 hours of time and talents, in service to our POPCS faculty and students. These service hours prove that our volunteers have the HEART of an Eagle, and they continue to be the hands and feet of our mission, leading to an immeasurable impact on our community. Additionally, the Lord moved our Eagle family to give more than $965,000 to the EaglE Fund to be used for His glory as we invest in individuals, innovations, and infrastructure, all of this despite the fact that we were not able to begin the participation phase of the annual campaign. I am especially thankful to all of you who donated to the POPCS COVID-19 Relief Fund, emphasizing your compassion and empathy for those in our community who needed help during this trying time.Finally, this year we were blessed to double the number of planned gifts in our Legacy Society, meaning more Eagles than ever before committed to giving back to POPCS as part of their estate plan, for which we are ex-tremely grateful.As an Advancement Team, we continue to remain committed to you through our four principles:• Including and recognizing our community, communicating effectively, and giving all glory to God• Advancing the school's mission of providing a Christ-centered, exemplary education• Following Jesus' example of compassion, integrity, and strong leadership• Connecting people to the school, cultivating relationships, and creating a culture of givingAs we move into the new school year, I remain grateful for your support – through actions and prayer – and look forward to what the Lord has planned for us as Together We Give — Together We Soar!To God be the glory!PATRICK CARLOVE | Chief Advancement Ofcer | II Timothy 1:7Dear Team Blue,APATRICK CARLOVEChief Advancement Ofcer
Page 6
While we are not sure where that quote came from, it clearly resonates with people around the world, includ-ing those at POPCS. Since POPCS was founded 40 years ago, POPCS' grand-parents have always played an import-ant role in the school – giving time to ll a number of volunteer needs, chauf-feuring children to and from school, and cheering on their grandchildren in all sorts of events. In the last few years since the EaglE Fund was revamped, grandparents have also taken on the role of signicant nancial support-ers of the school. Over the last four years, grandparent giving has skyrock-eted from $14,310 to $224,721! That amount, almost 25% of the total funds raised each year, makes an immense difference in POPCS' ability to enhance the education of its students. Studies show that grandparents make 45% of the nation's cash con-tributions to nonprot organizations. With so many nonprot choices, why would they choose a private school? For Tommy and Scottie Miller and Doug and Shirley Adams, grandparents of POPCS students Mason (Grade 9) and Miller (Grade 12) Barnes, their rst answer is a simple one. Their grandsons love POPCS. While that alone might be enough, both the Millers and the Ad-ams have grown to love the school for their own reasons.While the Millers have always be-lieved it is important to invest in Christian education, their connection to POPCS was something that grew over time. Acknowledging that giving to POPCS might seem unusual since they were not involved in choosing it for their grandchildren, Scottie Miller tells the story of how her relationship with POPCS Chief Advancement Of-ce Patrick Carlove began. They rst met when she and her daughter, Mon-ika Barnes, went to lunch with Patrick. When Scottie offered the school some indoor plants, Patrick quickly accepted and went to get them from the Mill-er's home. "Patrick played a big role in getting us connected to POPCS. After I gave the plants, he made sure to stay in touch," Scottie says. Patrick even persuaded Scottie to serve on the POPCS Board of Directors. Through this role, as well as attending numer-ous other events, the Millers had the opportunity to observe the sense of community that denes POPCS. They also had the chance to see many things about POPCS that meant something to them individually. Scottie recalls how the school has supported their family through good times and bad. Tommy loves the school's values and academ-ics, and the way the staff nurtures Ma-son and Miller. He is also impressed by what the boys have learned about their walk with Christ, caring about others, being respectful, and developing a God-ly character. "And I love how excited Scottie is about the school, so all those things made supporting the school an easy decision," he concludes. Doug and Shirley Adams have al-ways wanted to get behind the things that are important to their kids and grandkids. "If it is important to them, we support it," says Shirley. This sup-port extends to the school their grandchildren attend. But much like the Millers, the Adams have developed a special attachment to POPCS. For years they attended Grandparents' Day, Trunk or Treat, performances, and many other events. "Every time we at-tended an event, we were so impressed with the teachers, their talents, their passion, and their love for our grand-children. We are equally impressed with how much our grandchildren love the school," says Doug. Doug and Shir-ley both note that it is amazing to have a place that challenges and motivates Mason and Miller, while equally going above and beyond to support the kids. "Even more important, the teachers never seem to lose the spiritual el-ement as it runs through everything they do," Shirley says.In conversations with both sets of grandparents, talk always seems to turn back to God. Perhaps Scottie Miller's observation best sums up everything grandparents love most about POPCS. "The school's name really just says it all for me. Christ is our Prince of Peace," she says. And with Christ so clearly serving as the foundation of this school and being so evident in every aspect of the POPCS education, who can say no to supporting that. WHY WE GIVE...Someone wise once said "God couldn't be everywhere, so he created grandparents."5
Page 7
CHAIRSTaryn and Adam SpenceBOARD OF DIRECTORSJeff WolfLEADERSHIPSherri and Todd BloomKaren and Dillman MoreeMichele and Mike ThatcherGRADE 1Lisken and Randy KastalanychLeah and Andrew MarshallGRADE 2Lori and Ryan GlanzHeather and Alpesh PatelGRADE 3Deneale and Ron HodgesJennifer and Ian BallGRADE 4Scott HokeChristy and Matt MurphyGRADE 5Melanie and Joe KlintMonica and Les PritchettGRADE 6Barnali and Richard FramjeeDebbie and David KellyAndrea and Grant NeelGRADE 7Melissa and Jon CobbCheryl and Paul MonroeLisa and Brian SeayGRADE 8Leena and Ayaz AfridiSusan and Mark LuehrsTamara and Kevin SummersGRADE 9Julie and Chris ArrowsmithJennifer and Mark CampbellD and Joe MurphyGRADE 10Katherine Knowles-Marchioneand Vincent MarchioneJo Dell and Scott ProctorJennifer and Tom ZucconiGRADE 11Monika and Robby BarnesNancy and Matt CardwellLeslie and Dunnie NormanGRADE 12Diane and Bud FarnhamCara MarkHolly and Jason StrongJulie and James VaughanHOW DOES THE EaglEaglE Fundund WORK?Any member of the POPCS community may make a gift to the EaglE Fund at any time! Contributions to the EaglE Fund received by May 31 of each school year will be recognized in that year's annual report.WHY DO WE NEED THE EaglEaglE Fundund? ISN'T TUITION ENOUGH?Tuition covers mission-critical expenses, such as salaries, curriculum, and other essential operating costs. While tuition covers 100% of these costs, charitable giving en-ables us to enhance and enrich our school and programs, providing an even better educational experience than what tuition alone can provide.WHAT IS THE POPCS EaglEaglE Fund?und?The EaglE Fund is the name of POPCS's annual fund. It is a yearly appeal for unrestricted donations to enhance educational and extracurricular programming, as well as support facilities maintenance and improvements. Contributions to the EaglEaglE Fundund help POPCS enhance the programs offered by our school, and improve our campus buildings and environment.2019-2020CABINETBetween June 1, 2019 and May 31, 2020 the EaglE Fund received $965,778IN GIFTS6
Page 8
The EaglE Fund has provided support, fully or in part, to these enhancements to POPCS' educational and extracurricular programs and facilities.PURCHASES2019-2020 EaglE Fund INFRASTRUCTURE 9 New Eagle Stadium scoreboardwith Interstate Batteriessponsorship recognition10 Hall furnishings and updates11 Classroom 1049 exible furniture12 Expansion of ELC/preschooloutdoor POP gardenINDIVIDUALS1 Tuition assistance2 Faculty continuing education3 Rolling portable rehearsal mirrors for the Eaglettes Drill Team4 Wireless microphones for ne arts program5 Teacher/Staff appreciation giftsINNOVATION6 Apple laptops/iPads for facultyto upgrade outdated equipmentand pursue Apple DistinguishedSchool certication7 Supplies for sports medicineclasses for upper school8 Additional treatment items for athletic training room1362787
Page 9
INFRASTRUCTURE 9 New Eagle Stadium scoreboardwith Interstate Batteriessponsorship recognition10 Hall furnishings and updates11 Classroom 1049 exible furniture12 Expansion of ELC/preschooloutdoor POP gardenTHE CLASS OF 2020 GAVE A RECORD SETTING $167,979 to purchase new Apple computers/iPads for POPCS faculty, as well as additional treatment items for the athletic training room. We appreciate the commitment and spirit of this class and they will be missed.Class of 2020Class of 2020Senior Legacy Gift Class of 2020Class of 2020941151210To make a contribution or pledge, contact Krista Bates | krista.bates@popcs.org or 972.598.11128
Page 10
$100K+Anonymous$50K+Camille BrightAngela Wommack and Ted CaseyAudrey and Mark EddinsPOPCS Shop for POP$25K+Anonymous (2)Sherri and Todd BloomPOPCS Eagle Booster ClubMarilyn and Don Spence$10K+AnonymousAlphagraphics Dallas (Jane and Jim Ballew)Julie and Chris ArrowsmithEmma IrwinSandi and Steve KarrmannSonya LehmannMandy and Jeremy LoweDebbie and Vince LoweD and Joe MurphyChristy and Matt MurphyMonique and Joel PayneJanet PollardStacey and Gerry RidgelyRosewood Matching FoundationHolly and Jason StrongLouise Pentland and Dirk Williamson$1K+AnonymousGrace AdloffAlbertsons Safeway RewardsLiz and Michael AlexanderAmeriprise Advisor Matching Gift ProgramKaren and John BennettCarrie and Brandon BinnsCheri and Bob BrooksLisa and Clyde BuchananTyler BurkeCardinal Health Matching FoundationMelissa and Jon CobbFLIK HospitalityJeni and Brent Garrett/Sirius Plumbing and Air ConditioningJosefa GarzaSusan and David GerhardBetsy and Jason GrahamYoungbin HamKeely and Casey HartHealthcare Services CorporationVicky and Charles HergetSharon and Jerry HerrinBarb and Ken HoldorfJohnson & Johnson Matching Gifts ProgramSue and Bill JoinerShawn KaplanLisken and Randy KastalanychGinger and Tim KennedyPam and Rick KnottsLCMS FoundationKatherine Knowles-Marchione and Vincent MarchioneCara MarkMarsh & McLennan Companies Matching Gifts ProgramMetcalf Foundation, The (N.J. and Richard Metcalf)Jennifer and Mark CampbellKara and Patrick CarloveDavid Dozzo/Mario Dozzo FoundationLori and Ryan GlanzNisha and Scott KloeberKim and Bill KnightsKaren and Earl LundKaren and Dillman MoreePepsiCo Matching Gift FoundationMonica and Les PritchettRaytheon Matching Gifts for EducationJane and Chick SchoenKaren and Al TaylorMichele and Mike ThatcherKara and Jim TobabenJulie and James VaughanJulie and Jeff Wolf$5K+Bank of America Charitable FoundationKrista and Greg BatesSusan and Jeff BittingLou Ann and Terry BrunennCastle Hills Schools FoundationLulu and Matthew ChalmersJennie and Joseph ColeDelta Air Lines FoundationWanda and George FarrFM Global Matching Gift FoundationDiane and Jay JonesDarla and Fred KoelewynSheri and Mike LandMarla LehmannElizabeth and Scott McCloudScottie and Tommy MillerSeema and Ketan PatelShirley and Gary SchaperTexas Instruments Matching Gift FoundationJackie and David WallsMichelle and Scott WebbCrystal and Brett Zakarian$2.5K+Anonymous (3)Armin and Virginia Luehrs Charitable Gift Fund, TheDebbie and Tim ArndorferMelanie and Tony BaileyMelanie and Mike BellMelissa and Scott DavisFannie Mae Matching ProgramTricia and Chris HahnRachel and Michael HardinCUMULATIVEGIVINGGifts to the EaglE Fund provide unrestricted funding in support of educational and extracurricular program enhancements and tuition assistance, as well as facilities maintenance and improvements at POPCS. We thank all those who gave to the EaglE Fund between June 1, 2019 – May 31, 2020. Together we give—Together we soar!9
Page 11
Eunice and Bob MeyerMicrosoft Matching Gift ProgramApril and Dean MillerJan MoorePaige and Joakim NordellDupe and Joe OmoworarePediatric People, PLLCDonna and Bill PettyBrenda and Richard PorterQuality SausageCaryl and Al ReeseMartha and Mats RoosNatasa and Michael RoyerLisa and Phil SerisShannon and Trent SharpJennifer and Jeremy SmallwoodKelly and Madison SmarttTaryn and Adam SpenceSue and Billy SteingruberSterling Roof SystemsJenny and John StilwellJanet and Greg SuddrethTamara and Kevin SummersJacque and Craig SundermanSynchrony Financial MatchingMary Jane TobabenTara and Corey UrbachDaryl VeachKendy and Mike VisniewskiSusanne and Bill WalshHeather and Dave WhittingtonJennifer and Mark WithrowShelly and Richard WrightWhitney and Mike Yelm$500+Anonymous9474 FoundationLeena and Ayaz AfridiDaisy BaileyAmye and Joel BakerJessica BensonKaren and Brent BlackwellCourtney and Jeff BlankinshipChristy and Anthony BohannonMeredith BradyMerrie BuonoMandy and Kevin CantrellKelli and Alex CastroDebbie and Ron CobbDebbie and Chuck ColemanRincey and Saji DanielMarci and Joel DittmerMichelle and David DwyerJane EatonHayley and Michael BaileyJennifer and Ian BallLissa and Josh BannermanBrooke and Todd BaringerCarlie and Paul BarrettShevan and Nareg BasmadjianBBVA US Matching ProgramPam and Taber BeardenKathy and Marshall BelewJennifer and Patrick Bet-DavidMeredith and Craig BieryMary and Scott BiggersRhonda and Jeff BiggsShannon and Teak BiondoMisty and Merlin BiseShannon BlumBox Tops for EducationNicole and David BoydBright Funds Matching ProgramMaureen and Steve BrooksJamie and George BrownShanon BrutonErin and Rhett ButlerJami and Frank CalatozzoBeatriz CantoLinda and Mike CardwellKayla CarloveCindy and Rick CarrellCarol CashTimothy CashonCBRE Matching ProgramLisa ChaseTami and Joe CiarellaRhonda and Anthony CinelloRyann and James ClelandBonnie and Justin ClutterMelissa and Christopher ClydeCommunities Foundation of TexasCora and Joshua ConklinJennifer and Greg CookGina and Mark CorboyAlaina and Chris CordinaAmy and Larry CouvillonAdrien Cuellar-McGuirePat and Bob CuseyDawn and John DaleyErin and Joshua DavisKendel and Wil DavisMelissa and Shawn DevereuxKristen and Damon DidierDedra and Mike DornRachel and David DuPreeJan EckensbergerExxonMobil Matching Gift FoundationDiane and Bud FarnhamJennifer and Matt EngelsTrudy and Robert GrimmerHeidi and Chad HenkeBeverly HiteJody and Mike HoerrKathy HokeKacie and William InnesSusan and David JostDebbie and David KellyLisa and Jeff KendallRichard KlinglerMegan and Paul KrizanKroger Southwest Community RewardsMichelle and Mike LaneLegacy DeoLPL Financial Foundation MatchingSusan and Mark LuehrsDeborah and Nick MarzoccoDarci and Micah MillerDawn and Dave MoederCheryl and Paul MonroeMoore Transportation Services (Susan and Tony Moore)Prisca MorrisonKatie and Jeff MortonKiKi Karos Newby and John NewbyAlex PenaJamie and Drew PenningtonTori and David RushTommie Sue SchellingRenette and David SchmidtkeMichele and Kurt SchottleutnerLisa and Brian SeayShweta and Sukhraj SidhuTeradata Matching ProgramSharon and Jim ThatcherCaryn and Larry ThextonThrivent Choice Matching ProgramBecky and Nick WeissJanelle Anderson and Mike Zbuchalski$1-$499Anonymous (4)Jeffey AbrahamBrooke and James AdamsAegon Transamerica FoundationBonnie and Daniel AlbrittonLisa and Darrell AllenJennifer and Jeff AllenAmazon SmileJane and Dave ArmstrongAshley and Karl AshcraftAT&T Matching ProgramLisa and Matt AusteStephanie and Alan AycoxTo make a contribution or pledge, contact Krista Bates | krista.bates@popcs.org or 972.598.111210
Page 12
Pam FarringtonRita FathmanPamm FineSally and Bubba FiveashCindy FlemingRobin and Cory ForsytheBarnali and Richard FramjeeChalise and Derek FreitagChris and Earl GarlandKristina and Ronald GiomettiBarbara and Grant GockeCrystal Montgomery-Goecker and Brian GoeckerKay and Lowell GoeckerDee Ann and Matt GordonShanna and Jeff GoseyAdriane and Dave GraceMichelle GrantJudy and Paul GreilichGisa and Eric GrifnMichelle and Shannon GrifnJudy and Dan GroundsKimera and Ryan HallMarilyn HancockBetsy and Tom HardinKathryn and Ben HardmanMeka and Fincher HarrisLani and Eric HawkNancy and Paul HenningTiffany and Justin HenryCozette HicksCindy HigginbothamChristina and Tim HiltonMichael HinzAlayna and John HoenigMichael HoliganPatti and Bill HootenMeesh and Brian HootenKelly Gu and Johnny HuangShannon and Darian HurstLinda JamesKim and Jason PapesLourdes PatinoDiane and Kurt PetersonDena and Ken PlunkettLinda and Jeff PoholskyElizabeth and Andrew PooleCori and Adam PrasifkaJeri Barron-Price and John PriceMichelle PriceHannah and Gary PrindivilleCharles ReamyHeather and Dean ReedJessica and Roy ReisAmy and Vic ReynoldsJudy and John RiceKaren and David RiveraMichele RobertsKarin RogersStephanie and Patrick RogersJulita Dubrawska-Romanczyk and Tad RomanczykLeAnn RoweElizabeth and Wade RugensteinDebbie and Warren RugensteinAzita SaidiLinda SandlinJody and Bryan SartinJoanie and Don SaynorJennifer and Robert SchaefferBev ScheckSharla SchimelpfenigMarianne and Jack SchnellCasey and Paul SchrierMelissa and David ScottLisa and Jeffrey SeutterJennifer and Clay SharpPeggy and Steve ShawWendy Chen and Tony ShengLaura and Josh SherrellShantell and Derrick JarvisKendra Crain and Jeff JayroeSusie and Charles JayroeKirk JohnsonTamara and Jason JonesBrenda and Russ JordanMary and Scott JorgensenKirsten KaminskiGary KearbySusan and Kyle KellerRebecca and Richard KempMichelle KemriteMindi and Michael KimmellJoy and Tim KingLyn and Gordon KnowlesKeesha KoehlerRose and Bob KonsellaGayle and Jim KosterBill KowalskiAnnie KribsAlice and Terry LandJoanna LawsonTammy and Fred LawsonKatharine LehmanCandace LeonardJohn LeonardLinyi Zhou and Kenneth LiJane Chen and Zhongguo LiGloria and Stan LippianAmanda and Micah LorenzenMichelle Loretto-MortonSharon and Steve MadlenaSabrina Perrenoud and Andy MagesJami and Josh MarlerLeah and Andrew MarshallBarbara and David MarshallRahima and Mohib MasaniBertha MatlockKewauna MatlockDaniel MegisonGeneva MensingHolly and Stuart MillerKathy and Patrick MooreJordan and Jason MorrowKay MortonCynthia and Rick MoserTraci and Darren MuirheidMegan MurfeeNetwork for GoodRose and Jerry NicholsLaura and John NisbettLeslie and Dunnie NormanLorena NuttingNiki and Dan OronaStacey PaceMenaca and Udaya Padakandla
Page 13
Melinda and Casey SmithJennifer and Chris SmithMonserrat and Greg SmithKerry and Michael SmithWendi and Andy SmithArleen and Wallace SmithMelissa and Larry SommersRachel and Steve SosinskiSouthwest Consulting AssociatesKristin and Matt SpellmanTheresa and Todd SpenceBetty StappAmanda and Brad StokesKim and Donald StuttsLaura and Bradford TaylorSheila TaylorJill and Collin ThompsonBrenda and James ThomsonAmanda and Bucky ThrashJane and Allen TippsJoan TitlandBarbara TolleyAmbar Torre and Jeff BradleyToyota4Good MatchingJennifer and Dan TrempalaCharla and David TruettAnna and Ewen TsengKimberly and Bryan TuckerAngie and Jeff Van MatreCarolyn and Dominic VeraldiLauren Lipe and Matthew VigenBarb and Darren vonBehrenKelly and Jason WalshTina Zhang and Paul WangKimberly and Kevin WarnekeStacy and Matt WarnerGio Washington-WrightJennifer WassmanJenny WattsKim and Dwayne WellmannAllison WestLene WestermanColleen WhiteNancy and Worth WhitleyAllison and Joe WhitmerCarolee WisemanGina WoodsYunzhi Wu and Chengzhi XuFei Zhao and Zhiguo YangPenelope and Brian YanusCierra YoungAnnie and Jerry YoungTammy and Kelly YoungCarol and Joe ZanoniBinting Pan and Xiao ZhangJennifer and Tom Zucconi Sharon and Jerry HerrinCindy HigginbothamJody and Mike HoerrKirk JohnsonSue and Bill JoinerSandi and Steve KarrmannGinger and Tim KennedyPam and Rick KnottsDarla and Fred KoelewynRose and Bob KonsellaJoanna LawsonTammy and Fred LawsonJane Chen and Zhongguo LiMichelle Loretto-MortonSusan and Mark LuehrsKaren and Earl LundSharon and Steve MadlenaCara MarkElizabeth and Scott McCloudEunice and Bob MeyerSusan and Tony MooreKathy and Patrick MoorePrisca MorrisonMegan MurfeeD and Joe MurphyMonique and Joel PayneDiane and Kurt PetersonJanet PollardBrenda and Richard PorterCharles ReamyMichele RobertsKarin RogersTori and David RushLinda SandlinJennifer and Robert SchaefferMarianne and Jack SchnellJennifer and Clay SharpShannon and Trent SharpMonserrat and Greg SmithRachel and Steve SosinskiSue and Billy SteingruberHolly and Jason StrongTamara and Kevin SummersJill and Collin ThompsonCharla and David TruettKimberly and Bryan TuckerDaryl VeachBarb and Darren vonBehrenKimberly and Kevin WarnekeKim and Dwayne WellmannLene WestermanJennifer and Mark WithrowJulie and Jeff WolfGina WoodsShelly and Richard WrightJennifer and Tom Zucconi Bonnie and Daniel AlbrittonJennifer and Jeff AllenDebbie and Tim ArndorferHayley and Michael BaileyMelanie and Tony BaileyShevan and Nareg BasmadjianKrista and Greg BatesMelanie and Mike BellMary and Scott BiggersCarrie and Brandon BinnsSusan and Jeff BittingKaren and Brent BlackwellCourtney and Jeff BlankinshipSherri and Todd BloomShannon BlumJami and Frank CalatozzoJennifer and Mark CampbellBeatriz CantoKayla CarloveKara and Patrick CarloveKelli and Alex CastroLisa ChaseDawn and John DaleyDavid Dozzo/Mario DozzFoundationAmy and Mark DroscheJennifer and Matt EngelsDiane and Bud FarnhamRita FathmanSally and Bubba FiveashJeni and Brent GarrettSusan and David GerhardJudy and Paul GreilichTricia and Chris HahnRachel and Michael HardinALUMNIDONORSThe following alumni families made a contribution to POPCS between June 1, 2019 – May 31, 2020. We are incredibly grateful for these families who have so generously continued to support POPCS after their students have graduated.To make a contribution or pledge, contact Krista Bates | krista.bates@popcs.org or 972.598.111212
Page 14
Anonymous (3)Grace AdloffLisa and Darrell AllenJane and Dave ArmstrongDaisy BaileyPam and Taber BeardenRhonda and Jeff BiggsCamille BrightLinda and Mike CardwellCindy and Rick CarrellCarol CashTami and Joe CiarellaPat and Bob CuseyJane EatonWanda and George FarrCindy FlemingChris and Earl GarlandJosefa GarzaKay and Lowell GoeckerTrudy and Robert GrimmerJudy and Dan GroundsBetsy and Tom HardinBeverly HitePatti and Bill HootenSusie and Charles JayroeMary and Scott JorgensenGary KearbyRichard KlinglerLyn and Gordon KnowlesGayle and Jim KosterBill KowalskiAnnie KribsAlice and Terry LandGloria and Stan LippianBarbara and David MarshallBertha MatlockGeneva MensingMetcalf Foundation, The (N.J. and Richard Metcalf)Scottie and Tommy MillerJan MooreKay MortonRose and Jerry NicholsDonna and Bill PettyLinda and Jeff PoholskyCaryl and Al ReeseJudy and John RiceDebbie and Warren RugensteinShirley and Gary SchaperTommie Sue SchellingJane and Chick SchoenPeggy and Steve ShawArleen and Wallace SmithMarilyn and Don SpenceTheresa and Todd SpenceBetty StappJanet and Greg SuddrethKaren and Al TaylorSharon and Jim ThatcherJane and Allen TippsJoan TitlandMary Jane TobabenSusanne and Bill WalshCarolee WisemanCarol and Joe Zanoni GRANDPARENTDONORSGrandparents are a special blessing to our POPCS community. We thank all grandparents – near and far – who made a nancial gift to our school between June 1, 2019 – May 31, 2020.I thank my God every time I remember you. In all my prayers for all of you, I always pray with joy because of your partnership in the gospel from the rst day until now.Philippians 1:3-513
Page 15
Anonymous (2)9474 FoundationAegon Transamerica FoundationAlbertsons Safeway RewardsAlphagraphics Dallas (Jane and Jim Ballew)Amazon SmileAmeriprise Advisor Matching Gift ProgramArmin and Virginia Luehrs Charitable Gift Fund, TheAT&T Matching ProgramBank of America Charitable FoundationBBVA US Matching ProgramBox Tops for EducationBright Funds Matching ProgramCardinal Health Matching FoundationCastle Hills Schools FoundationCBRE Matching ProgramCommunities Foundation of TexasDelta Air Lines FoundationExxonMobil Matching Gift FoundationFannie Mae Matching ProgramFLIK HospitalityFM Global Matching Gift FoundationGKC Holdings LLC (Monica and Les Pritchett)Healthcare Services CorporationJohnson & Johnson Matching Gifts ProgramKroger Southwest Community RewardsLCMS FoundationLegacy DeoLPL Financial Foundation MatchingMario Dozzo Foundation (David Dozzo)Marsh & McLennan Companies Matching Gifts ProgramMetcalf Foundation, The (N.J. and Richard Metcalf)Microsoft Matching Gift ProgramMoore Transportation Services (Susan and Tony Moore)Network for GoodPediatric People, PLLCPepsiCo Matching Gift FoundationPOPCS Eagle Booster ClubPOPCS Shop for POPQuality SausageRaytheon Matching Gifts for EducationRosewood Matching FoundationSirius Plumbing and Air Conditioning (Jeni and Brent Garrett)Southwest Consulting AssociatesSpecialty Development, Inc. DBA Rose Lane Outside Storage (Debbie and Tim Arndorfer)Sterling Roof SystemsSynchrony Financial MatchingTeradata Matching ProgramTexas Instruments Matching Gift FoundationThrivent Choice Matching ProgramToyota4Good Matching CORPORATE, BUSINESS & FOUNDATION DONORSThe following corporations, businesses, and foundations donated to POPCS between June 1, 2019 – May 31, 2020. We thank them for their support.14
Page 16
The following endowments have been funded for the benet of POPCS:The Delores Anthony EndowmentThe Dolores Lehmann EndowmentThe Matthew and Bradley Ott EndowmentThe following have included POPCS in their estate plan:Julie and Chris ArrowsmithSherri and Todd BloomKara and Patrick CarloveArmin "Whitey" Luehrs †Elizabeth and Scott McCloudScottie and Tommy MillerBob Nichols †Monica and Les PritchettConnie and Josh RidkerMichelle and Scott Webb The Legacy Society was established to recognize and thank members of the POPCS community who have set up planned gifts for the benet of our students, teachers, and programs. The Legacy Society is open to all individuals who have named the school in their long-term plans or created an endowment for the school's benet.Jessica Benson: In honor of Wade Benson Josefa Garza: In honor of my grandchildren, Ana and James Herget Metcalf Foundation, The (N.J. and Richard Metcalf): In honor of Jaxon Todd Kribs Caryl and Al Reese: In honor of the Zucconi girls from their Mom and Dad, grandparents Al & Caryl Reese, and our family foundation, The ACR Foundation Judy and John Rice: In honor of Wade Benson Sirius Plumbing and Air Conditioning (Jeni and Brent Garrett): In honor of Karen and Dillman Moree Michele and Kurt Schottleutner:In memory of Madison SchottleutnerTRIBUTEDONORSWe thank those whose giving to POPCS' endowment and scholarship funds reects a spirit of investment in the lives of our students and our school. The following individuals gave to these funds between June 1, 2019 – May 31, 2020.9474 FoundationLisa and Matt AusteExxonMobil Matching Gift FoundationLCMS FoundationLegacy DeoElroy Lehmann † Bequest FulfilledENDOWMENT& SCHOLARSHIPDONORS15
Page 17
Joel DittmerMarci DittmerRachel DuPreeMichelle DwyerRita FathmanPamm FineShanna GoseyBetsy GrahamMichelle GrantMichelle GrifnChris HahnTricia HahnMarilyn HancockLani HawkChad HenkeHeidi HenkeVicky HergetCozette HicksCindy HigginbothamMichael HinzJody HoerrKacie InnesLinda JamesShantell JarvisSue JoinerBrenda JordanMichelle KemriteGinger KennedyPam KnottsRick KnottsKeesha KoehlerRose KonsellaSheri LandJoanna LawsonTammy LawsonKatharine LehmanAmanda LorenzenMicah LorenzenJeremy LoweAshley AshcraftKarl AshcraftStephanie AycoxBrooke BaringerTodd BaringerKrista BatesSusan BittingKaren BlackwellMeredith BradyCheri BrooksShanon BrutonMerrie BuonoTyler BurkeJami CalatozzoBeatriz CantoKevin CantrellPatrick CarloveKelli CastroLisa ChaseRyann ClelandDebbie ColemanAlaina CordinaKendel DavisFACULTY & STAFF DONORSDaniel MegisonEunice MeyerKathy MooreKatie MortonRick MoserMegan MurfeeLorena NuttingStacey PaceLourdes PatinoAlex PenaDiane PetersonBrenda PorterGary PrindivilleMichele RobertsKarin RogersLeAnn RoweTori RushLinda SandlinBev ScheckSharla SchimelpfenigMarianne SchnellCasey SchrierPhil SerisMelinda SmithRachel SosinskiLarry ThextonKara TobabenBarbara TolleyAmbar TorreKelly WalshKimberly WarnekeStacy WarnerGio Washington-WrightBecky WeissNick WeissColleen WhiteNancy WhitleyCierra YoungCrystal Zakarian The following faculty and staff members made a gift to POPCS between June 1, 2019 – May 31, 2020. We thank them for their leadership and support in the classroom, on the elds of play, and beyond.
Page 18
Leonardo AcostaMaritza AcostaBrooke AdamsSherry AdamsAyaz AfridiLeena AfridiAmber AguilarGrayson AkerlyKatharine AkerlyLiz AlexanderMichael AlexanderLisa Almanza-KingChris ArrowsmithJulie ArrowsmithAshley AshcraftCarol AufdembergeLaura AuffortLisa AusteAmye BakerJoel BakerErin BaldwinIan BallJennifer BallLeslie BaltzleyLissa BannermanMonika BarnesRobby BarnesCarlie BarrettShevan BasmadjianGreg BatesKrista BatesKaitlin BauerKathy BelewJohn BennettKaren BennettTami BennettDanielle BerryKevin BessKody BessMeredith BieryMeredith BillsCarrie BinnsShannon BiondoSherri BloomTodd BloomChristy BohannonBritney BoltonGina BowhillNicole BoydCheri BrooksCheryl BrownBob BrubakerLou Ann BrunennTerry BrunennLisa BuchananJanice BurrowsErin ButlerJennifer CampbellMark CampbellMatt CardwellNancy CardwellAzita CarrCarol CashKelli CastroLulu ChalmersCheng-Yaw ChangWenni ChangJennifer ChappelleWendy ChenRhonda CinelloKurt ClaussnerRyann ClelandRosalie CliftonJon CobbMelissa CobbJennie ColeJoseph ColeCora ConklinAlaina CordinaEunice CoxAdrien Cuellar-McGuireStacey CuseyJohn DaleyKumiko DanoErin DavisKendel DavisMelissa DavisMelissa DevereuxShawn DevereuxKristen DidierJulie DixonAshley DoakDedra DornJacquie DorneyTim DorneySara DowranMark DroscheJulita Dubrawska-RomanczykJimesa DuckworthAshley DunawayRebecca DuncanDavid DuPreeMichelle DwyerRani EarpJenni EastinJane EatonJan EckensbergerSally EdmundsBryan ElderTrish ElderBetty EldridgeErin EnnisSarah FaberBud FarnhamDiane FarnhamMaya FernandezMarissa FilbeyJulia FlemingKristen FontBarnali FramjeeRichard FramjeeChalise FreitagCarlye FryValerie Gabriel-SwensonValerie Gale CraigAndrea GambleCheri GassawayAshley GeddesTricia GerberDavid GerhardSusan GerhardDana GinsburgKristina GiomettiJanet GiontaLori GlanzRyan GlanzBarbara GockeMaryellen GonzalesShanna GoseyAdriane GraceBetsy GrahamKatie GrahamJames GrayTammy GrayAmanda GreeheyGisa GrifnKelly GuDan GwynnLori GwynnChris HahnKimera HallMarcy HamlinAdam HansenEmily HansenKathryn HardmanCasey HartKeely HartEric HawkLani HawkHeidi HenkeNancy HenningJustin HenryLaura HenryTiffany HenryBrent HerbeckPatty HerbeckVicky HergetKelly HibbsEmily HillJennifer HillChristina HiltonVilma HimelTroy HinesEsha HiraniDeneale HodgesRon HodgesVolunteers provide an invaluable service to our school, and we thank everyone who contributes to POPCS and our students through their gifts of time. The following individuals reported volunteer hours between June 1, 2019 – May 31, 2020.VOLUNTEERSWhatever you do, work at it with all your heart, as working for the Lord, not for human masters, since you know that you will receive an inheritance from the Lord as a reward. It is the Lord Christ you are serving.Colossians 3:23-2417
Page 19
Alayna HoenigJody HoerrKathy HokeScott HokeRachel HoodMeesh HootenAnthony HoskinDaphnee HoskinMarissa HowardAnita HungleCheryle HungleShannon HurstEmma IrwinShantell JarvisJoe JibrailLaurie JohnsonSarah JohnsonAngela JohnstonDiane JonesJay JonesTamara JonesSusan JostSherry KarnavasSandi KarrmannLisken KastalanychRandy KastalanychAndrea KeeneDavid KellyDebbie KellyRachel KelsoLisa KendallDeMia KeppelDon KerstingNikki KhwajaJoy KingNatalie KingsleySabrina KitchensLori KlausJoe KlintMelanie KlintRick KnottsGordon KnowlesKatherine Knowles-MarchioneDarla KoelewynKathy KopelMegan KrizanPaul KrizanGrace KuMike LandMichelle LaneMaribel LeonCandace LeonardJustin LewisJessica LimChristina LizasoAmanda LorenzenDebbie LoweMandy LoweOlivia LoweRichard LoweVince LoweMark LuehrsSusan LuehrsAngie MaddenAbby MagesDanielle MaratasVincent MarchioneCara MarkJami MarlerAndrew MarshallLeah MarshallMargo MarshallLeigh Ann MartinRahima MasaniLauren McCormickAndrew McKnightErin McKnightLaura MillerScottie MillerRaina MillsCrystal MitchellDave MoederCheryl MonroePaul MonroeKathy MoorePatrick MooreDillman MoreeKaren MoreeGina MorrisonJordan MorrowJeff MortonKatie MortonKay MortonChristy MurphyD MurphyJoe MurphyMatt MurphyRobin MurthaAndrea NeelGrant NeelLauren Nemeth-FriggelAshley NettuneKiKi Karos NewbyPaige NordellDunnie NormanLeslie NormanAlexis NorvellChristine OlbermannJoe OmoworareMack OnsarigoTyiesha OwensMenaca PadakandlaElise PaesBetty PanSunayana PanditSunitha PanickerAshley ParkerAlpesh PatelHeather PatelJennifer PaucarMonique PayneCathy PearsonJamie PenningtonLouise PentlandDena PlunkettJanet PollardCori PrasifkaLes PritchettMonica PritchettJo Dell ProctorScott ProctorEsther RamadanCamille ReaganHeather ReedAndrew ReedyJoyce ReedyCambria ReinsboroughJessica ReisAmy ReynoldsRobin Riddle RobertsonStacey RidgelyKaren RiveraKady RobertsKatherine RoblesJoyce RodriguesElizabeth RugensteinCasey RyanLatisha RyanJody SartinJennifer SchaefferBrian SeayLisa SeayLisa SerisNikki ShahabuddinSalman ShahabuddinShannon SharpLaura SherrellLori ShieldsShweta SidhuJohn SimonJennifer SmallwoodKelly SmarttMadison SmarttCasey SmithJennifer SmithKerry SmithKevin SmithKim SmithMelinda SmithMichael SmithPaul SmithWendi SmithDebbi SolanoMaura SoraciRachel SosinskiAmy SpeckRachel SpeersKristin SpellmanAdam SpenceDon SpenceMarilyn SpenceTaryn SpenceSara StampAmy StewmanJenny StilwellLindsay StoutHolly StrongJason StrongJessica StroudJeni StuartJina SuhKevin SummersTamara SummersNatalie SwansonAl TaylorKaren TaylorSheila TaylorMichele ThatcherMike ThatcherLincoln ThompsonJames ThomsonKimberley Tipps WallaceKara TobabenHa TranDanna TurnerSteve TurnerTara UrbachJason VailStacey VailAngie Van MatreJeff Van MatreJames VaughanJulie VaughanArt VelaMartha VelasquezKendy VisniewskiMike VisniewskiBarb VonBehrenJoanne VordenbaumJulie VordenbaumJill WadeKathryn WaiteJackie WallsBill WalshKelly WalshSusanne WalshKimberly WarnekeJenny WattsBecky WeissDiane WeissAllison WhitmerAshley WilcoxsonAnn WilliamsJon WilliamsRebecca WilliamsBrittany Wodka BradleyJeff WolfBeverly WolfeAngela WommackAshley WyattBrian YanusPenelope YanusWhitney YelmCrystal ZakarianCarol ZanoniJoe ZanoniJennifer ZucconiTom ZucconiTo make a contribution or pledge, contact Krista Bates | krista.bates@popcs.org or 972.598.111218
Page 20
Page 21
To make a contribution or pledge, contact Krista Bates | krista.bates@popcs.org or 972.598.111220
Page 22
ne of the core values of Prince of Peace Christian School is to Build Relationships. We desire to be a community that loves, laughs, and celebrates our blessings, as well as cries and prays through the challenges of life together. This has been a year where we have done some of each! While most will always remember how the year ended, let us recall and celebrate how the year began. What a blessing, through the generosity of our community, to open the SmartLab. What an amazing gift, where we can best prepare our children for the future by equipping them to access, analyze, and apply accurate information today. Let us also not forget that we celebrated state champions on the court and on the stage, as our volleyball team and One-Act play earned this title last fall.Many believe that a crisis will bring out the best or worst in people. They will either pray or panic; they will choose to live in fear or by faith. At POPCS, throughout the year, but specically at the end, we saw the best in and of each other, prayed with and for each other, and demonstrated service and actions as people of faith. I could not be prouder of our community of faculty, staff, and families. We ended our year in a way we never imagined by celebrating the resilient Class of 2020, as we honored and prayed for them on June 13 at Dr Pepper Ballpark. The celebration culminated with a bang as reworks lit up the sky, signaling their departure as Eagles, and announcing the shift of their spirits, gifts, and abilities to colleges and universities throughout the United States. As we look forward to our future, we recognize that we remain incredibly blessed, incredibly resilient, and in-credibly faith-lled. We are condent in knowing we love and serve a God who was not surprised by this year, including the blessings and opportunities as well as the challenges. While we change and adapt to whatever the future holds, His love, His grace, and His care remain constant.Thank you for being a part of our POPCS community. We cherish the relationships we've built and will continue to build with you. Thank you for rising as Eagles, to continue to count our blessings, and faithfully face the chal-lenges of today and tomorrow as we fulll our mission and equip students for leadership, service, and success. CHRIS HAHN | Headmaster21ODear POP Families,CHRIS HAHNHeadmaster21
Page 23
Uprooting a family of six, plus a dog, and moving from Memphis to Dal-las to a new house, job, and church may seem like a LOT of change to some people, but for Todd Baringer, POPCS' lower school principal, these chang-es are pretty run of the mill compared to those he has wit-nessed in schools and educa-tion in the last 24 years. Some of those changes may be due to the variety of jobs he has held, rst teaching and then later entering administration at the suggestion of a work mentor. But the biggest changes have occurred in the kids themselves and how we educate them. So, we asked Todd to share more about the changes he has seen, their impact on the world of ed-ucation, and how these chang-es inuence his vision for the POPCS lower school.When I began teach-ing in 1996, education was fairly uniform. While I have ultimately experienced a broad range of schools and students, both public and private, poverty-stricken and afuent, at that time teachers taught roughly the same material they had used for decades and kids learned via lecture and textbook. All students learned the same material regardless of their abilities. No one had com-puters, iPhones, or any oth-er technology. When kids went home from school for the day, they rode their bikes, did chores, or played with friends because there was no texting, social media, or gaming. Today, students have iP-hones, iPads, and comput-ers as early as ve years old By Todd BaringerLOWER SCHOOL PRINCIPALTHE CHANGING FACE OF LOWER SCHOOL EDUCATIONWhen students and schools embrace a growth mindset, resilience and love for learning create the foundation for a lifetime of development academically, socially, and spiritually.""To make a contribution or pledge, contact Krista Bates | krista.bates@popcs.org or 972.598.111222
Page 24
and they spend their time connecting with the friends they just left through Twitter, Snapchat, and Instagram. Instead of playing at parks, kids are playing on a vari-ety of select sports teams or taking gymnastics, dance, and acting lessons. Our families are busier than ever and as a result, our kids are used to being constant-ly entertained. Statistics also show that our kids are experiencing more anxiety, whether as a result of so-cial media, higher expectations or a combination of the two. As educators, we also now have the tools to better diagnose children with learning challenges, as well as kids that are gift-ed and talented, resulting in groups of kids within one class that likely need and benet from different curriculums and teach-ing methods. With more physical, mental, and emo-tional diagnoses being made, parents are looking for answers and the need for special services has also increased.For all of these rea-sons, and many more, the face of lower school ed-ucation is quickly changing. Our faculty must be more exible and spend more time learning new methods and techniques for educating. Reaching the wide range of students requires more innovation, both with and without technology. A greater diversication of stu-dents means that effective education must be more in-dividualized, targeting students with special needs of all sorts. But as a Chinese proverb says, "When the winds of change blow, some people build walls and others build windmills."Because I build windmills, when I arrived at POPCS in July 2018, I had a plan in place for the changes that would be made. The plan was developed using two cri-teria. First, anything we implemented needed to be in-novative – able to reach a wide range of learners and using a wide variety of tools, not just the traditional textbook. Second, anything introduced needs to pro-mote a "growth mindset" in our students – a mindset that the skills, abilities, and understanding you current-ly have are just a starting point and can be developed through dedication, perseverance, and hard work. When students and schools embrace a growth mindset, resilience and love for learning create the foundation for a lifetime of development academically, socially, and spiritually. THE FIRST TWO YEARSTHE SMARTLABThe rst step in the plan was to build a SmartLab, a dream realized in the summer of 2019. I had already put SmartLabs in other schools where I worked and the rst time we put one in, I realized we were moving faster than the educational system. God gave me an inherent under-standing that it was what was needed for our kids. But through my experiences, I witnessed rsthand what the kids could do and how they benetted from it, so I was ready to sell the same idea to POPCS leadership as soon as I stepped into my role here. In the SmartLab, kids are tasked with learning certain objectives and given tools to meet those objectives. Then the kids get to choose an idea that interests them, design solutions, collaborate with their friends, present their project to others, and most importantly, self-eval-uate. Kids learn how to identify a problem, solve the problem, fail, and develop new solutions. This process mimics the real world in a fun and encouraging, safe place and is aligned with the school's mission of prepar-ing our students for the 21st century. Being allowed to fail and try again is a key com-ponent in training our kids to have a growth mindset. Plus, the SmartLab is inno-vation at its best. Over the last year, the SmartLab has proven to be a huge suc-cess with teachers, students, and parents. Students are so engaged that teachers fre-quently have trouble getting them to stop working so they can leave and parents tell us their child's favorite class is SmartLab.HOUGHTON MIFFLIN HARCOURT INTO READING (HMH)At the same time we start-ed planning for the Smart-Lab, the new HMH language arts curriculum was put into place. This innovative curric-ulum uses growth mindset strategies and already had all the components for vir-tual learning. The old cur-riculum used one textbook with multiple, unconnected stories. This limited teachers to teaching an entire class in one way, a method which benets some students far more than others. In con-trast, the HMH curriculum is equipped to handle differ-ent learning styles and levels in one class so teachers can put students with similar levels and styles of learning in groups, allowing them to individualize how and what they teach each group. Plus, each child can pick a top-ic of interest to them and choose from a series of online books with varying levels of difculty, resulting in a much more individual-ized approach to learning. At POPCS, we care about the whole child. If we can make learning more relevant to each student and develop a growth mindset, we have accomplished our goal.""23
Page 25
Assessments are imbedded into the curriculum, which provide teachers with a clear window into student progress, prociency, and growth. Customizable les-son plans give teachers the ability to mix and match resources to best meet the needs of each student and to really get to know and in-spire that student. The nal piece in the puzzle is using the SmartLab, which aligns everything with the curricu-lum, making an even greater impact on students.OUR FUTUREMoving forward, we will seek to make education relevant to the new learner by creat-ing spaces that can be used by our entire community to learn, collaborate, and con-stantly assess students and our needs. The changes that began with the SmartLab and HMH curriculum will contin-ue with new curriculum for math and science, remodel-ing the current library space, and better tools for assess-ing students. MAKING EDUCATION RELEVANTMaking education relevant to our students means that kids understand what they are doing and why they are doing it. Multiple studies as old as a decade show that kids need a personal con-nection to the material they are learning and to under-stand how it applies to real life. For example, the art of memorization still has a place in education. However, memorizing a list of random vocabulary words which have no relevance or appli-cation to real life can lead to children who are disengaged and even forget what they have learned. When you make learning relevant to a student so they are engaging emotionally or connecting new information with pre-viously acquired knowledge, students stay engaged and are motivated to try. How do we know that what we are teaching is relevant? Ask a child what they are learning in school and if it is relevant, they will be able to clearly articulate that. At POPCS, we encourage parents to come into the SmartLab and ask a student what they are trying to ac-complish and what they have learned, and we feel con-dent our kids can answer. So, any changes we make in the lower school going forward will be examined rst from the viewpoint of whether it is relevant to our students.COMMUNITY COLLABORATION AND LEARNING CENTERThe next step is remodel-ing our library. While many schools are eliminating the traditional library altogeth-er, we believe we can make our current library into a great space where kids can still go to pick out a book and nd a comfortable place to read, but also have spac-es that allow for and inspire collaborative learning. Not every kid loves to read, but if we are successful it will be a place where every kid is excited to go (much like the SmartLab) and can be en-gaged in learning, however that looks for them. Beyond that, we want the space to be one that can be used by teachers and parents as well – for conferences, seminars, or meetings. While the space is still in the process of being designed, we envision it hav-ing traditional bookshelves, computers, workstations, and a variety of exible seat-ing that makes it aesthetical-ly appealing to all.BETTER ASSESSMENT TOOLSFinally, we want to make sure that we are assess-ing our students faster and more frequently. Standard-ized testing traditionally happens only once a year, and by the time the results are received it is too late to correct any problems that the results show. So, we plan to implement new assess-ment tools that are more innovative and under which students will be assessed three to four times per year. This testing will take only one day so the teachers and parents will get results fast-er, allowing them to partner better in the child's educa-tion. Using these new tools will also allow teachers to understand their students better so they can adjust throughout the year, to provide a more individual-ized plan for each child. This system benets not just the child but also the teachers. Behavior problems in class-es are frequently the result of kids being unengaged in learning either because the teacher is teaching things they already know or teach-ing ahead of what they know. Because the tools we are looking at help custom-ize education for each child, students are more engaged and teachers spend more time teaching and crafting their techniques and meth-ods for quality education.The pace at which the world is changing can be pretty scary for parents, as well as kids. Our goal is to walk alongside parents and make sure their kids are en-gaged, because an engaged kid is happy and emotionally secure. At POPCS, we care about the whole child. If we can make learning more rele-vant to each student and de-velop a growth mindset, we have accomplished our goal. To make a contribution or pledge, contact Krista Bates | krista.bates@popcs.org or 972.598.111224
Page 26
SANDI KARRMANN FILLING THE SCHOOL'S NEEDS ONE JOB AT A TIME By anyone's standards, Sandi Karr- mann has an impressive list of accomplishments. She is Exec-utive Vice President and Chief Human Resources Ofcer for Tenet Healthcare and United Surgical Partners Interna-tional, a company with over 100,000 employees. In 2018, she was named to the Dallas Business Journal's list of Wom-en in Business. She has been married to Steve Karrmann for 30 years and they have three children, all accomplished in their own right – Nicole (POPCS Class of 2016), who graduated from Chapman University, Steven (POPCS 2001-2009), who earned his undergraduate degree from Chapman and recently earned his graduate degree from the University of Washington, and Taylor (POPCS Class of 2018), a junior at Texas Tech. For many in Sandi's shoes, it would be difcult to nd time to do more, but not Sandi.Since becoming a POPCS parent in 2001, Sandi has found numerous ways to volunteer at POPCS. Blessed with a heart to give back and a seemingly end-less amount of energy, Sandi started vol-unteering rst in the classroom, eventually becoming a room mom for several teach-ers. When her children joined Destination Imagination, she helped as a DI team mom for their teams, ve of which made it to State Finals and two of which competed at Global Finals. She also served as a mid-dle school PTF coordinator for two years. Sandi laughingly reveals that she chaper-oned many of the eld trips attended by her kids over the years (including sleeping on the oor of the Texas State Aquarium twice). When asked about Sandi, Marianne Schnell, the middle school teacher spon-sor for Destination Imagination, says "San-di's impact on the ministries of POPCS cannot be overlooked. If there was a need, Sandi would step in and organize a response. Her skill set calls to mind a mil-itary commander on the front lines. She identied the mission, gathered and coor-dinated assets, and guided the troops to-ward a successful outcome. To paraphrase the famed Apollo 13 quote, Sandi never considered failure to be an option."While being involved in her children's activities was always a top priority for her, Sandi's impact reached beyond the class-room when she became a member of the POPCS Board of Directors, serving there for 14 years. Sandi even took on fund-RAY FRICKE'SGOOD SHEPHERD AWARDraising when she and Steve co-chaired the Annual Fund in 2012 and the Annu-al POPCS Auction in 2016. When asked what motivated her to serve, Sandi says that volunteering gave her a connection to her children, but aside from that, she always had a desire to give back to the school that blessed her children and family so much. "I valued the fact that the faculty and staff were focused on the whole child, giving them a Christ-centered education while preparing them for life. I knew we had a village to help raise our children, so any time I found a way to help that was in line with my interests, ability, and career experience, I was happy to serve," says Sandi. And true to her servant's heart, she always felt honored to have the chance to help support the school. With her kids having moved on from POPCS, Sandi misses that sense of com-munity and family that was so vital in helping shape them, but she is committed as the incoming Chairman of the Board of Directors to seeing that the school's impact will continue for generations to come. Chris Hahn, POPCS Headmaster, has had the opportunity to serve with Sandi on the Board. "Along with Ray Fricke himself, and Pastor Steve Wagner, Sandi has had a signicant impact on me and my leadership. I am grateful for her nearly 20 years of service to the POPCS community, her consistent and calming presence, her encouragement, and her unique ability to ask the right questions at the right time, leading to the best de-cision," he says. From Pre-K to Grade 12, from the classroom to the Board, from the faculty teachers to the school leader-ship, Sandi had served the school, leaving no doubt that great service and impact can be achieved one job at a time.RAY FRICKE'S LEGACY LIVES ON IN THE GOOD SHEPHERD AWARDGiven to those whose commitment, service, achievements, involvement, and passion for Prince of Peace Christian School have made a generational impact on our community, the Ray Fricke Good Shepherd Award is presented each spring at commencement. The award was instituted in 2013, when it was pre-sented to Ray's wife, Marlene Fricke, in his honor. Ray Fricke served as princi-pal of POPCS from 1991-1998.RAY FRICKE'SGOOD SHEPHERD AWARD25
Page 27
BRENDA PORTERLIVING BY THE MOTTO "SERVICE FIRST"When you see Brenda Porter welcoming her students each morning or meeting with a concerned parent, it is easy to imagine her working in customer service for some business. So it is no surprise to learn that is exactly where she started her career. "By the time I left college, I had explored a number of majors but still didn't have any idea what I want-ed to do. So, I went into customer service never imagining that it would prepare me for my 26 years in educa-tion," shares Mrs. Porter. "A business is actually similar to a school. At POPCS, my clients were the kids and parents, and every relationship started with the question "how can I serve your family?" This question served as her guiding light from the day Ray Fricke himself hired her as a teacher to her last day as the Early Learning Center director. While some might wonder how someone in the ELC manages to have a generational impact, a short conversa-tion with Mrs. Porter quickly erases any doubts. Mrs. Porter started her career at POPCS working part-time in the three-year-old class. This led to a full-time job where she did everything from teaching music to teaching a blended class for three- and four-year-old children, a job she loved because it gave her two years to get to know the kids. In 2013, Mrs. Porter became the director of the ELC. As her job responsibilities grew, so did the school. During this time, POPCS moved from its Frankford location to the current one. The school expanded to middle school and then upper school. This allowed her own children, Nick (Class of 2007) and Sarah Beth (Class of 2010) to continue on at POPCS and graduate in some of the school's earliest senior classes. As the school grew, Mrs. Porter had a primary role in helping to task the school's vision. She also got the chance to create new traditions, such as using red wagons in the homecoming pa-rade and organizing the rst prom. She was involved in making the rst home-coming mums and coordinating the rst homecoming dance. Mrs. Porter and her husband Richard took every chance they got to help the school, sometimes work-ing all night to complete a task. Mrs. Por-ter observes that "volunteering is some-thing Richard and I are passionate about and it was something we got the kids involved in too." By moving wherever there was a need, her passion for serving ensured that Mrs. Porter got to be part of everything, while having an impact on every school division. For Mrs. Porter it was all about in-volvement, both her own and that of others. "Building relationships is a pri-ority for me and I was always asking myself how I could get everyone in-volved – parents, kids, and faculty. I also loved to mix the young kids with the older ones since that is an option that is unique to a school like POPCS," she explains. The rewards of her involve-ment have been plentiful. "I got to see a student that I went on a mission trip with grow up and enter the mission eld. Older students I hired in the Zone went on to careers in education. I hired Megan Murfee, who attended the rst POPCS homecoming as a student, as a teacher at the school," she says. Mrs. Porter's focus on relationships is front and center as you talk with the fami-lies in the ELC. "Brenda Porter embodies the spirit of POPCS for our family and will always hold a special place in our hearts. From our rst year with our son in K-Prep, Mrs. Porter had her nger on the pulse of our entire family's needs. She helped us all forge connections and matched us to ar-eas where we could serve the community we've grown to love so much. Even be-fore our daughter was at POPCS, she was one of Mrs. Porter's many little shadows around the school," says POPCS parent Leah Marshall. She continues, "Now my daughter is excited to be at POPCS, my son constantly tells us how much he loves his school, and my husband Andrew and I are honored to serve in several volun-teer roles. Our family has been so blessed by Mrs. Porter and the loving community into which she has woven us."This past spring, Mrs. Porter retired from POPCS and moved to Arkansas to live near family and work at Senior Kare, a company that provides home care for senior citizens. Even without hear-ing her in the halls, we know her impact will not fade. As pre-school teacher and Zone leader Keesha Koehler remarked, "Brenda Porter spent a great deal of time modeling the importance of serving for our children and staff, but she didn't stop there. Throughout the years, she coupled the concept of service with grace and never missed a chance to model that prin-ciple as well. She seemed to be a master of the art of leaving behind the things that matter least and moving forward to the things that matter most." That, along with a history of service, ensures that Mrs. Por-ter's legacy will live on far beyond her time in the halls of POPCS.RAY FRICKE'SGOOD SHEPHERD AWARDRAY FRICKE'SGOOD SHEPHERD AWARDTo make a contribution or pledge, contact Krista Bates | krista.bates@popcs.org or 972.598.111226
Page 28
The Headmaster Award recognizes outstanding members of the faculty and staff who consistently exhibit excellence in interactions with families and peers, go above and beyond to make a difference in students' lives, and seek to be the fruit of Christ's love through their service to others. This year is the 20th year this award has been presented. When it came time to recognize the faculty and staff members who had exhibited excellence in serving the POPCS community this year, there was little doubt as to who deserved the award. When the school was faced with the challenge of responding to the COVID-19 crisis, all of the award recipients answered the call of duty in his or her own way. Each went above and beyond in transitioning the school to an online platform and in supporting and nurturing our community. Together they worked as a team and we were blessed to have their leadership, passion, and service during this time. We sat down with this year's award recipients to talk about their work and the challenges faced this year.PASSION FOR CHRISTHeadmaster Award Recipients Impacting Students' Lives rough eir ServiceBETSY GRAHAMTAMMY LAWSONEUNICE MEYERRACHEL SOSINSKI
Page 29
RACHEL SOSINSKIRachel Sosinski rst be-came involved with POPCS when her family helped transition the church and school to the Midway loca-tion in 1995. Her husband Steve even helped ll in the car bays that were once lo-cated in her current class-room. In 2005, she became a parent volunteer in the li-brary and school store, and began substitute teaching. Mrs. Sosinski was a team manager for numerous Destination Imagination teams and the school's DI coordinator for over ten years. She began teach-ing full-time in the ELC in 2006, moving to K-Prep in 2008. She also served as the Zone and Summer in the Zone director for three years. Mrs. Sosinski and her husband have three children who have attend-ed POPCS, Molly (Grade 10), and Carolyn (Sosinski) Ward and Madelyn (both Class of 2015).BETSY GRAHAMBetsy Graham has been at POPCS for 19 years. She started as a Grade 4 teacher, spending 11 years teaching there. In 2013, she moved into administration as the academic coordinator of the middle school, then be-coming the middle school principal in 2015. During Mrs. Graham's time as the middle school principal, POPCS was blessed to have her additionally take over the lower school for a year until a new lower school principal was hired. She also served as a sponsor for middle school cheerleading for ten years. Mrs. Graham and her husband Jason have two children at POPCS, Jack (Grade 5) and Emma (Kin-dergarten).TAMMY LAWSONTammy Lawson is in her 22nd year at POPCS. When she started work-ing at POPCS in 1999, she had young children so she taught part-time in preschool 3's and 4's. Mrs. Lawson later transi-tioned to full-time com-puter lab duty where she teaches computer skills, including coding, key-boarding, Internet safety, computational thinking, and applications that demonstrate what stu-dents know. Mrs. Lawson and her husband Fred have two children who graduated from POPCS, Joanna (Class of 2006), who now teaches in the upper school, and Jon (Class of 2013).EUNICE MEYEREunice Meyer's career be-gan mid-year as a Grade 1 teacher. From Grade 1, she moved to Kindergar-ten for 14 years and then preschool, where she also served as their chapel leader. She and her hus-band Bob have two sons who attended POPCS, Jonathan who graduated from Grade 8 before the upper school was add-ed and Timothy (Class of 2006). Mrs. Meyer served on the facilities commit-tee when the school and church moved to Midway Road, and helped with the move and cleanup. She also helped start the upper school tennis team, volun-teered for multiple school events, served on several committees, and spoke at many Texas Lutheran Ear-ly Childhood Educators Conferences. Mrs. Meyer retired as a POPCS teach-er this past May after 25½ years at POPCS.What is your favorite part of your job?Betsy Graham (BG): My absolute favorite part of my job is being a teaching prin-cipal — interacting with kids and learning something from them daily.Tammy Lawson (TL): My favorite part of my work is seeing how much the kids like coming to computer class. It is great to see their enthu-siasm when I demonstrate something new and their pride when they can do it on their own. Eunice Meyer (EM): For me, my favorite part of my job was getting to be part of chap-el each week. It was a joy to nd a way to share a message that, with God's help, might go home to our families.Rachel Sosinski (RS): Seeing a child discover or learn something new is my favorite thing about my job. The joy on their faces and the light in their eyes is the most reward-ing thing to witness and be a part of. What is one highlight of your POPCS career?TL: Receiving this award is denitely the highlight of my POPCS career. It was very afrming to know that my ef-forts were recognized.RS: The biggest highlight of my POPCS career was being nominated and winning the Texas District Early Child-hood Educator of the Year in 2016. It was a touching year with my class and my husband drove all the way to Austin to surprise me at the ceremony.How does the POPCS mission motivate you? BG: Everything we do at school ties back to the mission to provide a Christ-centered, exemplary education for each Q&AMEET THE RECIPIENTSTAMMY LAWSONRACHEL SOSINSKITo make a contribution or pledge, contact Krista Bates | krista.bates@popcs.org or 972.598.111228
Page 30
child. This is incredibly moti-vating and is the heart of the opportunities that each day brings.TL: I am motivated by the op-portunity to equip the leaders of the future. It challenges me to model Christ-like attitudes and habits for my students. It is also exciting to see what our students accomplish as they graduate, go to college, and then move on to impact the world. Having seen the effects of POPCS in the lives of my own kids makes me proud to be a part of this community.EM: I love that from the top down the school's mission has been clear; Jesus is in the center of everything. We want quality education wrapped in that love. What do you consider the most important part of your ministry — here or otherwise?TL: To me, the most import-ant part of my ministry is showing the love of Jesus to the kids on a daily basis. I feel blessed to be able to teach students practical skills that will prepare them for contin-ued learning and their careers. RS: Helping children start to form their path toward the future God has planned for them is the most important part of my ministry. Each year, I focus on what I can do to help this group of children foster their love for learning and more importantly their love for Jesus. I feel it is part of my role to help my students create a solid foundation in what it means to love Christ and show that love to others.EM: The most important part of my ministry at POPCS was meeting the families and the children where they were so that through our relation-ships, Jesus would be shared with them. As they learned and played, Jesus folded into everything. What has the Lord done for you that you have used here as part of your teaching/ministry?BG: God has provided POPCS as a mission, a minis-try, and a family to me. It is my home and I hope that others will see it as home, too. TL: If you have ever been in the LS computer lab you will notice that my back door is chalked with a paraphrase of James 1:5-6. There are limited resources for up-to-date elementary computer lessons so I am constantly praying for God to give me wisdom about what and how to teach the students. Only God knows what skills these students will need for the world into which they will graduate. His provision has been beyond all I could ask or imagine. EM: POPCS has been a blessing to me. I have en-joyed the opportunity to interact with children and watch them grow through the years. By teaching in one place for a time you get see that happen and continue to connect and share Jesus with them. RS: The Lord has given me great strength and wisdom to walk alongside numerous children and their families as they experience difcult times. Over my teaching ca-reer I have taught children who faced dangerous family situations, families dealing with divorce, the death of a loved one, cancer treatment, and many other situations that no child should have to face. I know that without a relationship with the Lord, I would not have been able to minister to these children and their families.What do you look forward to here at POPCS (or in your future endeavors)?EM: My prayer as I move on to the next chapter in my life is actually for POPCS. I pray for this place to move forward trusting that God is in con-trol and will continue to bless many through it. And, I look forward to seeing that happen.BG: Something I look for-ward to is celebrating the graduating class each year, watching them step with condence into their futures, then hearing about incredibly successful college experienc-es and beyond when they come "home" to POPCS. What was your mindset as you approached the challenges presented by COVID-19 at POPCS? BG: My mindset was thankful-ness — thankful for God's pro-tection over our school and families, thankful for the tech-nology tools already in place, and thankful for an amazingly exible team of educators to work with, who never wa-vered in their commitment to provide a Christ-centered, exemplary education for each child. TL: One of my favorite things about teaching technology is that it is constantly chang-ing. The pandemic forced me to increase my knowledge in the use of online learning platforms. I am very proud of what we were able to achieve in such a short time both per-sonally and as a faculty mem-ber. It was stressful but ener-gizing as well.RS: As COVID-19 became the reality I would have to face as an educator, the mental health of my students became my top priority. As adults, we can somewhat wrap our heads around how life has changed, but that is not the case for children. It was my goal to give my students some normalcy as we implemented online learn-ing and to encourage parents so they could feel condent that their children's educa-tional growth would not be inhibited. Understanding facial expressions and body language through our video calls was vital in helping me continually adapt what we did during our time together so students and parents were able to cope with this new learning platform.To what do you attribute POPCS' success in handling the COVID-19 challenges? EM: I am so proud of how our team pulled together to continue the quality educa-tion through the COVID-19 challenges. I am thankful for a team that shared their skills to help each other. There was a lot of compassion and grace extended from all directions! I believe all of these things factored into the amazing way POPCS met the challenge head on. RS: I believe that our rela-tionships with POPCS fam-ilies and students was a big part of our success in han-dling the challenges we faced with COVID-19. As a teacher, I was able to use my knowl-edge of each student's unique personality and learning style to best serve them during online learning.29
Page 31
Robert Nichols was better known as "Uncle Bob" to me and most people at POPCS who knew of him. Uncle Bob was always a larger than life person to me because I had grown up hearing stories of how he had become so successful. Even though he never nished high school, he had worked his way up from sacking groceries as a young teen in the early 1950s to Vice President of National Foods, a major grocery chain in Missouri.Uncle Bob had a great work ethic and was a wonderful person, but because he and my father hadn't been raised going to church, he was not a Christian, despite the fact that my dad had become a Lutheran minister. For decades, my dad and countless others had witnessed to Uncle Bob and prayed about his salvation. On one particular visit in 1997, a friend of mine challenged him nicely. "You research your stocks and politics thoroughly. Why wouldn't you research Christianity?" A seed had been planted.Several years and continued prayers later, Uncle Bob contacted my dad and said he had accepted Christ and wanted to be baptized. In November 2003, he traveled to Texas and was baptized at Prince of Peace Lutheran Church. From then on, this place had a special place in his heart. In 2006, I received a phone call that Uncle Bob wanted to pay for both of my children, then 6 and 2, to attend POPCS because he believed that a Christian education was invaluable and one of the best ways to bring the light of Christ into the world. He knew that my husband and I desired but could not afford to send two kids to private school. Uncle Bob was divorced and had no children of his own, and he decided that he wanted to spend his money making a difference. He changed our lives with that blessing. But he didn't stop there. On top of our tuition, he faithfully donated to the school for many years to support the mission of POPCS. He believed in that mission! He lived two states away and had no kids, but he knew the importance of supporting a school that was equipping the future Christian leaders of our country. In November 2019, the Lord called him home. Uncle Bob had given me the challenge and honor of being the trustee of his estate through which he named several charities as beneciaries, many of which served our military. But at the top of the list of his donations was POPCS. In his trust, he wanted to continue to bless our school with what God had blessed him. Because of his conviction about the importance of Christian education, his donation will help build an area in the high school that will be used for evenings of worship, as well as other events to deepen our students' faith for years to come. In Memory of Robert NicholsBy D MurphyTo make a contribution or pledge, contact Krista Bates | krista.bates@popcs.org or 972.598.111230
Page 32
CLASS OF 2005MEGAN (MURFEE) AGUILAR married Gabriel Aguilar on June 13, 2020. Due to COVID-19, they canceled their May ceremony and opted for a lovely and intimate backyard service in June. They plan to reschedule their wedding reception cel-ebration for later in the year. CLASS OF 2007CHARLI (HENDERSON) PELS and her husband Jeff welcomed son, Lucas Clifford Pels, on Sep-tember 18, 2019. Charli is an Assistant Vice President with Frost Bank and resides in Richardson, Texas. CLASS OF 2010TAYLOR BAKER is engaged to Kev-in Mapula, with wedding plans this September in Cancun. They will continue to live in Uptown Dallas after the wed-ding. Taylor Baker currently works at Texas Capital Bank as an Assistant Vice President of Enterprise Risk.JESSANNA (WEISS) FITZPATRICK and her husband moved to Lewis Center, Ohio, for a job relo-cation opportunity. KAITLYN (ROGERS) GOVE and Taevin Gove were married on March 8, 2020, at Hidden Pines Chapel, Highland Village, Texas. Other POPCS alumni in the wedding party included See Won Choi, Haven Harris, Sam Ding, Katie Nichols Byrne (all from Class of 2010) and Kiree Gove (Class of 2018). MADDIE HILL is a founder of Ballet North Texas and is a ballet instructor in Southlake, Keller, and Frisco. Maddie was involved in a serious motor-cycle accident in July 2018 but is happy to be fully re-covered. She loves spending time with Kitty, her point-abull (pointer/pitbull), whom she has taught to drink with a straw, sit on a barstool, and do an arabesque! We need a picture of this! CLASS OF 2011 TAYLOR (KEPLIN) GANS married Thomas Gans on September 21, 2019, at the Marty Leon-ard Community Chapel in Ft. Worth, Texas. The newlyweds reside in Ft. Worth, Texas. CLASS OF 2012JOHN DAVIS and his wife Beth welcomed their rst child on June 18, 2019, a daughter named Elliot Grace ("Ellie") Davis.ALLISON SCHRANK moved back to Dallas in 2019 and will begin her second year of teaching Grade 7 math at Lake High-lands Junior High School in August 2020. CLASS OF 2013DYLAN AILEY has a new position with Fidelity Investments as a Discrepancy Reconciliation Associate. Dylan works in Fi-delity's Westlake, Texas ofce.DAVID BLOOM played four years of D1 basketball at Texas A&M Corpus Christi Uni-versity. He graduated in May 2017, Magna Cum Laude, with a Bachelor of Science in Mathematics and a minor in Personal Finance. David is now an actuary at Globe Life, working on his Associates Designation, and lives in Up-town Dallas.SAMANTHA (CALATOZZO) COBB married Jarrod Cobb, whom she met at POPCS in Grade 3 in Mrs. Noack's class. Her POPCS friend since Kinder-garten, McKenzie Ramirez (Class of 2013), and sister, Caroline Calatozzo (Class of 2015), were bridesmaids in her wedding in May 2020. Samantha works as a Market Development Associate at Peacock Alley and is work-ing on her MBA at South-ern Methodist University. During the COVID-19 cri-sis, she began a digital the-ater company, Plague Mask Players, which now has over 160 members.TIM GARDNER bought Anytime Fitness in August of 2019 and now operates the gym locat-ed in Little Elm, Texas. MCKENZIE RAMIREZ is engaged to Callum Harris, whom she met at Texas A&M Universi-ty. They plan to get married in October 2021. McKen-zie is a Registered Dietitian and works at the Center for Discovery, where she serves as the head of the dietary program at their Residential Adolescent Eating Disor-der Program in Plano, Texas. She also works in private practice with Lemond Nu-trition in Plano, Texas, spe-cializing in eating disorders. SARAH SURGEONER attended Southwestern University and graduated in 2017 Mag-na Cum Laude and Phi Beta Kappa, with a double major EAGLE ALUMNIWHERE ARE THEY NOW?If you would like to have information in next year's annual report, please send it to alumni@popcs.org.
Page 33
in Sociology and Business. Sarah then attended South-ern Methodist University Dedman School of Law and graduated with a Juris Doc-tor degree in May 2020. CLASS OF 2014JEFF DIENER started a new job as an analyst at Fortress In-vestment Group at their Dal-las ofce in March 2020. AMANDA (SCHRANK) DIENER began her Masters in the Family Nurse Practitioner program at Texas Woman's University in the summer of 2020.STEPHANIE SHADLEY got engaged to Aaron Haigler, whom she met at the University of Col-orado, where he played foot-ball and she played volleyball. Stephanie and Aaron were married on June 27, 2020, and now live in Los Angeles, Cal-ifornia.CLASS OF 2015CLAIRE WOLF graduated from Baylor University's Louise Herrington School of Nursing with a Bachelor of Science in Nursing in December 2019. In January 2020, she relocat-ed to Houston, Texas, with her two dogs, Maya and Thea. Claire currently works at the private practice Refresh Der-matology. She spends her free time volunteering for the an-imal rescue, Best Friends Ani-mal Society. CLASS OF 2016KYRA AILEY graduated from Oklahoma State University, Summa Cum Laude, with a Bachelor of Science in Ele-mentary Education. She will be starting her new career as a Grade 2 teacher at Sky-line Elementary in Stillwater, Oklahoma. JOHN BLOOM graduated from Abilene Christian University, Summa Cum Laude, and as a Valedictorian, in December 2019 with a BA in Business Management & Leadership and a minor in Coaching. John is currently pursuing a Mas-ters in Exercise Science and is the Head Strength Coach of women's volleyball, wom-en's basketball and golf, and an Assistant Strength Coach for football at Abilene Chris-tian University.KAYLA CARLOVE graduated from Concordia University, Tex-as, Summa Cum Laude, in April 2020, with a Bachelor of Science degree majoring in Kinesiology/Pre-Physical Therapy. She began graduate school in June at Texas State University in their Physical Therapy program.JESSIE CHAMP graduated from John Carroll University in Cleveland, Ohio, earning her Bachelor of Science degree. She has been accepted into the Masters of Social Work program at Seattle University and will attend this fall.SAMANTHA FAWCETT graduated Summa Cum Laude from Austin College this past spring, with a double major in Political Science and Psychol-ogy and a minor in Leader-ship. After being accepted to Cornell, University of Virginia, University of Texas, and Duke University, she has decided to pursue her Juris Doctor degree at Duke Law School in the fall of 2020, where she was awarded the Dean's Scholarship.NICOLE KARRMANN graduated from Chapman University, Magna Cum Laude, with a BFA in Screen Acting and an Hon-ors College Minor. She now lives in the Los Angeles area.LAUREN RODEMERS graduated in August 2020 from the Uni-versity of North Texas with a Bachelor's in Kinesiology. She started an Occupational Therapy Assistant program at Navarro College in June, which will bridge her gap year between UNT and starting her Master's in Occupational Therapy in June 2021. CORI (SCHNELL) WENTZ married Anthony Wentz on July 6, 2020, in Colorado Springs, Colorado (the original date was pushed back due to COVID-19). They graduated from West Point on May 23, 2020. Their graduation cer-emony was on June 13 with President Trump as their commencement speaker. Cori and Anthony received their commissions on May 23, 2020, as second lieutenants (Anthony in the Air Force and Cori in the Army). Cori reported to Fort Sill, Okla-homa, on July 26 for Air De-fense Artillery's Basic Ofcer Leadership Course. She will remain there for 19 weeks of training and then return to Fort Hood, Texas, as her rst duty station. CLASS OF 2019JOSEPH MIKULEC has complet-ed his rst year of college at Southern Nazarene Universi-ty in Bethany, Oklahoma, end-ing the year with a 4.0 GPA. He is a member of the Na-tional Society of Leadership and Success and Student Di-rector on the Student Board of Directors for the Southern Nazarene University School of Business.ADDITIONAL STUDENT UPDATES:STEVEN KARRMANN attended POPCS from 2001-2009. Ste-ven recently received his Master of Science degree in Hunan Centered Design and Engineering from the Univer-sity of Washington in Seattle. He began working for Micro-soft in Seattle in August. To make a contribution or pledge, contact Krista Bates | krista.bates@popcs.org or 972.598.111232
Page 34
If you have included POPCS in your estate plans or want to learn more about designing a planned gift or establishing your own endowment fund or contributing to an existing endowment, contact Patrick Carlove at patrick.carlove@popcs.org or (972) 598-1108.e Legacy Society has been established to recognize and thank members of the POPCS community who have set up planned gis for the benet of our students, teachers, and programs. e Legacy So-ciety is open to all individuals who have named us in their long-term plans or created an endowment for the school's benet.Benets of planned giving:• It may cost nothing today and still help the school's future strength and prosperity. • It includes an assortment of arrangements such as naming POPCS as a beneciary of a donor's will or living trust, retirement plan (401(k), 403(b), IRA, etc.), or life insurance policy.• It can provide a variety of benets, including lifetime income, capital gains tax savings, and income tax deductibility. • You can designate a gift for a particular purpose that is important to you, or allow POPCS to use the gift where the need is greatest at the time it matures. • You can donate a set amount, a percentage, or a remaining balance to benet our mission.• Your assets remain in your control during your lifetime, and you can modify your gift at any time. e following have included POPCS in their estate planJulie and Chris ArrowsmithSherri and Todd BloomKara and Patrick CarloveArmin "Whitey" Luehrs †Elizabeth and Scott McCloudScottie and Tommy MillerBob Nichols †Monica and Les PritchettConnie and Josh RidkerMichelle and Scott Webb† Bequest fullfilledInterested in Starting an Endowment?Endowment funds can be a permanent, self-sustaining source of funding for POPCS. Endowment assets are invested, and each year a portion of the fund value is paid out to support the fund's purpose. Any earnings in excess of this distribution are used to build the fund's market value, giving funds the chance to grow and provide support in perpetuity.Endowments provide an excellent way to leave a legacy at POPCS. When you establish an endowment fund at POPCS, the endowment can be named for yourself, your family, a friend, or a favorite teacher. You can also contribute to one of the endowments that already exists. Either way, your options are virtually limitless and most importantly, they provide lasting care for POPCS students, teachers, programs, and facilities. Possible purposes for which an endowment may be established include, but are not limited to:TUITION ASSISTANCE FACULTY SUPPORT OPERATIONS PROGRAM ENHANCEMENTe following endowments have been funded for the benet of POPCSThe Delores Anthony Endowment | The Dolores Lehmann Endowment | The Matthew and Bradley Ott EndowmentWe are extremely grateful to our benevolent community for establishing endowments that support our educational mission in perpetuity.
Page 35
Prince of Peace Christian School and Early Learning Center admits students of any race, color and national or ethnic origin to all the rights, privileges, programs and ac-tivities generally accorded or made available to students at the school. The school does not discriminate on the basis of race, color and national or ethnic origin in the administra-tion of its education, admission policies, tuition assistance, ath-letic and other school adminis-tered programs.PHOTO CREDITS:2019-2020 POPCS Yearbook StaffTad RomanczykValerie Gabriel-SwensonJoanna LawsonJudy Nordseth PhotographyKelly WalshBOARD OF DIRECTORS2019-2020 Jeff Wolf ChairSandi Karrmann Vice ChairMichele Thatcher SecretaryMonica Pritchett TreasurerCarrie BinnsTodd BloomTerry BrunennSusan GerhardChris HahnScottie MillerCheryl MonroeJoe OmoworareCambria ReinsboroughShannon SharpDon SpenceJason StrongJulie VaughanSCHOOL LEADERSHIP2019-2020Chris Hahn HeadmasterJeremy Lowe Upper School PrincipalBetsy Graham Middle School PrincipalTodd Baringer Lower School PrincipalBrenda Porter Early Childhood DirectorPatrick Carlove Chief Advancement OfcerTyler Burke Athletic DirectorBrenda Jordan Chief Financial OfcerTori Rush Director of AdmissionsValerie Gabriel-Swenson Director of Public Relations & Marketing4004 Midway RoadCarrollton, Texas 75007-2018972-447-0532www.popcs.orgABOUT USTo make a contribution or pledge, contact Krista Bates | krista.bates@popcs.org or 972.598.111234
Page 36
4004 Midway RoadCarrollton, Texas 75007-2018972-447-0532www.popcs.orgPRESORTEDSTANDARDU.S. POSTAGEPAIDPERMIT NO 1478DALLAS,TX