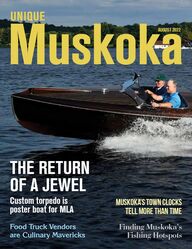 Return to flip book view
Unique Muskoka Issue 35 - August 2022
Page 1
AUGUST 2022Food Truck Vendorsare Culinary MavericksTHE RETURNOF A JEWELMUSKOKA'S TOWN CLOCKSTELL MORE THAN TIMEFinding Muskoka'sFishing HotspotsCustom torpedo isposter boat for MLA
Page 2
(Port Carling) Limited(705) 765-5700brownsappliances.com
Page 3
Richard Scully& ASSOCIATESWho You Work With Makes A DifferenceTom CrossSALES REP705.644.9020tom@tomcross.caDustin ClevelandBROKER705.641.9187 dustindccleveland@gmail.comRichard ScullySALES REP705.644.9393rscully@muskoka.comMuskokaCottagesForSale.com
Page 4
2 UNIQUE MUSKOKA August 2022...telling the Muskoka storyFeatures11It's All Relative – Murder, Suspense and the Making of an AuthorArticle by Meghan Taylor / Photography by Tomasz SzumskiSusan M. Nairn, author of the Relative series, understands the value of luck and timing, both in writing and publishing. A fortuitous table arrangement in July 2020 made all the difference for her. 15Trees of Muskoka – Ash and BeechArticle and Photography by John ChallisAsh and beech trees were once the mighty giants of Muskoka's forests. However, these giants have been felled by tiny insect invaders. ey're the latest in a litany of trees under attack, causing some species to be classified as endangered. 19Historic Libraries – Then & Now: Bracebridge Public LibraryArticle by J. Patrick BoyerBracebridge Public Library, situated in a beautiful Carnegie building on Manitoba Street, anchors the main street and its membership; not just with its selection of books but with the variety of programs and services it offers. 24The Art of Whimsy – Painting the Past with a Light-hearted BrushArticle by Bronwyn Boyer / Photography by Tomasz SzumskiLaurie Stein – artist, illustrator and teacher – combines her animated characters with her interpretation of famous classical masterpieces, creating works of art that capture both the serious and the lighter side of life.30Thrills and Spills – Muskoka O-Road Cycling AssociationArticle by Matt Driscoll / Photography by Tomasz SzumskiMuskoka is a mountain bikers' paradise. Muskoka Off-Road Cycling Association (MORCA) acts as stewards and promoters to make trails accessible to as many people as possible.36Caprice – A Minett-Shields Jewel Returns to the Lakes of MuskokaArticle and Photography by Tim Du Vernete restoration of Caprice brought together three generations of the Mortimer/Blair family on the Muskoka lakes. Having her selected as the poster boat for the Muskoka Lakes Association Boat Show for 2022 speaks to her style and rarity. [24][24][30]
Page 5
W E S E L LMore time in your happy place705-571-2118 jay@jayrichardson.ca @realtorjayr
Page 6
Page 7
Opinion9 Muskoka InsightsBy Don Smith72Muskoka MomentsBy Krystal DarlingDepartments62What's HappenedArticle by Matt DriscollMuskoka Chautauqua shares their summer lineup, MPP Graydon Smith is tapped as Minister of Natural Resources and Forestry and the Town of Gravenhurst unveils its forthcoming short-term rental bylaw. e District of Muskoka has been granted an extension for unstaffed bin site removal, the Township of Muskoka Lakes pilots a new pedestrian walkway initiative and the Muskoka Lakes Association Antique Boat Show returns to Port Carling. 64Cottage Country CuisineArticle by K.M. WehrsteinPhotography by Tomasz SzumskiWhere there's smoke, there's flavour. ere's just something about the byproduct of flames that tingles our taste buds. Explore these smoked food recipes from restaurants across Muskoka. Our CoverPhotography by Tim Du VernetMuskoka-built boats are prized throughout the continent for their unique character and limited quantities. Discover the details of the Blair/Mortimer family's one-of-a-kind Minett-Shields runabout, Caprice, including her recent restoration.AUGUST 2022Food Truck Vendorsare Culinary MavericksTHE RETURNOF A JEWELMUSKOKA'S TOWN CLOCKSTELL MORE THAN TIMEFinding Muskoka'sFishing HotspotsCustom torpedo isposter boat for MLA40Culinary Mavericks – Food on the Go in MuskokaArticle by K.M. Wehrstein Photography by Josianne MasseauRestaurants aren't the only game in town. Food trucks and on-the-go meal options in Muskoka open the doors to diversity, flavour and new experiences. eir evolution has developed as food truck culture, which is based on entirely mobile kitchens.46Muskoka's Town Clocks Tell More than TimeArticle by J. Patrick BoyerClock towers in Bracebridge, Huntsville and Gravenhurst aimed to define each town's status when they were originally commissioned. While their ownership and operation may have changed, these timekeepers continue to mark the passing of time. 54Fish Tales – Muskoka's best discuss shing hot spotsArticle by Matt DriscollPhotography by Andy ZeltkalnsWhile no one can lay claim to a guaranteed method, there are some in Muskoka who have a proven track record of landing more fish than most. Now they're ready to pass on a few of the secrets to their success. [64][40]August 2022 UNIQUE MUSKOKA 5
Page 8
…telling the Muskoka story Unique Muskoka is published six times per year by Unique Publishing Inc.Donald SmithPublisherMeghan TaylorEditorDonna AnsleySalesLisa BrazierDesignSusan SmithAdministrationBronwyn BoyerJ. Patrick BoyerJohn ChallisKrystal DarlingMatt DriscollTim Du VernetJosianne MasseauTomasz SzumskiMeghan TaylorK.M. WehrsteinAndy ZeltkalnsContributorsAnnual Subscription Rates: (including HST where applicable)In Ontario $30.00 All Other Provinces $36.00 U.S. $60.00 All Other Countries $72.00HST: 773172721Canada Post Publications Mail Agreement Number: 43268016Copyright © 2022 Unique Publishing Inc.No content published in Unique Muskoka can be reproduced without the written permission of the publisher.Mailing AddressBox 616, Bracebridge ON P1L 1T9Street Address28 Manitoba St., Bracebridge ON P1L 1S1www.uniquemuskoka.cominfo@uniquemuskoka.com 705-637-0204 6 UNIQUE MUSKOKA August 2022This is not just another summer in Muskoka. Muskoka's hospitals are still in the midst of the pandemic with unprecedented hospital use and high occupancy. Emergency Department volumes are rising. Wait times are getting longer. Seek the most appropriate option for care by choosing the right care in the right place at the right time by the right provider. www.mahc.ca/wheretogetcareMuskoka/ B C D A Advanced planning and preparations. Consider what is available for care as you plan trips. Ask yourself… Are my prescriptions in order? Immunizations up to date? Should I be going to the cottage when I need stitches removed? Be safe! Make safety a priority. Avoid risky behaviour that can lead to illness or injury. Decide on right care, right place, right time, right provider. Conserving Emergency Dept. care for real emergencies helps to preserve reasonable wait times. Call your primary care provider. Virtual or phone appointments with your 'home' doctor or nurse practitioner are available when at the cottage. Stay safe, be well and follow the A-B-C-Ds: Make safety a priority this summer! Have a thoughtful plan to avoid an unnecessary trip to the Emergency Dept.
Page 9
Inspired Nature Inspired Naturebywww.brackenrig.com 705-765-5565info@brackenrig.comLANDSCAPING FLAGSTONE PATIOS & WALKWAYS RETAINING WALLS STONE STAIRWAYS DESIGN SERVICES
Page 10
mbaJack Judges 705-646-7424 Wayne Judges 705-645-0480email: jackjudges@gmail.comQuality workmanship and customer satisfactionfar beyond any written warranty.Restoring Muskoka's heritage and building new traditions for over 45 yearsDESIGN • CONSTRUCTION • RESTORATION
Page 11
Muskoka Insights46 Ann Street, Bracebridge705-646-9995 | 877-877-3929www.LesBell.caTRUST • INTEGRITY • SERVICEOur local team is here to provide you with personalized insurance solutions. For the coverage your family deserves, call us today.Your Home and Cottage Mattress CentreTHE LARGEST SELECTION OF IN-STOCKMATTRESSES IN MUSKOKAMUSKOKACURATED COLLECTION by Marshall Mattress6 Monica Lane, Bracebridge705.646.2557www.mattressesofmuskoka.comPhotograph: Susan SmithWhether you're a permanent resident, a seasonal resident or someone who is visiting – you'll know the sense of solace that comes from the healing embrace of Muskoka's natural environment.After a particularly challenging day, I find the comfort that comes from sitting on our deck is immeasurable. While still part of Bracebridge's urban area, our backyard includes whispering pines and poplars, whose trembling leaves eradicate the remaining noise cluttering my brain. ere is something to be said about closing your eyes and soaking in the quiet sounds of nature; letting a gentle wind speak to you, listening for the songs of the birds. Rising from my deck chair, I feel like I have a fresh start. My thoughts are opened to new possibilities. We are indeed fortunate to call Muskoka home.If nothing, the past two years have made it all the more important to take a few minutes to celebrate the gifts that come from a day, a week, a month, a year, a lifetime in Muskoka. With all the noise in the world, Muskoka remains an oasis.In each issue of Unique Muskoka, we share the stories of the district in an effort to open everyone's eyes to an environment – fragile but at the same resilient – that should never be taken for granted. As long as we keep our natural world healthy, it will regenerate not only itself but us. Members of the Muskoka Off-Road Cycling Association are among those who have demonstrated we can combine the dual objective of developing a much sought-after natural experience while at the same time preserving the inherent feature that underpins this outdoor opportunity. eir trail networks draw off-road cycling enthusiasts from across the province and beyond, supporting the local economy and making a difference in many lives.It's also encouraging to read the positive message of Muskoka's fishing guides, told by regular contributor Matt Driscoll. As the guides note, the district's fish stock remains strong. However, more and more, Muskokans are learning the importance of keeping our shoreline naturalized and fish habitat protected, allowing us to continue to enjoy this great outdoor activity.Appreciation of our past is important for setting the course to the future. In this issue, local historian Patrick Boyer has two features for our readers. One outlines the vision of early Bracebridge residents and the support of a wealthy industrialist that resulted in the construction of a library that has served the community well for over 100 years. e other tells the story of how clock features in the buildings of the district's three major towns tell more than the time of day. We think you'll find both articles interesting reads. We like experiencing different opportunities and we think the feature, Culinary Mavericks – Food on the Go, by K.M. Wehrstein will open you to some interesting dining options offered by food trucks now operating in Muskoka.Not to be missed are several other features. Among them, Tim Du Vernet tells us about the return of Caprice – an antique watercraft worthy of being the subject of a poster promoting a local boat show. Writer Bronwyn Boyer tells the story of artist Laurie Stein who captures both the serious and the lighter side of life with her artwork that showcases her talent to parody classics. And, contributor John Challis highlights the giants of the forest that are being felled by tiny invaders.Happy reading. August 2022 UNIQUE MUSKOKA 9
Page 12
DON'T SETTLE FOR BASIC COVERAGEIf all your current insurance company can o er you is basic coverage on a secondary/seasonal home, make the switch to CottageInsure and fully protect your cottage and belongings in the same way your home insurance policy does.Get a FREE Quote in just  ve minutes by clicking: cottageinsure.ca or Call 1-877-541-9022We've been protecting Ontario cottages since 1910.COTTAGE & LAKEASSOCIATION MEMBERDISCOUNTSDISCOUNTSFOR FIREBOATRESPONSE SERVICEEXTRA COVERAGESFOR GARAGES, GUEST CABINS& WATERCRAFTGUARANTEED REPLACEMENT COST ON DWELLING & CONTENTSTHE MOST TRUSTED GUARANTEED REPLACEMENT COST COTTAGE INSURANCE PROGRAM IN ONTARIO
Page 13
Luck and timing can make all the difference in an author's journey. "We've had a couple authors stay at the lodge and every time we talked about any success they've had, they've said it's luck and timing," shares Susan M. Nairn, Muskoka resident, general manager at a Port Carling resort and author of the Relative series. Nairn knows first hand how luck and timing can factor into success. e journey to self publishing is a challenging one and not one that Nairn intended to pursue. Her own six-book Relative series, which includes e Waking Hours, One Eleven, Darkroom, Root Cellar, Gemini (released in June 2022) and Abbey in the Oakwood (coming January 2023), would not be published without a fortuitous table arrangement in July 2020. Nairn's love for writing first came to be in sixth grade at Glen Orchard Public School, shortly after she moved to Muskoka full-time with her family. Her teacher, Wayne Stimpson, started the class on writing poetry and Nairn quickly fell in love with words. "I could not get enough of words," explains Nairn. "I just wanted to deal with words, be in words, immerse myself in words. I started writing short stories and I can't even tell you where the ideas came from."Article by Meghan Taylor / Photography by Tomasz SzumskiThe idea for Nairn's rst book, The Waking Hours, came to her in 2001 but it sat unnished, for 15 years. Since self publishing that rst book, she has written and published four more, with the sixth and nal book in the series to be added in 2023. August 2022 UNIQUE MUSKOKA 11
Page 14
12 UNIQUE MUSKOKA August 2022705-764-0765 | muskokabarging.com | 1163 Milford Bay Rd, Milford Bay ONBARGING STEEL & CRIB DOCKS SEPTIC SYSTEMS LANDSCAPING ● ●Muskoka Barging●Family run construction company with over 35 years experience operating in the Muskoka Lakes area. No job is too small or too big.Nairn says she continued to write based on ideas from dreams, or from things she saw. e idea for her first book, e Waking Hours, came to her in 2001 but it sat in limbo, unfinished, for 15 years. After writing a blog for 10 years, Nairn returned to her book idea in 2016. "I really was enjoying the writing and the story started coming back, and I finished it," says Nairn. Once the novel was complete, Nairn pursued a traditional publisher. Like many authors, she wanted the support of an agent guiding her through the process and assisting with marketing. However, Nairn's novel didn't fit what publishers were looking to pick up at the time. e more frustrated Nairn became with the process, the longer it took and the less interest she had. She did begin to open up about her novels with people, including her bosses and guests she'd met over the last 10 years working at Shamrock Lodge. In July of 2020, she recalls talking to one of the guests who knew Nairn was trying to find an agent. As Nairn shared the details of her struggle to publish, Neil Orlowsky and his family were seated at the table behind them. Orlowsky overheard and asked for more information. "I emailed him the manuscript and he Self publishing is a challenge and not one that Nairn planned to navigate. Initially, Nairn sought an agent and publishing house but, with the support of a guest turned mentor, Nairn has now self-published ve novels. Gemini, the h book, is available now.
Page 15
705.645.4294 TF: 866.645.4294STORE: 228 TAYLOR RD., BRACEBRIDGEOFFICE: 1646 WINHARA RD., GRAVENHURSTSales & Service of MajorPropane Appliances(refrigerators, ranges, fireplaces, furnaces & more)Safe & reliableNo electricity requiredBulk propane deliveryto your home or cottageAppliancesSERVING MUSKOKA &PARRY SOUND FOROVER 70 YEARSemailed me a couple weeks later and said 'I can see this as a show on Netflix' and my mouth hit the floor," says Nairn. Orlowsky returned to the lodge that August for another week and he and Nairn talked through all of her ideas. By the end of the week, they had figured out the scope of the first four books in the Relative series with ideas for books five and six as well. Nairn credits Orlowsky as her mentor and agent. rough weekly Zoom meetings on Monday afternoons, he keeps her on pace with word count and helps her navigate the challenges of self publishing. "He's the reason I have five books out," comments Nairn. "He's so supportive. He keeps me accountable. I can now basically get a first draft of a novel done in three and a half months."Once the sixth book is published, Nairn and Orlowsky plan to complete a pitch deck and submit it to contacts in the film industry. Plus, the whiteboards that adorn Nairn's living room to keep track of her current series also contain the ideas for several standalone novels she intends to work on, one based on her family's cottages in Port Carling. "It's been generations of my family who have come here and it's part of my blood," says Nairn. While Nairn was born in Oakville, her familial roots are in Muskoka. Related to the Massey family, she fondly recalls the three family cottages on Armstrong Point. e last cottage in the family, her cousin's recognizable yellow boathouse with a red roof, has recently sold but Nairn has plans to commemorate the family compound."It's fully based in Muskoka," says Nairn of the standalone novel. "It's going to be a murder mystery. ey're reading this book together in a book club and start realizing it reads more like a memoir than it does a fiction."She's looking forward to giving the book to her family members, when she's finished writing it. "Although they may think 'you're a weirdo because you murder people in every book you write'," she comments.While the psychological thriller genre may not be for everyone, it's clear Nairn has put in the time writing and developing her voice as an author. Luck and timing, along with dedication, are her story. As general manager at Shamrock Lodge for the last 10 years, Nairn has come to know many of the repeat guests well. Hospitality and psychological thrillers may not seem to have a strong connection but it has made all the dierence in Nairn becoming a published author. August 2022 UNIQUE MUSKOKA 13
Page 16
Page 17
Bark is a dening feature of ash and beech trees. Beech bark (pictured) constantly regenerates its outer bark, maintaining a smooth skin., while ash bark can be identied by the nely furrowed, irregular ridges in its bark, oen described as little canoes. TREES OF MUSKOKA GIANTS OF THE FORESTfelled by tiny invadersAsh and Beechere are over 40 species of trees native to Muskoka and another 24 smaller trees classified as shrubs. All play significant roles in the balance of Muskoka's ecosystem. is series explores some of the more visible of our trees. This is a sad tale of two majestic trees slowly disappearing from Ontario. Beech and ash have been hit hard by invasive pests. ey're the latest in a litany of blights, beginning with Dutch elm disease in the 1950s and now causing some tree species to be classified as endangered.American beech trees can live more than two centuries. ey grow up to 30 metres in height and a metre and a half across. Beech nuts have been an autumn staple for bears that need to fatten for hibernation, as well as for squirrels, deer and other animals. Germinated beech seeds usually grow under the dense shade of their parent, resulting in slow growth. Beech wood is hard and has been used for centuries for flooring, barrels and even railway ties. Its grain is a bit cantankerous, though, making it less desirable for fine furniture. Many will remember or recognize beech as the massive tree we carved our initials into as kids. Its smooth, grey-blue bark was an ideal canvas; scar tissue growing around the knife cuts embellished our art. Article and Photography by John ChallisAugust 2022 UNIQUE MUSKOKA 15
Page 18
16 UNIQUE MUSKOKA August 2022Bark differs from tree to tree and is a key to recognizing different tree species. Beech constantly regenerates its outer bark, maintaining a smooth skin – a tree that exfoliates! By contrast, ash bark thickens over the years to protect itself. Ash can be identified by the finely furrowed, irregular ridges in its bark, often described as little canoes. Another tip to clinch ash identification: the leaves. Ash trees have compound leaves; a cluster of leaflets growing opposite each other on stalks that branch out from the main stem. Ash has between four and eight oval, smooth edged leaflets in a compound leaf, plus one more as the terminal leaflet.ere are three species of ash in the Muskoka area - green, white and black ash – each growing in different environments. ey grow straight, up to 25 metres or more, charging to the sunlight in as short a distance as possible. e strong, lightweight, clean grain of ash is prized for paddles, tool handles and furniture. Because of their growth, they're also popular for planting in urban parks. Ash tree seeds, resembling one-winged maple keys, disperse well on winds. is year there has been a bumper crop of ash keys in many forests. However, ash trees are being compromised by a tiny green beetle; the emerald ash borer. e beetle's larvae burrow in long "galleries" under the ash bark, blocking the flow of sap to the leaves. e loss of ash trees has been high profile since the infestation has wiped out urban park forests. Attempts to halt the spread of the emerald ash borer have failed. In 2012, infestations were
Page 19
Ash trees are commonly planted in urban parks, as they grow straight, up to 25 metres or more, charging to the sunlight in as short a distance as possible. However, the infestation of the emerald ash borer has wiped out many urban park forests. south of Lake Simcoe; by 2020, ash stands were dying as far as Sault Ste. Marie.American beech has been under attack from a parasitic fungus. It's a native fungus, but has found a new means of spreading, with help from a tiny European insect called woolly beech scale. Holes drilled into the trees by the insect allow the fungus to invade. e result is cankers in the bark, and loss of foliage, culminating in the rot of limbs and the trunk. ere are treatments for beech, but they are cost-prohibitive to apply to entire forests. e sad truth is children may never see their initials carved in the bark of a beech tree or they may no longer see ash trees in their urban parks and playgrounds. One can only hope the few trees surviving have found some resistance, enabling them to produce new, hardier generations. Ash trees are easily identied by their leaves; a cluster of leaets growing opposite each other on stalks that branch out from the main stem. There are between four and eight oval, smooth edged leaets in a compound leaf, plus one more as the terminal leaet.We're Celebrating our14 Gray Road, Bracebridge, ON P1L 1P8MAPLE COOKIES350 g. 1.800.461.5445info@mapleorchardfarms.comwith some Sweet Deals35YEARSTHANKYOUMapleOrchard299$1699$Farms- FACTORY OUTLET SPECIALS -16$PURE MAPLE SYRUP1 LitreASSORTED CHOCOLATESAugust 2022 UNIQUE MUSKOKA 17
Page 20
BATH & KITCHEN SHOWROOMDESIGN. INSTALLATION. REPAIRSERVING ALL OF MUSKOKA279 MANITOBA ST, BRACEBRIDGE705.645.2671KNOWLESPLUMBING.COM @MUSKOKABATHTHE RIOBEL MOMENTI™ COLLECTION AVAILABLE AT KNOWLES PLUMBING!Muskoka's Bath & Plumbing CentrePREMIEREPLATINUMGOLDSILVERMUSICPlease help us in recognizing and thanking:Canada Day Celebration Canada Day Celebration and Fireworks Showand Fireworks ShowThe Rotary Club of Bracebridge, with the support of the Town of Bracebridge and Rotary Club of Bracebridge Muskoka Lakes, was pleased to once again be the organizer of our community Canada Day Celebration and Fireworks Show. Our ability to host this event is only made possible by both the generous donations of those who attend, and by the support of our community partners/sponsors. We hope you enjoyed the show and look forward to seeing you next July 1.
Page 21
Above: The building the Bracebridge Public Library occupies today was built with the nancial support of the Patron Saint of Libraries, Andrew Carnegie. Below: During her tenure as CEO from 2001 to 2006, Jill Foster, pictured with the library's oil portrait of Carnegie, promoted literacy, enhanced facilities and initiated plans for a worthy celebration of the Library's centennial in 2008.Even before organizing a fire brigade to protect their lives and property, Bracebridge folk in 1874 created a library. It has operated continuously ever since, making library service one of the community's most venerable institutions. e following year, in 1875, the existence of a library in the settlement helped convince provincial authorities to grant the Macaulay Township village independent municipal status – reflecting the interwoven history of Bracebridge and its library.Local citizens created the library using the Mechanics' Institute model, popular in the province since the 1830s and governed by legislation enacted in 1851. After it opened, the Institute's collection of 225 volumes grew, as demand for reading material increased. A $400 provincial grant, received in 1877, helped boost holdings to 700 books, among them the American Cyclopedia costing a quarter of the funds. In addition to books, the library sponsored scientific presentations, educational lectures and Article by J. Patrick BoyerHISTORIC LIBRARIES: THEN & NOW Photograph: Tomasz SzumskiPhotograph: Russ MackinnonAugust 2022 UNIQUE MUSKOKA 19
Page 22
20 UNIQUE MUSKOKA August 2022A NAME YOU CAN TRUSTwww.pdmurphyjewellers.com • pdmurphy@bellnet.caDowntown Orillia9 Mississauga Street, East705.326.9611Barrie South End531 Bryne Drive, Unit B1705.719.1474Downtown Bracebridge30 Manitoba Street705.645.2152stoneway marble & granite inc.Les and Renata Partyka1295 Muskoka Rd. 118 West, Bracebridge | 705.645.3380 | stoneway.inc@gmail.comliterary entertainment. Being a private organization meant not just anyone could stroll in and access library resources. Participation required a membership. But Bracebridge's Institute was not exclusionary. In 1881, two canvassing committees called at every home to enlist members at 80 cents a year and harvest suggestions for better service. Everyone wanting to use the library was now entitled to, and by popular request a reading room soon joined its circulating library and stage for events. By rounding out the cultural and intellectual dimensions of life with its organized program, the Mechanics' Institute initiated a pattern of book-centred activity for peoples' enrichment that would endure, with intermittent relocations to larger second-floor premises.By late in the century, the "public library" movement was ascending across North America and in 1897 the Mechanics' Institute directors themselves brought their library under Ontario's Free Libraries Act. e Bracebridge Free Library was on the public governance path it still follows. e next step, moving into a purpose-built permanent library, began a challenging dimension of municipal involvement that has also been continuous. Andrew Carnegie, the world's richest man, became the philanthropic champion of free libraries. When application was made, a bizarre contest between Carnegie and Bracebridge council ensued. Envying Gravenhurst's Opera House/Town Hall, council proposed using its Town Hall for the library and Carnegie's money for an exceptional Bracebridge municipal building. The plaque hanging in the Bracebridge Public Library denotes the 1906 board members, critical to the proposal and planning of the Carnegie building the library has occupied since 1908. Photograph: Tomasz Szumski
Page 23
Join us on facebook.com@artistsofthelimberlost1Meet 22 artists at 8 studios and historic lodge settings featuring painting, woodturning, stone and wood sculpture, furniture, bre, pottery, knifemaking, and jewellery by artists from Muskoka and beyond.OPEN STUDIO WEEKENDAugust 19, 20 and 21, 2022 • 10 am to 5 pmartistsofthelimberlost.caLimberlost Road is Muskoka Road 8 just 10 minutes east of Huntsville on Hwy 60See website for map and details or call 705-635-2093Studios open other times by apppointment. "If you already have a building that will serve for a public library," came the icy rebuke, "you have no need of Mr. Carnegie's money." Another boomeranging proposal was building a library with books and Turkish baths on a tiny sloping triangle of land. Despite continuous derailments, by 1908 a splendid Carnegie Library finally opened, without ceremony, on Bracebridge's main street. e library continues to admirably serve the community in ever-modernizing ways – from special programs for children to interlibrary loans to computer services. In 1967, space needs led council to tack on an addition in the Industrial-Grade Revival style of public buildings flourishing in Bracebridge by the mid-20th Century. e unappealing exterior addition was overcome when library board chairman Robert Dolphin engineered its replacement with Brian Chamberlain's architecturally Le: The original Carnegie building had one entrance at the top of many stairs. Construction of a new side entrance as part of the 1984-85 restoration and expansion of Bracebridge's main street library increased accessibility and matched the addition with the existing design. Right: The expansion allowed for increased book collections and spaces for programs. Photograph: Tomasz SzumskiPhotograph: Boyer Family ArchivesAugust 2022 UNIQUE MUSKOKA 21
Page 24
22 UNIQUE MUSKOKA August 2022inspired extension. "e heritage character and graceful architecture of the library building are integral to our view of the library," emphasized CEO and chief librarian Jill Foster, describing it as "the brick and stone grande dame of Manitoba Street. It sits at the crest of the hill as a monument to an era when form was not a slave to function and building design was as much an art form as an engineering project."Bracebridge residents, canvassed about the town's future in 2008, found their ideas in a "Convergence Report" including widespread desire for the library to remain in its central and accessible pivotal location. When a subdivision developer gave the Town land elsewhere, a decision was made to move both the library and the Bracebridge arena there, adding road and utility services to the raw land. Currently, the Bracebridge Public Library continues to serve the community from its Carnegie space on Manitoba Street. e move to a new space will undoubtedly create a gap on Bracebridge's main street but it will bring the next iteration of growth to the Bracebridge Library as well. Muskoka's Largest Home Service Company!The Bracebridge Library continues to admirably serve the community from its place as "the brick and stone grande dame of Manitoba Street", quoting former CEO Jill Foster, in ever-modernizing ways – from special programs for children to interlibrary loans to computer services. Photograph: Tomasz Szumski
Page 25
Let us Surprise YouCustomizable with over 300 fabrics;Modular design to fit any configuration;Canadian Made; Solid hardwood construction
Page 26
Laurie Stein finds it much easier to work when she's at her cottage near Gravenhurst. "When I'm in Muskoka, I just paint," she explains. "I can cover the dining table with all my paint supplies and not get in anyone's way." Stein's cottage has been in her family since the 1960s, and it makes an ideal studio space. She likes to work on a few paintings at a time, moving to another canvas while the previous one dries. e Toronto-based artist wears many creative hats. In addition to painting, Stein also teaches, illustrates children's books and designs characters for licensing. Licensing allows for the use of images on anything from animation to puzzles and greeting cards. She has also created characters for about 120 children's books. "I like to go from one thing to the next," says Stein. "When they all overlap, the work is more fun."Article by Bronwyn Boyer / Photography by Tomasz SzumskiLaurie Stein (above) shares that her artistic passion is fuelled by giving life to her characters in unexpected ways. She is inspired by famous, classical masterpieces, and by the beauty that surrounds her cottage in Gravenhurst.
Page 27
Stein's artistic passion is fuelled by giving life to her characters in unexpected ways. By combining her animated characters with famous classical masterpieces, she's created a bittersweet genre that captures both the serious and the lighter side of life. Working digitally allows Stein to call up a classic, recognizable painting to see what it would look like to replace the subjects with her characters. And although Stein intends the copies to pay homage, she only parodies artists that are long gone. "Something serious like Whistler's Mother was so much fun to do because that painting is just so miserable and sombre," Stein laughs. "I feel like the artists I'm parodying would be mortified if they were alive to see them. I don't think they'd approve." Stein originally got the idea while trying to figure out a wedding present for someone who had two dogs. "I had pictures of these beautiful dogs," she explains. "And I got the vision of them paddling a canoe through a Group of Seven landscape, and I thought it was pretty funny." Stein's "fake paintings" as she calls them can be described as parody versions of the original ones. She injects new life into iconic images, giving them a modern twist. Even the cheeky titles suggest the opposite of what the painting represents. Dog Without a Pearl Earring, for example, instead of Girl With a Pearl Earring. And playful titles like Mo-dog-liani, Vin-Sit van Gogh, Pig Casso, and Frida Catlo send a strong message that even the most serious art can be fun. But even the most whimsical projects can prove challenging. "It's really hard to copy famous paintings," Stein says. "At first I thought it would be easy, but the deeper you get into it, you realize there are so many more layers and colours intertwined than what meets the eye." Adding her character to the painting is her reward for getting the copy finished. As soon as she puts her own creative energy into it, the painting comes alive. When Stein visits the paintings that she has parodied at galleries, she feels like something is missing. "I think it's because there's no story to a simple landscape," she explains. "But when there is a character inserted into the setting, you wonder what it's doing there and it Stein's original idea for her "fake paintings," as she calls them, came about from needing a wedding gi for someone with two dogs. She decided a painting of the dogs paddling a canoe through a Group of Seven landscape t the bill. August 2022 UNIQUE MUSKOKA 25
Page 28
26 UNIQUE MUSKOKA August 2022By combining her animated characters with famous classical masterpieces, Stein has created a bittersweet genre that captures both the serious and the lighter side of life. Book Now!Steamships • Discovery Centrewww.realmuskoka.com / 1-866-687-6667Muskoka Wharf, GravenhurstAUTHENTIC MUSKOKAHistory • Environment • Sustainabilitymakes it more fun. I think we need that." Stein's sense of humour and creative talent always went hand in hand. Ever since she was a small child, she loved to draw. Her first memory was taking a crayon to all the walls of her family's new house because she was upset about the move. "I consider that my first work of art," Stein laughs. "And believe it or not, my mother didn't even get mad at me. In fact, she encouraged me and considered it cathartic." Stein also loved cartoons as a child, especially Hanna-Barbera shows, which gave her an eye for the whimsical side of life. Stein's mother encouraged her to go to Ontario College of Art (now OCAD), though she didn't really take herself seriously as an artist. "I applied to art school as a lark," Stein says. "I thought I'd never get in so it didn't really matter. I showed up with these funny cartoons, and the other applicants had such serious submissions. It was really embarrassing, but I actually got in. I didn't really choose this career as much as it chose me." In 2020 e Globe and Mail ran Stein's piece entitled Even Me, in which she altered
Page 29
100% Canadian Artists• Large Original Paintings• Whimsical Sculptures• Hand made wood bowls,pottery & jewelry111 Medora St. (Hwy 118 West.)Port Carling, Muskoka705 765 7474www.redcanoegallery.comCelebrating 29 years in Muskoka(parking at rear)Dulcinea In Red 72x40 (B. Nowak)her painting called Red Bull featuring a moose sitting in a red Muskoka chair by giving it a mask. e addition of the mask carries the message that everyone is equally vulnerable, even a big bull moose. At the same time, it was Stein's attempt to bring some levity to a terrible situation. Stein currently teaches art classes online. Until COVID-19 prevented her from teaching in person, she taught classes for the Art for Cancer Foundation, which provided free courses to cancer patients. e paintings from this program were sold at an art show that was very successful. e money was donated to ArtBarn in Toronto with the hopes that the classes would continue. Stein also studied classical animation at Sheridan College, which gave her the best tools for teaching students to draw. But she finds there are always new skills to discover. "Teaching is a great way to push myself out of my comfort zone and discover new territory," she explains. "I learn so much." Stein seems to be fuelled by pushing the boundaries, her own as well as the art realm in general. Spontaneity and freedom keep her In addition to her paintings, Stein pushes her own boundaries by teaching art classes and illustrating children's books with her business partner, Lisa Lucas. August 2022 UNIQUE MUSKOKA 27
Page 30
28 UNIQUE MUSKOKA August 2022MODERN HOME CARPET ONE350 Ecclestone Drive • Bracebridgecarpetonebracebridge.caTAYLOR CARPET ONE30 Cairns Crescent • Huntsvilletaylorcarpetonehuntsville.comHARDWOOD • LAMINATE • VINYL PLANK & TILE • VINYL ROLLS CARPET • CERAMIC • NATURAL STONE & MOREFloors forHome & Cottage705.645.2443705.789.9259inspired. "I like when I start painting a dog and then it ends up being a teapot," she says. "at's the most fun for me, when the creativity takes over and it turns into something completely different." One of Stein's next paintings will be a parody of e Mona Lisa with a golden retriever. More Van Gogh copies and a fake Norman Rockwell are also in the works. But her favourites seem to be animals enjoying cottage life. "I really enjoy painting a moose on a Jet Ski, a dog boating or animals driving cars or tractors," laughs Stein. "I just love the absurdity of creating things that shouldn't be."Stein's paintings are displayed at the Red Canoe Gallery in Port Carling and the Koyman Gallery in Ottawa. So far, Waiting for Vincent is the only painting Stein will never sell, as it's very special to her. It features a white dog who had chewed a slipper in Van Gogh's bedroom. It's not surprising that it's been a popular commission piece in which Stein paints the client's dogs misbehaving in the Dutch master's very serious iconic space. Stein is also working on a book with her business partner Lisa Lucas. "We've been working together for 12 years now," Stein explains. "She writes the stories and I illustrate them. We work neck and neck every step of the way." Stein and Lucas are embarking on a new adventure, a graphic novel that's different and more comical than what they've done before. eir other books include the award-winning Spectacularly Beautiful, based on a true story about a refugee. Another was When the Earth Shook, which Stein illustrated in pastel about the importance of Earth Day and caring for the environment. Despite Stein's strong convictions, bringing levity to the world is her first priority. "I just want to do fun things from now on," she says. "I don't want to do anything serious; I think we've all had enough of that." Initially, Stein thought parodying famous paintings would be easy. However, she's learned that the layers and colours prove a challenge and adding her own characters is her reward for completing the copy.
Page 31
An agency of the Government of OntarioUn organisme du gouvernement de l'Ontario
Page 32
30 UNIQUE MUSKOKA August 2022With an abundance of granite outcrops, elevation changes and heavily treed hinterland, Muskoka is a mountain bikers' paradise. Working to make that paradise accessible to as many people as possible, the Muskoka Off-Road Cycling Association (MORCA) act as stewards and promoters for two of the best used and most loved trails in the region.e Porcupine Ridge trail system and the Bracebridge Resource Management Centre (BRMC) trail system are both located within the limits of the town of Bracebridge and are both maintained by MORCA."Ten years in, I still pinch myself that I'm able to ride trails like these," says Scott Wilson, local resident and president of MORCA. Wilson and Roy Davies were instrumental in establishing MORCA, and the creation of the extensive mountain biking trail system at the BRMC, which is located off Highway 11, just north of High Falls. Wilson first became involved in the local mountain biking scene following a work transfer, 10 years ago."My wife and I considered several different locations but one stipulation I had was that it also needed to have good mountain biking," explains Wilson, who is a millwright with Ontario Power Generation. "I knew about Buckwallow and Porcupine Ridge, so we decided to move here."e Buckwallow Cycling Centre was located off the Gravenhurst Parkway but has subsequently closed. In the meantime, membership with MORCA has exploded, going from 150 members in 2020 to 250 in 2021."It's hard to say how much the closing of Buckwallow affected our membership. I'm sure it was partly due to that but it's also partly due to the pandemic and the overall increase in cycling," says Wilson.e trails at the BRMC offer a wide range of difficulty levels, while Porcupine Ridge is Article by Matt Driscoll / Photography by Tomasz SzumskiBiking trails at the Bracebridge Resource Management Centre range from the family-friendly Turtle Trot to the double black diamond Gnarnia, which has intense climbs, rock features and steep downhills.
Page 33
much less forgiving for the novice rider. e MORCA website succinctly sums up their description of the trails, which are located off Santa's Village Road, as follows: 'there are no easy trails, no easy way in and no easy way out, once you have started.'Wilson, who grew up in Georgetown and got his start mountain biking in the trail systems of Kelso and Hilton Falls Conservation Area, became a regular at Porcupine Ridge. But every time he drove north of Bracebridge on Highway 11, his mind began to fill with possibilities."I kept driving by the Resource Management Centre and seeing that rock cut, and how amazing that looked," Wilson says. "I kept thinking to myself 'why isn't anyone building trails in there'."at line of thinking led to the creation of MORCA, and the push to create a new trail system in the Resource Management Centre starting in 2018. While jumping through the hoops required to gain approval was no mean feat, Wilson says they were fortunate their proposal coincided with a new direction from the Town of Bracebridge to build more trails in the area. From there, it was a matter of plotting the trails and using GPS technology to formulate their layouts."ere was a lot of walking in the bush but, for us, it was all about the rock cut," Wilson shares. Wilson further explains that granite not only offers numerous natural obstacles but, once a trail is constructed, there is minimal maintenance required as rock does not wear down like a conventional dirt track.More than 40 MORCA volunteers worked on the project, contributing more than 1,100 hours to help co-ordinate trail routes, clear brush, prune trees, build bridges, design trail maps and solicit sponsors. ere are now more than a dozen trails mountain bikers can use at the BRMC, including a number that predate MORCA. e MORCA-designed trails range from the family-friendly Turtle Trot to the double black diamond Gnarnia, which has intense climbs, rock features and steep downhills.Ryan Smith is a volunteer and a frequent guest to the BRMC trails. Smith says MORCA considers him their "tech guy," and a significant part of his role with the organization is to use mapping software to pinpoint the existing The Muskoka O-Road Cycling Association aims to increase accessibility to quality mountain biking in Muskoka and also to advocate for mountain biking trails in the region. August 2022 UNIQUE MUSKOKA 31
Page 34
routes and help to maintain the website and the routes listed on it."e role of MORCA is really to increase accessibility to quality mountain biking in Muskoka and also to advocate for mountain biking trails," explains Smith. "Essentially we're trying to maintain what's here but we're always looking to see what more we can do."Smith says his entire family enjoys mountain biking, and his son competes in the Ontario Cup series. "It's amazing to have trails like this so close and accessible," Smith comments.Since the pandemic, Smith notes he's seen a huge increase in the number of people 32 UNIQUE MUSKOKA August 2022MORCA hosts trail riding outings every Monday, with a women's ride on Wednesdays and fat biking trips in the winter. Details of upcoming rides and events are updated regularly on their website. 705.765.0600 • Port Carlingwww.sifft.caECRA / ESA 7002295 • TSSA 000365522MUSKOKA • PARRY SOUNDYour Source For All Your Electrical, HVAC, Backup Power And Home Automation NeedsWhen a power outage strikes, SOMMERS RESIDENTIAL GENERATORSensure your home or cottage automatically stays powered onA full range of generators that can be custom built to suit your home or cottage's specific needs, so you'll always have standby power ready.
Page 35
mountain biking, and in particular the number of people using the BRMC. All of that increased traffic has direct economic spinoffs for Muskoka, as the area continues to grow its reputation as a destination for the sport.Wilson says on many occasions he's engaged in conversations with people at the BRMC who have said they're staying in the region for a few days to enjoy the trails, but also to stay at local hotels and eat in local restaurants. Keeping the trails in shape requires a great deal of work. at includes leaf blowing of the trails in the fall so they dry out more quickly in the spring. Volunteers also walk the trails regularly to make sure no trees or limbs have fallen across the travelled areas. In the winter, they use a machine called a Snow Dog, which they acquired through a grant from the District of Muskoka, to maintain the trails for fat bike use. Smith says the popularity of riding fat bikes has also taken off in the past few years as well."I do fat biking in the winter," says Smith. "e first time I saw people fat biking I Granite rock cuts within the trails oer numerous natural obstacles but also, once a trail is constructed, there is minimal maintenance required as rock does not wear down like a conventional dirt trackBATH & KITCHEN SHOWROOMDESIGN. INSTALLATION. REPAIRSERVING ALL OF MUSKOKA279 MANITOBA ST, BRACEBRIDGE705.645.2671KNOWLESPLUMBING.COM @MUSKOKABATHTHE RIOBEL MOMENTI™ COLLECTION AVAILABLE AT KNOWLES PLUMBING!279 Manitoba Street, Bracebridge 705.645.2671 @knowlesplumbing @knowlesplumbing @knowlesplumbingBATH & KITCHEN SHOWROOMSALES•INSTALLATION•REPAIRSERVING ALL OF MUSKOKAknowlesplumbing.comMuskoka's Bath & Plumbing CentreAugust 2022 UNIQUE MUSKOKA 33
Page 36
thought it actually looked pretty silly but then I tried it and it's a great activity."e BRMC is also heavily used by snowshoers and cross-country skiers during the winter months, but Smith says so far there has been a great level of co-operation between the different user groups. Wilson agrees and says the spirit of co-operation goes even further to include the many businesses that sponsor MORCA, which requires considerable funds every year to pay for insurance.MORCA now hosts trail riding outings at the BRMC every Monday, with a women's ride on Wednesdays and fat biking trips in the winter. Wilson says it's best to check out 34 UNIQUE MUSKOKA August 2022Since the pandemic, MORCA members have noticed a signicant increase in the number of people mountain biking and, in particular, the number of people using the Bracebridge Resource Management Centre trails.
Page 37
their website for specific information on the rides, as well as information on how to become a member."Obviously, I like mountain biking but trail building has become addictive," Wilson shares. "For me, the thrill is really watching other people enjoy these trails."ere are plans in the works to continue expanding the existing trail system at the BRMC, Wilson says. In the meantime, the group will continue their work ensuring Bracebridge is home to some of the best mountain biking experiences in the entire province.INTRODUCING KIATHEThe Sportage21 Robert Dollar Dr, Bracebridge, ON P1L 1P9705-645-6575MUSKOKA KIACycling trails require signicant upkeep, which MORCA manages with their dedicated volunteers. Over 40 volunteers contributed to bringing the 12 new trails to fruition. Members aim to continue expanding the trail systems already in existence.With a relaxed fit and classic detailing, your TOPO Designs clothing will feel like an old favorite from its first wear. TOPO Designs – durable, versatile, beautiful products that can be used around town, out on the trail and travelling the globe.28 MANITOBA STREET, BRACEBRIDGEAugust 2022 UNIQUE MUSKOKA 35
Page 38
36 UNIQUE MUSKOKA August 2022Article and Photography by Tim Du VernetBoat builders of Muskoka never produced boats in the numbers of their southern counterparts. As a result, Muskoka-built boats are prized throughout the continent for their unique character and limited quantities. Greavette Boats, out of Gravenhurst, came closest to becoming a production builder but the company's products are still considered rare. Becoming known for the dramatic curves of its Streamliner – Greavette's bullet design and fluid shaped riding lights were signatures. Ditchburn Boats were the most conservative in design, with straight, more subdued lines. Minett-Shields added flair here and there in a most elegant form. Eaglet II and similar long deck Minett-Shields launches of the mid to late 1920s demonstrate the preferred classic lines with subtle adornments.Despite the incomparable character of Muskoka watercrafts, there were variations on a theme. Caprice, a restored 1936 Minett-Shields runabout, is based on the standard 26-foot hull so she shares lines with contemporary
Page 39
forward drives. While a few boats display some of the features of Caprice, none have her transom. e history of the Minett family is deeply woven in the history of Muskoka, well beyond their contribution to the boat building industry. e history of Caprice's design is an evolution of tradition, taste and style. Minett Motor Boat Works was first established in Bracebridge in 1910. Minett-Shields Ltd. was formed in 1925 and continued operation until the late 1940s. e tremendous legacy of Minett boats has justified their appearance on several antique and classic boat show posters over the years, such as sisters Norwood II and Norwood III, among the earliest launches built by Bert Minett. So, where does Caprice fit in the evolution of Minett-Shields? Bert Minett worked with John Hacker, a renowned American mahogany pleasure craft builder. Hacker is famous for his many winning racing boats and one of the earliest designers to work with the concept of the planing hull. e lineage of Caprice's hull design has a strong connection to this American builder. By the 1930s, boating styles were drawing influence from the auto industry and the evolution of Art Deco design trends evolving in Europe and the U.S. Art Deco design features a "streamlined" look that is geometric, fluid and symmetrical. e 1930s Greavette Streamliner draws heavily from this philosophy of design. All this is to say that the boats of the 1930s look especially dramatic. Muskoka Lakes Association (MLA) Boat Show committee chairman and wooden boating show judge Rick Terry comments that Caprice would have looked very modern in her day.When reflecting on a formal term for the character of Caprice, Terry feels the term "custom" would best fit. She is a "runabout" in the technical sense, but her special transom cries out for a more descriptive term. Gary Clark, another MLA Boat show committee member and wooden boat builder, has used the term "torpedo." Perhaps she is best described as a "custom torpedo."e Minett-Shields style carries a notable set of design features, beginning with the hardware. e throttle is readily at hand in the left covering board. e steering wheel uses the banjo spokes to the wooden wheel. e engine vents' chrome louvers are coloured red and green. Chrome pieces, such as handles and scoop vents, are streamlined in shape to complement the flowing character of the boat. e rudder hatch is held in place with a Above: Jonathan Blair (right), drives the restored 1936 Minett-Shields runabout Caprice while his grandfather and the former owner, Alf Mortimer (le), enjoys the ride. Caprice is a one-of-a-kind antique boat. Top right: Restoration work addressed issues with her hull, as well as a number of details, including her agpole, which returned her to her former glory. August 2022 UNIQUE MUSKOKA 37
Page 40
38 UNIQUE MUSKOKA August 2022twist latch and two spring-loaded clamps. Terry explains that, in wooden boats, access to the rudder can be required when cables get fouled or something breaks in the steering and a tiller, tucked nearby, is used to steer the boat. Above the centre of the flush deck windscreen is the 9-mile ray spotlight in black with a bare metal rim. e seats are a conservative navy-blue leather with the elegant added touch of a finely crafted glove box in the dash area. Yellow putty deck pinstriping runs nearly from bow to stern. e boat riding lights are inset into the rounded, flowing wedge, reminiscent of a few very early Minett boats. To top it all off, the dash sports the Minett-Shields, Bracebridge plaque. Classic wooden boats take on a personality of their own and can even become members of the family. When a unique boat remains in a family for generations, it is especially significant. For the Blair/Mortimer family of Port Sandfield, Caprice is one such craft.For most of her life, Caprice was owned by Alf Mortimer. Now, she draws three generations of the family together. Mortimer gave Caprice to his grandson, Jonathan Blair, a number of years ago, to ensure her continued connection to the family. Owning the boat is deeply meaningful to Blair who reflects on the legacy of the boat as a family heirloom and his grandfather's long connection with the boat.Similar to the Minetts, the Mortimer name is well-established in the history of Muskoka with Eddie Mortimer and Sons at Mortimer's Point on Lake Muskoka and the Port Sandfield Marina, founded by Alf Mortimer, in 1952. Turning 99 years old in August, Mortimer has seen the many changes in Muskoka throughout his life. Boats like Caprice carry memories and the passion for antique and classic wooden boats through the ages. Mortimer acquired Caprice in a trade for a 16-foot fiberglass boat in the very early days of his business. e manifold had burnt out and it was one of the first boats he worked on. "I was tickled to get it," Mortimer says. Originally there were three boats in this design. While the first was a custom order, and Mortimer believes Caprice may have been the first, two others existed at one point. Mortimer recalls that one burned and the other was destroyed when the weight of snow crushed a boathouse roof. Caprice is the sole craft of her style. At the time Mortimer took the vessel, he did not have the opportunity to work on her. As a result, she sat in storage for many years. Muskoka-made antique wooden boats can be among the most challenging to restore because of the endless compound curves in the hull and deck. The "torpedo" transom of Caprice added even more challenge to the mix. The Minett-Shields style carries a notable set of design features. On Caprice those details include chrome pieces, streamlined in shape to complement the owing character of the boat, and yellow putty deck pinstriping running nearly from bow to stern.
Page 41
Seeing Caprice restored was a special goal of Blair's, so his grandfather would have the opportunity to see Caprice completed and back on the water. Truly, Blair wanted the restoration to be something they could enjoy together. e process of her restoration took an investment of several years. While the work-in-progress photos may look as though Caprice received an extensive restoration, Clark, whose shop did the work, remarks at how complete and intact she was. Clark notes her hull was in very good shape and her hardware was complete. Wooden boats of Muskoka can be among the most challenging to restore because of the endless compound curves in the hull and deck. e "torpedo" transom of Caprice added even more challenge to the mix. Mortimer remembers the restoration well and, while she was in good shape, Caprice's revival involved covering many details. Two new gas tanks were needed, all wiring was replaced with period correct material, and one of the gauges needed repair as did the flagpole. Blair and the team at Port Sandfield Marina looked after work beyond the hull, such as restoring the 150-horsepower straight 8-cylinder Chrysler Marine Royal twin carb engine. Mortimer noted this as a big, heavy engine. Caprice was formally launched just in time for the last MLA boat show before COVID ended summer events. For both Mortimer and Blair, it will be especially memorable to see their launch in action at the MLA Classic Boat Show in Port Carling this year. After all, Caprice is celebrated as the "poster" boat for the 2022 event. e MLA has presented bi-annual boat shows since the early 1970s and the organization is pleased to return to the event in 2022. e theme is Moving Forward and features a selection of beautiful 1930s boats, along with numerous other selections and exotica. On behalf of the committee, Terry explains that Caprice was chosen for the poster for several reasons. A key part of the MLA Boat Show mandate is also education and recognizing the heritage of wooden boating in Muskoka. Caprice checks all of these boxes. Furthermore, Caprice indirectly celebrates Mortimer's legacy in turning what was once a livery business into a thriving marina that continues to serve hundreds through his grandson, Blair. A first priority for selection is a boat that makes an impression; a boat freshly restored that the public would find especially dramatic. Caprice is immediately recognizable for her unique transom. e stern, aft end, trailing lines of Caprice bring a final flair to all the details that make a Minett-Shields special. At the end of the day, Mortimer remarks, "she is a damn good boat, with nice lines."e journey from weathered and decaying strips of wood to freshly installed new wood, which then gets stained and varnished, is a miracle of traditional craftsmanship. e end result of a restored classic boat is sparkling chrome that accents the deep richness of stained mahogany; irresistible in any era and to any walk of life. Despite being surrounded by all the latest modern boats on the water, Caprice is the jewel. Top: The dash of Caprice sports the Minett-Shields, Bracebridge plaque. Bottom: Her history, restoration and return to the waters of Lake Muskoka will be further celebrated at the MLA Antique Boat Show, as Caprice is the "poster" boat for the event. August 2022 UNIQUE MUSKOKA 39
Page 42
40 UNIQUE MUSKOKA August 2022In the culinary world, food truck owners are the mavericks, the refugees from the corporate world, the lone bikers in herds of sedans, the bold-colour artists. e world of hospitality already presents a challenging landscape and operating from a truck only increases the complexity. Food carts have been in operation for generations. eir evolution has developed as food truck culture, which is based on entirely mobile kitchens. In the late 2000s, as Article by K.M. WehrsteinPhotography by Josianne MasseauCheesus Murphy and the Grateful Bread, now located in Dwight, is owner Dawn Stead's ode to the Grateful Dead.
Page 43
the recession took hold, many chefs found themselves out of work with no new restaurants hiring. Food trucks presented a solution. At the time, trucks were cheap to buy, and easy to run. Plus, chefs already had all the requisite skills from working in a restaurant. Since then, regulations for food trucks may have increased, but no more so than a regular food and beverage establishment. "People used to think the cleanliness and hygiene were not up to par," says Samantha Kuryliak, co-owner with her husband, ibaut Bellenoue, of Frenchie's Crepe Truck. "But all food trucks – food refreshment vehicles, they're legally called – have to adhere to the same regulations as restaurants." Similarly, at-home kitchens used for commercial cooking or baking adhere to the same regulations. Delicious, innovative creations can come from an at-home commercial kitchen, too. Morgan Duff, owner and operator of Urban Jars Muskoka, provides an eco-friendly food delivery concept, based in Gravenhurst, from a growing Canadian company started in Stratford, Ontario.Born in Ottawa, Duff spent her youth working in kitchens before pursuing a degree in accounting. She worked in that field for six years before returning to her first career interest – hospitality. "I had been ordering jars while I was a new mom," Duff says. "I thought this is something that could be really great, here, in Muskoka." How does the service work? Select a menu for the week, ordering by noon on Tuesdays. e all-vegetarian foods are prepared fresh on ursday, placed in mason jars and delivered to your doorstep. Empty jars are returned the next week. "I cater to a lot of working pros who are always on the go," Duff says. "ey find it reduces their grocery bill because they're not throwing out as much that goes bad. It reduces waste in general because there is not as much packaging. And they like the convenience. It's nice to get so much positive feedback about how much easier it makes people's lives. I love it."Duff serves clients all over Muskoka and new items are continually added to the offerings, based on seasons and ideas. Breakfast and lunch jars are made ready to eat (or "just add egg" for some breakfasts), and dinner "skillets" can have meat added to them for cooking; snacks and desserts are also available. e fare draws from diverse cuisines including Mexican, Italian, Japanese, Korean, Indian, Chinese, Greek and Middle Eastern. What's the allure of the food truck? Diversity – the options of fare available at food trucks are endless. Tacos, fries, sandwiches, baked goods and street food, potentially found nowhere else in a region like Muskoka. Arlina Keough, owner of My Neighbour's Kitchen and Grill in Bracebridge, was born in Manila, the seventh of eight children. Her family moved to Windsor in 1972 when she was 10 years-old. "Not many Canadians even knew where the Philippines were," says Keough, operating the only Filipino eatery currently in Muskoka. "In school, everybody was having their baloney sandwiches and I was having adobo."Keough worked in a Bay Street skyscraper for about 30 years until she took early retirement and moved to Gravenhurst with her husband in 2015. All along she took after her mother in loving to cook. Neighbours would come over to eat what she cooked; hence the name of her truck, which she began operating in 2019. Sandwiches at Cheesus Murphy continue to increase in popularity, especially with names like Sweet Cheesus and Lard Tunderin' Cheesus.Frenchie's Crepe Truck in Huntsville oers Parisian-style crepes, cooked on creperies imported from France, with sweet or savoury llings.August 2022 UNIQUE MUSKOKA 41
Page 44
42 UNIQUE MUSKOKA August 2022rewiring • alterations • heatingNEVER be left in the DARK or COLD:Call Mike Morrow705.765.3195get a quality home standby generator by GENERACwww.morrow-electric.comServing Muskoka Lakes since 1952 ESA License #: 7000286"Because I have this truck, I can cook again," exclaims Keough.Filipino food is oriental, but not like Chinese or Japanese cuisine, or any other for that matter. Its essence defies description, except there is an unmistakable warmth of flavour to it. Keough cooks up Canadian food too, and one fusional treat: poutine topped with one of three delicious Filipino options. Personal touches and an expression of individuality are the hallmarks of beloved restaurants across Muskoka. Food trucks and those offering pickup or on-the-go prepared meal options are no different. Cheesus Murphy and the Grateful Bread wears its mavericity on the outside, starting with a paint job that makes it look like a giant brick of Swiss cheese with tires. eir individuality continues with dish names like the 4:20 Burger, Sweet Cheesus, Baby Cheesus Urban Jars Muskoka, owned and operated by Morgan Du, oers subscription-style prepared all-vegetarian meals. Prepared fresh weekly and delivered to your home or workplace, Urban Jars provides an innovative, eco-friendly option for those on-the-go. 28 MANITOBA STREET, BRACEBRIDGE 705-637-0204A TRULY MUSKOKA GIFTCoasters, Bracelets and Zippered Linen Bags featuring a vintage Muskoka map designAVAILABLE ONLY AT
Page 45
and Lard Tunderin' Cheesus. Classic rock music is always playing."e whole idea was a play on the Grateful Dead," says owner Dawn Stead. "We sat down over the course of a few evenings over adult beverages, then later toned it down to something publicly acceptable." Stead's sister did talk her out of calling the truck "Jesus Murphy," noting there are five churches in Baysville, its original home. Originally from Cookstown, Stead has lived 30 years in Huntsville and is a chef by trade, having worked in restaurants and resorts all her life. A friend found the trailer, parked at a gas station in Baysville, and her husband Tom gutted it. It is now equipped with three freezers, a deep fryer, two panini presses, and more. Why a food truck? "I like doing my own thing," shares Stead. "I really, really enjoy this."Now in its eighth year, Stead was forced to relocate the food truck when the gas station in Baysville changed owners. Cheesus Murphy has now found a new home in Dwight, near the LCBO. "ere are people I will never see again," Stead predicts – but true Cheesus freaks will make the drive. Similarly, this year Frenchie's moved from their traditional riverside spot near downtown Huntsville to the waterfront at Deerhurst Resort, and thus has become an alcoholic refreshment vehicle, too. Frenchie's offers Parisian-style crepes; the recipe is Bellenoue's grandmother's, slightly modified, and they're cooked on creperies imported from France. Diners can select savoury fillings such as smoked salmon with hollandaise sauce or honey garlic chicken, and sweet ones such as maple syrup. Originally from Toronto, Kuryliak started working in kitchens at the age of 15, became a trained chef and then switched to baking. Bellenoue, who was born near Paris, was already a professional baker, and they met as colleagues in a French-style bakery in British Columbia. After two years in Toronto, they moved to Muskoka in 2017. Kuryliak was familiar with the area from cottaging as a child and from working as a seasonal corporate trainer. "I loved the area, he had never experienced it," Kuryliak reminisces. "We gave it a try and fell in love with Huntsville."After building a kitchen to commercial standards in their home in spring 2020, the couple began offering baked goods including danishes, twists, turnovers, pies, quiches and three-days-in-the-making croissants. As expected in this highly weather-dependent business, the truck shuts down in winter, but Arlina Keough, owner of My Neighbour's Kitchen and Grill in Bracebridge, operates the only Filipino eatery currently in Muskoka. She blends childhood favourites and Canadian cuisine from her food truck.The idea for Taco Stop in Huntsville came about when owners Melanie Levert and Kurt Musselman visited a similar operation while on vacation in Costa Rica. August 2022 UNIQUE MUSKOKA 43
Page 46
44 UNIQUE MUSKOKA August 2022loyal customers can still pick up baked goods in Huntsville. Unlike Frenchie's, Taco Stop has not left the aforementioned riverside spot in Huntsville but it does capitalize on its owners long careers in hospitality. Owners Melanie Levert and Kurt Musselman, born in King City and St. Catharines, respectively, have worked in resorts across Muskoka, such as Deerhurst, Sherwood Inn and Rocky Crest Golf Club. "I think because we'd done the corporate thing for so long, it was nice not to be bound by those restrictions," shares Levert. "It was nice to be working for ourselves. We'd never worked this hard ever, but it's more fulfilling."While vacationing in Costa Rica nine years ago, they were struck with inspiration. ey met a man from Idaho who had opened a taco bar there with its name "Taco Stop" emblazoned on a standard red octagon, like a stop sign. "ere was nothing like that in Huntsville at the time," Levert says. "We figured, if he can do that, we can do that, with our tons of experience dealing with people and food."While on-the-go food options may seem to target specific cuisines, their charm lies in the fusion of classic menu items and unique ingredients. While traditional restaurants rely on favourite dishes to build repeat clientele, mobile food vendors can maintain creative offerings, trying new dishes and adapting favourites over the years. As the longest-existing and possibly most popular food truck in Muskoka, Shelby's Chipwagon in Gravenhurst understands building a following. Slinging classics from its window since 1998, Shelby's has racked up awards, been featured on Vinyl Cafe and been visited by celebs including Sarah McLachlan and Megan Follows.Success could all be because food-on-wheels is in owner Sherry Martin's blood; her father operated hot-dog carts. Born in Scarborough to a Muskoka-cottaging family, Martin moved to Gravenhurst as a six-year-old. After managing a sports bar then losing the job to a change of ownership – and having just bought a house – she learned the chip truck was for sale. "We decided to take a leap," Martin explains. e truck was renamed after her daughter Shelby, then four years-old. Now a young woman, Shelby has found she enjoys working there. ey have second-generation customers now, too."We've always tried to cater to everyone," says Martin. "Fries, poutines, burgers… steak in a bun is huge. We also offer incredibly generous sizes, which are great for families." As well as updating the colour scheme now and then – the current striking pink and black is eight years old – Martin adds a new menu item every year. Classics with a twist keep diners returning. Found in unique spaces, offering flavourful dishes, food-on-the-go in Muskoka can be a delightful journey for the tastebuds. No reservations required. Bon appetit, mavericks!While on-the-go food options may seem to target specic cuisines, their charm lies in the fusion of classic menu items and unique ingredients. Shelby's Chipwagon in Gravenhurst, owned by Sherry Martin and named for her daughter, is the longest-existing and possibly most popular food truck in Muskoka, slinging classics from its window since 1998.
Page 47
Serving Muskoka and area for 35 yearsDIVERSE SELECTION OF PRODUCTS TRADITIONAL AND CONTEMPORARY DESIGNSKNOWLEDGEABLE STAFF TO ASSIST YOU WITH BEST SELECTIONS, WORKING ALONGSIDE YOUR ARCHITECTS, DESIGNERS AND BUILDERS ON YOUR NEW OR RENOVATION PROJECTSsales@windowworksmuskoka.net2358 HWY #11, RR#1 GRAVENHURST, ONTARIO705-687-76171-800-668-9858www.windowworksmuskoka.net~ Muskoka ~Authorized Dealer
Page 48
46 UNIQUE MUSKOKA August 2022Article by J. Patrick BoyerWhen Prime Minister Wilfrid Laurier declared "e 20th Century will belong to Canada!" he burnished a confident spirit of nationhood. In response, public buildings across the country began to embody newfound grandeur and Muskoka was no exception.William Wright, Muskoka's member of parliament at the time, was at the vanguard of building for a Canadian future, supporting new wharfs at Gravenhurst, Bracebridge, Huntsville, Baysville and Port Carling. e idea of a dedicated public building for postal service, rather than just the postmaster's own premises, had also taken hold. In 1914, a truly imposing federal building was under construction in Bracebridge to house a post office, Canada customs office and armoury for military purposes. Bracebridge's council, keen to increase the town's gravitas as District capital, wrote to Wright urging him to ask Ottawa to add a clock to the multi-purpose building. "A fine clock," Wright promptly replied, "has already been provided for." In fact, Wright had lined up post office buildings for three Muskoka towns. In Huntsville, on land acquired in February 1914, the federal government provided $20,000 for construction. In 1913 for Gravenhurst, the federal government bought a prime site on the northwest corner of Muskoka and Bay streets. However, that August a global war of empires derailed colonial Canada. Early casualties were these government buildings in Gravenhurst and Huntsville. Photograph: Muskoka Heritage Place Collection, Huntsville, Ontario
Page 49
In Bracebridge, construction was so advanced at the onset of the war that, with Wright's urging, Ottawa pressed on to complete the local building. For a post office with a clock tower, the site was ideal. e busy southeast corner of Manitoba and omas streets (now Taylor Rd.) had been dominated by Whitten's Hardware Store. But following a fire in December 1908 that devastated not only Whitten's but the adjacent Hunt Block, the land remained vacant for six years. e federal government bought the property from John McCosh and in 1914 contractors began. e Dominion Building, as it was called, was designed by architect David Ewart, who had designed similarly attractive buildings across Canada. Encapsulating the pre-war ethos of prosperity and confidence, no effort or cost was spared. e limestone blocks were cut and carved in distant Scotland, then numbered and shipped to Canada as ballast in an empty returning munitions ship in 1915. e $30,000 structure was completed in late 1915, standing 45-feet above Manitoba Street, the clock tower a further 30-feet above that. e clock for the tower, like the limestone, came from Britain. It was built in 1914 at Whitchurch, England, by J.B. Joyce & Co. Upon its arrival in Bracebridge, J.H. Elliott, a trained watchmaker and downtown merchant, installed the large timepiece. e four dials – facing north, south, east, and west – were each backlit by electric bulbs for night. In the room below these clock faces, the clock's custodian regularly hand-cranked 200 pounds of iron fastened to cables up the 40-foot shaft from the bottom of the tower. Although vastly larger, this mechanical clock runs on the same principle as a grandfather clock. e weighted chains provide the gravity pull that turns the wheels, moves gear mechanisms, and advances the clock's minute and hour hands. Each dial is 4½ feet in diameter, its minute hand 2½ feet long, and the hour hand 12 inches shorter. e weights and gears that turn these eight synchronized clock hands also ring the 800-pound bell, housed in a higher separate chamber, the number of rings counting out each successive hour. e clock tower building distinctly defined the town's status as Bracebridge's council in 1914 had hoped. Despite the clock's operation and presence being a long-coveted defining feature of the town, the work and costs for maintenance and accuracy were left Photographed in 1967 for the centennial of Confederation, Huntsville's handsome town hall and its special clock was a dening feature of the community and continues to be today.
Page 50
"If you truly love nature, you will find beauty everywhere."– Laura Ingalls WilderConserving Nature in Muskoka. Join us today.A registered charity.
Page 51
on the shoulders of a private citizen. In 1959, Bracebridge's post office relocated from its handsome red brick edifice into a clockless greystone structure further up the street. Local citizen John Burton submitted a lowball bid for the abandoned post office building. Burton was stunned to receive word the heritage building was his. He'd been the only bidder.By 1985 the building needed extensive repairs. John Burton's son, Bob, now operating the facility, obtained $25,000 from Ontario's Ministry of Culture in exchange for granting a heritage easement on the building's exterior. Bringing the building under protection of the Ontario Heritage Act covered slightly less than one-third of the $80,000 restoration, completed by Ontario Restoration Limited of Brantford. A decade later, Muskoka Heritage Foundation recognized the Burton Family's stewardship of the old post office building with its "Muskoka Built Heritage" award.Transition to new ownership came in 2015 when Martin Sheffield, a jeweller and gemologist by trade and horologist by interest, acquired the old post office. Sheffield, a seasonal Muskokan with a Lake Joseph summer home, was devoted to clock-craft and the unique value of history's artifacts. Becoming owner of Bracebridge's largest clock, Sheffield said "I bought the building with a vision of preserving its beautiful architecture and of preserving the rare, historical clock itself." After getting the town clock working again, Sheffield paid a professional clockmaker to maintain its operation. Huntsville's town clock came much more slowly but timing can be everything. e two decades spent planning Huntsville's Main Street town hall, a clean-lined structure capped by a businesslike clock, was complicated by local and national government joint planning and an overriding world war. Meetings beyond count debated which combination of government services should be housed in it. Once that was resolved, differences erupted over the best location and construction. Some envisaged a prestigious clock atop, while others contended that a standard pole and flag would be just fine. e compromise was to allow space for a clock, but defer its installation. Huntsville was experiencing Muskoka's first major "co-location" experiment – putting a variety of different government agencies in a single building. e town hall would house three Government of Canada functions – post office, customs office and armoury – plus the municipality's council chamber, police office, lock-up, courtroom, fire hall, a public auditorium (for plays, dances and political meetings), a firemen's room and the caretaker's living quarters. Without the federal funds, the building would not have been affordable. As it was, the Town still needed to issue debentures for $68,250 that taxpayers had to approve by referendum and then pay off in 30 years. Because public aspirations for fine public buildings ran high, the ballot question was approved February 22, 1926, by a vote of 241 to 10. en, when plans by Toronto architects James Ellis and Franklin Belfry were finally approved, unexpected delays extended construction. Since the 1890s, the chosen site had been a graveyard and manse behind Huntsville's Methodist Church (now a United Church). Workers excavating the With miraculous timing, the venerable 1870 clock in the mid-tower of Toronto's old Union Station became available just when Huntsville had need of it. The inner workings of Huntsville's 1870s Howard clock show (top le) the upward sha's gear wheel turning the four rods leading to the clock dials where they imperceptibly turn the hands on the exterior. Photograph: City of Toronto ArchivesPhotograph: Terry SmithAugust 2022 UNIQUE MUSKOKA 49
Page 52
50 UNIQUE MUSKOKA August 2022foundations discovered that not all mortal remains had been reinterred in the newly opened Locks Cemetery along Brunel Road. By August 3, amidst the 1926 Old Home Week festivities, the building's cornerstone was officially pronounced "well and truly laid" by none other than Canada's Prime Minister Mackenzie King and Ontario's Premier Howard Ferguson. Both politicians arrived to bless the town hall's long-delayed beginning, then remained for coveted vacations. Huntsville's mayor and Forester publisher Harmon Rice declared the building "the only one of this type in the Dominion of Canada." Again deploying Muskoka's magic, the nearly-complete structure was officially opened in peak summer – Dominion Day, 1927 – as the high-point of Huntsville's exuberant July 1 patriotic festivities. Proud locals could gaze from east, west, north, or south to savour the inescapable evidence of municipal progress embodied by the imposing red-brick structure. Yet from any direction, as eyes fell upon the clock tower, a blank circle was seen as its most dominant feature. Harmon Rice, at the centre of everything, got word that a clock in Toronto might solve the crisis. On August 17, 1927, demolition of the old Union Station building in Toronto began with careful dismantling and removal of the clock's mechanisms and four dials from its centre tower – news of which had reached Harmon Rice. If a world war, railway competition, and city councillors stalemating with rail companies' lawyers had not combined to delay demolition for so many years, the treasured clock, built in Boston by E. Howard & Co. around 1870, would have been disposed of long before Huntsville ever had need of it.Huntsville council asked jeweller and watch-maker Edward Hugh Briggs to go down to Toronto and investigate the clock's size and suitability for relocation. Briggs was accompanied by councillor Tom Millest, representing the town, and municipal engineer George Ralston, to assist with the assessment. Finding the clock a dream come true, Briggs supervised crating its working parts for secure shipment north in a freight car, and carried aboard personally its more delicate components.A published Toronto account states the clock was "later given to the town of Huntsville." In reality, the transfer was not "later" but right away, and Huntsville's civic-minded lumberman and resort-owner, Charles E. Paget, ponied-up hard cash for the heritage clock. Upon their jubilant return to Huntsville, installation of the clock required particular finesse. Briggs reconstructed its damaged and worn parts – including the hands, dials, and other moving parts – using special tools built to his specifications. is clock, like the one in Bracebridge, operated mechanically, its motive power provided by weights. ey were suspended on a cable, and had to balance precisely with the task to be performed. To get this right, Briggs's sons Harold and Edward kept adding pieces of old car crankshafts to increase the weight to 1,800 pounds. By mid-morning on Tuesday, October 11, 1927, an immense throng formed around the town hall. At precisely 11 o'clock, watch-maker Briggs, positioned inside the clock tower, started the pendulum swinging. A couple moments later, a cheer erupted below when it became clear the minute hands, synchronized for all faces of the clock, had actually begun moving. In Gravenhurst, where the federal government bought a prime location on the northwest corner of Muskoka Road and Bay Street in 1913, construction of the post office only began in 1925. Brantford's Schultz Brothers completed the red-brick building for an official opening on July 5, 1926. However, there was no clock atop the building, nor even a tower waiting for one. Only a modest flagpole on a flat roof. With pressure and persuasion, a contract was let in 1931 to add a second storey for essential offices and a town clock. A straight timekeeper with no bell, the modern clock was powered by a General Electric motor. Requiring far less maintenance than a mechanical clock run by a pendulum, weights and the force of gravity, it operated with scant attention for decades. Gravenhurst Archivist Judy Humphries today chuckles to recall how, when she first arrived in town to teach high school, all four dials told different times of day. e post office, ultimately responsible for the clock's operation, intermittently ordered inspections when complaints about its flawed working reached a crescendo. After several attempts over the years, John Scott, arrived from Hamilton with an impressive record of restored clocks to his credit.The rst Dominion of Canada building in Muskoka was constructed in 1914 to house the Bracebridge Post Oce, Canada Customs Oce, and Armoury (at rear). Its clock and bell, built in England, were installed in the tower by Bracebridge watchmaker J.H. Elliott. Photograph: Boyer Family Archives
Page 53
Celect® CellularComposite Sidingurges you to demand all of it:seamless beauty, weatherdeance, maintenance freedomand unlimited home designpossibilities.Begging the age old question...why compromise?The nishing touch is in the siding.You've taken the time and care necessary to buy or design your home with the perfectlayout and style to suit your needs. From the kitchen cabinets to the furniture andwindow treatments, you've thought of every detail. But what if you could give your homeeven more style, elegance and quality than you imagined? That's where we come in.SERVING MUSKOKA, PARRY SOUND & HALIBURTON REGIONS SINCE 1976Embrace Your Exterior!Supply • Install • Cash & CarrySiding • Roong • Soft • Fascia • Decking • Eavestrough • Gutter Protection1-800-732-0158 • 705-645-8404norstarexteriors.com
Page 54
52 UNIQUE MUSKOKA August 2022When Scott examined Gravenhurst's clock he carefully dismantled parts to be replaced, such as a beveled gear cluster. en he wrapped and labeled them, leaving them on site as is his practice so in future, if needed, they'd be available in a new application. His meticulous methods next led to replacement of needed parts, either purchased from spare-part stocks or that he fabricated. en, Scott incorporated modern components, one being an antenna to take GPS readings from satellites. For Gravenhurst's now-synchronized GPS clock, the antenna's motor only activates a slight impulse a couple times a day to ask the satellite atomic clocks for data. is is done automatically, with no human maintenance required to keep perfect time.While their ownership and operation may have changed, the town clocks in Bracebridge, Huntsville and Gravenhurst continue to mark the passing of time. More than that, they are an ode to all clock-makers and custodians of time-bound experience, offering a moment to be grateful for them all as the clock strikes the hour. The Gravenhurst Post Oce to be built in 1914 was delayed by the Great War. In 1926, this clockless one-storey structure was ocially opened. By the 1930s, a second storey added needed oces and the desired town clock.Photograph: Claude Snider / Gravenhurst Historical Committee705-646-2508excelrailings.ca
Page 55
OntarioCottageRentals.cominfo@ontariocottagerentals.com1-877-788-1809 Find UsWe have a variety of waterfront cottages, condos and cabins perfect for spring, summer, fall and winter. Let us match your family with the ideal holiday cottage or cabin rental for your next family vacation!MUSKOKA | NEAR NORTH | GEORGIAN BAY | PARRY SOUND | HALIBURTON | KAWARTHAS | ORILLIACONSIDERING RENTING YOUR COTTAGE? LET'S CONNECT. Call us toll free at 1-877-788-1809 or e-mail us at sales@ontariocottagerentals.comYour vacation begins hereOCR Ad_UM_(8.375x10.875).indd 1 2019-04-08 2:29:40 PM
Page 56
54 UNIQUE MUSKOKA August 2022Lake trout, bass, northern pike, walleye and myriad other species of fish can be found in Muskoka's waterways. However, where and when to find them is a question that has perplexed anglers for generations.While no one can lay claim to a guaranteed method, there are some in Muskoka who have a proven track record of landing more fish than most. Now they're ready to pass on a few of the secrets to their success."ere's a saying that 90 per cent of the fish can be found in 10 per cent of the water, and that's especially true here in Muskoka," says Garrett Green, who operates Muskoka Guided Fishing Tours, along with Dave Rochette. Few people understand better than Green what's going on underneath the surface of the water in Muskoka. An avid fisherman since his parents purchased a cottage on Article by Matt Driscoll / Photography by Andy Zeltkalns
Page 57
Balsam Lake in Kawartha Lakes during his childhood years, Green went on to obtain a Fish and Wildlife Technician diploma from Sir Sandford Fleming College. A tournament fisherman across North America, Green moved to Muskoka in 1995 and has been fishing the region and guiding ever since.ere's a common misperception in Muskoka that the popularity of the lakes translates into fewer fish in the water. Green disagrees and has the track record to prove it. "ere's plenty of fish out there," Green says. "I don't know if five per cent of the people who live on the lakes are fishing regularly. We catch fish every time we go out. Of course, the number of fish depends on when and where we go out."Catching fish regularly in Muskoka takes time, patience and research, says Green."We've worked for thousands of hours to find these spots and master these techniques," Green shares. "You can have someone show you how to fish but there's nothing that's more important than time Garrett Green, who operates Muskoka Guided Fishing Tours along with Dave Rochette, says catching sh regularly in Muskoka takes time, patience and research but there are plenty of sh out there. August 2022 UNIQUE MUSKOKA 55
Page 58
Page 59
spent on the water."e majority of Green's charters take place on the big three lakes – Muskoka, Rosseau and Joseph – but they will sometimes venture further afield to Lake of Bays, Peninsula and Fairy Lake. Sometimes they even visit the Victoria Harbour area of Georgian Bay, depending on where their clients are based.ere are some shallower lakes in Muskoka, such as ree Mile Lake, where Green says bass and walleye abound and can typically be found in the vicinity of weed beds. However, the primary difference Green finds between the lakes around Muskoka and the lakes to the south are the local lakes are typically much deeper. For deeper lakes, like Lake Muskoka, it's best to search for humps under the water which push bait fish up towards the surface where they can then be eaten by the larger sport fish. e ideal spot for any of the local lakes, explains Green, is near the mouth of a riverbed where all different types of aquatic wildlife tend to congregate. "You can find the entire food chain at the mouth of the Muskoka River," says Green.Fishing Lake Rosseau or Lake Joseph can be challenging as the fish there, bass in particular, are always on the move chasing smaller bait fish. To help zero in, Green uses a unique, and decidedly old-school, technique."ere's a spot on Lake Joe where I can look out over the water and see if there are any seagulls," he says. "I know if there are a number of seagulls, then there are fish there because the bass are chasing the bait fish to the surface and the seagulls are going after them."e most seasoned charter captain in Muskoka is undoubtedly Michael Bertelsen, who has spent the past 34 years teaching anglers the tips and tricks of successful fishing in the region. In fact, Bertelsen has been at it so long that he has now added his sons Leif and Erik as fellow guides to his Huntsville-based Captain Action Charters.Bertelsen got his start working with charter fishing boats in the Florida Keys in his younger years, before deciding the same models might be successful in Muskoka. Bertelsen says guiding has become more challenging as fishing pressure in Muskoka has increased over the past decade, not to mention the ever-increasing cost of fuel. Nonetheless, he says there are plenty of fish to be had in the area if you know where to look. Like Green, Bertelsen spends the majority of his time guiding on the big three lakes."If you really want good fishing, then it's better to look for the less populated lakes but for me it's extremely important to know the lakes I'm fishing and where to find fish there at different times of the year," Bertelsen says.To find that level of understanding, Bertelsen says you need to fish a lake at least 30 or 40 times a season, as the variety and quantity of the fish change with the Michael Bertelsen (le), who runs Captain Action Charters, is undoubtedly the most seasoned charter captain in Muskoka. He's spent the past 34 years teaching anglers, like his client Jake Sherk (right), the tips and tricks of successful shing in the region. Fishing is about much more than luck. Location, time of year, time of day, season and the right gear can all play a factor. Knowing the area of the lake you're on can make a dierence as well. August 2022 UNIQUE MUSKOKA 57
Page 60
2022 SUMMER PERFORMANCEShuntsvillefestival.ca | Box Office 705.789.4975SCAN TO CHECK OUT THE LINE UP!...AND MORE CONCERTS AND EVENTS THIS FALL!August 4 • Dan Mangan Two-time JUNO Award winning & two-time Polaris Music Prize listed musician and songwriter. Joining him is special guest Georgia Harmer.August 5 • Tynomi Banks Full blown Drag Show featuringdance, song and comedy from Tynomi Banks and fellow queens!August 6 • The Men Behind the Music: Beatles EditionLive musical documentary - weaves together over 300 stunning projections, 20 live songs and fascinating behind-the-scenes storiesAugust 7 • Crystal ShawandaPowerhouse voice sings the blues in partnership with the Etwell Concert SeriesAugust 10 • Kathleen Edwards Celebrated singer-songwriter August 11 • Iskwē | ᐃᐢᑫᐧᐤ & Tom Wilson Indigenous folk duoAugust 12 • Toronto All-Star Big Band Spirit, style and sounds of the 30's, 40's and 50's - that golden age of the big bands.August 13 • Tyler Joe Miller Rising country starAugust 14 • The Huntsville String Quartet Classical musicAugust 19 • The Last Waltz Celebrate the music of The BandSeptember 15 • Tom Cochrane with Red RiderFolk-based singer, songwriter with a 40 year career, the pride of Lynn Lake comes to Deerhurst!HFAUniqueMuskokaAugust2022.qxp_Layout 1 2022-07-04 10:50 AM Page 1
Page 61
Understanding dierent lures, including which types work best with which sh and the proper technique for using each lure, is vital to catching sh.temperature of the water.Bertelsen says he is primarily looking for northern pike along with small and largemouth bass, because they tend to put up a better fight and are more fun to fish than other species like lake trout or walleye."People always think you need to go fishing at daybreak but it's all about water temperature and time of day," Bertelsen explains. "For instance, smallmouth bass are all about eyesight. You could go at noon on a sunny day and catch them."By contrast, northern pike prefer cooler temperatures which means they're easier to catch earlier in the season, or deeper in the lakes as the season goes on."Pike generally prefer overcast conditions but in the early spring, they prefer the sun to warm themselves up," Bertelsen says. "Fish are cold-blooded animals, just like reptiles, and they need sunlight to warm themselves up. ey have an optimal temperature which makes them more aggressive and energetic, but if their temperature falls outside of that range, they can become lethargic and you won't catch anything."Understanding different lures, including which types work best with which fish and the proper technique for using each lure, is vital to catching fish."e Rapala husky jerk is one of my favourites but you have to know how to work it or you might as well go cast in your living room," Bertelsen says.It's also important to remember that fish like pike and walleye favour low light. While that obviously means overcast days are preferable to sunny, Bertelsen further explains that windy days are also included as the waves break up the sunlight and diminish the light below the surface.Zoe Onley admittedly doesn't have the guiding pedigree of some of her fellow Muskoka anglers but her passion for fishing runs as deep as anyone on the water."When I was a kid, we had a cottage in Huntsville on Oxbow Lake and we would fish every single morning in the summer," says Onley. "I would grab a bag of Cheerios and a pack and I would go out for the day fishing with my dad and my sister."Onley prefers a more throwback style of fishing, paddling and portaging to reach Zoe Onley (le) feels the key is to have fun, like her friend Dallas Moller (right), regardless of what you're shing for or where you do it.2022 SUMMER PERFORMANCEShuntsvillefestival.ca | Box Office 705.789.4975SCAN TO CHECK OUT THE LINE UP!...AND MORE CONCERTS AND EVENTS THIS FALL!August 4 • Dan Mangan Two-time JUNO Award winning & two-time Polaris Music Prize listed musician and songwriter. Joining him is special guest Georgia Harmer.August 5 • Tynomi Banks Full blown Drag Show featuringdance, song and comedy from Tynomi Banks and fellow queens!August 6 • The Men Behind the Music: Beatles EditionLive musical documentary - weaves together over 300 stunning projections, 20 live songs and fascinating behind-the-scenes storiesAugust 7 • Crystal ShawandaPowerhouse voice sings the blues in partnership with the Etwell Concert SeriesAugust 10 • Kathleen Edwards Celebrated singer-songwriter August 11 • Iskwē | ᐃᐢᑫᐧᐤ & Tom Wilson Indigenous folk duoAugust 12 • Toronto All-Star Big Band Spirit, style and sounds of the 30's, 40's and 50's - that golden age of the big bands.August 13 • Tyler Joe Miller Rising country starAugust 14 • The Huntsville String Quartet Classical musicAugust 19 • The Last Waltz Celebrate the music of The BandSeptember 15 • Tom Cochrane with Red RiderFolk-based singer, songwriter with a 40 year career, the pride of Lynn Lake comes to Deerhurst!HFAUniqueMuskokaAugust2022.qxp_Layout 1 2022-07-04 10:50 AM Page 1August 2022 UNIQUE MUSKOKA 59
Page 62
60 UNIQUE MUSKOKA August 2022backcountry sites. ose willing to do their research, like determining the whereabouts of stocked lakes in the area, can be rewarded with a once-in-a-lifetime fishing experience."One of my favourite experiences was a few years ago when my boyfriend and I went into Algonquin Park backcountry camping, looking for a specific stocked lake," Onley shares. "It was very difficult to find and had a portage that was obviously not very well-travelled and that really sparked our interest. Once we got there, we caught lake trout after lake trout. It was a really incredible experience."Regardless of what you're fishing for or where you do it, Onley feels the key is to have fun. "It's the adventure. It's the suspense," she says. Whether it's a Sunday afternoon on the dock or a daybreak charter in hopes of catching the big one, there's no shortage of action waiting just under the surface of Muskoka's lakes and rivers.Onley prefers a more throwback style of shing, paddling and portaging to reach backcountry sites. Research and venturing outside of the "usual" shing spots can provide a once-in-a-lifetime shing experience.Hospice MuskokaDONATE TODAY www.hospicemuskoka.com/donateDying with Dignity and in Comfort is Everyone's RightYOUR WILL IS POWERFULHelp Us Help Others with a charitable gift in your Will, while still supporting those you love.The truth is, you could be using your Will to do a lot more. You can take care of your family while making a big difference for the causes you care about! To learn more visit www.willpower.caConsider Supporting Hospice Muskoka in your Will.Every dollar raised stays in South and West Muskoka and supports the programs and services of Hospice Muskoka and Andy's House. We are thankful to each and every donor for your generosity, for investing in our communities, and for considering Hospice Muskoka as your charity of choice.
Page 63
CUSTOM HOMES & COTTAGES FOR OVER 45 YEARSFor over 45 years, Tech Home has helpedclients realize their vision of a beautiful &uniquely personal custom home.We build to the highest standards of quality atthe most aff ordable pricing in cottage country.Visit our Gravenhurst Model Home or Toronto Design Centre, & we'll bring your dream to life.GRAVENHURST MODEL HOME2278 Hwy 11N.| Gravenhurst, ON | P1P 1R11.888.417.8761GREATER TORONTO AREA DESIGN CENTRE130 Konrad Cres, Unit #18 | Markham, ON | L3R 0G5905.479.9013SERVING MUSKOKA / GEORGIAN BAY / HALIBURTON1-888-417-8761 www.techhomeltd.comIT'S YOUR DREAM. WE BRING IT TO LIFE.THANK YOU Frontline Workers...we appreciate all that you do!
Page 64
62 UNIQUE MUSKOKA August 2022Whats HappenedAntique boat show returns to Port Carlinge classic beauties of Muskoka's waterways will be back on display on August 13. After a hiatus due to COVID, the Muskoka Lakes Association (MLA) boat show is returning to the water.e MLA Antique Boat Show has been running since 1971 and is designed as a showcase and a tribute to Muskoka's boat-building heritage. Fittingly, the theme this year is Moving Forward and the show will feature a selection of vintage watercraft from the 1930s. As per the MLA, 1930 was a pivotal year in the world of boat building. In Muskoka, the heritage of long deck launches with vertical windshields and a steering station located midship and behind the engine hatches gave way to forward drive configurations with steering ahead of the engine and behind stylishly sloping windshields. e poster watercraft for this year's boat show is the Caprice, a unique 26-foot triple cockpit Minett-Shields built in 1936 and featured at the New York boat show in the same year. Guests can expect the show to demonstrate the evolution of Muskoka boat building beginning from the 1800s. ere will also be a display of vintage outboard motors as well as live music.e show runs from 10 a.m. until 4 p.m. at the Port Carling locks and James Bartleman Island and admission is free.New MPP Graydon Smithjoins Ontario CabinetParry Sound-Muskoka's newly elected member of provincial parliament (MPP) will be holding a prominent position in Premier Doug Ford's new cabinet. During a recent ceremony at Queen's Park in Toronto, Graydon Smith was named the Minister of Natural Resources and Forestry. During the provincial election at the start of June, Smith was elected MPP for the first time.Smith's role as the Minister of Natural Resources and Forestry is seen as one of the key positions in the cabinet. e ministry, which is headquartered in Peterborough, is responsible for sustainably managing Ontario's fish and wildlife resources. As part of its land and water management mandate, the ministry looks after Ontario's Crown lands, water, oil, gas, salt and aggregate resources. e ministry is also responsible for making Crown land available for renewable energy projects.Premier Ford has said he's optimistic the new cabinet will help him deliver on his agenda of bringing infrastructure to help improve access to highways, transit and the road to the Ring of Fire region for resource development.Muskoka Lakes launchesnew pedestrian walkway ose who enjoy exploring Muskoka on foot have a new option to do so in Port Carling.Effective July 1, the Township of Muskoka Lakes has launched a pilot project to convert Lock Street in Port Carling into a pedestrian-only space for the summer."We consistently heard from the community during the development of the CIP (Community Improvement Plan) the need for more pedestrian safe spaces and connections in the downtown," says Mayor Phil Harding. "Lock Street will be a great place for people to gather safely and enjoy the beautiful surroundings that Muskoka Lakes has to offer. "We are also excited to be working with the District of Muskoka on the installation of pedestrian crosswalks."As part of the new project, all vehicular traffic to Lock Street will be restricted until September 6, 2022. e Township is encouraging people to meet up in this space. To that end, it has now installed picnic tables and life-sized board games.Photograph: Township of Muskoka LakesEective July 1, 2022 the Township of Muskoka Lakes has launched a pilot project to convert Lock Street in Port Carling into a pedestrian-only space for the summer. All vehicular trac to Lock Street will be restricted until September 6, 2022.Photograph: Graydon SmithDuring a recent ceremony at Queen's Park in Toronto, newly elected conservative MPP for Parry Sound-Muskoka Graydon Smith was named the Minister of Natural Resources and Forestry.
Page 65
Gravenhurst STR bylawto take eect in 2023Short-term rentals (STRs) have been a hot topic across Ontario this year and Muskoka is no exception.Multiple municipalities in Muskoka have enacted or enhanced the rules surrounding accommodations like Airbnbs and cottage rentals. e Town of Gravenhurst announced recently it will also be launching a short-term rental licensing bylaw, which it plans to have in effect for January 2023. Town council officially signed off on the new licensing bylaw during its meeting on May 31."We've heard from the community that we would greatly benefit from this new licensing platform," says Gravenhurst mayor Paul Kelly. "It would help ensure compliance of accompanying bylaws and most importantly promote being a good neighbour. I think that is the most important element, mutual respect, so that we can all enjoy our surroundings."Although the bylaw will not take effect until January, the Town is taking steps now to help spread the word and educate anyone who the new regulations might impact.In addition to the bylaw the town is also initiating an administrative monetary penalty system, or AMPS, which will allow the Town to enforce compliance on their own, as opposed to processing through the Provincial Offences Court."It's an effective, quick, clear, and tangible way for regulators to respond to infractions," says Kristen Ford-Bickers, Gravenhurst manager of bylaw services. Muskoka Chautauquaannounces summer lineupe Windermere area is set to once again welcome world-class cultural and heritage programming in the form of Muskoka Chautauqua. Organizers of the event recently announced their celebration of curiosity and creativity will take place from August 5 to 14."Chautauqua is about creating and enjoying art, and doing it while being fully immersed in a sense of place," says Gayle Dempsey, who is co-founder of the festival with Gary Froude. "Our festival is a chance for visitors to take part in some amazing cultural tourism, to create and to celebrate creators, to share this glorious place with others, and to learn more about it in a fun and exciting way."is year's summer festival includes over 50 events at intimate venues throughout Windermere, with most events hosted in an open-air theatre in the woods overlooking Lake Rosseau, just as they were 100 years ago.Events include an opening waterfront concert at the Windermere Wharf by Big Smoke Brass Band, daily outdoor morning movement and meditation series, and a series of visual arts workshops, where participants can learn plein-air painting, textiles, nature journaling, wind chime making, mosaics and screen-printing.New this year, the event will feature a performing arts series including a fresh take on Shakespeare, a song writing workshop and a theatre improv workshop.ere will be a collection of lectures and literary events, a panel discussing architectural heritage and evening musical performances including blues, folk and opera. Also on the agenda are a four-film outdoor documentary film series, curated by the Hot Docs Canadian International Documentary Festival, historical walking tours around Windermere Village and a family fun art party with music, children's entertainment, a barbecue by the Windermere Lions Club, and a bake sale by the Windermere Women's Institute.e Muskoka Chautauqua Bookstore, new this year, features 2022 Reading Circle selections, a display of Muskoka Chautauqua archives, Alcuin Society Book Design Awards winners, and a welcome centre/ticket booth opening July 27 at the Windermere Village Hall.District granted extension for bin site removale District of Muskoka has bought itself some extra time when it comes to the removal of unstaffed dumpster sites, also known as bin sites. District recently announced it has been given an extension by the province until 2026 to complete the removal of the bins in the area. Council was also informed that in 2022 staff plan to transition another 15 unmanned sites across the District.Bin sites have been in operation throughout Muskoka for decades and are most commonly found on road allowances, vacant lands and at commercial businesses like marinas. e bin sites have traditionally operated without provincial approval. e District says the sites provide a convenient location for waste collection for residents that do not receive curbside collection at their property. Major users of the site include residents with water access properties who drop their garbage off at marina locations and residents on private roads which are inaccessible for waste collection vehicles.In 2019 the District was formally notified by the Province of Ontario that these unstaffed, unlicensed bins would need to be transitioned to compliant waste collection service over a four-year period with complete abatement by 2023. e District argued that meeting such a deadline would not allow them to provide adequate consultation for each of the affected communities and petitioned the province for an extension to November 2026, which they recently received.Feature by Matt DriscollPhotograph: Muskoka ChautauquaKelly Creasor and Jen Morgan Anderson perform on the Muskoka Chautauqua stage, a pop-up version of the original outdoor theatre near Windermere a century ago.Photograph: Meghan TaylorThe Town of Gravenhurst announced recently they will also be launching a short-term rental licensing bylaw, which they plan to have in eect for January 2023. August 2022 UNIQUE MUSKOKA 63
Page 66
64 UNIQUE MUSKOKA August 2022Article by K.M. Wehrstein / Photography by Tomasz SzumskiWhere there's smoke, there's avour Julie Moore, owner of Smokin' Hot BBQ in Huntsville, decided to expand her business to barbecue and smoking aer visiting a cowboy festival in Quebec. We know it – or else certain foods wouldn't be so popular. Smoked oysters. Smoked sausage. Montreal smoked meat. Lox. Maybe it goes back to our caveperson ancestry when everything was cooked over fires. ere's just something about the byproduct of flames that tingles our taste buds.To explore this, we'll start with the largest-scale food-smoking establishment in Muskoka, as far as we know: Smokin' Hot BBQ, located just east of Huntsville. No surprise, this fun place is the brainchild of a fun personality, Julie Moore, originally of Abitibi, Quebec, who moved to Muskoka following the fortunes of her husband Larry, a stonemason."I was a home mom and I was bored, so I went to a friend and said 'I want to open a chip truck'," Moore recalls. e result was Muskoka Mamas, which opened in 2013 and served authentic Quebec poutine. But then a visit to a cowboy festival in the Quebec town of St-Tite inspired Moore to expand to barbecue and smoking. From there, it grew into a family business, employing Larry, their grown children Andrea, Michael and Merrissa, plus more family and friends for a total staff of 12.Smokin' Hot is its own little Wild-West world. It's all outdoors, with marquees over massive picnic tables, overlooking Fairy Lake. You can sit on a saddle or an antique tractor seat. It's decorated with wood stacks with big cartwheels integrated into them, sets of horns, antique snowshoes and lamps. Country or rock music plays loudly, especially on Saturday night when it's live; also on Saturday, the chainsaw carver does his thing. e atmosphere is firmly set by pure woodsmoke from the four 1,000-gallon Texas-made smokers that Larry wakes up at 4:30 a.m. to fire up on open days (in summer, Friday to Sunday). Catering is mostly run by Andrea and Michael. If an event has up to 150 people, they'll bring their portable 500-gallon smoker; if
Page 67
it's more than 150 guests, they'll bring the portable 1,000-gallon one. "We have a lot of fun," Julie grins.e menu is very meaty, of course, with smoked brisket, pulled pork, ribs, turkey and hefty burgers, complemented by large portions of poutine and fries as well as cornbread, corn salad and coleslaw. It's all generous and moist and sticky with delicious barbecue sauce (or not, if you prefer). But also… Julie can take over from here. "We had no smoked dessert. We all love sweet though. So Merrissa thought of apple pie." Mostly cooked in the oven, it spends 20 minutes in a smoker to absorb that flavour. If no pie is available the weekend you visit, ask for what is probably the best apple crisp ever tasted: rich, sugary, crunchy and complex-flavoured with the tartness of the apples foiling the mega-sweetness of the crust.Chef and culinary visionist Rebecca Egier, who heads up the kitchen at the Sawdust City Brewing Company in Gravenhurst, has a gorgeous recipe for us, but let's talk smoke-your-own first.Store-bought smokers range from about $100 if you find a simple one on sale somewhere, up into the thousands for fancy ones. You can build your own: instructional videos abound on the Internet. Or you can easily make your gas barbecue or hibachi into one."All you need is tin foil and wood chips," says Egier. Species of tree is user choice; you can get the chips at Home Hardware, Home Depot, Your Independent Grocer and other stores. "Or just use maple scraps off your property, from branches about 2 inches in diameter," Egier explains. "Any hardwood or fruit tree will work. Stay away from sappy ones because they'll make a mess. Soak the wood chips in water for about an hour, wrap them into a tin foil pouch about the size of a business envelope and poke holes in top of the pouch, so there's room for smoke to escape. Put it in the barbecue with your food and the heat will do the rest of the work." It's that easy! Just remember the package is one use only. "If you're doing something Smoked Apple Crisp - Merrissa MooreIngredients8 apples, sliced into thin wedges2 Tbsp lemon juice2 Tbsp white sugar1 cup brown sugar1 tsp cinnamon plus 1 pinch¾ cup of oats¾ cup all-purpose flour½ cup cold unsalted butter, diced1 pinch of salt Method• In one bowl, mix together the apples, lemon juice, white sugar and the pinch of cinnamon. In a second bowl, mix together the brown sugar, oats, flour, 1 tsp cinnamon and diced butter. Spread apple mix into a buttered pan, then spread oat mix on top of it. Smoke at 220°F until dark brown, about 1½ hours.Smoker's Tips• Use a mix of apple varieties to give a more complex flavour.• e lemon juice keeps the apples from going brown.• Season with cinnamon to taste: if you like it strong, add more.• e non-smoked version is good, too: the first step is to preheat your oven to 350° F. Cook the crisp until dark brown, about 40 minutes.Above: The Moore family has its own outdoor Wild-West world with Smokin' Hot BBQ. Below: Rebecca Egier, chef at the Sawdust City Brewing Company in Gravenhurst shares her tips for smoking meat with tin foil and wood chips. August 2022 UNIQUE MUSKOKA 65
Page 68
66 UNIQUE MUSKOKA August 2022Famous for tarts, pies, pastries,breads & authentic Italian pizzas6 Bay Street, downtown Baysville705-224-TARThumble_pie@live.caRESIDENTIAL • COMMERCIALINDUSTRIAL519.865.6209ARKLTD.CAGENERATORSSMART HOME SYSTEMSNEW CONSTRUCTIONLIGHTINGECRA/ESA #7010474Moroccan Smoked Lamb Leg – Rebecca EgierIngredients1 3-5 lb. lamb leg1 Tbsp roughly cracked black pepper½ Tbsp cumin2 Tbsp turmeric3 Tbsp paprika3 Tbsp salt2 Tbsp smooth Dijon mustard2 Tbsp olive oil1 onion1 carrot1 head garlic250 mL Sawdust City Skinny Dippin' Stout250 mL your favourite barbecue sauceMethod• In a small mixing bowl, combine pepper, cumin, turmeric, paprika, salt and mustard. • Pat lamb dry with paper towels and coat with olive oil. Rub spice blend on to lamb leg liberally, using all of it.• Peel onion and cut in half. Cut the carrot into rounds; the same length as the onion halves are thick. Cut the head of garlic in half, unpeeled.• Lay parchment paper or aluminum foil down on a baking tray that fits in your smoker or barbecue. Arrange carrots, onion and garlic on their flat sides to act as pedestals for the lamb leg, holding it up off of the baking sheet.• Tent the whole tray with aluminum foil and place in a smoker or barbecue at 325°F for two hours.• Meanwhile, combine Skinny Dippin' Stout and barbecue sauce in a saucepan and simmer gently. Stir occasionally and continue to simmer for 30 minutes, or until thick enough to coat a spoon in an opaque layer.• Remove aluminum foil from lamb and continue to smoke for another hour.• e lamb leg should now be very tender and easy to pierce with a fork or tongs. Liberally apply sauce and allow to cook until caramelized, about another 30 minutes. • Remove from heat and rest for 30 minutes before serving.Chef 's Tips• Use: "as a taco filling with any favourite condiments, in pita pockets with hummus and feta, or with rice and vegetables for something more composed. Skip cooking at the cottage tomorrow by saving the leftovers for fancy grilled cheese, a rainy-day stew, or game-day chili."• Pairing: Sawdust City's Love Sweet Love is a full tart beer made with grapes, that gets more like wine with aging. Also, there's Gnarnia, a very citrus-forward but sweet and fragrant IPA that makes Egier think of freshly cut grass on a summer day.A fall-of-the-bone lamb dish from Chef Egier is an innovative addition to your summer barbecue menu. 28 MANITOBA STREET, BRACEBRIDGEAvailable atThe Iconic T1 Bucket Hat
Page 69
really big and long," Egier adds, "check your package part way through to make sure it hasn't burned out."Originally from eastern Ontario, Egier worked as a direct sales manager until the death of her beloved stepfather. A huge culinary influence in her life, his passing brought home to her what she really wanted to do in her life. Entering George Brown College for chef training hooked her entirely, and she landed jobs by word of mouth at such Toronto eateries as the oyster bar at Pure Spirits and the late and legendary blues venue Hugh's Room. Meanwhile she married Jon Egier and bore their first child, Benjamin, in June 2020; a second child is expected in September. Landing in Muskoka was a stroke of luck; of five houses in various parts of Ontario that fit their budget, the young family fell in love with the one in Gravenhurst, and moved in this past spring.Meanwhile, Sawdust City undertook major renovations to its building, adding a large event room for weddings, receptions and corporate gatherings. at necessitated the next step in the brewery's culinary evolution, from food truck to small mid-brewery kitchen to a spacious, state-of-the-art commercial kitchen where Egier landed her chef job just in time to help design. Look for a menu reno too, retaining the beery theme and much-loved pub fare but adding "loads of opportunities for adventurous taste buds," says Egier.To this expansive-minded young chef, the core of hospitality is creating an atmosphere for building and nourishing relationships. "We love to invite the tourists up here and make them feel welcome, but never at the expense of the locals, so feeding both tastes is important," says Egier. "Food should never be exclusionary."Which brings us to our recipe. "I like set-it-and-forget-it recipes, and low and slow meat," Egier shares. "I wanted to use a protein that's underutilized, especially on the barbecue. We tend to think of lamb in a British way, and that feels so wintery. In summertime we want casual eating, a dish that different "We'e got he curefor hat ales you"muskokabeerspa.comDOWNTOWN TORRANCEWelcoming day isitorsand overnight guests.Mango Smoked Cornish Hens - Liam Cooper, adapted by John CooperTo prepare the hens:4 whole Cornish hens2 ribs of celery, diced½ Vidalia onion, diced1 mango, dicedSalt water (same saltiness as sea water)• Brine hens overnight in salt water.• Mix mango, onion and celery and stuff each bird.• Place hens in smoker set to 210°F and let cook for 2-2½ hours, depending on size of birds, rotating halfway through.• Just before serving, reheat oven or the cold side of a covered grill, basting generously with mango sauce.To prepare the mango sauce:2 cups diced mango½ medium-sized Vidalia onion2 cups water⅓ cup apple cider vinegar ½ cup honey½ tsp each: chili powder, garlic powder, black pepper, cinnamon and nutmegSalt to tasteMethod• Simmer all ingredients until soft• Blend until it becomes a smooth puree.Serves 4-8 depending on size of birds.Wine pairing: Sauvignon Blanc or other dry white. Chef 's & Chef 's Son's Tips• Cornish hens are available in Muskoka; check at Your Independent Grocer or a local butcher.• Wood chip formula: two parts maple, two parts hickory and one part pecan goes with sweetness. • is recipe also works with chicken. Just mix more stuffing and smoke longer, three hours or more depending on size of bird.August 2022 UNIQUE MUSKOKA 67
Page 70
68 UNIQUE MUSKOKA August 2022every donor builds more than a home your donations build upfamilies in Muskoka Lakes find out how atwww.habitatgatewaynorth.com
Page 71
people can come around and fix up the way they like. at's what led me in the Mediterranean direction."e result is a falling-off-the-bones tender lamb leg with the most delectable heat. And really, who can resist a dish with an ingredient whose blurb says, "soul-nourishing as a naked midnight swim"? (Which is true! You know it.)For a chef who gives his son a smoker for his 12th birthday, the payoffs can be awesome. Chef John Cooper did exactly that, and part of the payoff is this edition's next recipe.You might recall Cooper from a previous edition as the philosophy major who realized he'd make more money as a chef, worked in the Big Smoke (so to speak) for 10 years and then moved to Muskoka to work at the award-winning Old Station Restaurant. But he's also a family man, having married his high-school sweetheart Kate at age 21 and fathered three children: Liam, now 13 and named after his grandfather, great-grandfather and great-great-grandfather, Aine, 12, and Finn, 5. Liam says he isn't actually sure what he wants to be when he grows up, but it will surprise no one that he likes to cook. "His childhood was spent running around doing restaurant things and seeing restaurant people; it was kind of in the air," says Chef John, who praises Kate as an excellent cook as well. "I'm teaching him things as we go along. It's very nice coming home from work and having food prepared by my kids. e smoker was worth every penny we paid for it.""I'll just throw something together," says Liam. "I usually just do modifications of pre-existing ones." "at's how you learn," John inserts. "I saw a thing on the Internet about Mexican people, in Oaxaca, using mangos with chicken," continues Liam. "We had nice mangos lying around at home, and I had this fancy dandelion honey. Honey and mango go together well." "And all that sweet is nice to tame on the smoke," cuts in Chef Dad, adding that dandelion honey isn't actually honey, and is hard to find, which is why the recipe uses just honey."I tried it on the family, and everyone liked it a lot," says Liam with a smile.e recipe has been somewhat adjusted for restaurant use by John. It won't be a regular menu item at the Station, but a special. He served up the modified version with a delicious sesame rice pilaf with broccolini and grape tomatoes.Chef John Cooper (right)shares that the smoker he bought for his son, Liam (le), for his 12th birthday is worth every penny.every donor builds more than a home your donations build upfamilies in Muskoka Lakes find out how atwww.habitatgatewaynorth.comStudio Jewellery Canadian Craft Original ArtworkOpen Daily in Summer • Mo-Sa: 10-5; Su: 11-4oxtonguecraftcabin.com Ian Varney Navigate THAT! (The Sequel) 36" x 36", acrylic 1073 Fox Point RoadDwight, Lake of Bays705.635.1602Anne-Marie Chagnon JewelleryWith timeless styling and durable build, TOPO backpacks and bags will hold up in any environment and stand out in all of them.28 MANITOBA STREET, BRACEBRIDGEAvailable atAugust 2022 UNIQUE MUSKOKA 69
Page 72
70 UNIQUE MUSKOKA August 2022YOUR GUIDE TO SERVICES AND RESOURCESDIRECTORYBRACEBRIDGE GENERATION LTD.Water Power Generating a Cleaner EnvironmentInterested in more information or a free tour? www.bracebridgegeneration.comYOUR FURNITURE & CUSTOM UPHOLSTERY SPECIALISTS Cal Cur an Paul Toda!705.784.0906muskokauph@gmail.com • MuskokaUpholstery.com greenleafexcavation.ca | 705-229-9985 | racheson@greenleafexcavation.caCertified septic installer specializing in environmentally friendly Ecoflo® systemsCONTACT US TODAY!CAPTURE THE SCENTS OF MUSKOKA28 Manitoba Street, Bracebridge
Page 73
www.budgetpropaneontario.com Budget Propane Sales & Service705.687.5608 Toll Free 1.888.405.7777Serving: Muskoka • Gravenhurst • Haliburton • Barrie • Simcoe CountyWe'll take care of your propane needs for your home, coage, or business.JOHNSON LOG HOMERESTORATIONS705-738-7831 jcd.johnson@hotmail.com Staining Chinking Log Repairs Sandblasting Timber Frames Renovation Log Wash Custom BuildsLogHomeRestore.caBonus Recipe: Liam's Hot Sauce – Liam Cooper"We went to an Asian grocer in Toronto who had peppers on sale," recounts Liam. "I thought, I want to smoke these and make a hot sauce out of them. Smoking the peppers brings out the sweetness." Personally, scotch bonnets give me the urge to don a hazmat suit, but John swears that out of the smoker, they're sweet.is sauce is not for everybody (no one in the Cooper family will eat it except John and Liam) but you heat connoisseurs out there will love its smoky complexity.Method • Lightly char: 1 cubanelle pepper, 2 jalapeno peppers, 3 Scotch bonnet peppers. • Smoke for three hours: 1 cubanelle, 8 jalapenos and 3 Scotch bonnets. • Leave raw: 1 cubanelles, 2 jalapenos, 2 Scotch bonnets.• Remove seeds from jalapenos. • Blend all ingredients above with ¾ of an average-sized yellow onion. • Add:3 cloves garlic2 tsp onion powder2 tsp garlic powder½ cup white sugar½ cup white vinegar1 pinch of saltFresh-ground black pepper to taste• Blend thoroughly. Boil for a few minutes, strain with a fine mesh sieve and put into jars.Smoked Cornish hens have succulent, mouth-caressing meat. Plus, the intense smokiness of the tender skin and the rich sweetness of the mango sauce complement each other beautifully. I really didn't want to finish eating this dish.Dear Liam – no pressure, but I hope you will become a chef.When you shop in our store...you're supporting the work of local artisans, writers, craftspeople and other Muskoka businesses.28 MANITOBA STREET, BRACEBRIDGESHOP ONLINEwww.uniquemuskoka.comAugust 2022 UNIQUE MUSKOKA 71
Page 74
72 UNIQUE MUSKOKA August 2022Seasonal residents, visitors and locals, alike, can all agree that Muskoka has a unique kind of magic you cannot find anywhere else. What ignites that special something and how we experience that magic, however, is different for all of us. I've lived in Muskoka for 17 years and have spent much of my adult life making this wonderful place mine and my family's home. We've developed deep roots in Bracebridge. Over the last eight years, I've established two businesses and have a strong connection with the community as a whole. at, for me, is where the magic begins. Muskoka is a place you can visit and feel like it's home, while at the same time live here permanently and always feel like there is somewhere to visit. ere is always something new to discover, as the saying goes. is distinct feeling of small-town charm really provides this sense of community. As a small business owner, this lends itself to allowing us to all really feel a part of the magic. As a community, we provide this experience for both tourists and locals, and experiencing the magic is really quintessentially Muskoka. It's boating to town. It's walking the main streets. It's browsing in the shops and having lunch on a patio. It's jumping in the lake after a long day of work. All these elements come together in Muskoka so seamlessly and really bring the magic to life for me. Just a few weeks ago I had my third baby. We have two boys, a four-year-old and a two-year-old, along with our newborn baby girl. I have been overwhelmed by the support of not only our friends and family in the area but the community as a whole. e outpouring of well wishes for our family has been unparalleled. Being able to now experience this special place with my own family, as a mother, is exceptionally wonderful. My children are able to have an upbringing that is a little bit slower and a little bit friendlier than a lot of other places. What I mean by this is they are a part of this community with us. We live in a place where people know who they are and say "Hi" when they pass them on the sidewalk. My children have become a major presence within my own businesses. Our customers know them and are delighted to see them when they stop in. Muskoka has an innate ability to bring everyone together with a common love and appreciation of where we call home. It is something I will always cherish. My children will, I hope, grow up with a true sense of pride of where they are from, no matter where they end up. at, in itself, speaks to the pure magic of Muskoka. ere is nothing quite like being a part of all this magic whenever we want. Being from the area and knowing we can step outside our front door and within minutes be at the lake. Or take a quick drive into town and be greeted by a friendly face. You hear people say the air here is different and they are absolutely correct. It really is something you can feel and smell when you step outside. You can't explain it. You can only understand it once you've experienced it. I will forever treasure that my children, husband and I are lucky enough to experience this magic every single day. Krystal Darling lives in Bracebridge with her husband, three children and two dogs. She owns and operates two businesses, while also working with her parents in their business. She is a writer, blogging about her experiences as a business owner, about fashion, about motherhood and about life in Muskoka. Muskoka MomentsArticle by Krystal DarlingThe Magic of MuskokaPhotograph: Carlyn Rettie of Lenny and Hume
Page 75
YOUR STYLEYOUR HOMEYOUR LIFEInnovative. Inspired by nature. Infused with tradition.KITCHEN & BATH FURNITURELIGHTINGBEDDING & DECOR705.732.4040 HILLTOPINTERIORS.COM 1150 HIGHWAY 141, ROSSEAU, ON P0C 1J0
Page 76