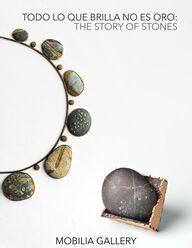 Return to flip book view
Todo lo que Brilla no es Oro: The Story of Stones
Page 1
Page 2
Kelvin Birk, Ocean Ring
More information page 43
The term aquamarine is derived from a combination of two Latin words.The first one, aqua, means water and the second, marina means sea. Together, the word translates to the color of the sea.
Page 3
ALL THAT GLITTERS IS NOT GOLD:
THE STORY OF STONES
"Whether the stone once belonged to an eminent royal or is shrouded in intrigue, a stone with history and legends, has an aura all its own"
Throughout ancient history, stones and gemstones were put to use around the world, worn as objects of power, adornment and beauty, thought to give protection against evil, danger or disease.
We invited 28 artists to create their own history and narrative with their version of a special stone or stones, using their innovative techniques and materials to create an object of adornment. The result was this exhibition of artists presenting their unique sensibilities, each with a different interpretation of the meaning of a stone.
Libby and JoAnne Cooper
Page 4
Rain
2022
Necklace. Fine silver, shakudo, shibuichi 5%, shibuichi 15%,
shibuichi 25%, platinum, white sapphire, grey spinel, white topaz.
Constructed and inlaid.
1/2" x 21" x 2 1/4"
$42,000
SUZAN REZAC
Page 5
Page 6
AKIKO MAEDA
Flower Wreath with a Red Fruit
2022
Necklace. South sea gold pearls, South sea black pearls,
Citrine, Lemon quartz, Smoky quartz, Japanese red coral,
Green Kayanite, green amber, sterling silver.
19" L x 1/2" D
$1,728
Page 7
Flower Wreath in Autumn Fields and Mountains
2022
Necklace. South sea pearls, Labradorite,
green routile quartz, smoky quartz, lemon quartz
Amber, green amber, sterling silver
19" L x 1/2" D
$1,272
Page 8
Earrings
2022
Volcanic pumice stone ground into a sphere,
permeated with ceramic paint and baked, Sterling silver. S Hook.
2.5" l x 3/4" d
$700
ANDO YASUHIRO
Page 9
"This stone was formed by a volcanic eruption. The flow of geological time is far more majestic than that of us humans and other living things. Therefore, we tend to distinguish between living organisms and other natural phenomena. However, there is no doubt that both are part of the universe. Our fleeting lifetime is also part of the larger cosmic time. Pumice stone was a perfect choice, as it is meant to wear the energy of the earth."
Page 10
Earrings
2022
Volcanic pumice stone ground into a sphere, permeated
with ceramic paint and baked, Sterling silver. Hook with clip.
2" l x 1 1/8" w
$700
Page 11
Green Envy
2022
Earrings. Sterling silver, 14k gold, (In descending order)
chrome diopside, green tourmaline, mini geodes,
chalcopyrite, cat's eye jade, pyrited quartz.
2 3/4" l x 7/8" w
$1,500
LYDIA GERBIG-FAST
Page 12
ASAGI MAEDA
Flowers in Mind
2022
Earrings. Sterling silver (rhodium plated),
18k gold, crystalized agate, aquamarine
1 1/2" l x 1" w x 1/2" d
$2,200
Page 13
No Idea/Inspiration
2022
Ring. Sterling silver (rhodium plated),
18k gold, milky aquamarine, aquamarine.
Size 6 (can be sized). 1" w x 3/4" h x 1/2" d
$1,040
Page 14
ARATA FUCHI
Hidden Truth
2022
Ring. Oxidized sterling silver, pure gold,
oxidized pure silver, raw diamond. Keum-Boo.
Ring shank 1/2" wide x 1" high x 1 5/8" diameter
"Jewel" 1" h x 1 5/8" dia.
Size 7.5/8
$1,500
Page 15
Page 16
CINELLI MAILLET
Lava
Ring. Sterling silver band, vitreous enamel,
oxidized silver, brilliant cut diamonds.
Size 7.5
$1,100
"The brilliant cut diamonds scatter on top of the
ring offering the wearer protection from negative energy."
Cluster
Ring. Sterling silver, vitreous
enamel in blue hues.
Size 7.5
$640
"Cluster is strewn with an abundance of circles and circles are the perfect representation of cycles."
Page 17
Bauble
Ring. Sterling silver band,
brilliant cut aquamarine,
transparent blue vitreous enamel.
Size 7
$1,200
"Aquamarines provide inspiration and tranquility
and that is exactly how we felt making this ring."
Page 18
Foam
Ring. Irregular shaped sterling silver band, diamonds, opaque blue enamel dots.
Size 6
$1,100
"Foam is a fun irregular shaped band with
diamonds for re-energizing and strength."
Sea Goddess
Ring. Sterling silver band, two black pearls,
diamonds, vitreous enamel with an over fire
of purple lustre for shimmer, oxdized silver.
Size 5
$1,700
"Black pearls are known to bring luck and prosperity
to the wearer and diamonds add protection."
Page 19
Mossy
Ring. Sterling silver, cabochon moonstones,
peridot and white topaz, blue-green vitreous enamel.
Size 7.5
$1,700.
"Mossy is as lush as forrest fauna with cabochon
moonstones providing calmness, peridot for
strength while the topaz soothes."
Page 20
CLAUDIO PINO
"Moonstones are known as lucky stones and they symbolize inner clarity and relaxing energy. There are also many beliefs in the power of moonstone to bring about positivity in one's life. For me, it can also represent precious water. For this kinetic ring design, I cut the stone to give the effect of a drop of water and I placed it inside a golden plate. Thanks to a tiny mechanism, the plate follows the hand movement and the drop can never fall. It's an homage to water and its importance for life on earth."
H20
2022
Kinetic ring. 18k gold, sterling silver, moonstone, citrines.
1/2" h x 5/8" w x 1/2" d
Size 6
$3,600
Page 21
Kinetic Moonstone
2022
Kinetic ring. Stainless silver, pearls, moonstone.
1/4" w x 3/4" d
Size 8
$2,900
Page 22
Azurite is a prismatic crystal made up of copper carbonate hydroxide, soft blue in color, known for healing stength and balancing emotions. In ancient Egypt, azurite was a sacred stone used only by by high priestesses and priests. In China, it was believed to be the stone that cracked open celestial pathways, and Native Americans used azurite to communicate with spirit guides. Azurite has also been celebrated for its beauty. For thousands of years artists would grind the stone down to a beautiful blue pigment to use in paintings and fabric dyes.
EFHARIS ALEPEDIS
Reflecting Back
2022
Earrings. Azurite geode, sterling silver.
1 1/2" x 1/2" x 1/2"
$750
Page 23
Reflecting Back
2022
Earrings. Quartz druzy geode, sterling silver.
3/4" x 1/2" x 1/2"
$500
Druzy Agate is a druzy quartz crystal that displays different varieties of colors with a capturing glittery finish. This radiant gemstone induces delightful feelings of creativity, relaxation, as well as mind, body, and soul natural healing.
Reflecting Back
2022
Earrings. Agate druzy geode, BiMetal:
Sterling silver and 22k yellow gold.
1/2" x 1/4" x 1/4"
$550
Page 24
ELIZABETH MCDEVITT
Necklace
Ethiopian "Wello" opals, oxidized sterling silver,
18K gold (wire frames and hammered links), 22K gold
(opal settings), 24K gold (fused to sterling silver)
19" l x 1.5" w x 1/4" d
$35,000
Page 25
This extraordinary necklace is made entirely with Wello opals, from Ethiopia. Wello opals are volcanic in origin, remarkably durable and admired for their strength, stronger than any other opal. In addition to durability, these opals are exceptionally bright, with an incredible amount of fiery color play.The stone name "opal" comes from the Sanskrit word "upala" for precious stone. The ancient Romans associated opals with hope and good luck. The opal is said to inspire the wearer's imagination and creativity.
Page 26
EUNSEOK HAN
From the Green Seed
2022
Recycled can, sterling silver, HMA, Agate
29" l (adjustable). Flower: 3" x 3 1/4" x 1/2"
Cone: 4" x 1 1/2" d
$2,400
Page 27
Page 28
Eunseok Han's jewelry out of recycled aluminum cans replaces precious stones and metals. Han notes that disposable products are one of the main contributors to environmental pollution, whose effects she explores in her work. Her jewelry of vibrantly colored, cut up, recycled cans reveal the possibilities of using discarded materials to create beautiful, wearable works of art.
Page 29
The Vibrant Sprout
2022
Recycled can, HMA, copper.
6" x 3" x 1"
$800
Page 30
HANNE BEHRENS
"While searching for stones I found this twisted wood from a tree in my garden"
Brooch
2022
Woven 18k gold and sterling silver, hematite, wood
5.7" x 3.25" x 1.77"
$1,600
Page 31
"Flint has been used as a tool for over 2 million years.
I chose to use this ancient tool's middle part that resembled a torso"
Brooch
2022
Braided 18k gold and sterling silver, flint scraper (tool) from the Stone Age found in Denmark.
3.26" x 1.6"
$2,600
Page 32
Moeraki Boulder Necklace
New Zealand Beach Stones, Sterling silver, 18K gold, granulation
18″ L, Center element 11⁄2″ W x 1" L
$16,500
HAROLD O'CONNOR
Page 33
Made of New Zealand beach stones inlaid with gold granulation, Harold O'Connor's necklace is reminiscent of the famed Moeraki Boulders of New Zealand, situated in the waters of the beach where these stones were found. Each weather and ocean smoothed stone is meticulously cut, carved and inlaid by the skilled hands of the artist.
Page 34
HIROMI SUTER
Healing Wheel with Black Labradorite
2022
Pendant. Black labradorite, copper, sterling silver,
foil, 24k coated glass powder.
Pendant: 4" x 4" x 2"
Chain length (plus the part of pendant): 20 3/4"
$1,800
Page 35
"Legend states that Labradorite holds the Northern Lights in its mysterious depths. A unique crystal that transforms the ordinary into the extraordinary. Black labradorite's rich ever-changing colors, are as amazing as the lore that surrounds it.
I enhanced the stone's deep blue with the blue of the butterflies, associated with health, healing and tranquility. Orange symbolizes the sun, with the rays of the sun bringing warmth and energy through the sky. For me, Labradorite represents the power and strength of the ocean, working as a healing talisman."
Page 36
JOSE MARIN
Waiting for a New Life
2022
Earrings. Zircons, sterling silver, titanium,
black rhodium and pink nanoceramic bath. French clips.
2 3/4" h x 1" w x 1/4" d
$4,680
Page 37
"When I received the invitation to participate in the exhibition Todo lo que Brilla no es Oro: The Story of Stones. Automatically, two blue stones came to my mind that my father had given me years before he died, these stones belonged to his mother, my grandmother. The stones were removed from some old earrings, I do not know the reason why they were removed.
First of all I decided to take them to a gemological laboratory to analyze them. These are two natural Zircons. I have kept these stones very lovingly stored, because I am one of those people who think that you have to know how to wait, that important things have their best time to be conceived."
Page 38
"In this project I have worked with the idea of giving these stones a new life, therefore the stones represent a seed that germinates into pink shoots. My grandmother was called Rosa, this is why I chose the pink color."
Page 39
"Conceptually we must understand that in these earrings there is the express desire to capture the idea of receiving a legacy, keeping it safe and transmitting it again.The idea of giving a new life to things that have fallen into disuse makes me dream that a small part of my father and grandmother remain alive. At least during the time that I have worked with this project I have thought a lot about them."
Page 40
KEE-HO YUEN
A Rock is Not Just a Rock
2022
Brooch. Anodized aluminum (rock and background paper),
wood, brass, laser printer ink.
2.75" x 1.5" x 2.5"
$2,000
Page 41
"Regardless of vast social and technological changes, basic human emotions and interactions remain the same. Fascinated and inspired by how timeless some old Chinese literature is in this particular subject, my work is a collage of what I learn from it. I prefer to capture it by resonating between seriousness and whimsicality. I employ an eclectic use of contemporary and traditional technologies and materials, ranging from advanced 3-D computer modeling and CNC machining, to traditional fabrications and enameling."
Page 42
KELVIN BIRK
Growing Grand
Claw ring. Sterling silver, several crushed stone segments,
multiple crushed precious and semi precious gemstones.
3" h x 3" d x 2" w
Size 7.5 (sizable)
$885
Page 43
Ocean Ring
Boxcast ring. Sterling silver, large cloudy aquamarine,
aquamarine crystal, oblong faceted aquamarine,
peridot crystal, 2 round faceted peridot,
large oval faceted topaz, square faceted topaz,
oblong faceted cubic zirconia.
3/4" w x 1/2" d x 1/2" w
Size 8 (Sizable)
$1,650
Moss Ring
Boxcast ring. Sterling silver, Silver, large oblong peridot,
medium oval peridot, oblong peridot,
large aquamarine, 2 iolites
3/4" d x 1/2" w x 1/4" h
Size 9 (sizable)
$2,250
Page 44
Precious Fluke I
Ring. 18ct yellow gold, square iolite,
pink tourmaline oval, green tourmailne oval,
peridot round, square rubelite, pink oval spinel, tourmaline
3/4" d x 1" w x 1/2" h
Size 7 (Sizable)
$9,400
Page 45
Purple Haze
Boxcast ring. Sterling silver, large square with ruby crystal,
large oblong garnet, oval garnet,
round mossanite, rectangular cubic zirconia,
round ruby.
1/2" h x 5/8" w x 1/2" d
Size 6.5 (sizable)
$960
Tangerine Glow
Boxcast ring. Sterling silver, amethyst crystal, citrine crystal,
cut citrine, cut orange garnet, ruby crystal,
rubellite crystal.
3/4" w x 1/2" h x 3/4" d
Size 6.8
$840
Page 46
Icarus II
2022
Brooch. Druzy Quartz 'cloud', Mississippi pearl wings,
sterling silver moon and 14k yellow gold
approximately 2 3/4 h x 2 w x 3/4
$4,600
KIM LILOT
Page 47
"As an artist I have learned to live with the knowledge of the precious, ephemeral nature of beauty and life. It is the concurrent awareness of my own mortality that impels me to live in the immediate moment and which, in turn, inspires me to work towards transforming this personal sense of wonder, awe and primal fear into creative expression."

Hubris
2022
Brooch. 14k yellow and white gold, 2 dragon pearls.
approximately 3.5 x 3.5 x 3/4 d
$13,000
Page 48
The Paradox of Invisible Structures
Brooch/Pendant. Silver, copper, 18k bi-metal,
beach stones, vitreous enamel, antique mother-of-pearl gaming counter, vintage lens, steel
2.75 x 2.25 x .3 inches; handmade adjustable lucky pebble chain is 35 inches
$1,800
KIM NOGUEIRA
Page 49
"In my heart there is a cairn of worn rounded stones, illuminated by a golden sun.
Something is unfolding there, or, I am holding space for an unfoldment of…?"
Page 50
The Listening Stone
2022
Beaded granite, ballast stone, beaded,
bezeled cabochons, natural sunstone,
ruby, emerald, jasper, iolite
6" X 5" X 2"
$3,200
"The Listening Stone is a ballast stone from a ship traveling from England to the United States as ballast and ended up in Gloucester, Massachusetts in the basement of a very old colonial house, with many other ballast stones. I have always loved rocks of any kind and this one is so beautiful with such a story and holding it is really a remarkable thing, its weight along with its story, and I feel you can hear it if you listen.I left an oval shape on the bottom so you can see the stone itself along with the title and my signature and date created."
LYNNE SAUSELE
Page 51
Necklace
Glass beads, wire
21" length
$3200
Page 52
MARIKO SUMIOKA
Frame Necklace
2022
Sterling silver
31.5" long
$2,000
Page 53
Page 54
Door Brooch
2022
Oxidized sterling silver, gold leaf, stainless steel pin
2" x 3.5" x .5"
$1,500
Page 55
Door Brooch
2022
Oxidized sterling silver, mother of pearl, stainless steel pin
2" x 3.5" x .5"
$1,500
Mariko Sumioka creates sculptural jewellery evocative of both East and West. She is fascinated by architectural elements and structure: the natural materials and colours, dark and bright contrasts, linear forms, geometric shapes and spaces. Her Door Brooches embellished with gold leaf and mother of pearl suggest the illusions of stones.
Page 56
MARTIN SPRENG
Amorous Stranger
2022
Pendant. 18k gold, Fire Opals, 3 tourmaline pearls.
The stones are fixed with colored titanium balls on a titanium plate.
Pendant: 3 1/2" x 1" x 1/4" Chain: 23" long
$5,280
Page 57
In Amorous Stranger, the Fire Opals represent love, the gold represents proudness and the titanium represents power. The stones are lustrous and rich in color – glittering, but not all in gold.
Page 58
MELINDA RISK
Mermaid
2022
Sculpture with ring.
Ring: Tourmaline, diamond , 22 k gold granulated bezel
and a green gold band covered in scales. tapered band with back detail engraved fish.
Sculpture: porcelain, diamond, pearl,22k and sterling silver.
Ring size 8. Top of ring 3/4" w, tapers to 1/4" wide in back.
Stand 4" h x 1 1/2" d x 2 3/4" w
$10,000
Page 59
"Mermaid has a wreath of fins and scales with the pearl whale protected inside of her cage that is covered with tiny sea shells, a seabird and a feather - all a part of her world. The tourmaline ring serves as a crown when not being worn.
The light green tourmaline is worn for protection while traveling through life and for personal abundance and energy. The magic of the mermaid is also part of the ring with the stone representing her eye covered by the compass rose with the diamond center and scales surrounding the band."
Page 60
PETRA CLASS
Cursive Necklace
2022
18k gold, 22k gold bezels, aquamarine,
tanzanite, garnet, amethyst, sapphire
$24,000
Page 61
Page 62
Musical Score Bracelet
2022
Rubies slices, 22k gold, 18k gold.
7 1/2" l (adjustable) x 1" w x 1/8" d
$13,000
Page 63
Rubies are often associated with wealth and prosperity. Many ancient crowns were decorated with rubies, because they represented good fortune and courage. The ruby's deep red color also has ties to love, passion, and raw emotion. Ruby is a most desirable gem due to its hardness, durability, and luster.
Petra Class masterfully frames vividly colored rubies with 22k and 18k gold. The bracelets design is interspersed with solid high karat bars, suggesting abstract designs of of a musical score.
Page 64
RYUNGJAE JUNG
The Flower
2022
Brooch. 3D printed resin, sterling silver.
3.46" x 3.35" x .67"
$460
Page 65
The Flower
2022
Brooch. 3D printed resin, sterling silver.
3" x 2.8" x .67"
$460
"The light reflection, color, and shadow of diamonds were dataized to high and low and projected into the special forms of flowers. This new series was born as a combination of two special things."
The Flower
2022
Brooch. 3D printed resin, sterling silver.
3" x 2.8" x .67"
$460
Page 66
SUE AYGARN-KOWALSKI
Necklace
2022
14k gold, 18k gold, Chinese Turquoise,
aquamarine rainbow moonstone, Malachite
16" long, Pendant 2" l x 1/4" d
$8,800
Page 67
"This piece is about strength in symmetry, and finding a balance. The single different stone, the malachite tongue, signifies a central core from which any healing must begin. This was my first major piece after a near death accident left me struggling to regain my physical strength and creative balance and return to my studio work."
Page 68
YURI TOZUKA
Baby Snake Necklace
2022
Sterling silver, Yellow Sapphire,
Green Sapphire, Peridot.
Dimensions
$3,800
Page 69
Page 70
Warren Seelig
Shadowfield/Granite
2022
Granite, silver, brazed stainless.
19" x 13" x 7"
$4,200
For any inquiries or to make a purchase,
please email mobiliagallery@gmail.com,
or call 617.429.5600 and a member of team
Mobilia will happily assist you.
See more work by participating artists
on our website or The Design Store.
Thank you!