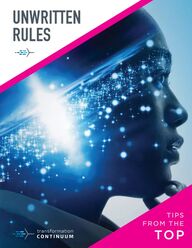 Return to flip book view
Tips from the Top
Page 1
Page 2
WE BELIEVE WE ARE BETTER TOGETHERWE SPOKE TO 20 INFLUENTIAL PEOPLE IN BUSINESS AND GOT THEIR TOP TIPSThat is what this guide is all about,the best of the best sharing whatthey have learned and wish theyknew, so that future generationscan learn and grow. WOULDN'T IT BE AMAZING IFWE ALL SHARED WHAT WEWISH WE KNEW?WE RISE BY LIFTING OTHERSLiving in an abundance mindset iswhere it is at. There is enough foreveryone, and sharing freelywithout expectation is growth foryou as well.DISCLAIMER: ALL LANGUAGE HEREIN IS THEPERSONAL OPINION OF THEINDIVIDUAL AND NOT THAT OF ANYORGANIZATION.
Page 3
1Create your brand.Who are you and what are you good at? Advertise yourbrand, not just within your employer, but to your futureemployers. So think carefully about how you want to create your brand, and go for it!2Fight with your front foot.Yes, you can always learn and improve but, as I say,'leverage what God gave you to the max.' Know yourstrengths and fight with your front foot.3Be kind to yourself.It is OK to mess up: YOLO, Seriously. Have fun. A job is justa job, your life is what matters. T O P TIPSCAROLINE CHANVP & GM, 5G INFRASTRUCTURE DIVISION, NETWORK PLATFORMS GROUP, INTEL
Page 4
JENI PANHORSTVP & GM, NETWORK & EDGEPLATFORMS DIVISION, INTELTOP TIPSInclusion starts with listening.Great businesses are made up of great people, treat them right andwork with them as humans. Listening to learn about others, what makesthem unique, what energizes and motivates them, and what they needto be and do to give their very best at work and in life. You should love your job.Know your purpose, it can be through creation, teamwork or impact as away to guide your career. Know what energizes you and seek ways tobuild that into your path. If you love what you do, success will follow. Take care of yourself.The past year has brought many burdens, but it's also brought silverlinings – an opportunity to spend time connecting with family & friends,to create awareness around mental health and wellness, to prioritizetime off to rest and recover, and to prioritize our own physical andpsychological health. Prioritizing your own wellbeing is not selfish – it'sessential for you to do your best!123
Page 5
DOMINICK DELFINO CHIEF REVENUE OFFICER, PURE STORAGET O P TIPSYou have to build a track record of success.If you want the next thing in life, show everyone that you're great atwhat you're doing. Make them want to give you that next thing. Byhaving a track record of success, you'll attract the right attention andopportunities to you. Always feel comfortable to be yourself—and then, be bolder.At its core, feeling comfortable to be yourself means not puttingstock in what other people think about you. People are accepting ofyou when you get the first part of the equation right; that is, whenyou build a track record of success. Part of being yourself is beingaccepting of others being themselves. Be assertive.You're going to have to push back every now and then. Great bosseswant you to challenge them. Do it in a respectful and professionalway, back up what you say, and exercise assertive behavior. 123
Page 6
TOP TIPSBe authentic.Humans thrive on connection. By being yourself and vulnerable; youallow your team to connect with you and to also feel free to be theirtrue selves. Vulnerability doesn't show your weaknesses but showsyour strength.123Leave regrets at the door.Experiences made us who we are today. Instead of regret, we shouldlook back and learn. In the game of business and in life, you don't winor lose. You win or learn. Mentorship matters.When looking for a mentor, don't find someone who will tell you whatyou want to hear. Look for someone who will challenge you. It is withstepping out of your comfort zone that you grow. CARLOS GRANDAVICE PRESIDENT OF GLOBALCUSTOMER SUCCESS,GOOGLE
Page 7
Discover your authenticity.You were designed to run a race that only you can run. You are equippedwith specific gifts and talents that make you who you are. At some point inlife, you have to break the busy cycle and explore what that is. When yourspirit starts to stir and there is a gaping gap in your heart, it's not a midlifecrisis, it's a calling. Walk in the fullness of your purpose.That 'thing' that makes you vulnerable makes you beautiful. Once youdiscover what that is, it will set you apart. Understanding your authenticitywill put you on a Path to Purpose. Don't be scared to push past your comfortzone, take risks, and explore all you were created to be!Build a legacy that out lives you.Don't settle on 1-2 jobs the rest of your life. You were meant to build a Legacythat you can pass on to your future generation. Know the reason for yourseason. It's okay to have a new "gig" every 3-5 years that builds upon the last"gig". Think "mini" retirements and think "mini" careers. Create a Life PurposeMission statement that is the umbrella for the vessel you choose to serve.This is how you live life to your full potential. Enjoy it! Time is your mostvaluable commodity. JENN ALVAREZ WRITER & FOUNDER, SOULJEN SOLUTIONS T O P TIPS123
Page 8
TOP TIPS123You make the rules in your career.Your career path can be unique to you. It does not have to be theexpected, prescribed, cookie cutter path. What is most important is thatyou are on track to achieving your ultimate goal. Swerving or switchinggears is OK because there's more than one way to get to where you'regoing. Look for growth and advancement.Look for opportunities that align with your goals and provide room forgrowth and advancement. When considering an opportunity, evaluatehow women are treated within the company. Consider whether they areappreciated and rewarded for competence and good work and whetherthe paths to advancement are clear, fair and available to all.Your skills are transferable.The first time I was approached by a big tech recruiter, I had no idea thatmy skill set fit within the tech industry. I thought I needed an engineeringbackground to get in the door. But I went on an exploratory interview andI was surprised to see that I fit in, and really like working in tech.RHONDA COLEMANDEAL STRATEGIST,GOOGLE
Page 9
1Explore constantly Never stop learning. Continuously evolve yourself, other industries, and evenroles within those industries. It ignites your desire to keep learning whileopening your eyes to new talents, people, and opportunities. It also pushesyou out of your comfort zone, and that's when growth truly happens, and wereally start to thrive. 2Get uncomfortableAlways put yourself out there. While fear never goes completely away (norshould it) you must get comfortable with the uncomfortable. I often still fearthe idea of failing, however, when this thought crosses my mind, I know I mustbe growing and that alone gives me the strength to keep going. Do notbe paralyzed by anything; build who you are to the core so you can be confidentin what you are doing, how you lead, and have the knowledge and skills tomove forward.3No one gets it all doneDon't view "balance" as being a balance between work and life. Know what youneed – and want – and prioritize it. Balance your energy, your mental state, andyour physical state. Surround yourself with people who support and care foryou and your needs. You are responsible for managing your energy so knowwhat you need and when you need to reset (and do it!) And remember, balancelooks different to everyone, and we all thrive when we're empowered to find thebalance that works best for us. T O P TIPSSTACY POOLCHIEF MARKETING OFFICER, NOODLES & CO.
Page 10
TOP TIPSStay humbleRemember your roots and keep digging to bring out the best in yourself and others. Evenonce you have established your brand, you cannot take it for granted, because every newrelationship requires that you reinforce or even newly establish those brand qualities thatmake you great. In addition, staying humble allows you to approach every person youencounter with the mindset that they have something that they can teach you. It's thiscontinued openness to learn and grow every day that will elevate you to the next level.123Establish your brandIn any new role, your number one goal is to establish credibility, trust and reliability whichare critical in any relationship whether professional or personal. When you enter into anew role, have a new team or a new manager you need to ensure that you go above andbeyond to give a view of who you are and what you can do. You have a limited window toestablish your brand and a good brand is essential to delivering value to your team andfueling career growth.Be a servant leaderThe most important role of a leader is to care for the needs of their team. A team whoseneeds are met will knock down walls for each other. To do that, you must meet peoplewhere they are. Listen first for understanding, take in points of view and create acollaborative work environment. Embrace the idea that everyone brings a uniqueperspective, set of values, needs and experiences. Treating every person as an individualand learning how to inspire and reward based on what motivates them, will allow you tobuild a highly productive team and get the best results.AARON CHAISSONVICE PRESIDENT OF EDGE ANDTELECOM SOLUTIONSMARKETING,DELL TECHNOLOGIES
Page 11
Always believe in yourselfHave compassion towards yourself and self-kindness. Work on becoming abetter human, every day. Learn what triggers you, build on your self-awareness,so you can become better and make this world a better place.Be a light, an inspiration, a kind soulTreat everyone nice, do not judge and always come from a generous place evenwhen conversations become heated. Always remember that you are dealingwith another human. Life is hard. You do not need to make it harder for yourselfor other people. Be kind and nice. Help others and do not expect anything inreturn. Do it because you want to.Don't be afraidSpeak up, use your courage to make things better for yourself and others. Youmight lose, you might win, and most importantly, your cause will becomeknown. One person CAN make a difference by having the courage to speak up.T O P TIPSEUGINA JORDANVP MARKETING, PARALLEL WIRELESS123
Page 12
TOP TIPS123Own your fireEverything starts by taking 100% accountability for your life. You own yourthoughts, actions, and words used in every situation throughout the day--all of which lead to various outcomes. Own your fire by taking everythingthat happens to you as an opportunity to succeed or learn. You got this!Remember the power of the mindStudies prove that your mind is an extremely powerful instrument. Thingsmost people thought were impossible were later achieved simply becausethey believed they could. The core of any successful person or brand startswith a positive mindset. A mindset that believes is one that achieves. Scroll for GoalsWriting down your goals and using a goal setting method of positivemindset, visioning, SMART goal definition, and affirmations is whatdifferentiates the most successful people. Once you have your goals, alignyour time to allow you to help achieve them. NICOLE SCHEFFLER ENGINEERING LEADER & CHIEF TECH DIVA, VMware
Page 13
T O P TIPS123TIFFANY GRANT KINGGLOBAL DIVERSITY, EQUALITY & INCLUSION, HPDon't attempt to emulate someone you weren't created to be.You were created. You will learn. Don't try to be someone else that you are not designed tobe. If you don't have a clear idea of who you are yet, that's OK. It's a journey.You find out who you're supposed to be by exploring, trying different things, being openminded and seeking guidance from those who you look up to. Find a mentor, a coach or aspiritual leader—someone who helps you cultivate your potential. Activate your voice, it has power.You have to speak up for yourself. First, you have to remove the fear and block out thenaysayers! This is your life. Don't let someone else block who you are supposed to be. Speakup for yourself and for all of those around you. Positive influences can often see in you what you can't see. And more often than we realizeothers are learning from you. Don't be so hard on yourself.There is no failure. There are only lessons learned that you can implement to do better nexttime. Demonstrate your lessons learned by sharing it with someone else. Exposure andawareness are two variables that can help you (and others) navigate life and frankly cantotally change the trajectory of your life. Every "failure" is actually just exposure.
Page 14
TOP TIPS123Be authentic.It is important that you are always yourself and not represent yourself assomeone you are not, just to please others. Don't be afraid to appearvulnerable. You are human and you should be treated like one. Communicate, communicate, communicate.All misunderstandings stem from insufficient communications. Neverinterpret feelings from electronic messages. Pick up the phone, talk tothe people directly. Get to know your colleagues and understand what isimportant to them. Ask questions.Never be afraid to ask questions; it shows interest and helps clarify yourthinking. My motto is to learn something everyday. Learning is FUN! Andif you don't learn, you don't grow. Learning and growth go hand-in-hand. LYNNE GARONEAVP of CORPORATE LEARNINGAND SOCIAL RESPONSIBILITY,E INK
Page 15
123T O P TIPSKnow your personal brand.Ask a personal, professional and community connection todescribe you in one word. Use this to guide newbehaviors/skills you will develop, old behaviors you will releaseand existing behaviors you will continue. Know your purpose.When selecting a new position consider how it aligns with yourpurpose in life. If it's a money decision and has no alignmentwith what makes you tick, ask yourself how long you cancommit to it and create a plan to move closer to what bringsyou joy. Share your gift.Whatever you are blessed to do, make time to share it withothers. You'd be surprised how rich life becomes when yousee how your unique gifts have the ability to strengthen anduplift another.VANESSA RUSSELLFOUNDER & EXECUTIVE DIRECTOR, LOVE NEVER FAILS
Page 16
TOP TIPS123Personal life and work life can, do, and SHOULD blur together.The more you love what you do, the more you will find that your work-life and personal-lifewill blur together. They should! You should know your coworkers as people, and they shouldknow you as a person. It is empowering to be surrounded by people who know that yourpriorities change on a regular basis, and that personal and family needs take precedence attimes, even in the middle of a work day or overlapping with an important meeting. That's notan entitlement; it's a privilege to be part of a work culture that supports that. You should giveback to that culture, as well. Sometimes, work needs to take precedence, even at dinner time!There is a way to embrace diversity on the journey to equity.Every person's thoughts, opinions, and abilities are different-- finding the right mix thatcreates the best end result is difficult. I've learned that "success" is not necessarily treatingeveryone the same, but embracing differences, and leaning into those differences as a meansof bringing diversity of thought, diversity of opinion, and diversity of action. Sometimes weoverlook the importance of diversity in our path towards equity.If something said or done makes you "feel" a certain way, it's real andshould be addressed.Unconscious biases are exactly that-- unconscious. People, including myself, may saysomething that can be heard in a different way than intended. Life is so full of small,meaningful learning opportunities and I have high expectations of those who I surroundmyself with to take opportunities to be teachers. If a statement sets off a "feeling," you shouldproactively address it, constructively. This is part of relationship building, part of resettingunconscious biases, and part of helping people improve themselves. I welcome this.KEVIN SHATZKAMERDIGITAL TRANSFORMATIONOFFICER-TELECOM, GOOGLE
Page 17
SABRINA SHAFERCEO, TRANSFORMATION CONTINUUMYou playing small does nothing to change the world.It can be so terrifying to let ourselves take risks and to put ourselves out there.But it's worth it. It is in those moments of risk-taking where we make our biggestgrowth and contributions.Learn from everyone and everything. There is an abundant amount of neuroscience and studies behind the power ofa constant learning mindset and success. The quicker you learn to use everyoneand everything around you as an opportunity for learning and growth, thequicker you will succeed. The more you give, the more you get back.Part of being a leader (of any type) is you are always evaluating new solutionsand better ways to accomplish goals. One tip I've learned over the years that hasnever let me down is this "compound interest of life" principle. T O P TIPS123
Page 18
JENN RICHARDSONCEO, COUTURE COLLECTIONand PRESIDENT, HER VOICEADVOCACY FOUNDATIONTOP TIPSFail forward.Know before you start, you're going to fail. And you're going to fail again. But thefailures are what are truly the most invaluable aspect of developing a successfulbusiness. Learn from it. Grow from it. Use it to become even better. Stay curious.Never reach a point in your business where you feel like "you've got it" because in thatmoment "you've lost it." Things are ever changing and you need to ensure you haveyour finger on the pulse of what's next. And just as something begins to work; whetherit's a marketing campaign or a sales tactic - it can stop working. Constantly research.Ask questions. Have a running list of new things to try. Love to learn. It takes a village.Quit the mentality of "me" and realize any successful business is crucially dependent oneveryone else. You may have great ideas and a great product, but without peopleinterested in purchasing what you've created, it won't work. Take the time to grow thenetwork before pitching the product. Include anyone and everyone in the build processso they feel invested. Ask for opinions. Ask for advice. Use the voices of others as aninvaluable resource to your business growth.123
Page 19
T O P TIPS123DANA VADNAISSTAFF SCIENTIST, EDGEWELL PERSONAL CAREIt's possible to love your career and love being a mom It doesn't have to be one or the other. I wasn't born to be a stay at homemom and that's ok. Loving my career and having something that makesme feel good about myself, away from my kids, makes me a better momand it gives my kids a role model for strong working women. Be unapologetically who you areNever let someone make you feel like less than you are. If you are a rockstar female engineer than be that whole heartedly. Nothing is a man'scareer, women belong at the table too.Speak loud enough to be heardWe all have great ideas, so share them. Speak up and speak loud soeveryone knows that you can offer an opinion. We all have a uniqueperspective, share it.
Page 20
TOP TIPS123MARIO CASTRODIRECTOR OF OPERATIONS,CISCO Your title and your skill do not define you, what defines you is your persona. Be curious, and fill the gaps with knowledge and people you trust. The technical space is full ofpossibility and understanding. What excites you and gets you going will be your ability to quicklyadapt and be seen. Leadership is about leading, not titles. What gets people to follow is leading through influence. Havesome use cases or compelling examples. The more people can see through your examples, the likelythey are to follow you.Curiosity is foundational to success. Just because something is done a certain way does not mean that it needs to continue. Curiositycoupled with technology is how you can change the world. The more you understand, the more youcan contribute. Fuel your curiosity horizontally and vertically. In other words, within your industryand outside of your industry. It will complement how you lead and expand your depth.True leaders will lead and it does not always mean you have to be a people leader. You can leadthrough ideas, through change, through compassion. Have a personal board of directors.Every successful company has a board of directors, every successful person should have a board ofdirectors. Your board members are your mentors. Build your team, know your gaps, and rememberthat "your board" does not have to be from your industry, they just need to be folks you trust andget you to think…you own the execution. Great mentors will eventually become your sponsors andwill advocate on your behalf.
Page 21
T O P TIPSCome in with a presenceWhen you're interviewing and branding yourself, you need to find yourselfvaluable. Want to nail an interview? Think about a holistic, higher-valuepresence that you want to exude. Valuing yourself will move the needle.Otherwise, if we continue to submit to the environment, then we are justperpetuating the divide.Know that you are interviewing the job tooKnowing that this is as much about you deciding if you want the role will helpreadjust your thinking and your confidence. Sometimes we go into an interviewtrying to get the job, sometimes at all costs. But when you walk inunderstanding that you are interviewing them too, it's empowering.Say "yes" without fear. Say "no" without regretsOne thing we tend to do is be fearful and apologetic when we make decisions.One of the most difficult things to do (especially when it's our boss) is say "no."Choose to challenge yourself to say "no" without guilt and to say "yes" withoutfear.123KARLA RIVERASTRATEGY, PLANNING & OPS, CISCO CO-CHAIR WOMEN OF CISCO BOARD AMERICAS
Page 22
TOP TIPS123JILLIAN KAPLANLEAD 5G & TELECOM THOUGHT LEADERSHIP, DELL TECHNOLOGIESMaster the Art of the Subtle BragI spent the majority of my career doing great work and expecting greatthings to happen. That isn't how it works. You have to speak up andshare what you want, what you have accomplished and where you aregoing. Your leadership cannot read your mind so it's your job to speakup. Be someone who makes everyone feel like someonePeople will forget what you said, they will forget what you did, but theywill never forget the way you made them feel. Go above and beyondto make everyone FEEL like someone. Be extra. Work-Life balance is a mythBut I believe in work-life happiness. You can find a happiness thatworks for you. Block your calendar, move things around, do what youhave to do. Being effective at work is dependent on your beingeffective at home.
Page 23
TOP TIPS123SUMEDH SATHAYEDISTINGUISHED ENGINEER,DELL TECHNOLOGIESDon't be afraid to be the loudest voice in the room whennecessary.Speak up, ask questions and be heard. You have so much to share and ifyou don't share it you are doing a disservice to yourself and your business. Listen intently.Listen to what others are saying. Don't just hear them but actually listen andabsorb what is being said. Because great listeners ask great questions, thatlead to great solutions.Walk like you mean it.Appearance matters. Posture matters. Make sure you stand tall and shareyour strength. If you don't embody it, you won't become it.
Page 24
© Transformation Continuum 2021 | All rights reserved.