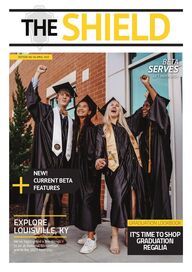 Return to flip book view
The Shield - Edition 04 - Spring 2023
Page 1
SHIELDTHEEDITION NO. 04 APRIL 2023GRADUATION LOOKBOOKIT'S TIME TO SHOP GRADUATION REGALIANEW!CURRENT BETAFEATURESBETASERVESEXPLORELOUISVILLE, KYWe've highlighted a few things to do at National Convention and in the 2023 host cityGET INVOLVED!
Page 2
2Fall 2022ContentsTHE PATH TO MISS MISSISSIPPIBETA GREATSSHOUTOUT TO SERVICEExplore how Beta girl, Averi Cockrell, balances both pageantry and service as she makes new goals and works to attain them.See what Beta alum are up to and see if you recognize any of these famous Betas.Take a peek at Beta service projects from all over the United States and get ideas for the 2023-2024 school year. GRADUATION LOOKBOOKEXPLORE LOUISVILLE, KY & BEYONDBETA SERVESJOCELYN SAVES THE DAYSee how fth grade Beta, Jocelyn Williams, has achieved great things with her writing. Your dreams can come true if you just work hard!Lead by Serving Others at the 2023 National Convention. Learn how you can get involved!04101206081114
Page 3
3The ShieldLisa Fields has been an integral part of the Beta staff since September 2016. The Spartanburg native started as a Marketing Coordinator, working to help schools across the country create their very own Beta chapters on their campus. Two years later, she stepped into the role of National Sponsor within the Convention department. Lisa's energy and positivity was contagious throughout the convention world, especially within the Junior division where she focused much of her time and attention. She became such a vital condant and sounding board to the sponsors she spent her time working with that when a brand-new position within the National Ofce took form - the Sponsor Development Specialist, Lisa was a perfect t for the role. Her wealth of knowledge, outgoing personality and easy-going communication style make her the perfect liaison between new sponsors and the information they're seeking from the National Ofce! When she's not creating webinars and constructing complex solutions for schools, she's spending time with her family and friends exploring new foodsand new places. She is always up for fun-lled adventures but is just ashappy to nd peace in gardening at home. Staff HighlightGet your official National Convention Merchandise!CLICK HERE
Page 4
4Fall 2022By this point, you've probably picked up on a theme. Service isn't just a part of what we do, it's a part of who we are at the core of our organization. From our motto to our constitution to club participation, service is woven into the very fabric of National Beta. Since our establishment, Beta has encouraged and upheld the ideals of service within schools and communities. For years, this has been done independently by individual clubs. It then spread to the State Convention level. But now, we've taken it NATIONALLY! Beta Serves, rst introduced at the 2022 National Convention in Nashville, TN, epitomizes the National Beta motto of "Let Us Lead by Serving Others". With thousands of leaders assembled in one space at one time, we realized the impact we could make in the local community was monumental. Through detailed research, the National Ofce highlights a need in the host city of each year's National Convention and partners with local organizations to allow our project to make the greatest impact. In 2022, over 65,000 items were donated to ve organizations within the city of Nashville that served the homeless population. The National Ofce, as well as the Nashville community was in awe over the impact made by National Beta students, sponsors, and supporters. This year, we hope to make another substantial impression on the Louisville, KY community through Neighborhood Place along with Jefferson County Public School District to provide school supplies to students in Louisville. Neighborhood Place has multiple locations all over the city that help serve need-based families and students from the 165 schools in the district. Each Summer, the Louisville Community comes together through the Neighborhood Place Partnership to host anywhere from 5-7 Back-To-School events that are strategically located in different areas. This ensures that their students and families can access these events close to their home. The items collected by clubs this summer will be distributed to the students attending these events. Achievement. Character. Leadership. SERVICE. "Let Us Lead By SERVING Others." "...seeking to cultivate the ideals of SERVICE and leadership in our citizens of tomorrow..." SERVICE hour awards. SERVICE projects.BETA SERVES LOUISVILLE, KENTUCKY 2023
Page 5
5The ShieldSERVICE COMPETITIONDONATION LISTSSpecific donation lists have been created for each division which can be found here. Jefferson County Public Schools has: The top 10 schools per division who donate the most items averaged per attendee will win a plaque AND our exclusive Beta Serves Louisville pin! Awards will be given pre-session during the last session. Items will be counted based on the list provided in the link below. 165schools96,148students139languagesspokenLargest school district in Kentucky67% of students qualify for Free or Reduced Lunch79% of all children in Louisville attend JCPS5-7annual Back-to-School events in Jefferson County30th largest school district in the United StatesMore information about Beta Serves atwiki.betaclub.org/nationals/betaservesbetaserveslouisville2023
Page 6
6Fall 2022JOCELYNSAVES THE DAYIf you've ever wondered if anything could come from the piece of writing you submitted to your school competition, or the poem you penned for the district ofce showcase, Jocelyn Williams, a 5th grade Beta member at Swainsboro Elementary School in GA, is proof that an idea, an opportunity, and a little ambition can lead to very big things! From a school writing contest to 2 best-selling books on Amazon, Jocelyn didn't let the fear of failure slow her down. Despite not placing in the writing contest for her school, she believed in her work and even more so in her topic- her animals! She had a desire to share her imagination (and funny farm antics) with the world. With support and encouragement from her parents and some patience for the publishing process, Jocelyn set the wheels in motion for the pre-sale of her rst book, Grace Needs Hay in March of 2021. Making her publishing debut at 9, she wasn't ready to settle and published her second book, Grace and Gigi Save the Day, just after turning 10 in 2022. While there are no new book reveals as of now, Jocelyn did say that she has plans to write more books in the future! For now, she is staying busy as a one of the sponsors of the "Beyond Your Imagination" Scholarship established in 2022 to encourage and assist high school seniors to go beyond their imagination through creative writing in pursuit of educational goals. Jocelyn's advice to other students who are interested in exploring the publishing eld is to "never give up on your dreams. Your imagination is worth sharing to the world." Bookworms Unite!Here are the covers of Jocelyn's books, Grace and Gigi Save the Day and Grace Needs HayFun Facts About JocelynWhat made you excited to join National Beta? It was an accomplishment of my hard work of making good grades in school. What are some things you look forward to doing with National Beta? Meeting new people who may share the same interest as me and accomplishing more achievements.
Page 7
7The ShieldFun Facts About JocelynWhat is your favorite subject in school? Language Arts and Social Studies Tell us about your animals. Which ones are your favorites? I have a Boxer dog named Rex and a Great Pyrenees dog named Kobe who are both in my second book. I also have an Australian Cattle dog named Kye. My rooster Mr. Bojangles and my goats Grace, Kiki, Browny, and Penelope are all featured in my books. I have eight more goats. I don't have a favorite; I love all my animals the same.
Page 8
8Fall 2022Averi Cockrell is your everyday girl who just so happens to have big ambitions of leaving a mark and making a difference in her Beta world and beyond! Find out how this Miss Mississippi contestant plans to use her platform to enhance and serve her hometown. Averi, tell me about your involvement with National Beta? How long have you been a member? I was introduced to Beta when I was in the 4th grade. Beta has given me so many opportunities and tools to achieve my goals for the future. It has shown me how to lead, work with others, and achieve any goal I set for myself. In 2021, I was given the chance to run for Mississippi Jr. Beta State President. This was during the pandemic, and I really had to think out of the box on how to campaign. From this experience, I was able to learn more about my community, and what it means to be a leader. I enjoy participating in our monthly hands-on Beta projects with our special needs students, and spending time with fellow students while learning the importance of education and volunteering. As Miss Jones County's Teen I represent the Miss America Organization and my hometown of Laurel, MS. As Miss Jones County's Teen I have multiple opportunities to give back to my community through community service and to promote my platform, Schools Against Vaping. As Miss Jones County's Teen, what are your responsibilities and duties in that role? Serving as Miss Jones County's Teen is such an honor. It provides me the opportunity to meet so many other young women across the state with similar goals. It will allow me to promote my platform, Schools Against Vaping, and to earn scholarship money to further my education. My title provides the opportunity to promote a healthy lifestyle and the importance of community service through volunteering. You just won an exciting new title! Tell us about Miss Jones County's Teen and what it means for you? A BETA GIRL THROUGH AND THROUGHWITH HOPES OF MISS MISSISSIPPI, TOO?
Page 9
9The ShieldFollow Averi's journey on her social pages:My social impact initiative was inspired by an ongoing vaping epidemic I've seen rst-hand in my school and among my peers. Most students that vape are unaware of the harmful chemicals, and long-term damage, they are doing to their bodies. I am currently serving as the Mississippi Chair of LifeSAV'ers Schools Against Vaping National Built Student Advisory Council. Through this role, and the Title of Miss Jones County's Teen, I was able to get my school district (Jones County) signed up with Schools Against Vaping, to ofcially join the ght for student body health. My goal is to form a student lead advisory council, with leaders from each district throughout the state, to work together to educate and bring awareness to our peers and school districts about the dangers of vaping. You are particularly passionate about your service platform- Schools Against Vaping. Can you tell us about it and why you chose that initiative? On April 23rd I will be competing for my dream job; the title of Miss Mississippi's Teen. The competition will be held in Vicksburg, MS and there will be four phases of the competition; interview, talent, evening gown, and tness. I will be singing "Let Me Be Your Star" from the Broadway Musical Smash. Hopefully, I will inspire other young girls to get involved, volunteer, and be leaders. If something is important to them, I hope they will speak out. If they have a goal, or a dream, don't be afraid to go for it. Sometimes you will succeed and other times you might fall short, but every opportunity is a chance to learn and grow from the experience. Something big is happening on April 23rd. Can you tell us about it? How do you plan to apply your pageant success to future club or service endeavors? The skills that Beta has equipped me with have helped me tremendously on my pageant journey. Through participating in the many projects Beta offers, and attending the MS Beta Convention, I have learned the importance of leadership, and giving back to my school and community through volunteering. Through Beta, I have been given the opportunity to compete in talent in a coliseum lled with my peers from across the state. Running for Mississippi Jr. Beta State President during a pandemic, I learned how to promote my hometown, school, and myself through social media. Beta has given me countless opportunities and the tools that have helped lead me to where I am today. In what way has your Beta involvement helped with your pageant competitions or vice versa? How did you get involved with pageants?I grew up watching the Miss Mississippi and Miss America pageants with my mom. When I was ten years old, I had the opportunity to be a part of the Miss Mississippi Pageant, serving as a Petite Belle for one of the delegates. I was able to make new friends, perform on stage, and watched how the older girls were making a difference through their platforms. I was inspired by my experience, and I've known since then, that I wanted to be a part of the Miss America Organization, and to one day compete myself. Last October, at the age of 14, I entered my local pageant and won the title of Miss Jones County's Teen.
Page 10
10Fall 2022GRADUATIONLOOKBOOK2023NationalBETAGet yourGRADUATIONGEAR NOW!Click to view the full 2023 Graduation Lookbook
Page 11
11The ShieldSince 1934, National Beta has had millions of alumni with countless successes, honors and awards. Our members have included United States Presidents, Grammy-winning musicians, professional athletes, business founders, talk show hosts, journalists, actors, comedians, Miss America winners, college presidents, dancers, actors, politicians, the list could go on and on. Each and every one of these public figures began as a student who earned a spot in their school's Beta Club- JUST LIKE YOU. We are amazed daily by our members' incredible accomplishments and look forward to seeing what else they achieve in their lifetime. It is our goal to highlight the outstanding work and dedication of our members of Beta's past, present and future. That's where you come in. Do you know of a successful Beta member from your school or community? We want to add them to the list of Beta Greats! Email alumni@betaclub.org if you have names or potential contact information. And hey, maybe we'll see your name on the list one day!BetaGREATSView all the Beta Greats HereAriana DeBoseAmerican actress, dancer, and singerEricka DunlapMiss America 2004Justin TimberlakeAmerican singer, songwriter, actor, and record producerKelsea Ballerini Americancountry popsinger and songwriterJake DelhommeAmerican former professionalfootballplayerMillard FullerCo-founder and the former president ofHabitat for Humanity InternationalJeremy PopeTony nominated actor and singer
Page 12
12Fall 20222023 NATIONAL CONVENTIONEXPLORING LOUISVILLE& BEYONDNow that you've got it, let's start from the top. Here, you can nd everything you need about Beta Convention from handbooks to merchandise to Shield Summit to maps. You can also nd all the details about Beta-sponsored activities like Scavenger Hunt and Beta Serves Louisville (which you can read more about on page 4! These activities take place on site at the Convention Center and offer a great way to ll down time between competitions. Plus, we hear some exclusive Beta pins are up for grabs for the winners!Welcome to Louisville. Home of the Kentucky Derby, Louisville Slugger and, during June of 2023, Beta's National Convention! Since we'll be spending some quality time in Kentucky's largest city, we should explore all the opportunities for fun and adventure this summer! BEYOND CONVENTIONFirst and foremost, be sure to download the National Beta app so you can stay up to date on everything happening during National Convention. Scavenger Hunt InformationOfcial National Convention MerchandiseBeta Serves Information
Page 13
13The Shield2023 NATIONAL CONVENTIONEXPLORING LOUISVILLE& BEYONDYou'll also nd Louisville-specic information if you'd like to get out and explore Derby City. The National Ofce has worked closely with Louisville Tourism to provide lists of dining and tourism, including Deals & Discounts for local businesses and events. Be sure to check out the list and pre-register for any specic dates! Have you always dreamed of having an entire theme park to yourself? How about spending that time surrounded by your Beta besties? If you want the ultimate exhilarating experience while at Nationals, Beta Night at Kentucky Kingdom is what you're looking for! This exclusive, Beta-only event will be held at the Louisville amusement park, lled with entertainment and excitement for all ages. This separately ticketed event is only offered to National Convention attendees, including registered family members and chaperones. Beta members will have access to all areas of the park excluding Hurricane Bay, Kentucky Kingdom's water park, and King Louie's Playland which contains rides for pre-k aged children with access to unlimited water and soft drinks. Tickets must be pre-purchased through National Convention registration BEFORE the close of the National Convention deadline date, May 4, 2023. EXPLORE LOUISVILLEBETA NIGHT AT KENTUCKY KINGDOMDeals and DiscountsBeta Night Information
Page 14
14Fall 2022SHOUTOUT TOSERVICELawhon Jr. Beta students are "Leading by serving others" by donating baskets full of items for Guardian Angels, which helps people in assisted living facilities and those less fortunate.Our club created 47 Chemo Care Packages lled with fuzzy socks, a blanket or hat, coloring pencils, and an activity book to give to our local cancer center.LAWHON ELEMENTARY, MSCHUCKEY-DOAK MIDDLE, TNSUBMIT YOUR SERVICE PROJECT PHOTOS ON #BETAFAMOUS FOR A CHANCE TO BE FEATURED. COTTONDALE ELEMENTARY SCHOOL, FLOur Elementary Beta Club recently worked to clean up the Cottondale Recreational Park. We ended up with 26 members coming out, on a Saturday, to assist in cleaning and getting the park ready for the town.
Page 15
15The ShieldSUBMIT YOUR SERVICE PROJECTON #BETAFAMOUSOur 20 Senior Betas from Cloverport, KY took up the animal welfare challenge and volunteered at the Leitcheld Animal Shelter. Bringing & receiving joy as we played and cared for fur-ever friends! CLOVERPORT INDEPENDENT SCHOOLS, KYCHUCKEY-DOAK MIDDLE, TNSumrall High Schools Senior BETA club has been very busy with our monthly service projects. In August, we had 11 members participate in a Local clean up at our youth softball and baseball elds. The KMS Beta club sponsored a can food drive to collect can goods for families in need in our community. This photo shows 5 of our BETA students boxing up the canned goods to be transported to Hearts to Nourish Hope, the facility receiving the donations, to help feed families in need. The members earned about 50 service hours during the collection of the can goods. KMS Beta club collected over 2000 can goods. SUMRALL HIGH SCHOOL, MSKENDRICK MIDDLE SCHOOL, GASAIL - SCHOOL FOR ARTS INFUSED LEARNING, GASAIL Beta members volunteer their Saturday to make blankets alongside Project Linus for children in need in our community, children that are hospitalized locally, as well as newborn babies. Providing warmth and putting smiles on children's faces.
Page 16
151 Beta Club Way - Spartanburg, SC 29306PHONE #8008458281 FAX #8645429300Email shield@betaclub.org Website www.betaclub.org