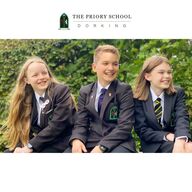 Return to flip book view
The Priory School Dorking Prospectus 2022
Page 1
THE PRIORY SCHOOLDORKINGFIDE ET LABORE CONFICERE
Page 2
Page 3
All Priory students are encouraged to explore their talents and passions, nurtured to exceed all expectations and fully prepared to realise their potential; educated for life in all its fullness. Our promise is to: • Provide a safe and supportive community in which children thrive• Offer a wise curriculum that ensures breadth, balance and unique opportunities• Ensure dignity for every student through provision of choice, voice and respect• Build hope and vision through the pursuit of academic excellence for all students We ensure that students are supported at every turn and that they feel comfortable, respected, safe and secure in their environment. From challenge and inspiration in lessons, to a vast range of different enrichment activities outside of the classroom, we provide a huge array of opportunities for every child. Our ultimate aim is for every student to make the most of every day, to grow in character, confidence and academic success in preparation for their future. Mrs J TrimnellHeadteacherWelcome to The Priory Church of England school, where high standards of attainment and behaviour are expected; where each individual matters; and where everyone has something special to contribute.
Page 4
Page 5
Every Individual MattersAt The Priory School we believe every individual should be known. Our tutor group and class sizes are built to ensure that this is possible. Your child will be with friends that they know from primary school. We offer a supportive transition programme for those who do not know other students when they start. These healthy relationships are the bedrock for effective learning and excellent progress. Every student at The Priory is a member of a House; Westminster, Guildford, Canterbury or Coventry. Students contribute to their houses as they accrue house points in lessons and as they get involved in extracurricular activities and competitions. The House system not only recognises individual student success, it also builds our school community across year groups and gives us a focus for celebrations at various points across the year. As a specific feature of being a Church School we have a vibrant chaplaincy that includes BeMe, a charity that has its origins in The Priory and that now runs courses nationally for girls tackling self-esteem issues. The chaplaincy team offers weekly clubs as well as larger annual events including OMG week during which students experience ways to grow in the community and explore issues of faith. Every student is welcome to all that the Chaplaincy offers and many of our students benefit from the one to one support the team is able to offer.The Shore Centre is our new facility that's been purposefully designed to provide educational and personal wellbeing support to all members of our community. It is our strong belief that students with positive mental health will have a happier time at school and will be better prepared for life long learning. The Shore Centre is a valuable asset enabling us to provide tailored support to our students throughout their time at the Priory.Pupils follow a broad and balanced curriculum, which is enhanced by well-planned spiritual, moral, social and cultural provision. Christian values are well promoted. OFSTED 2019
Page 6
Page 7
Our students are expected to aim high. Every student is supported on their learning journey to achieve the very best outcomes in everything they do. At The Priory we help our students to build the character and skills they will need in order to gain the best possible GCSE results. Student progress is tracked against prior performance at Key Stage 2 and in year attainment. Every student is set an aspirational progress pathway at the end of the first term of Year 7. Teachers then track, monitor and liaise with the students to ensure that they are striving to achieve their best and that they have everything they need to continue to make progress. When students reach Year 9 and choose their GCSE subjects, we allow them free choice, knowing that studying what they are passionate about will feed their success.Priory parents play a vital role in their child's education. There are several events held at school that we expect parents to participate in;Meet the tutor evening for year 7This is an opportunity to discuss how your child has settled in their first half term and to receive some initial feedback on your child's learning.Parents evenings once a yearOne to one appointments with subject teachers provide you with specific feedback on your child's progress and guidance on what their next steps in their learning need to be.Leading Learners EveningsAn evening for parents and students to attend together and develop a better understanding of effective learning and how this can be continued and supported at home.Achieve the very bestTeachers' high expectations and clear explanations make it very clear to pupils what is expected of them. OFSTED 2019
Page 8
Pupils are challenged to think hard and enjoy the opportunity to use their initiative and work collaboratively. OFSTED 2019
Page 9
The facilities we have available at The Priory are second to none. Our indoor pool, Sports Dome, Music Suite, dedicated Performing Arts Block, Dance Studio, significant sports fields and well equipped Science Labs allow us to provide not just excellent lessons but a dynamic programme of extra-curricular activities.We are able to offer a diversity of opportunities that really are unique to The Priory. These include the opportunity to:• Study Physics, Chemistry and Biology as separate Sciences at GCSE.• Have swimming lessons each year as part of PE lessons.• Join one of our two Greenpower Racing car teams that compete nationally• Perform live music to an audience every term• Make on site high quality recordings of musical performancesOutstanding Facilities
Page 10
Pupils benefit from many after-school clubs and activities, as well as the school's strong commitment to the performing arts and practical subjects, such as design technology. OFSTED 2019
Page 11
Enrichment OpportunitiesThere is a broad and varied abundance of clubs, visits, trips and events at The Priory. We have compiled a list below of what we offer. Whilst this is an example of our current provision, staff are always willing to start new clubs if there is interest from our students.Sports ClubsNetball, Football, Badminton, Rugby, Swimming, Trampolining, Cricket, Rounders, Athletics, Zumba, Darts, Chess, Extra Curricular PE clubs run by Dorking Wanderers UEFA qualified coaches, Gym & Dance Show, Annual Ski trip to AustriaEducational Trips and Outreach ProjectsThe Duke of Edinburgh's Award; Educational trips to Denbies, Ikea, Design Museum, Wales, West End Shows; Prayer Spaces Week; Foreign Exchange TripsMusic/Dance/Drama and ArtYouth Voice Choir, Rock Band, Jazz Band, Steel Pan Band, African Drumming Class, Guitar Club, Drama Club, Poetry Club, Lego Club, Textile Club. Students perform at:School concerts, Assemblies, Mole Valley Youth Awards Evening, Afternoons of Music, The Dorking Christmas Gala.Opportunity to perform on the professional stage at the annual dance showcase at The Harlequin Theatre.Volunteering and CharityMole Valley Swimarathon, Young Carers Support Club, Whole School Sponsored Walk, RAG weekAcademicReading Club, Computing and Robotics Club, CyberFirst Girls Competition, CyberDiscovery CompetitionJunior, Intermediate and Senior Maths Challenge, ReadingZone festival, Book Week, Greenpower Racing Team, School Council
Page 12
Page 13
Behaviour in the school is excellent and students are highly respectful of one another whether of any faith or none. Highly positive and harmonious relationships exist between all.SIAMS Report 2015
Page 14
Post 16 OpportunitiesWe are very lucky to have a wide range of Post16 providers in close proximity to The Priory School. We have partnered with three outstanding organisations who work with our students all through Key Stage 3 and Key Stage 4 so our students become familiar with the opportunities available to them when they complete Year 11.Reigate College and East Surrey College provide students with the widest possible range of courses, taught by subject specialists. This means that every student is able to find the perfect combination of subjects and support for them to succeed. The Priory School students are guaranteed a place at either college, provided they meet the minimum entry requirements and have an excellent school report.
Page 15
Reigate CollegeReigate College is a specialist sixth form college, graded outstanding by Ofsted. The College's focus is on A Level and BTEC Level 3 qualifications, providing students with a choice of over 50 courses. These include traditional subjects such as Biology, Maths and History as well as courses in subjects such as Business, Media, Film, Sociology, Psychology, Criminology and Health & Social Care. The College's results are among the best in the country and for this reason university success rates are extremely high, with large numbers of students securing places at the top Russell Group universities including Oxford and Cambridge, and on the most competitive courses such as Medicine and Law. For more information about Reigate College, please visit www.reigate.ac.uk
Page 16
East Surrey CollegeEast Surrey College, including the acclaimed Reigate School of Art, has a strong vocational focus, with students offered qualifications such as full BTEC Diplomas and other industry standard qualifications from Entry Level to Level 3 (and Higher Education Level 4-6). Student pass rates are consistently within the top 10% for General Further Education & Tertiary Colleges in England. Full-time and Apprenticeship course areas include Hair & Beauty, Construction & Engineering, Science, Aviation & Travel, Sport, Public Services, Creative Arts, Business, IT & Digital, Motor Vehicle and Caring Services. For 2022/23 East Surrey College is also offering new T-Level (Level 3) routes across eight different subject areas. All courses have strong progression into careers, onto university or into the workplace.Both Reigate and East Surrey College have specialist support teams, as well as Additional Learning Support and Bursary services. Taster events, gifted and talented sessions, options advice, and formal transition activities help ensure Priory School students hit the ground running when they make the move to either Reigate or East Surrey College.
Page 17
Dorking WanderersIn addition to Reigate and East Surrey College, we also work alongside Dorking Wanderers Football Academy. DWFA is a nationally renowned football academy programme for boys and girls from the age of 16 onwards. Students study BTEC Level 3 in Sports Development and Coaching, whilst gaining access to high quality football coaching, training and match play. DWFA use Priory classrooms to deliver their academic content and they train and play at their top facility at Meadowbank Stadium. The football is taken by fully UEFA qualified coaches.This programme draws students in from all over Surrey and Sussex and we are very lucky to have DWFA on site as they contribute to the extra-curricular PE clubs for our own students. DWFA graduates can earn places in the Dorking Wanderers Senior squads, move on to other local clubs, continue with their study at university or transition to jobs within the area of football, sport, coaching, business, management, marketing or nutrition.
Page 18
Location & TransportThe school is conveniently situated on the outskirts of Dorking town, a ten minute walk from the town centre. We are well served by public transport, the nearest bus stop, Townfield Court is a five minute walk away. Transport arranged by Surrey County Council sets down and picks up in Longfield Road, immediately adjacent to the school. The school is also connected to the A25 and Dorking High Street by a series of footpaths enabling children to walk safely to school. Coaches drop off and collect students from the school's coach park adjacent to the school site.
Page 19
The provision for students' spiritual, moral, social and cultural development is extraordinary.SIAMS Report 2015
Page 20
01306 887 337West Bank, Dorking, RH4 3DG www.thepriorycofe.com