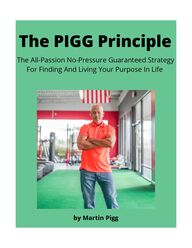 Return to flip book view
The PIGG Principle DB
Page 1
b Main PiggThe PGG PicieTe A-Pa N-Pee Gaaeed SaegF Fdg Ad Lg Y Pe  Lfe
Page 2
TABLE OF CONTENTS INTRODUCTION 1. MOM AND DAD: MY FIRSTHAND EXPERIENCE WITH PURPOSE 2. MY JOURNEY TO PURPOSE 3. LIVING YOUR PURPOSE MAKES YOU ESSENTIAL 4. THE BIGGEST REGRET OF ALL 5. DEMYSTIFYING YOUR PURPOSE WITH THE ESSENTIAL QUESTION 6. FINDING AND LIVING YOUR PURPOSE AS AN EXIT STRATEGY 7. THE TRANSFORMATIONAL NATURE OF PURPOSE 8. THE PIGG PRINCIPLE 9. YOUR GREATEST PASSION: THE ONE THING THAT INSPIRES YOU ABOVE ALL OTHER THINGS 10. INTENTION: THE ENERGY OF WHAT YOU DO AND WHO YOU CONNECT TO 11. INTENTION: THE ENERGY OF WHAT YOU DO 12. INTENTION: THE ENERGY OF WHO YOU CONNECT TO 13. GRATITUDE FOR THE JOURNEY AND YOUR BLESSINGS ALONG THE WAY 14. GRATITUDE FOR THE JOURNEY 15. GRATITUDE FOR YOUR BLESSINGS ALONG THE WAY 16. GRACE: MOVING THROUGH THE WORLD WITH LOVE FOR YOURSELF AND OTHERS AND GENEROSITY IN THE OFFERING OF YOUR TIME, TALENTS AND NETWORK TO HELP OTHER PEOPLE FIND AND LIVE THEIR PURPOSE 17. GRACE: LOVE FOR YOURSELF 18. GRACE: LOVE FOR OTHERS 19. GENEROSITY IN THE OFFERING OF YOUR TIME, TALENTS AND NETWORK 20. GENEROSITY: YOUR TIME 21. GENEROSITY: YOUR TALENTS 22. GENEROSITY: YOUR NETWORK 23. CHAPTER 23: THIS IS YOUR ONE OPPORTUNITY
Page 3
INTRODUCTION If you can't figure out your purpose, figure out your passion. For your passion will lead you right to your purpose. - T.D. Jakes It can feel exciting to believe that you have a purpose in life. But it can also feel discouraging to believe that what you're doing with your life is not what you're meant to do with your life. And it can feel daunting to contemplate the notion that you are meant to do something that is far bigger and more important than whatever it is you're doing right now. I understand all of those feelings because I've felt them myself. This guide is about my belief that you have a purpose in life, that you have unique gifts and the God-given right to share them with the world, that our world desperately need your gifts right now and that you are never too old to find and live your purpose, even if you don't know exactly what it is. I found the purpose I live now at 47. But due to family tragedies and my reaction to those tragedies, I did not pursue it until I was 57. So wherever you are on your journey right now, my message to you is that a purpose delayed is not a purpose denied. You can begin, right now, to find and live your purpose, and that's what this guide is really all about. The PIGG Principle is based on my 50 year connection to purpose, my observation of the four energies at work in people who are living their purpose and my own use of those energies to find the purpose I live everyday. And what I love most about the principle is that, not only will you be able to find and live your purpose because of it, but that you will have an absolute blast along the way. I guarantee that! Now…Let's Get Started!
Page 4
CHAPTER 1: MY FIRSTHAND EXPERIENCE WITH PURPOSE I was eight years old when I was first introduced to the idea of having a purpose, even though I really was too young to understand exactly what a purpose was at the time. And then I spent the next thirty years of my life watching what happens when one of your role models pursues their purpose and the other one abandons their purpose. Now at 57 as I write these words and live my own purpose, I can tell you that the impact of watching the two people I loved the most have two very different experiences with purpose was profound. My dad was a brilliant musician who dreamed of becoming a professional trumpet player. During his senior year in college he stepped onstage to perform a solo recital in front of the music faculty, which was required to graduate with a degree in performance. During the recital he suffered a nervous breakdown and left the stage. And even though he was given several opportunities to finish his performance at a later date, dad could never regain the courage he needed to get back on stage. He changed his major and gave up on his dream. Mom found her purpose in 1969 when God called her to the ministry. And I was 8 when she was appointed to serve as the minister of her first church, Hedley United Methodist Church, in the Texas Panhandle. In the early 70's it was extremely rare for women to lead churches, and many male ministers and congregation members were openly hostile. I spent my childhood being very defensive about the way mom was often treated. One afternoon I asked her why she wanted to be a minister with all of the bad things people said about her. She smiled and said, "Because my calling from God is stronger than anything anyone could ever say to me." I can still remember that comment almost fifty years later. The contrast between the lives my parents lived could not have been any more extreme. Mom had a strong sense of purpose and was deeply passionate about her work. She lived an amazing life surrounded by an incredible group of friends that loved her very much. And she was still pursuing her purpose up until a few hours before she left this world for her
Page 5
next adventure. While dad moved from job to job doing work he didn't care about as his marriage fell apart. I was 23 when mom filed for divorce, and dad spent the rest of his professional life frustrated and his personal life virtually alone.
Page 6
CHAPTER 2: MY JOURNEY TO PURPOSE I pursued my first purpose when I was 28 after losing a battle with teargas. When I graduated from college four years earlier there were two options for decent paying jobs in my small town, teacher and prison guard. And since guarding inmates paid more than guarding kids, I opted for the slammer. But when a riot broke out in a prison dayroom and teargas was fired to quell the disturbance, I got stuck in a crawlspace gasping for air as my lungs burned and snot poured from my nose. It was at that point I was sure there had to be a better way to make a living. While working in the penitentiary I became friends with Mark, another guard who was a retired oilfield worker. Before retiring, Mark had invented machinery to build pipelines more efficiently. And while he could never sell the machines himself, I thought it was brilliant technology and I asked if I could try to sell it. We agreed and he said he would provide me with pipe samples and the knowledge I needed, but that there was no reason to sign a partnership agreement because I had no chance of success. That night I prayed to God for a sign of where I should sell the equipment. The next morning in the Wall Street Journal I read an article about Russian oil companies losing thirty percent of their oil due to pipeline leaks and I knew immediately that Russia was where I needed to be. That afternoon I walked out of the penitentiary for the last time because I was no longer a guard, I was now an international businessman! Armed with a B.S. in Physical Education and no money, no marketing background, no knowledge of Russia or any business or pipeline industry experience, I sold everything I owned and borrowed money from friends to stay afloat. I broke up with my girlfriend and moved from Texas to the DC area to further the cause. Two years later, after trips to Russia and copious amounts of vodka and one bizarre experience in a Russian sauna, we were on the verge of closing our first deal. I had just returned from Russia when I got a call from Mark. He congratulated me on what I had accomplished, and then told me that he would take it from there. And just like that, the man who could never sell
Page 7
his own machinery stole the business from me. Immediately I thought about his refusal to sign a partnership agreement when I first told him that I wanted to sell his equipment, and I couldn't believe how stupid I'd been. Even worse, I felt like he'd stolen my purpose in life. What followed was a series of questionable decisions in twenty-six countries on three continents. I failed at a business in the Republic of Georgia, lost out on an oil deal with a member of the Shah Of Iran's family, got swindled out of my life savings by African fraudsters, fled an African hotel to catch the last flight out of the country, narrowly avoided being kidnapped and forced to marry a woman in the Republic of Georgia and then actually married the bride-from-hell. I was still licking my wounds from the divorce when a friend took me flying for the first time. At 4,500 feet somewhere between Baltimore and Reading, Pennsylvania, Alan gave me control of the airplane and a surge of energy flooded my body. I had never felt anything like that in my entire life, and somehow I knew my life would never be the same again. The next morning I returned to the airport to sign up for flying lessons. About twenty hours into the flight lessons my instructor, Dave, decided it was time for my first solo flight. As is the case with most first solo's, I would do three takeoffs and landings. I taxied onto the runway and brought the aircraft to a stop with the nose wheel on the runway centerline. I closed my eyes, took a deep breath and asked God to bring me down safely. Then I opened my eyes, pushed the throttle forward and the aircraft began to roll. I pulled back on the yoke and suddenly I was airborne. Everything was going well and, honestly, I started to get a little cocky. But then as I lined the aircraft up with the runway for landing I thought to myself, "Sweet, Jesus. Now I've got to land this thing!" My eyes locked onto the runway and I had a death grip on the yoke. "Please, God," I said nervously, "Help me bring this plane down safely." As the aircraft settled over the runway and I eased back on the yoke, the main wheels touched first, and then I lowered the nose wheel onto the runway. I took the airplane up for two more landings. And when I landed that final time and turned off the runway and onto the taxiway, I brought the
Page 8
aircraft to a stop and closed my eyes once again to soak in the magnitude of what I had just accomplished. And I knew immediately that if I could do what I'd just done, then I could do anything. Over the next few years as I gained more flying experience and received advanced training, it occurred to me that my purpose was to use everything I'd learned in my life to help people live their best lives. And while I wasn't exactly sure what that meant at the time, like that first time in the cockpit with Alan and after my first solo flight, I knew that my life would never be the same again. A few years later the urge to start a business helping people became so strong that I quit my job, sold my house and moved in with my mom while I formulated a plan. Almost immediately it was clear to me that I couldn't start a new life until I had made peace with my old life. So I decided to write a memoir with the goal of getting a literary agent and publishing my first book. Three years later, after numerous angry outbursts, many sleepless nights, one case of shingles, seven revisions of my memoir and 92,000 words, I was finished. A month later I accomplished my goal when a literary agent wanted to work with me. I was ecstatic and knew, after all of the sh*t I'd been through in my life, that I was finally on track to living my purpose. But then a month later my dad was diagnosed with early stage lung cancer, so I took some time off from writing to fly to Texas to be with him. Dad's surgery was successful. But a week into his recovery in the hospital, a foodservice worker threw his dentures away. For the next eight days the hospital refused to give him any nutrition as I desperately tried to find a dentist with hospital privileges and my dad became incoherent from a lack of food. When the medicare ran out, the hospital transferred him prematurely to a rehab facility and he went downhill immediately. We buried him two days before Christmas, and I lost the will to write. Eleven months later at a Tony Robbins seminar I reconnected with my purpose and found the will to write again. I contacted my agent and started working on revisions to my manuscript. But six weeks after the seminar my world fell apart again when my mom died unexpectedly in my
Page 9
arms. The grief from losing my mom, mentor and best friend was so profound that it launched me into three years of intense suffering and bad decisions. There were times when I didn't know if I'd have a place to live and months when I wondered if I would have enough to eat. I tried to keep my spirits up by helping other people and chose to suffer in silence, a tactic that I now realize was a huge mistake. By the fourth year after losing mom I was starting to heal. I took improv classes, which got my creative juices flowing. And I started flying again which really raised my energy. And after six years of lifting weights, at 54 I hired a coach and trained for a bodybuilding competition eleven months later. That night on stage at the competition, the emcee asked about my biggest influence and I got to share the story of how mom had gotten me started lifting weights six years earlier with a gym membership for my birthday. And in honoring her that night, I felt like my healing was complete. It was a little more than six years from the time I finished my manuscript, which Change Your Story…Change Your Life is based on, to the time I regained the inspiration, confidence and courage to once again pursue my purpose. Now, I'm living it every day and helping other people find and live their purpose.
Page 10
CHAPTER 3: LIVING YOUR PURPOSE MAKES YOU ESSENTIAL Ultimately, I believe we all have the same mission in life, which is to make the world a better place to live while we're here. How we choose to carry out that mission is our purpose, and there's no limit to the number of ways we can choose to express it. The reason why so many people feel unfulfilled in their work and life is because they're not living their purpose. The proof of that is backed up by the Gallup Healthways Global Well-Being Index, which states that only 9% of adults globally are thriving when it comes to their sense of purpose, making it the most neglected category of well-being. Somewhere in the world today, someone is suffering and needs what you know to give them hope for a better tomorrow. The experiences you have learned from and lived through are the missing pieces of a puzzle they need to complete in order to heal their life. Consider for a moment that your role in the Universe is to guide people back from the brink of brokenness and give them them courage to pursue their greatness. But if you choose not to speak your truths, they will continue to suffer needlessly, and that's what makes you essential. Let me say at the outset that your arrival in the world was not a random event. I'm not someone who believes in coincidences, but I do believe this: We live in a world of spiritual connectedness where people arrive to help others find their way. The unique gifts we bring with us for the journey create resonance with those who are ready to receive our gifts. And in creating resonance we help them take a quantum leap into the into the pool of possibilities for manifesting their own purpose.
Page 11
CHAPTER 4: THE BIGGEST REGRET OF ALL You are not the result of a random act of fertilization. You have unique gifts and a purpose for being here. Regardless of the circumstances through which you arrived in the world or the family you were born into, you are here to do something special with your life. But you have been conditioned to conform to standards that were designed to keep your life safe but small. Inherently, you know that if you maintain those standards you will never be able to use what makes you unique to do work that makes you happy. Bronnie Ware was a palliative care worker at a hospice who interviewed her dying patients about their biggest regrets in life and wrote the book The Top 5 Regrets of the Dying. In the book, she wrote that the number one regret of people in their last weeks of life was almost invariably some version of, "I wish I'd had the courage to live a life true to myself, not the life others expected me to live." What Bronnie's patients realized too late should cause you to ask yourself this question: Do I really want to get to the end of my life and regret the life I've lived? Leo Tolstoy wrote the novel The Death of Ivan Ilyich about the main character, Ivan, and the average life he lived with his family. At the end of his life, as he is laying on his death bed, he asks himself this question: What if my whole life has been wrong? My point is that, in fiction and nonfiction, we are warned about the perils of living a regrettable life. But most of us refuse to think about it because the thought that we could be living the wrong life is scary as hell. When you follow The PIGG Principle you are actively pursuing a passionate life you can grow into over time, so that when you're ready to jump ship you have the confidence to believe that it's the best move for you.
Page 12
CHAPTER 5: THE ESSENTIAL QUESTION Do you spend the most creative and productive hours of your day doing work you're passionate about, that causes you to grow and makes a difference in the world? If your answer is yes, please contact me for a refund because you don't need this guide. But if your answer is no, keep going because my goal is to get you to yes as quickly as possible. What makes this question essential is that it gives you guidance for determining whether or not you are living your purpose. That's because a true purpose in life meets three criteria: 1) Passion 2) Growth 3) Contribution Passion and growth are about what you do for yourself. Contribution is about what you do for others. So if the most creative and productive hours of your day are infused with passion, growth and contribution, you can be sure that you're living on purpose. And if they're not, hang in there! Because in the next chapter I'm going to tell you how to use the The PIGG Principle to create the mental and emotional strength to pursue your purpose while you're working at the job you either hate or tolerate.
Page 13
CHAPTER 6. FINDING AND LIVING YOUR PURPOSE AS AN EXIT STRATEGY A lot of people thought I was crazy when I quit my job to live my purpose. At the time, I was working from home about twenty hours a week, making decent money and flying airplanes up and down the east coast for fun. One day I could be hanging out at home in Baltimore and the next day I could hop in a plane and fly to Orlando to hang out with friends. It was the kind of job many people who are working at jobs they don't like would love to have. So why exactly did I quit? That's a great question. Maybe it was because I was single and had a few bucks in the bank. And while I wouldn't necessarily advise anyone to do what I did, especially if folks are counting on you, if you're flush with cash and feel compelled to make a break for it, then by all means do it! Fortunately, when you pursue your purpose with the The PIGG Principle, you don't have to quit your job before you're ready to live your purpose. When you use the principle as your exit strategy, you'll be able to find your purpose while you're still employed and then pull the rip cord on your job the moment you're ready to start living it. The main thing to know about The PIGG Principle is that the fun you'll have using it is a fantastic counterbalance to the things you don't like about your job. Then as the fun increases the more you pursue your greatest passion, it will eventually become stronger than the fear of quitting your job. And when the fun is stronger than the fear, the path to your purpose will be clear.
Page 14
CHAPTER 7. THE TRANSFORMATIONAL NATURE OF PURPOSE To live your purpose you must grow into the kind of person with the mental and emotional strength to live it. And with that level of growth, it's possible that your purpose will change as you grow and change. That's perfectly fine, because your ultimate mission, to make the world better because you were here, will never change. At 52, and twelve years before she retired from the ministry, Mom began to pursue her passion as an artist. She switched jobs and moved from Texas to Virginia to get closer to a community of artists in the DC area. She developed her own style and began to exhibit her work in different venues. And by the time she retired, she was living her purpose as an artist whose work reflected her religious journey. Earlier in the guide I mentioned finding my purpose as an international businessman and the devastation I felt when I had my purpose stolen from me. Then at 47 I discovered the passion I'm living today. And the truth is that I could never have pursued the purpose I live today at 28 because I was not mentally and emotionally strong enough to do so. When you realize that you can have fun in the pursuit of your purpose and understand that your purpose can change as you do, the thought that you have a greater role to play in the world doesn't feel so overwhelming. In fact, when you use The PIGG Principle as your exit strategy, you'll find yourself loving the process of discovering your purpose so much that, by the time you're sure what it is, it will have already established itself as the prominent driver of your life going forward. All of the time and effort will have been worthwhile, and you will have no desire to return to your old life. And Now It's Time To Get Started With The PIGG Principle!
Page 15
Page 16
Page 17
Page 18
Page 19
Page 20
Page 21
Page 22
Page 23
Page 24
Page 25
Page 26
Page 27
Page 28
Page 29
Page 30
Page 31
Page 32