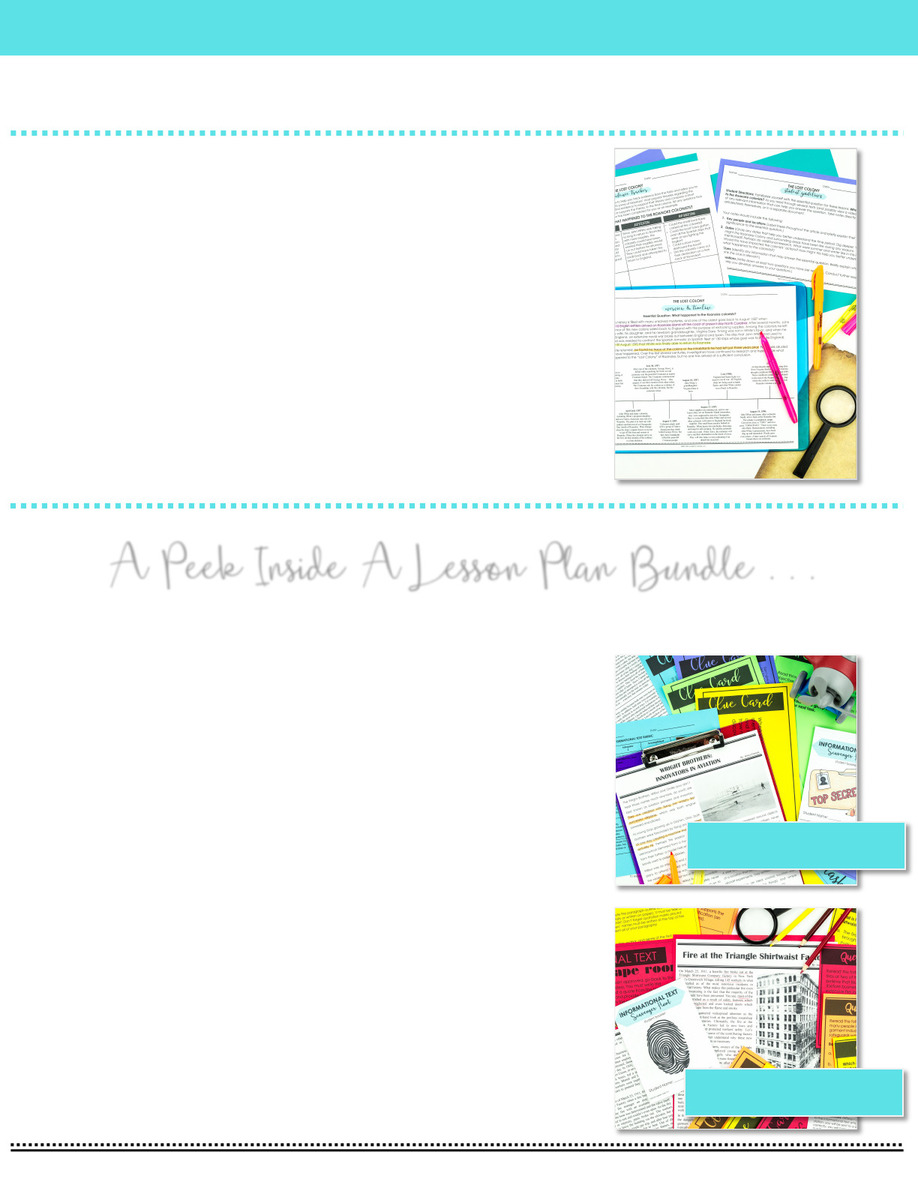 PAGE
3

// EB Academic Camps, LLC
THE EB TEACHERS' CLUB
•
Bonus Content:

includes resources like Grammar Sorts and
Activities, Classroom Posters, Lesson Plan Templates, a
Complete Mini Writing Unit, and much more!
•
Members Only Discount

: EB Teachers' Club members have
access to 30% off hundreds of ELA resources in our special EB
Teachers' Shop. (Think Bell Ringers, Short Story Units, One
-
Pager Choice Boards, etc.)
•
A complete "How to Teach Narrative Writing" 3-

Week Online
Professional Development Course:
this online course takes you
step
-

by

-
step through how to introduce and teach the
narrative writing process in your classroom. We've included
handouts, activities, and all kinds of resources, so you can
effectively teach this challenging writing type.
A Peek Inside A Lesson Plan Bundle . . .
5
th
– 6
th
GRADE
Students begin the lesson by participating in
an
investigation

trail activity. It gets students up and moving
as they work to determine the main idea of thirteen different
sentences. This practice with basic sentences is a scaffolding
activity as students will determine the main idea of
informational text paragraphs
and,

eventually, longer
passages throughout the unit.
Next, students work with a small group and participate in a
scavenger hunt around the classroom. The goal is to find five
different clue cards hidden somewhere in the room that
correspond to the short informational text passages students
have. All the questions on the clue cards require students to
determine the main or central idea of the passage as well as
identify details from the text that support the main idea.
Finally, students participate in an escape room to complete
different tasks centered around an informational text article.
Ultimately, students will compose a Response to
Informational Text Essay where they will determine the
central idea and analyze its development over the course of
the text.
TOPIC: MAIN IDEA IN INFORMATIONAL TEXT
7
th
– 8
th
GRADE