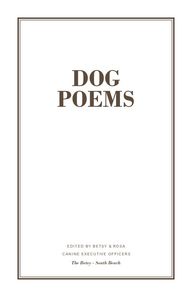 Return to flip book view
The Betsy Dog Poetry Chapbook
Page 1
EDITED BY BETSY & ROSACANINE EXECUTIVE OFFICERSThe Betsy - South BeachDOGPOEMS
Page 2
Produced in limited run for educational purposes by The Betsy Arts and Culture Program honoring National Poetry Month and O, Miami.First printing: ©Spring 2019Second printing: ©Summer 2019Third printing: ©Winter 2020
Page 3
1We originally wrote this book during National Poetry Month 2019 and now we are in our third printing because our Dog Poems Book has been a real hit!Our grandfather, Hyam Plutzik, was a poet whose work we celebrate at The Betsy Hotel - on the Poetry Rail (located in The Alley) and throughout the hotel. He also wrote our tag line - Expect no more. This is happiness.We are proud to dedicate this collection to Katie Hepburn Plutzik, The Betsy's rst Canine Executive Ofcer, who passed away last year - and in honor of the hundreds of poets - and dogs - that have visited The Betsy Hotel. Betsy & RosaCanine Executive OfcersKatie
Page 4
Page 5
3Beginning with Kate by Gerald SternBeginning with Kate, a ten year old golden retrieversleeping all day andtethered to a baby grand choosingthe cold marble to lie down on insteadof the nearby commercial carpet in thelobby of the Betsy,a grand hotel at the northernmost end of OceanDrive in Miami Beach, city of Jackie Gleasonand Andrew Warhol, the latter of ghosts you might saypresiding over the annual Basel Schnazzelwhere I, with a cane between my legs,on the most comfortable chair in the whole lobbykeeping Kate company and poking her fromtime to time to remind her of the good daysof pork unlimited surrounded byfat galore and bone softened by cookingfor we were spoiled by loving ownerswe couldn't repay enough by growling and barkingas they sat on their sofas doing their ownwondrous barking, the music we listened toas we stretched out on their wood and wool and grass,me too for I was a dog in those daysand sort of trotted like a tan horseup and down the streets of my six rivers.
Page 6
4 Here, There, and Everywhere, by Carlos Andres CruzKatie & Betsy
Page 7
5A dog is A Dogby T. S. EliotNow dogs pretend they like to ght;They often bark, more seldom bite;But yet a Dog is, on the whole,What you would call a simple soul.Of course I'm not including Pekes,And such fantastic canine freaks.The usual Dog about the TownIs much inclined to play the clownAnd far from showing too much prideIs frequently undignied.He's very easily taken in-Just chuck him underneath the chinOr slap his back or shake his paw,And he will gambol and guffaw.He's such an easy-going lout,He'll answer any hail or shout.Again I must remind you thatA Dog's a Dog - A CAT'S A CAT.
Page 8
6 Photo by Carlos Andres CruzBetsy & Rosa
Page 9
7Dogsby Marchette Chute The dogs I knowHave many shapes.For some are big and tall,And some are long,And some are thin,And some are fat and small.And some are little bits of uffAnd have no shape at all.
Page 10
8 A Taste of Honey, by Carlos Andres CruzBetsy
Page 11
9Every dog must have his day. Jonathan Swift
Page 12
10Rosa Photo by Carlos Andres Cruz
Page 13
11Mother Doesn't Want a DogJudith Viorst, 1931Mother doesn't want a dog.Mother says they smell,And never sit when you say sit,Or even when you yell.And when you come home late at nightAnd there is ice and snow,You have to go back out becauseThe dumb dog has to go.Mother doesn't want a dog.Mother says they shed,And always let the strangers inAnd bark at friends instead,And do disgraceful things on rugs,And track mud on the oor,And op upon your bed at nightAnd snore their doggy snore.Mother doesn't want a dog.She's making a mistake.Because, more than a dog, I thinkShe will not want this snake.
Page 14
12 Photo by Carlos Andres CruzBetsy
Page 15
13Betsyby Auntie DebbieBetsy, the Golden Retriever, lives at The Betsy Hotel.She often sits on one of the comfy chairs in the lobby.Waiting to greet children from all over the world.Betsy likes to take a mid-day walk on the beach with her brother Zach.Sometimes Zach throws a ball and Betsy dives into the ocean to nd it.She swims back to the shore with the ball in her mouth.Sometimes Betsy and Zach walk by the edge of the ocean.Betsy's little paws and Zach's big feet leave shapes behind in the sand.And when the waves come splashing in, they disappear.The sun disappears too every night to make way for the moon.And after a good night's sleep the sun comes back into the sky.The sand is warm and Betsy is ready for a new day.Right after breakfast Betsy will nd another favorite spot in the lobbyWhere she and her sister Rosa can rest – as they wait to greetLittle visitors like you who have come to Miami Beach from all over the world.
Page 16
14Betsy & Rosa Photo by Carlos Andres Cruz
Page 17
15Let's Be Friendsby Betsy & RosaWe'll be waiting in the cornerOn the fancy terrazzo oorI know we'll see you comingThrough the open doorPet us gentlyPet us slowSay you love usLet us knowBy how you pet usThen we will playYes, we will playWe will playWe know you'll pack your bags and go back homeWe'll miss you – but we'll dream We will dreamAbout when you'll be coming backTo visit us - at our home on Miami BeachIn the lobby of The Betsy HotelPromise, we'll be waiting for youOn the fancy terrazzo oorWe'll see you the moment you arriveThrough the open door
Page 18
16 Photo by Carlos Andres CruzKatie
Page 19
Happiness is a warm puppy.- Charles Schultz
Page 20
1440 Ocean Drive, Miami Beach, FL 33139 • thebetsyhotel.com