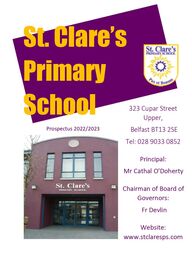 Return to flip book view
St Clare's Prospectus 2021/22
Page 1
St Clare's Primary School Prospectus 2021/2022 "Every Child has the right to an education" (Article 28 Unicef Rights of a child). 323 Cupar Street Upper, Belfast BT13 2SE Tel: 028 9033 0852 Principal: Mr Cathal O'Doherty Chairman of Board of Governors: Fr. Devlin Website: www.stclaresps.com
Page 2
Page No. School Crest, Mission Statement and Aims 3 Welcome from the principal 4 Building and Accommodation 5 Nursery 6 Staff 7 School Development Plan 8 Pastoral Care 8-9 Curriculum & School holidays 10-11 Assessment 12 Out of School Hours & IQM Award 12 Nurture Provision & Sensory Room 13 Links with the Community & Cross Cultural 14 Rights Respecting Council 15 School Uniform 15 School Meals & Healthy Break 16 School Times 16 Arrangements for Parent Contact 16 Inside
Page 3
Our Crest St. Clare, the Patron Saint of our school, loved Jesus. She knew that He was the Way, the Truth and the Light. Our school crest reflects this. At the centre is the Host with the Light shining out. This is surrounded by the flames of the Holy Spirit and underneath is our school motto, Pax et Bonum- Peace and Goodness.
Page 4
Dear Parents, It is my greatest pleasure to welcome you and your child to St. Clare's Primary School. It is our hope and our wish to provide a warm and caring atmosphere in which your child can flourish and grow. St. Clare's is a community, where home, school and parish work together to create a school of excellence. In the following pages you will see the many opportunities that exist within the life of the school for us all to play our part in collaboration to achieve our goals for our children, achieving beyond what we would normally expect. We are blessed in this school with a most talented group of practitioners from teachers to support staff. They understand our children and strive to ensure that each child learns the strategies to allow them to reach their fullest potential. Our links within the community, in particular MUMO, also allows us to access additional support for all our learners and also for our parents and families. We are a progressive school and a happy one and working with you the parents as partners, we are achieving amazing results for children academically, socially and pastorally. We are proud to be a Catholic School with a Catholic Ethos and our partnership with the Parish is most important and something we hold close in everything we do. So come on in and see what we can offer you and your child in the most important formative years of their education. See even more on our website www.stclaresps.com C. O'Doherty Principal Welcome from the Principal
Page 5
St. Clare's Primary school is a newly built school, which was completed in March 2005 and is the amalgamation of St. Catherine's, St. Gall's and St. John's primary schools. The school houses twenty classrooms, a gym, a dining hall and kitchen. There are offices for the principal, vice-principal, secretaries and the caretaker. There is also a library, a medical room and a multipurpose room. There is a resource area used for structured play and two resource areas used as computer suites. Outside there is a large enclosed play area and a number of quiet courtyards off the downstairs classrooms, which can be used to bring the curriculum outside. We also have large landscaped areas, which can be used to enhance the curriculum where appropriate. The school is occupied by Foundation Stage, Key Stage 1 and Key Stage 2 pupils (P1 – P7) Building and Accommodation
Page 6
Our Nursery Unit is just opposite the main building on Cupar Street. One visit to this inspiring atmosphere will convince you that this is where your child needs to be. Our Nursery staff, our Head of Nursery in particular, has been identified by ETI as having practice which is a model for others. Like he primary school, the relationship between the staff, pupils and parents are what makes us successful. Very few settings have the facilities which we process or provide children with as many learning opportunities. Our Nursery is a secure site and has within it so many learning opportunities. It is vibrant, where Parents are encouraged to play a part and where through the various courses on offer, we prepare families for those important first steps through their child's educational journey. The Nursery Curriculum The nursery curriculum, for the purpose of planning, assessment and record keeping is set under seven areas: • Language Development • Early Mathematical Experiences • Creative/Aesthetic Development • Personal, Social and Emotional Development • Physical Development • Knowledge and Appreciation of the Environment • Early Experience of Science Technology Our role in the nursery is to provide opportunities, experiences and resources which will enable the children to develop in each of the seven areas at their own pace and in accordance with their needs. Young children learn through play and through carefully planned play activities we aim to help the children develop positive attitudes to learning and to acquire essential skills to become active listeners and learners. Through careful observation of the children at play we will be able to assess how the children are coping and how they are achieving in all areas of the curriculum. By keeping records of your child's progress we will be able to tailor activities to meet their individual needs and to keep you informed of their progress. In the nursery we aim to provide a rich and varied curriculum which takes account of the fact that children develop rapidly during the early years – physically, intellectually, emotionally and socially. We also take account of the fact that children develop and learn at different rates and therefore plan and provide accordingly so that children can develop at their own pace. We aim to make your child's time in nursery school happy. Nursery Nursery Aims
Page 7
Principal Mr C O'Doherty Vice-Principal Mr B Birt Teachers P1 Miss Meighan Miss Havern P2 Ms Catney Miss Welsh/ Mrs Cushnan Ms Mc Laughlin P3 Mrs Clarke Mrs McClean Miss Quinn P4 Mrs Bell Mr McAteer P5 Mrs Campbell/Mrs Conlon Mr White P6 Ms Shaw Mr Henry P7 Mrs Logue Ms Quinn Mrs Fox SEN Mrs Welsh Mrs McAvoy Ms Harrison Nurture Room Mrs Corey Nursery Teachers Mrs Corrigan Ms Bogues/Ms McLoughlin Engage Programme Ms Lees Classroom Assistants Miss Bloomer Mrs Brennan Mrs Bunting Mrs McLernon Miss Brennan Miss Rooney Ms O'Hara Mrs Regan Mrs Monaghan Ms Mc Laughlin Mrs Urbanska Miss McCoubrey Mrs McNeill Miss Matusiak Mr Delaney Ms O'Connor Miss Mulholland Ms Mc Erlean Miss McKenna Mrs Harrison Miss Hanley Ms McCann Miss Canning Mrs McAuley Ms Ginley Miss Barkley Mrs Lynch (Nurture) Mrs Notaro (Nursery) Miss Wilkinson (Nursery) Kathy Brady (Nursery) Secretaries Building Supervisor Building Supervisor – Nursery Unit Mrs Norah Goodman Mr Jim Brennan Ms Michelle Pick Mrs Linda Harvey Cleaners Supervisory Assistants Ms Fitzpatrick Miss O'Hara Ms McKenna Ms McKeown Mrs O'Prey Mrs Mc Donagh Ms O'Hara Ms McCann Ms Bloomer Ms Harrison Mrs O'Prey Mrs Pick Miss McKenna Ms Fitzpatrick Ms McCann Ms Farrell Ms Mc Kenna Ms Ginley Ms Farrell Kitchen Mrs Dolores Murray (Unit Supervisor) Mrs McDonagh Miss Pick Mrs McFadden Mrs McCarthy Miss Curley Ms Mallon Ms Dynes (Nursery) Staff
Page 8
The entire staff works together on a School Development Plan. The plan is shaped and informed by the staff's own analysis of teaching and learning. This is an objective way of determining priorities and coordinating all aspects of school planning: curricular, financial, personnel, equipment and accommodation. We use this as a way of identifying roles and responsibilities. The main areas of focus this year are very much based on the practicalities of returning to school post lockdown and addressing their academic, emotional and social needs of our children during the Covid Pandemic. A summary of our child Protection policy and Practice is given to parents and you are welcome to request the full policy from the school at any time. Parents can also request a copy of any other completed school policies by contacting the Principal. The action plan is continually monitored and reviewed and further action stating priorities for development are planned. Within our School Development Plan, we also review our Pastoral Care Policy incorporating Child Protection, Positive Behaviour and an Anti-Bullying Policy. In St. Clare's pastoral care permeates all aspects of school life. It reflects the attitudes, beliefs and practices of our Catholic faith and involves all members of our school community – children, parents and all other adults who contribute to the wellbeing of each child. We strive to create an atmosphere where: • God's love is experienced by all members of the school community through their relationships with each other. • Christ is the example to all. • Children are helped to develop to their full potential. Pastoral Care School Development Plan 2021-22
Page 9
The atmosphere in the school is based upon good relationships between staff, pupils and parents. As a staff we work as a team, respecting each other's roles and recognising individual talents and expertise. We recognise and value the important role that parents play in their child's education. Every effort is made to ensure that parents feel welcome, that they are aware of the school's aims, objectives and policies and of their child's individual needs, progress and achievements. We expect you our parents to co-operate fully with us in achieving these goals. Maintaining close contact with our church is important to us as it is through our religious work that we help our children grow and develop in a loving relationship with Christ. Our parish priest Fr Devlin is regularly and actively involved in the school and our pupils take part in Mass in our church. Through our 'Grow in Love' programmes we prepare our children for the sacraments and teach them about the life of Jesus. This is integrated with different kinds of prayer and reflection so that together, with the gradual process of maturity, pupils will learn about themselves and how their behaviour impacts on others. A member of staff has been allocated responsibility for Pastoral Care, Mr Birt (Designated Teacher) our Vice Principal. However, it is an area in which every member of staff has a contribution to make. Our Deputy Designated Teachers with responsibility for Child Protection matters are Mrs Welsh (our Senco) with our Head of Nursery Mrs Corrigan.
Page 10
The Northern Ireland Curriculum includes the teaching of the following subjects in each year group. English and Literacy Mathematics and Numeracy The World Around Us – encompassing these subject areas • Science and Technology • History • Geography Creative and Expressive – encompassing these subject areas • Music • Art and Design Personal Development Physical Education Religion Cross Curricular Themes Health Education Information Technology Cultural Heritage A Skills Based Curriculum A major review of the curriculum has taken place in recent years and approval for the implementation of the revised curriculum was given by the Minister for Education in June 2004. The revised curriculum is being implemented throughout the school. There is now a greater emphasis on developing children's skills and capabilities and their capacity to learn for themselves. There is also greater emphasis on Personal Development and Life Skills. Curriculum
Page 11
School Holidays All parents will be given the school holiday list before the summer holidays. Some parents have adopted the practice of taking children on holiday during term time. We understand that in some cases savings can be made by going on holiday out of 'peak holiday times' however we ask parents to give serious consideration to this. It affects certain aspects of your child's learning whether he/she has started a new topic or project or consolidating work. The school policy is that we do not give a child work to take on holiday. It is considered by the Education Board's Welfare Officer as an unauthorized absence and parents have to accept that their child missing out on his/her education is their responsibility. Curriculum continued
Page 12
Throughout our school our pupils' learning is carefully monitored. The outcomes of this form the basis for action and further evaluation. Formal and informal assessment is undertaken as part of teaching. We use the results of assessment to confirm and modify teaching and learning strategies and to improve the performance of the individual pupil. Standardised Tests in Literacy and Numeracy are used once a year to inform teachers of pupil achievement within their year group and will also be used to assess progression from year to year. Cognitive ability tests will be carried twice for each pupil during their P4-P7 years. P1 children will also undertake an online baseline assessment to provide the receiving P1 teacher with as much information as possible regarding the skills and abilities of each new pupil to the school. Teachers will also devise their own class tests on topics covered and use this as part of their diagnosis and remediation. This information is passed to each teacher from year to year to ensure that their planning takes into account the various requirements of individual pupils resulting in a differentiated approach to teaching and learning. While we strive to provide our pupils with a broad and balanced curriculum we see the necessity to broaden children's experiences developing their talents and inter personal skills and at the same time promoting positive self-esteem. We currently offer a wide range of after school activities to all our pupils. Eg. Art & Craft, Drama, Hurling, Gaelic, Soccer, Cookery and ICT (including coding). We have a Breakfast Club every morning which is provided by our kitchen staff and is fully supervised. They also have a range of games, books and drawing material to keep them occupied. There is a charge for the Breakfast Club of 50p Per day. There is also the '123 Club' which runs from 2.00pm-3.00pm for our foundation stage and P3 pupils. The school was honoured to be awarded the prestigious Inclusion Quality Mark award in 2020. This accolade is given to a school who demonstrates that it caters to a very high standard for all pupils and the school has been awarded this status following a rigorous assessment process by an independent panel. This is a very proud award for the school. A quote from the report reads "Our norm are other schools' aspirations". Our other awards include the Boxall award for Nurture, the Rights Respecting award from Unicef and our green flag ECO award. These are testament to the high standards we strive to attain at St Clare's PS and Nursery Unit. Out of School Hours Assessment Award Winning School
Page 13
Our 'Sunshine Room' was awarded the prestigious Marjorie Boxall Quality Mark Award in November 2016. It is staffed by an accredited teacher and assistant. The' Sunshine Room' provides a safe, secure environment. It has a kitchen and living area, a work area and a well- resourced play area. We aim to provide a 'Home from Home' experience, working closely with parents and carers and supported by Outside Agencies. As a Nurturing School, we aim to embed a nurturing culture which enhances the teaching and learning for our children, and helps children to learn to behave appropriately, to use their curiosity constructively, to improve their self-esteem and develop confidence, through forming close and trusting relationships with adults. We address the emotional needs and development as well as academic learning. Nurture UK define the six principles of Nurture as: • Children's learning is understood developmentally. • The classroom offers a safe base. • The importance of nurture for the development of self-esteem. • Language is a vital means of communication. • All behaviour is communication. • The importance of transition in children's lives Last year we celebrated the opening of our new Sensory room – The Serenity Room. It has been a great addition to our school and has been a huge success among our children. Nurture Provision – The Sunshine Room Sensory Room
Page 14
Parents are kept regularly informed about school business by our 'School Newsletter' which is also uploaded to our website www.stclaresps.com. We will also e-mail the Newsletter to parents upon request. We also have a school web-site which will inform parents and others in the community about our school. A local text service is also employed for keeping parents up to date with important events. This is why it is most important that all contact details are kept up to date. Parents will be invited to a teacher parent interview about their child's progress and will be given a written report on this later in the year. We plan to have curriculum meetings and workshops for parents throughout the year. These will be linked to the subject areas focused in our School Development Plan. We have a most active Parents Association which helps with raising the profile of the school and organising signature events such as the Christmas Fayre, school discos, fun runs and pupil competitions. They also provide a great link between the parent body and the school. We hope to extend pupils' curricular experiences and personal and social development through regular opportunities to contribute to the wider community and in turn draw on its resources. These will include groups working in charities, the arts and the environment. We are always looking for ways in which we can create aspiration among our pupils and we have many links to the Private sector. A lot of our efforts are concerned around the area of information Technology and we are working with companies such as Goliath and government run schemes such as Springvale Training who extend our ability to train our pupils in aspects of ICT such as coding. We see this as an important step in allowing our pupils to realise that there is a world outside our local community which can provide career opportunities and again is an important part of our goal to raise the expectation of our pupils at St. Clare's and to enable them to become the future workforce of our country and beyond. Links between the school and the community
Page 15
In St. Clare's Primary School, we place a high importance on the voice of the pupil. It is vitally important that we allow pupils to have a say in what our school provides to all our community. To this end, pupils are elected on to the council by their peers. Both pupils and staff take this responsibility seriously and like any council, meetings are minuted and action plans are set. Pupils will meet monthly with the Principal and the Senior Team on the staff and together we explore how we can continue to improve what we provide for all our school community. The colours in our school uniform are grey, white and purple. • White shirt or blouse • Grey tie with purple stripes • Purple jumper or cardigan • Grey trousers/skirt or pinafore • Black shoes • Black plimsolls for indoor use • There are also purple reversible fleeces available (this is optional) P.E. Gear • White polo Shirt • Black Tracksuit Bottoms (available from most stores) • Indoor shoes The uniforms are available from Truly Fare, Monagh Fashions and Chaplin's School uniform Rights Respecting Council
Page 16
The school has home and emergency numbers for all pupils so that parents can be contacted at any time. The school has a texting service and will contact parents with a range of information through this. The school service will automatically text the main contact number only. This is why it is vital to ensure that all numbers are up to date and accessible. If a parent has any concerns or worries about their child, they can arrange to meet the teacher or principal at any time. We would appreciate this arrangement by appointment as teachers are not available during class time. Our main mode of communication from this year onwards is through our Seesaw app which is operational from Nursery through to P7. This app allows us to be in direct contact with home for celebrating work or for clarifying information. It is a two-way engagement format which can bring the parents into the heart of the life of the classroom. It is very easy to use and is cheaper than a text service. Seesaw does so much more however including allowing pupils and teachers to share work and for teachers to upload essential learning, workshops, presentations and home works. The Principal will also use this facility for making whole school announcements. The staff are committed to providing a caring atmosphere where pupils can achieve their best, enjoy learning and are happy for the time they spend with us. Parent Contact