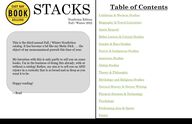 Return to flip book view
Stacks - Nonfiction
Page 1
STACKSNonfiction Edition Fall / Winter 2021Use the arrows on either side of the page to flip through the magazine.The book covers are clickable, and will take you to the book on our website: ebbooksellers.comFeel free to download & share the magazine!•••1The Fall/Winter 2021 Nonfiction edition of Stacks is a bit of a declaration: of our allegiances, of the stakes we perceive, of the sort of bookstore we want to be. We take a great deal of pride in not condescending to our customers. You are an intelligent bunch with incredibly broad tastes, backgrounds, and curiosities. We wanted our catalog to reflect that as much as it does us. We hope you enjoy!-- Brad
Page 2
2California & Western StudiesBiography & Travel LiteratureMythology & Religious StudiesBelles Lettres & Critical StudiesGender & Race StudiesNative & Indigenous StudiesAmerican StudiesGlobal StudiesTheory & PhilosophyNatural History & Nature WritingPhysical Sciences & TechnologyPerforming Arts & SportsPoetryTable of Contents
Page 3
3California & Western StudiesRock and Roll Explorer's Guide to San Francisco & the Bay Area (Globe Pequot) - by Mike Katz & Grispin KottThe Bay Area's place in establishing and pushing the boundaries of rock and roll is undeniable. This book takes you to where music makers lived, rocked, performed, recorded, met, broke up, and much, much more. A People's Guide to the San Francisco Bay Area(University of California Press) - by Rachel Brahinsky, Alexander TarrWe featured this last year, but and may well keep doing so everyyear. It looks beyond the mythologized image of San Francisco to the places where collective struggle has built the region. Pushing against the romantic & cliche, it highlight the cultural and economic landscape of indigenous resistance to colonial rule, radical interracial and cross-class organizing against housing discrimination and police violence, young people demanding economically and ecologically sustainable futures, and the often-unrecognized labor of farmworkers and everyday people.As human populations inhabiting cities have grown dramatically, we have lost the ability to understand and even to see the natural world around us. Bay Lexicon is a case study in establishing a working language for hybrid landscapes. Centred on a walk along the edge of the iconic San Francisco Bay, it documents, deciphers, and classifies the places and phenomena a person encounters – and the forces, histories, and interactions that underlie what is visible. In a synthesis of text and drawing, Wolff applies analytical and representational tools based in design and documentary work to findings from the fields of geography, environmental and cultural history, public policy, urban ecology, and landscape studies.Counterpoints: A San Francisco Bay Area Atlas of Displacement & Resistance (PM Press) - by The Anti-Eviction Mapping ProjectCounterpoints brings together cartography, essays, illustrations, poetry, and more in order to depict gentrification and resistance struggles from across the San Francisco Bay Area. Compiled by the Anti-Eviction Mapping Project, each chapter reflects different frameworks for understanding the Bay Area's ongoing urban upheaval, including: evictions and root shock, indigenous geographies, health and environmental racism, state violence, transportation and infrastructure, migration and relocation, and speculative futures. Bay Lexicon (McGill-Queen's University Press), by Jane WolffClimate Stewardship: Taking Collective Action to Protect California (University of California Press) -by Adina Merenlender & Brendan BuhlerCalifornia is uniquely positioned to develop and implement novel solutions to widespread climate challenges, owing to the state's biogeographic diversity and public science programs. Produced in collaboration with the UC California Naturalist Program, Climate Stewardship focuses on regenerative approaches to energy, agriculture, and land and water use across forested, agricultural, and urban landscapes. The authors' hopeful and encouraging tone aims to help readers develop a sense that they, too, can act now to make meaningful change in their communities.Drawing on oral history and untapped archival sources, Murch explains how a relatively small city with a recent history of African American settlement produced such compelling and influential forms of Black Power politics. This is an essential piece of Oakland history-telling.Living for the City: Migration, Education, and the Rise of the Black Panther Party in Oakland, California (University of North Carolina Press) -Donna Jean Murch
Page 4
4American Babylon (Princeton University Press) -by Robert O. SelfAmerican Babylon demonstrates that the history of civil rights and black liberation politics in California did not follow a southern model, but represented a long-term struggle for economic rights that began during the World War II years and continued through the rise of the Black Panthers in the late 1960s. This struggle yielded a wide-ranging and profound critique of postwar metropolitan development and its foundation of class and racial segregation. Fittingly, this is an East Bay Bookseller bestseller & classic. Often overshadowed by San Francisco, its larger and more glamorous sibling, Oakland has a fascinating history of its own. From serving as a major transportation hub to forging a dynamic manufacturing sector, by the mid-twentieth century Oakland had become the urban center of the East Bay (and I hear it has some good bookstores, too!). Hella Town focuses on how political deals, economic schemes, and technological innovations fueled this emergence but also seeded the city's postwar struggles.The Glen Park LIbrary: A Fairy Tale of Disruption (No Place Press) - by Pamela M. LeeWe'll let them describe it because it's defied our description for years now: "We want to share all we've learned, after years in the Bronx streets, with you: the people. So with a lifetime spent building up a plethora of information from trials and tribulations and a handful of misdemeanors, we decided to write this book—a sequel to the Bible, or maybe to The Hitchhiker's Guide to the Galaxy, depending on how big a nerd you are. Let this book be your North Star."Hella Town: Oakland's History of Development & Disruption (University of California Press) - by Mitchell SchwarzerUncovers realtors' definitive role in segregating America and shaping modern conservative thought. Gene Slater follows this story from inside the profession itself, drawing on many industry documents that have remained unexamined until now. His book traces the increasingly aggressive ways realtors justified their practices, how they successfully weaponized the word "freedom" for their cause, and how conservative politicians have drawn directly from realtors' rhetoric for the past several decades. Much of this story takes place in California, and Slater demonstrates why one of the very first all-white neighborhoods was in Berkeley, and why the state was the perfect place for Ronald Reagan's political ascension.Not new … but indispensableFreedom to Discriminate: How Realtors Conspired to Segregate Housing & Divide America (Heyday) -by Gene SlaterDesigning San Francisco is the untold story of the formative postwar decades when U.S. cities took their modern shape amid clashing visions of the future. Alison Isenberg's richly illustrated book shifts the focus from architects and city planners -- those most often hailed in histories of urban development and design --to the unsung artists, activists, and others who played pivotal roles in rebuilding San Francisco between the 1940s and the 1970s.Designing San Francisco: Art, Land, and Urban Renewal in the City by the Bay (Princeton University Press) - by Alison IsenbergThis book tells the story of Wallace Stegner and his family as they made a home just outside of Palo Alto, California, during its transition from the Valley of Heart's Delight (known for its rolling hills and orchards) to Silicon Valley. It provides a thoughtful contextualization and study of the novels Stegner wrote in California — including his Pulitzer Prize–winning Angle of Repose— and its readers are invited to consider with Stegner what the practice of place requires in the American West. The Most Beautiful Place on Earth: Wallace Stegner in California (University of Utah Press) - by Matthew D. StewartAvailable Dec. 1
Page 5
5The Adventurer's Glossary (McGill Queen's University Press) - Joshua Glenn, Mark Kingwell, Seth (Illustrator)Poet Warrior (W. W. Norton) - by Joy HarjoJoy Harjo, the first Native American to serve as U.S. poet laureate, invites us to travel along the heartaches, losses, and humble realizations of her "poet-warrior" road. A musical, kaleidoscopic, and wise follow-up to Crazy Brave, Poet Warrior reveals how Harjo came to write poetry of compassion and healing, poetry with the power to unearth the truth and demand justice.Czeslaw Milosz: A California Life (Heyday) - by Cynthia L. HavenCzeslaw Milosz, one of the greatest poets and thinkers of the past hundred years, is not generally considered a Californian. But the Nobel laureate spent four decades in Berkeley -- more time than any other single place he lived -- and he wrote many of his most enduring works there. This is the first book to look at his life through a California lens. Dear Senthuran: A Black Spirit Memoir(Riverhead) - by Akwaeke EmeziIn three critically acclaimed novels, Akwaeke Emezi has introduced readers to a landscape marked by familial tensions, Igbo belief systems, and a search for what it means to be free. A memoir seemed inevitable, and howdy did they deliver! Through candid, intimate correspondence with friends, lovers, and family, Emezi traces the unfolding of a self and the unforgettable journey of a creative spirit stepping into power in the human world. Their story weaves through transformative decisions about their gender and body, their precipitous path to success as a writer, and the turmoil of relationships on an emotional, romantic, and spiritual plane, culminating in a book that is as tender as it is brutal.The Loneliest Americans (Crown) - by Jay Caspian KangThe unforgettable story of a family as they move from a housing project in Cambridge to an idyllic college town in the South and eventually to the West Coast. Their story unfolds against the backdrop of a rapidly expanding Asian America, as millions more immigrants, many of them working-class or undocumented, stream into the country. At the same time, upwardly mobile urban professionals have struggled to reconcile their parents' assimilationist goals with membership in a multicultural elite — all while trying to carve out a new kind of belonging for their own children, who are neither white nor truly "people of color."Orwell's Roses (Viking) - by Rebecca SolnitSparked by her unexpected encounter with the surviving roses he planted in 1936, Solnit's account of this understudied aspect of Orwell's life explores his writing and his actions — from going deep into the coal mines of England, fighting in the Spanish Civil War, critiquing Stalin when much of the international left still supported him (and then critiquing that left), to his analysis of the relationship between lies and authoritarianism.Biography / Travel LiteratureThis is a go-to glossary for the philosophical explorer, exploring more than five hundred terms, from "A-OK" to "Zoom." Semiotician Joshua Glenn sourced terms from Shakespeare, military and biker jargon, hip hop and surfer slang, survivalist and gamer subcultures, comic books, extreme sports, and beyond to ask questions about meaning and selfhood. Come for the smart content, stick around for the wonderful illustrations by the inimitable Seth!
Page 6
6Madder (Coffee House Press) - by Marco WilkinsonMadder, matter, mater -- a weed, a state of mind, a material, a meaning, a mother. Essayist and horticulturist Marco Wilkinson searches for the roots of his own selfhood among family myths and memories."My life, these weeds." Marco Wilkinson uses his deep knowledge of undervalued plants, mainly weeds--invisible yet ubiquitous, unwanted yet abundant, out-of-place yet flourishing--as both structure and metaphor in these intimate vignettes.Concepcion: An Immigrant Family's Fortunes (Riverhead) - by Albert SamahaTracing his family's history through the region's unique geopolitical roots in Spanish colonialism, American intervention, and Japanese occupation, Samaha fits their arc into the wider story of global migration as determined by chess moves among superpowers. Ambitious, intimate, and incisive, Concepcion explores what it might mean to reckon with the unjust legacy of imperialism, to live with contradiction and hope, to fight for the unrealized ideals of an inherited homeland.The Audacity of a Kiss: Love, Art, and Liberation(Rutgers University Press) - by Leslie CohenIn this evocative memoir, Cohen tells the story of a love that has lasted for over fifty years. Transporting the reader to the pivotal time when brave gay women and men carved out spaces where they could live and love freely, she recounts both her personal struggles and the accomplishments she achieved as part of New York's gay and feminist communities. Foremost among these was her 1976 cofounding of the groundbreaking women's nightclub Sahara, which played host to such luminaries as Betty Friedan, Gloria Steinem, Pat Benatar, Patti Smith, and more. This is a moving and inspiring tale of how love, art, and solidarity can overcome oppression.Stroke Book (Fordham University Press) - by Jonathan AlexanderAn archive of personal trauma that addresses how a culture still toxic to queer people can reshape a body.The book situates itself within a larger queer tradition of writing -- first, about the body, then about the body unbecoming, and then, yet further, about the body ongoing, even in the shadow of death. Alexander is a supremely smart, nimble writer (also check out Creep), and is unafraid to explore the more daunting corners of pleasure, intimacy, and desire. Real Estate: A Living Autobiography (Bloomsbury) -by Deborah LevyReal Estate is the third and final installment in three-time Booker Prize nominated Deborah Levy's Living Autobiography series: an exhilarating, thought-provoking and boldly intimate meditation on home and the specters that haunt it in our patriarchal society.Levy employs her characteristic style, sharp wit, and acute insights to craft a searing examination of womanhood and ownership. Her inventory of possessions, real and imagined, pushes readers to question our cultural understanding of belonging and belongings and to consider the value of a woman's intellectual and personal life.Paletó and Me: Memories of My Indigenous Father(Stanford University Press ) - by Aparecida VilaçaWinner of the prestigious Casa de las Américas Prize, this work spins a heartfelt story of an improbable relationship between an anthropologist and her charismatic Indigenous father.Begun the day after her father's death at the age of 85, Palet and Me is a celebration of life, weaving together the author's own memories of learning the lifeways of Indigenous Amazonia with her father's testimony to Wari' persistence in the face of colonization. Speaking from the heart as both anthropologist and daughter, Vilaça offers an intimate look at Indigenous lives in Brazil over nearly a century.
Page 7
7Modern Nature (University of Minnesota Press) - by Derek JarmanIn 1986 the controversial film-maker Derek Jarman discovered he was HIV positive, and decided to make a garden at his cottage on the bleak coast of Dungeness, where he also wrote these journals. Looking back over his childhood, his coming out in the 1960s and his cinema career, Modern Nature is at once a volume of autobiography, a lament for a lost generation and a celebration of homosexuality.Disability Visibility: First-Person Stories from the Twenty-First Century (Vintage) - by Alice Wong (Editor)One in five people in the United States lives with a disability. Some disabilities are visible, others less apparent—but all are underrepresented in media and popular culture. Now, just in time for the thirtieth anniversary of the Americans with Disabilities Act, activist Alice Wong brings together this urgent, galvanizing collection of contemporary essays by disabled people.The Book of All Books (Farrar, Straus & Giroux) - by Roberto Calasso, Tim Parks (Translator)Available Nov. 23A book that begins before Adam and ends after us. In this final magisterial work by the Italian intellectual Roberto Calasso, figures of the Bible and its whole outline emerge in a creative new light: one that is often astonishing and disquieting, as indeed —more than any other — is the book from which they originate. Calasso was incapable of writing an "easy" book, but neither could he not create something utterly original.Night Battles: Witchcraft and Agrarian Cults in the Sixteenth and Seventeenth Centuries (Johns Hopkins University Press) - Carlo Ginzburg, John Tedeschi (Translator), Anne C. Tedeschi (Translator)Based on research in the Inquisitorial archives of Northern Italy, The Night Battles recounts the story of a peasant fertility cult centered on the benandanti, literally, good walkers. These men and women described fighting extraordinary ritual battles against witches and wizards in order to protect their harvests. Which is to say, we're reasonably confident nobody else has this in their Winter catalog.Take Back What the Devil Stole: An African American Prophet's Encounters in the Spirit World (Columbia University Press) - by Onaje X. O. WoodbineMs. Donna Haskins is an African American woman who wrestles with structural inequity in the streets of Boston by inhabiting an alternate dimension she refers to as the "spirit realm." In this other place, she is prepared by the Holy Spirit to challenge the restrictions placed upon Black female bodies in the United States. Take Back What the Devil Stole centers Donna's encounters with the supernatural to offer a powerful narrative of how one woman seeks to reclaim her power from a lifetime of social violence. Both ethnographic and personal, Onaje X. O. Woodbine's portrait of her spiritual life sheds new light on the complexities of Black women's religious participation and the lived religion of the dispossessed.Mythology / Religious StudiesNot new … but indispensableThe Names of All The Flowers (Feminist Press) - by Melissa ValentineSet in rapidly gentrifying 1990s Oakland, Valentine's debut memoir explores siblinghood, adolescence, and grief in a family shattered by loss. Valentine has a mesmerizing lyrical style, and balances quiet intimacy and public invitation. It is a call for justice amid endless cycles of violence, grief, and trauma that all-too-often haunt our town. We think this is may become a new Oakland classic.
Page 8
8Botanica: A Tarot Deck about the Language of Flowers [With Tarot Cards] (Beehive) - by Kevin StantonCreated by illustrator Kevin Jay Stanton, this 78-card tarot deck features traditional paintings rooted in classical tarot interpretations that delve into the lore and mythology of the plant kingdom. Includes all 78 3.25" x 4.15" gilded cards printed on premium heavyweight card stock, housed in a sturdy gilded and embossed drawer-style box. It also includes a booklet explaining the symbolic meanings of each card, a golden dandelion charm, an embroidered patch, four stickers, and six tarot-sized postcards. (Hey … it better have bells & whistles at $60, right?)The Heroine with 1.001 Faces (Liveright) - by Maria TatarWorld-renowned folklorist Maria Tatar reveals an astonishing but long-buried history of heroines, taking us from Cassandra and Scheherazade to Nancy Drew and Wonder Woman. This is a much-needed challenge to the canonical models of heroism, with its male-centric emphases on achieving glory and immortality. Ithell Colquhoun - Genius of the Fern Loved Gully (Strange Attractor) - by Amy HaleA little note: if Strange Attractor publishes something, chances are we're going to feature it. Just different minds and tastes over there. Here we have the first in-depth biographical study of the British surrealist and occultist Ithell Colquhoun, situating her art within the magical contexts that shaped her imaginative life and work. After decades of neglect, Colquhoun's unique vision and hermetic life have become an object of great renewed interest, both for artists and for historians of magic. Love it!Essays Two: On Proust, Translation, Foreign Languages, and the City of Arles (Farrar, Straus & Giroux) - by Lydia DavisAvailable Nov. 30A new collection of essays on translation, foreign languages, Proust, and one French city, from the master short-fiction writer and acclaimed translator Lydia Davis. Together with Essays One, this provocative and delightful volume cements her status as one of our most original and beguiling writers.Inter State: Essays from California (Soft Skull) - by Jose VadiInter State explores California through many lenses: an aging obsessed skateboarder; a self-appointed dive bar DJ; a laid-off San Francisco tech worker turned rehired contractor; a grandson of Mexican farmworkers pursuing the crops they tilled. Amidst wildfires, high speed rail, housing crises, unprecedented wealth and its underlying decay, Vadi's collection excavates and roots itself inside those necessary stories and places lost in the ever-changing definitions of a selectively golden state. Plus, he's an absolute gem of a person! Good content & good person? Unheard of! Aftermath (Transit Books) - by Preti TanejaAvailable Nov. 30Contending with the pain of unspeakable loss set against public tragedy, Taneja draws on history, memory, and powerful poetic predecessors to reckon with the systemic nature of atrocity. Blurring genre and form, this is a profound attempt to regain trust after violence and to recapture a politics of hope through a determined dream of abolition.Aftermath is part of the acclaimed Undelivered Lectures series from Oakland-based Transit Books.Belles Lettres / Critical Studies
Page 9
9Pilot Impostor (Soft Skull) - by James HannahamAvailable Nov. 30A shape-shifting book of prose and images that draws on an unexpected pair of inspirations — the poetry of Fernando Pessoa and the history of air disasters — to investigate con men, identity politics, failures of leadership, the privilege of ineptitude, the slave trade, and the nature of consciousness. Brad says: "People say they love interdisciplinary work. Few people ever actually do it. Let's show love for the ones who do." Black Paper: Writing in a Dark Time (University of Chicago Press) - by Teju ColeWide-ranging but thematically unified, the essays here address ethical questions about what it means to be human and what it means to bear witness, recognizing how our individual present is informed by a collective past. Cole approaches the fractured moment of our history through a constellation of interrelated concerns: confrontation with unsettling art, elegies both public and private, the defense of writing in a time of political upheaval, the role of the color black in the visual arts, the use of shadow in photography, and the links between literature and activism. Bee Reaved (Semiotext(e)) - by Dodie BellamyA new collection of essays from Dodie Bellamy on disenfranchisement, vulgarity, American working-class life, aesthetic values, and profound embarrassment.This new collection of essays, selected by Dodie Bellamy after the death of Kevin Killian, her companion and husband of thirty-three years, circles around loss and abandonment large and small. No. 91/92: A Diary of a Year on the Bus (Semiotext(e) - by Lauren ElkinIn fall 2014 Lauren Elkin began keeping a diary of her bus commutes in the Notes app on her phone, writing down the interesting things and people she saw in a Perecquian homage to Bus Lines 91 and 92.No. 91/92 is a love letter to Paris, and a meditation on how it has changed in the two decades Elkin has lived there, evolving from the twentieth century into the twenty-first, from analog to digital.Très Bien!Failure Biographies (Operating System) - by Johnny DammBrad says: "Singularly bizarre, so of course I love it!"Through a distinctive style of collage, Damm transforms 1950s horror comics into stories of artistic failure -- and it's likely unlike anything you've read before. Brad is still talking: "More failure like this, please!"Dear Memory: Letters on Writing, Silence & Grief(Milkweed) - by Victoria ChangFor poet Victoria Chang, memory "isn't something that blooms, but something that bleeds internally." It is willed, summoned, and dragged to the surface. The remembrances in this collection of letters are founded in the fragments of stories her mother shared reluctantly, and the silences of her father, who first would not and then could not share more. They are whittled and sculpted from an archive of family relics: a marriage license, a letter, a visa petition, a photograph. And, just as often, they are built on the questions that can no longer be answered.In letters to family, past teachers, and fellow poets, as the imagination, Dear Memory offers a model for what it looks like to find ourselves in our histories.
Page 10
10The Price of the Ticket (Beacon) - by James BaldwinPersonal and prophetic, these essays uncover what it means to live in a racist American society with insights that feel as fresh today as they did over the four decades in which he composed them. Longtime Baldwin fans and especially those just discovering his genius will appreciate this essential collection of his great nonfiction writing, available for the first time in affordable paperback. A Harp in the Stars: An Anthology of Lyric Essays(University of Nebraska Press) - ed. by Randon Billings NobleIn A Harp in the Stars, Randon Billings Noble has collected lyric essays written in four different forms — flash, segmented, braided, and hermit crab—from a range of diverse writers. The collection also includes a section of craft essays — lyric essays about lyric essays. And because lyric essays can be so difficult to pin down, each contributor has supplemented their work with a short meditation on this boundary-breaking form.On Freedom: Four Songs of Care and Constraint(Graywolf) - by Maggie NelsonDrawing on a vast range of material, from critical theory to pop culture to the intimacies and plain exchanges of daily life, Maggie Nelson explores how we might think, experience, or talk about freedom in ways responsive to the conditions of our day. Her abiding interest lies in ongoing "practices of freedom" by which we negotiate our interrelation with — indeed, our inseparability from—others, with all the care and constraint that entails, while accepting difference and conflict as integral to our communion.Sharks, Death, Surfers: An Illustrated Companion (Sternberg) - by Melissa McCarthyDisplaying profoundly original (& strange) books like this is one of the greatest joys of this job … and testifies to this store's (or least Brad's) sometimes very strange interests.This book has become one of our bestsellers … find out why!Axiomatic (Transit Books) - by Maria TumarkinLet's dispense with all subtlety: Axiomatic is one of the great works of journalistic nonfiction published in the past decade. In five sections -- each one built on an axiom about how the past affects the present -- Tumarkin weaves together true and intimate stories of a community dealing with the extended aftermath of a suicide, a grandmother's quest to kidnap her grandson to keep him safe, one community lawyer's struggle inside and against the criminal justice system, a larger-than-life Holocaust survivor, and the history of the author's longest friendship.The result is unforgettable.Dictee (University of California Press) - by Theresa Hak Kyung ChaDictée is the best-known work of the versatile and important Korean American artist Theresa Hak Kyung Cha. A classic work of autobiography that transcends the self, Dictée is the story of several women: the Korean revolutionary Yu Guan Soon, Joan of Arc, Demeter and Persephone, Cha's mother Hyung Soon Huo (a Korean born in Manchuria to first-generation Korean exiles), and Cha herself. The elements that unite these women are suffering and the transcendence of suffering. Quite simply a stunning book.Not new … but indispensable
Page 11
11Against White Feminism: Notes on Disruption(W. W. Norton) - by Rafia ZakariaAn American Muslim woman, attorney, and political philosopher, Rafia Zakaria champions a reconstruction of feminism that centers women of color. Here is a transformative overview and counter-manifesto to what she argues is white feminism's global, long-standing affinity with colonial, patriarchal, and white supremacist ideals.Between Certain Death and a Possible Future: Queer Writing on Growing Up with the AIDS Crisis (Arsenal Pulp) - ed. by Mattilda Bernstein SycamoreThis wide-ranging collection includes 36 personal essays on the ongoing and persistent impact of the HIV/AIDS crisis in queer lives. Presented here is an expansive range of perspectives on a specific generational story -- essays that explore and explode conventional wisdom, while also providing a necessary bridge between experiences. These essays respond, with eloquence and incisiveness, to the question: How do we reckon with the trauma that continues to this day, and imagine a way out?Can the Monster Speak?: Report to an Academy of Psychoanalysts (Semiotext(e)) - by Paul PreciadoPreciado's critiques in this slim manifesto / speech are levelled specifically at psychoanalysis, but they can surely be felt and absorbed far beyond. Preciado argues passionately and persuasively for a new epistemology capable of allowing for a multiplicity of living bodies without reducing the body to its sole heterosexual reproductive capability. Assata Taught Me: State Violence, Mass Incarceration, and the Movement for Black Lives (Haymarket) - by Donna MurchAvailable Dec. 21This timely and urgent book shows how a youth-led political movement has emerged since the killing of Trayvon Martin that challenges the bi-partisan consensus on punishment and looks to the future through a redistributive, queer, and feminist lens. Murch frames the contemporary Black Lives Matter movement in relation to earlier struggles for Black Liberation, while excavating the origins of mass incarceration and the political economy that drives it.Afropessimism (Liveright) - by Frank Wilderson IIIBrad says: "Afropessimism is one of the most challenging books of I've read in quite some time. "I don't mean 'challenging' as in hard to understand. If anything, Wilderson's provocation is starkly clear: to think of the ontological moorings of white supremacy and anti-Blackness."The difficulty is the resulting quaking of this world's foundations."Out of the Sun: On Race & Storytelling (House of Anansi) - by Esi EdugyanTwo-time Scotiabank Giller Prize winner and internationally bestselling author Esi Edugyan delivers an incisive analysis of the relationship between race and art.History is a construction. What happens when we begin to consider stories at the margins, when we grant them centrality? How does that complicate our certainties about who we are, as individuals, as nations, as human beings? Through the lens of visual art, literature, film, and the author's lived experience, Out of the Sunexamines the depiction of Black histories in art, offering new perspectives to challenge the accepted narrative.Gender & Race Studies
Page 12
12Soledad Brother: The Prison Letters of George Jackson (Lawrence Hill) - by George JacksonAdelaide says: "Every summer we Abolitionists commemorate Black August. George and his brother Jonathan's actions during this month, though one year apart, have given us a legacy of resistance to the modern-day slavery of the prison system. This is an incredibly important book to read."Black Marxism (University of North Carolina Press) -by Cedric J. RobinsonIn this ambitious work, first published in 1983, Cedric Robinson demonstrates that efforts to understand Black people's history of resistance solely through the prism of Marxist theory are incomplete and inaccurate. Marxist analyses tend to presuppose European models of history and experience that downplay the significance of Black people and Black communities as agents of change and resistance. Black radicalism, Robinson argues, must be linked to the traditions of Africa and the unique experiences of Blacks on Western continents, and any analyses of African American history need to acknowledge this.Wayward Lives, Beautiful Experiments: Intimate Histories of Riotous Black Girls, Troublesome Women, and Queer Radicals (W. W. Norton) - by Saidiya HartmanBeautifully written and deeply researched, Wayward Lives, Beautiful Experiments examines the revolution of black intimate life that unfolded in Philadelphia and New York at the beginning of the twentieth century. In wrestling with the question of what a free life is, many young black women created forms of intimacy and kinship indifferent to the dictates of respectability and outside the bounds of law. Through a melding of history and literary imagination, Hartman's book recovers these women's radical aspirations and insurgent desires.Red Scare: The State's Indigenous Terrorist(University of California Press) - by Joanne BarkerNative / Indigenous StudiesNot "A Nation of Immigrants": Settler Colonialism, White Supremacy, and a History of Erasure and Exclusion (Beacon) - by Roxanne Dunbar-OrtizWhether in political debates or discussions about immigration around the kitchen table, many Americans, regardless of party affiliation, will say proudly that we are a nation of immigrants. Historican Roxanne Dunbar-Ortiz (author of An Indigeneous Peoples' History of the United States) asserts this ideology is harmful and dishonest because it serves to mask and diminish the US's history of settler colonialism, genocide, white supremacy, slavery, and structural inequality, all of which we still grapple with today.Joanne Barker demonstrates how US and Canadian leaders leverage the fear-driven discourses of terrorism to allow for extreme responses to Indigenous activists, framing them as threats to social stability and national security. The alignment of Indigenous movements with broader struggles against sexual, police, and environmental violence puts them at the forefront of new intersectional solidarities in prominent ways.Not new … but indispensableWe Are the Land: A History of Native California(University of California Press) - Damon B. Akins, William J. Bauer, Jr.Before there was such a thing as "California," there were the People and the Land. Manifest Destiny, the Gold Rush, and settler colonial society drew maps, displaced Indigenous People, and reshaped the land, but they did not make California. Rather, the lives and legacies of the people native to the land shaped the creation of California. We Are the Land is the first and most comprehensive text of its kind, centering the long history of California around the lives and legacies of the Indigenous people who shaped it.
Page 13
13Pollution Is Colonialism (Duke University Press) - by Max LiboironMax Liboiron presents a framework for understanding scientific research methods as practices that can align with or against colonialism. They point out that even when researchers are working toward benevolent goals, environmental science and activism are often premised on a colonial worldview and access to land. Focusing on plastic pollution, the book models an anticolonial scientific practice aligned with Indigenous, particularly Métis, concepts of land, ethics, and relations.Tending the Wild: Native American Knowledge and the Management of California's Natural Resources(University of California Press) - M. Kat AndersonM. Kat Anderson presents a wealth of information on native land management practices gleaned in part from interviews and correspondence with Native Americans who recall what their grandparents told them about how and when areas were burned, which plants were eaten and which were used for basketry, and how plants were tended. The complex picture that emerges from this and other historical source material dispels the hunter-gatherer stereotype long perpetuated in anthropological and historical literature. We come to see California's indigenous people as active agents of environmental change and stewardship. An Afro-Indigenous History of the United States(Beacon Press) - by Kyle T. MaysAvailable Nov. 16The first intersectional history of the Black and Native American struggle for freedom in our country that also reframes our understanding of who was Indigenous in early America.Mays compels us to rethink both our history as well as contemporary debates and to imagine the powerful possibilities of Afro-Indigenous solidarity.The 1619 Project: A New Origin Story (One World) - ed. by Nikole Hannah-Jones, The New York Times MagazineAvailable Nov. 16Recovering Our Ancestors' Gardens: Indigenous Recipes and Guide to Diet and Fitness (University of Nebraska Press) - by Devon A. MihesuahRecovering Our Ancestors' Gardens features pointed discussions about the causes of the generally poor state of indigenous health today. Diminished health, Mihesuah contends, is a pervasive consequence of colonialism, but by advocating for political, social, economic, and environmental changes, traditional food systems and activities can be reclaimed and made relevant for a healthier lifestyle today.Presumed Guilty: How the Supreme Court Empowered the Police and Subverted Civil Rights(Liveright) - by Erwin ChemerinksyUnprecedented in its scope, Presumed Guilty argues that the Supreme Court has enabled racist policing and sanctioned law enforcement excesses through its decisions over the last half-century.A provocative intervention into the national conversation about racial inequality and reform, articulating a history too-seldom told (or at least heard!) and promising to transform our understanding of the systems that enable police brutality.Not new … but indispensableAmerican StudiesThe New York Times Magazine's award-winning "1619 Project" issue reframed our understanding of American history by placing slavery and its continuing legacy at the center of our national narrative. This highly anticipated book substantially expands on that work, weaving together eighteen essays that explore the legacy of slavery in present-day America with thirty-six poems and works of fiction that illuminate key moments of oppression, struggle, and resistance.
Page 14
14White Borders: The History of Race and Immigration in the United States from Chinese Exclusion to the Border Wall (Beacon Press) - Reece JonesConnecting past to present, Jones uncovers the link between the Chinese Exclusion laws of the 1880s, the "Keep America American" nativism of the 1920s, and the "Build the Wall" chants initiated by former president Trump in 2016. Through gripping stories and in-depth analysis, Jones explores the connections between anti-immigration hate groups and the Republican Party, exposing the lasting impacts of white supremacist ideas on United States law.The Undocumented Americans (One World) - by Karla Cornejo VillavicencioLooking beyond the flashpoints of the border or the activism of the DREAMers, Cornejo Villavicencio explores the lives of the undocumented—and the mysteries of her own life. She finds the singular, effervescent characters across the nation often reduced in the media to political pawns or nameless laborers. The stories she tells are not deferential or naively inspirational but show the love, magic, heartbreak, insanity, and vulgarity that infuse the day-to-day lives of her subjects. We are familiar with maps that outline all fifty states. And we are also familiar with the idea that the United States is an "empire," exercising power around the world. But what about the actual territories — the islands, atolls, and archipelagos —this country has governed and inhabited?This is a contemporary classic. Trace: Memory, History, Race, and the American Landscape (Counterpoint) - by Lauret SavoyThrough personal journeys and historical inquiry, Savoy explores how America's still unfolding history and ideas of "race" have marked its people and the land. A provocative and powerful mosaic that ranges across a continent and across time, from twisted terrain within the San Andreas Fault zone to a South Carolina plantation, from national parks to burial grounds, from "Indian Territory" and the U.S.–Mexico Border to the U.S. capital, Trace grapples with a searing national history to reveal the often unvoiced presence of the past.How to Hide an Empire: A History of the Greater United States (Picador) - by Daniel ImmerwahrNot new … but indispensablePulp Empire: The Secret History of Comic Book Imperialism (University of Chicago Press) - by Paul S. HirschIn the 1940s and '50s, comic books were some of the most popular—and most unfiltered—entertainment in the United States. Hirsch's groundbreaking research weaves together a wealth of previously classified material, including secret wartime records, official legislative documents, and caches of personal papers. His book explores the uneasy contradiction of how comics were both vital expressions of American freedom and unsettling glimpses into the national id—scourged and repressed on the one hand and deployed as official propaganda on the other. Detours: A Decolonial Guide to Hawai'i (Duke University Press) - ed. by Hokulani K. Aikau & Vernadette Vicuña GonzalezMany people first encounter Hawai'i through the imagination--a postcard picture of hula girls, lu'aus, and plenty of sun, surf, and sea. While Hawai'i is indeed beautiful, Native Hawaiians struggle with the problems brought about by colonialism, military occupation, tourism, food insecurity, high costs of living, and climate change. In this brilliant reinvention of the travel guide, artists, activists, and scholars redirect readers from the fantasy of Hawai'i as a tropical paradise and tourist destination toward a multilayered and holistic engagement with Hawai'i's culture and complex history. The essays, stories, artworks, maps, and tour itineraries in Detours create decolonial narratives in ways that will forever change how readers think about and move throughout Hawai'i.
Page 15
15Mutual Aid: An Illuminated Factor of Evolution(PM Press) - by By Peter Kropotkin, N. O. Bonzo (Illustrator)One hundred years after his death, Peter Kropotkin is still one of the most inspirational figures of the anarchist movement. Every page of this new edition of his classic Mutual Aid has been beautifully illustrated by one of anarchism's most celebrated current artists, N.O. Bonzo. Includes original artwork by GATS and commentary by David Graeber, Ruth Kinna, Andrej Grubacic, and Allan Antliff.The Dawn of Everything: A New History of Humanity (Farrar, Straus & Giroux) - by David GraeberAvailable Nov. 9For generations, our remote ancestors have been cast as primitive and childlike — either free and equal innocents, or thuggish and warlike. Civilization, we are told, could be achieved only by sacrificing those original freedoms or, alternatively, by taming our baser instincts. David Graeber and David Wengrow show how such theories first emerged in the eighteenth century as a conservative reaction to powerful critiques of European society posed by Indigenous observers and intellectuals. Revisiting this encounter has startling implications for how we make sense of human history today, including the origins of farming, property, cities, democracy, slavery, and civilization itself.Born in Blackness: Africa, Africans, and the Making of the Modern World, 1471 to the Second World War (Liveright) - by Howard W. FrenchRevealing the central yet intentionally obliterated role of Africa in the creation of modernity, Born in Blackness reframes our understanding of world history.Traditional accounts of the making of the modern world afford a place of primacy to European history. The history of Africa, by contrast, has long been relegated to the remote outskirts of our global story. What if, instead, we put Africa and Africans at the very center of our thinking about the origins of modernity?Becoming Abolitionists: Police, Protests, and the Pursuit of Freedom (Astra House) - by Derecka PurnellDerecka Purnell's argument is powerful and clear:For more than a century, activists in the United States have tried to reform the police. From community policing initiatives to increasing diversity, none of it has stopped the police from killing about three people a day. Millions of people continue to protest police violence because these "solutions" do not match the problem. Namely, that the police cannot be reformed.The Power of Geography: Ten Maps That Reveal the Future of Our World (Scribner) - by Tim MarshallAvailable Nov. 9From the author of the New York Times bestseller Prisoners of Geography, the highly anticipated follow-up that uses ten maps of crucial regions around the globe to explain the geopolitical strategies of today's world powers and what it means for our future.Ganbare!: Workshops on Dying (Open Letter) - by Katarzyna Boni, Mark Ordon (Translator)Available Nov. 23The March 11, 2011, earthquake and subsequent tsunami that ravaged Japan lasted a mere six minutes. But the fallout -- the aftershocks, the Fukushima nuclear disaster, the country-wide devastation -- from this catastrophic event and the trauma experienced by those who survived it is ongoing, if not permanent.Polish writer and reporter Katarzyna Boni takes us on a journey through the experience of death and how the living -- those of us left behind -- learn to grieve.Global Studies
Page 16
16Rejected: Designs For the European Flag(Wirklichkeit Books) - ed. by Jonas Von LentheWhen the Council of Europe in 1955 selected a European flag bearing twelve yellow stars on a blue background, it was also rejecting more than 150 other submitted designs. Ideas came from all over the world and were based on the assumption that European unity was the model for the future; most, however, were drafted by men from West Germany and France. All of the colorful proposals are published here for the first time, with a text by Marie Rotkopf that with biting irony addresses the EU's neoliberal political cynicism and Germany's expansion of power over the years. These (un)imaginative flags reflect the zeitgeist at a decisive period in the development of European unity.Revolution: An Intellectual History (Verso) - by Enzo TraversoTraverso blends historical acumen, an eye for political aesthetics, and theoretical insight to assess the forces that power / befall revolutionary movements and moments. The breadth of thinkers spans the globe, and with a lesser thinker would become unwieldy for any sort of synthesis. Traverso's book is a huge achievement and addition to our understanding of revolutionary history. Maybe we yet have more to contribute!The Filing Cabinet: A Vertical History of Information (University of Minnesota Press) - by Craig RobertsonRobertson's unconventional history of the origins of the information age posits the filing cabinet as an information storage container, an "automatic memory" machine that contributed to a new type of information labor privileging manual dexterity over mental deliberation. Gendered assumptions about women's nimble fingers helped to naturalize the changes that brought women into the workforce as low-level clerical workers. The filing cabinet emerges from this unexpected account as a sophisticated piece of information technology and a site of gendered labor that with its folders, files, and tabs continues to shape how we interact with information and data in today's digital world.How to Blow Up a Pipeline (Verso) - by Andreas MalmIn this lyrical manifesto, noted climate scholar (and saboteur of SUV tires and coal mines) Andreas Malm makes an impassioned call for the climate movement to escalate its tactics in the face of ecological collapse. We need, he argues, to force fossil fuel extraction to stop--with our actions, with our bodies, and by defusing and destroying its tools. We need, in short, to start blowing up some oil pipelines.Border and Rule: Global Migration, Capitalism, and the Rise of Racist Nationalism (Haymarket) by Harsha WaliaBrad says: "To my eyes and politics, this is one of the most significant books of the year. Walia argues persuasively that the world's migrant / refugee crises are inevitable outcomes of conquests, globalization, and climate change generating mass dispossession worldwide. The synthesis within and clarity of the critique is a needed challenge."Fulfillment: Winning and Losing in One-Click America (Farrar, Straus & Giroux) - by Alec MacGillisPotentially a game-changer of a book, in terms of the human and economic scope of its reporting. This is one the most compelling journalistic accounting / reckoning available of Amazon's effect(s) on labor and inequality.Buy a copy for that that uncle who keeps sending you gifts via Prime.
Page 17
17A History of the World in Seven Cheap Things (University of California Press) - by Raj PatelBrad says: "Nature, money, work, care, food, energy, and lives … it's hard to argue we've not managed to cheapen them all, and in the process are selling the world short." Seeing Like a State: How Certain Schemes to Improve the Human Condition Have Failed (Yale University Press) - James C. ScottHailed as "a magisterial critique of top-down social planning" by the New York Times, this essential work analyzes disasters from Russia to Tanzania to uncover why states so often fail—sometimes catastrophically—in grand efforts to engineer their society or their environment, and uncovers the conditions common to all such planning disasters.Lost in Thought: The Hidden Pleasures of an Intellectual Life (Harvard University Press) - by Zena HitzIn an overloaded, superficial, technological world, in which almost everything and everybody is judged by its usefulness, where can we turn for escape, lasting pleasure, contemplation, or connection to others? While many forms of leisure meet these needs, Hitz argues passionately that few experiences are so fulfilling as the inner life -- whether that of a bookworm, an amateur astronomer, a birdwatcher, or someone who takes a deep interest in one of countless other subjects. Lost in Thoughtis a timely and needed reminder that a rich life is a life rich in thought.Complaint! (Duke University Press) - by Sara AhmedSara Ahmed examines what we can learn about power from those who complain about abuses of power. Drawing on oral and written testimonies from academics and students who have made complaints about harassment, bullying, and unequal working conditions at universities, Ahmed explores the gap between what is supposed to happen when complaints are made and what actually happens. Following a long lineage of Black feminist and feminist of color critiques of the university, Ahmed delivers a timely consideration of how institutional change becomes possible and why it is necessary.The Will to Change: Men, Masculinity, and Love (Washington Square) - by bell hooksbell hooks gets to the heart of the matter and shows men how to express the emotions that are a fundamental part of who they are -- whatever their age, marital status, ethnicity, or sexual orientation. But toxic masculinity punishes those fundamental emotions, and it's so deeply ingrained in our society that it's hard for men to not comply. But change they can, hooks argues, and change they must. Absentees: On Variously Missing Persons (Zone Books) - by Daniel Heller-RoazenMissing by choice. Absented by law. Departed by death. Daniel Heller-Roazen divest into the cultural and legal histories of "missing persons," and the depths are astonishingly relevant to the close at the hand.Zone Books delivers every single time.Theory / PhilosophyNot new … but indispensable
Page 18
18The Dance of the Arabian Babbler: Birth of an Ethological Theory (University of Minnesota Press) -by Vinciane Despret, jeffrey bussolini (Translated by)Embedding herself in the field alongside ethologists in the Negev desert, Vinciane Despret depicts and reflects on the process by which scientists construct their theories. It sounds heady and specialist, and it definitely is that, but it's also shockingly accessible and funny. Scale Theory: A Nondisciplinary Inquiry (University of Minnesota Press) - by Joshua DiCaglioWeaving together a dizzying array of sciences (from nanoscience to ecology) with discussions from the humanities (from philosophy to rhetoric), DiCaglio finds a curious pattern: attempts to face the significance of scale inevitably enter terrain closer to mysticism than science. Rather than dismiss this connection, he examines the reasons for it, redefining mysticism in terms of scale and integrating contemplative philosophies into the discussion. The result is a powerful account of the implications and challenges of scale, attuned to the way scale transforms both reality and ourselves. Do we totally understand this? Probably not! But possibly just enough to be very dangerous. Envy, irritation, paranoia -- in contrast to powerful and dynamic negative emotions like anger, these non-cathartic states of feeling are associated with situations in which action is blocked or suspended. In her examination of the cultural forms to which these affects give rise, Sianne Ngai suggests that these minor and more politically ambiguous feelings become all the more suited for diagnosing the character of late modernity.Maroon the Implacable: The Collected Writings of Russell Maroon Shoatz (AK Press) - by Russell Maroon ShoatzAdelaide says: "This book is comprised of essays written during Russell Shoatz's lengthy prison sentence, the majority of which he spent in solitary confinement due to the state's inability to crush his spirit (he escaped twice!). This is an amazing book for abolitionists and revolutionaries".Ugly Feelings (Harvard University Press) -by Sianne NgaiEverybody: A Book About Freedom (W. W. Norton) -by Olivia LaingDrawing on her own experiences in protest and alternative medicine, and traveling from Weimar Berlin to the prisons of McCarthy-era America, Laing grapples with some of the most significant and complicated figures of the past century — among them Nina Simone, Christopher Isherwood, Sigmund Freud, Susan Sontag, and Malcolm X.Despite its many burdens, the body remains a source of power, even in an era as technologized and automated as our own. Arriving at a moment in which basic bodily rights are once again imperiled, Everybody is an investigation into the forces arranged against freedom and a celebration of how ordinary human bodies can resist oppression and reshape the world.Not new … but indispensableCruel Optimism (Duke University Press) - by Lauren BerlantBerlant traces affective and aesthetic responses to the "dramas of adjustment" (damn, that's a great phrase!) that unfold amid talk of precarity, contingency, and crisis. They suggest that our stretched-out present is characterized by new modes of temporality, and explains why trauma theory --with its focus on reactions to the exceptional event that shatters the ordinary -- is not useful for understanding the ways that people adjust over time, once crisis itself has become ordinary. (Oooph!) Cruel Optimism is a remarkable history of the present.
Page 19
19On Animals (Avid Reader) - by Susan OrleanThese stories consider a range of creatures — the household pets we dote on, the animals we raise to end up as meat on our plates, the creatures who could eat us for dinner, the various tamed and untamed animals we share our planet with who are central to human life. Equal parts delightful and profound, enriched by Orlean's stylish prose and precise research, these stories celebrate the meaningful cross-species connections that grace our collective existence.Birds of Lake Merritt (Heyday) - by Alex HarrisBrad says: "This is not about the ones who have pooped on or stolen my lunch while at our fair lake."Introduces us to fifteen waterbirds found in our beloved local wildlife refuge. Harris includes a history of the lake, providing context for a place that is alluring to humans and shorebirds alike. Each species profile of the lake's feathered residents is accompanied by a beautiful, detailed watercolor that captures the bird's distinctive coloring and physicality. A celebration of avian life and the human pleasure of witnessing it, Birds of Lake Merritt is an essential guide to the natural world in the heart of the city.A Bestiary of the Anthropocene: Hybrid Plants, Animals, Minerals, Fungi, and Other Specimens(Onomatopee( - by Nicolas Nova (Editor), Disnovation Org (Editor)A sort-of field handbook, A Bestiary of the Anthropocene aims to help us orient ourselves within the technosphere and the biosphere. What happens when technologies and their unintended consequences become so ubiquitous that it is difficult to define what is "natural" or not? What does it mean to live in a hybrid environment made of organic and synthetic matter?We've no clue! We just know this book is so dang cool!The Everybody Assemble: Donkeys, Essays, and Other Pandemoniums (Farrar, Straus & Giroux) - by Amy LeachAvailable Nov. 16These short, wildly inventive essays are filled with praise songs, poetry, ingenious critique, soul-lifting philosophy, music theory, and whimsical but scientific trips into nature. Leach is a phenomenally good writer, and this is an irrepressible celebration of our oddball, interconnected world. The Everybody Ensembledelivers unexpected wisdom and a wake-up call.The Nutmeg's Curse: Parables for a Planet in Crisis(University of Chicago Press) - by Amitav GhoshThis follow-up to the stunning The Great Derangement is an important critique of the natural history of imperialism -- its historical roots, present effects and future threats. Ghosh's way with narrative married to up-to-date research is so very powerful. We cannot recommend this book highly enough for those who wish to think (and read deeply) about the crises facing us. A Pocket Guide to Pigeon Watching: Getting to Know the World's Most Misunderstood Bird(Workman) - by Rosemary MoscoWho doesn't love pigeons? Monsters, that's who!Equal parts illustrated field guide and quirky history, it covers behavior: Why they coo; how they flock; how they preen, kiss, and mate; and how they raise their young (on chunky pigeon milk). Anatomy and identification, from Birmingham Roller to the American Giant Runt to the Scandaroon. Natural History / Nature Writing
Page 20
20Iconotypes: A Compendium of Butterflies and Moths, Jones' Icones Complete (University of California Press) - Oxford University Museum of Natural History (Editor),Between the early 1780s and 1810, Jones, a wine merchant, painted in painstaking detail hundreds of species of Lepidoptera, drawing from his own collection and the collections of prominent amateur naturalists. For every specimen, Jones included the known species name, the collection, and the geographical location in which it was found. In this enhanced facsimile, Jones's historical references are clarified and modern taxonomic names are provided together with notes on which paintings serve as iconotypes. It's stunning.Finding the Mother Tree: Discovering the Wisdom of the Forest (Knopf) - by Suzanne SimardGiven all these tree books, surely there's nothing else to be said, right? Shorter Suzanne Simard: "Hold my beer." Simard is a pioneer on the frontier of plant communication and intelligence. Now, in her first book, she brings us into her world, the intimate world of trees, in which she illuminates the fascinating and vital truths -- that trees are not simply the source of timber or pulp, but are a complicated, interdependent circle of life; that forests are social, cooperative creatures connected through underground networks by which trees communicate their vitality and vulnerabilities with communal lives not that different from our own. Trees may not be socialists, but they're better at socialism than we are. Fuzz: When Nature Breaks the Law (W. W. Norton) - by Mary Roach Combining little-known forensic science and conservation genetics with a motley cast of laser scarecrows, langur impersonators, and trespassing squirrels, Roach reveals as much about humanity as about nature's lawbreakers. When it comes to "problem" wildlife, she finds, humans are more often the problem — and (ed. addition, maybe?) the solution. Fascinating, witty, and humane, Fuzz offers hope for compassionate coexistence in our ever-expanding human habitat.The Heartbeat of Trees: ZEmbracing Our Ancient Bond with Forests and Nature (Greystone) - by Peter Wohlleben, Jane Billinghurst (Translator)Think you know a lot about trees? Wait until you find out what they know about you!In The Heartbeat of Trees, renowned forester Peter Wohlleben draws on new scientific discoveries to show how humans are deeply connected to the natural world. In an era of climate change, many of us fear we've lost our connection to nature -- but Peter Wohlleben is convinced that age-old ties linking humans to the forest remain alive and intact. We just have to know where to look.The Complete Birds of the World: Every Species Illustrated (Princeton University Press) - by Norman Arlott, Ber Van Perlo, Jorge R. Rodriguez MataThis is a book like no other -- the only truly comprehensive, one-volume illustrated guide to all of the world's birds, covering the complete International Ornithological Congress World Bird List. Featuring more than 300 large-format, full-color plates, this accessible (if really quite heavy -- don't drop it from a great height!) and authoritative encyclopedic reference presents incredibly detailed, accurate, and beautiful paintings of more than 10,700 species by some of the world's best bird artists, led by the legendary Norman Arlott and Ber van Perlo. How I Became a Tree (Yale University Press) - by Sumana RoyThere has been a forest-full of "tree books" of late … and this is a towering addition. Drawn to trees' wisdom, their nonviolent way of being, their ability to cope with loneliness and pain, Roy movingly explores the lessons that writers, painters, photographers, scientists, and spiritual figures have gleaned through their engagement with trees — from Rabindranath Tagore to Tomas Tranströmer, Ovid to Octavio Paz, William Shakespeare to Margaret Atwood. Her stunning meditations on forests, plant life, time, self, and the exhaustion of being human evoke the spacious, relaxed rhythms of the trees themselves.
Page 21
21Physical Sciences / TechnologyWhat is Landscape (MIT Press) - by John R. StilgoeSuch an enlightening book. There is, it seems, a language to every human experience, and thus a word for those things you are experiencing when viewing the world around you -- say, the countryside on a windswept rainy day. John Stilgoe reminds us to slow down long enough for our language to catch up to our experiences. Plants Have So Much to Give Us, All We Have to Do Is Ask: Anishinaabe Botanical Teachings (University of Minnesota Press) - by Mary Siisip Geniusz, Wendy Makoons Geniusz (Editor), Annmarie Geniusz (Illustrator)Geniusz teaches the ways she was taught -- through stories. Sharing the traditional stories she's learned first-hand and from Native American tradition, she brings plants to life with narratives that explain their uses, meaning, and history. Stories such as "Naanabozho and the Squeaky-Voice Plant" place the plants in cultural context and illustrate the belief in plants as cognizant beings. The "more-than" in "more-than-human" is the most interesting part.Paul Nahin is a master at explaining odd phenomena through straightforward mathematics. In this collection of twenty-six intriguing problems, he explores how mathematical physicists think. The questions raised may seem impossible to answer at first and may require an unexpected twist in reasoning, but sometimes their solutions are surprisingly simple. Nahin's goal is always to guide readers -- who will need only to have studied advanced high school math and physics -- in expanding their mathematical thinking to make sense of the curiosities of the physical world.Frequently Asked Questions about the Universe (Riverhead) - by Jorge Cham, Daniel WhitesonAvailable Nov. 2Researcher-turned-cartoonist Jorge Cham and physics professor Daniel Whiteson are experts at explaining science in ways we can all understand, in their books and on their popular podcast, Daniel and Jorge Explain the Universe. With their signature blend of humor and oh-now-I-get-it clarity, Jorge and Daniel offer short, accessible, and lighthearted answers to some of the most common, most outrageous, and most profound questions about the universe they've received.How to Fall Slower Than Gravity (Princeton University Press) - by Paul J. NahinAvailable Nov. 23Slow Violence & The Environmentalism of the Poor(University of Harvard Press) - by Rob Nixon99 Variations on a Proof (Princeton University Press) - by Philip OrdingThis book offers a multifaceted perspective on mathematics by demonstrating 99 different proofs of the same theorem. Each chapter solves an otherwise unremarkable equation in distinct historical, formal, and imaginative styles that range from Medieval, Topological, and Doggerel to Chromatic, Electrostatic, and Psychedelic. With a rare blend of humor and scholarly aplomb, Philip Ording weaves these variations into an accessible and wide-ranging narrative on the nature and practice of mathematics.Not new … but indispensableIn a book of extraordinary scope, Nixon examines a cluster of writer-activists affiliated with the environmentalism of the poor in the global South. By approaching environmental justice literature from this transnational perspective, he exposes the limitations of the national and local frames that dominate environmental writing. Nixon invites his readers to engage with some of the most pressing challenges of our time.
Page 22
22The Disordered Cosmos: A Journey into Dark Matter, Spacetime, and Dreams Deferred (Bold Type) - by Chanda Prescod-WeinsteinOne of the leading physicists of her generation, Dr. Chanda Prescod-Weinstein is also one of fewer than one hundred Black American women to earn a PhD from a department of physics. Her vision of the cosmos is vibrant, buoyantly non-traditional, and grounded in Black feminist traditions. Prescod-Weinstein urges us to recognize how science, like most fields, is rife with racism, sexism, and other dehumanizing systems. She lays out a bold new approach to science and society that begins with the belief that we all have a fundamental right to know and love the night sky. Do Not Erase: Mathematicians and Their Chalkboards (Princeton University Press) - by Jessica WynneWhile other fields have replaced chalkboards with whiteboards and digital presentations, mathematicians remain loyal to chalk for puzzling out their ideas and communicating their research. Wynne offers more than one hundred stunning photographs of these chalkboards, gathered from a diverse group of mathematicians around the world. The photographs are accompanied by essays from each mathematician, reflecting on their work and processes. Together, pictures and words provide an illuminating meditation on the unique relationships among mathematics, art, and creativity.Music isn't just of the Devil and there to inspire lustful thoughts, no matter what my mom told me! Why, it's often informed by all sorts of math. The works of Bach are often said to possess a math-like logic, and Arnold Schoenberg, Iannis Xenakis, and Karlheinz Stockhausen wrote music explicitly based on mathematical principles. Yet Eli Maor argues that it is music that has had the greater influence on mathematics, not the other way around. Music by the Numbers tells a fascinating story of composers, scientists, inventors, and eccentrics who have played a role in the age-old relationship between music, mathematics, and the physical sciences. Take that, Satan!The Carrier Bag Theory of Fiction (Ignota), by Ursula K. Le GuinUrsula K. Le Guin retells the story of human origin by redefining technology as a cultural carrier bag rather than a weapon of domination. Hacking the linear, progressive mode of the Techno-Heroic, the Carrier Bag Theory of human evolution proposes: "before the tool that forces energy outward, we made the tool that brings energy home."We love and miss you, Ursula K. Le Guin! Music by the Numbers: From Pythagoras to Schoenberg (Princeton University Press) - by Eli MaorDrawing on more than a decade of research, award-winning scholar Kate Crawford argues that AI is a technology of extraction: from the minerals drawn from the earth, to the labor pulled from low-wage information workers, to the data taken from every action and expression. Rather than taking a narrow focus on code and algorithms, Crawford offers us a material and political perspective on what it takes to make AI and how it centralizes power.Atlas of AI (Yale University Press) - by Kate CrawfordPhysics & Dance (Yale University) - by Emily Coates, Sarah DemersRequiring no previous knowledge of dance or physics (ed. note, mercifully!), this introduction covers the fundamentals while revealing how a dialogue between art and science can enrich our appreciation of both. Readers will come away with a broad cultural knowledge of Newtonian to quantum mechanics and classical to contemporary dance. Including problem sets and choreographic exercises to solidify understanding, this book will be of interest to anyone curious about physics or dance.Not new … but indispensable
Page 23
23Singing Like Germans: Black Musicians in the Land of Bach, Beethoven, and Brahms (Cornell University Press) - by Kira ThurmanKira Thurman tells the sweeping story of Black musicians in German-speaking Europe over more than a century. Thurman brings to life the incredible musical interactions and transnational collaborations among people of African descent and white Germans and Austrians. We love history like this that explores how people reinforced or challenged racial identities in specific circumstances. Ways of Hearing: Reflections on Music in 26 Pieces (Princeton University Press) - by Scott Burnham (Editor), Marna Seltzer (Editor), Dorothea Von Moltke (Editor)An outstanding anthology in which notable musicians, artists, scientists, thinkers, poets, and more -- from Gustavo Dudamel and Carrie Mae Weems to Ruth Bader Ginsburg and Paul Muldoon -- explore the influence of music on their lives and workThe Joy of Basketball: An Encyclopedia of the Modern Game (Abrams Image) - Ben Detrick, Andrew KuoAvailable Nov. 9Using text, charts, and illustrations that upend conventional jock wisdom, the book details the most incredible players in history, draft flops, long-limbed oddballs, superteams, the international talent wave, brawls, scandals, the rapid evolution of contemporary gameplay, coaching, fashion, crime, positional erosion, tragic tales, memes, and the sacred Kardashian Blessing. Bouncing between witty graphics and keen sociopolitical observations, The Joy of Basketball is a subversive sports manifesto camouflaged as a colorful reference book for your coffee table.Colorization: One Hundred Years of Black Films in a White World (Knopf) - Wil HaygoodThis unprecedented history of Black cinema examines 100 years of Black movies — from Gone with the Wind to Blaxploitation films to Black Panther — using the struggles and triumphs of the artists, and the films themselves, as a prism to explore Black culture, civil rights, and racism in America. Alien Listening: Voyager's Golden Record and Music from Earth (Zone Books) - by Daniel K. L. Chua, Alexander RehdingIn 1977 NASA shot a mixtape into outer space. The Golden Record aboard the Voyager spacecrafts contained world music and sounds of Earth to represent humanity to any extraterrestrial civilizations. To date, the Golden Record is the only human-made object to have left the solar system. Alien Listening asks the big questions that the Golden Record raises: Can music live up to its reputation as the universal language in communications with the unknown? How do we fit all of human culture into a time capsule that will barrel through space for tens of thousands of years? And last but not least: Do aliens have ears?After the Oracle (Deep Vellum) - by Shane AndersonAvailable Nov. 30In 2016, Shane Anderson made a vow to live according to the four core values of the Golden State Warriors to escape a decade of defeats--including divorce, debilitating spinal surgery and a suicide attempt. The basketball team's values of joy, mindfulness, compassion, and competition became Anderson's guiding principles, providing him a lens to investigate a myriad of social, personal, philosophical, and political issues, such as homelessness, the promises and failures of rave culture, and the limits of self-help. Part memoir, part essay, and part chronicle of the greatest five-year stretch of a team in NBA history. Performing Arts & Sports
Page 24
24PoetryGames People Played: A Global History of Sport(Reaktion) - by Wray VamplewChronicling Stankonia: The Rise of the Hip-Hop South (University of North Carolina Press) - by Regina BradleyFor scholar and critic Regina N. Bradley, Outkast's work is the touchstone, a blend of funk, gospel, and hip-hop developed in conjunction with the work of other culture creators -- including T.I., Kiese Laymon, and Jesmyn Ward. This work, Bradley argues, helps define new cultural possibilities for black southerners who came of age in the 1980s and 1990s and have used hip-hop culture to buffer themselves from the historical narratives and expectations of the civil rights era. Andre 3000, Big Boi, and a wider community of creators emerge as founding theoreticians of the hip-hop South/When you win the Nobel, suddenly your bio suffices for these things: Louise Glück is the author of two collections of essays and more than a dozen books of poems. Her many awards include the 2020 Nobel Prize in Literature, the 2015 National Humanities Medal, the 1993 Pulitzer Prize for The Wild Iris and the 2014 National Book Award for Faithful and Virtuous Night.Such Color: New and Selected Poems (Graywolf) - by Tracy K. SmithA new Tracy K. Smith collection is always an event, and Such Color lives up to it. This is a perfect collection if you're looking to deepen your (or somebody else's) awareness of what's happening in American poetry today. Tracy K. Smith is the author of four books of poetry, including Life on Mars, winner of the Pulitzer Prize, and Wade in the Water, winner of the Anisfield-Wolf Book Award. From 2017 to 2019, she served as the poet laureate of the United States.Winter Recipes from the Collective (Farrar, Straus & Giroux) - by Louise GlückAssembling a Black Counter Culture (Primary Information) - by Deforrest BrownAvailable Dec. 28Gigantic Cinema: A Weather Anthology (W. W. Norton - ed. by Paul Keegan & Alice OswaldAvailable Nov. 16Ranging from Homer's winds and Ovid's flood to Frank O'Hara's sun, Pliny's reportage on the eruption of Vesuvius to Elizabeth Bishop's "Song for a Rainy Season," Gigantic Cinema offers an expansive collection of writing inspired by the commotion of the elements. Would that we have plenty of rain this winter as a soundtrack. In Assembling a Black Counter Culture, writer and musician DeForrest Brown, Jr, provides a history and critical analysis of techno and adjacent electronic music such as house and electro, showing how the genre has been shaped over time by a Black American musical sensibility.The publication date for this book has moved so many times, we've really no clue if it'll be available in 2021. That said, we've been so excited for it for over a year now, we wanted you to know about it.This is purportedly, says the promotional copy, the first global history of sports! (ed. note: how is that even possible?) It shows how sports have been practiced, experienced, and made meaningful by players and fans throughout history. It assesses how sports developed and diffused across the globe, as well as many other aspects, from emotion, discrimination, and conviviality; politics, nationalism, and protest; and how economics has turned sports into a huge consumer industry. It shows how sports are sociable and health-giving, and also contribute to charity. However, it also examines their dark side: sports' impact on the environment, the use of performance-enhancing drugs, and match-fixing.
Page 25
25Villainy (Nightboat) - by Andrea Abi-KaramAdelaide says: "Goddammit, Andrea! Why does everything they write make me feel this way? I stop, the world quiets, I breathe out, exhausted. And now I'm ready to go. To fight, to grieve, to fuck. This world is not enough, my friends are more than I could ever need. Thank you, Andrea."Andrea Abi-Karam is an arab-american genderqueer punk poet-performer cyborg, writing on the art of killing bros, the intricacies of cyborg bodies, trauma and delayed healing. Selected by Bhanu Khapil, Andrea's debut Extratransmission(Kelsey Street Press, 2019), is a poetic critique of the U.S. military's role in the War on Terror. The Sunflower Cast a Spell to Save Us from the Void (Nightboat) - by Jackie WangCongratulations to all the poets shortlisted for this year's National Book Award poetry prize, but we're not gonna lie … we really want this collection to win! Jackie Wang is the author of Carceral Capitalism -- a searing analysis of the racial, economic, political, legal, and technological dimensions of the US carceral state. She is currently an Arleen Carlson and Edna Nelson Graduate Fellow at the Radcliffe Institute for Advanced Study.English Lit (Swallow Press) - by Bernard ClayBrad says: "This debut collection by fellow Kentuckian Bernard Clay straight-up blew me away. The Affrilachian poetry movement kicks against expectations about Kentucky, and Clay's English Lit is bound to become one of its classic examples." Plus, dig that excellent cover!Living Nations, Living Words: An Anthology of First Peoples Poetry (W. W. Norton) - ed. by Joy HarjoJoy Harjo, the first Native poet to serve as U.S. Poet Laureate, has championed the voices of Native peoples past and present. Her signature laureate project gathers the work of contemporary Native poets into a national, fully digital map of story, sound, and space, celebrating their vital and unequivocal contributions to American poetry.This companion anthology features each poem and poet from the project — including Natalie Diaz, Ray Young Bear, Craig Santos Perez, Sherwin Bitsui, and Layli Long Soldier, among others — to offer readers a chance to hold the wealth of poems in their hands. The chosen poems reflect on the theme of place and displacement and circle the touchpoints of visibility, persistence, resistance, and acknowledgment.Blood on the Fog (City Lights) - by Tongo Eisen-MartinCan poetry start an insurrection? Or maybe it attends it, the murmuring before, the incendiary during, and the uncertain after. I'm glad we have Tongo Eisen-Martin in our corner.Tongo Eisen-Martin is the Poet Laureate of San Francisco, California. He is the author of Heaven Is All Goodbyes (City Lights Books, 2017), which was shortlisted for the Griffin International Poetry Prize, received the California Book Award for Poetry, an American Book Award, and a PEN Oakland Book Award.Revolutionary Letters: 50th Anniversary Edition(City Lights) - by Diane Di PrimaExpanded 50th anniversary edition of the City Lights classic, featuring fifteen new poems. Simultaneously released with Diane di Prima's Spring and Autumn Annals on the one-year anniversary of her passing.By turns a handbook of countercultural living, a manual for street protest, and a feminist broadside against the repressive state apparatus, Revolutionary Letters is a modern classic, as relevant today as it was fifty years ago. Long live revolutionary poets and poetry.