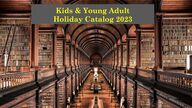 Return to flip book view
Kids & Young Adult Catalog
Page 1
StacksFall / Winter 2021Use the arrows on either side of the page to flip through the magazine.The book covers are clickable, and will take you to the book on our website: ebbooksellers.comFeel free to download and share the magazine!For over twenty-seven years, this space of ours has been a vital part of the literary and cultural fabric of the East Bay.This place that we call home, it's always changing. Industries rise and fall. People come and go. And the ground itself moves under our feet. This bowling alley turned bookstore, has been a community sounding board about these changes. A safe place in their midst. A discovery zone in their wake. In short, one of the best damn neighborhood bookstores you're likely to find. Are we proud of this fact? You bet. But it's not and has never been about us.Who are we? We're glad you asked.We are East Bay Booksellers, and we are yourneighborhood bookstore.About Us•••1Thu and Pam have put together a fantastic catalog for your kiddo … or perhaps yourself! Books have no age-limits!From board books your youngest will have to work hard to destroy to young adult romance, we have you covered! -- Brad
Page 2
2BOARD BOOKSPICTURE BOOKSKIDS FOLKLORE, FAIRY TALES & MYTHSKIDS NONFICTIONEARLY CHAPTER BOOKSMIDDLE GRADE CHAPTER BOOKSGRAPHIC NOVELSYA FICTIONYA NONFICTION
Page 3
3Board BooksAges 2-51. WOODLAND DANCE!...Sandra Boynton2. THERE'S A BEAR IN MY CHAIR...Ross Collins3. SUMO COUNTING...Sanae Ishida4. HERE WE ARE: BOOK OF ANIMALS...Oliver Jeffers5. A TO Z MENAGERIE...Suzy Ultman6. FROM ONE TO TEN...Mies Van MoutAges 3 and under1. EACH PEACH PEAR PLUM...Allan Ahlberg, Janet Ahlberg2. LITTLE NATURALISTS: WANGARI MAATHAI...Kate Coombs, Seth Lucas3. THE CRAYONS' BOOK OF FEELINGS...Drew Daywalt, Oliver Jeffers4. SUMO OPPOSITES...Sanae Ishida5. THE SNOWY DAY...Ezra Jack Keats6. FRIDGE AND OVEN'S BIG JOB...Steven WeinbergAges 4 and under1. LLAMA LLAMA SEASONS OF FUN!...Anna Dewdney, JT Morrow2. ODD JOBS...Roger PriddyAges 3-71. TOGETHER...Mona Damluji, Innosanto NagaraAges 5 and under1. THE LIFE OF/LA VIDA DE DOLORES...Patty Rodriguez2. LITTLE GREEN FROG...Ginger Swift, Olga DemidovaAges 6 and under1. WHERE IN THE WORLD: DINOSAURS2. ESCARGOT...Dashka Slater, Sydney HansonAges 3-51. POOP...Poppy Champignon, Mark Hoffman2. HOW DO YOU DANCE?...Thyra Heder3. STICK A STORY: ONCE UPON A TIME...Roger Priddy4. WHAT'S UP, FIRE TRUCK?...Matthew Reinhart, Toby Leigh5. MAKE ME A ROBOT...Mark Rogalski
Page 4
4Board BooksEach Peach Pear Plumby Allan Ahlberg, Janet Ahlberg$7.99This board book edition is perfect for little hands to interact with the pictures to find the next fairy tale and nursery rhyme character, a timeless picture book classic.Age 3 and underWhere in the World: Dinosaurs$10.99Young readers of Where in the World were the Dinosaurs? will discover when and where the dinosaurs lived with beautiful illustrations and detailed maps. Best of all, when opened, the book turns into a free-standing globe.Age 6 and underWoodland Dance!by Sandra Boynton$7.95Destined to be a read-aloud favorite, Woodland Dance is a mystical, waltzing story from beloved author and illustrator Sandra Boynton. As the animals wander off to bed, the Trio plays one last piece to welcome the sun. A lovely, lyrical way to end, or start, the day.Ages 2 to 5POOPby Poppy Champignon, Mark Hoffman$8.95Admit it: You love saying POOP. It's so much fun to say. POOP. POOP. POOP. It's all fun and games, until you lose your triple ice cream scoop and discover the true meaning of the word, and suddenly it's not so funny anymore. Or is it?Ages 3 to 5
Page 5
5Board BooksThere's a Bear in My Chairby Ross Collins$7.99Poor Mouse! A bear has settled in his favorite chair, and that chair just isn't big enough for two. Mouse tries all kinds of tactics to move pesky Bear, but nothing works. Once Mouse has gone, Bear gets up and walks home. But what's that? Is that a mouse in Bear's house?Ages 2 to 5Little Naturalists: Wangari Maathaiby Kate Coombs, Seth Lucas$9.99Introduce your baby to environmentalist, women's rights activist, and Nobel Peace Prize winner Wangari Maathai. Kate Coombs' engaging narrative about Wangari and Lucas' captivating art teaches young readers about this inspiring human, encouraging little naturalists to Be Brave and Be Adventurous. Find more in the Little Naturalists series!Age 3 and underTogetherby Mona Damluji, Innosanto Nagara$12.95In Together, social justice book pioneer Innosanto Nagara teams up with poet and activist Mona Damluji in this breathtakingly simple poem of universal experience shows us the transformative power of collective action.Ages 3 to 7The Crayons' Book of Feelingsby Drew Daywalt, Oliver Jeffers$8.99Everyone knows the crayons love to color, but did you know that crayons have feelings too? From the creative minds behind The Day the Crayons Quit, comes a fun board book to help young readers understand and express their feelings.Age 3 and under
Page 6
6Board BooksLlama Llama Seasons of Fun!by Anna Dewdney, JT Morrow$12.99Spring, summer, fall, and winter! Join Llama and all his friends as they discover all the seasons in this push-and-pull board book! Perfect for the youngest readers curious about Llama Llama's world.Age 4 and underHow Do You Dance?by Thyra Heder$8.99There are so many ways to dance! You can jiggle or wiggle or stomp. You can bop or bounce or go completely nuts. But what's the best way to dance? Exactly how you want to! In a celebration of personal expression that will inspire young and old readers alike to get up and get moving.Ages 3 to 5Sumo Countingby Sanae Ishida$9.99Simple, charming scenes within the sumo stable let young readers practice one to ten, fifty, and one hundred, while they learn how sumo wrestlers do chores, practice, sleep, bathe, and eat together. Each page features a Japanese word related to sumo culture, as well as the number in English and Japanese.Ages 2 to 5Sumo Oppositesby Sanae Ishida$9.99From the creator of the Little Kunoichi series, features sumo wrestlers that introduce children to the concept of opposites, and shares elements of Japanese culture that will enrich readers of all ages.Age 3 and under
Page 7
7Board BooksHere We Are: Book of Animalsby Oliver Jeffers$9.99From Oliver Jeffers, world-renowned picture book creator comes a charming book companion all about the animals we share our planet with, from A to Z!Ages 2 to 5The Snowy Dayby Ezra Jack Keats$7.99Does this classic need an introduction? The quiet fun and sweetness of Peter's small adventures in the deep, deep snow is perfect for reading together on a cozy winter day.Age 3 and underOdd Jobsby Roger Priddy$9.99Roger Priddy's Turn the Wheel: Odd Jobs is a funny novelty board book for toddlers with a jobs theme and wheels to turn on every page.Age 4 and underStick A Story: Once Upon a Timeby Roger Priddy$12.99Stick a Story: Once Upon a Time has sweet illustrations and a clam shell of reusable sticker play pieces embedded in the cover which can be used anywhere in the book. Children can use the fairytale character stickers to create four scenes based on well-known stories familiar to them.Ages 3 to 5
Page 8
8Board BooksWhat's Up, Fire Truck?by Matthew Reinhart, Toby Leigh$16.99Follow a firefighter through a busy day at the fire station. Lift the flaps to open the fire truck doors and peek inside, help a crew member put on his protective gear, and unfold the ladder to help the firefighters save the day. When the story is over, follow simple instructions to transform the pages of the book into a 3D fire truck! Ages 3 to 5The Life of/La Vida de Doloresby Patty Rodriguez$9.99"Sí, Se Puede, Yes, it can be done" is the famous rallying cry of Dolores Huerta, a leading voice in the rights of migrant farmworkers and co-founder of the labor union United Farm Workers of America. Inspire your little ones to believe in themselves and become leaders, just like Dolores in both English and Spanish.Age 5 and underMake Me a Robotby Mark Rogalski$14.99Make Me a Robot is an interactive board book for young lovers of robots. Build this mechanical playmate by lifting 15 flaps from handy gadgets to jet-like wings until the book is fully transformed.Ages 3 to 5Escargot (Board Book)by Dashka Slater, Sydney Hanson$7.99Bonjour! Escargot is a beautiful French snail who wants only two things: 1. To be your favorite animal, 2. To get to the delicious salad at the end of the book. A charming and interactive picture book ideal for picky eaters and animal lovers alike.Ages 6 and under
Page 9
9Board BooksLittle Green Frog by Ginger Swift, Olga Demidova$7.99Follow the Little Green Frog as he introduces you to his friends by the pond including ducks, fish, turtles, and more in this adorable life-a-flap book.Age 5 and underA to Z Menagerieby Suzy Ultman$24.99A wonderful gift for parents and grandparents looking for an introduction to the ABCs for their baby, early childhood educators, and anyone who appreciates good design featuring die-cut letters to trace and a satisfying pull-tab reveal for each letter. Great for fans of the TouchThinkLearn series by Xavier Deneux.Ages 2 to 5From One to Tenby Mies Van Mout$13.95How many whiskers does the cat have? How about the crocodile's teeth or the octopus's arms? Rendered in bold hues that appeal to babies and preschoolers alike, this sturdy counting book will be a reading-time favorite.Ages 2 to 5Fridge and Oven's Big Jobby Steven Weinberg$8.99Filled with fun facts, giggles galore, and googly eyes, the Big Job board books are the perfect introduction for babies and toddlers to the big world around them, starting at home! Find more in the Big Job series!Age 3 and under
Page 10
10Picture Books● The Rock from the Sky...Jon Klassen● I Dream of Popo...Livia Blackburn, Julia Kuo● We Are Water Protectors...Carole Lindstrom, Michaela Goade● What We'll Build...Oliver Jeffers● Lala's Words...Gracey Zhang● Zonia's Rainforest...Juana Martinez-Neal● Bright Star...Yuyi Morales● Change Sings...Amanda Gorman, Loren Long● I Eat Poop...Mark Pett● My Friend Earth...Patricia MacLachlan, Francesca Sanna● Margaret's Unicorn...Briony May Smith● Negative Cat...Sophie Blackall● Poe and Lars...Kashelle Gourley, Skylar Hogan● The Runaway Pea...Kjartan Poskitt, Alex Willmore● Outside, Inside...LeUyen Pham● A Child of Books...Oliver Jeffers, Sam Winston● The Capybaras...Alfredo Soderguit● Bear Is a Bear...Jonathan Stutzman, Dan Santat● The Tree in Me...Corinna Luyken● Please Don't Read This Book!...Deanna Kizis, Sam Boughton● It Fell from the Sky...The Fan Brothers● Time is a Flower...Julie Morstad● We All Play...Julie Flett● Chirri & Chirra: The Snowy Day...Kaya Doi, Yuki Kaneko● May Your Life Be Deliciosa...Michael Genhart, Loris Lora● I Wonder...Kari Anne Holt, Kenard Pak● The Snowflake...Benji Davies● Aaron Slater, Illustrator...Andrea Beaty, David Roberts● Pablo...Rascal● I Wish I Had a Wookiee...Ian Doescher, Tim Budgen● There's a Ghost In This House...Oliver Jeffers● Inside Cat...Brendan Wenzel
Page 11
11Picture BooksThe Rock from the Skyby Jon Klassen$18.99A hilarious meditation on the workings of friendship, fate, shared futuristic visions, and that funny feeling you get that there's something off somewhere, but you just can't put your finger on it.We Are Water ProtectorsBy Carole Lindstrom, Michaela Goade$17.99Winner of the 2021 Caldecott Medal inspired by the many Indigenous-led movements across North America, We Are Water Protectors issues an urgent rallying cry to safeguard the Earth's water from harm and corruption.I Dream of Popoby Livia Blackburn, Julia Kuo$18.99This delicate and emotionally rich picture book celebrates a special connection that crosses time zones and oceans as Popo and her granddaughter hold each other in their hearts forever.What We'll BuildBy Oliver Jeffers$19.99From Oliver Jeffers, world-renowned picture book creator and illustrator, comes a gorgeously told father-daughter story and companion to the #1 bestseller Here We Are. A rare and enduring story about a parent's boundless love, life's endless opportunities, and all we need to build a future together.
Page 12
12Picture BooksLala's Wordsby Gracey Zhang$18.99Lala's wild nature and quiet compassion enchant in this evergreen story about the power of kind words and the magic of being loved for who you are.Bright Starby Yuyi Morales$18.99Told with a combination of powerful, spare language and sumptuous and complex imagery, this is the story of a fawn making her way through a border landscape teaming with native flora and fauna. A gentle but empowering voice encourages her to face her fears when she comes across an obstacle in the form of an insurmountable barrier.Available in Spanish!Zonia's Rain Forestby Juana Martinez-Neal$17.99A heartfelt, visually stunning picture book from Caldecott Honor and Robert F. Sibert Medal winner Juana Martinez-Neal illuminates a young girl's day of play and adventure in the lush rainforest of Peru.Change Singsby Amanda Gorman, Loren Long$18.99In this stirring, much-anticipated picture book by presidential inaugural poet and activist Amanda Gorman, anything is possible when our voices join together. As a young girl leads a cast of characters on a musical journey, they learn that they have the power to make changes in the world, in their communities, and in themselves.
Page 13
13Picture BooksI Eat Poop.by Mark Pett$18.99Dougie has a secret: he's not a ground beetle. He's a dung beetle, and he loves eating poop. Dougie knows he should be proud, but he also knows that if anyone at school saw his lunch, he'd be an outcast. A heartwarming and hilarious story about friendship, fitting in, and accepting each others'Margaret's Unicornby Briony May Smith$17.99A perfect gift for the unicorn lovers in your life, this lovely and utterly transporting picture book tells the story of a girl that finds and takes care of a lost baby unicorn.My Friend Earthby Patricia MacLachlan, Francesca Sanna$17.99A heartfelt, visually stunning picture book from Caldecott Honor and Robert F. Sibert Medal winner Juana Martinez-Neal illuminates a young girl's day of play and adventure in the lush rainforest of Peru.Negative Catby Sophie Blackall$17.99A winning tale about Max, a feline whose behavior doesn't win any raves, except from a boy who believes in him and finds a way to turn a negative into a positive.
Page 14
14Picture BooksPoe and Larsby Kashelle Gourley, Skylar Hogan$17.99Poe is a resourceful and creative girl living in the snowy Arctic. Although she enjoys her life, Poe longs for company. But everything changes one day when Lars, a grumpy and hungry polar bear who is quite the poor hunter, crashes into her home, destroying it. Poe offers to bring him food and, in exchange, Lars must repair her home.Outside, Insideby LeUyen Pham$18.99A perfect gift for the unicorn lovers in your life, this lovely and utterly transporting picture book tells the story of a girl that finds and takes care of a lost baby unicorn.The Runaway Peaby Kjartan Poskitt, Alex Willmore$17.99It's time for dinner, but one pesky pea has decided to roll himself off the plate in search of a party! But will he find the fun he is looking for, or is the kitchen a scarier place than he thought?A Child of Booksby Oliver Jeffers, Sam Winston$8.99A lyrical picture book inspiring readers of all ages to create, to question, to explore, and to imagine.
Page 15
15Picture BooksThe Capybarasby Alfredo Soderguit$18.95This delightful story shares the importance of opening our hearts to each other, no matter our differences, and the marvelous surprises that can happen along the way.The Tree in Meby Corinna Luyken$17.99Through poetic text and exquisite illustrations of children reveling in nature, this picture book explores the various ways we as humans are strong, creative, and connected to each other. Each of us is like a tree, with roots and fruits, and an enduring link to everything else in nature.Bear Is a Bearby Jonathan Stutzman, Dan Santat$18.99Bear is...a new friend, a fellow mischief-maker, a protector, and a dreamer. Through all the many ups and downs of a little girl's childhood, Bear is there to provide love and support. A tender and surprising tribute to the beloved companions of our childhood.Please Don't Read This Book!by Deanna Kizis, Sam Boughton$17.99Join along for zany antics, silly sounds, and endless fun in this break-the-fourth-wall book that will have readers coming back time and time again regardless of what the title says.
Page 16
16Picture BooksIt Fell from the Skyby The Fan Brothers$17.99It fell from the sky on a Thursday. No one knew where it came from. No one knew what it could be. But everyone agreed it was the most amazing thing they'd ever seen.We All Playby Julie Flett$17.99This cozy book celebrates playtime and the connection between children and the natural world.Time is a Flowerby Julie Morstad$18.99A playful and poignant exploration of the nature of time through the eyes of a child.Chirri & Chirra: The Snowy Dayby Kaya Doi, Yuki Kaneko$17.99Over the course of their adventures, Chirri and Chirra enjoy everything from freshly-baked delights to long soaks in hot springs, and even become guests to a family of bears. A winter wonderland worth remembering for its soft radiance.
Page 17
17Picture BooksMay Your Life Be Deliciosaby Michael Genhart, Loris Lora$17.99A delicious and fortifying picture book inspired by the author's family, featuring the Mexican tradition of holiday tamale-making.The Snowflakeby Benji Davies$17.99The Snowflake tells the separate stories of one snowflake and one little girl that spin together into a magical ending.I Wonderby Kari Anne Holt, Kenard Pak$17.99Nothing is more powerful than seeing something for the first time, and these whimsical questions will encourage all readers to take a fresh look around them.Aaron Slater, Illustratorby Andrea Beaty, David Roberts$18.99An uplifting story about the power of art, finding your voice, and telling your story even when you're out of step with your peers from the #1 bestselling creators of Ada Twist, Scientist and Sofia Valdez, Future Prez.
Page 18
18Picture BooksPabloby Rascal$16.99With the little chick Pablo, we discover up and down, forward and back, shapes, the noises and smells of outside, and take a first flight. It's not scary at all. Especially not if you keep a little piece of home with you. A fresh and funny story about stepping out on your own into a bright new world.I Wish I Had a Wookieeby Ian Doescher, Tim Budgen$19.99Inspired by the beloved world of Star Wars, this collection of over 75 whimsical and original poems is a celebration of childhood, creativity, and the early years of Star Warsfandom.Inside Catby Brendan Wenzel$17.99Inside Cat is just that: an inside cat. But while the cat's life is bound by the walls of an unusual house, it's far from dull. As the cat wanders, wonders, stares, and snacks, roaming from room to room and place to place, both cat and reader will discover worlds and sensations beyond what's right in front of them.There's a Ghost In This Houseby Oliver Jeffers$27.99A captivating and utterly unique picture book with interactive transparent pages about a girl who lives in a haunted house.
Page 19
19Kids Folklore, Fairy Tales & Myths● Arab Fairy Tale Feasts...Karim Alrawi, Nahid Kazemi● The Mermaid Atlas: Merfolk of the World...Anna Claybourne, Miren Asiain Lora● Lore of the Wild: Folklore and Wisdom from Nature...Claire Cock-Starkey, Aitch● Myth Match: A Fantastical Flipbook of Extraordinary Beasts...Good Wives and Warriors● Myth Match Miniature...Good Wives and Warriors
Page 20
20Kids Folklore, Fairy Tales & MythsArab Fairy Tale Feastsby Karim Alrawi, Nahid Kazemi$25.00Award-winning writer and storyteller, Karim Alrawi, draws on his deep knowledge of Arab culture to create original stories that are a feast for young imaginations.Lore of the Wild: Folklore and Wisdom from Natureby Claire Cock-Starkey, Aitch$22.99Lore of the Wild inspires appreciation of different cultures, as well as an engagement with the beauty of the natural environment, and is a treasure trove of superstitions, ancient wisdom, and enchanting folktales.The Mermaid Atlas: Merfolk of the Worldby Anna Claybourne, Miren Asiain Lora$19.95The Mermaid Atlas will introduce you to the merfolk of the world, whether it's the beautiful Selkies of the Scottish seas, the wily Iara of Brazil who love to outwit travelers of the fearful Ningyo of Japan who can give you eternal life.Myth Match: A Fantastial Flipbook of Extraordinary Beastsby Good Wives and Warriors$17.99You may have heard of the unicorn and the griffin, but what about the unifin? This fantastical flipbook collects together magical and mythical creatures from all over the world, then lets you mix and match them to create even more wondrous beasts of your own.Myth Match Miniatureby Good Wives and Warriors$12.99Just a more miniature version of the above. Perfect for taking on-the-go!
Page 21
21Kids NonfictionReference● THE DICTIONARY OF DIFFICULT WORDS...Jane Soloman, Louise Lockhart● THE ENCYCLOPEDIA OF UNBELIEVABLE FACTS...Jane Soloman, Louise Lockhart● MAPS: DELUXE EDITION...Aleksandra Mizielinska, Daniel Mizielinska● MY ENCYCLOPEDIA OF VERY IMPORTANT OCEANS...DK● FEAST YOUR EYES ON FOOD...Laura Gladwin, Zoe Barker● GUINNESS WORLD RECORDS 2022Art and Music● THE ULTIMATE ART MUSEUM...Ferren Gipson● A BOY NAMED ISAMU...James Yang● NINA: A STORY OF NINA SIMONE...Traci N. Todd, Christian Robinson● COLORS IN NATURE...Stepanka Sekaninova, Magdalena Konecna, Jana SedlackovaNature and Science● PROFESSOR ASTRO CAT'S FRONTIERS OF SPACE...Dr. Dominic Walliman, Ben Newman● DO YOU KNOW WHERE THE ANIMALS LIVE?...Peter Wohlleben, Shelley Tanaka● THE KIDS' GUIDE TO BIRDS OF CALIFORNIA...Stan Tekiela● WEIRD, WILD, AMAZING! FOREST...Tim Flannery, Sam Caldwell● WEIRD, WILD, AMAZING! WATER...Tim Flannery, Sam Caldwell● WHY CAN'T HORSES BURP?...Nick Crumpton, Lily Snowden-Fine● HORSES & PONIES...DK● EVERYTHING AWESOME ABOUT DINOSAURS AND OTHER PREHISTORIC BEASTS!...Mike Lowery● EVERYTHING AWESOME ABOUT SHARKS…Mike Lowery● WHO WOULD WIN?: EXTREME ANIMAL RUMBLE...Jerry Pallotta, Rob BolsterSports● ZION UNMATCHED...Zion Clark, James S. Hirsch● THE WORLD OF ADVENTURE SPORTS...Lonely Planet Kids● ONE LIFE...Megan RapinoeHistory● A CHILD'S INTRODUCTION TO EGYPTOLOGY...Heather Alexander, Sara Mulvanny● RESCUING TITANIC...Flora Delargy● THE CAT MAN OF ALEPPO...Irene Latham, Karim Shamsi-Basha● THE CURSE OF THE MUMMY...Candace Fleming● THE OLDEST STUDENT...Rita Lorraine Hubbard, Oge Mora● WE ARE STILL HERE!...Traci Sorrell, Frame Lessac● EARTH SQUAD: 50 PEOPLE WHO ARE SAVING THE PLANET...Alexandra Zissu, Nhung Le● BOARDWALK BABIES...Marissa Moss, April Chu
Page 22
22Kids NonfictionThe Dictionary of Difficult Wordsby Jane Soloman, Louise Lockhart$27.99Test your knowledge with more than 400 words to amaze, confuse, and inspire budding wordsmiths (and adults).The Encyclopedia of Unbelievable Factsby Jane Soloman, Louise Lockhart$27.99No, you are not seeing double. This book features 500 perplexing questions to bamboozle and delight trivia buffs both young and old.Maps: Deluxe Editionby Aleksandra Mizielinska, Daniel Mizielinski$50.00Discover the world in this updated edition of the beloved bestseller, featuring 24 all new maps. In addition to geographic features like borders and cities, this volume features places of historical and cultural interest, eminent personalities, cultural events, and iconic animals, allowing you to explore the globe from your favorite reading spot!My Encyclopedia of Very Important Oceansby DK$18.99Filled to the brim with fascinating facts about life on and under the waves. Little learners can dive in and learn the most important things about the curious creatures that call the oceans home, their habitats and how to conserve them.
Page 23
23Kids NonfictionProfessor Astro Cat's Frontiers of Spaceby Dr. Dominic Walliman, Ben Newman$19.95Professor Astro Cat's Frontiers of Space explores topics such as gravity, extraterrestrial life, time, and many other fascinating subjects that will take you and your children on a journey to the very frontiers of space.The Kids' Guide to Birds of Californiaby Stan Tekiela$13.95The Kids' Guide to Birds of California features 87 of the most common and important birds to know, with species organized by color for ease of use. Plus, fun bonus activities for the whole family!Weird, Wild, Amazing! Forestby Tim Flannery, Sam Caldwell$7.95Packed with vibrant illustrations and guided by real-life anecdotes from one of our greatest science communicators, Weird, Wild, Amazing! Forest teaches readers to cherish and delight in our planet's ecosystems.Weird, Wild, Amazing! Waterby Tim Flannery, Sam Caldwell$7.95An introduction to some of the most spectacular and unusual creatures in Earth's waters with in-depth and often bizarre facts as well as concepts of climate change, evolution, conservation, and taxonomy throughout each animal's profile, firmly connecting it to its environment while sparking wonder at its role in the natural world. Do You Know Where the Animals Live?by Peter Wohlleben, Shelley Tanaka$19.95Through a mix of at-home activities, facts, stories, and pictures, this wonderful introduction to the animal kingdom features playful questions, fun quizzes, and activities that will help kids study animals in their own backyards and make the world a better place for them.
Page 24
24Kids NonfictionHorses & Poniesby DK$19.99Calling all horse lovers! This horse book for kids is a one-stop-shop for equine knowledge, from their history, anatomy, breeds, how to care for them, their social significance, and more!Everything Awesome About Dinosaurs and Other Prehistoric Beasts!by Mike Lowery$16.99Discover the must-have book for dinosaur enthusiasts, a madcap field guide full of facts and humor, and learn everything you ever wanted to know about prehistoric beasts!Why Can't Horses Burp?by Nick Crumpton, Lily Snowden-Fine$16.95Whether you are lucky enough to have a horse of your own or you dream of galloping away on a magnificent steed, Why Can't Horses Burp? is the lively, fact-filled book for you. From horses' desert ancestors to modern-day show ponies, it's certain to satisfy all horse lovers' curiosity.Everything Awesome About Sharks by Mike Lowery$16.99Discover the ultimate book about all things sharks and underwater creatures featuring fun facts, jokes, comics, maps, and more. Who Would Win?: Extreme Animal Rumbleby Jerry Pallotta, Rob Bolster$9.9980 fierce animals battle it out in this exciting bind-up featuring five books in this action-packed animal series!
Page 25
25Kids NonfictionGuinness World Records 2022$28.95Fully revised and updated, and with a bright new design, Guinness World Records 2022 provides a fascinating snapshot of our world today.Feast Your Eyes on Foodby Laura Gladwin, Zoe Barker$24.99Fall in love with food with this family compendium that celebrates the variety and abundance of more than 1,000 delicious things to eat from all over the world.Zion Unmatched by Zion Clark, James S. Hirsch$17.99An extraordinary, deeply inspirational photo essay follows elite wheelchair racer and wrestler Zion Clark.The World of Adventure Sportsby Lonely Planet Kids$19.99Get your adrenaline pumping with this guide to extreme sports. This book contains awesome facts, stats and rules of snowboarding, skydiving, BMX, and rock climbing. You'll also meet star athletes in every sport, learn a list of essential slang, and more!One Life: Young Readers Editionby Megan Rapinoe$17.99Join two-time Women's World Cup champion, Olympic gold medalist, and trailblazing activist Megan Rapinoe in the fight for equality and justice in this middle grade adaptation of her bestselling memoir.
Page 26
26Kids NonfictionA Child's Introduction to Egyptologyby Heather Alexander, Sara Mulvanny$19.99Get ready to go back in time and discover one of history's most fascinating civilizations--Ancient Egypt! This illustrated introduction to Egyptology is packed with stories of pyramids, mummies, pharaohs, gods, and more.The Cat Man of Aleppoby Irene Latham, Karim Shamsi-Basha$17.99The Caldecott Honor-winning true story of Mohammad Alaa Aljaleel, who in the midst of the Syrian Civil War courageously offered safe haven to Aleppo's abandoned cats.Rescuing Titanicby Flora Delargy$22.99This exquisitely illustrated story of bravery tells in rich detail how the little ship Carpathia saved 705 passengers of the Titanic from the icy waters of the North Atlantic. Rescuing Titanic shows that a glimmer of hope can be found even in great tragedy and that heroes are not always big and mighty.The Curse of the Mummyby Candace Fleming$18.99The edge-of-your-seat true story of the search for Tutankhamun's tomb, the Western public's belief that the dig was cursed, and the battle for ownership of the treasures within.
Page 27
27Kids NonfictionThe Oldest Studentby Rita Lorraine Hubbard, Oge Mora$17.99Imagine learning to read at the age of 116! Discover the true story of Mary Walker, the nation's oldest student who did just that.Earth Squad: 50 People Who Are Saving the Planetby Alexandra Zissu, Nhung Le$17.99Kids across the globe will be moved by the passion of these amazing eco-warriors who have dedicated their lives to making our world a better place. Alongside dynamic illustrations and entertaining biographical information, you'll find practical tips that anyone can do to help save Earth. We Are Still Here!by Traci Sorell, Frane Lessac$17.99Twelve Native American kids present historical and contemporary laws, policies, struggles, and victories in Native life, each with a powerful refrain: We are still here! This companion book to the award-winning We Are Grateful: Ostaliheliga.Boardwalk Babiesby Marissa Moss, April Chu$18.99Science meets magic show in this fascinating true story. In the late 19th century, there wasn't much hope for premature babies until Dr. Couney developed the incubator. The device was so new and strange, hospitals rejected it. So Dr. Couney set up a sideshow at Coney Island, taking care of the tiniest newborns.
Page 28
28The Ultimate Art Museumby Ferren Gipson$39.95The imaginary art museum: an educational, inspiring experience without the constraints of space and time. Discover beautiful reproductions from prehistory to the present, arranged in easy-to-navigate, colour-coded wings, galleries, and rooms, each with an informative narrative guide. With floor plans to follow and interactive cross-referencing activities, this museum-in-a-book is the perfect introduction to the history of human creativity. Nina: A Story of Nina Simoneby Traci N. Todd, Christian Robinson$18.99This illuminating and defining picture book biography illustrated by Caldecott Honoree Christian Robinson, tells the story of little Eunice who grew up to become the acclaimed singer Nina Simone, and her bold, defiant, and exultant legacy.A Boy Named Isamuby James Yang$17.99Colors in Natureby Stepanka Sekaninova, Magdalena Konecna, Jana Sedlackova$14.95Nature's colors are so wonderful and diverse they inspired people to use the names of plants, animals, and minerals when labelling all the nuances. Join us on a journey to discover the twelve most well-known colors and their shades. Colorful artwork and exquisite text bring to life the imagination of artist Isamu Noguchi. Wandering through an outdoor market, through the forest, and then by the ocean, Isamu sees things through the eyes of a young artist, but also in a way that many children will relate.Kids Nonfiction
Page 29
29Early Chapter BooksAges 6 to 91. AUDREY L AND AUDREY W: BEST FRIENDS-ISH...Carter Higgins, Jennifer K. MannAges 6 to 101. TOTAL MAYHEM #1: MONDAY - INTO THE CAVE OF THIEVES...Ralph Lazar2. WIND RIDERS #1: RESCUE ON TURTLE BEACH...Jen Marlin, Izzy Burton3. ZOEY AND SASSAFRAS #9: WISHYPOOFS AND HICCUPS...Asia Citro, Marion LindsayAges 7 to 101. SKUNK AND BADGER #1...Amy Timberlake, Jon Klassen2. SKUNK AND BADGER #2: EGG MARKS THE SPOT...Amy Timberlake, Jon Klassen3. MAC B., KID SPY #6: MAC SAVES THE WORLD...Mac Barnett, Mike LoweryAges 8 to 121. A TALE OF MAGIC #3: A TALE OF SORCERY...Chris Colfer2. ONE SMART SHEEP...Gary D. Schmidt, Jane Manning, Elizabeth StickneyAges 9 to 121. DIARY OF A WIMPY KID #16: BIG SHOT...Jeff Kinney
Page 30
30A Tale of Sorcery (A Tale of Magic #3)by Chris Colfer$18.99Sorcery, magic, and science collide in this thrilling third book in the Tale of Magic series that will keep readers on the edge of their seats.Ages 8 to 12Monday - Into the Cave of Thieves (Total Mayhem #1)by Ralph Lazar$6.99Hop aboard Wind Rider, a magical sailboat, with Max and Sofia, two kids trying to save the environment one problem at a time. Their first mission? Rescuing baby sea turtles in the beautiful waters of Hawaii.Ages 6 to 10Skunk and Badgerby Amy Timberlake, Jon KlassenWallace and Gromit meets Winnie-the-Pooh in a fresh take on a classic odd-couple friendship, from Newbery Honor author Amy Timberlake with full-color and black-and-white illustrations throughout by Caldecott Medalist Jon Klassen.Ages 7 to 10Early Chapter BooksWind Riders #1: Rescue on Turtle Beachby Jen Marlin, Izzy Burton$5.99Hop aboard Wind Rider, a magical sailboat, with Max and Sofia, two kids trying to save the environment one problem at a time. Their first mission? Rescuing baby sea turtles in the beautiful waters of Hawaii.Ages 6 to 10Mac Saves the World (Mac B., Kid Spy #6)by Mac Barnett, Mike Lowery$12.99The Queen of England calls on her trusty spy, Mac B., once again. This time, Mac must navigate secret tunnels beneath the Berlin Wall in order to retrieve cheat codes from a Soviet scientist. Floppy disk in hand, our hero finds himself trapped in East Germany, stuck between the wall and the Stasi. How will he escape? Well it is 1989, and walls do fall down.Ages 7 to 10
Page 31
31Audrey L and Audrey W: Best Friends-ishby Carter Higgins, Jennifer K. Mann$14.99The unique writing of Ivy + Bean meets the pep of Clementine and the authentic humor of Dory Phantasmagory in this chapter book series about two girls with the same name and absolutely, definitely, NOTHING else in common.Ages 6 to 9Zoey and Sassafras #9: Wishypoofs and Hiccupsby Asia Citro, Marion Lindsay$6.99When Pip shows up with a new look that's just as surprising to him as it is to Zoey and Sassafras, the trio knows something strange is happening in the forest. They retrace Pip's steps only to see another magical friend change right before their eyes! It's up to them to figure out what's happening and how to change the magical animals back before things get more serious.Ages 6 to 10Big Shot (Diary of a Wimpy Kid #16)by Jeff Kinney$14.99In Big Shot, book 16 of the Diary of a Wimpy Kid series, Greg Heffley and sports just don't mix. As Greg and his new teammates start the season, their chances of winning even a single game look slim. But in sports, anything can happen. When everything is on the line and the ball is in Greg's hangs, will he rise to the occasion? Or will he blow his big shot?Ages 9 to 12One Smart Sheepby Gary D. Schmidt, Jane Manning, Elizabeth StickneyIt takes one smart sheep to escape from a piano movers' van and find his way home in this humorous friendship story for emerging and newly independent readers.Ages 8 to 12Early Chapter Books
Page 32
32Middle Grade Chapter BooksAges 8 and up1. RAT RULE 79: AN ADVENTURE...Rivka Galchen, Elena Megalos Ages 8-121. NEVERFORGOTTEN...Alejandra Algorta, Aida Salazar, Iván Rickenmann2. FRANKIE & BUG...Gayle Forman3. WILLOWDEEN...Katherine Applegate4. WHEN YOU TRAP A TIGER...Tae Keller5. THE SILVER ARROW...Lev Grossman6. ROOM TO DREAM...Kelly Yang7. LOTERIA...Karla Arenas Valenti, Dana SanMar8. A WHALE OF THE WILD...Rosanne Parry, Lindsay Moore9. THE BEATRYCE PROPHECY...Kate DiCamillo, Sophie Blackall10. TEMPLE ALLEY SUMMER...Sachiko Kashiwaba, Avery Fischer Udagawa, Miho Satake11. PAX, A JOURNEY...Sara Pennypacker, Jon Klassen12. A WISH IN THE DARK...Christina Soontornvat13. DA VINCI'S CAT...Catherine Gilbert Murdock14. THE FOREST OF STARS...Heather Kassner, Iz Ptica15. OTTILIE COLTER AND THE NARROWAY HUNT...Rhiannon Williams16. SOMETHING TO SAY...Lisa Moore RaméeAges 10 and up1. AGGIE MORTON, MYSTERY QUEEN: THE DEAD MAN IN THE GARDEN...Marthe Jocelyn, Isabelle Follath2. KALEIDOSCOPE...Brian Selznick3. THE BARREN GROUNDS...David A. Robertson4. PONY...R.J. PalaciosAges 10-141. AMBER AND CLAY...Laura Amy Schlitz, Julia Iredale2. ODDITY...Eli Brown, Karin Rytter3. DAUGHTER OF THE DEEP...Rick Riordan
Page 33
33Middle Grade Chapter BooksNeverforgottenby Alejandra Algorta, Aida Salazar, Iván Rickenmann$17.99Fabio flies through the streets of Bogotá on his bicycle, the children of his neighborhood trailing behind him. It is there that life feels right. But then one day, he simply forgets. Forgets how to ride his bicycle. And Fabio will never be the same again. This novel is presented in English and Spanish.Ages 8 to 12Frankie & Bugby Gayle Forman$17.99A poignant and powerful coming-of-age story that follows ten-year-old Bug and her new friend as they learn about family, friendship, allyship, and finding your way in a complicated world.Ages 8 to 12Aggie Morton, Mystery Queen: The Dead Man in the Gardenby Marthe Jocelyn, Isabelle Follath$15.99Book #3 in the Aggie Morton, Mystery Queen series.For young detective Aggie Morton and her friend Hector, a spa stay becomes a lot more thrilling when TWO dead bodies are discovered. This series is inspired by the life of Agatha Christie as a child and her most popular creation, Hercule Poirot and great for fans of Enola Holmes.Ages 10 and upWillowdeenby Katherine Applegate$16.99From bestselling author Katherine Applegate, a middle-grade novel about a girl who risks everything to help a handmade creature who comes to life. A timely yet timeless tale about our fragile earth, and one girl's fierce determination to make a difference.Ages 8 to 12
Page 34
34Middle Grade Chapter BooksRat Rule 79: An Adventureby Rivka Galchen, Elena Megalos$15.00Gorgeously illustrated and reminiscent of The Phantom Tollbooth and The Wonderful Wizards of Oz, Rivka Galchen's Rat Rule 79 is a brain-twisting adventure story about friendship, growing up, and peanut-butter-pickle sandwiches and an instant classic for curious readers of all ages. Ages 8 and upAmber and Clayby Laura Amy Schlitz, Julia Iredale$22.99A virtuoso performance in verse in this profoundly original epic pitched just right for fans of poetry, history, mythology, and fantasy.Ages 10 to 14When You Trap a Tigerby Tae Keller$16.99Winner of the 2021 Newbery Medal -- Would you make a deal with a magical tiger? This uplifting story brings Korean folklore to life as a girl goes on a quest to unlock the power of stories and save her grandmother.Ages 8 to 12Oddityby Eli Brown, Karin Rytter$18.99The daughter of a murdered physician vows to protect the magical Oddity he left behind in an alternate nineteenth century where a failed Louisiana Purchase has locked a young Unified States into conflict with France.Ages 10 to 14
Page 35
35Middle Grade Chapter BooksThe Silver Arrowby Lev Grossman$7.99Kate and her younger brother Tom lead dull, uninteresting lives. Why can't Kate have thrilling adventures and save the world the way people do in books? Even her 11th birthday is shaping up to be mundane until her mysterious and highly irresponsible Uncle Herbert, whom she's never even met before, surprises her with the most unexpected birthday present of all time: a colossal steam locomotive called the Silver Arrow.Ages 8 to 12Loteríaby Karla Arenas Valenti, Dana SanMar$16.99The turn of a card could change your destiny in this captivating middle grade adventure based on the Lotería card. While searching for her missing cousin, a young girl is transported to a mythical kingdom, becoming entangled in a perilous game of chance.Ages 8 to 12Room to Dreamby Kelly Yang$17.99Book #3 in the Front Desk series.After years of hard work, Mia Tang finally gets to go on vacation with her family to China. It's a dream come true. As she roams around Beijing, witnessing some of the big changes happening in China, Mia thinks about the changes in her own life. More determined than ever, she finally has room to dream!Ages 8 to 12A Whale of the Wildby Rosanne Parry, Lindsay Moore$7.99By the author of A Wolf Called Wander, a young orca whale must lead her brother on a tumultuous journey to be reunited with their pod. This gorgeously illustrated animal adventure novel explores family bonds, survival, global warming, and a changing seascape. Includes illustrations throughout, a map, and information about orcas and their habitats.Ages 8 to 12
Page 36
36Middle Grade Chapter BooksDaughter of the Deepby Rick Riordan$19.99Bestselling author Rick Riordan pays homage to Jules Verne in his exciting modern take on 20,000 Leagues Under the Sea. His trademark humor, fast-paced action, and wide cast of characters are on full display in this undersea adventure.Ages 10 to 14The Barren Groundsby David A. Robertson$9.99Book #1 in The Misewa Saga.Narnia meets traditional Indigenous stories of the sky and constellations in an epic middle-grade fantasy series.Ages 10 and upKaleidoscopeby Brian Selznick$19.99A ship. A garden. A library. A key. In Kaleidoscope, the incomparable Brian Selznick presents the story of two people bound to each other through time and space, memory and dreams. This feat of storytelling and beautiful illustrations shows us how even the wildest tales can help us in the hardest of times.Ages 10 and upThe Beatryce Prophecyby Kate DiCamillo, Sophie Blackall$19.99In a time of war, a mysterious child appears at the monastery of the Order of the Chronicles of Sorrowing. Gentle Brother Edik finds the girl, Beatryce, curled in a stall, wracked with fever, coated in dirt and blood, and holding fast to the ear of Answelica the goat. As the monk nurses Beatryce to health, he uncovers her dangerous secret, one that imperils them all.Ages 8 to 12
Page 37
37Middle Grade Chapter BooksTemple Alley Summerby Sachiko Kashiwaba, Avery Fischer Udagawa, Miho Satake$18.00Temple Alley Summer is a fantastical and mysterious adventure filled with the living dead, a magical pearl, and a suspiciously nosy black cat named Kiriko featuring beautiful illustrations.Ages 8 to 12Ponyby R.J. Palacios$17.9912-year-old Silas is awoken by three menacing horsemen who take his father away. Silas is left shaken, scared, and alone, except for the presence of his companion, Mittenwool, who happens to be a ghost. When a pony shows up at his door, Silas makes the courageous decision to leave his home and embark on a perilous journey to find his father. Along the way, he will face his fears to unlock the secrets of his past and explore the unfathomable mysteries of the world around him.Ages 10 and upPax, Journey Homeby Sara Pennypacker, Jon Klassen$17.99The long-awaited sequel to Pax! It's been a year since Peter and his pet fox, Pax, have seen each other. Once inseparable, they now lead very different lives. When one of Pax's kits falls desperately ill, he turns to the one human he knows he can trust. Now both boy and fox find themselves on journeys towards home, healing, and each other, once again.Ages 8 to 12A Wish in the Darkby Christina Soontornvat$8.99Set in a Thai-inspired fantasy world, Christina Soontornvat's twist on Victor Hugo's Les Misérables is a dazzling, fast-paced adventure that explores the difference between law and justice and asks whether one child can shine a light in the dark.Ages 8 to 12
Page 38
38Middle Grade Chapter BooksDa Vinci's Catby Catherine Gilbert Murdock$17.99Two unlikely friends--Federico, in sixteenth-century Rome, and Bee, in present-day New Jersey--are linked through an amiable cat, Leonardo Da Vinci's mysterious wardrobe, and an eerily perfect sketch of Bee. A thrilling, time-slip fantasy about rewriting history to save the present.Ages 8 to 12Ottilie Colter and the Narroway Huntby Rhiannon Williams$10.99This is book number 1 in The Narroway Triology series.Ottilie Colter and her brother, Gully, have always fended for themselves. So when Gully goes missing one night, Ottilie sets out to find him and soon makes a horrible discovery. Gully has been forcibly recruited by the Narroway Hunt. The first book in this bewitching trilogy about friendship, bravery, and having the courage to do what is right.Ages 8 to 12The Forest of Starsby Heather Kassner, Iz Ptica$7.99In this mysterious and mesmerizing fantasy novel, a windswept girl who can float among the stars searches for her long-lost father at a shadow-filled carnival. A spectacle of wondrous magic, unexpected friendship, and dark secrets.Ages 8 to 12Something to Sayby Lisa Moore Ramée$7.9911-year-old Jenae doesn't have any friends and she's fine with that. Her superpower is being invisible at school. Then a new student shows up at school, a boy named Aubrey with fiery red hair and a smile that won't quit. Jenae can't figure out why he keeps popping up everywhere she does. The more she tries to push him away, the more he seems determined to befriend her. When the two are paired up for a class debate. Jenae is confronted with two problems: her fear of speaking up in front of an audience and risking the first real friendship she's ever had.Ages 8 to 12
Page 39
39Graphic NovelsAges 7 to 101. OWLY #3: FLYING LESSONS...Andy Runton2. THE BAD GUYS #14: THEY'RE BEE-HIND YOU!!...Aaron Blabey3. INVESTIGATORS #4: ANTS IN OUR P.A.N.T.S…John Patrick GreenAges 8 to 121. GOLDILOCKS: WANTED DEAD OR ALIVE...Chris Colfer, Jon Proctor2. MANU: A GRAPHIC NOVEL...Kelly Fernández3. NATHAN HALE'S HAZARDOUS TALES #11: A KOREAN WAR TALE...Nathan Hale4. CITY OF DRAGONS #1: THE AWAKENING STORM...Jaimal Yogis, Vivian Truong5. CICI'S JOURNAL #2: LOST AND FOUND...Joris Chamblain, Aurélie Neyret6. BARB THE LAST BERZERKER...Dan Abdo, Jason Patterson7. HICOTEA: A NIGHTLIGHTS STORY...Lorena AlvarezAges 9 to 131. SCIENCE COMICS...Various Authors○ WHALES: DIVING INTO THE UNKNOWN○ SPIDERS: WORLDWIDE WEBS○ CATS: NATURE AND NURTUREAges 10 to 121. ANOTHER KIND...Trevor Bream, Cait May2. WINGS OF FIRE #5: THE BRIGHTEST NIGHT...Tui T. Sutherland, Mike HolmesAges 10 to 141. THE LEGEND OF AUNTIE PO...Shing Yin Khor2. JUKEBOX...Nidhi Chanani3. FRIENDS FOREVER...Shannon Hale, LeUyen Pham
Page 40
40Graphic NovelsOwly #3: Flying Lessonsby Andy Runton$10.99Through a unique blend of words and symbols, Owly can be read by the youngest readers, and is a great introduction to graphic novels.Ages 7 to 10They may look like Bad Guys, but these wannabe heroes are doing good deeds whether you like it or not.Ages 7 to 10InvestiGators #4: Ants in Our P.A.N.T.S.by John Patrick Green$9.99The InvestiGators' new mission has our sewer-loving secret agents bugging out in the latest chapter of this hilarious adventure series.Ages 7 to 10The Bad Guys #14: They're Bee-Hind You!by Aaron Blabey$6.99Science Comicsby Various AuthorsGet to know your universe! The Science Comics series features many different topics from animals, technology, and topography in an engaging graphic format.Ages 9 to 13
Page 41
41Graphic NovelsAnother Kindby Trevor Bream, Cait May$12.99Tucked away in a government facility nicknamed the Playroom, six not-quite-human kids learn to control their strange and unpredictable abilities. Life is good until a security breach forces them out of their home and into the path of the Collector, a mysterious being with leech-like powers.Ages 10 to 12Goldilocks: Wanted Dead or Aliveby Chris Colfer, Jon Proctor$12.99Once upon a time, the kingdoms of the fairy-tale world lived in perfect harmony under the guidance of the Happily Ever After Assembly. When a plot by the Charming brothers is unveiled and threatens to push society's unwanted from their homes, the fairy-tale world's harmony and Goldilocks' home are put in jeopardy.Ages 8 to 12Manu: A Graphic Novelby Kelly Fernández$12.99Manu and her best friend, Josefina, live at a magical school for girls, and Manu is always getting into trouble. The headmistress believes that Manu has the potential to help people with her magic, but Manu would rather have fun than fall in line. Chaos ensues in this funny and heartwarming graphic novel about friendship, defying expectations, and finding your place.Ages 8 to 12The Legend of Auntie Poby Shing Yin Khor$12.99Part historical fiction, part fable, and 100 percent adventure. Thirteen-year-old Mei reimagines the myths of Paul Bunyan as starring a Chinese heroine while she works in a Sierra Nevada logging camp in 1885.Ages 10 to 14
Page 42
42Graphic NovelsJukeboxby Nidhi Chanani$14.99A mysterious jukebox, old vinyl records, and cryptic notes on music history, are Shaheen's only clues to her father's abrupt disappearance. She looks to her cousin Tannaz, who seems just as perplexed, before they both turn to the jukebox that begins to glow.Ages 10 to 14Nathan Hale's Hazardous Tales #11: A Korean War Tale by Nathan Hale$14.99Nathan Hale's Hazardous Tales are graphic novels that tell the thrilling, shocking, gruesome, and TRUE stories of American history.Ages 8 to 12City of Dragons #1: The Awakening Stormby Jaimal Yogis, Vivian Truong$12.99When Grace moves to Hong Kong with her mom and new stepdad, her biggest concern is making friends at her fancy new boarding school. When a mysterious woman gifts her a dragon egg during a field trip, Grace discovers that the wonderful stories of dragons she heard when she was a young girl might actually be true, especially when the egg hatches overnight.Ages 8 to 12Friends Foreverby Shannon Hale, LeUyen Pham$12.99Following up their mega-bestselling Real Friends and Best Friends graphic memoirs, Shannon Hale and LeUyen Pham are back with Friends Forever, a story about learning to love yourself exactly as you are.Ages 10 to 14
Page 43
43Graphic NovelsWings of Fire #5: The Brightest Nightby Tui T. Sutherland, Mike Holmes$24.99PRE-ORDER NOW! The release date for this book is December 28, 2021.Buried secrets, deadly surprises, and an unexpected side to scavengers are all waiting for her in the shifting sands of the desert, where Sunny must decide once and for all: Is her destiny already written?Ages 10 to 12Cici's Journal #2: Lost and Foundby Joris Chamblain, Aurélie Neyret$15.99As a future writer, Cici knows what questions to ask and where to find the clues she needs to unlock peoples' hearts. Yet even though Cici is great at helping others, for a long time now she has kept a secret hidden insider herself. Cici's friends and mom all want to help her heal, but she keeps pushing them away. Can a treasure hunt, a mysterious mansion, and an epic beachside fight help her to open up at last?Ages 8 to 12Hicotea: A Nightlights Storyby Lorena Alvarez$10.99On a school trip to the river, Sandy wanders away from her classmates and discovers an empty turtle shell. Peeking through the dark hole, she suddenly finds herself within a magical realm. FIlled with sculptures, paintings, and books, the turtle's shell is a museum of the natural world. But one painting is incomplete, and the turtle needs Sandy's help to finish it.Ages 8 to 12Barb the Last Berzerkerby Dan Abdo, Jason Patterson$13.99She-Ra and the Princesses of Power meets Dav Pilkey's Dog Man in this sidesplitting graphic novel about a young Berzerker who has to rescue her fellow warriors from the evil villain Witch Head before he destroys the world!Ages 8 to 12
Page 44
44Young Adult● The Last Cuentista...Donna Barba Higuera○ Dystopian, Fantasy & Magic● Things We Couldn't Say...Jay Coles○ LGBT, Family, Romance● Ferryman...Claire McFall○ Fairy Tales & Folklore, Fantasy● Beasts of Prey...Ayana Gray○ Action & Adventure, Fantasy● Artie and the Wolf Moon...Olivia Stephens○ Paranormal● The Keeper of Night...Kylie Lee Baker○ Dark Fantasy● Hunting by Stars...Cherie Dimaline○ Dystopian, Science Fiction● How Do You Live?...Genzaburo Yoshino, Bruno Navasky○ Coming of Age● Steelstrike...Marie Lu○ Dystopian● The Mechanists #1: Rise of the Red Hand...Olivia Chadha○ Dystopian● Squad...Maggie Tokuda-Hall, Lisa Sterle○ Friendship, LGBT, Paranormal● You Don't Have to Be Everything: Poems for Girls Becoming Themselves...Diana Whitney○ Poetry● Never Look Back...Lilliam Rivera○ Fairy Tales & Folklore, Romance● Instructions for Dancing...Nicola Yoon○ New Experience, Romance● The Storm of Echoes...Christelle Dabos, Hildegarde Serle○ Fantasy, Steampunk● Aristotle and Dante Dive into the Waters of the World...Benjamin Alire Sáenz○ Friendship, LGBT, Romance● Iron Widow...Xiran Jay Zhao○ Science Fiction● Victories Greater Than Death...Charlie Jane Anders○ Space Opera● The Music of What Happens...Bill Konisberg○ LGBT, Romance
Page 45
45Young Adult● Juliet Takes a Breath...Gabby Rivera○ LGBT, Romance● The Magic Fish...Trung Le Nguyen○ Coming of Age, Fairy Tales & Folklore, LGBT● Yolk...Mary H.K. Choi○ Family, Siblings● Raybearer...Jordan Ifueko○ Action & Adventure, Fantasy● White Smoke...Tiffany D. Jackson○ Horror, Thriller & Suspense
Page 46
46Young AdultThe Last Cuentistaby Donna Barba Higuera$17.99There lived a girl named Petra Peña, who wanted nothing more than to be a storyteller, like her abuelita. But Petra's world is ending. Earth has been destroyed by a comet, and only a few hundred scientists and their children have been chosen to journey to a new planet. They are the ones who must carry on the human race.Dystopian, Fantasy & MagicFerrymanby Claire McFall$18.99After a deadly train crash, the afterlife is waiting for Dylan. But that's only if she and her intriguing Ferryman can make it across the demon-infested wasteland, and if she can bear to let him go.Fairy Tales & Folklore, FantasyThings We Couldn't Sayby Jay Coles$18.99From one of the brightest and most acclaimed new voices in YA fiction, a fantastic new novel about a bi Black boy finding his first love and facing the return of the mother who once abandoned him. There is no easy answer to love whether it's family love, friend love, or romantic love.LGBT, Family, RomanceBeasts of Preyby Ayana Gray$18.99In this blockbuster fantasy series, fate binds two Black teenagers together as they journey into a magical jungle to hunt down a vicious monster.Action & Adventure, Fantasy
Page 47
47Young AdultThe Keeper of Nightby Kylie Lee Baker$18.99A girl of two worlds, accepted by none...A half Reaper, half Shinigami soul collector seeks her destiny in this haunting and compulsively readable dark fantasy duology set in 1890s Japan.Dark FantasyHow Do You Live?by Genzaburo Yoshino, Bruno Navasky$17.95How Do You Live? is narrated in two voices. Copper, 15, who after his father's death must confront inevitable and enormous changes. In between episodes of Copper's emerging story, his uncle writes to him in a journal, sharing knowledge and offering advice on life's big questions.Coming of AgeHunting by Starsby Cherie Dimaline$18.99When plagues and natural disasters have killed millions of people, much of the world stopped dreaming. Without dreams, people are haunted, sick, mad, unable to rebuild. The government soon discovers that the Indigenous people of North America have retained their dreams, an ability rumored to be housed in the very marrow of their bones. Soon, residential schools pop up across the land to bring in the dreamers and harvest their dreams. From the acclaimed author of The Marrow Thieves comes a thrilling new story about hope and survival.Dystopian, Science FictionArtie and the Wolf Moon (Graphic Novel)by Olivia Stephens$16.99After sneaking out against her mother's wishes, Artie Irvin spots a massive wolf--then watches it don a bathrobe and transform into her mom. Thrilled to discover she comes from a line of werewolves, Artie asks her mom to share everything--including the story of her late father. Her mom reluctantly agrees. And to help Artie figure out her own wolf-like abilities, her mom recruits some old family friends. Artie thrives in her new community. But as she learns the history of werewolves, she'll find that wolves are the scariest things in the woods--vampires are.Paranormal
Page 48
48Young AdultSteelstrikerby Marie Lu$19.99This is book number 2 in the Skyhunter Duology series.The world's last free nation has fallen. And behind enemy lines, Talin stands alone. With her friends scattered by combat and her mother held captive, Talin has no choice but to submit to the Federation's experiments and become their most deadly war machine--a Skyhunter. But the battle has only just begun.DystopianSquadby Maggie Tokuda-Hall, Lisa Sterle$14.99Pretty Little Liars meets Teen Wolf in this sharply funny, and patriarchy-smashing graphic novel by local author Maggie Tokuda-Hall and artist Lisa Sterle. When the new girl is invited to join her high school's most popular clique, she can't believe her luck--and she can't believe their secret, either.Friendship, LGBT, ParanormalThe Mechanists #1: Rise of the Red Handby Olivia Chadha$10.95A rare, searing portrayal of the future of climate change in South Asia. A street rat turned revolutionary and the disillusioned hacker son of a politician try to take down a ruthlessly technocratic government that sacrifices its poorest citizens to build its utopia.DystopianYou Don't Have to Be Everything: Poems for Girls Becoming Themselvesby Diana Whitney$14.95Poems to Turn to Again and Again from Amanda Gorman, Sharon Olds, Kate Baer, and more.Poetry
Page 49
49Young AdultInstructions for Dancingby Nicola Yoon$19.99In this romantic page-turner from the author of Everything, Everything and The Sun is Also a Star, Evie has the power to see other people's romantic fates. What will happen when she finally sees her own?New Experience, RomanceAristotle and Dante Dive into the Waters of the Worldby Benjamin Alire Sáenz$17.95The highly anticipated sequel to the critically acclaimed Aristotle and Dante Discover the Secrets of the Universe, where two boys in a border town fall in love.Now, they must discover what it means to stay in love and build a relationship in a world that seems to challenge their very existence.Friendship, LGBT, RomanceNever Look Backby Lilliam Rivera$10.99Acclaimed author Lilliam Rivera blends a touch of magical realism into a timely story about cultural identity, overcoming trauma, and the power of first love.Fairy Tales & Folklore, RomanceThe Storm of Echoesby Christelle Dabos, Hildegarde Serle$20.00This is book 4 of the Mirror Visitor Quartet.In this gripping finale to Christelle Dabos's international bestselling Mirror Visitor saga, Ophelia, the mirror-traveling heroine, and Thorn discover that the truth they have been seeking has always been hidden behind the mirror.Fantasy, Steampunk
Page 50
50Young AdultThe Music of What Happensby Bill Konisberg$10.99A rickety, 1980s-era food truck called Coq Au Vinny. Add in prickly pears, cloud eggs, and a murky idea of what's considered locally sourced and organic. Place it all in Mesa, Arizona, in June, where the temps regularly hit 114. And top it off with a touch of undeniable chemistry between utter opposites. Over the course of one summer, two boys will have to face their biggest fears and decide what they're willing to risk in order to get the thing they want the most.LGBT, RomanceVictories Greater Than Deathby Charlie Jane Anders$18.99Buckle up your seatbelt for this thrilling YA sci-fi adventure set against an intergalactic war from bestselling author Charlie Jane Anders!Space OperaJuliet Takes a Breathby Gabby Rivera$10.99In a summer bursting with queer brown dance parties, a sexy fling with a motorcycling librarian, and intense explorations of race and identity, Juliet learns what it means to come out to the world, to her family, and to herself.LGBT, RomanceIron Widowby Xiran Jay Zhao$17.99An exhilarating and propulsive novel blending Chinese folklore and spirit powered mecha (giant robots) in a battle of willpower.Science Fiction
Page 51
51Young AdultThe Magic Fishby Trung Le Nguyen$16.99In this gorgeous debut graphic novel, fairy tales are the only way one boy can communicate with his Vietnamese immigrant parents. But how will he find the words to tell them that he's gay? A powerful read about family, identity and the enduring magic of stories.Coming of Age, Fairy Tales & Folklore, LGBTRaybearerby Jordan Ifueko$10.99Tarisai won't stay by and become someone's pawn, but is she strong enough to choose a different path for herself? With extraordinary world-building and breathtaking prose, Raybearer is the story of loyalty, fate, and the lengths we're willing to go for the ones we love.Fantasy, Action & AdventureYolkby Mary H.K. Choi$19.99A funny and emotional story about two estranged sisters and how far they'll go to save one of their lives even if it means swapping identities. Flung together by circumstance, housing woes, and family secrets, will the sisters learn more about each other than they're willing to confront?Family, SiblingsWhite Smokeby Tiffany D. Jackson$18.99In a summer bursting with queer brown dance parties, a sexy fling with a motorcycling librarian, and intense explorations of race and identity, Juliet learns what it means to come out to the world, to her family, and to herself.Horror, Thriller & Suspense
Page 52
52Young Adult Nonfiction● Disability Visibility...Alice Wong (Editor)○ Disabilities & Special Needs, Prejudice & Racism● Our Stories Carried Us Here...Tea Rozman Clark, Julie Vang, Tom Kaczynski○ Human Rights● Black Birds in the Sky: The Story and Legacy of the 1921 Tulsa Race Massacre...Brandy Colbert○ Civil & Human Rights● The Story of More...Hope Jahren○ Science & Nature, Environmental Conservation & Protection
Page 53
53Young Adult NonfictionDisability Visibility (Adapted for Young Adults)by Alice Wong (Editor)$17.99The seventeen eye-opening essays in Disability Visibility, all written by disabled people, offer keen insight into the complex and rich disability experience, examining life's ableism and inequality, its challenges and losses, and celebrating its wisdom, passion, and joy.Biography & Autobiography, Disabilities & Special Needs, Prejudice & RacismBlack Birds in the Sky: The Story and Legacy of the 1921 Tulsa Race Massacreby Brandy Colbert$19.99A searing new work of nonfiction from award-winning author Brandy Colbert about the history and legacy of one of the most deadly and destructive acts of racial violence in American history: the Tulsa Race Massacre.Civil & Human RightsThe Story of Moreby Hope Jahren$16.99This young adult adaptation of acclaimed geochemist and geobiologist Hope Jahren's highly respected nonfiction work is the perfect book for those interested in learning about climate change and how they can contribute to creating a more sustainable future.Science & Nature, Environmental Conservation & ProtectionOur Stories Carried Us Hereby Tea Rozman Clark, Julie Vang, Tom Kaczynski$24.99Green Card Voices presents a bold and unconventional collection of first-person stories told and illustrated by immigrants and refugees living across the United States. Timely, sobering, and insightful, Our Stories Carried Us Here acts as a mirror and a light to connect us all with immigrant and refugee experiences.Human Rights