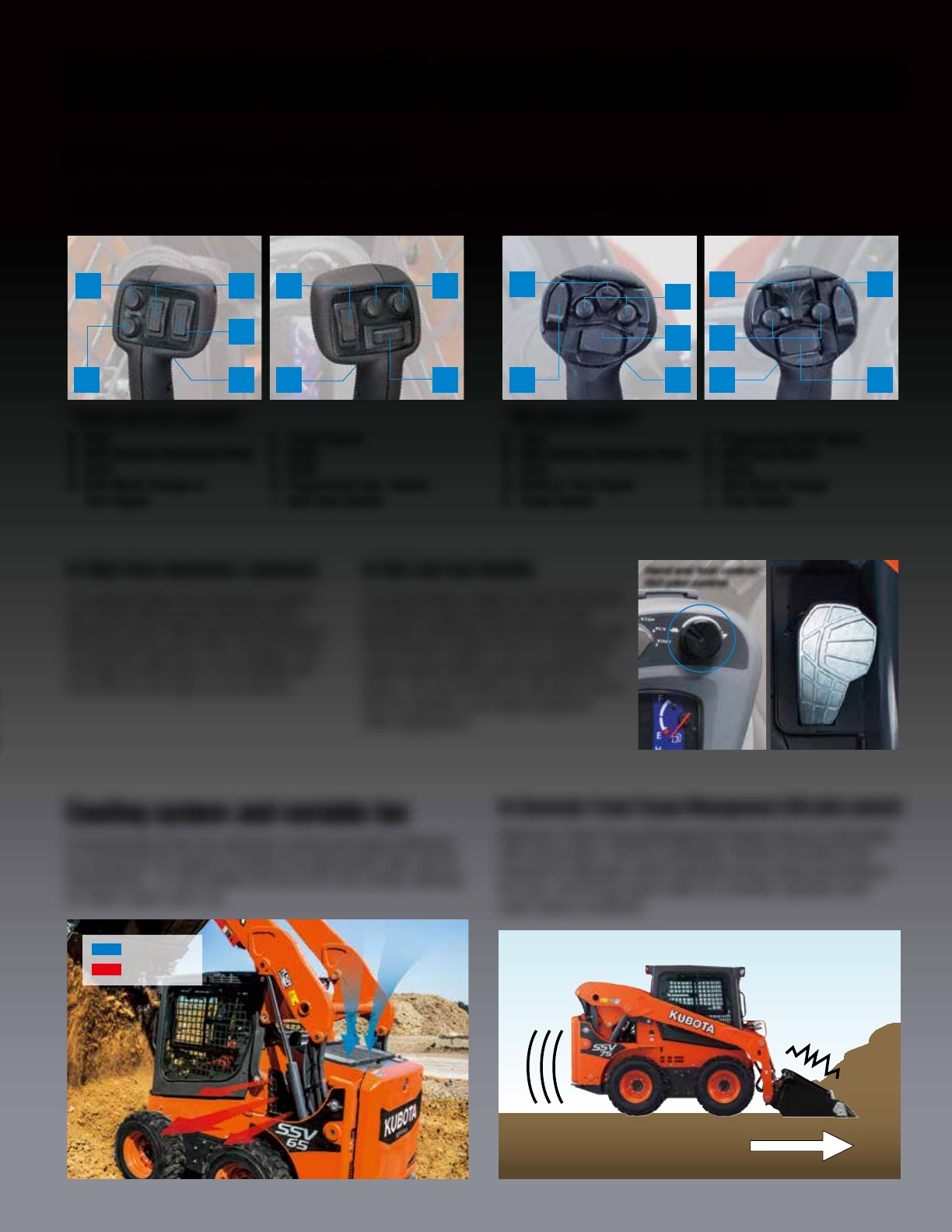 Fresh air
Hot air
●
Electronic Travel Torque Management (ISO pilot control)
Electronic Travel Torque Management System lets you work faster
with more power. The ECU constantly monitors the load of the
machine to optimally control hydraulic pump output according to
the load, preventing engine stalls for smoother operation even
under severe conditions.
OUTSTANDING
PERFORMANCE
Multi-function levers (optional)
The optional multi-function levers provide fingertip control of all major vehicle and attachment operations, including the main
hydraulic line and three electrical lines, letting you keep both hands on the levers at all times for optimal operating efficiency.
Cooling system and variable fan
A hydraulically driven fan optimizes cooling and engine efficiency
by varying the fan speed to maintain the appropriate water and oil
temperatures. In cold weather the fan turns more slowly, allowing
for faster engine warm-up.
●
The dial throttle is ideal for jobs that require
a constant engine speed, such as cold
planning, trenching, and snow blowing, and
conveniently located to let you change the
engine speed setting while operating the
levers. The foot throttle for ISO pilot control
lets the operator vary engine speed for
other applications.
B.
KSR (Kubota Shockless Ride)
Turn Signal
H.
Proportional Aux. Switch
"Hand and foot control"
B.
KSR (Kubota Shockless Ride)
F.
Proportional AUX Switch
"ISO pilot control"
●
High-flow hydraulics (optional)
The optional high-flow hydraulics system
can handle attachments requiring extra
hydraulic power. With high-flow hydraulics,
the standard hydraulic flow increases from
18.0 gpm to 28.0 gpm on the SSV65 and
from 20.9 to 30.4 gpm on the SSV75.
Fast and smooth operational response
Fast and smooth operational response
Left Control Lever
A
D
C
Left Control Lever
A
D
C
Right Control Lever
HI
Right Control Lever
F
G
H
I
J
Hand and foot control/
ISO pilot control
ISO pilot control