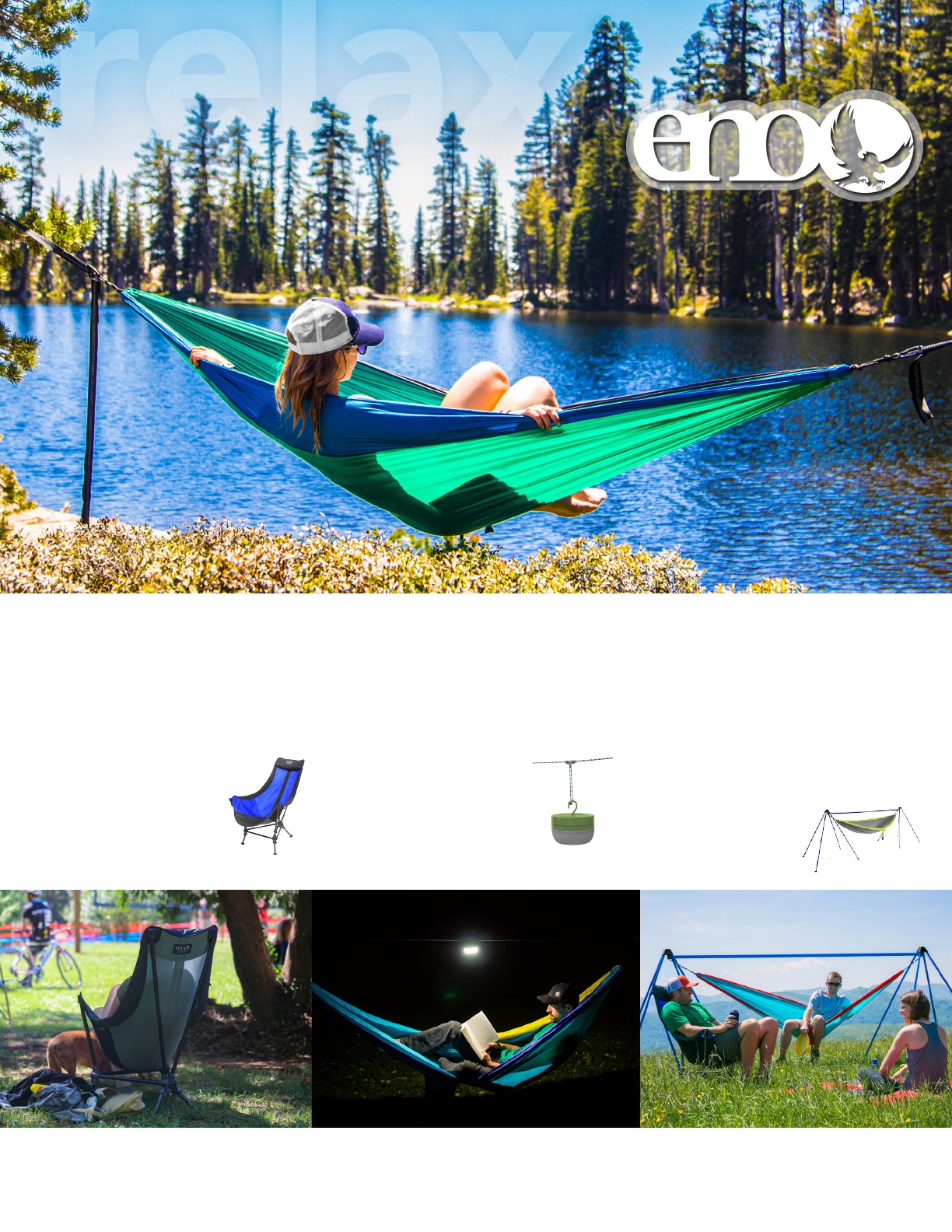 34 | ShopEagleEye.com
Eagles Nest Outfitters (ENO) was founded in 1999 by two brothers who share a passion for adventure and travel. Growing from a two-
man, one-van operation, to the leading provider of ingeniously crafted parachute hammocks, ENO offers the highest quality lifestyle
products designed to inspire a community of like-minded individuals who live for and love the outdoors.
Moonshine
™
Lantern
Hang this versatile, compact light from your
ridgeline, set it flat on your camp table, or
hold to show the way with a continuous
warm glow. Strong LED bulbs shine in 4
lighting modes (High White; Dim White; Color
and Strobe to get the party started), the
Moonshine is a lot of light in a little package.
$24.95
Lounger DL
™
Chair
The Lounger DL's™ effortless shock-corded
assembly makes this lightweight chair perfect
for the quad, your favorite festival, or around the
campfire. Equipped with two adjustable leg
heights, a cup holder, two cargo pockets and
an integrated pillow, the Lounger DL is the most
versatile and nap-worthy chair on the market.
$124.95
Nomad
™
Hammock Stand
With the Nomad hammock stand, there are no more obstacles
when it comes to hammocking! This portable, lightweight stand
sets up in a snap with its simple shock-corded construction.
Now you can set up your
hammock on the beach, in the
desert, and anywhere in between.
$249.95
Atlas
™
Suspension System
$69.95
$29.95
DoubleNest
™
Hammock
Atlas
™
Suspension System
$69.95
$29.95
DoubleNest
™
Hammock
™
™
Suspension System
are your all-access pass to relaxation.

Big
enough for two and palatial for one, the DoubleNest still manages to stuff easily into its attached compression
sack so you can take it anywhere. Paired with our patented Atlas Strap's no-knots-needed set-up you will be
securely relaxing in suspended luxury in a flash.