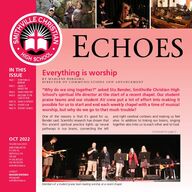 Return to flip book view
Smithville Christian Echoes October 2022
Page 1
continued on page 2 . . .One of the reasons is that it's good for us, Bender said. Scientic research has shown that this ancient spiritual practice lights up neural pathways in our brains, connecting the left IN THIS ISSUEOCT 2022VOLUME XLIII, ISSUE I6488 TOWNLINE RD.P.O. BOX 40,SMITHVILLE, ONL0R 2A0PH. 905.957.3255FAX 905.957.3431smithvillechristian.caCONTACT:MARLENE BERGSMAmbergsma@smithvillechristian.caPAGE 1 EVERYTHING IS WORSHIPPAGE 3 GRADE 11 SERVICE TRIPPAGE 6 GRADE 9 BIKE TRIPPAGE 8 WELCOME TO THE CLASS OF 2026PAGE 10 GRADE 12 RETREATPAGE 12 OUTERS' CLUBPAGE 14 STUDENT COUNCILEverything is worshipBY MARLENE BERGSMA DIRECTOR OF COMMUNICATIONS AND ADVANCEMENT"Why do we sing together?" asked Stu Bender, Smithville Christian High School's spiritual life director at the start of a recent chapel. Our student praise teams and our student AV crew put a lot of effort into making it possible for us to start and end each weekly chapel with a time of musical worship, but why do we go to that much trouble?and right cerebral cortexes and making us feel alive. In addition to linking our brains, singing together also links us to each other and to God.Members of a student praise team leading worship at a recent chapel.
Page 2
2ECHOES OCTOBER 2022. . . continued from page 1"Worship is any action or expression that connects you to God, brings glory to God, and shows adorationto God."But singing is not the only way we worship God, Bender said. "Worship doesn't just happen in chapel when we sing, or on Sunday morning when we go to church. Worship is any action or expression that connects you to God, brings glory to God, and shows adoration to God," he said. "Everything is worship."It would be easy to think that worship is what we do on Sundays, while the rest of the week is just school, or work, or fun, Bender said. "Maybe your marks are what you worship, or your cell phone." But we can choose to see the math assignment, the basketball practice, the science experiment or hanging out with friends as worship too, and do everything to the glory of God.To inspire students to see everything as worship, Bender shared examples from recent activities and accomplishments at school.Bender invited Grade 11 students Joe Attia and Jeremy Talsma to talk about their experiences playing pick-up basketball at lunchtime. Both students said being active with friends and experiencing the joy of using their strength and athleticism in play make them feel alive and make them feel grateful to God. Bender shared a video of highlights from the Grade 9 Bike Trip, he shared a video of highlights from the recent Outers' Club camping trip, and he invited Grade 12 student Matthew Nywening to talk about the battery he made for an electro-chemistry project in chemistry class. (Scan the QR codes or click on the links to see the videos yourself!) bit.ly/Grade_9_BikeTrip_2022Scan or click to watch the Grade 9 Bike Trip video!
Page 3
3www.smithvillechristian.caBender said being outside in the beauty of God's creation is a way to relieve stress and worship God. Going on a daylong bike trip with classmates and teachers is a way to build community and worship God.What you do in science class, art class, and math class matters, Bender said. God created it all and your whole life is a whole-body expression to God.Science student Matthew Nywening agreed.Matthew said making the battery was dangerous and "I nearly set myself on re" but it was also successful, and he had a lot of fun. "It's very important to have fun, and this project was very fun," Matthew said. "Spiritually, having fun is how God wants you to live," he said. "Having fun, enjoying the work that you do is the way you thrive."bit.ly/OutersClub_FallHike_2022Previous page: students on the Grade 9 Bike Trip. This page, counter-clockwise from top: Joe Attia, Jeremy Talsma and Stu Bender at a recent chapel, Matthew Nywening speaking at chapel, Outers' Club fall hike.Scan or click to watchthe Outers' Club video!
Page 4
4ECHOES OCTOBER 2022I often say that our school's core values describe and drive us. Yes, I think our school has done some really good things to enable the Belonging, Believing and Succeeding of our students over many years. In this way, our favourite three words describe us. At the same time, we use them to drive us. We constantly hold those three words out in front of us (to the point pf putting them on a poster which we all keep at our work stations) as we consider how we can do these three things better. How can we enfold students better to the point where every student nds meaningful connection at our school? How can we fold students more intentionally into the great story of God and his people? How can we enable the success of our students while they are here and position them better to succeed when they are gone? These questions drive our work as educators at Smithville Christian High School, and they also drive the school's strategic planning. One element of our strategic plan over the past couple of years has been to develop new annual off-campus serving/learning opportunities. One of those off-campus experiences was this fall's three-day grade 11 "Serve and Observe" trip. I would like to share our deep hopes for this trip as shared with the parents and students before that trip:• That our students would be in tune with the challenges of humanity as seen in urban centres; • that they would explore questions of justice and compassion; • that they would become connected to urban ministries and community initiatives; and • that they might better understand the leading of the Holy Spirit as they consider a world in need and their role as people of God.Grade 11 Service TripBY TED HARRIS, ADMINISTRATOR
Page 5
5www.smithvillechristian.caIt's hard to target deep hopes like these if students stay comfortably in their classrooms all the time. There are so many places we want to take our students to enhance their learning (and they have their whole life to travel, I suppose), but we are focusing our attention for this trip on downtown Hamilton, a place of intense need, a place where a number of Christian organizations are serving (including our graduates), a place which few students have experience with, and a place that is only a short bus ride away.We have loved all the things we have done previously, like sending students to South Africa or having students study for several weeks in Nicaragua. What we are looking for is impactful experiences for all students, not just small teams of them. When a whole class has a common experience of coming to terms with real situations which highlight brokenness and injustice and the work that Christians and others are doing to address it, the experience is that much more authentic. That is the space we want to be in. Let me give you an assignment. Find one or two of our grade 11 students and have a conversation about the experience in Hamilton during October of 2022. You might hear about how they had to sleep on a church oor, how they got rained on, or how much they had to walk; but I hope you are able to press beyond all that into the deep hopes we noted above and whether these deep hopes are now part of their language and experience. If this were a class, I would remind you of your assignment, and the bell would ring. Then I would say something like "have a great day." And of course, like our model students, you would thank the teacher on the way out.
Page 6
6ECHOES OCTOBER 2022Grade 9 Bike TripSeptember 2022, Chippawa toNiagara-on-the-Lake, Ontario
Page 7
7www.smithvillechristian.ca
Page 8
8ECHOES OCTOBER 2022Brody Anderson Daniel AttiaEmily Beldman Cohen Boer Brennan Brown Hudson Byker Claire Bylsma Nicholas Carriero Aaron de Blieck Jacquelyn De BoerElise DeBoer Ian Drenth Gabe Droppert Thalia Echegoyen Eva Fluit Avery Froese Emily Froese Ryder GooderhamAbigail Gritter Connor Haanstra Asher Harnanan Cohen Hauser Dane Heeg Alvaro Hicks Selah Huinink Cadence KingmaWelcome to the Class of 2026
Page 9
9www.smithvillechristian.caDavid Kok Bo Langendoen Owen Lunshof Shaun Marr Josh McIntee Jacob Melo Isaac Merz Luke MunningsVienna Neufeld Taya Nywening Scott Phillpott Natasha RegnerusJulia Reid Cameron RichardsonEli Ricker Jaxsen RypstraJulia Savage Graydon Simpson Katy Sinke Rachel Soltesz Alexa Teeuwsen Raisa Tkach Lily Tourangeau Jayden VahrmeyerLuke Van Lochem Colton Van StaalduinenJessie Van den BosEvan Vandenberg Alyssa Vander WierKaylin VanderHeideCaitlin VanderMolenCaleb VanderWierDarren Vanderknyff Austin Veldhuizen Emerson Wall Cece Wickett Adam Wiersma Benjamin WiersmaRyan Williamson Isaiah ZuidersmaWelcome to the Class of 2026
Page 10
10ECHOES OCTOBER 2022Grade 12 RetreatSeptember 2022, Camp Kintail, Goderich, Ontario
Page 11
11www.smithvillechristian.ca
Page 12
12ECHOES OCTOBER 2022Outers' ClubOuter's Club Fast Facts• New club Established September 2022• For Any student, any grade• Mission To create opportunities for students to be active outside in nature and explore God's creation, and to be around friends and peers in both fun and difcult circumstances• Staff sponsors Stu Bender Derrick DeKlerk• Safety Both sponsors certied in Wilderness First Aid• First outing Two-day hike and overnight campout along the Bruce Trail• Next events Winter camping and multi-day canoe camping trips• Why join? Learn to enjoy being active and outside, challenge yourself, build community, connect with nature
Page 13
www.smithvillechristian.ca13
Page 14
14ECHOES OCTOBER 2022We recently had our retreat as the Student Council, and we chose the theme for this school year. We chose RENEWAL because we thought it suited this coming year. We are nally coming out of COVID, mandates are lifted, and we are able to get back to "normal." We also see this time as an opportunity. We will try to be better than before and come out of this season of life with more wisdom and knowledge. Renewal means "an instance of resuming an activity or state after an interruption." As our interruption fades away, let's not fall back into the same rhythm and habits we used to have. We can change; we can be renewed. We want to help make this year better than before COVID, before lockdown. The verse we chose says: "Therefore, if anyone is in Christ, they are a new creation. Old things have passed away, behold, all things have become new." (2 Corinthians 5:17) The old is gone, and the new is here. We have a chance to restart and be better. We can learn from our mistakes. We hope that this theme is carried through the rest of the year with purpose, and that people really think about this and what it means. We will lead with intention and condence for the whole student body. Members of the Smithville Christian High School Student Council for 2022-2023, from left, President Matthew Nywening, Vice-All Eli Gerryts, Treasurer Titus Neufeld, Communications Alex Augustine, Media Relations Elise DeBoer, Chief of Staff Eric Stiff, Communications Daniel Attia, and Media Relations Kalan Schat.Student CouncilRenewalBY ALEX AUGUSTINE, STUDENT COUNCIL COMMUNICATIONS
Page 15
15www.smithvillechristian.caHome DesignHead Office36 Killaloe CrescentGeorgetown, ONL7G 5N2TICO #500195091051 Broad St. E., Dunnville, ON905-774-61152400 Highway 56, Binbrook, ON905-692-44151380 Fourth Ave., St. Catharines, ON905-688-5520Life's brighter under the sun*Mutual funds distributed by Sun Life Financial Investment Services (Canada) Inc. Sun Life Assurance Company of Canada is a member of the Sun Life Financial group of companies. © Sun Life Assurance Company of Canada, 2019. Matt Dam* HON. B.A. BUS. Matt Dam Financial Services Inc. 905-892-5993Toll free: 1-888-889-4742 matt.dam@sunlife.com www.sunlife.ca/ mattdamfinancial 282 Canboro Rd. Ridgeville, Ontario L0S 1M0
Page 16
We draw Christian schools and donors together toexpand the influence of Christ in our culture.www.christianschoolfoundation.caThe Echoes is a periodical published ve times a year by Smithville Christian High School. Editor: M. Bergsma30%is printed on 30%post-consumer recycled paper.30%Fred & Adrian KoornneefSuppliers of Greenhouse Vegetables and Tender Fruitwww.koornneefproduce.com345 Argyle St. S. 214 Broad St.Caledonia, On N3W 1L8 Dunnville, On N1A 1G2(905) 765-5788 (905) 774-7576fax: (905) 765-1811 fax: (905) 774-9479cell: (905) 929-6783 email: peter_dieleman@cooperators.caPeterDieleman, CFPAgentINSPECTIONSRoger Heeg rogerheeg@ozainspections.comGrantham Plaza, 400 Scott St., St. Catharines, ON L2M 3W4Phone: 905-937-8833 • Fax 905-937-7196website: www.vandendooljewellers.com80100120140601604020180Dekkers Auto SalesService Automotive Sales • Repairs • A/C • Tires • Alignments • Diagnostics 905.386.6253Lorem ipsumBlinds. Shutters. DrapesGRIMSBY, ONWilliam and Christina Bezemer905.945.8008Claudia AlvesMarketing ManagerHorticultural | Agricultural | Residential | Industrial | CommercialSamuel Dekker Master Electricianfeederelectricinc@gmail.com1-905-932-6975Wainfleet, OntECRA/ESA Licence #701591905.701.7900www.sticker-it.caWe print stationery, business cards, interior & exterior signs, banners, flags and vehicle wraps. MORE THAN JUST STICKERS!Haldimand County's#1 Print Shop!1.888.BAYVIEW ext 344P.O. Box 2, 3764 Jordan Road, Jordan Station, Ontario, Canada L0R 1S0phone 905.562.7321fax 905.562.7851www.Bayviewflowers.com