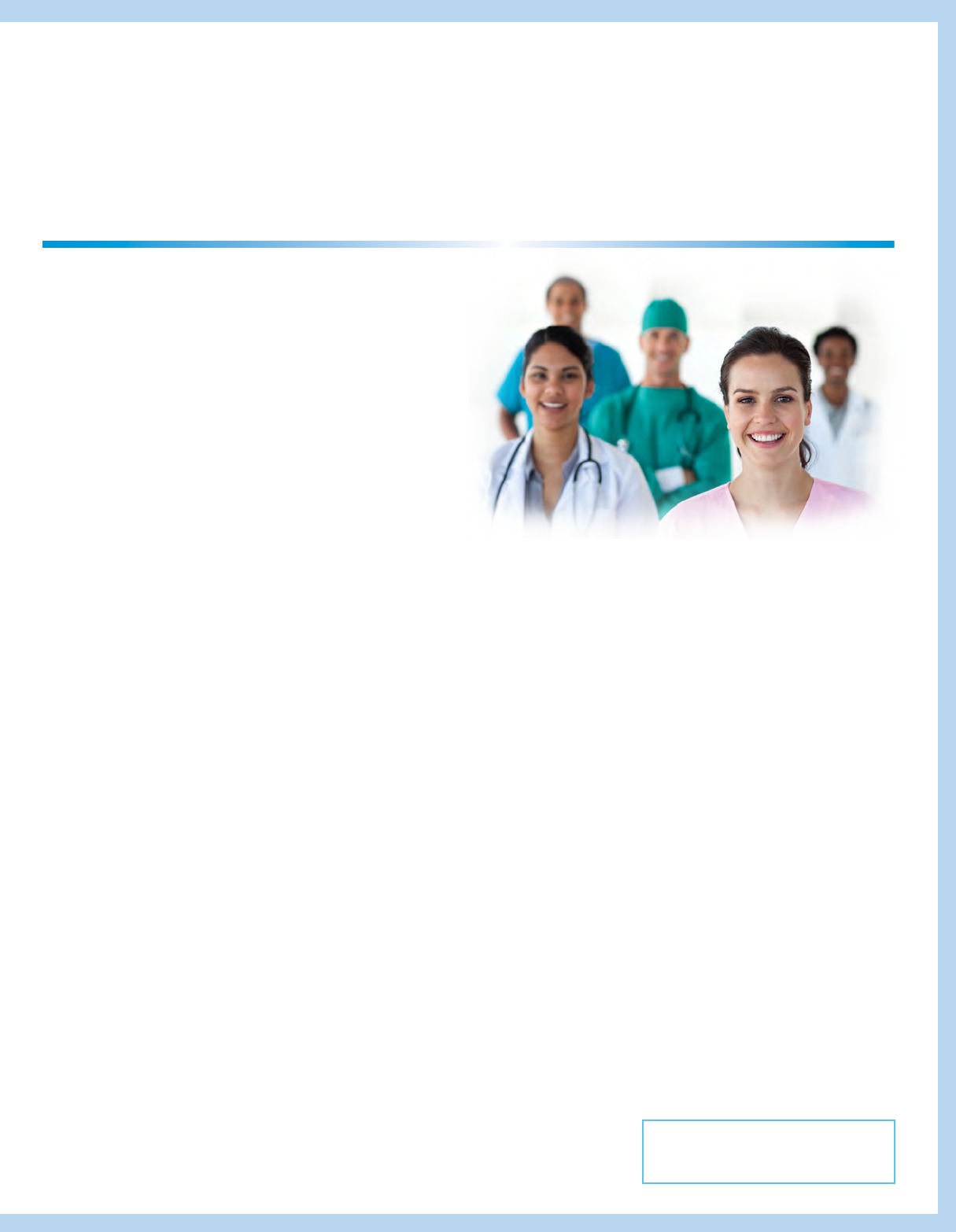 AREA
services for
seniors
St. Vincent's Outreach Program
St. Vincent's Outreach Program seeks to help
residents of Bridgeport who have difficulty
accessing primary care because of physical
isolation, disability/frailty, psychological reasons
or lack of financial resources. Such residents
include low-income, disabled, homeless, frail
elderly and homebound persons. Outreach
care, including geriatric assessments and other
geriatric services, is provided on a 24-hour
basis by an interdisciplinary team of physi
-
cians, nurses and social workers. Qualifying
patients may receive home medical visits and
transportation for medical services.
Outreach services are provided
at two locations:
St. Vincent's Geriatric Clinic in St. Vincent's
762 Lindley St. • Bridgeport, CT 06606
Adult Medicine Center of St. Vincent's
Neighborhood Health Center
Lower level of Thomas Merton Center
43 Madison Ave. • Bridgeport, CT 06604
For more information on Outreach services,
call 203-576-5710.
BRIDGEPORT HOSPITAL
Bridgeport Hospital is a private, not-for-profit, full-service hospital and teaching institution. It is part
of the Yale New Haven Health System and primarily serves patients from Fairfield and New Haven
Counties. The hospital has: 383 licensed beds; more than 2,600 employees; nearly 600 active
attending physicians, representing more than 60 medical specialties. This busy institution annu
-
ally has more than 19,000 admissions and more than 207,000 outpatient visits to the hospital
(including more than 76,000 emergency department visits and more than 36,000 clinic visits).
Founded in 1878 by a group of community leaders, Bridgeport Hospital was Fairfield County's first
hospital, and P.T. Barnum was the hospital's first president. The hospital's vision, its current leaders
state, remains essentially what it was at the time of its founding: "To provide advanced medical
care and health promotion with excellence and compassion."
Main location:
267 Grant St. • Bridgeport, CT 06610 • 203-384-3000
HYPERLINK "http://www.bridgeporthospital.org/"www.bridgeporthospital.org
Physician/Services Referral (English and Spanish, 24/7):
1-888-357-2396
Bridgeport Hospital is affiliated with a number of
satellite facilities
, both in the city and the suburbs.
Here are some:
Fairfield
Fairfield Urgent Care Center
309 Stillson Rd. • 203-331-1924
Hours: Mon.-Fri. 8 a.m.-8 p.m.
Sat.-Sun. 9 a.m. 5 p.m.
Shelton
Ahlbin Center for Rehabilitation Medicine
4 Corporate Drive • 203-925-4201
Hours: Mon.-Fri., 7:30 a.m.-6:30 p.m.
Huntington Walk-in Medical Center
887 Bridgeport Ave. • 203-225-6020
Mon.-Fri. 8 a.m.-8 p.m.
Southport
Ahlbin Center for Rehabilitation Medicine
Suite 3
2600 Post Road • 203-259-7117
Hours:
Mon.
&
Fri.,
7:00
a.m.-3:30
p.m.;
Tues. & Thurs., 6:30 a.m.-6:00 p.m.; Wed.
7:00 a.m.-4:30 p.m.
Stratford
Ahlbin Center for Rehabilitation Medicine
3585 Main St. • 203-445-2621
Mon., 7:00 a.m.-5:00 p.m.; Tues. & Thurs.,
7:00 a.m.-5:30 p.m.
Trumbull
Ahlbin Center for Rehabilitation Medicine
2750 Reservoir Avenue • 203-445-2621
Mon.
&
Tues.
&
Thurs.,
8:00
a.m.-4:30
p.m.;
Wed. & Fri., 8:00 a.m.-5:00 p.m.
•
Geriatric Home Visit Program
For housebound older adults, Bridgeport
Hospital's Home Visit Group of geriatricians
and nurse practitioners can bring the care that
they require right into their homes. The Group
becomes the primary care physician for these
patients.
•
REACH Programs (Geriatric Outpatient
Psychiatric Services)
If psychiatric conditions and/or substance
abuse complicate the common concerns of
aging, Bridgeport Hospital's REACH Programs
can help by providing intensive outpatient
treatment. One program provides structured
daily treatment at the hospital every weekday,
9:30 a.m.-1:30 p.m. Another program sees
patients three to four times per week, 9:30
a.m.-1:30 p.m. In either program, patients
are placed in an Older Adult Track and
receive group and family therapy. For more
information, call the REACH Programs at
203-384-3377.
•
Geriatric Inpatient Psychiatric Program
If an assessment reveals that an older adult
needs hospital care because of a psychiatric
condition, this program provides close,
constant supervision.
•
GEMS: Geriatric Emergency Medical Services
Bridgeport Hospital is the only hospital in
Connecticut that offers an emergency medi
-
cine service dedicated specifically to the
needs of those 65 or older. In GEMS a
nurse practitioner, working with Emergency
Department physicians, greets patients,
explains what testing may be done, helps
put patients and their families at ease, helps
develop a proper plan of care and, upon
release, ensures that patients return to a safe
environment. For more information about
GEMS, call 203-384-GEMS (4367).
Outreach Programs
Bridgeport Hospital prides itself on offering
many services and resources to the com
-
munity for health, wellness and education. A
number of these are support services targeted
for seniors. They include lectures, classes, sup
-
port groups, publications, and various evalu
-
ations and screenings. For more information,
call 1-888-357-2396.
Of special note:
•
AARP Senior Driver Safety Program
This program is a one-day course offered once
a month at the hospital.
continued top of next page
Center for Geriatrics
Older adults need a special kind of care and
understanding to address the range of physi
-
cal, mental, medical, social and other issues
that they often have to confront. To meet
these needs, Bridgeport Hospital maintains
the Center for Geriatrics. From the Center,
Geriatric Specialty Services Teams of experts—
geriatricians, psychiatrists, nurse practitioners,
social workers and other staff—work together,
in close collaboration with primary care physi
-
cians, to provide individualized programs of
care and support for patients and their fami
-
lies. The Center's wide range of services is
aimed at meeting the wide range of needs
of seniors and their loved ones.
Bridgeport Hospital Center for Geriatrics
95 Armory Rd. • Stratford, CT 06614
203-384-3388 • Fax: 203-384-4034
Specialized geriatric services at Bridgeport
Hospital include:
•
Geriatric Assessment Program
In an assessment of an older adult having
difficulties, experts: conduct exams, tests,
screenings; review drugs and supplements
being taken; gather information to understand
personal and family medical history. The
assessment is the first step toward finding the
best solutions to the problems of the senior.
ST. VINCENT'S MEDICAL CENTER
In 1905 an order of Catholic nuns, the Daughters of Charity, opened a
75-bed hospital, with a mission to serve the sick, poor, homeless, dis
-
abled and frail elderly in the Greater Bridgeport area. Steady expansion
over the years has created the St. Vincent's Medical Center of today—a
473-bed community teaching and referral hospital, employing more than
2,000 people and offering a full range of inpatient and outpatient ser
-
vices, provided by an active medical staff of more than 700 physicians,
representing more than 50 specialties. St. Vincent's has many affiliates
and is a member of Ascension Health, the largest Catholic, nonprofit,
healthcare system in the country. Leaders of St. Vincent's say that it
strives every day to fulfill its Vision Statement--"St. Vincent's: Setting the
Standard for Care You Can Trust."
Main location:
2800 Main St. • Bridgeport, CT 06606 • 203-576-6000
For appointments, call the Care Line: 877-255-7847 • www.stvincents.org
St. Vincent's Web site offers the FIND A DOCTOR tool, which allows those seeking to discuss
their health concerns or those of a loved one with a medical expert to search for the expert by
specialty, practice, location or keyword.
Among St. Vincent's many endeavors to meet the health needs of the community are Urgent
Care Walk-In Centers at four locations:
Bridgeport
4600 Main St. • 203-371-4445
Fairfield
1055 Post Rd. • 203-259-3440
Milford
199 Cherry St. • 203-696-3502
Monroe
401 Monroe Tnpk. • 203-268-2501
Shelton
2 Trap Falls Rd. • 203-929-1109
Stratford
3272 Main St. • 203-386-0366
Hours for all locations: Mon.-Fri. 8 a.m.-8 p.m., Sat.-Sun. 9 a.m.-5 p.m.
•
Audiology (Hearing) Services at the Ahlbin
Rehabilitation Center
The Ahlbin Center provides comprehensive
hearing services and also evaluation and treat
-
ment for vestibular disorders (dizziness).
226 Mill Hill Ave. • Bridgeport, CT 06610 •
203-336-7301
•
Blood Pressure Screenings
The Emergency Care Institute of Bridgeport
Hospital provides free blood pressure screen
-
ings at various dates and times at senior
centers in Fairfield, Shelton and Stratford. For
more information, call 1-888-357-2396.
Lifeline is a 24-hour personal emergency
response program in which trained staff
members are available at the touch of a
button to call emergency personnel and
family members for both medical and non-
medical situations. For more information,
call 1-800-242-1306, ext. 4937.
St. Vincent's Senior Services
St. Vincent's seeks to build "regional centers
of excellence" in "key service areas." One of
these areas involves promoting the health
of aging adults through geriatric specialists
at the Medical Center's main location and a
dedicated Senior Services facility at 2 Trap
Falls Rd. in Shelton, adjacent to the Urgent
Care Walk-In Center. For more information,
call 1-855-331-1113.
Senior Services works to understand the
complex needs of older adults and be a
resource to help them and their families
attain and maintain health and indepen
-
dence. The aim is to create a comprehensive
and coordinated network of care, comple
-
menting that of primary care physicians, and
providing assistance with medications/pre
-
scriptions, consultations about treatment and
care, and evaluations of the effectiveness of
various care options for the senior involved.
Club 50/Boomers
St. Vincent's sponsors Club 50/Boomers as
an organization for people age 50 and older
who are interested in maintaing their health
through educational programs and social
events, including lectures, health screen
-
ings, wellness programs and excursions.
Membership is free, and anyone over 50
can join. Membership offers discounts on the
programs and excursions and also on parking,
meals at St. Vincent's, various publications and
prescription drugs at most pharmacies. For
more information, call 203-576-5111.
35
For VA Connecticut Healthcare
System, see page 48.