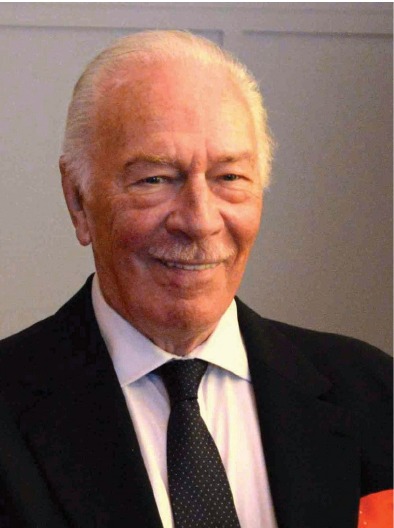 driver and an active supporter of
liberal causes and candidates. Many
honors came his way. He was, for
example, one of only four actors
to have been nominated for an
Academy Award in five different
decades, winning for
The Color of
Money
. Paul particularly appreciated
the Jean Hersholt Humanitarian
Award and the Award for Greatest
Public Service Benefiting the
Disadvantaged, both of which he
received in 1994. Paul's charitable
activities were supported by direct
donations and by an innovative
form of philanthropy that he
developed with friend and author
A.E. Hotchner. In 1982 the two
established Newman's Own, a
company selling food products.
Paul established a policy that all
of the company's profits after
taxes would be donated to charity.
That amount has now passed a
half a billion dollars! Paul and
Hotchner wrote a memoir about
Newman's Own under the title
Shameless Exploitation in Pursuit
of the Common Good
. Paul died in
2008. A newspaper close to the
Vatican commented: "Newman
was a generous heart, an actor of a
dignity and style rare in Hollywood
quarters." Newman's estate gifted
land to Westport, his beloved town
of residence for many years—just
one of the many gifts that Paul
Newman gave the world in his
wonderful life. Paul Newman
shared that life for 50 years with a
wonderful wife, the beautiful and
greatly talented Joanne Woodward.
Born in Georgia in 1930 and raised
there and in South Carolina, Joanne,
named after Joan Crawford, was,
like her husband, interested from an
early age in acting. After graduating
from Louisiana State University,
she headed straight to New York
City. There she managed to get
roles in a number of TV shows
and understudied in the stage
production of
Picnic
, where she
met one of its leads, Paul Newman.
After appearing in a Western movie,
Joanne was signed to a long-term
contract with 20th Century Fox.
She was given the lead role in
her third feature,
The Three Faces
of Eve
(1957). This story of a
woman with multiple-personality
disorder was both a commercial
and a critical success and brought
Joanne the Oscar for Best Actress.
In 1958 Joanne Woodward and
Paul Newman co-starred in
The
Long, Hot Summer
and also began
starring in family life by marrying
following Paul's divorce from
his first wife. The couple would
move to Westport and have three
daughters by 1965. Joanne's career
continued, and in 1968 she starred
in
Rachel, Rachel
, a sensitive story
of a lonely Connecticut woman.
The film was Paul's directorial
debut and brought both Joanne
(acting) and him (directing) Oscar
nominations. In 1982 Paul directed
Joanne again in
The Effect of Gamma
Rays on Man-in-the-Moon Marigolds
.
The poignant film dealt with a
single mother in Bridgeport and her
efforts to raise her two daughters,
one of whom was played by the
actual daughter of Joanne and
Paul. In 1978 Joanne was called
upon to comfort Paul during a
wrenching tragedy. His son by his
first wife died of a drug overdose.
In her career Joanne appeared to
excellent reviews in another "split-
personality" story, the TV movie
Sybil
, with Sally Field in 1976. For
the next 30 years, Joanne appeared
in a variety of productions on the
big and small screen and the stage.
For some she also did writing,
directing, or producing. Some were
with Paul. But whether in show
business or in family life, Joanne
Woodward was always with her
beloved husband--if not physically
in mind, heart, or spirit. And she
still is today!
N
Photo Source: Wikimedia Commons
C
hristopher Plummer
Would Be King
. In that 1975
film he played Rudyard Kipling. But
Christopher has played a number of
kings on stage and screen (big and
small) in his long and distinguished
career since he first took up acting
after seeing Laurence
Olivier's film
WESTON:
CHRISTOPHER PLUMMER
of Shakespeare's
Henry V
in 1944,
when he was in college. Those
kings include: Oedipus, Atahuallpa,
Macbeth, Henry V, Leontes, Lear,
Richard III, Henry II, Commodus,
Herod Antipas, Wilhelm II. Other
noted figures from history, literature,
and the news that Christopher,
born in Toronto, Canada, in 1929,
has played include: Arturo Ui,
Pizarro, Cyrano, Chekhov, John
Barrymore, Hamlet, Philip the
Bastard, Mark Antony, Julius Caesar,
Prospero, Danton, James Tyrone,
Argonaut Jason, Rommel, the Duke
of Wellington, Sherlock Holmes,
Mike Wallace, Aristotle, Tolstoy,
the Grand Duke of Owls, Captain
Chang, Iago, Prince Albert, J. Paul
Getty. Christopher, however, has
been most widely seen in the role he
likes least, that of Captain von Trapp
in the enormously popular classic
movie musical
The Sound of Music
, a
role first created by fellow Fairfield
County resident Theodore Bikel.
Christopher has been
showered with
numerous awards over the years for
his performances in the U.S., Britain,
and Canada. At the 84th Academy
Awards in 2012, Christopher's win
as Best Supporting Actor made
him, at age 82, the oldest actor to
win an Academy Award. When he
accepted the Oscar, he quipped:
"You're only two years older than
me, darling. Where have you been all
my life?" Christopher's consummate
professionalism showed itself in
2017 when he stepped in on sudden
notice to play J. Paul Getty in A
ll the
Money in the World
in a reshooting of
the J.P. Getty scenes in the already
completed film, necessitated by the
replacement of the actor who had
played Getty in it. Christopher went
on to receive an Oscar nomination
for his performance in the film.
Christopher Plummer and his third
wife, whom he married in 1970,
enjoy life in Weston, where they
have lived for a number of years. It
should also be noted that the great
actor fondly remembers performing
at the American Shakespeare Festival
Theatre in Stratford.
WESTPORT:
PAUL NEWMAN AND JOANNE WOODWARD
I
t's interesting to note that
Paul Newman's first acting
role was at the age of 7,
playing in a school production
of Robin Hood. Robin Hood, of
course, stole from the rich to give
to the poor. Paul Newman never
stole from anyone (though he
did play some notable robbers!).
But Paul gave of his talent to
audiences around the country and
the world and of the wealth that
his talent brought him to those in
need around the country and the
world. He was a star of both show
business and philanthropy. The star
was born in a Cleveland suburb in
1925. His developing interest in the
theater was interrupted by service
with Naval air units in the Pacific
during World War II. After the
war he studied at Kenyon College,
Yale School of Drama, and the
famed Actors Studio in New York.
In New York he acted in television
and made his Broadway debut in
1953 in the stage production of
Picnic
. Paul lost a chance to co-star
with James Dean in the classic film
East of Eden
, but he did make it to
Hollywood for
The Silver Chalice
in
1954. That film was a failure, but
praise came to Paul for his role as
boxer Rocky Graziano in
Somebody
Up There Likes Me
(1956). And after
he co-starred with Elizabeth Taylor
in
Cat on a Hot Tin Roof
(1958),
pretty much every moviegoer liked
him. And they liked his movies
as hit followed hit for decades.
Just a few:
Exodus

(1960),

The
Hustler
(1961),
Hud
(1963),
Cool
Hand
Luke
(1967),
Butch Cassidy
and the Sundance Kid
(1969),
The
Sting
(1973),
The Towering Inferno
(1974),
The Verdict
(1982),
The
Color of Money
(1986). Paul also
appeared in various television
and stage productions (some in
Westport) and directed five films. In
addition, Paul was a notable racecar
Photo Source: Wikimedia Commons
22
22