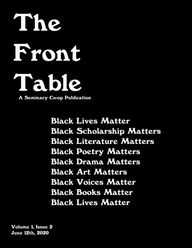 Return to flip book view
Volume 1, Issue 2 - Seminary Co-op Bookstore Front Table
Page 1
Page 2
Page 3
Page 4
Page 5
Page 6

We Wanted a Revolution: Black Radical Women, 1965-85: New Perspectives (Duke University Press)
Ed. by Catherine Morris and Rujeko Hockley

The Brooklyn Museum published two volumes related to its groundbreaking exhibition, We Wanted a Revolution: Black Radical Women, 1965–85, which focused on radical approaches to feminist thinking developed by women artists and activists of color. Available in 2018, the second volume, New Perspectives, includes original essays and perspectives that place the exhibition's works in both historical and contemporary contexts. The book is generously illustrated with major objects from the exhibition, installation views, and other photographs. New Perspectives shares this important body of art by women of color, provides important commentary on that time and its unresolved issues, and offers extended documentation of the exhibition.
Selections from our Annual Co-op Notable Lists Critique of Black Reason (Duke University Press)
By Achille Mbembe, trans. by Laurent Dubois
In Critique of Black Reason eminent critic Achille Mbembe offers a capacious genealogy of the category of Blackness—from the Atlantic slave trade to the present—to critically reevaluate history, racism, and the future of humanity. Mbembe teases out the intellectual consequences of the reality that Europe is no longer the world's center of gravity while mapping the relations among colonialism, slavery, and contemporary financial and extractive capital. Tracing the conjunction of Blackness with the biological fiction of race, he theorizes Black reason as the collection of discourses and practices that equated Blackness with the nonhuman in order to uphold forms of oppression. Mbembe powerfully argues that this equation of Blackness with the nonhuman will serve as the template for all new forms of exclusion. With Critique of Black Reason, Mbembe offers nothing less than a map of the world as it has been constituted through colonialism and racial thinking while providing the first glimpses of a more just future.
Page 7
To Float in the Space Between (Wave Books)
By Terrance Hayes
In these works based on his Bagley Wright lectures on the poet Etheridge Knight, Terrance Hayes offers not quite a biography but a compilation "as speculative, motley, and adrift as Knight himself." Personal yet investigative, poetic yet scholarly, this multi-genre collection of writings and drawings enacts one poet's search for another and in doing so constellates a powerful vision of black literature and art in America.
White Negroes: When Cornrows Were In Vogue... and Other Thoughts on Cultural Appropriation (Beacon Press)
By Lauren Michele Jackson
American culture loves blackness. From music and fashion to activism and language, black culture constantly achieves worldwide influence. Yet, when it comes to who is allowed to thrive from black hipness, the pioneers are usually left behind as black aesthetics are converted into mainstream success—and white profit. An audacious debut, White Negroes brilliantly summons a re-interrogation of Norman Mailer's infamous 1957 essay of a similar name. It also introduces a bold new voice in Jackson. Piercing, curious, and bursting with pop cultural touchstones, White Negroes is a dispatch in awe of black creativity everywhere and an urgent call for our thoughtful consumption.
Kerry James Marshall: History of Painting (David Zwirner Books)
By Teju Cole and Hal Foster
Kerry James Marshall is one of America's greatest living painters. In History of Painting, the artist has widened his scope to include both figurative and nonfigurative works that deal explicitly with art history, race, and gender, as well as force us to reexamine how artworks are received in the world and in the art market. Essays by Teju Cole and Hal Foster help readers navigate the artist's masterful vision, decoding complexly layered works such as Untitled (Underpainting) (2018) and Marshall's own artistic philosophy. This catalogue is published on the occasion of Marshall's eponymous exhibition at David Zwirner, London, in 2018.
Page 8
Page 9
Page 10
Page 11
Page 12
The Front Table
The End of White World Supremacy (Arcade Publishing)
By Malcolm X
Malcolm X remains a touchstone figure for black America and in American culture at large. No single individual can claim more important responsibility for a social and historical leap forward such as the one sparked in America in the sixties. This book contains four major speeches by Malcolm X, including: "Black Man's History," "The Black Revolution," "The Old Negro and the New Negro," and the famous "The Chickens Are Coming Home to Roost" speech ("God's Judgment of White America"), delivered after the assassination of John F. Kennedy. Several of the speeches include a discussion with the moderator, among whom is Adam Clayton Powell, or a question-and-answer with the audience. This new edition bundles with the book an audio download of Malcolm's stirring delivery of "Black Man's History" in Harlem's Temple No.7 and "The Black Revolution" in the Abyssinian Baptist Church.
The Torture Letters: Reckoning with Police Violence (University of Chicago Press)
By Laurence Ralph
Torture is an open secret in Chicago. Nobody in power wants to acknowledge this grim reality, but everyone knows it happens—and that the torturers are the police. In The Torture Letters, Laurence Ralph chronicles the history of torture in Chicago, the burgeoning activist movement against police violence, and the American public's complicity in perpetuating torture at home and abroad. Engaging with a long tradition of epistolary meditations on racism in the United States, Ralph offers in this book a collection of open letters written to protesters, victims, students, and others. Through these moving, questing, enraged letters, Ralph bears witness to police violence that began in Burge's Area Two and follows the city's networks of torture to the global War on Terror. This is a powerful indictment of police violence and a fierce challenge to all Americans to demand an end to the systems that support it.
1
semcoop.com semcoop.com
Making All Black Lives Matter: Reimagining Freedom in the 21st Century (University of California Press)
By Barbara Ransby
The breadth and impact of Black Lives Matter in the United States has been extraordinary. These visionary young organizers, many of them women, and many of them queer, are not only calling for an end to police violence, but demanding racial justice, gender justice, and systemic change. In Making All Black Lives Matter, award-winning historian and longtime activist Barbara Ransby outlines the scope and genealogy of this movement, documenting its roots in Black feminist politics and situating it squarely in a Black radical tradition, one that is anticapitalist, internationalist, and focused on some of the most marginalized members of the Black community. From the perspective of a participant-observer, Ransby maps the movement, profiles many of its lesser-known leaders, measures its impact, outlines its challenges, and looks toward its future.
Page 13
Toward Freedom (Verso)
By Touré F. Reed
There is an emerging consensus that our society has failed to redress racial disparities. But who is the culprit? For many progressives, racial identities are the engine of American history, and by extension, contemporary politics. They, in short, want to separate race from class. While policymakers and pundits find an almost metaphysical racism, or the survival of an ancient and primordial tribalism at the heart of American life, these inequities are better understood when traced to more comprehensible forces: to the contradictions in access to New Deal era welfare programs, to the blinders imposed by the Cold War, to Ronald Reagan's neoliberal assault on the half-century long Keynesian consensus. As Touré Reed argues in this rigorously constructed book, the road to a more just society for African Americans and everyone else, the fate of poor and working-class African Americans is inextricably linked to that of other poor and working-class Americans.
Beyond Survival: Strategies and Stories from the Transformative Justice Movement (AK Press)
Ed. by Ejeris Dixon and Leah Lakshmi Pipezna-Samarasinha
Transformative justice seeks to solve the problem of violence at the grassroots level, without relying on incarceration or policing. Beyond Survival puts community-based strategies front and center as real alternatives to today's failed models of confinement and "correction." In this collection, a diverse group of authors focuses on concrete and practical forms of redress and accountability. They use a variety of forms—from toolkits to personal essays—to delve deeply into the "how to" of transformative justice, providing alternatives to calling the police, ways to support people having mental health crises, stories of community-based murder investigations, and much more. At the same time, they document the history of this radical movement, creating space for long-time organizers to reflect on victories, struggles, mistakes, and transformations.
To Our Friends (Semiotext(e))
By Invisible Committee
The Invisible Committee's The Coming Insurrection was a phenomenon, celebrated in some quarters and inveighed against in others. Seven years later, they follow up their manifesto with To Our Friends. From The Invisible Committee: In 2007 we published The Coming Insurrection in France. It must be acknowledged that a number of assertions by the Invisible Committee have since been confirmed, starting with the first and most essential: the sensational return of the insurrectionary phenomenon. Who would have bet a kopeck, seven years ago, on the overthrow of Ben Ali or Mubarak through street action, on the revolt of young people in Quebec, on the political awakening of Brazil, on the fires set French-style in the English or Swedish banlieues, on the creation of an insurrectionary commune in the very heart of Istanbul, on a movement of plaza occupations in the United States, or on the rebellion that spread throughout Greece in December of 2008?
2
Support the Co-op
The Front Table
Page 14
The Front Table
They Were Her Property: White Women as Slave Owners in the American South (Yale University Press)
By Stephanie E. Jones-Rogers

This book makes a bold argument about the role of white women in American slavery. Historian Stephanie E. Jones-Rogers draws on a variety of sources to show that slave-owning women were sophisticated economic actors who directly engaged in and benefited from the South's slave market. By examining the economically entangled lives of enslaved people and slave-owning women, Jones-Rogers presents a narrative that forces us to rethink the economics and social conventions of slaveholding America.
Tulsa, 1921: Reporting a Massacre (University of Oklahoma Press)
By Randy Krehbiel
In 1921 Tulsa's Greenwood District, known then as the nation's "Black Wall Street," was one of the most prosperous African American communities in the United States. But on May 31 of that year, a white mob invaded Greenwood. By the end of the following day, thousands of homes and businesses lay in ashes, and perhaps as many as three hundred people were dead. Tulsa, 1921 shines new light into the shadows that have long been cast over this extraordinary instance of racial violence. With the clarity and descriptive power of a veteran journalist, author Randy Krehbiel digs deep into the events and their aftermath and investigates decades-old questions about the local culture at the root of what one writer has called a white-led pogrom. As Krehbiel considers the context and consequences of the violence and devastation, he asks, Has the city—indeed, the nation—exorcised the prejudices that led to this tragedy?
3
semcoop.com semcoop.com
The Condemnation of Blackness: Race, Crime, and the Making of Modern Urban America, With a New Preface (Harvard University Press)
By Khalil Gibran Muhammad

Lynch mobs, chain gangs, and popular views of black southern criminals that defined the Jim Crow South are well known. We know less about the role of the urban North in shaping views of race and crime in American society. Following the 1890 census, crime statistics, new migration and immigration trends, and symbolic references to America as the promised land of opportunity were woven into a cautionary tale about the exceptional threat black people posed to modern urban society. Chronicling the emergence of deeply embedded notions of black people as a dangerous race of criminals by explicit contrast to working-class whites and European immigrants, Khalil Gibran Muhammad reveals the influence such ideas have had on urban development and social policies.
Page 15
Sacred Ground: The Chicago Streets of Timuel Black (Northwestern University Press)
By Timuel D. Black Jr.

Timuel Black is an acclaimed historian, activist, and storyteller. This book chronicles the life and times of this Chicago legend. Revealing a priceless trove of experiences, memories, ideas, and opinions, Black describes how it felt to belong to this place, even when stationed in Europe during World War II. A labor organizer, educator, and activist, Black captures fascinating anecdotes and vignettes of meeting with famous figures of the times, such as Duke Ellington and Martin Luther King Jr., but also with unheralded people whose lives convey lessons about striving, uplift, and personal integrity. Rounding out this memoir, Black reflects on the legacy of his friend and mentee, Barack Obama, as well as on his public works and enduring relationships with students, community workers, and some very influential figures in Chicago and the world.
Crusade for Justice (University of Chicago Press)
By Ida B. Wells
Ida B. Wells is an American icon of truth telling. Born to slaves, she was a pioneer of investigative journalism, a crusader against lynching, and a tireless advocate for suffrage, both for women and for African Americans. She co-founded the NAACP, started the Alpha Suffrage Club in Chicago, and was a leader in the early civil rights movement, working alongside W. E. B. Du Bois, Madam C. J. Walker, Mary Church Terrell, Frederick Douglass, and Susan B. Anthony. This engaging memoir, originally published 1970, relates Wells's private life as a mother as well as her public activities as a teacher, lecturer, and journalist in her fight for equality and justice. This updated edition includes a new foreword by Eve L. Ewing, new images, and a new afterword by Ida B. Wells's great-granddaughter, Michelle Duster.
Black Radical: The Life and Times of William Monroe Trotter (Liveright Publishing Corporation)
By Kerri K. Greenidge
William Monroe Trotter, though still virtually unknown to the wider public, was an unlikely American hero. With the stylistic verve of a newspaperman and the unwavering fearlessness of an emancipator, he galvanized black working- class citizens to wield their political power despite the violent racism of post- Reconstruction America. Trotter advocated for a radical vision of black liberation that prefigured leaders such as Marcus Garvey, Malcolm X, and Martin Luther King Jr. Synthesizing years of archival research, historian Kerri Greenidge renders the drama of turn-of-the-century America and reclaims Trotter as a seminal figure, whose prophetic, yet ultimately tragic, life offers a link between the vision of Frederick Douglass and black radicalism in the modern era.
4
Support the Co-op
The Front Table
Page 16
The Front Table
From Here to Equality: Reparations for Black Americans in the Twenty-First Century (University of North Carolina Press)
By William A. Darity Jr. and A. Kirsten Mullen
Racism and discrimination have choked economic opportunity for African Americans at nearly every turn. In From Here to Equality, William Darity Jr. and A. Kirsten Mullen confront these injustices head-on and make the most comprehensive case to date for economic reparations for U.S. descendants of slavery. Taken individually, any one of the three eras of injustice outlined by Darity and Mullen--slavery, Jim Crow, and modern-day discrimination--makes a powerful case for black reparations. Taken collectively, they are impossible to ignore.
5
Black and Blur (Duke University Press)
By Fred Moten
In Black and Blur—the first volume in his sublime and compelling trilogy consent not to be a single being--Fred Moten engages in a capacious consideration of the place and force of blackness in African diaspora arts, politics, and life. In these interrelated essays, Moten attends to entanglement, the blurring of borders, and other practices that trouble notions of self-determination and sovereignty within political and aesthetic realms. Moten holds that blackness encompasses a range of social, aesthetic, and theoretical insurgencies that respond to a shared modernity founded upon the sociological catastrophe of the transatlantic slave trade and settler colonialism. In so doing, he unsettles normative ways of reading, hearing, and seeing, thereby reordering the senses to create new means of knowing.
semcoop.com semcoop.com
Solitary: My Story of Transformation and Hope (Grove Press)
By Albert Woodfox

Solitary is the unforgettable life story of a man who served more than four decades in solitary confinement—in a 6-foot by 9-foot cell, 23 hours a day, in notorious Angola prison in Louisiana—all for a crime he did not commit. That Albert Woodfox survived was, in itself, a feat of extraordinary endurance against the violence and deprivation he faced daily. Remarkably self-aware that anger or bitterness would have destroyed him in solitary confinement, sustained by the shared solidarity of two fellow Black Panthers, Albert turned his anger into activism and resistance. The Angola 3, as they became known, resolved never to be broken by the grinding inhumanity and corruption that effectively held them for decades as political prisoners. He survived to give us Solitary, a chronicle of rare power and humanity that proves the better spirits of our nature can thrive against any odds.
Page 17
Black Wealth/White Wealth: A New Perspective on Racial Inequality (Routledge)
By Melvin L. Oliver and Thomas M. Shapiro
Melvin Oliver and Thomas Shapiro's groundbreaking research analyzes wealth—total assets and debts rather than income alone—to uncover deep and persistent racial inequality in America, and they show how public policies have failed to redress the problem. First published in 1995, Black Wealth / White Wealth is considered a classic exploration of race and inequality. It provided, for the first time, systematic empirical evidence that explained the racial inequality gap between blacks and whites. Compelling and also informative, Black Wealth / White Wealth is not just pioneering research. It is also a powerful counterpoint to arguments against affirmative action and a direct challenge to current social welfare policies that are tilted towards the wealthy.
Teaching to Transgress: Education As the Practice of Freedom (Routledge)
By bell hooks
In Teaching to Transgress, bell hooks—writer, teacher, and insurgent black intellectual—writes about a new kind of education, education as the practice of freedom. Teaching students to "transgress" against racial, sexual, and class boundaries in order to achieve the gift of freedom is, for hooks, the teacher's most important goal. Full of passion and politics, Teaching to Transgress combines a practical knowledge of the classroom with a deeply felt connection to the world of emotions and feelings. This is the rare book about teachers and students that dares to raise questions about eros and rage, grief and reconciliation, and the future of teaching itself.
From Class to Race: Essays in White Marxism and Black Radicalism
(Rowman & Littlefield)
By Charles W. Mills
In From Class to Race, Charles Mills maps the theoretical route that brought him to the innovative conceptual framework outlined in his academic bestseller The Racial Contract (1997). Mills argues for a new critical theory that develops the insights of the black radical political tradition. While challenging conventional interpretations of key Marxist concepts and claims, the author contends that Marxism has been 'white' insofar as it has failed to recognize the centrality of race and white supremacy to the making of the modern world. By appealing to both mainstream liberal values and the structuralism traditionally associated with the left, Mills asserts that critical race theory can radicalize the mainstream Enlightenment and develop a new kind of contractarianism that deals frontally with race and other forms of social oppression rather than evading them.
6
Support the Co-op
The Front Table
Page 18
The Front Table
A Black Women's History of the United States (Beacon Press) By Daina Ramey Berry and Kali Nicole Gross

A Black Women's History of the United States emphasizes the perspectives and stories of African-American women to show how they are—and have always been—instrumental in shaping our country. In centering Black women's stories, two award-winning historians seek both to empower African American women and to show their allies that Black women's unique ability to make their own communities while combating centuries of oppression is an essential component in our continued resistance to systemic racism and sexism. This book reaches far beyond a single narrative to showcase Black women's lives in all their fraught complexities. The result is a starting point for exploring Black women's history and a testament to the beauty, richness, rhythm, tragedy, heartbreak, rage, and enduring love that abounds in the spirit of Black women in communities throughout the nation.
7
semcoop.com semcoop.com American Prophets: Seven Religious Radicals and Their Struggle for Social and Political Justice (Princeton University Press)Albert J. Raboteau
American Prophets sheds critical new light on the lives and thought of seven major prophetic figures in twentieth-century America whose social activism was motivated by a deeply felt compassion for those suffering injustice. In this compelling and provocative book, acclaimed religious scholar Albert Raboteau tells the remarkable stories of Abraham Joshua Heschel, A. J. Muste, Dorothy Day, Howard Thurman, Thomas Merton, Martin Luther King, Jr., and Fannie Lou Hamer—inspired individuals who succeeded in conveying their vision to the broader public through writing, speaking, demonstrating, and organizing. A momentous scholarly achievement as well as a moving testimony to the human spirit, American Prophets represents a major contribution to the history of religion in American politics. This book is essential reading for anyone who is concerned about social justice, or who wants to know what prophetic thought and action can mean in today's world. The Zora Canon at 57th Street Books
Page 19
Olio (Wave Books)
By Tyehimba Jess
Part fact, part fiction, Tyehimba Jess's much anticipated second book weaves sonnet, song, and narrative to examine the lives of mostly unrecorded African American performers directly before and after the Civil War up to World War I. Olio is an effort to understand how they met, resisted, complicated, co-opted, and sometimes defeated attempts to minstrelize them.
Break the Habit (Trio House Press)
By Tara Betts
"In her new collection Break the Habit, Tara Betts movingly draws the arc of a black woman's life, with its numerous peaks and valley, as only a talented and assured poet can. These poems, which show a refreshing and impressive formal range and control, offer glimpses of the poet's family, her youth and emotional education, her marriage, divorce, and its difficult aftermath, and her perspectives on the wider world. Alongside tenderness, vulnerability and healing this poet shows us through her lyric artistry what self-love and resolve look like, writing as she does in the collection's final poem, a golden shovel, 'I will not / allow myself to live half a life, so I must go.'" —John Keene, author of Counternarratives
1919 (Haymarket Books)
By Eve L. Ewing
Reflections on race, class, violence, segregation, and the hidden histories that shape our divided urban landscapes. The Chicago Race Riot of 1919, the most intense of the riots comprising the nation's Red Summer, has shaped the last century but is not widely discussed. In 1919, award-winning poet Eve L. Ewing explores the story of this event—which lasted eight days and resulted in thirty-eight deaths and almost 500 injuries—through poems recounting the stories of everyday people trying to survive and thrive in the city. Ewing uses speculative and Afrofuturist lenses to recast history, and illuminates the thin line between the past and the present.
8
Support the Co-op
Poetry
Page 20
Poetry
And All These Roads Be Luminous: Poems Selected and New (Triquarterly Books)
By Angela Jackson
Drawing from earlier works contained in the chapbooks VooDoo/Love Magic, The Greenville Club, Solo in the Boxcar Third Floor E, and The Man with the White Liver, And All These Roads Be Luminous is filled with an impressive variety of characters engaged in compelling explorations of identity, creativity, spiritual experience, and the rites and rituals of race and sexuality. Jackson moves with ease from the personal to the historical: filled alternately with wonder, righteous anger, tenderness, and a tangible intensity, Jackson's is rich and passionate verse brimming with poetic surprises.
9
Vessel (Milkweed Editions)
By Parneshia Jones
The imagination of a girl, the retelling of family stories, and the unfolding of a rich and often painful history: Parneshia Jones's debut collection explores the intersections of these elements of experience with refreshing candor and metaphorical purpose. A child of the South speaking in the rhythms of Chicago, Jones knits "a human quilt" with herself at the center. She relates everything from the awkward trip to Marshall Fields with her mother to buy her first bra to the late whiskey-infused nights of her father's world. In the South, "lard sizzles a sermon from the stove"; in Chicago, we feast on an "opera of peppers and pimento." Jones intertwines the stories of her own family with those of historical black figures, including Marvin Gaye and Josephine Baker. Affectionate, dynamic, and uncommonly observant, these poems mine the richness of history to create a map of identity and influence.
semcoop.com semcoop.com Felon: Poems (W. W. Norton & Company)
By Reginald Dwayne Betts
Felon tells the story of the effects of incarceration in fierce, dazzling poems—canvassing a wide range of emotions and experiences through homelessness, underemployment, love, drug abuse, domestic violence, fatherhood, and grace—and, in doing so, creates a travelogue for an imagined life. Reginald Dwayne Betts confronts the funk of postincarceration existence and examines prison not as a static space, but as a force that enacts pressure throughout a person's life. The poems move between traditional and newfound forms with power and agility—from revolutionary found poems created by redacting court documents to the astonishing crown of sonnets that serves as the volume's radiant conclusion. Challenging the complexities of language, Betts animates what it means to be a "felon."
Page 21
Monument (Mariner Books)
By Natasha Trethewey
Layering joy and urgent defiance—against physical and cultural erasure, against white supremacy whether intangible or graven in stone—Trethewey's work gives pedestal and witness to unsung icons. Monument, Trethewey's first retrospective, draws together verse that delineates the stories of working class African-American women, a mixed-race prostitute, one of the first black Civil War regiments, mestizo and mulatto figures in Casta paintings, Gulf coast victims of Katrina. Through the collection, inlaid and inextricable, winds the poet's own family history of trauma and loss, resilience and love. As a whole, Monument casts new light on the trauma of our national wounds, our shared history. This is a poet's remarkable labor to source evidence, persistence, and strength from the past in order to change the very foundation of the vocabulary we use to speak about race, gender, and our collective future.


Wild Hundreds ( University of Pittsburgh Press)
By Nate Marshall
"The Chicago that Nate Marshall evokes in 'Wild Hundreds' is more than the sum of its shames and griefs and anxieties and break beats and scraped knuckles and smoking gun barrels and wild forgettings. It's the windows rolled down on a Saturday evening in August. It's that sweet old Curtis Mayfield Impressions song you hear out the window of a passing car, telling you to keep on pushing and it's all right." —Best American Poetry
Wild Hundreds is a long love song to Chicago. The book celebrates the people, culture, and places often left out of the civic discourse and the travel guides. Wild Hundreds is a book that displays the beauty of black survival and mourns the tragedy of black death.
A Bound Woman is a Dangerous Thing (Bloomsbury Publishing)
By DaMaris B. Hill

A revelatory work in the tradition of Claudia Rankine's Citizen, DaMaris Hill's searing and powerful narrative-in-verse bears witness to American women of color burdened by incarceration. Black women freedom fighters have braved violence, scorn, despair, and isolation in order to lodge their protests. Hill honors their experiences with at times harrowing, at times hopeful responses to her heroes, illustrated with black-and-white photographs throughout. She presents bitter, unflinching history that artfully captures the personas of these captivating African-American women. Hill's passionate odes also celebrate the modern-day inheritors of their load and light, binding history, author, and reader in an essential legacy of struggle.
10
Support the Co-op
Poetry
Page 22
Poetry
Refuse (University of Pittsburgh Press)
By Julian Randall

Winner of the 2017 Cave Canem Poetry Prize. Set against the backdrop of the Obama presidency, Julian Randall's Refuse documents a young biracial man's journey through the mythos of Blackness, Latinidad, family, sexuality and a hostile American landscape. Mapping the relationship between father and son caught in a lineage of grief and inherited Black trauma, Randall conjures reflections from mythical figures such as Icarus, Narcissus and the absent Frank Ocean. Not merely a story of the wound but the salve, Refuse is a poetry debut that accepts that every song must end before walking confidently into the next music.
.
11
neckbone: visual verses (TriQuarterly Books)
By Avery R. Young
The "blk alter" of Avery R. Young's poetic vision makes its stunning debut in a multidisciplinary arsenal entitled, neckbone: visual verses. Young's years of supernatural fieldwork within the black experience and the gospel of his transitions between poetry, art and music, become the stitch, paint brush, metaphor, and narrative of arresting visual metaphors of childhood teachings and traumas, identity, and the personal reverence of pop culture's beauty and beast. A mastermind in a new language of poetry, that engages and challenges readers to see beyond the traditional spaces poems are shaped and exist, Young's neckbone extends tentacles in literature, art, and activism--redefining the collective and the sermon of the "blk" experience.
semcoop.com semcoop.com I: New and Selected Poems (University of Pittsburgh Press)
Toi Derricotte
The story of Toi Derricotte is a hero's odyssey. It is the journey of a poetic voice that in each book earns her way to home, to her own commanding powers. I, New and Selected Poems shows the reader both the closeness of the enemy and the poet's inherent courage, inventiveness, and joy. It is a record of one woman's response to the repressive and fracturing forces around the subjects of race, class, color, gender, and sexuality. Each poem is an act of victory as they find their way through the repressive forces to speak with both beauty and truth. This collection features more than thirty new poems as well as selections from five of Derricotte's previous published books of poetry.
Literature
Page 23
Notes from a Black Woman's Diary (Ecco Press)
By Kathleen Collins
Relatively unknown during her life, the artist, filmmaker, and writer Kathleen Collins emerged on the literary scene in 2016 with the posthumous publication of the short story collection Whatever Happened to Interracial Love? Said Zadie Smith, "To be this good and yet to be ignored is shameful, but her rediscovery is a great piece of luck for us." That rediscovery continues in Notes from a Black Woman's Diary, which spans genres to reveal the breadth and depth of the late author's talent. The compilation is anchored by more of Collins's short stories, which, striking and powerful in their brevity, reveal the ways in which relationships are both formed and come undone. Also collected here is the work Collins wrote for the screen and stage: the screenplay of her film Losing Ground, in which a professor discovers that the student film she's agreed to act in has uncomfortable parallels to her own life; and the script for The Brothers, a play about the potent effects of sexism and racism on a midcentury middle-class black family. And finally, it is in Collins's raw and prescient diaries that her nascent ideas about race, gender, marriage, and motherhood first play out on the page.
Lot: Stories (Riverhead Books)
By Bryan Washington
In the city of Houston—a sprawling, diverse microcosm of America—the son of a black mother and a Latino father is coming of age. He's working at his family's restaurant, weathering his brother's blows, resenting his older sister's absence. And discovering he likes boys. Around him, others live and thrive and die in Houston's myriad neighborhoods: a young woman whose affair detonates across an apartment complex, a ragtag baseball team, a group of young hustlers, hurricane survivors, a local drug dealer who takes a Guatemalan teen under his wing, a reluctant chupacabra. Bryan Washington's brilliant, viscerally drawn world vibrates with energy, wit, and the infinite longing of people searching for home. With soulful insight into what makes a community, a family, and a life, Lot explores trust and love in all its unsparing and unsteady forms.
Everywhere You Don't Belong (Algonquin Books)
By Gabriel Bump
In this alternately witty and heartbreaking debut novel, Gabriel Bump gives us an unforgettable protagonist, Claude McKay Love. Claude isn't dangerous or brilliant—he's an average kid who just wants a place where he can fit. As a young black man born on the South Side of Chicago, he is raised by his civil rights-era grandmother, who tries to shape him into a principled actor for change; yet when riots consume his neighborhood, he hesitates to take sides, unwilling to let race define his life. He decides to escape Chicago for another place, to go to college, to find a new identity, to leave the pressure cooker of his hometown behind. But as he discovers, he cannot; there is no safe haven for a young black man in this time and place called America. Percolating with fierceness and originality, attuned to the ironies inherent in our twenty-first-century landscape, Everywhere You Don't Belong marks the arrival of a brilliant young talent.
12
Support the Co-op
Literature
Page 24
Literature
Stateway's Garden: Stories (Random House)
By Jasmon Drain
Before being torn down in 2007, the Stateway Gardens public housing projects on Chicago's South Side were ridden with deprivation and crime. But for some, like Tracy, the shy, intelligent young boy at the center of this enthralling collection of linked stories, they are simply home. Set in the mid-1980s, this collection gives an intimate look at the hopes, dreams, failures, and fortunes of a group of people growing up with the deck always stacked against them. Through Jasmon Drain's sensitive and often playful prose, we see another side of what we have come to know as "the projects." Stateway's Garden is a coming-of-age story told in short stories, through the lens of a childhood made rough by the crush of poverty and violence, with the crack epidemic a looming specter ahead. And yet, through the experiences and ambitions of Tracy and other young characters, Drain reveals a vibrant community that creates its own ecosystem, all set in a series of massive, seemingly soulless concrete buildings.
13
The Travelers (Hogarth Press)
By Regina Porter
Meet James Samuel Vincent, an affluent Manhattan attorney who shirks his modest Irish American background but hews to his father's meandering ways. James muddles through a topsy-turvy relationship with his son, Rufus, which is further complicated when Rufus marries Claudia Christie. Claudia's mother—Agnes Miller Christie—is a beautiful African American woman who survives a chance encounter on a Georgia road that propels her into a new life in the Bronx. Soon after, her husband, Eddie Christie, is called to duty on an air craft carrier in Vietnam. These unforgettable characters' lives intersect with a cast of lovers and friends—the unapologetic black lesbian who finds her groove in 1970s Berlin; a moving man stranded in Portsmouth, New Hampshire, during a Thanksgiving storm; and a Coney Island waitress whose Prince Charming is too good to be true. With piercing humor, exacting dialogue, and a beautiful sense of place, Regina Porter's debut is both an intimate family portrait and a sweeping exploration of what it means to be American today.


semcoop.com semcoop.com
Sweat (Theatre Communications Group)
By Lynn Nottage
Sweat is one of Lynn Nottage's most exquisitely devastating tragedies. In one of the poorest cities in America, Reading, Pennsylvania, a group of down-and-out factory workers struggle to keep their present lives in balance, ignorant of the financial devastation looming in their near future. Based on Nottage's extensive research and interviews with residents of Reading, Sweat is a topical reflection of the present and poignant outcome of America's economic decline.
Page 25
The Street (Mariner Books)
By Ann Petry
"How can a novel's social criticism be so unflinching and clear, yet its plot moves like a house on fire? I am tempted to describe Petry as a magician for the many ways that The Street amazes, but this description cheapens her talent . . . Petry is a gifted artist." — Tayari Jones, from the Introduction
The Street follows the spirited Lutie Johnson, a newly single mother whose efforts to claim a share of the American Dream for herself and her young son meet frustration at every turn in 1940s Harlem. Opening a fresh perspective on the realities and challenges of black, female, working-class life, The Street became the first novel by an African American woman to sell more than a million copies.
Country Place: A Novel (Northwestern University Press)
By Ann Petry
Originally published in 1947, Ann Petry's classic Country Place depicts a predominantly white community disillusioned by the indignities and corruption of small-town life. Johnnie Roane returns from four years of military service in World War II to his wife, Glory. They had been married just a year when he left Lennox, Connecticut, where both their families live and work. In his taxi ride home, Johnnie receives foreboding hints that all has not been well in his absence. Eager to mend his fraying marriage, Johnnie attempts to cajole Glory to recommit to their life together. But something sinister has taken place during the intervening years--an infidelity that has not gone unnoticed in the superficially placid New England town. Accompanied by a new foreword from Farah Jasmine Griffin on the enduring legacy of Petry's oeuvre, Country Place complicates and builds on the legacy of a literary celebrity and one of the foremost African-American writers of her time.
Ann Petry: The Street, The Narrows (Library of America)
By Ann Petry
Ann Petry is one of the unsung American writers of the last century. The pervasive poverty and racism she witnessed in Harlem inspired her unforgettable debut novel, The Street, published in 1946. Petry then returned to her birthplace of Connecticut to write her most ambitious novel, the 1953 masterpiece The Narrows. Set in industrial, waterfront Connecticut, The Narrows is a wide-ranging social novel, intricately layered and stylistically daring. At its center is an interracial love affair between Link Williams, a young black scholar-athlete and war veteran, and Camilo Sheffield, a white fashion reporter and munitions heiress. Their attraction sets in motion a tragedy that reveals the bitter fault lines of race and class in America. This Library of America edition gathers Petry's two greatest works in one volume for the first time, along with a selection of her never-before-reprinted essays on the art of fiction and the vibrant Harlem life that inspired her.
14
Support the Co-op
Literature
Page 26
Art
15
Jacob Lawrence: The Migration Series (Museum of Modern Art)
By Jacob Lawrence
In 1941, Jacob Lawrence, then just 23 years old, made a series of 60 small tempera paintings on the Great Migration, the decades-long mass movement of black Americans from the rural South to the urban North that began in 1915-16. The Migration Series is now a landmark in the history of modern art. Jacob Lawrence: The Migration Series, now in paperback, grounds Lawrence's work in the cultural and political debates that shaped his art and demonstrates its relevance for artists and writers today. The series is reproduced in full; short texts accompanying each panel relate them to the history of the Migration and explore Lawrence's technique and approach. Alongside scholarly essays, the book also includes 11 newly commissioned poems, by Rita Dove, Nikky Finney, Terrance Hayes, Tyehimba Jess, Yusef Komunyakaa, Patricia Spears Jones, Natasha Trethewey, Lyrae Van Clief-Stefanon, Crystal Williams and Kevin Young, that respond directly to the series. The distinguished poet Elizabeth Alexander edited and introduces the section.

Between Worlds: The Art of Bill Traylor (Princeton University Press)
By Leslie Umberger

Bill Traylor (ca. 1853-1949) came to art-making on his own and found his creative voice without guidance; today he is remembered as a renowned American artist. Between Worlds presents an unparalleled look at the work of this enigmatic and dazzling artist, who blended common imagery with arcane symbolism, narration with abstraction, and personal vision with the beliefs and folkways of his time. This book convenes 205 of his most powerful creations, including a number that have been previously unpublished. This beautiful and carefully researched book assesses Traylor's biography and stylistic development, and for the first time interprets his scenes as ongoing narratives, conveying enduring, interrelated themes. Between Worlds reveals one man's visual record of African American life as a window into the overarching story of his nation.
semcoop.com semcoop.com Adrian Piper: A Reader (Museum of Modern Art)
Edited by Cornelia Butler and David Platzker. With texts by Diarmuid Costello, Jörg Heiser, Kobena Mercer, Nizan Shaked, Vid Simoniti, and Elvan Zabunyan
Published for MoMA's retrospective exhibition and in collaboration with the artist, this volume presents new critical essays that expand on Piper's practice in ways that have been previously under- or unaddressed. Focused texts by established and emerging scholars assess themes in Piper's work such as the Kantian framework that draws on her extensive philosophical studies; her unique contribution to first-generation conceptual art; the turning point in her work, in the early 1970s, from conceptual works to performance; the connection of her work with her yoga practice; her ongoing exposure of and challenge to xenophobia and sexism; and the relation between prevailing interpretations of her work and the viewers who engender them.
Page 27
Jill Freedman: Resurrection City, 1968 (Damiani Ltd)
Texts by Jill Freedman. Essays by John Edwin Mason and Aaron Bryant.
Published in 1970, Jill Freedman's Old News: Resurrection City documented the culmination of the Poor People's Campaign of 1968, organized by Martin Luther King, Jr. and the Southern Christian Leadership Conference, and carried out under the leadership of Ralph Abernathy in the wake of Dr King's assassination. This new 50th-anniversary edition of the book reprints most of the pictures from the original publication, with improved printing and a more vivid design. Alongside Freedman's hard-hitting original text, two introductory essays are included, by John Edwin Mason, historian of African history and the history of photography at the University of Virginia, and by Aaron Bryant, Curator of Photography at the National Museum of African American History and Culture.
1971: A Year in the Life of Color (University of Chicago Press)
By Darby English
In this book, art historian Darby English explores the year 1971, when two exhibitions opened that brought modernist painting and sculpture into the burning heart of United States cultural politics: Contemporary Black Artists in America, at the Whitney Museum of American Art, and The DeLuxe Show, a racially integrated abstract art exhibition presented in a renovated movie theater in a Houston ghetto. The importance of these experiments, English argues, came partly from color's special status as a cultural symbol and partly from investigations of color already under way in late modern art and criticism. With their supporters, black modernists—among them Peter Bradley, Frederick Eversley, Alvin Loving, Raymond Saunders, and Alma Thomas—rose above the demand to represent or be represented, compromising nothing in their appeals for interracial collaboration and, above all, responding with optimism rather than cynicism to the surrounding culture's preoccupation with color.
Glenn Ligon: Untitled (America)/Debris Field/Synecdoche/Notes for a Poem on the Third World (Regen Projects)
By Glenn Ligon
New York-based Glenn Ligon (born 1960) is one of the most prominent and influential artists working today, in addition to being a writer and a curator. Over the course of his career, he has become known for his critical explorations of American history and society through text-based paintings, sculptures and films.This new series continues his ongoing interrogation into history, language and cultural identity by way of previous processes expanded by the artist. Featuring exhibition installation images as well as historical works, this publication includes an essay by Helen Molesworth, poems by Robin Coste Lewis and a conversation between Ligon and Hamza Walker that took place at Regen Projects in February 2019.
16
Support the Co-op
Art
Page 28
Zora Canon

17
Corregidora (Beacon Press)
By Gayl Jones
A literary classic that remains vital to our understanding of the past, Corregidora is Gayl Jones's powerful debut novel, examining womanhood, sexuality, and the psychological residue of slavery. Jones masterfully tells the story of Ursa, a Kentucky blues singer, who, in the wake of a tragic loss, confronts her maternal history and the legacy of Corregidora, the Portuguese slave master who fathered both her mother and grandmother. Consumed and haunted by her hatred of the man who irrevocably shaped her life and the lives of her family, Ursa Corregidora must come to terms with a past that is never too distant from the present.

Invisibility Blues: From Pop to Theory (Verso)
By Michele Wallace

First published in 1990, Michele Wallace's Invisibility Blues is widely regarded as a landmark in the history of black feminism. Wallace's considerations of the black experience in America include recollections of her early life in Harlem; a look at the continued underrepresentation of black voices in politics, media, and culture; and the legacy of such figures as Zora Neale Hurston, Toni Cade Bambara, Toni Morrison,and Alice Walker. Wallace addresses the tensions between race, gender, and society, bringing them into the open with a singular mix of literary virtuosity and scholarly rigor. Invisibility Blues challenges and informs with the plain-spoken truth that has made it an acknowledged classic.
semcoop.com semcoop.com American Prophets: Seven Religious Radicals and Their Struggle for Social and Political Justice (Princeton University Press)Albert J. Raboteau
American Prophets sheds critical new light on the lives and thought of seven major prophetic figures in twentieth-century America whose social activism was motivated by a deeply felt compassion for those suffering injustice. In this compelling and provocative book, acclaimed religious scholar Albert Raboteau tells the remarkable stories of Abraham Joshua Heschel, A. J. Muste, Dorothy Day, Howard Thurman, Thomas Merton, Martin Luther King, Jr., and Fannie Lou Hamer—inspired individuals who succeeded in conveying their vision to the broader public through writing, speaking, demonstrating, and organizing. A momentous scholarly achievement as well as a moving testimony to the human spirit, American Prophets represents a major contribution to the history of religion in American politics. This book is essential reading for anyone who is concerned about social justice, or who wants to know what prophetic thought and action can mean in today's world.
Page 29
Topdog/Underdog (Theatre Communications Group)
By Suzan-Lori Parks
A darkly comic fable of brotherly love and family identity is Suzan-Lori Parks' latest riff on the way we are defined by history. The play tells the story of Lincoln and Booth, two brothers whose names were given to them as a joke, foretelling a lifetime of sibling rivalry and resentment. Haunted by the past, the brothers are forced to confront the shattering reality of their future.
Magical Negro (Tin House Books)
By Morgan Parker
From the breakout author of There Are More Beautiful Things Than Beyoncé comes Magical Negro: an archive of black everydayness, a catalog of contemporary folk heroes, an ethnography of ancestral grief, and an inventory of figureheads, idioms, and customs. Focused primarily on depictions of black womanhood alongside personal narratives, the collection tackles interior and exterior politics―of both the body and society, of both the individual and the collective experience. In Magical Negro, Parker creates a space of witness, of airing grievances, of pointing out patterns. In these poems are living documents, pleas, latent traumas, inside jokes, and unspoken anxieties situated as firmly in the past as in the present―timeless black melancholies and triumphs.
Pushout: The Criminalization of Black Girls in Schools (The New Press)
By Monique W. Morris
In a work that Lisa Delpit calls "imperative reading," Monique W. Morris (Black Stats, Too Beautiful for Words) chronicles the experiences of Black girls across the country whose intricate lives are misunderstood, highly judged—by teachers, administrators, and the justice system—and degraded by the very institutions charged with helping them flourish. Called "compelling" and "thought-provoking" by Kirkus Reviews, Pushout exposes a world of confined potential and supports the rising movement to challenge the policies, practices, and cultural illiteracy that push countless students out of school and into unhealthy, unstable, and often unsafe futures.
18
Support the Co-op
Zora Canon

Page 30
Zora Canon

19
Brown Girl, Brownstones (Dover Publications)
By Paule Marshall

Selina's mother wants to stay in Brooklyn and earn enough money to buy a brownstone row house, but her father dreams only of returning to his island home. Torn between a romantic nostalgia for the past and a driving ambition for the future, Selina also faces the everyday burdens of poverty and racism. Written by and about an African-American woman, this coming-of-age story unfolds during the Depression and World War II. Its setting — a close-knit community of immigrants from Barbados — is drawn from the author's own experience, as are the lilting accents and vivid idioms of the characters' speech. Paule Marshall's 1959 novel was among the first to portray the inner life of a young female African-American, as well as depicting the cross-cultural conflict between West Indians and American blacks. It remains a vibrant, compelling tale of self-discovery.

Blood Dazzler (Coffee House Press)
By Patricia Smith

In minute-by-minute detail, Patricia Smith tracks Hurricane Katrina's transformation into a full-blown mistress of destruction. From August 23, 2005, the day Tropical Depression 12 developed, through August 28 when it became a Category 5 storm with its "scarlet glare fixed on the trembling crescent," to the heartbreaking aftermath, these poems evoke the horror that unfolded in New Orleans as America watched on television. Assuming the voices of flailing politicians, the dying, their survivors, and the voice of the hurricane itself, Smith follows the woefully inadequate relief effort and stands witness to the immeasurable losses. An unforgettable reminder that poetry can still be "news that stays news," Blood Dazzler serves not only as a memorial, but as a necessary step toward national healing.
semcoop.com semcoop.com Home Girls: A Black Feminist Anthology (Rutgers University Press)
Ed. by Barbara Smith
The pioneering anthology Home Girls features writings by Black feminist and lesbian activists on topics both provocative and profound. Since its initial publication in 1983, it has become an essential text on Black women's lives and writings. This edition features an updated list of contributor biographies and an all-new preface that provides a fresh assessment of how Black women's lives have changed-or not-since the book was first published.
Page 31
The Salt Eaters (Vintage)
By Toni Cade Bambara
Set in a town somewhere in the South, here is the story of a community of black people searching for the healing properties of salt who witness an event that will change their lives forever. Some of them are centered, some are off-balance; some are frightened, and some are daring. From the men who live off welfare women to the mud mothers who carry their children in their hides, the novel brilliantly explores the narcissistic aspect of despair and the tremendous responsibility that comes with physical, spiritual, and mental well-being.
Sassafrass, Cypress and Indigo (St. Martin's Press)
By Ntozake Shange
Ntozake Shange's beloved Sassafrass, Cypress & Indigo is the story of three sisters and their mother from Charleston, South Carolina. Sassafrass, the oldest, is a poet and a weaver like her mother before her. Having gone north to college, she is now living with other artists in Los Angeles and trying to weave a life out of her work, her man, her memories and dreams. Cypress, the dancer, leaves home to find new ways of moving in the world. Indigo, the youngest, is still a child of Charleston-"too much of the south in her"-who lives in poetry and has the supreme gift of seeing the obvious magic of the world. Shange's rich and wondrous story of womanhood, art, and passionately-lived lives is written "with such exquisite care and beauty that anybody can relate to her message" (The New York Times).
Wayward Lives, Beautiful Experiments (W. W. Norton & Company)
By Saidiya Hartman
Beautifully written and deeply researched, Wayward Lives, Beautiful Experiments examines the revolution of black intimate life that unfolded in Philadelphia and New York at the beginning of the twentieth century. In wrestling with the question of what a free life is, many young black women created forms of intimacy and kinship indifferent to the dictates of respectability and outside the bounds of law. They cleaved to and cast off lovers, exchanged sex to subsist, and revised the meaning of marriage. Longing and desire fueled their experiments in how to live. They refused to labor like slaves or to accept degrading conditions of work. Here, for the first time, these women are credited with shaping a cultural movement that transformed the urban landscape. Through a melding of history and literary imagination, Wayward Lives, Beautiful Experiments recovers these women's radical aspirations and insurgent desires.
20
Support the Co-op
Zora Canon

Page 32