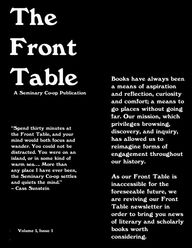 Return to flip book view
Volume 1, Issue 1 - Seminary Co-op Bookstore Front Table
Page 1
Page 2
Page 3
Page 4
Page 5
Page 6
Page 7
Page 8
Page 9
Plum Shadows and Plank Bridge: Two Memoirs About Courtesans
(Columbia University Press)
By Wai-yee Li & Huai Yu

Amid the turmoil of the Ming-Qing dynastic transition in seventeenth-century China, some intellectuals sought refuge in romantic memories from what they perceived as cataclysmic events. This volume presents two memoirs by famous men of letters, Reminiscences of the Plum Shadows Convent by Mao Xiang (1611-93) and Miscellaneous Records of Plank Bridge by Yu Huai (1616-96), that recall times spent with courtesans. Together, they shed light on the sensibilities of late Ming intellectuals: their recollections of refined pleasures and ruminations on the vagaries of memory coexist with political engagement and a belief in bearing witness. Plum Shadows and Plank Bridge is a valuable source for the literature of remembrance, the representation of women, and the social role of intellectuals during a tumultuous period in Chinese history.
Reverse Cowgirl (The MIT Press)
By McKenzie Wark

Another genre for another gender. Reverse Cowgirl is not exactly a memoir. The author doesn't, in the end, have any answers as to who she really is or was, although maybe she figures out what she could become. Traveling from Sydney in the 1980s to New York today, Reverse Cowgirl is a comedy of errors, chronicling the author's failed attempts at being gay and at being straight across the shifting political and media landscapes of the late twentieth century. Finding that the established narratives of being transgender don't seem to apply to her, Wark borrows from the genres of autofiction, fictocriticism, and new narrative to create a writing practice that can discover the form of a life outside existing accounts of trans experience: an auto-ethnography of the opacity of the self.
Photographic Returns (Duke University Press)
By Shawn Michelle Smith

In Photographic Returns Shawn Michelle Smith traces how historical moments of racial crisis come to be known photographically and how the past continues to inhabit, punctuate, and transform the present through the photographic medium in contemporary art. Smith engages photographs by Rashid Johnson, Sally Mann, Deborah Luster, Lorna Simpson, Jason Lazarus, Carrie Mae Weems, Taryn Simon, and Dawoud Bey, among others. Each of these artists turns to the past as a way to use history to negotiate the present and to call attention to the unfinished political project of racial justice in the United States. By interrogating their use of photography to recall, revise, and amplify the relationship between racial politics of the past and present, Smith locates a temporal recursivity that is intrinsic to photography, in which images return to haunt the viewer and prompt reflection on the present and an imagination of a more just future

1
Support the Co-op
The Front Table
Page 10
The Front Table
Wireless Dada: Telegraphic Poetics in the Avant-Garde (Northwestern University Press)
By Kurt Beals

Wireless Dada demonstrates that the poetics of the Dada movement were profoundly influenced by the telegraph and the technological and social transformations that it brought about in the nineteenth and early twentieth centuries. While telegraphy's impact on Italian Futurism and German Expressionism is widely acknowledged, its formative role in Dada poetics has been largely neglected. Drawing on media history and theory, avant-garde studies, and German literary studies, Kurt Beals shows how the telegraph and the cultural discourses that surrounded it shaped the radical works of this seminal avant-garde movement. The "nonsense" strain in Dada is frequently seen as a response to the senseless violence of the First World War. Beals argues that it was not just the war that turned Dada poetry into a jumble of senseless signals—it was also the wireless.
Signs of the Americas (University of Chicago Press)
By Edgar Garcia

Indigenous sign-systems, such as pictographs, petroglyphs, hieroglyphs, and khipu, are usually understood as relics from an inaccessible past. That is far from the truth, however, as Edgar Garcia makes clear in Signs of the Americas. Rather than being dead languages, these sign-systems have always been living, evolving signifiers, responsive to their circumstances and able to continuously redefine themselves and the nature of the world. These indigenous systems help us to rethink categories of race, gender, nationalism, and history. Producing a new way of thinking about our interconnected hemisphere, this ambitious, energizing book redefines what constitutes a "world" in world literature.
2
semcoop.com
Views from the Streets: The Transformation of Gangs and Violence on Chicago's South Side (Columbia University Press)
By Roberto Aspholm

Chicago has long served as a symbol of urban pathology in the public imagination. The city's staggering levels of violence and entrenched gang culture occupy a central place in the national discourse, yet remain poorly understood and are often stereotyped. Views from the Streets explains the dramatic transformation of black street gangs on Chicago's South Side during the early twenty-first century, shedding new light on why gang violence persists and what might be done to address it. Drawing on years of community work and in-depth interviews with gang members, Roberto R. Aspholm describes in vivid detail the internal rebellions that shattered the city's infamous corporate-style African American street gangs. An unprecedented analysis of the nature and meaning of gang violence, Views from the Streets proposes an alternative framework for addressing the seemingly intractable issues of inequality, despair, and violence in Chicago.
Page 11
Baby Jails: The Fight to End the Incarceration of Refugee Children in America (University of California Press)
By Philip G. Schrag
The saga of child detention began during the Reagan administration when 15-year-old Jenny Lisette Flores languished in a Los Angeles motel turned makeshift jail. What became known as the Flores Settlement Agreement was still at issue years later, when the Trump administration resorted to the forced separation of families after the courts would not allow long-term jailing of the children. Philip G. Schrag, the director of Georgetown University's asylum law clinic, takes readers through thirty years of conflict and provides recommendations for the reform of a system that has brought anguish and trauma to thousands of parents and children. Provocative and timely, Baby Jails exposes the ongoing struggle between the U.S. government and immigrant advocates over the duration and conditions of confinement of children who seek safety in America.
In Praise of Risk (Fordham University Press)
By Anne Dufourmantelle

Now available in English, this magnificent and already much-discussed book offers a trenchant critique of the psychic work the modern world devotes to avoiding risk. The everyday fears, traumas, and resistances that therapy addresses brush up against such broader concerns as terrorism, insurance, addiction, artistic creation, and political revolution. Dufourmantelle works to dislodge Western philosophy, psychoanalysis, ethics, and politics from the redemptive logic of sacrifice. In an era defined by enhanced security measures, border walls, trigger warnings, and endless litigation, Dufourmantelle's masterwork provides a much-needed celebration of the risks that define what it means to live.

Anachronic Renaissance (Zone Books)
By Alexander Nagel and Christopher S. Wood
In this widely anticipated book, two leading contemporary art historians offer a subtle and profound reconsideration of the problem of time in the Renaissance. Anachronic Renaissance reveals a web of temporal paths traveled by works and artists—a landscape obscured by art history's disciplinary compulsion to anchor its data securely in time. The buildings, paintings, drawings, prints, sculptures, and medals discussed were shaped by concerns about authenticity, about reference to prestigious origins and precedents, and about the implications of transposition from one medium to another. Although a work of art does bear witness to the moment of its fabrication, Nagel and Wood argue that it is equally important to understand its temporal instability: how it points away from that moment, backward to a remote ancestral origin, to a prior artifact or image, even to an origin outside of time, in divinity.
3
Support the Co-op
The Front Table
Page 12
The Front Table
Ornette Coleman: The Territory and the Adventure (Reaktion Books)
By Maria Golia
Ornette Coleman's career encompassed the glory years of jazz and the American avant-garde. Steeped in the Texas blues tradition, he and jazz grew up together, as the brassy blare of big band swing gave way to bebop—a faster music for a faster, postwar world. At the luminous dawn of the Space Age and New York's 1960s counterculture, Coleman gave voice to the moment. Lauded by some, maligned by many, he forged a breakaway art sometimes called "the new thing" or "free jazz." Featuring previously unpublished photographs of Coleman and his contemporaries, this book tells the compelling story of one of America's most adventurous musicians and the sound of a changing world.
The World as an Architectural Project (The MIT Press)
By Hashim Sarkis, Roi Salgueiro Barrio and Gabriel Kozlowski
The world's growing vulnerability to planet-sized risks invites action on a global scale. The World as an Architectural Project shows how for more than a century architects have imagined the future of the planet through world-scale projects. With fifty speculative projects by Patrick Geddes, Alison and Peter Smithson, Kiyonori Kikutake, Saverio Muratori, Takis Zenetos, Sergio Bernardes, Juan Navarro Baldeweg, Luc Deleu, and many others, documented in text and images, this ambitious and wide-ranging book is the first compilation of its kind. Interestingly, architects begin to address the world as a project long before the advent of contemporary globalism and its assorted anxieties. Rather than indulging the cliché of the megalomaniac architect, this volume presents a discipline reflecting on its own responsibilities.
4
semcoop.com semcoop.com
How to Be a Bad Emperor: An Ancient Guide to Truly Terrible Leaders (Princeton University Press)
By Suetonius
If recent history has taught us anything, it's that sometimes the best guide to leadership is the negative example. But that insight is hardly new. Nearly 2,000 years ago, Suetonius wrote Lives of the Caesars, perhaps the greatest negative leadership book of all time. He was ideally suited to write about terrible political leaders; after all, he was also the author of Famous Prostitutes and Words of Insult, both sadly lost. In How to Be a Bad Emperor, Josiah Osgood provides crisp new translations of Suetonius's briskly paced, darkly comic biographies of the Roman emperors Julius Caesar, Tiberius, Caligula, and Nero. Entertaining and shocking, the stories of these ancient anti-role models show how power inflames leaders' worst tendencies, causing almost incalculable damage.

Page 13
The Haiku of Issa (The Buddhist Society)
Translated by John White
Kobayashi ISSA (1763-1828) followed Yosa BUSON, who followed Matsuo BASHO: the three greatest Japanese haiku poets. This book is the third in the series of 3 handsome presentation hardcovers from the Buddhist Society, which share a key common feature: all the English translations are rendered in the same metric rhythm of 5 then 7 then 5 syllables. The poems are printed on fine paper in Japanese orthography, also romanized with an English translation. Original drawings and calligraphy by Issa complement the book.

How to Drink: A Classical Guide to the Art of Imbibing (Princeton University Press)
By Vincent Obsopoeus
Is there an art to drinking alcohol? Can drinking ever be a virtue? The Renaissance humanist and neoclassical poet Vincent Obsopoeus (ca. 1498–1539) thought so. In the winelands of sixteenth-century Germany, he witnessed the birth of a poisonous new culture of bingeing, hazing, peer pressure, and competitive drinking. Alarmed, and inspired by the Roman poet Ovid's Art of Love, he wrote The Art of Drinking (De Arte Bibendi) (1536), a how-to manual for drinking with pleasure and discrimination. In How to Drink, Michael Fontaine offers the first proper English translation of Obsopoeus's text, rendering his poetry into spirited, contemporary prose and uncorking a forgotten classic that will appeal to drinkers of all kinds and (legal) ages.Complete with the original Latin on facing pages, this sparkling work is as intoxicating today as when it was first published.
Listening: Interviews, 1970–1989 (University of Minnesota Press)
by Jonathan Cott
Collected here are twenty-two of Cott's most illuminating interviews that encourage readers to listen to film directors and musicians, actors and writers, scientists and visionaries. These conversations affirm the indispensable and transformative powers of the imagination and offer us new ways to view these lives and their worlds. What is it like to be Bob Dylan making a movie? Carl Sagan taking on the cosmos? Oliver Sacks doctoring the soul? John Lennon, on December 5, 1980? Elizabeth Taylor, ever? From Chinua Achebe to Dr. Seuss (Theodor Geisel), Federico Fellini to Werner Herzog, and Oriana Fallaci to Studs Terkel, Listening takes readers on a journey to discover not ways of life but ways to life. Within these pages,Cott proves himself to be, in the words of Brain Pickings's Maria Popova, "an interlocutor extraordinaire," drawing candid insights and profound observations from these inspired and inspiring individuals.
5
Support the Co-op
The Front Table
Page 14
The Front Table
A Way of Life: Things, Thought, and Action in Chinese Medicine (Yale University Press)
By Judith Farquhar
Traditional Chinese medicine is often viewed as mystical or superstitious, with outcomes requiring naïve faith. Judith Farquhar here offers a concise and nuanced treatment that addresses enduring and troublesome ontological, epistemological, and ethical questions. In this work she considers how the modern, rationalized, and scientific field of traditional Chinese medicine constructs its very real objects (bodies, symptoms, drugs), how experts think through and sort out pathology and health (yinyang, right qi/wrong qi, stasis, flow), and how contemporary doctors act responsibly to "seek out the root" of bodily disorder. Through this refined investigation, East-West contrasts collapse, and systematic Chinese medicine can become a philosophical ally and a rich resource for a more capacious science.
6
Dostoyevsky Reads Hegel in Siberia and Bursts into Tears (Yale University Press)
By László F. Földényi

In this new collection of essays, László F. Földényi considers the fallout from the end of religion and how the traditions of the Enlightenment have replaced neither the metaphysical completeness nor the comforting purpose of the previously held mythologies. Combining beautiful writing with empathy, imagination, fascination, and a fierce sense of justice, Földényi covers a wide range of topics that include a meditation on the metaphysical unity of a sculpture group and an analysis of fear as a window into our relationship with time. Taking a place in the long tradition of public intellectual and cultural criticism, his work resonates with that of Montaigne, Rilke, and Mann in its deep insight into aspects of culture that have been suppressed, yet still remain in the depth of our conscious.
semcoop.com

Afropessimism (Liveright)
By Frank Wilderson

A seminal work that combines ground-breaking philosophy with searing flights of memoir, Afropessimism presents the tenets of an increasingly influential intellectual movement that theorises blackness through the lens of perpetual slavery. Rather than interpreting slavery through a Marxist framework of class oppression, Frank B. Wilderson III, demonstrates that the social construct of slavery is hardly a relic of the past but an almost necessary force in our civilization that flourishes today, and that Black struggles cannot be conflated with the experiences of any other oppressed group. Afropessimism reverberates with wisdom and painful clarity in the fractured world we inhabit.
Page 15
Filaments: Theological Profiles (University of Chicago Press)
Selected Essays, Volume 2
By David Tracy

In the second volume of his two-volume collection of essays from the 1980s to 2018, renowned Catholic theologian David Tracy gathers profiles of significant theologians, philosophers, and religious thinkers. These essays, he suggests, can be thought of in terms of Walt Whitman's "filaments," which are thrown out from the speaking self to others—ancient, medieval, modern, and contemporary—in order to be caught elsewhere. Taken together, these essays can be understood as a partial initiation into a history of Christian theology defined by Tracy's key virtues of plurality and ambiguity.

Fragments: The Essential Situation of Our Time (University of Chicago Press)
Selected Essays, Volume 1
By David Tracy

David Tracy is widely considered one of the most important religious thinkers in North America, known for his pluralistic vision and disciplinary breadth. His first book in more than twenty years reflects Tracy's range and erudition, collecting essays from the 1980s to 2018 into a two-volume work that will be greeted with joy by his admirers and praise from new readers. In the first volume, Fragments, Tracy gathers his most important essays on broad theological questions, beginning with the problem of suffering, going on to address the Infinite, and in the remaining essays, he reflects on questions of the invisible, contemplation, hermeneutics, and public theology. Throughout, Tracy evokes the potential of fragments to shatter closed systems and open us to difference and Infinity.


Liz Magor: BLOWOUT (University of Chicago Press)
By Liz Magor

In 2019, the Renaissance Society at the University of Chicago and the Carpenter Center for the Visual Arts, Harvard University co-organized an exhibition of a newly commissioned body of work by the Canadian artist Liz Magor. For more than four decades, Magor's practice has quietly dramatized the relationships that develop among objects, and she describes this body of work as "a collection of tiny and intense narratives." Each written contribution responds in its own way to Magor's new installations, which feature altered stuffed toys, bits of paper, and rat skins—sculptural "agents," in the artist's words—suspended in transparent Mylar box forms.

7
Support the Co-op
The Front Table
Page 16
The Front Table
A Black Women's History of the United States (Beacon Press)
By Daina Ramey Berry and Kali Nicole Gross
A vibrant and empowering history that emphasizes the perspectives and stories of African American women to show how they are—and have always been—instrumental in shaping our country. In centering Black women's stories, Daina Ramey Berry and Kali Nicole Gross, award-winning historians, seek both to empower African American women and to show their allies that Black women's unique ability to make their own communities while combatting centuries of oppression is an essential component in our continued resistance to systemic racism and sexism. A Black Women's History of the United States reaches far beyond a single narrative to showcase Black women's lives in all their fraught complexities. The result is a starting point for exploring Black women's history and a testament to the beauty, richness, rhythm, tragedy, heartbreak, rage, and enduring love that abounds in the spirit of Black women in communities throughout the nation.

8

Thinking Inside the Box: Adventures with Crosswords and the Puzzling People Who Can't Live Without Them (Penguin Press)
By Adrienne Raphel

Blending first-person reporting from the world of crosswords with a delightful telling of its rich literary history, Adrienne Raphel dives into the secrets of this classic pastime. Invented practically by accident in 1913, when a newspaper editor at the New York World was casting around for something to fill empty column space, it became a roaring commercial success practically overnight. The puzzle's daily devotees include everyone from subway riders looking to pass the time to cultural icons such as Martha Stewart, Bill Clinton, and Yo-Yo Ma. But why, exactly, are the crossword's satisfactions so sweet that it is a fixture of breakfast tables, nightstands, and commutes, and has even given rise to competitive crossword tournaments? There are mysteries beyond the clues.

semcoop.com

Every Square Needs a Circle (Richard Gray Gallery)
By Theaster Gates

In Every Square Needs a Circle, Theaster Gates offers a rumination on Black economies and empire building, relating to moments from art history and stories of quotidian labor. Produced on the occasion of his first exhibition in his native Chicago in over five years, Every Square Needs a Circle offers a detailed look at the artist's sculpture, tar paintings, installation and neon work. Gates debuts a multifaceted installation that bridges the work of W.E.B. Du Bois with architectural excerpts from Chicago, placing his interest in the history of objects while expounding on the archives that hold records of Black intelligence.
Page 17
Midlife Crisis (University of Chicago Press)
By Susanne Schmidt

The phrase "midlife crisis" today conjures up images of male indulgence and irresponsibility, but before it become a gendered cliché, it gained traction as a feminist concept. Widely popular in the United States and internationally, the term was quickly appropriated by psychological and psychiatric experts and redefined as a male-centered, masculinist concept. The first book-length history of this controversial concept, Susanne Schmidt's Midlife Crisis recounts the surprising origin story of the midlife debate and traces its movement from popular culture into academia. Schmidt's engaging narrative telling of the feminist construction—and ensuing antifeminist backlash—of the midlife crisis illuminates a lost legacy of feminist thought, shedding important new light on the history of gender and American social science in the 1970s and beyond.
The Madwoman in the Attic: The Woman Writer and the Nineteenth-Century Literary Imagination (Yale University Press)
By Sandra M. Gilbert and Susan Gubar

Called "a feminist classic" by Judith Shulevitz in the New York Times Book Review, this pathbreaking book of literary criticism is now reissued with a new introduction by Lisa Appignanesi that speaks to how The Madwoman in the Attic set the groundwork for subsequent generations of scholars writing about women writers, and why the book still feels fresh some four decades later.
Old Thiess, a Livonian Werewolf: A Classic Case in Comparative Perspective (University of Chicago Press)
By Carlo Ginzburg and Bruce Lincoln

In 1691, a Livonian peasant known as Old Thiess boldly announced before a district court that he was a werewolf—a baffling claim that still commands attention from historians today. In this book, eminent scholars Carlo Ginzburg and Bruce Lincoln offer a uniquely comparative look at the trial and startling testimony of Old Thiess. They present the first English translation of the trial transcript, before turning to subsequent analyses of the event. As Ginzburg and Lincoln debate their own and others' perspectives, they also reflect on broader issues of historical theory, method, and politics. Old Thiess, a Livonian Werewolf opens up fresh insight into a remarkable historical occurrence and, through it, the very discipline of history itself.
9
Support the Co-op
The Front Table
Page 18
The Front Table
10

The Discourses: Reflections on History, Sufism, Theology, and Literature (NYU Press)
By al-Ḥasan al-Yūsī
Al-Hasan al-Yusi was arguably the most influential and well-known Moroccan intellectual figure of his generation in the early modern Muslim world. This collection of his short essays on a wide variety of subjects gathered together under the title Discourses on Language and Literature (al-Muhadarat fi l-adab wa-l-lughah) offers rich insight into the varied intellectual interests of an ambitious and gifted Moroccan scholar, covering subjects as diverse as genealogy, theology, Sufism, history, and social mores. Translated into English for the first time, The Discourses offers readers access to the intellectual landscape of the early modern Muslims through an author who speaks openly and frankly about his personal life and his relationships with his country's rulers, scholars, and commoners. A bilingual Arabic-English edition.
Dante (Princeton University Press)
By John Took
For all that has been written about the author of the Divine Comedy, Dante Alighieri (1265–1321) remains the best guide to his own life and work. Dante's writings are therefore never far away in this authoritative and comprehensive intellectual biography, which offers a fresh account of the medieval Florentine poet's life and thought before and after his exile in 1302. Beginning with the often violent circumstances of Dante's life, the book examines his successive works as testimony to the course of his passionate humanity. Describing as it does a journey of the mind, the book confirms the nature of Dante's undertaking as an exploration of what he himself speaks of as "maturity in the flame of love."
semcoop.com

The Autobiography of Alice B. Toklas Illustrated (Penguin Press)
By Gertrude Stein, Illustrated by Maira Kalman
Considered one of the richest and most irreverent biographies in history, The Autobiography of Alice B. Toklas was written by Gertrude Stein in the style and voice of her life partner, Alice B. Toklas. Published in 1933 and narrated by Alice, this autobiography begins with her initial move to France in 1907, the day after which she meets Gertrude, sparking a relationship that lasts for nearly four decades. Recounting the vibrant and literary life the two make for themselves among the Parisian avant-garde, Alice opens the doors to the prominent salons they held in their home at rue de Fleurus and speaks of the twilight of the Paris belle epoque. In this edition, the wildly talented Maira Kalman brings this glittering Parisian world to life in vivid color.
Page 19
Choice Words: Writers on Abortion (Haymarket Books)
Edited by Annie Finch
A landmark literary anthology of poems, stories, and essays, Choice Words collects essential voices that renew our courage in the struggle to defend reproductive rights. Twenty years in the making, the book spans continents and centuries. This collection magnifies the voices of people reclaiming the sole authorship of their abortion experiences. These essays, poems, and prose are a testament to the profound political power of defying shame.
The Story of Yoga: From Ancient India to the Modern West (Hurst)
By Alistair Shearer

This comprehensive history sets yoga in its global cultural context for the first time. It leads us on a fascinating journey across the world, from arcane religious rituals and medieval body-magic, through muscular Christianity and the British Raj, to the Indian nationalist movement and the arrival of yoga in the twentieth-century West. We discover how the practice reached its present-day ubiquity and how it became embedded in powerful social currents shaping the world's future, such as feminism, digital media, celebrity culture, the stress pandemic and the quest for an authentic identity in the face of unprecedented change.

A Sanskrit Treasury: A Compendium of Literature from the Clay Sanskrit Library (Bodleian Library, University of Oxford)
By Camillo A. Formigatti
This beautiful collection brings together passages from the renowned stories, poems, dramas and myths of South Asian literature, including the Mahabharata and the Ramayana. Pairing key excerpts from these wonderful Sanskrit texts with exquisite illustrations from the Bodleian Library's rich manuscript collections, this book includes images of birch-bark and palm-leaf manuscripts, vibrant Mughal miniatures, early printed books, sculptures, watercolour paintings and even early photograph albums. Each extract is presented in both English translation and Sanskrit in Devanagari script, and is accompanied by a commentary on the literature and related books and artworks. This is the perfect introduction for anyone interested in Sanskrit literature and the manuscript art of South Asia – and beyond.
11
Support the Co-op
The Front Table
Page 20
The Front Table
12

Two Gods in Heaven: Jewish Concepts of God in Antiquity (Princeton University Press)
By Peter Schäfer
Contrary to popular belief, Judaism was not always strictly monotheistic. Two Gods in Heaven reveals the long and little-known history of a second, junior god in Judaism, showing how this idea was embraced by rabbis and Jewish mystics in the early centuries of the common era and casting Judaism's relationship with Christianity in an entirely different light. Describing how early Christianity and certain strands of rabbinic Judaism competed for ownership of a second god to the creator, this boldly argued and elegantly written book radically transforms our understanding of Judeo-Christian monotheism.

Data Feminism (The MIT Press)
By Catherine D'Ignazio and Lauren F. Klein
Today, data science is a form of power. It has been used to expose injustice and improve health outcomes, but it has also been used to discriminate, police, and surveil. This potential for both good and harm, on the other, makes it essential to ask: Data science by whom? Data science for whom? Data science with whose interests in mind? In Data Feminism, Catherine D'Ignazio and Lauren Klein present a new way of thinking about data science and data ethics—one that is informed by intersectional feminist thought. They explain how, for example, an understanding of emotion can expand our ideas about effective data visualization, and how the concept of invisible labor can expose the significant human efforts required by our automated systems. And they show why the data never, ever "speak for themselves."
semcoop.com

After Callimachus: Poems (Princeton University Press)
By Stephanie Burt
Callimachus may be the best-kept secret in all of ancient poetry. Loved and admired by later Romans and Greeks, his funny, sexy, generous, thoughtful, learned, sometimes elaborate, and always articulate lyric poems, hymns, epigrams, and short stories in verse have gone without a contemporary poetic champion, until now. In After Callimachus, esteemed poet and critic Stephanie Burt's attentive translations and inspired adaptations introduce the work, spirit, and letter of Callimachus to today's poetry readers. This Callimachus travels the Mediterranean, pays homage to Athena and Zeus, develops erotic fixations, practices funerary commemoration, and brings fresh gifts for the cult of Artemis. Here is an ancient Greek poet made fresh for our current times.
Page 21
The Clock Mirage: Our Myth of Measured Time (Yale University Press)
By Joseph Mazur
Award-winning author and mathematician Joseph Mazur provides an engaging exploration of how the understanding of time has evolved throughout human history and offers a compelling new vision, submitting that time lives within us. "Our cells," he notes, "have a temporal awareness, guided by environmental cues in sync with patterns of social interaction." With a narrative punctuated by personal stories of time's effects on truck drivers, Olympic racers, prisoners, and clockmakers, Mazur's journey is filled with fascinating insights into how our technologies, our bodies, and our attitudes can change our perceptions. Ultimately, time reveals itself as something that rides on the rhythms of our minds. The Clock Mirage presents an innovative perspective that will force us to rethink our relationship with time, and how best to use it.
absence of clutter: minimal writing as art and literature (The MIT Press)
By Paul Stephens
In the 1960s and 70s, minimal and conceptual artists stripped language down to its most basic components: the word and the letter. Barbara Kruger, Jenny Holzer, Carl Andre, Lawrence Weiner, and others built lucrative careers from text-based art. Meanwhile, poets and writers created works of minimal writing—visual texts generally shorter than a sentence. (One poem by Aram Saroyan reads in its entirety: eyeye.) In absence of clutter, Paul Stephens offers the first comprehensive account of minimal writing, arguing that it is equal in complexity and power to better-known, more commercial text-based art. "Minimal writing," Stephens writes, "can be beguilingly simple on the surface, but can also offer iterative reading experiences on multiple levels, from the fleeting to the ponderous."
American Birds: A Literary Companion (Library of America)
By Andrew Rubenfeld and Terry Tempest Williams
As this beguiling literary companion demonstrates, bird watching offers an encounter with the ineffable, with the transcendence of song and flight, with fragile and evanescent beauty. American Birds gathers evocative and surprising writings on birds and our fascination with them from an astonishing array of American poets and writers. Experience the exquisite beauty of Native American songs about birds. Accompany Emerson and Thoreau birding together around Walden Pond. Delight in Sarah Orne Jewett's poignant tale of a snowy egret in the Maine woods. Join Rachel Carson as she watches skimmers along the Atlantic coast. And thrill to an impressive roster of modern and contemporary poets, including Elizabeth Bishop, Sterling A. Brown, Louise Erdrich, and David Tomas Martinez, as they evoke the magic and haunting beauty of America's birds.
13
Support the Co-op
The Front Table
Page 22
The Front Table
Approaching Eye Level (Picador)
By Vivian Gornick
Vivian Gornick's Approaching Eye Level is a brave collection of personal essays that finds a quintessentially contemporary woman (urban, single, feminist) trying to observe herself and the world without sentiment, cynicism, or nostalgia. Whether walking along the streets of New York or teaching writing at a university, Gornick is a woman exploring her need for conversation and connection—with men and women, colleagues and strangers. Turning her trademark sharp eye on herself, Gornick works to see her part in things—how she has both welcomed and avoided contact, and how these attempts at connections have enlivened and, at times, defeated her. First published in 1996, Approaching Eye Level is an unrelentingly honest collection of essays that finds Gornick at her best, reminding us that we can come to know ourselves only by engaging fully with the world.
14
The Celestial Hunter (Farrar, Straus and Giroux)
By Roberto Calasso

The eighth part of Roberto Calasso's singular work in progress that began in 1983 with The Ruin of Kasch, The Celestial Hunter is an inspired and provocative exploration of mankind's relationship with myth, the divine, and the idea of transformation. There was a time, even before prehistory, when man was simply a defenseless animal. Soon, however, man learned to imitate the animals that attacked him and he became a hunter. Suddenly, Calasso posits, the notion of the hunter became fundamental. It would be developed over thousands of years through the figures that became central to Greek mythology. Vivid and strikingly original, and expertly translated from the Italian by Richard Dixon, The Celestial Hunter traces how man created the divine myths that would become the cornerstones of Western civilization. And they would be the product of one thing: the human mind.
semcoop.com
Know Your Price: Valuing Black Lives and Property in America's Black Cities
(Brookings Institution Press)
By Andre Perry

The deliberate devaluation of Blacks and their communities has had very real, far-reaching, and negative economic and social effects. We haven't known how much the country will gain by properly valuing homes and businesses, family structures, voters, and school districts in Black neighborhoods. And we need to know. Noted educator, journalist, and scholar Andre Perry takes readers on a tour of six Black-majority cities whose assets and strengths are undervalued and provides a new means of determining the value of Black communities. Know Your Price demonstrates the worth of Black people's intrinsic personal strengths, real property, and traditional institutions. These assets are a means of empowerment and, as Perry argues in this provocative and very personal book, are what we need to know and understand to build Black prosperity.
Page 23
Furious Feminisms (University of Minnesota Press)
By Alexis L. Boylan, Anna Mae Duane, Michael Gill, and Barbara Gurr

While both fans and foes point to Mad Max: Fury Road's feminist credentials, Furious Feminisms asks: is there really anything feminist or radical happening on the screen? The four authors—from backgrounds in art history, American literature, disability studies, and sociology—ask what is possible, desirable, or damaging in theorizing feminism in the contested landscape of the twenty-first century. Can we find beauty in the Anthropocene? Can power be wrested from a violent system without employing and perpetuating violence? This experiment in collaborative criticism weaves multiple threads of dialogue together to offer a fresh perspective on our current cultural moment.
Heaven and Hell: A History of the Afterlife (Simon & Schuster)
By Bart D. Ehrman

A New York Times bestselling historian of early Christianity takes on two of the most gripping questions of human existence: where did the ideas of heaven and hell come from, and why do they endure? In clear and compelling terms, Bart Ehrman recounts the long history of the afterlife, ranging from The Epic of Gilgamesh up to the writings of Augustine, focusing especially on the teachings of Jesus and his early followers. One of Ehrman's startling conclusions is that there never was a single Greek, Jewish, or Christian understanding of the afterlife, but numerous competing views. Moreover, these views were intimately connected with the social, cultural, and historical worlds out of which they emerged. In Heaven and Hell, Ehrman helps us reflect on where our ideas of the afterlife come from and assures us that even if there may be something to hope for when we die, there is certainly nothing to fear.
Exposed: Desire and Disobedience in the Digital Age (Harvard University Press)
By Bernard E. Harcourt

Retailers mine information on consumers, Internet giants create dossiers of who we know and what we do, and intelligence agencies collect all this plus billions of communications daily. Exploiting our boundless desire to access everything all the time, digital technology is breaking down whatever boundaries still exist between the state, the market, and the private realm. Bernard Harcourt's Exposed offers a powerful critique of our new virtual transparence, revealing just how unfree we are becoming and how little we seem to care. We are building what Harcourt calls the expository society—a platform for unprecedented levels of exhibition, watching, and influence that is reconfiguring our political relations and reshaping our notions of what it means to be an individual.
15
Support the Co-op
The Front Table
Page 24
The Front Table
Richard Hofstadter: Anti-Intellectualism in American Life, The Paranoid Style in American Politics, Uncollected Essays 1956-1965 (Library of America)
By Richard Hofstadter

"American political life has served again and again as an arena for uncommonly angry minds," Richard Hofstadter (1916–1970) writes at the beginning of The Paranoid Style in American Politics. Hofstadter offered groundbreaking and still urgent analyses of deep undercurrents in American life: a stubborn, irrepressible opposition to rationality and the destabilizing pull exercised by conspiratorial movements on the right and left. Here for the first time in a single authoritative annotated edition are two masterworks by one of America's greatest historians: The Paranoid Style (1965) and the Pulitzer Prize–winning Anti-Intellectualism in American Life (1963). Included in this volume are his most trenchant uncollected writings from the period: discussions of the Constitution's framers, the personality and legacy of FDR, higher education and its discontents, the rise and fall of the antitrust movement, and the genius of Alexis de Tocqueville, among other subjects.
16
Sick Souls, Healthy Minds: How William James Can Save Your Life (Princeton University Press)
By John Kaag

"[William] James's entire philosophy, from beginning to end, was geared to save a life, his life," John Kaag writes—and that's why it just might be able to save yours, too. Sick Souls, Healthy Minds is a compelling introduction to James's life and thought that shows why the founder of pragmatism and empirical psychology—and an inspiration for Alcoholics Anonymous—can still speak so directly and profoundly to anyone struggling to make a life worth living. Along the way, Kaag also movingly describes how his own life has been endlessly enriched by James. Eloquent, inspiring, and filled with insight, Sick Souls, Healthy Minds may be the smartest and most important self-help book you'll ever read.
semcoop.com
Author in Chief (Avid Reader Press)
By Craig Fehrman

Based on a decade of research and reporting, Author in Chief tells the story of America's presidents as authors—and offers a delightful new window into the public and private lives of our highest leaders. From volumes lost to history—Calvin Coolidge's Autobiography, which was one of the most widely discussed titles of 1929—to ones we know and love—Barack Obama's Dreams from My Father, which was very nearly never published—Fehrman unearths countless insights about the presidents through their literary works. Author in Chief draws on newly uncovered information—including never-before-published letters from Andrew Jackson, John F. Kennedy, and Ronald Reagan—to cast fresh light on the private drives and self-doubts that fueled our nation's leaders.
Page 25
Troublemakers: Chicago Freedom Struggles through the Lens of Art Shay
(University of Chicago Press)
By Erik S. Gellman

Troublemakers fuses photography and history to demonstrate how racial and economic inequality gave rise to a decades-long struggle for justice in one American city. In dialogue with 275 of Art Shay's photographs, Erik S. Gellman takes a new look at major developments in postwar US history. Shay himself was a "troublemaker," seeking to unsettle society by illuminating truths that many middle-class, white, media, political, and businesspeople pretended did not exist. His lens captured everything from private moments of rebellion to era-defining public movements, as he sought to understand the creative and destructive energies that propelled freedom struggles in the Windy City. Shay illuminated the pain and ecstasy that sprung up from the streets of Chicago, while Gellman reveals their collective impact on the urban fabric and on our national narrative.
Thrust: A Spasmodic Pictorial History of the Codpiece (David Zwirner Books)
By Michael Glover

A laugh-out-loud visual history of the strangest piece of men's clothing ever created: the codpiece. The codpiece was fashioned in the Middle Ages to close a revealing gap between two separate pieces of men's tights. By the sixteenth century, it had become an upscale must-have accessory. Glover's witty and entertaining prose reveals how male vanity turned a piece of cloth into a bulging and absurd representation of masculinity itself. Centuries of male self-importance and delusion are on display in this highly enjoyably new title. Glover's book moves from paintings to contemporary culture and back again as it charts the growing popularity of the codpiece and its eventual decline. The first history of its kind, this book is a must-read for art historians, anthropologists, fashion aficionados, and readers looking for a good, long laugh.
17
Support the Co-op
The Front Table
Page 26
Poetry
Until the Lions: Echoes from the Mahabharata (Archipelago Books)
By Karthika Naïr

A dazzling and eloquent reworking of the Mahabharata, one of South Asia's best-loved epics, through nineteen peripheral voices. With daring poetic forms, Karthika Naïr breathes new life into this ancient epic. Karthika Naïr refracts the epic Mahabharata through the voices of nameless soldiers, outcast warriors and handmaidens as well as abducted princesses, tribal queens, and a gender-shifting god. As peripheral figures and silent catalysts take center stage, we get a glimpse of lives and stories buried beneath the dramas of god and nation, heroics and victory - of the lives obscured by myth and history, all too often interchangeable. Until the Lions is a kaleidoscopic, poetic tour de force. It reveals the most intimate threads of desire, greed, and sacrifice in this foundational epic.
The Idea of Perfection: The Poetry and Prose of Paul Valéry (Farrar, Straus and Giroux)
By Paul Valéry
A fresh look into the monumental work of Paul Valéry, one of the major French literary figures of the twentieth century. Heir to Mallarmé and the symbolists, godfather to the modernists, Paul Valéry was a poet with thousands of readers and few followers, great resonance and little echo. Along with Rilke and Eliot, he stands as a bridge between the tradition of the nineteenth century and the novelty of the twentieth. His reputation as a poet rests on three slim volumes published in a span of only ten years. Yet these poems, it turns out, are inseparable from another, much vaster intellectual and artistic enterprise: the Notebooks.
18
semcoop.com
The Mystic and The Lyric (Zubaan Books)
By Neerja Matto

For the first time, The Mystic and the Lyric brings together the classic work of four women poets from Kashmir who have shaped its literary imagination: Lalded, Habba Khatun, Arnimal, and Rupa Bhavani. These women inhabit not just the collective memory of Kashmiris and Kashmir but are part of the land's living oral tradition. Folk singers begin their performances with Lalded's vaakhs (quatrains). Arnimal's pain of unrequited love and Khatun's complaints about her in-laws are ironic wedding vatsans or songs. Bhavani's sites of meditation are now shrines where her vaakhs are chanted in annual celebrations. Central to the shaping of both the mystic and the lyric traditions of Kashmiri poetry, the work of these poets is unknown outside Kashmir.
Page 27
The Collected Poems of Lorenzo Thomas (Wesleyan University Press)
By Lorenzo Thomas

Lorenzo Thomas (1944-2005) was the youngest member of the Society of Umbra, predecessor of the Black Arts Movement. The Collected Poems of Lorenzo Thomas is the first volume to encompass his entire writing life. His poetry synthesizes New York School and Black Arts aesthetics, heavily influenced by blues and jazz. In a career that spanned decades, Thomas constantly experimented with form and subject, while still writing poetry deeply rooted in the traditions of African American aesthetics. Whether drawing from his experiences during the war in Vietnam, exploring his life in the urban north and the southwest, or parodying his beloved Negritude ancestors, Thomas was a lyric innovator.
If Men, Then (Ferrar, Straus, and Giroux)
By Eliza Griswold

If Men, Then, Eliza Griswold's second poetry collection, charts a radical spiritual journey through catastrophe. Griswold's language is forthright and intimate as she steers between the chaos of a tumultuous inner world and an external landscape littered with SUVs, CBD oil, and go bags, talismans of our time. Alternately searing and hopeful, funny and fraught, the poems explore the world's fracturing through the collapse of the ego, embodied in a character named "I"—a soul attempting to wrestle with itself in the face of an unfolding tragedy.
44 Poems for You (Copper Canyon Press)
By Sarah Ruhl

Playwright Sarah Ruhl's first book of poetry, 44 Poems for You, offers poems that form a subtle, personal meditation on family, motherhood, and loss. With a finely tuned ear for language, Ruhl's poetry sings with a humbling honesty about what it means to share our lives with others and with those who form our hollows: a miscarriage, a close friend lost to cancer, and the sublimity of nature. She delves into womanhood through the physical reality of the everyday, and shows us life through her hands—making terrariums or jam with her husband, holding a child, grasping the counter as she bleeds. Succinct and contemplative, generous and wise, Sarah Ruhl—one of the greatest contemporary playwrights working today—addresses these poems to you.
19
Support the Co-op
Poetry
Page 28
Poetry
Two Menus (University of Chicago Press)
By Rachel DeWoskin

DeWoskin invites us into moments shaped by dualities, into spaces bordered by the language of her family (English) and that of her new country (Chinese), as well as the liminal spaces between youth and adulthood, safety and danger, humor and sorrow. This collection works by building and demolishing boundaries and binaries, sliding between their edges in movements that take us from the familiar to the strange and put us face-to-face with our assumptions and confusions. DeWoskin crosses back and forth, across languages and nations, between the divided parts in each of us, tracing overlaps and divergences. The limits and triumphs of translation, the slipperiness of relationships, and movements through land and language rise and fall together.
Motion Studies (Ugly Duckling Presse)
By Jena Osman

Motion Studies consists of three essay-poems that begin as meditations on 19th century science and end firmly as research into the present. From chronophotography to algorithmic surveillance, from phrenology to fMRI brain scans, from Victorian specimen collections to the bleached bones of the Great Barrier Reef, each poem in this collection explores technologies of knowing each other and the world we're in.
20
semcoop.com semcoop.com
A Treatise on Stars (New Directions Publishing)
By Mei-Mei Berssenbrugge
A Treatise on Stars extends Mei-mei Berssenbrugge's intensely phenomenological poetics to the fiery bodies in a "field of heaven…outside spacetime." Long, lyrical lines map a geography of interconnected, interdimensional intelligence that exists in all places and sentient beings. These are poems of deep listening and patient waiting, open to the cosmic loom, the channeling of daily experience and conversation, gestalt and angels, dolphins and a star-visitor beneath a tree. All of our senses are activated by Berssenbrugge's radiant lines, giving us a poetry of keen perception grounded in the physical world, where "days fill with splendor, and earth offers its pristine beauty to an expanding present."

Page 29
Love and I (Graywolf Press)
By Fanny Howe

Set in transit even as they investigate the transitory, the cinematic poems in Love and I move like a handheld camera through the eternal, the minds of passengers, and the landscapes of Ireland and America. From this slight remove, Fanny Howe explores the edge of "pure seeing" and the worldly griefs she encounters there, cast in an otherworldly light. These poems layer pasture and tarmac, the skies above where airline passengers are compressed with their thoughts and the ground where miseries accumulate, alongside comedies, in the figures of children in a park. Love can do little but walk with the person and suddenly vanish, and that recurrent abandonment makes it necessary for these poems to find a balance between seeing and believing.
The Malevolent Volume (Coffee House Press)
By Justin Phillip Reed

Subverting celebrated classics of poetry and mythology and examining horrors from contemporary film and cultural fact, National Book Award winner Justin Phillip Reed engages darkness as an aesthetic to conjure the revenant animus that lurks beneath the exploited civilities of marginalized people. In these poems, Reed finds agency in the other-than-human identities assigned to those assaulted by savageries of the state. In doing so, he summons a retaliatory, counterviolent Black spirit to revolt and to inhabit the revolting.
Your New Feeling Is the Artifact of a Bygone Era (Sarabande Books)
By Chad Bennett

Shirley Temple tap dancing at the Kiwanis Club, Stevie Nicks glaring at Lindsey Buckingham during a live version of "Silver Springs," Frank Ocean lyrics staking new territory on the page: this is a taste of the cultural landscape sampled in Your New Feeling is the Artifact of a Bygone Era. Chad Bennett casually combines icons of the way we live now—GIFs, smartphones, YouTube—with a classical lover's lament. The result is certainly a deeply personal account of loss, but more critically, a dismantling of an American history of queerness. "This is our sorrow. Once it seemed theirs, but now it's ours. They still inhabit it, yet we say it's ours." All at once cerebral, physical, personal, and communal, Your New Feeling Is the Artifact of a Bygone Era constructs a future worth celebrating.
21
Support the Co-op
Poetry
Page 30
Fiction
Virtuoso (Two Dollar Radio)
By Yelena Moskovich

As Communism begins to crumble in Prague in the 1980s, Jana's unremarkable life becomes all at once remarkable when a precocious young girl named Zorka moves into the apartment building with her mother and sick father. With Zorka's signature two-finger salute and abrasive wit, she brings flair to the girls' days despite her mother's protestations to not "be weird." But after scorching her mother's prized fur coat and stealing from a nefarious teacher, Zorka suddenly disappears. A quixotic journey of self-discovery, Virtuoso follows Zorka as she comes of age in Prague, Wisconsin, and then Boston, amidst a backdrop of clothing logos, MTV, computer coders, and other outcast youth. With a distinctive prose flair and spellbinding vision, Virtuoso is a story of love, loss, and self-discovery that heralds Yelena Moskovich as a brilliant and one-of-a-kind visionary.
22
Zeina (Saqi Books)
By Nawal El Saadawi

Distinguished literary critic Bodour is trapped in a loveless marriage and carries with her a dark secret. She fell in love in her youth and gave birth to an illegitimate daughter, Zeina, whom she abandoned on the streets of Cairo. Bodour doesn't know that Zeina has blossomed into one of Egypt's most beloved entertainers. Pining for her estranged daughter, she writes a fictional account of her life in an attempt to find solace. But as the revolution in Cairo begins to gain fire, the novel goes missing and Bodour must find who has stolen it. Will her hunt for the thief bring mother and daughter together? Or is Bodour destined to lose her daughter to Cairo forever?
semcoop.com

We That Are Young (Vintage Books)
By Preti Taneja

When a billionaire hotelier and political operator attempts to pit his three daughters against one another, a brutal struggle for primacy begins in this modern-day take on Shakespeare's King Lear. Set in contemporary India, where rich men are gods while farmers starve and water is fast running out, We That Are Young is a story about power, status, and the love of a megalomaniac father. A searing exploration of human fallibility, Preti Taneja's remarkable novel reveals the fragility of the human heart—and its inevitable breaking point.
Page 31
The Lucky Star (Viking Books)
By William T. Vollmann

In such earlier works of fiction as The Rainbow Stories and The Royal Family, William T. Vollmann wrote of pimps, prostitutes, addicts and homeless dreamers in San Francisco's Tenderloin district. In this new novel, Vollmann returns there with a story that centers around Neva, a woman with magical powers whom everyone loves, and who has to love them all back. When her worshipper Judy starts to love Neva too much, Judy's retired policeman boyfriend embarks on a mission of exposure and destruction. Crafted out of language by turns spiritual and sexually graphic, The Lucky Star aches with compassion as it explores celebrity culture, gender identity, incest, and Christian sacrifice.
Margery Kempe (New York Review of Books)
By Robert Gluck

First published in 1994, Robert Glück's Margery Kempe is one of the most provocative, poignant, and inventive American novels of the last quarter century. The book tells two stories of romantic obsession. One, based on the first autobiography in English, the medieval Book of Margery Kempe, is about a fifteenth-century woman from East Anglia, a visionary, a troublemaker, a pilgrim to the Holy Land, and an aspiring saint, and her love affair with Jesus. The other is about the author's own love for an alluring and elusive young American, L. Between these two Margery Kempe, the novel, emerges as an unprecedented exploration of desire, devotion, abjection, and sexual obsession in the form of a novel like no other novel.
The Gnome Stories (Graywolf Press)
By Ander Monson

The Gnome Stories focuses on characters who are loners in the truest sense; who are in the process of recovering from mental, physical, or emotional trauma; and who find solace—or at least a sense of purpose—in peculiar jobs and pursuits. A man whose wife has left him is robbed, so he decides to start doing his own breaking and entering, into his neighbors' homes. A woman serves as an assistant to the Starvationist. Another woman and her robot assistant have been hired to tinker with the troubling memories inside a celebrity's brain. With The Gnome Stories, Ander Monson presents eleven unforgettable stories about oddly American situations: as surreal as an urban legend and at the same time perfectly mundane.
23
Support the Co-op
Fiction
Page 32
Fiction
Passage to the Plaza (Seagull Books)
By Sahar Khalifeh

In Bab Al-Saha, a quarter of Nablus, Palestine, sits a house of ill repute. In it lives Nuzha, a young woman ostracized from and shamed by her community. When the Intifada breaks out, Nuzha's abode unexpectedly becomes a sanctuary for those in the quarter: Hussam, an injured resistance fighter; Samar, a university researcher exploring the impact of the Intifada on women's lives; and Sitt Zakia, the pious midwife. In the furnace of conflict at the heart of the 1987 Intifada, notions of freedom, love, respectability, nationhood, the rights of women, and Palestinian identity will be melted and re-forged. Vividly recounted through the eyes of its female protagonists, Passage to the Plaza is a groundbreaking story that shatters the myth of a uniform gendered experience of conflict.

Tomb(e) (Seagull Books)
By Hélène Cixous

"In 1968-69 I wanted to die, that is to say, stop living, being killed, but it was blocked on all sides," wrote Hélène Cixous, esteemed French feminist, playwright, philosopher, literary critic, and novelist. Instead of suicide, she began to dream of writing a tomb for herself. Tomb(e) is a Homerian recasting of Shakespeare's Venus and Adonis in the thickets of Central Park, a book Cixous provocatively calls the "all-powerful-other of all my books, it sparks them off, makes them run, it is their Messiah." Masterfully translated by Laurent Milesi, Tomb(e) preserves the sonic complexities and intricate wordplay at the core of Cixous's writing, and reveals the struggles, ideas, and intents at the center of her work. With a new prologue by the author, this is a necessary document in the development of Cixous's aesthetic as a writer and theorist.
24
semcoop.com

Robert Stone: Dog Soldiers, A Flag for Sunrise, Outerbridge Reach
(Library of America)
By Robert Stone

Blurring the boundaries between literary fiction and political and military thrillers, Robert Stone's three modern masterpieces about the dark underside of the American century are gathered in this deluxe edition. In Dog Soldiers (1974), a scheme to smuggle three kilos of heroin from South Vietnam to California sets in motion a lethal chase across a nightmarish landscape populated by poseurs, hustlers, psychopathic criminals, and failed gurus. A Flag for Sunrise (1981) depicts of a leftist revolution in the fictious Central American country of Tecan and its impact on three North Americans. In Outerbridge Reach (1992) Owen Browne, a Navy veteran of Vietnam turned boat salesman, seeks to test his courage amid the materialism, corruption, and superficiality of 1980s America by entering a solo around-the-world yacht race.
Page 33
Die, My Love (Charco Press)
By Ariana Harwicz
In a forgotten patch of French countryside, a woman is battling her demons: embracing exclusion yet wanting to belong, craving freedom whilst feeling trapped, yearning for family life but wanting to burn the entire house down. Given surprising leeway by her family for her increasingly erratic behaviour, she nevertheless feels ever more stifled and repressed. Motherhood, womanhood, the banality of love, the terrors of desire, the brutality of 'another person carrying your heart forever' Die, My Love faces all this with a raw intensity. It's impossible to come out unscathed from reading Ariana Harwicz. The language of Die, My Love cuts like a scalpel even as it attains a kind of cinematic splendour. In a text that explores the destabilising effects of passion and its absence, Harwicz moulds language, submitting it to her will in irreverent prose.
Cars on Fire (Open Letter Books)
by Mónica Ramón Ríos
Cars on Fire, Mónica Ramón Ríos's electric, uncompromising English-language debut, unfolds through a series of female characters whose identities are messy and ever-shifting. A speechwriter is employed writing for would-be dictators, but plays in a rock band as a means of protest. A failed Marxist cuts off her own head as a final poetic act. With incredible formal range, from the linear to the more free-wheeling, the real to the fantastical to the dystopic, Rios offers striking, jarring glimpses into life as a woman and an immigrant. The stories in Cars on Fire offer powerful remembrances to those lost to violence, and ultimately make the case for the power of art, love, and feminine desire to subvert the oppressive forces—xenophobia, neoliberalism, social hierarchies within the academic world—that shape life in Chile and the United States.
The Faggots and Their Friends Between Revolutions (Nightboat Books)
By Larry Mitchell

The Faggots and Their Friends Between Revolutions is a beloved queer utopian text written by Larry Mitchell with lush illustrations by Ned Asta, published by Calamus Press in 1977. Part-fable, part-manifesto, the book takes place in Ramrod, an empire in decline, and introduces us to the communities of the faggots, the women, the queens, the queer men, and the women who love women who are surviving the ways and world of men. Cherished by many over the four decades since its publication, The Faggots and Their Friends Between Revolutions offers a trenchant critique of capitalism, assimilation, and patriarchy that is deeply relevant today. This new edition will feature essays from performance artist Morgan Bassichis, who adapted the book to music with TM Davy in 2017 and activist filmmaker Tourmaline.
25
Support the Co-op
Fiction
Page 34