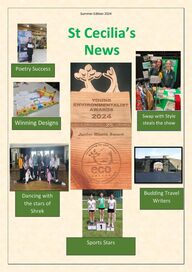 Return to flip book view
School Newsletter
Page 1
1 Visiting Heaney's Homeplace Words of Kindness Year 8 read all about it in The Irish News Year 8 celebrate World Book Day Trocaire Lenten Campaign Amazing Athlete
Page 2
2 Hello and welcome to the Summer edition of St Cecilia's News. This is our third edition! We are kicking Mrs Brady out of the game! We will be taking over this edition because we are fantabulous junior editors! In this edition there will be poetry, stories, interviews and so much more! This newsletter will feature writing by Áine Williams, Orlaigh Wilson and Eirinn Mc Gilloway. Stories and poetry by Ms Carson's Creative Writing Club. Sarah Molloy and Jodie-Lee Kennedy have been to explore Seamus Heaney's Homeplace and lots and lots more! Oh! And there will also be bits and pieces of some of us cracking yolks, (ha-ha), we mean jokes, throughout the magazine! OK! We give up now! You can go on and enjoy the rest of the newsletter! Goodbye for now, from Orlaigh, Áine and Eirinn! Junior Editors
Page 3
3 Going Home Year 13 A' Level English Literature Students Jodie-Lee Kennedy and Sarah Molloy reflect on their recent visit to Seamus Heaney's Homeplace in Bellaghey. Our visit to the Homeplace was designed to complement our study of Poetry at AS level. This year we are studying Heaney and Frost's poetry. There were some great lecturers there who gave us tips and advice to help us to analyse the poems we are studying. In one lecture we worked alongside other schools who are also following this course of study. So, we not only got to meet academics from the University, but also got to work with young people our own age. We helped each other out! The Homeplace itself is impressive. We were able to go around and see a range of photos and items of memorabilia
Page 4
4 that helped illustrate the poems that we are studying. I felt that this really offered an insight and therefore was very valuable to us. There were devices that allowed us to listen to Heaney reading his work. I felt that I gained an understanding of his life and the inspiration for his poems. I would definitely recommend a visit to the Homeplace! "Gave me a new found deeper appreciation of Heaney's work and life." Aaliyah "Heaney's dedication and devotion to his writing motivated me to apply the same passion to my studies" Rebecca "Visiting Homeplace allowed me to develop a deeper connection and understanding of the poems and the poet." Jodie
Page 5
5 Connecting Kindness and Creativity Miss Carson's Creative Writing club continues to embrace opportunities to express themselves! The latest project involved the writers in getting poetic on the theme of Kindness. Adrian Newton took their words and created beautiful lino-cut illustrations to accompany each of the poems. The project came to fruition on 4th April when the exhibition was launched in Central Library Derry KINDNESS Kindness can be many things, A word, a touch, a thought. Even a simple smile Can mean an awful lot. But the opposite of kindness, Can be rather dark. Like a sharp knife It can slice through your heart. But there are more good people than bad. And kindness is something we all have. So instead of causing destruction and pain. Be kind to others in your domain. by Aine Williams 8 Courage My Kindness Poem Be kind. Be kind to other nationalities, be kind to people with different coloured skin, be kind to people who are to disabled. Kindness is a wonderful thing, making people feel good and nice about who they are, instead of making them feel bad for what they are not. Just because someone is a little bit different from you doesn't mean you have to treat them any differently, try kindness and you will feel so much better. It is not just people you have to try and be kind to, it is nature, the environment, it's the world around us.
Page 6
6 Kindness brightens up other peoples' days. You are making them focus on how beautiful and caring they are instead of what they think they are not. This might not be what kindness means to you, but it is truly what it means to me. By Niamh Doherty 9 Grace Kindness When I think of kindness There's only one person who comes to mind The embodiment of kindness in my life My Mum. My mum is the most selfless person I know. She gives everyone she comes across unconditional love, No matter who they are or where they're from. Growing up I was taught the importance of being kind. Although it's not always easy to do, I try my best because for her. I don't think I'll ever be as kind as her. But as long as I'm following in her image I'm at least a decent person, I can change the world showing the kindness that she has taught me. Farrah Nixon 10 Grace
Page 7
7 Kindness Kindness will fill hearts with love, That simple smile will brighten a day. The door you hold strengthens the heart, That simple word will spread love. If you take each step with kindness, You will fill a room with joy. Air feels light and calm, Your heart will be full and you will need nothing more. Your life will be a breeze, With breathing being an ease. So learn to be kind, Learn to love. Cara Leigh Doherty 10 Faith Our Earth Stop poisoning our earth with plastic, it's dangerously drastic! We need to be kind to every living thing, we treat the world like it's a bee sting! Trees should get the opportunity to live and grow, but they won't get the chance if we let the earth go! Be kind to the earth as we are to each other. Work together to get the earth out of bother. By Eirinn McGilloway 8 Courage
Page 8
Page 9
9 Gifted and talented… This term 12 lucky girls from year 8 were selected to take part in a Gifted and Talented Drama programme with Bluebell Arts. Ms McTague told us, "The workshops have been taking place on a Wednesday afternoon and the participants have had lots of practical activities to enjoy. The first eight weeks were packed with Drama games and the creation of a comical play called, 'Creggan Alien'. The next four weeks will focus on production elements and on how music can create mood and atmosphere. These sessions are being taken by local DJ Louise Da Costa. The rest of the Creative Arts project will be on Film Editing and DJing. We are thrilled that the girls are getting such a wonderful opportunity to learn about and experience different aspects of the Creative Industry." Áine Williams 8 Courage My name is Áine and on Wednesday afternoons I take part in a drama course run by Bluebell Arts project initiative. This is a gifted and talented programme. I honestly don't have any complaints about the programme as it is really fun. We do lots of different things in the programme. At the minute we are working on a play and we each have a special part. It is about two aliens coming to Creggan. We also do lots of other things in the programme: we do games and ice breakers and other activities every week. We do different things every week, and we do the course with Mr Ronan Carr. He is very nice and really good at drama. He once showed us him crying when he had been normal seconds before! I love doing the course and it's the highlight of my week and I hope lots of other people get the same opportunity.
Page 10
10 Ruby Brown 8 Grace When I was first offered the chance to get involved in the Bluebell Arts Project I was a bit nervous. After the first week, I wasn't nervous anymore! The lessons begin with something called a 'drama circle.' This involves fun activities that help to get us warmed up. All of the girls in our group are kind and funny. We are currently creating a skit were aliens come to Creggan and it's so fun. There were only twelve girls selected from year 8 and I am so glad that I was one of them! Leah McGlinchey 8 Courage Three weeks ago I was lucky enough to be chosen to take part in an eighteen-week drama course through Bluebell Arts Project Initiative. This is part of the Gifted and Talented provision within St Cecilia's College. Our instructor is called Ronan and he is an actor from Dublin. So far we have been involved in ice breakers to get to know the other girls in the group. Then Ronan showed us pictures and we had to create a short scene. I really enjoyed this because it gave me more confidence in myself. I wasn't nervous acting in front of other people. Over the next few weeks we will be doing creative and script writing. I'm really looking forward to the rest of the course and all the things that I will learn from it. Kayla Fullerton 8 Grace I am enjoying this programme because it is good to work with my friends. We have dressed up and had a lot of fun. I have enjoyed working with Ronan. He's really funny and he's an amazing actor. I think I have gained inspiration from the course and would be open to a career in this field in the future. Photographs courtesy of Grace McGowan 8 Hope
Page 11
11 Seachtain na Gaeilge In March, the Languages department at St Cecilia's celebrated Irish language and culture. Miss Toland, Head of Languages in the school was delighted to reward these pupils in year 8 for achieving their Cupla Focal.
Page 12
12 Miss Toland celebrated the language around the school by labelling different subject areas with their Irish equivalent and wowed year 8 audiences with a celebration of Irish dancing, art and music in the MPH.
Page 13
13 Irish I'm Dearbhaile Carlin and I'm a year 8 pupil here at St. Cecilia's College. I came here from a small, unknown school in Ballymagroaty called Gaelscoil na Daróige (an all-Irish school). At first, I found it quite hard transitioning into a secondary school where all the lessons are in English every day and we do not have to speak Irish. I have mixed feelings about my primary school because they expected us to be speaking perfect Irish by primary 3 so we could start learning English. I didn't learn how to spell in English until p3 (but for the record I'm really good…maybe even better than a few people who went to an English-speaking school! ) and at the same time our Irish was almost perfect. I do miss some of my friends there who went to different school (some even continuing Irish in a secondary school in Dungiven) Some interesting facts Irish is a Celtic language which is closely related to Scottish and Manx Gaelic. It is also related to Welsh, Cornish and Breton. The first speakers of Irish probably arrived on the Irish shores from mainland Europe over 2,500 years ago. Who brought the Irish language to Ireland? Irish developed from one of the Celtic dialects brought to bronze age Ireland and Britain by the iron age Celts, who inhabited Central Europe some three thousand years ago. Irish is also one of the oldest written and historical languages in the world. It was seen for the first time in Ogham form in the fifth century. There is often a closer match between Welsh, Breton, and Cornish on the one hand, and Irish, Scottish Gaelic and Manx on the other. For a fuller list of comparisons, see the Swadesh list for Celtic. By Dearbhaile Carlin 8 Courage
Page 14
14 Cúpla focal English Gaeilge (Irish) Welcome Fáilte Céad míle Fáilte (a hundred thousand welcomes) Hello (General greeting) Dia dhuit (sg) Dia dhaoibh (pl) How are you? Conas atá tú? An bhfuil tú go maith? Reply to 'How are you?' Tá mé go maith, go raibh maith agat, agus tú fein? (sg) Good morning (Morning greeting) Dia dhuit ar maidin (sg) Dia dhaoibh ar maidin (pl) Maidin mhaith Good night Oíche mhaith Oíche mhaith agus codladh sámh (Good night and sleep well) Goodbye (Parting phrases) Slán Slán go fóill Cheers! Good Health! (Toasts used when drinking) Sláinte! (Health) Sláinte mhaith! (Good health) Sláinte agus táinte! (Health and wealth) Bon voyage / Have a good journey Go dté tú slán (May you go safely) Slán abhaile (Safe home) Go n-éirí an bothar leat (May you(r journey/road) be successful) Maggie-Lee McFeely 10 P came from an Irish medium primary school to St Cecilia's College. She had this to say, "It was good to have my Irish GCSE before I Ieft primary school. It was hard going from speaking Irish every day in primary school to not speaking it in secondary. Cassie McLaughlin in 10 Hope said, "It was hard to transition from speaking Irish every day to not talking much anymore, but I'm lucky to have had the experience I had in an Irish medium primary school. I still feel very proud to have gained my Irish GCSE in primary 7.
Page 15
15 Fighting for the language of our land Year 9 pupil, Clodagh Harkin believes that speaking Irish is a very important part of her life. Did you know that here in Ireland we should be speaking Irish? The French speak French, in Italy they speak Italian, in many other countries the language of the country is embraced, and yet this isn't the same in Ireland. We have a language that is rarely spoken! Why is this? Well the English language was first brought to Ireland in the 12th century and is still spoken here today. Most of Ireland stopped using the Irish language in the late 1800s. This is mostly because England invaded Ireland leading back to the time of the Irish famine. Now that you've learned some history keep reading to hear my opinions on our language… Our school's opinion on language Eva McLaughlin in year 11 thinks that Irish as a language is not useful, indeed she says, "It's unnecessary and old." Some pupils beg to differ! Leah Smith commented, "The language needs to be encouraged in schools and is worth fighting for." Why is the language important? Well most languages are important and that's why they are pushed in school. Having Irish as a language is very useful as you may come across Irish speakers while working. These Irish speakers are usually from the republic of Ireland where Irish is taught as a compulsory part of the curriculum in primary and secondary. The sad fact is that in the North of Ireland you have
Page 16
16 more of a chance bumping into someone who speaks Polish rather than Irish high unfair is this? Where the language is encouraged…Here in the North of Ireland we have some very good Irish medium schools, yet they're still only a few the schools who encourage pupils to fight for their language. Every year protestors take their fight to Stormont to protest for the Irish language act. They wear red to represent the slogan, "Dearg le Fearg" (red with anger) They usually have chants and songs to promote their Irish language also. Writer's opinion Being an Irish speaker myself, I've always been surrounded by the language. Most of my family speak Irish and I've always been encouraged and passionate about it. I went to an Irish speaking nursery and primary. I'm now studying my Irish GCSE in year 9. Knowing a language before coming into secondary school makes it easier to learn other languages. I encourage you to send your younger children to an Irish primary school as being bilingual can bring so many opportunities. I am very proud that I can speak the language we should be speaking. How do you feel about this language?
Page 17
17 Football Fanatic I am Aoife O'Donnell and I'm in 8 Grace. I wanted to share with you my love of football. I started playing football about a year ago. I used to just play with my dad and my brother. Football makes me feel happy when I play. I am in the Foyle Cup this year. I play for a local team called Tristar. We are an all-girl team. I have made good friends there. The benefits of playing sport like football are obviously you improve your fitness and I would love us to go on to be successful enough to lift a few trophies. Trips There are many trips available. For example, next Tuesday I get to see the Northern Ireland ladies match. We'll be travelling on the Tristar bus to Belfast. Also, I have been lucky to be selected to be ball girl at a Derry City match at the Ryan McBride Brandywell stadium. So you can see being involved in football has given me plenty of opportunities. We are always looking to recruit more players, so if like me you football, come along!
Page 18
18 My Hobby: Karate Hello my name is Fayé Leonard, junior head girl and I am here to tell you about my sport karate, I have been doing karate since I was 8 or 9. Following in Dad's footsteps I got into karate because of my daddy, he has been doing it since he was a little boy, and he wanted to make sure I could defend myself, and look after myself from danger. Success I have been quite successful, I have been to many competitions all over Ireland from Derry to Belfast to Dublin and many more places I have also travelled to other country's such as Wales and Scotland and I also went to the worlds in Serbia in 2019 and I placed, 3rd and 2nd. I am very proud of my sport and I take big pride in it. I would recommend it to anyone who wanted to do any form of martial art.
Page 19
19 Musical Maestros The KS3 ukulele group have been rehearsing the last 8 weeks for a special musical jam in Foyleside Shopping Centre on Saturday the 2nd April. Ms McConnell worked tirelessly to get the group ready. Not only did the group charm the centre's shoppers, but the pupils helped raise a total of £1700 on the day. An amazing achievement. Shoppers were treated to a variety of tunes from Bruno Mars', "Marry you" to Vance Joy's, "Riptide". Dara Rose Hutcheon, 9 Faith, commented, "I have been playing Ukulele for two years. The thing I liked most about it is that you can enjoy yourself whilst you are playing the instrument. Ukulele isn't just about the instrument it is about feeling confident and having fun I like that you can play the
Page 20
20 instrument and having faith that you can sing at the same time! When Ms McConnell asked me to do the event in Foyleside, I thought no way, because I thought that maybe I'd be made fun of and I thought to myself at least I have the passion to play. When I thought we'd be doing it for charity, I agreed and the girls in green did an amazing job!" Caitlin Coulter in year 10 commented, "I've been doing Ukulele for nearly a year and it was one of the best choices I have made. Going to the town and giving up my Saturday was really fun. It's mad to find out we had raised £1700, just for playing ukulele."
Page 21
21 The Importance of Music You may not know this but, Mr Gavigan is a keen musician. He has been playing the bass guitar from the age of 12. Over the years, Mr Gavigan expanded his repertoire and became a drummer and an acoustic guitar player before embracing the local band scene. He has recently brought his passion for music into the school and set up an ensemble music, School of Rock Club. Here he reflects on the importance of music in his life. Music is one of the most powerful forces in the world. It has the power to move us like nothing else can: a song in certain key can unlock doors to a plethora of feelings and emotions; it can lift our spirits up when we're feeling down; it can even bring back memories we forgot we had! It can be used to help celebrate our faith, to express happiness and joy, or help get us through some of our toughest times. Music is a universal language. It's a language that we can all understand, that we can all appreciate, and that we can all share together despite our distance or differences. It knows no boundaries, has no preferences, and puts up no walls. What do we do every birthday, every Christmas, every wedding, every football match we go to? We sing together! Music is something that belongs to us all. Even here at St. Cecilia's, we have superstars with a range of abilities and hidden talents - from amazing singers that would knock your socks off, to girls taking the first steps in learning a new skill. These abilities can take you so far in life by showcasing your commitment and enthusiasm, and can help you carve new friendships and pathways as you move through school and life.
Page 22
22 LGBTQ+ Characters in The Owl House are loud and proud! Lily McCool from 9 Hope has a lot to say about The Owl House, a Disney TV show created by Diana Terrance aimed at young children. But what is the ongoing problem so many people have with the show? In many epsiodes it has been hinted that characters Luz and Amity had a crush on each other. As these characters are both female, numerous people have voiced their opinions. The majority of viewers welcomed the inclusion of LGBTQ+ content on Disney after it was believed that they supported the , "Don't say gay" bill in Florida. Others were furious and believed that it is disgusting to present this content in a children's programme. Knock, knocking on Hooty's door. Let's talk about season 2 episode 8, Knock, knocking on Hooty's door. This episode bothers people the most because of one thing, Amity and Luz start to become a couple. People have argued that this ruined the show and that it was totally inappropriate for a kid's programme.
Page 23
23 Raine's Gender Plenty of people wonder what gender Raine is. Numerous people think they are a boy because of the way they are depicted and dressed. There's the short hair too. But it has been stated by creator Diana Terrance that they are non-binary. This has pleased many viewers as there are very few representatives of the non-binary community even though critics felt that it shouldn't be regarded as a real gender. Is The Owl House inappropriate for kids? Many have argued that The Owl House is inappropriate for kids, but is this fair? Representation of LGBTQ+ community isn't totally new to children's TV. Indeed characters in Netflix shows like She-ra and The Princess of Power have been mentioned. So too Cartoon Networks Adventure Time and Steven Universe have been around for years without too much complaint. Is Disney alright with this? Many people may think Disney is supportive of the LGBTQ+ community since they have produced this show. Others wonder if Disney is so supportive? Disney have been accused of funding campaigns of homophobic politicians in Florida who supported the 'Don't say gay' bill. Disney's executives only comment is that the show is 'unique' for Disney. My opinion In my view, it its really amazing to see the LGBTQ+ TV show with a non-binary lesbian and bi-sexual main character. It has become a comfort show for many in this community, so it really is a great show to watch.
Page 24
24 Short Story Competition This term Ms Wakeley invited our year 9 pupils to submit their original stories for a competition that marked Holocaust memorial day. Students were asked to get creative and write a short story for their English teachers. The class teachers then created a short-list of stories which were submitted to Mrs Mulhern and Mrs O'Carolan for judging. The standard was very high. The themes were: Faith, Hope, Courage, Grace and Peace. Bella Russell's entry (printed below) blew the judges away! Year 9 Short Story Competition Winner! The winner is… Bella Nociarova-Russell 9 Peace. "Róza," I turn my head to look at my father, "Never forget that I love you." Tears are sliding down my father's cheeks like miniature waterfalls. I long to give him one last embrace. "I love you too, Papa! Stay safe!" I wipe away the tears welling up in my eyes, not wanting them to destroy the supposed final image of my father. Jolanta, a blond-haired and blue-eyed lady posing as a nurse, clasps my hand and begins to lead me away as I sob desperately. Her eyes are kind and sympathetic but I can spot the underlying anxiety. She puts her finger to her lips. I nod and swallow the lump in my throat, forcing my tears to stop. I feel like such a horrible person but the prospect of escaping the ghetto makes me forget about the cold concrete floor and damp walls in my father's lowly room, the ache in our empty stomachs, the people dropping like flies in the street, shared anguish over my mother's death, the five other people living in the room with us, the disease running rampant, the ongoing shipments to the death camps... It's terrible of me to think of but for a single selfish second I am
Page 25
25 full of bliss to be leaving this horrid place. Completely disregarding the reality that my father will face without anyone to console him. When Jolanta knocked on our door and offered to rescue me I didn't want to leave him. He was adamant and stood firm on the situation. He told me he would be fine as long as he knew I'd be safe. Though Jolanta said there's no guarantee we'd make it out alive. However, taking the risk was better than the alternative. I almost regret it now. Almost. Jolanta and I walk past my neighbour's 'house.' He threw himself out of the window after coming home and finding out the kids weren't there. In fact, many children have been sent on the 'train ride to Heaven' as me and my father used to call it. The Germans offered us sugar, margarine, bread and chocolate among other things. Anything to coerce us to board those trains. Landlords two houses down went on one of those trains, promising to write to us when they arrived in the East... Jolanta stops. We must have reached our destination. It's a church on the outskirts of the ghetto. The 3 meter walls that border the ghetto are slicing the church in half. Not physically, but half the church is in the ghetto and the other is on the Aryan side of the city. I walk up the steps and the large oak doors loom ominously. I know that I'll walk into this church as an 11-year-old Jew, imprisoned in the Warsaw Ghetto, and walk out as a Catholic Pole. Jolanta and I walk inside the ornate building, she hands me a pile of neatly folded clothes and we run over a few prayers I may need to recite to the Nazi guards that might lurk on the other side. I inhale deeply, eyeing the door opposite me. It's the final step to freedom.
Page 26
26 And in second place… Ava Harris 9 Hope IT ALL WENT QUIET I always feel like the world wants me gone. The sound of people panicking, young children crying and men shouting in every direction filled my ears, taking over my thoughts. I couldn't hear a thing; all I could smell was smoke and I couldn't breathe. I can't breathe. I frantically looked around, but I couldn't see a thing. My vision was blurred, my head was throbbing. I screamed my brother's name in hope he could hear my voice and come find me. I screamed his name over and over until my voice went hoarse and I couldn't any longer. I shut my eyes tight, praying it wasn't real. This can't be happening, right? The train had come to a stop, I opened my eyes again and stood up. I was grabbed roughly by two rather large men and was pushed off the train with many others. There were maybe hundreds of men in green uniforms, they had us line up in one huge line. We were all forced to give up any belongings of ours and to bathe to get rid of any diseases we may have had. I was forced to wear these hideous and extremely uncomfortable striped uniforms and shoes that barely fit me. We weren't allowed to speak a word to anyone at all. We each had been given a number and had them tattooed onto our arms, 4562 mine had read. After this I had been taken to a crammed hut which contained at least 500 people and only 36 bunkbeds altogether. It was almost impossible to breathe. Many women were crying in the corner, their heads in their hands while others would stare into space with a completely numb expression painted across their face. I managed to get one of the few bunkbeds, although I had to share the straw like mattress with 4 other women. I stared at the ceiling, hoping that this was all some kind of terrible nightmare. That I would wake up tomorrow at home and everything would be okay. Eitan wouldn't be missing somewhere in this god-awful place, we would be safe at home together. I shut my eyes and drift into a restless sleep.
Page 27
27 I was woken by the soldiers at dawn, and everyone was forced out of their cabins. We all had to line up and were assigned jobs after roll call. I scanned everywhere looking for Eitan, but I couldn't find him anywhere. I would call out to him every now and again waiting for him to appear behind me and try to scare me, but he never did. Weeks had passed and I had yet to find him. Things had really gotten worse at the camp. The punishments had gotten more severe, the soldiers had gotten stricter, the weather was unbearable, and the jobs were draining. Mentally and physically. More and more people were disappearing every day and not returning to the camp. I was losing hope on finding Eitan, but I never stopped searching for him. Day after day would pass by slowly, I had been whipped and hit multiple times by the soldiers. It's been a lot harder recently. I can't do anything about it, my own thoughts are eating me alive at every possibility on why I can't find him. I was snapped out of my thoughts by a guard shouting at me and 20 others to line up. Nobody hesitated to do what was asked of them, we all immediately stood up straight in one big line. 5 guards crowded around us and crammed us into this tiny room. It was strange, nothing like our cabins. It had no windows, no source of light, the whole room felt eerie. There was no way to describe how disturbing the room was. I looked around and lying there across the floor were the dead corpses of all the "missing" prisoners everywhere. My breathing speeds up and my throat goes dry. I have a sinking feeling in my stomach. I looked around at all the dull faces and my heart sinks to my stomach. My throat closes up, the ringing in my ears has never been this loud, I can't breathe. "E-Eitan..." I manage to croak out. I grab his fragile body and hug it tightly, sobbing loudly into his shoulder. The numbness and realisation suffocated me, wrapping itself in a tight grip around my heart. He was dead, never coming back. The room begins to fill with steam, it's even harder to breathe. The terrified screams around me fill the room And as I exhale my last breath, I knew it. The world really did want me gone. And with that, it all went quiet.
Page 28
28 Amazing Athlete Two of our intrepid young editors, Áine and Orlaigh caught up with the speedy Ms Thompson to find out more about her… 1) Who influenced you to do athletics? I started athletics when I was eleven at St Cecilia's College. I stayed in one Wednesday after school with Ms McNulty and Ms Lynch and fell in love with the sport. I really enjoyed it. I joined a local running club, City of Derry Spartans. 2) Why did you decide to become a teacher instead of pursuing a career in athletics? One of my biggest regrets was when I went to university, I took a break from the sport as I'd lost my love for the sport and felt like I needed a break – biggest regret. I wish that if I stuck to it I wonder how far I would've got. It was always my plan to become a teacher, I had a brilliant time here at St Cecilia's, I also had fantastic role models, Ms McNulty, Ms Gill and Ms Lynch and that's who inspired me to become a P.E teacher. 3) Do you follow a strict training programme before any competition? I do! So training is obviously a very important factor, set by my coach Jim Hearn. We planned out our sessions to make sure I was ready for the European competition. I also followed a strict diet. I drank a lot of water and I got quite sick over Christmas so that took me out of training for three weeks – recovery. 4) If you could spend the day with your hero who would it be and why? My hero was an athlete who was jailed for taking drugs before a race. I remembered that and I was devastated that she cheated, I
Page 29
29 remember she brought out a book out in 2019 and I still kind of question why she cheated. I aspired to be her but she let me down. I always wondered why she would do it? She cheated, she was making it unfair and I really loved watching her. So another person who I look up to is Shelly Ann Frazer Price. I would love to spend time with her because she is a famous athlete and a mum, she is also around the same age as me. I think she is a brilliant role- model for young girls she's an athlete and a mum and I would really love for her to give me some tips. 5) If you could go anywhere in the world to compete, where would you go and why? I would go to Sydney, Australia to run on the Olympic track because it was the first Olympics that I watched. 6) What is your favourite brand of shoes to run in and why? Asics because they are my go-to runners because I am flat footed and they have an arch. Although my spikes are Adidas, but I would also really like a pair of Nike shoes called Air Zoom – Victory running Spike shoes. 7) Do you have any superstitions when getting ready to compete? My routine two nights before the competition is that I get a good sleep and have everything ready, have my number on my vest, my rosary beads are in my bag and I only like to listen to music while warming up, I love to be there early and I probably don't get much sleep the night before, I also have my St Teresa prayer with me. By Orlaigh Wilson and Áine Williams 8 Courage
Page 30
30 Junior Juror Áine Williams 8C is an avid reader! So when she was invited to look at the books shortlisted for the KPMG Children's Book awards 2022 she volunteered to review some of the titles for St. Cecilia's News. The Shadows of Rookhaven by Padraig Kenny I did not enjoy this book at all, I felt the book was very boring. I feel like it was supposed to be exciting but it just wasn't. The concept of the book was good but I feel like it wasn't what I hoped it would be. This was the second book in the series and I didn't read the first so that I might have affected what I thought of the book. I usually finish books in no time and I love reading but I actually found it quite hard to finish and it took me longer to finish it than I thought it would. Some parts of the book were exciting but on a whole I don't think it was the best. Other people might have enjoyed it but it just wasn't my cup of tea. Henna Wars by Adiba Jaigirdar I really enjoyed this book and it was really good. It had lots of unique characters with different beliefs, ideas and emotions I honestly think this is one of my favourite books and I've read a lot of books so that's saying something! A really good thing that I enjoyed about this book was the diversity, it showed lots of different aspects of the world that I hadn't really thought about. This book had lots of plot twists and you were on the edge of your seat reading it. I really think that everyone should read this book and maybe they'd feel a bit different about things they might think and I really do think this is one of the best books ever!
Page 31
31 Not my problem Written by Ciara Smyth Reviewed by another of our junior jurors… Bella Nociarova-Russell 9 Peace. Aoibheen is a girl failing school; she isn't the brightest. Her mother is an alcoholic and her father is rarely in her life. There's a student body election in which her friend Holly and so-called enemy, Meabh, are running. Meabh has too much on her plate and wants to free up her schedule so she recruits Aoibheen to push her down the stairs. Through doing this, she starts a 'business' to help others in exchange for a favour. Romance In the story there is some slow-burn "enemy to lover" romance between Aoibheen and Meabh throughout the entire book. Holly tries to sabotage Meabh, even though she's worked hard for it and Aoibheen begins to see that Holly isn't all sunshine and rainbows. In the end, Holly wins the election by a few votes and Aoibheen tells her teacher that she needs help with home life and her mother's alcohol addiction. The idea was pretty unique and it was semi-realistic. The transition from enemies to lovers wasn't instantaneous and didn't take over the plot-line which I think saved the book almost single-handedly. The true best part of the story though are the characters. The main characters are flawed but still likeable in some way and you can empathise with them. An example could be Aoibheen's mother because although she's painted in a negative light and we can all agree that she's a terrible mother, you can empathise with her and her situation. All the characters think realistically in some way that normal people would and do resemble teenagers when they're mucking around.
Page 32
32 Characters I enjoyed how the characters grew and helped each other not just because they were bound by favours but simply because they wanted to help. There are a range of side characters who aren't too overbearing and give more flesh and flavour to the story. The favours that they ask for could be relatable in some sense although, I think it's weird that some of the people who came to Aoibheen were mentioned to have picked her because she was lesbian before it was cool. Even though they came out as LGBTQ+ they would just bully Aoibheen about something else. Yes, perhaps they matured, but I'd have appreciated an explanation on that. I didn't like the constant swearing and sexual innuendos though. Some of them made sense with the context but others seemed a bit sandwiched in there. That's all that I really have to say about what I disliked. So, what do I think of this book as a whole? Solid 7/10. I don't think I'd remember it as a masterpiece or even pick it up again as I don't really read the genre, but I won't remember hating it. So that's it.
Page 33
33 Having our say Recently Mrs Brady's year 9 English class were asked about what they would do to improve St Cecilia's College. Cassidy has her say! I am a year nine student from the house of Faith and I have so many good, positive things to say about this school. Like there's easy access to water with the water fountains around every corner of the school so we are not getting too dehydrated with the hot weather coming around. But, with the good stuff about this amazing bright school, comes with some bad stuff… We have a group of fabulous canteen ladies who serve our year groups every day. One by one the food sits on our trays as we walk away. We think about the amount of money the poor ladies are being paid. We have lots of options for picky eaters but 5 out of 6 students have complained to us about their bread rolls being too stale! Their jam was too hard like jelly! And their cutlery being too weak to be able to cut anything. Our school has lots of sports for the physical education lessons like netball, volleyball, basketball and so many more, but our PE gear has changed and our students are not fans of it. They find it very ridiculous that we paid £36 for a hoodie or a half zip and we are not allowed to wear them. How would you feel Mrs Mulhern? How would you feel if we did something? like this to you? Making you waste money and not to be able to use items that you spent it on? Saint Cecilia's college is known for its pupils who have become very successful in life like those who have become doctors, teachers, lawyers, etc. This school provides a great education for people doing GCSES, A level and just in general learning. We have lovely teachers like Mrs Carson, Mrs Brady and Mr Mason. All these teachers try to do is teach us and make sure we are safe when we get dropped off here every day at 8:50am. The school trips are quite important for us to learn and have some fun after a whole school year of working with no break except summer and midterm. We have been invited to go to New York in September 2023 when we are year 11, so that seems very fun, but very expensive. We may have to pay £1400 but the school is probably paying a lot more. If they have cut it down so our parents aren't as stressed while trying to find the money after this long year. I think all these reasons sum up why this school needs some change. Besides all the little tiny problems this school is an amazing community, everyone helping everyone, left and right, so if I really had to complain I wouldn't! But this is just a few ideas that I think the rest of the school might want. Thank you for listening! Cassidy Bamford, 9 Faith
Page 34
34 Eggscellent Easter Bonnets It is often said that if you want to get ahead…get a hat! Just before Easter our year 8 pupils decided to do just that. They were invited by Mrs McGlinchey and Ms McGrory to create an Easter bonnet. Year 8 pupils were challenged to come up with an original design and to model their creations on the catwalk. Prizes were awarded for the most creative bonnets. On the hunt The afternoon also involved an Easter egg hunt outside. Year 8 hunters were tasked with finding as many eggs at they could and then exchanging them for prizes. There was face-painting, cupcakes, colouring and much more besides. Catwalk Choreography The highlight of the event had to be Mrs Mulhern's cracking catwalk choreography…we can't include all the details but believe us…you had to be there ! Janey O'Kane 8 Grace pictured with Mrs McGlinchey 8 Grace Pictured with their creations
Page 35
35 Catching up with past Girls in Green The Careers department in St Cecilia's works very hard to support all the students to find the right career for them. St Cecilia's News caught up with a few past pupils who are making their mark in the world… A few questions…for a past pupil My name is Sarah Molloy (year 13) and I decided to ask my Aunty Cathy a few questions about her experiences at St Cecilia's College as she is a past pupil. She attended both the same Primary School, Nazareth House P.S. and Secondary school as me, which I think is crazy but class! Cathy is one of my biggest inspirations as she is determined, brave, thoughtful, and friendly. She has a lovely husband and two beautiful children, who I absolutely adore. I am extremely proud of her as she has achieved so much in her life, and I aspire to be just like 1. Which subjects did you choose for GCSE? "I had to choose the compulsory subjects like English, Maths, Religious Education and Double Award Science. I then chose Information Technology, Child Development, French and Home Economics." 2. Which was your favourite subject and why? "My favourite subject when I was at St Cecilia's College would have to be Religious Education because I found learning about the bible stories quite interesting. I didn't find the subject difficult and, because I enjoyed the syllabus, it caught and held my attention whilst learning was occurring at the same time!" 3. Was there a defining moment during your time at school when you realised what you wanted to do with your life? "I always knew that I had a desire to work with the public as I have a very outgoing personality. School life made me realise that I had a couple of close friends, but I was the "social butterfly" and enjoyed chatting with all the girls in my classes. I was determined to work within the Travel and Tourism industry and was over the moon when I was successful in attaining my role as Cabin Crew with "Flybe" based in Belfast." I have
Page 36
36 had the most fantastic experience flying to different countries and meeting so many interesting people over the years. I have even had the pleasure of having some of my past teachers on my flights!" 4. If you could, would you change anything about your days in St Cecilia's College? "Well, you can always work harder, I suppose! During my time at St Cecilia's College, I did study and I always completed my homework and met deadlines. However, when you are a teenager you think time goes by so slowly when you are at school. Looking back, my years at St Cecilia's flew! If I could speak to my 14-year-old self, I would say, 'Don't be afraid to ask questions as teachers are said to have a vocation and are there to help their pupils, to explain a certain topic that a pupil may have difficulty understanding.' 5. Did you make lasting friendships? Are you still in contact with any of your old school friends? "I still send and receive cards from my best friends at St Cecilia's College and, when I am back home in Derry, I love bumping into people along the Quay or in Foyleside who were in my classes. It is lovely to hear how they are doing and what paths their journeys have taken them. Of course, social media helps as we are all "friends" on Facebook!" 6. What is your message to both staff and current pupils at the school? "My message to the girls would be: 'You only get one chance at this, there will never be another! Make the most of your days at school and the professionals who are there to support you every step of the way. Don't waste any opportunity that comes your way! Grab it with both hands! Do your very best…put the work in…and it will pay off!' My message to the staff would be: 'Try to make your lessons as interactive and engaging as possible! Ask the questions! Ensure all the girls understand the concepts you are teaching and encourage your pupils to feel secure enough in your class that they can ask questions. This means the world to your pupils!'
Page 37
37 Counting on Success One of our energetic junior editors, Eirinn McGilloway caught up with past pupil, Siunnin O'Hagan who is now a very successful accountant in Jersey, aged 24. What was your favourite subject at St Cecilia's and why? Maths was my favourite subject because I always knew that I wanted a job that involved maths. I also liked it because I was good at it! What were your GCSE choices? My GCSE choices were, RE, English Literature, English Language, Maths, double award Science, Geography and History. Do you think those GCSE choices help you get your job? Yes, I do, because I did a few of them for A Level and I think it helped with my qualifications. Are you doing what you want to be doing? In other words, Is this job what you want to be doing? It wasn't what I had in mind, but I do really like this job. Do you think St Cecilia's had an impact on what you do today? Yes, I do because, they let me go back and do over a year although they didn't have to do that and they helped me get into university, where I got all my qualifications. Are you proud to be a past pupil of St Cecilia's? Yes, absolutely! I always tell people that that's where I went to school! Suinnin O'Hagan
Page 38
38 Building Belief Roisin O'Reilly is a former head-girl of St Cecilia's College. Mrs Brady caught up with her to find out what she is doing now. Tell me a bit about your career to date. When I left St Cecilia's I started a BA (HONS) degree in Banking and Finance at Ulster University. I then worked for Bank of Ireland for a long time in many roles, bank assistant, mortgage adviser, business lending. I continued to study and took professional qualifications and achieved a Professional Diploma accredited by the Institute of Banking through Trinity College Dublin. I took up my current position as manager of the Waterside Credit Union almost 5 years ago now. I keep up to date through continuing professional development and feel that this is an important way to stay on track in my career. I really enjoy my job, even though it can be a bit hectic and stressful at times! What are your fondest memories of being at St Cecilia's College? I have many happy memories of my time at the school. Being a part of the sixth form was really good. There were quite small numbers in sixth form and so there was great camaraderie among us. We shared friendships and lots of good times. I remember laughing so much during my year 13 and 14, but working really hard too. A really special time for me was the Prize-Giving evening held to mark the 25th anniversary of the school. I was invited to speak in my role as head-girl. I was asked to reflect on that school year 1992- 1993. I had prepared my speech with then principal Mrs Grainne McCafferty and I took this opportunity to reflect on her role in helping me. I'd added a few paragraphs to the speech that we had prepared together! I felt that she was excellent as a school leader. I really looked up to her so much; she was so charismatic and energetic and a great role model for me. Unbeknownst to me at the end of the prize giving I was awarded the Pederson award for commitment. This was a great highlight and I'm still so proud of the commemoration plaque that I received on that night.
Page 39
39 What were your favourite subjects? I had many favourite subjects. I think mainly of my A 'Levels subjects. I loved Business Studies, I loved Sociology with the legendary Mary McCafferty. She was an amazing teacher. I loved GCSE maths with Ms Caldwell. I remember Mrs Barr, my Biology teacher very fondly and it was such a tragedy when she died. I still remember that feeling of shock when the news broke. My former form teacher was Mrs Mulkeen and I loved her. She was so lovely. I also have great memories of doing GCSE Drama and remember we were always doing improvisation. I feel that it gave me a real advantage because it brought out my confidence, my ability to think on the spot and to take a leading role. I have really used in many work situations since. I was a contemporary of Pauline Hutton who went on to be a very successful actress… that's my claim to fame! What did you gain from attending this school? I feel very strongly that throughout my formative years, St Cecilia's gave me a belief in myself that I could do anything. My teachers really did instil confidence in me and they really did inspire us to do the best that we could do. It's such an important and formative time in your life and I remember feeling like I wasn't really equipped with any kind of confidence when I started in first year. I knew that I was clever enough, but looking back, I think I was a bit babied. I learned quickly what the expectations were and I thrived at the school. What advice would you give to young girls attending the school? I have lots of advice! I would definitely tell the girls to listen to their teachers because they do know what they're doing and they do care about getting the best out of you. I would say play to your strengths and follow what you're interested in. There's absolutely no point trying to pursue a career in something that you're not interested in. Another good piece of advice is whatever setbacks you face, keep going. Don't fixate on what you can't do; instead really strive to prove what you can do. You do know enough! I had a huge set back (I thought it was a set back at that time) when I realised I was expecting a child at the end of year 14. So, before I got my place at university I knew that I'd be a mum. That was a scary time for me, but having had my daughter at such a young age added so much to my life. It didn't prevent me from going on to study at university… it definitely made it harder for me, but I realised that I could go on and that's a really important lesson that I think I got from my time at St Cecilia's College.
Page 40
40 Celebrating World Book Day Year 8 celebrated World Book Day on 3rd March.
Page 41
41 Celebrating Pancake Tuesday Year 8 and 9 were treated plenty of pancakes!
Page 42
42 Letter to My Future Self Year 8 have been involved in the Irish News Young readers project and on week 3 they were invited to write a letter to their future self! Here's what Taylor Houston wrote… Dear my Future Self, I am now 12 years old and I'm in year 8. My favourite thing at the minute is school because I get to see all my friends. My favourite subject is Music and History. My History teacher is Mr Rodgers and he is so funny and he is one of the best teachers. My Music teacher is called Mr Quinn. He is also a very good and funny teacher. My favourite thing is to play the drums because it is very fun to do. My family and friends are important to me but the most important thing to me is my Granda's grave because his headstone is beautiful. My Granda was always my biggest supporter and always told me to follow my dreams and never give up. Being with my family and going out with my friends are what makes me happy, going on walks by myself and listening to music always makes me happy because it is peaceful and quiet. When I leave school I want to be a nail technician or a make-up artist, because that's what my cousin is doing now and she's so good at it and my aunty does as well. My advice to me in the future is to always follow my dreams and never give up and keep trying and always do what your heart tells you but also get good grades while you are in school. Goodbye for now… Taylor Houston 8Grace
Page 43
43 A Trip to Knock Year 13 student, Sarah Molloy reflects on her recent visit to Knock. As I am a member of the "Pope John Paul Award" group and also have chosen to study A Level Religion, my friends and I were delighted to get the opportunity to visit Knock. If you do not know where Knock is, it is a small village in County Mayo, Ireland. It is an approved Catholic shrine and place of pilgrimage where we believe that the Blessed Virgin Mary, Saint Joseph and Saint John the Evangelist appeared on 21st August 1879. Pope John Paul II, a supporter of devotion to the Virgin Mary, visited Knock in 1979 to commemorate the centenary of the apparition. On the morning of our trip, we woke at the crack of dawn to be on time for the two-hour bus ride to Knock from Derry. Once we travelled there our teachers, Mrs Davidson and Mrs Kearney, allowed us to explore the grounds of Knock, then later we met back up with them. We met many people from different schools around Ireland, which was quite interesting and exciting. My friends and I ate in a beautiful restaurant called "The Old Ground Restaurant". After our lunch, we attended a lovely and very special Mass. A group of Irish dancers from our school took part in a short dance at the beginning of the Mass and we were all amazed at how wonderfully they performed. The Mass was entertaining and engaging as we participated in a few activities at the beginning of the service. Following that, we listened to the readers and participated in the Mass. We received our communion, the priest said a final prayer and blessing, then we left. It was a great experience, and I am very glad I was offered the chance to attend Knock with my friends. If you ever get the opportunity to be in County Mayo, be sure to visit Knock! You will come away with lasting memories of a very special and spiritual place!
Page 44
44 Dancing Divas Eirinn McGilloway 8 Courage writes about taking part in Dance a masterclass with a professional choreographer. On Thursday the 7th of April, a choreographer from New York named Michael came to our school. Mrs O'Donnell, the dance teacher, asked some of her students to take part in this workshop, I was picked as one of those pupils. Michael taught us some dance techniques to do with our breathing. He taught us how to move and contract our bodies by breathing, which I thought was very cool. Later he taught us a little snippet of his choreography. After this Michael asked us what words we would use to describe to the older generation how we feel, the words we used were misunderstood, judged, etc. He then asked us to improvise some choreography that expressed those words, and he made a dance of our moves! I feel that I learned a lot more about dancing and learned to love it even more! Michael is a great choreographer, and I enjoyed this workshop very much! Photographs courtesy of Ms O'Donnell
Page 45
45 Cara-Leigh Doherty, 10F, recently particpated in a competition to highlight the legacy of Lyra McKee who was tragically killed. Her entry, 'caught the judges' eye' and she will be celebrated at the upcoming award ceremony in Holywell Trust on May 6th. Things will get better; it won't always be like this. I wake. I eat. I sleep. I repeat. Time clashes together like oceans or men fighting a war, the blurry feeling like when someone no longer has their glasses on. That sinking feeling of being alone so alone that you feel trapped in your own body with no escape, no door, no fire escape, not even a window to climb through. All brick and steel, no way through, no tools to help, just a brick dark cold room where no one and nothing seems like it can help. There is one tiny crack, the diamond among the rough, the hope, the light and all I need to do is catch it. Trap it, feel it, no longer feel numb like nothing is happening, have emotion and feel loved. That small crack is singing the song of joy telling me "things will get better; it won't always be like this". It praises me and tells me everything is going to be okay and even though it's small, faint and very low I can still hear its call trying to break through. It's the sound of the child I once was, the happy little girl with no knowledge of the world. It's also the sound of me finding the light after catching it, trapping it, feeling it. So I say let's grab on to that light and leave this lonely cold, dark room where I'm so alone and not free having words eat me alive as if I was a decomposing body buried in the soil. I'm grabbing the light and not letting go if it's the last thing I do as "things will get better; it won't always be like this'.
Page 46
46 Art Attack! Lots of St Cecilia's girls love drawing and creating. Here are just a few illustrations… Eimear McCallion from 9 Grace said, "I like to draw because it helps me with my anxiety. When I'm overwhelmed I draw and it makes me feel more peaceful. I love expressing myself and being creative." Chloe Doherty 8 Grace is another delightful doodler. She commented, "Drawing is really fun. You get to experiment with different styles and my style is constantly changing. Her twin sister, Erin enjoys drawing too and shared this sketch below.
Page 47
47 Chari is in the squad and has orange hair and a cute dress. She likes oranges but never ever eat her oranges. Her pet squirrel is named Chipi. Jenna Sweeney 8 Courage 2 Funneh is leader of The Krew. She has cool blue hair. She's a middle child. She loves video games and is very funny. Alex is the leader of the squad. She's blonde and beautiful. She's a cat person but she has dogs too. She loves role-playing and her best friend of Levi. She's a very kind person. Lunar is in The Krew. She's Funneh's little sister. She's mad about creepy things and doesn't get scared. Her famous line is, 'Murder?' Sora He's in the squad and has light blue hair. He's funny and he's dating Jax. They used to be rivals but now they are dating…he's very energetic. I love art because I love to create. I get to draw whatever I like and it makes me feel so relaxed, at ease and happy! I want to be an art YouTuber as I love drawing stuff! Here's one of my drawings. These characters are YouTubers. Some are part of The Squad and the rest are The Krew. Meet The Squad The Krew
Page 48
48 St Cecilia's College is renowned for its very generous pupils and staff. There have been many activities held throughout Lent for the Irish Charity Trócaire. Trócaire is the Irish language word for "compassion." Trócaire works across a number of programme areas and delivers support through local partner organisations and churches, with the goal of helping communities and families to free themselves from poverty, cope with climate change, promote gender equality, tackle injustice, provide emergency relief. St Cecilia's Girls Give Throughout the school, students held raffles, bake sales and put on tuck shops to raise much needed finds for this organisation. Mrs Brady's class raffled a basket of treats which included handmade chicks and bunnies, kindly donated by Ms Cooper, the crochet queen of the school. Mr O'Kane scooped the first prize, with Ms Mulhern taking second prize. Name the Bunny Miss Carson's class held a 'Name the Bunny' competition and Mrs Wakeley scooped top prize!
Page 49
Page 50
50 Summer Beach bucket Donegal France hats holidays ice cream ice pops sand Spain sun sun cream sunglasses
Page 51
51 Would you like to get involved in our next edition? Could you write a fabulous feature? Have you got a nose for news? Could you be a sensational sports reporter? Have you an issue that you want to get off your chest? Are you the perfect poet? Are you a delightful doodler? (Cover images needed!) contact Mrs Brady! Get in touch…email Mrs Brady jbrady054@c2ken.net, or just pop in and talk to her in room G005. Join Mrs Carson's next Creative writing class talk to senior editors Sarah, Jodie-Lee. Or junior editors, Áine, Eirinn or Orlaigh!