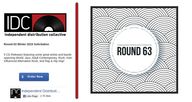 Return to flip book view
IDC Round 63 Solicitation
Page 1
Round 63 Winter 2015 Solicitation
5 CD Releases featuring some great artists and bands spanning World, Jazz, Adult Contemporary, Rock, Irish-Influenced Alternative Rock, and Rap & Hip Hop!
Page 2
Independent Distribution Collective presents our 63rd Solicitation just in time for Winter placement (our first of this year). We are
excited about many of these new releases and are very proud to have a handful of great artists joining IDC. Check out the
overview of our new titles below, and feel free to visit our website anytime for more information on any of these artists or releases.
IDC proudly welcomes these 5 new titles:
Click on an image to jump to a page where you can hear music, view the retail one-sheet, "Like" the artist on Facebook, and link to their website...feel free to use the order button to place a quick and easy order directly to IDC!
Page 3
Title Page
Jessi Teich - Twisted Soul CD
Commonly considered an old blues, jazz, and soul singer-songwriter trapped in a young woman's body, 10-time international songwriting award-winner JESSI TEICH (pronounced TEACH) brings a pop sensibility to her stylish new album, TWISTED SOUL. The album showcases Jessi's sinuous vocal prowess as well as her heralded songwriting capacity, and contains three songs which already have won awards, including the kickoff track, "The Haunting," winner of three competitions on its own. She masterfully mixes jazz sophistication, blues grit, and soul's tragic romance, with an edgy-but-elegant aesthetic. It's that type of classy combination that's drawn her comparisons to everyone from Billie Holiday to Sade to Fiona Apple.
Click to link to Jessi Teich's website
Page 4
Title Page
The Shams - One and All EP
San Francisco based band The Shams are a multifaceted, Irish-influenced rock band that showcases their strong and original song writing skills on their highly anticipated "One and All." Produced by John Cesario (who has worked with big acts such as Fleetwood Mac and Eddie Money) One and All has a raw and unique feel to it – yet while it is influenced by their Irish roots, their eclectic songs put them into a new genre of their own creation and appeals to music lovers of all ages. The Shams are quickly becoming a fan-favorite by combining their hard rocking, punked-up beat and raw, powerful vocals. They provide listeners with a new, hard-hitting perspective on the evolution of Irish music, and with each fiery live performance, The Shams are leaving listeners begging for more.
Click to link to The Sham's website
Page 5
Title Page
V2 - We Are V2 CD
Legendary multi-platinum rock producer Ron Nevison and 11-year-old twin rock protégés Vittorio and Vincenzo of V2 (pronounced Vee- Squared) are teaming up to release their award winning debut album We Are V2 worldwide on February 24th, 2015. These kids grabbed the attention of the Los Angeles Music Awards who nominated their debut album in seven rock categories, and they made Rock N Roll history by sweeping all seven, including Record of the Year. The boys already have hundreds of thousands of Facebook fans, and the Youtube video of their LA Music Awards performance has over 1 million views. Vittorio and Vincenzo are on a fast track to the Rock N Roll Hall of Fame and their award winning debut album will go down in history as the album that launched them.

Click to link to the V2 website
's website
Page 6
Title Page
Mooch Da Player - The Ghetto Storyboard

Produced entirely by Doyle Johnson, the all-star guest lineup on The Ghetto Storyboard makes for a quality Bay Area album, including Platinum selling stars E-40 and Yukmouth, San Quinn, 3XKrazy, Clyde Carson, Turf Talk, former Roc-A-Fella artist Allen Anthony and others. The live instrumentation, collaborations and willingness to work outside of his own genre allows Mooch to provide a wide ranging highly eclectic debut album. Mooch Da Player recites his own story from his perspective in a way that gets the point across about urban struggle, but does not glorify or demean the people living through it.
Click to link to the Fo'way website
's website
Page 7
Title Page
Z-Man & Elon - The Opening Act CD
Z-MAN is back with his new album, The Opening Act, produced entirely by Elon. The last time these two teamed up was for the now classic ANTI NERD album back in 2003. The Opening Act is the classic tale of an indie rap artist trying to become the headliner and money maker in this music game. The album features Luke Sick, Lady Fingaz, The Gingerbread Man, Johanna Phraze, Dj Quest, Trunk Drank, Hopie, Opio and Pep Love.
Click to link to the Gurp City Records' website
Page 8
Catalog Round 62 One Sheet
Page 9
Catalog Round 61 One Sheets
Page 10
Page 11
Rocker-T - The Hurban Warrior of Peace: Part Konkrete CD Cat#: LIPLP002 IDC#: IDC0605
In musical and lyrical harmony with time and space, Rocker-T finishes an epic journey with his fourth installment from "The Hurban Warrior of Peace" series, ":Part Konkrete." Rocker-T whetted the appetite of the globe with the powerful EPs "From Brooklyn to Oakland" in December of 2012, "Still Burn Da Weed" in April 2014, and the LP "The Hurban Warrior of Peace: Part Roots" in June 2013, all to much acclaim. He now releases the grand musical offering entitled "The Hurban Warrior of Peace: Part Konkrete." The LP features many more of Rocker-T's talented friends including the artists KRS-One, Marlon Asher, Jamalski, Mykah Montgomery, Zahira Soul and Cutty Ranks,and producers G2, DSB, Jah Yzer, Doyle Johnson, EL Kool Kyle, DJ Prophecy,and Roommate Justin.
Spencer Day - Daybreak CD Cat#: SDM001 IDC#: IDC0596
Acclaimed singer/songwriter Spencer Day returns to his musical roots with his fifth full-length album Daybreak, and his first independent album in seven years. His past two albums were released on the legendary Concord/Jazz label. With Daybreak, Spencer has created an album of signature interpretations of well-loved songs from the 1960's along with five brand-new compositions written in homage of these classic American tunes. Spencer calls Daybreak his "top-down Chevy convertible on the Pacific Coast Highway" album, evoking the breezy feel of a sunny Southern California afternoon. Classics including Groovin, A World Without Love, and Never My Love have been re-imagined and interpreted in Spencer's trademark honey baritone voice.
Page 12
Jeremy Spencer - Coventry Blue Cat#: PRLZ103 IDC#: IDC0585
From Jeremy Spencer, legendary British Blues slide guitarist and original member of Fleetwood Mac, Coventry Blue cuts a wide path through blues, country, jazz & perhaps a deceptively subtle indie folk vibe that should seal the deal for fans young & old. A master class from this Rock and Roll Hall of Fame Inductee, Jeremy Spencer has not lost a step!
Billy Cobham - Tales from the Skeleton Coast CD Cat#: CMC1 IDC#: IDC0595
Ever since his breakthrough in the early 1970's, as a founding member of the Mahavishnu Orchestra and as a drummer/band leader whose recordings such as Spectrum, with a powerful, complex style of play exerted a strong influence on the course of jazz and jazz-fusion, Billy Cobham has remained a tireless musical explorer. Cobham's newest recording "Tales From The Skeleton Coast" on his personal recording label, Creative Multimedia Concepts, provides credence to his ever-deepening exploration of his life experiences as reflected through his musical compositions.
Page 13
Narada Michael Walden - Thunder 2013 CD TAR- 001 IDC Cat #0552
Thunder 2013, Narada's first Independent Rock & Blues influenced Solo Album, highlights 15 original songs and features Narada on drums and lead vocals. Throughout his storied career, Narada has written and produced hit songs for countless voices. Thunder 2013 departs from this formula and highlights Narada's strong vocal sensibilities and shows the world that he too has his calling at the front of the stage! Thunder 2013 is strong new direction from Narada Michael Walden known for his R&B and Dance Hits including multi-platinum and Grammy winning tracks with Whitney, Mariah, Aretha, Santana and so many more...
Ray Manzarek & Roy Rogers - Twisted Tales CD Cat#: CNC0001 IDC#: IDC0546
Ray Manzarek and Roy Rogers have received no shortage of kudos since they first recorded together five years ago. The new release is a collaboration of keyboard and guitar sounds that merge with stories, images and art. These two amazing musicians create an 'intoxicating, plush sound that is - more than unique.' Manzarek and Rogers are seemingly an odd pairing—but their new recording unleashes a stunning musical landscape for the listener—this music will 'take you for a ride'… There is a full-length documentary film to be released examining their unique collaboration and friendship in depth. 'Twisted Tales' is destined to become a classic, not only as Ray Manzarek's last recording, but also as a definitive work of two great artists.
Page 14
Bill Ortiz - Highest Wish CD LAR#0008 IDC#0500
A longstanding member of the Santana band, Bill Ortiz is proud to present his new full-length release titled Highest Wish. A follow up to his "Winter in America" EP released earlier this year, this new album project features conscious emcees such as Casual, The Grouch, Zumbi (Zion I) and K-Maxx, as well as fellow Santana member (and 11 time Grammy® Award Winner) Tony Lindsey, and iconic poet vocalist Linda Tillery, featured on a spoken word performance of Dr. Martin Luther King's Nobel Peace Prize speech. "Carlos has always used music to inspire and bring people together," explains Ortiz. "I try to follow in that tradition. I've been really inspired by some of the Bay Area hip-hop artists like Casual, Zumbi and the Grouch.
Zion I - Shadowboxing CD Cat#: LUR001 IDC#: IDC0546
Hip-Hop group Zion I continue to forge new ground musically on their latest LP Shadowboxing, a beat-heavy hip-hop album decidedly grittier than past projects. Always pushing the literal—and figurative—needle forward, the duo, consisting of emcee Zumbi and producer Amp Live, have once again created something experimental and heartfelt. Shadowboxing features guests such as Bassnectar, Collie Buddz, Grouch and Eligh, and Goapele.
Page 15
Mickey Hart Band - Mysterium Tremendum CD TSP#0101 IDC#0478
On Mysterium Tremendum, The Mickey Hart Band consists of Widespread Panic bassist Dave Schools, Grammy winning percussionist and longtime band mate Sikiru Adepoju, Tony Award winning vocalist Crystal Monee Hall, singer Tim Hockenberry, drummer Ian "Inx" Herman, guitarist Gawain Matthews, and keyboardist / producer, Ben Yonas. Mysterium Tremendum will be released by Hart's own 360° Productions. The album, recorded at Hart's Studio X in Sonoma County, CA, was co-produced by Hart and Ben Yonas. Special guests Steve Kimock, Reed Mathis appear on select tracks as well as long time collaborators, Zakir Hussain, and Giovanni Hidalgo.
Greg Kihn Band - Best of Beserkley '75- '84 CD RR 2012-01 IDC# 0487
Legendary 80's rocker, Greg Kihn, is proud to announce the release of his new album, Greg Kihn Band: Best of Beserkley, 1974-1985, as both hardcopy CD and digital download. Best of Beserkley, 1974-1985's 21-tracks features 19 Greg Kihn remastered original hits drawn from Greg's eight-of-nine full-length Beserkley Records studio albums, including The Breakup Song (They Don't Write 'em Like That), Jeopardy, Happy Man, and Reunited, along with two tribute tracks to Bruce Springsteen (long considered one of Greg's biggest musical influences), Rendezvous and For You.
Page 16
Back Catalog
Click arrow to open full catalog spreadsheet in new tab
Page 17
Independent Music Moving Forward
2001 Van Ness Ave #411 San Francisco, CA 94109 (415) 292-7007