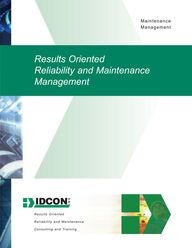 Return to flip book view
Results Oriented Reliability and
Page 1
Page 2
Please take a moment to provide us with some information about you. Torbjorn Idhammar
President
Welcome
Thank you for taking the time to view our Results Oriented Reliability and Maintenance Management Book.
IDCON INC is a management consulting company specializing in reliabilty and maintenance for the manufactuing and processing industries maximize profits through the improvement of reliability and maintenance practices.
Click this link for our latest maintenance and reliability articles and tips or to join our newsletter group.
IDCON's maintenance management book written by Christer Idhammar is an inspiring source of knowledge in reliability and maintenance management, leadership, execution and practical tips. This maintenance and reliability management book comprised of one to two page, independent reliability and maintenance articles on a wide variety of subjects affords the reader ingenious insights and solutions to everyday maintenance management problems.
Page 3
Page 4
Page 5
Page 6
Page 7
Page 8
Page 9
Page 10
Page 11
Page 12
Page 13
Page 14
Page 15
Page 16
Page 17
Page 18
Page 19
Thank you for previewing "Results Oriented Reliability and Maintenance". For more information about IDCON or our services, we invite you to view our videos, visit our website or click one of the contact icons at the bottom of the page.
Christer Idhammar Founder and Executive Vice President
919-723-2682
Christer is the founder of IDCON INC, the inventor of our Results Oriented Reliability and Maintenance management (RORM) philosophy, world renown speaker and reliability guru.
He started his career as a mechanic on board ships in the Swedish merchant marines. The foundation he built in 1972 in Sweden later became IDCON INC in the USA in 1985. Christer is IDCON INC's Executive Vice President in charge of Sales and Marketing.
Christer possesses a BS in Mechanical Engineering.
His newest book is "Knocking Bolts: Six Decades in the Reliability and Maintenance Arena"
Services & Products
Reliability & Maintenance Assessments
Planning and Scheduling
Preventive Maintenance
Operator Essential Care of Equipment
Root Cause Analysis
Spare Parts and Materials Management
Results Oriented Reliability and Maintenance Awareness
Tor Idhammar, President
919-723-268
Tor has worked with IDCON INC since 1997 and IDCON's president since 2009. He has reliability and maintenance experience from many different industry segments world-wide. He is author of several books, white papers and articles. As president, Tor oversees the day to day operations of IDCON.
Tor has a BS in Industrial Engineering from NC State University and a MS in Mechanical Engineering from Lund University in Sweden.