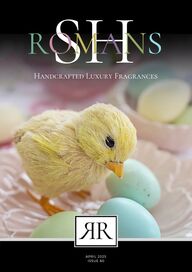 Return to flip book view
Romansluxuryhomefragrancesbrochure
Page 1
Page 2
R O M A N S L U X U R Y H O M E F R A G R A N C E SCONTENTS2 0 2 3Page 2ContentsPage 3Our JourneyPage 4Environmental PledgePage 5Why Use Romans ProductsPage 6Romans Clean BurnPage 7Our Premium ScentsPage 8Luxury Soy Wax Melts Page 9Soy Wax Melt FragrancesPage 10-13Wax Melt BurnersPage 149cl Small Soy CandlePage 1520cl Medium Soy CandlePage 1630cl Large Soy CandlePage 173 Wick Soy CandlePage 18Candle Safety TestingPage 19Occasion LabelsPage 20Luxury Reed DiffusersPage 21Luxury Room SpraysPage 22-23Shower SteamersPage 24Luxury Kids Bath RocksPage 25Kids Bubble Bath Page 26Luxury Bath RocksPage 27Bath BombsPage 28Coconut & Lemongrass Holiday Travel BagsPage 29Luxury Body OilPage 30Shower Gel & Body LotionPage 31Body Scrub & Body ButterPage 3224K Facial SerumPage 33Soy Tealights Page 34Scent Of The MonthPage 35-39Special OffersPage 40-46Scent DescriptionsPage 47-49Product Scent AvailabilityLovingly Handpoured In The UK
Page 3
Our Journey Has BegunWELC OME TO R OMAN SI wanted to share a little bit more about why I startedRomans and why I love working from home so much. Several years ago my Asthma had become progressivelyworse and it was a chance conversation with my Asthmanurse that it was brought to my attention about howburning paraffin wax products can exasperateconditions such as mine.I went away and did my own research and discoveredthis to be true and found I needed to swap to soy waxproducts.I decided to make the change and within a very shortperiod my Asthma had improved so much that I havenever looked back.I had been a representative for several home fragrancecompanies in the last 13 years and thought myexperience would be a good base for building my ownbusiness. On so many occasions I struggled when I couldsee gaps in the market that they missed and failed tocapitalise on.My husband has his own business and is very innovativeand always looking to test new things. We are ahousehold where being your own boss was always a bigsubject and had this feeling there was always thiscertainty of being my own boss one day.Having always been obsessed with home fragranceproducts especially candles I wanted to make my ownproducts and bring the dream to life. I wanted to dowhat I loved the most and it not be just about earningan income. My passion is helping others build their ownbusiness's and achieve their goals no matter how big orsmall.So I decided after testing multiple products at homethat I would launch my own range into the market in2022. I was fortunate enough to be provided with somespace within my husbands factory/warehouse toexperiment.YOURS TRULY,Shelley HughesFOUNDER/DIRECTORI had so much fun not only playing with fragrances butalso the marketing and business part of running my owncompany. We did everything ourselves, from the design of thecompany logo & packaging, to the marketing materialsand of course the amazing products we now have tooffer. It was such a sharp learning curve and such agreat experience. Why Romans...The inspiration for our name came whilst walking mydogs across Roman Fields, an archaeological park thathas been described as one of Britain's premier Iron Ageand Roman monuments. Being born and having lived inColchester, Britain's oldest recorded town also made itseem even more fitting.Today...I am now meeting so many wonderfully interestingpeople who have invested time in helping me ensure wehave the most amazing fragrances and products.So this is my entrepreneurial story so far and if you areusing my products, I really hope you have enjoyed themso far!Always remember anything is possible, just believe inyourself and work hard.I loved the start up phase of my business, it's such anexciting and crucial time. This wouldn't have beenpossible without all the amazing people that haveencouraged and supported me so far on my journeyThank you so much you know who you are. xx
Page 4
Vegan &EnvironmentallyFriendlyReducing the carbon footprint of the business.Reduce energy consumption.Minimise the production of all types of waste,especially paper. Encourage reuse, recycling and the disposal ofother waste that cannot be avoided, in aresponsible manner.Favour the use of suppliers who arecommitted to environmental good practice.The Board of Romans Fragrances iscommitted to both the protection of theenvironment and evaluating the impact thatthe company's services can have.The Directors are committed to continuallyimproving its performance by regularly reviewingits environmental procedures and impacts.Clean BurnNon-ToxicSoyWaxCrueltyFreeSLS &ParabenEnvironmentalPledge
Page 5
PureLuxuryTH E P UR SUI T FOR P ERFEC TION. ..Luxury and exquisite endulgment with every product.Why is Soy Better?Unlike paraffin wax soy candles donot emit any harmful or toxic gaseswhen they burn.Soy wax candles do not emit anycarcinogens either. When paraffinwax, which is made from petroleumburns, it emits harmful chemicalssuch as toluene and benzene.Both these chemicals have beenlinked to the development of asthmaand lung cancer.Since soy wax is made from plants itemits no such chemicals.So when you are enjoying the scentof your soy candle you can rest easythat there is no risk to you physicaland respiratory health.Longevity... Soy wax candles are known to lastlonger than paraffin candles of thesame size, upto 30% longer!Meaning, you are making better useout of your money and enjoying yourfavourite scent for longer!No Soot Deposits... Soy candles do not produce petro-carbon soot at all so will burncleaner.When paraffin candles emit petro-carbon soot it deposits ablackening on every thing locally tothe burning candle.With soy candles, this is not an issue.Improved Mental HealthScented candles help you reach arelaxed state of mind. It isscientifically proven that scentedcandles can play an essential role inthe physiological effects of mood,stress, working capacity, and overallmental health.As soon as you smell a good scent, itinduces the production of hormones,such as serotonin and dopamine.These hormones are famously knownas "happy hormones", whichsummarises their role.Better ScentThe theory behind soy candlesemitting scent better is connected tothe fact that soy candles burn moreslowly.So the lower melting point of soywax creates a larger pool of liquidwax around the flame.The fragrances are slowly releasedfrom this liquid wax, allowing the soycandle to emit the scent better!Unlike paraffin and beeswax candles,no artificial chemical amplifiers areadded to the mix!Vegan And Cruelty FreeSoy candles are vegan! If you alsowant to make sure that your candlesare cruelty free- soy candles are youranswer!While paraffin candles are notderived from animals or tested onthem, they are not cruelty free forthe planet.Environmentally Friendly andSustainableParaffin candles are derived fromnon renewable resources- crude oil-,soy candles are derived fromrenewable resources- plants!So, enjoying your favorite scent will not mean depleting limitedresources.Paraffin is a heavy hydrocarbonderived from crude oil so releasesmassive amounts of carbon dioxide.About 10 grams per hour! Soy waxreleases significantly lower amountsof carbon dioxide, making it moreenvironmentally friendly.Soy candles are also biodegradable-another reason why they are anenvironmentally friendly andsustainable choice!
Page 6
RomansClean BurnThe key to every candle we produce is in the wick.At Romans we have invested heavily in the developmenttime needed in testing wicks, wick size and soy waxformulations. The wick's key function has a considerable impact onthe flame quality. Our aim was to produce a candle withthe perfect flame and to optimise the burningcharacteristics.A perfectly suited wick to all the other componentswithin the candle allows for a candle to burn efficiently.This alone allows the tip of the wick to reach the highesttemperature that is required to burn the candle withminimal residue.The UK the market is flooded with endless low-qualityand low-cost fragranced products. These are producedon a massed production basis and there is a highchance they contain a range of allergens and toxicingredients. When a candle containing allergens andtoxins is burnt, these chemicals are released into theenvironment.We had an aim with our hand-poured candles that theydon't put out an unpleasant black sort when burningand more importantly raise your indoor pollution levels.Our candles are 100% soy, so they burn clean with astrong, unaltered scent. Do you know the properties of a clean-burning candle? THERE IS A RIGHT WAY AND A WRONG WAY TO BURN A SOY CANDLE? When burning your new soy candle If you burn it for to short a period oftime, you may find that it burns unevenly, potentially creating a really deeptunnelling in the centre.So the key is to ensure that the first time you burn a new soy candle, youneed to let it burn long enough for the wax to melt fully across the diameterof the candle. Once you get that first, long burn out of the way, your candlewill burn evenly going forward.Did youDid youknow?know?
Page 7
OurPremiumScentsOur Premium Scents:BLACK TO BLACK Inspired by TOM FORDHALFETI inspired by PENHALIGON'S PERFUMELOST CHERRYInspired by TOM FORDTOTALLY FABULOUSInspired byTOM FORD FCKING FABULOUS FRAGRANCES THAT MAKE A STATEMENT!Our premium fragrances collection offers a more premium grade of fragrance oilcompared to our normal fragrances. These fragrances have been specially formulated using more natural ingredients topromote longevity, extra strength and additional quality to the finished product. This will add even more luxury and pleasure to your scent experience.
Page 8
These are the perfect way tofragrance your home quickly andfor many hours from a single cube. One of the many reasons peoplechoose wax melts is theconvenience of being able startand stop a burn to fit around theirlifestyle as well as the flexibility tochange your scents to suit yourmood. The wax does not evaporate itsimply melts and graduallyreleases the scent as it burns.Once the scent has gone simplypop out the wax and replace withyour new chosen scent. To get the perfect healthy burnwith optimum scent release forthe longest duration we stronglyrecommend using Soy tealights,and that your burner measuresbetween 9-11cm tall from the baseto the underside of the wax well. NEVER USE SCENTED TEALIGHTSIN AN OIL BURNERWax MeltsAVAI L AB LE I N A LU XU RY 4 PA CK APPR O X 65 GR AM SOur soy wax melts are available in over 70 stunning scents.£3.90£4.85 Premium ScentsStandard Scents
Page 9
English Pear & Freesia*JO MALONEEventus*CREED AVENTUS 50 Shades of Rouge*JO MALONEFluffy Towels*YANKEEGardeniaHypnotic Venom *DIOR HYPNOTIC POISONHotel of DreamsHalfeti (PREMIUM)*PENHALIGON'S PERFUMEIntense Luxurious*COMFORTItalian Neroli*TOM FORDJo's Grapefruit*JO MALONELost Cherry (PREMIUM)*TOM FORDLuscious LimeMadame *CHANEL COCO MADEMOISELLE Misty Cashmere*DKNY CASHMERE MISTMonkey FartsMountain Air*ZOFLORAMy Girl*CAROLINA HERRERA GOOD GIRL Noir*THE WHITE COMPANYPomegranate NoirPet Odour Eliminator*FEBREEZE Pink SugarPassionfruit & Papaya Plum & Rhubarb African Adventure*LYNX AFRICABaby PowderBergamot Patchouli Blackberry & Bay*JO MALONEBlack CherryBlue Agave & Cacao*JO MALONEBlush Sands*YANKEE PINK SANDSBrazilian BeautyBubblegumBlack to Black (PREMIUM)*TOM FORDBlack Raspberry & VanillaBlueberry & VanillaCreamy Musk & SandalwoodCocoa PatchouliCosy Moments*BATH AND BODY WORKSCandy Floss & MarshmallowClassique*JPG CLASSIC PERFUMECoconut & Lychee TwistDamson Plum Rose & PatchouliDriftwoodDark Coconut*YANKEEDark Opium*YSL BLACK OPIUMDamson JamDark Orchid*TOM FORDDazzling PomegranateDusk*LUSH TWILIGHTDark Honey & TobaccoEnglish Oak & Hazelnut*JO MALONE Pink Passion*ROBERTO CAVALLIRelax Stress Relief*RADOXRhubarb & CustardSweet Almond Macaroon*JO MALONESea Salt & Wood Sage*JO MALONESalted Caramel*YANKEESweet Opoponax*DIPTYQUE PARIS2 Sexy*CAROLINA HERRERA 212 SEXY HIMStrawberry & KiwiStrawberry & Lily*COMFORTSummer Breeze*LENORSweet Orange & ChilliShanghai Blossom*TOM FORD SHANGHAI LILY Thai Lime MangoThai Orchid*FEBREZEThe Male*JPG AFTERSHAVETranquility*NEOM TRANQUILITY Tutti FruittiTotally Fabulous (PREMIUM)*TOM FORD FCKING FABULOUS Unicorn SparkleVanilla CreamWhite Chocolate CaramelWhite Fig*WHITE COMPANY Zingy Lemon*= INSPIRED BY Available Scents:
Page 10
We always advise using soy tealights with our burners to protect the finish and prolongthe life of your burner as well as maximising the scent from your wax melt.Wax MeltBurners RomansTrio Burner £25.99This beautiful ceramic wax burner comes with a difference. The RomansTrio Burner has 3 separate dishes so that you can burn different scents eachnight without having to clean out your burner and before your wax melt isactually ready to be thrown away, saving wastage and saving you money!Essentially this is 3 burners for the price of 1
Page 11
Romans Abstract Burner £15.99The Romans Abstract Burner isa chic and contemporarydesign. Two openings of different sizes,bars to one side and enclosedon the other, it is a littleunusual and unlike any burneryou have seen before.Available in White.Romans Vogue Burner£15.99The Romans Vogue Burner is atimeless design, simple butclassic and will add a touch ofclass to any room in the homeAvailable in White.
Page 12
Romans Curve Burner £16.99The Romans Curve burner offersa beautiful alternative to manyother burners in our range. It hasa unique twin curved styling. Available in White & Grey..Romans Chic Burner£15.99The Romans Chic Burner is atimeless design, simple butclassic and will add a touch ofclass to any room in the home.Available in White.Romans Sphere Burner£12.50The Romans Sphere Burner is aclassic and elegant burner, Very Scandinavian in aestheticswhich brings a simplicity to yourcoffee table.Available in White.Each burner is hand finished and some natural variation may occur from piece to piece.Minor surface imperfections and surface ripples can occur with handmade products butthese will not affect the functionality of the burner in any way.
Page 13
Romans Marble Burner £15.99The Romans Marble Burner is tall and slim, A separate dish makes it easy to remove and change your wax. The dish on top has 2 little handles which fit perfectly into thegrooves at the top of the burner's body. A Simple and elegant burner with contemporary Grey marbling. Please be aware that the marble pattern is subtle and notevenly distributed. Each burner is different to the next onedue to the individual hand finishing.Each burner is hand finished and some natural variation may occur from piece to piece.Minor surface imperfections and surface ripples can occur with handmade products butthese will not affect the functionality of the burner in any way.
Page 14
Small Candle9CL L UX UR Y SC EN TE D S OY W AX C AN DL E£9.00Bergamot & Patchouli Blueberry & VanillaBlush SandsBlackberry & Bay Black Raspberry & Vanilla Cocoa Patchouli Creamy Musk & SandalwoodClassiqueCoconut & Lychee TwistDazzling Pomegranate Dark Opium Dark CoconutDark Honey & TobaccoDamson Plum Rose & PatchouliDriftwoodEnglish Pear & FreesiaEventusFluffy TowelsHotel Of DreamsHypnotic Venom Luscious Lime My GirlPink Passion Pink SugarPomegrante NoirRelax Stress ReliefShanghai BlossomSweet Orange & ChilliSweet Almond & MacaroonStrawberry & Lily2 SexyTutti FruittiVanilla CreamStandard Scents:Our luxury small soy wax candles are lovinglyhand poured and blended with scent to bringyou an amazing fragrance and create theperfect burning experience. So whether youare relaxing with a book, chilling in front of theTV or soaking in a bath they will create theperfect ambience. Upto 40 hours burn time.9cl Candle
Page 15
20CL LU XU RY S CE NT ED SO Y WA X CA ND LEMedium CandleFor a longer and stronger fragranceexperience our luxury medium sized soy waxcandles offer up to 70 hours of burn time. Our candles come in a range of differentfragrances that deliver a luxurious andrelaxing scent, whether you're giving a gift tosomeone else or just treating yourself, ourscented candles never disappoint. £17.5020cl CandleAfrican AdventureBlueberry & VanillaBlackberry & Bay Black Raspberry & Vanilla Cocoa Patchouli Creamy Musk & SandalwoodClassiqueDazzling Pomegranate Dark Opium Dark CoconutDark Honey & TobaccoDamson Plum Rose & PatchouliDriftwoodEnglish Pear & FreesiaEventusFluffy TowelsHotel Of DreamsLuscious Lime Passionfruit & PapayaPink Passion Pink SugarShanghai BlossomSweet Orange & ChilliSweet Almond & MacaroonStrawberry & LilyTranquilityVanilla CreamStandard Scents:
Page 16
Large Candle30CL LUXURY SCENTED SOY WAX CANDLEOur most popular and desirable candle size inour range offering you up to 90 hours of luxuryand enjoyment. All our candles are presented to you with astunning Chrome lid and delivered in a luxuryembossed and glossed box for the perfectfinishing touch.All of our candles are BS standard safety &soot tested to ensure you the safest burnexperience.Standard Scents £22.00Bergamot & PatchouliBlackberry & BayBlack CherryBlack Raspberry & VanillaBlueberry & VanillaClassique For HerCoconut & Lychee TwistCreamy Musk & SandalwoodDamson Plum Rose & Patchouli Dark Honey & Tobacco Dark OpiumDazzling PomegranateDriftwoodEnglish Pear & FreesiaEventus Fluffy Towels Pink SugarPomegranate NoirShanghai BlossomStrawberry & Lily Sweet Almond & Macaroon Sweet Orange & Chilli 2 SexyThai Lime & Mango Tranquility Tutti Fruitti Vanilla Cream Zingy LemonPremium Scents £28.00Lost Cherry Totally Fabulous
Page 17
3 Wick CandleLUXURY SCENTED SOY WAX CANDLEPremium Scents £45Lost Cherry Inspired By Tom FordTotally FabulousInspired By Tom FordF*****g Fabulous15 AMAZING SCENTSStandard Scents £35Blackberry & Bay Insprired By jo MaloneBlueberry & VanillaCocoa & PatchouliClassique For Her Inspired By Jean Paul GaultierCoconut & Lychee Twist Damson Plum Rose & PatchouliDark Honey & TobaccoDriftwoodEventus Inspired By Creed AventusHotel Of DreamsPomegranate Noir Inspired By Jo MalonePink Passion Inspired By Roberto CavalliTranquility Inspired By Neom
Page 18
Candle TestingBS EN 15426:2018 SOOT TESTING BS EN 15493:2019 CANDLE FIRE SAFETY TESTINGTest Procedure: We conduct testing in accordance with BS EN15493 (2019) to check that your candles comply with this CENstandard as regards fire safety. Meeting these requirements canhelp show due diligence in complying with the UK GeneralProduct Safety Directive (GPSD) and is often required by retailers.We can conduct testing in accordance with BS EN15426 (2018) tocheck that your candles comply with this CEN standard as regardssooting behaviour. Meeting the requirements of this standard canhelp show due diligence in complying with the UK General ProductSafety Directive (GPSD) and is often required by retailers.To pass this test, your candles must have an average soot index perhour of less than 1.0. BS EN 15426:2018 SOOT TESTING BS EN 15493:2019 CANDLE FIRE SAFETY TESTINGAt Romans we have invested heavily in our candles being testing to BSstandards in an external laboratory testing chamber to ensure that theyperform to a high standard for safety. All four candles sizes in our range have passed their relevant tests withexceptional pass grades.As a company we have also ensured that there are candle burning andmaintenance instructions on all of our candle boxes throughout the range. The instructions are printed in easy to understand terms to ensure ourcustomers use the product in the correct manner to ensure the safest andmost enjoyable experience.
Page 19
Baby BoyBaby GirlThank YouNew HomeWedding DayIn Loving MemoryOn Your EngagementHappy BirthdayHappy AnniversaryHappy Mothers DayHappy Fathers DayHappy Valentines DayAvailable For:Our luxury occasion labelsare available for our 30cl largecandles & our XL 500ml reed diffuser.Presented with Silver foiling for thatextra touch of class.On our website these are available toorder for an additional £1.50Occasion Labels
Page 20
ReedDiffusersAVAILABLE IN A 60ML/120ML/500MLStandard Scents:60ml £12, 120ml £20 & 500ml £70Premium Scents:120ml £28 & 500ml £100Black To BlackHalfetiLost CherryTotally FabulousEventusFluffy TowelsLuscious LimeMonkey FartsMountain AirPink SugarPlum & RhubarbPomegranate NoirRhubarb CustardShanghai BlossomStrawberry & LilyTranquilityUnicorn SparkleVanilla CreamBergamot & PatchouliBlackberry & BayBlack CherryBlueberry & VanillaBlush sandsBubblegumClassiqueCocoa & PatchouliCreamy Musk & SandalwoodDark Honey & TobaccoDamson Plum Rose & PatchouliDazzling PomegranateDriftwoodEnglish Pear & FreesiaOur Reed Diffusers are the perfect way tofragrance your home constantly without a flame. Not only are our Reed Diffusers long lasting, but theyrelease the most amazing scent. This is due to thehigh quality ingredients and high fibre reeds used tobring you the perfect fragrance experience. Simplyturn your reeds every few days to keep yourfragrance experience at its best.
Page 21
Room & LinenSpraysAVAILABLE IN 100ML P L A S T I C O R G L A S S B O T T L E SStandard Scents:Plastic Bottle 100ml £7.50Glass Bottle 100ml £10.50Premium Scents:Glass Only 100ml £13.50Black To BlackHalfetiLost CherryTotally FabulousOur luxury scented room sprays are perfectto use not only as an air freshener for aninstant burst of fragrance, but also theperfect choice to freshen fabrics and softfurnishings in your home and car leavingthem smelling beautifully refreshed.Bergamot & PatchouliBlackberry & BayBlack CherryBlueberry & VanillaBlush sandsBubblegumClassiqueCocoa & PatchouliCreamy Musk & SandalwoodDark Honey & TobaccoDamson Plum Rose & PatchouliDazzling PomegranateDriftwoodEnglish Pear & FreesiaEventusFluffy TowelsLuscious LimeMonkey FartsMountain AirPet Odour Eliminator(Plastic Only)Pink SugarPlum & RhubarbPomegranate NoirRhubarb CustardShanghai BlossomStrawberry & LilyTranquilityUnicorn SparkleVanilla Cream
Page 22
Luxury ShowerSteamersCONTAINS ESSENTIA L O I L SNOT S UITA B L E FO R USE D U RIN G P REG N A N CYBenefits of Shower Steamers:They provide the therapeutic benefits of essential oils, but in half the time of a bath. Shower steamers are also great for clearing out yoursinuses, detoxing and clarifying your skin, and re-creating the spa experience at home.Aromatherapy shower steamers are tablets thatdissolve in the shower. In the process, they release afragrance from essential oils. A person may simply enjoytheir aroma or use them for health reasons.Essential oils in the Shower: Looking for a way to enjoy an aromatherapy soak, butdon't have time for a bath? Shower steamers are theperfect solution. They provide the therapeutic benefitsof essential oils, but in half the time of a bath. Showersteamers are also great for clearing out your sinuses,detoxing and clarifying your skin, and re-creating thespa experience at home.What are Shower Steamers:Shower steamers are tablets that dissolve in water tocreate scented therapeutic steam. Like bath bombs,shower steamers are made with baking soda, citric acid,and essential oils. But instead of placing the tablet inyour bath, you place it on the floor of your shower.How to use shower steamers:To use a shower steamer, simply place one tablet at thefoot of your shower in a stream of water. As the tabletgets wet it dissolves and releases essential oils into thehot shower steam. Breathe deeply and enjoy thetherapeutic benefits of the essential oils.You can expect the tablet to last approximately 3-5minutes if it's in a direct stream of water.
Page 23
SEA MINERALS A fresh, cool marine fragrance with lemon, lime, birch leaves andozone notes. Leading to a heart of watery floral notes and marinenotes resting on a base of musk, woody amber and sandalwood.Essential Oils : Sweet Orange (Citrus Aurantium Dulcis), Lemon (Citrus Limonum), Lavender (Lavandula Angustifolia) Galbanum (Ferula Galbanum)OCEAN Fresh, green spicy top notes including citrus notes of lemon, orangeand bergamot. The heart is dry and floral with notes of geraniumand lavender, resting on a base of gentle subtle musk.Essential Oils : Sweet Orange (Citrus Aurantium Dulcis), Lavender (Lavandula Angustifolia), Lemon (Citrus Limonum), Galbanum (Ferula Galbanum) GRAPEFRUIT & MANDARINA fresh tropical citrus fragrance that is twisted by hints of grapefruit,mandarin orange and lychee with cool zesty notes of Sicilian lemon,key lime and green leaf.Essential Oils: Sweet Orange (Citrus Aurantium Dulcis), Grapefruit (Citrus Grands)LAVENDER & LIME A modern fragrance with top notes of juniper leading to furthernotes of grapefruit, pine needles, thyme, mint, basil and armoiseblended with heart notes of sage, geranium, cloves, lavender,cedarwood and patchouli. The dry down is rich with hints of moss,fir balsam and labdanum.Essential Oils : Lavender (Lavedula Angustifolia),Lime (Citrus Aurantifolia), Sweet Orange (Citrus Aurantiun Dulcis) SOUL SERENITY A fresh fougere accord with opening notes of lavender, lemon, lime,bergamot, pine, camphor and conifer with fruity notes of apple andpineapple on a floral heart of rose, hawthorne, sweet heliotrope,jasmine and lily on a sweet base of musk, tonka, vanilla, patchouli,cedarwood and moss.Essential Oils : Lemon (Citrus Limonum), Lavender (Lavendula Angustifolia), Patchouli (Pogostemon Cablin)FRESH MINTA combination of strong Spearmint and Fresh Mint combine to givea fresh, uplifting fragrance to clear the senses and leave the userenlivened and refreshed.Essential oils : Fresh Mint (Mentha Arvensis) Available in 6 scents£3.50 Each
Page 24
KidsBath RocksAVAI L AB LE I N A LU XU RY 17 5G P AC KSLS & PARABEN FREE, VEGAN & ENVIRONMENTALLY FRIENDLY.Available Scents:BubblegumMonkey FartsPink Sugar Rhubarb & Custard £4.75Romans luxury Kids Bath Rocks arethe perfect fun way for your littleones to enjoy a bath full of colourand fragrance whilst not worryingabout their skin.They are SLS & Paraben freemeaning they are kind and gentleto delicate and sensitive skin. Evenmore so than leading baby skincarebrands.
Page 25
Kids BubbleBathAVAILABLE IN A LU X U R Y 2 5 0 M L B O T T L ESLS & PARABEN FREE, VEGAN & ENVIRONMENTALLY FRIENDLYAvailable Scents:BubblegumMonkey FartsPink SugarRhubarb & Custard£10.50Romans luxury kids Bubble Bath is the perfectway for your little ones to enjoy a bath full of funbubbles and fragrance whilst not worrying abouttheir skin.They are SLS & Paraben free meaning they arekind and gentle to delicate and sensitive skin.Even more so than leading baby skincare brands.
Page 26
Available Scents:Damson Plum Rose & PatchouliDark Honey & TobaccoEventusLost CherryPink PassionTranquility £4.95LuxuryBath AVAI L AB LE I N A LU XU RY 17 5G P AC KSLS & PARABEN FREE, VEGAN & ENVIRONMENTALLY FRIENDLYYou only need 3-4 Romans luxury Bath Rocks per bath for stunning fragranceand colour, meaning you will get to enjoy multiple baths from this bag.High concentrations of fatty acids and vitamins make it an ideal cosmeticingredient for softening the skin. It is renowned for its anti-inflammatory and healing properties. It helps fight break outs and relieves dry skin and irritation.Shea butter helps to condition, tone, and soothe your skin.How does Shea butter in our rocks benefit your skin? WITH SHEA BUTTER FOR AN ADDED TOUCH OF LUXURYRocks
Page 27
£4.95Bath BombsSLS & PARABEN FREE, ENRICHED WITH SHEA BUTTERVEGAN & ENVIRONMENTALLY FRIENDLYAvailable Scents:Creamy Musk & SandalwoodDamson Plum Rose & PatchouliDark Honey & TobaccoDark OpiumDark OrchidEventusLost CherryPink PassionPink SugarTranquilitySafe for all skin typesMoisturisingWill not make the skin oilyAnti-inflammatoryAntioxidantAntibacterial Anti-fungalHelps boost collagen productionHelps promote cell regeneration Helps reduce stretch marksOur amazing scented Bath Bombs have a high concentration of vitaminsand fatty acids making them the perfect product for smoothing, soothingand conditioning your skin.
Page 28
HolidayTravelBagsCOCONUT & LEMONGRASSA collection of luxury travel sizeRomans products for you andyour family to use on holiday. The perfect size for travelingabroad or holidaying in the UK.The Coconut & Lemongrass Scentwill leave you feeling andsmelling fresh whilst alsorepelling flies and mosquitoes.All products are vegan andenvironmentally friendly.They are SLS and paraben freemeaning they are suitable to useon even the most sensitive skins.Bag 2Shower Gel 100mlBody Butter 100gBody Scrub 150gBody Oil 100ml£35.00Bag 1 Shower Gel 100mlBody Lotion 100mlBody Scrub 150gBody Oil 100ml£32.50
Page 29
BodyOilSLS & P ARA BE N FRE EPerfect for massaging or an indulgent skin treatWhat's in sweet almond oil and why is it your skins BFF?Sweet almond oil is full of vitamin E, vitamin A, monosaturated fatty acids, protein, potassium,and zinc.Vitamin E is an extremely powerful antioxidant. Oxidative stress (A.K.A. when your body doesn'thave enough antioxidants to fight free radicals) is a major cause of the deterioration of yourskin's collagen layer. Since collagen keeps your skin looking supple and wrinkle-free, you wantto stave off oxidative stress with antioxidants. That's where sweet almond oil comes in.Thanks to the Vitamin E, sweet almond oil keeps your skin cells healthy, protects your skinfrom UV radiation damage, and helps your skin look smooth, soft, and free of fine lines.The fatty acids help your skin retain moisture and can heal chapped and irritated skin.Plus, the vitamin A can help reduce acne. Because the oil easily penetrates skin, it's great forcleaning out the dirt and oil and accumulates in your pores. This process can preventblackheads and acne from developing.Because it's packed with these vitamins and nutrients, sweet almond oil is a natural skincaresuperpower. If you're worried about using oil on your skin—especially if you have oily skin—there's no need to stress. Sweet almond oil is mostly non-comedogenic, which means it'sunlikely to clog your pores. The benefits of sweet almond oil can be appreciated by those with oily, dry, and sensitive skin.** Not suitable if you have a nut allergy**Available Scents:Coconut & LemongrassCreamy Musk & SandalwoodDamson Plum Rose & PatchouliDark Honey & TobaccoLost CherryPink PassionTranquilitySweet almond oil is extracted from thefruit of the Prunus amygalus dulcisalmond tree, Native to Asia and theMiddle East. They first appeared in theUnited States in the 19th century. £11.50250ml
Page 30
BodyLotionAvailable Scents:Coconut & LemongrassCreamy Musk & SandalwoodDamson Plum Rose & PatchouliDark Honey & TobaccoEventusLost CherryPink PassionPink SugarTranquilityComing Soon:Dark OpiumDark Orchid £10.50250ml £10.50250mlShowerGelSLS & P ARA BE N FRE EOur luxury Shower Gels are enriched with VitaminE and Glycerine to nourish and protect your skinVegan & Environmentally friendlySLS & P ARA BE N FRE EOur luxury Body Lotions are enriched withVitamin E, Coconut Oil, Coco Butter and Shea tonourish and protect your skinA non greasy formula will leave your skin feelingamazing Vegan & Environmentally friendly
Page 31
BodyScrubSLS & P ARA BE N FRE EAvailable Scents:Coconut & LemongrassCreamy Musk & SandalwoodDamson Plum Rose & PatchouliDark Honey & TobaccoLost CherryPink PassionPink SugarTranquilityComing Soon:Dark OpiumDark OrchidBodyButter £14.00 200gSLS & P ARA BE N FRE EOur luxury Body Butter is packed full ofingredients such as Coco Butter, Coconut Oil,Vitamin E & Aloe Vera to nourish, soothe andenrich your skin. This will leave your skinfeeling fragrant, supple and soft.Our luxury Body Scrubs are packed withSweet Almond Oil & Dead Sea Salt that has ahigh percentage of minerals such asPotassium, Calcium and Magnesium. These are known to be beneficial for skinconditions such as Acne, Psoriasis andEczema. These ingredients will also leave yourskin feeling nourished & hydrated. £12.00 350g
Page 32
£26.00 30mlPacked with highly prized oils for theultimate facial skincare routine.Featuring Precious Argan, Rosehip, andskin healing Castor oil.With lustrous gold, and refreshingbergamot, for soft, supple skin.24KFacialSerumScent: delicate bergamotArgan Oil: increases skin elasticity, and hair strength, reduces oiliness, redness andinflammationRosehip Oil: High in vitamins A & C. Reduces the appearance of stretch marks and scars.Grapeseed Oil: conditions, softens and moisturises. Antimicrobial, anti-inflammatory and antioxidantCastor Oil: scientifically proven to speed up skin repair24 carat Gold Leaf: maximum gold lustre for the least impact.Bergamot Essential Oil: calming, anti-inflammatory & anti-bacterialWith authentic 24 carat gold, for pure opulence.With 24 Carat Gold, and oils renowned for their anti-ageing, anti-inflammatory andantioxidant powers, offer the best care for your customers' skin.Adored by Cleopatra, Gold Leaf is still expertly crafted to ancient methods (it'shammered from recycled jewellery to less than 0.1 micron thin).Paired with Rosehip & Argan, for skin regeneration, our Royal 24k Gold Facial Elixiruses minimal natural resources, but offers maximum luxury.Presented in a premium, glass & bamboo dropper bottle, with real goldSpecial Features
Page 33
Soy Tealights UNS CE N TE D 7H R BU RN T I ME Using soy tealights with our wax melts is important to ensure a safe nontoxic burn and to optimise the fragrance release for the longest durationpossible. This is due to soy wax naturally burning cooler than paraffin wax so itdoesn't damage the scent and release it too quickly.They are also the safer option as unlike Paraffin they do not give off sootthat builds up on the inside of your melt burner that could potentiallycatch fire.This means you can sit back and relax and enjoy your scents and enjoythe beautiful warm glow also.To maximise your scent experience, it is recommended that your burnermeasures between 9-11cm tall from the base to the underside of the waxwell. NEVER USE SCENTED TEALIGHTS IN AN OIL BURNER10 Pack £5.0020 Pack £9.50Available Sizes:
Page 34
15% OFF ALL PRODUCTS IN THE RANGE.TRANQUILITY A sensual herbal fragrance opening with relaxing sweet orange androsemary. It then leads onto a calming lavender and geranium heart, whileresting on a cedarwood and patchouli base.INSPIRED BY NEOM TRANQUILITY SCENT OF THESCENT OF THEMONTHMONTHPRODUCT SPOTLIGHTWax Melts £3.31 RRP £3.90Glass Room & Linen Spray £8.92 RRP £10.50Plastic Room & Linen Spray £6.38 RRP £7.50Medium Candle £14.87 RRP £17.50Large Candle £18.70 RRP £22.0060ml Reed Diffuser £10.20 RRP £12.00120ml Reed Diffuser £17.00 RRP £20.00500ml XL Reed Diffuser £59.50 RRP £70.00Shower Gel or Body Lotion £8.92 RRP £10.50Body Oil £9.77 RRP £11.50Body Scrub £10.20 RRP £12.00Body Butter £11.90 RRP £14.00Bath Bomb or Luxury Bath Rocks £4.20 RRP £4.95Available 1st-30th September 2023
Page 35
MASQUERADEBALL COLLECTIONWelcome to the RomansLUXURY FRAGRANCES TO IMPRESS1ST-30THSEPTEMBER, 2023THE EMPERORTHE TEMPTRESSTHE DARK MASQUERADEL I M I T E D E D I T I O N S C E N T S
Page 36
The Dark Masquerade The sun has set and the dark masquerade beginswith beautiful bergamot dancing in the sparklinglight of the moon, mixing with frankincense andakigalawood to form a rich woody aroma. Thisfeeling of being alive in nature is enriched by grassynotes of vetiver and floral touches of cyclamenmingling with spicy cashmeran. Close your eyes andyou will be able to picture the floral arrangements,decorating the ballroom. This is an invigoratingscent that awakens all the senses with base notes ofsensuous cashmere, leathery labdanum, earthypatchouli, nutty coumarin, warm, woody ciste and atouch of vanilla. The amalgamation of these spicesand flavours is enough to set the heart racing andhead spinning as it taps into your sensualsubconscious. The EmperorThe handsome masked Emperor epitomises thecharm of a man in uniform with regal authority. Hemay stand by the fire, but it is he alone that radiatesheat, and everyone at the ball wants to get closer. A striking and powerful aroma that commands theattention of your senses, catching the eyes, nosesand smiles of all, but seeking only one. A rich,rambunctious scent with significant depth andsophistication and yet a charming level of simplicity.Let yourself be compelled by this powerful anduniquely seductive fragrance. Strong, earthy aromasscintillate the senses like a summer forest at night,warm and dark through saffron, with honeyed,velvety undertones of vanilla and violet, deepened bymusk and enlivened by eucalyptus and patchouli.The TemptressAn enticing and sultry scent, That is bold,mysterious and provocative, like two lovers indisguise, swirling in flurries of silk, satin and lace.The Temptress teases the senses like eyes behind aracy masquerade mask. Let the musky dry amberdance with zingy notes of raspberry petticoats andbeautiful balsamic, dominated by an earthy, naturalbase of cedarwood and spiced patchouli.
Page 37
The Emperor The TemptressThe Dark MasqueradeAvailable in:Small Candle £9 Large Candle £22Mini Reed Diffuser £12Plastic Room & Linen Sprays £7.50Wax Melt Bundle In All 3 Scents£10.50 RRP £11.70A Small, Medium and Large Candle TrioIn The Same Masquerade Scent£42.50 RRP £48.50Limited EditionAvailable 1st-30th September 2023
Page 38
Limited EditionSeptember SpecialsSeptember SpecialsLemongrass and GingerEmbrace the tranquil beauty of an exoticeastern garden with our Lemongrass andGinger fragrance oil. Both sensual andstimulating, this fragrance oil stands outwith citrus aromas mixed with spicedherbs and a hint of fresh eucalyptus.4 Pack Wax Melts£3.90Available 1st-30th September 2023The perfect scent to repel insects aswellas covering cooking smells. Very similar toour popular Coconut & Lemongrass butwith a deep, rich autumnal twist.
Page 39
September SpecialsSeptember SpecialsLimited EditionBurner Bundle Burner plus any 3 packs of melts from our core range £15*Available 1st-30th September 2023*Available in white, Gey & Black whilst stocks last
Page 40
BABY POWDERA soft, baby accord of rose, geraniumand iris with a background of sweetcedar, powdery tonka and balsamicmuskBERGAMOT PATCHOULI A fresh fragrance opening withcitrus, bergamot and vetiver leadinginto a herbal heart resting on a baseof patchouli and sandalwoodBLACK CHERRYThis fragrance will indulge yoursenses in a fabulously strong scent ofrich ripened black cherriesBRAZILIAN BEAUTYA rich comforting accord with topnotes of lavender, mandarin andsweet orange followed by a floralheart of lily and fresh iris resting on abase of coconut, creamy vanilla, sheabutter and soft woodsBUBBLEGUMA fruity yet spicy bubblegum accordopening with top notes of apple,pear and sugary notes supported bysofter notes of strawberry, peachand orange warmed by spicycinnamon that rests on a bed ofsweet raspberry and vanillaBLACK RASPBERRY &VANILLAA delicious scent of ripe raspberrieswith hints of strawberry, sandal,jasmin, vanilla and musk BLUEBERRY & VANILLAA fruity blend dominated byblueberries and strawberries withthe powdery sweetness of vanillaDAMSON PLUM ROSE &PATCHOULIOpulent fruity notes of plum, cassisand rich dark berries indulged indecadent spices of cinnamon andclove. Glamourous floral accords ofjasmine and rose are surrounded bysweet patchouli, sensual vanilla andmoss to complete this sophisticatedfragranceDRIFTWOODA powdery balsamic accord openingwith fresh notes of bergamot andorange, followed by floral notes ofjasmine and rose, resting on a baseof sandal, cedar, guaicwood,patchouli, vanilla and woody musksDAMSON JAMRipe mulberries, the tang ofstrawberry and pineapple, abackground of plum and sweetraspberry together with a hint ofamber, shadings of sandal, amberand white lilyGARDENIAA rich green floral fragrance openingwith ylang, gardenia, violet andfreesia supported by a heart of lily,rose, jasmine, tuberose and orangeblossom resting on a base of musk,precious woods, amber and dry fruitHOTEL OF DREAMSA floral accord opening with notes ofspicy pepper with bergamot, lemon,grapefruit and leafy green noteswith a hint of galbanum leading intoa fruity floral heart of rose, jasmine,lily and violet with cassis, plum,peach and apple on a base ofsandalwood, patchouli, cedarwood,amber, musk, moss, tonka andvanillaCREAMY MUSK ANDSANDALWOODA creamy, indulgent musky delight.Top notes of caramelised amber andhoneyed sweet white musks. Heartnotes of softly spiced pinkpeppercorns and a gentle wisp ofgeranium stems leading into a baseof warm patchouli and butteryMadagascan vanilla podsCOCOA PATCHOULIAn intense cacophony of pleasantlyintrusive fragrance notes. Richseductive patchouli, sweet berriesand flower heads heavily laden withnectar, are cut through with earthyspices and balanced with the slightbitterness of dark cocoaCOCONUT & LYCHEE TWISTA truly mouth-watering sorbetaccord featuring juicy fruity notes ofstrawberry, coconut, guava, peach,orange, rhubarb and guava, with softfloral hints of rose, lily, Jasmin andneroli with green nuances on asweet decadent base of coconut andvanillaCANDY FLOSS &MARSHMALLOWA mouth watering accord with juicystrawberry puree along with ripenedraspberries on a fluffy sugar, vanillaand musk baseDAZZLINGPOMEGRANATEA fruity accord combining top notesof pomegranate, peach, orange andrhubarb with floral nuances ofjasmine, rose, pear and a base ofsweet sugary notes, vanilla andwoodsSCENT DESCRIPTIONS
Page 41
A L L S C E N T S A R E A V A I L A B L EI N W A X M E L T S & M A N Y I NO T H E R P R O D U C T ST H R O U G H O U T T H E R A N G EPINK SUGARA sweet citrus accord combiningnotes of white sugar, lemon andbergamot with lily of the valley,musk, candyfloss and crushedvanilla pods.PASSIONFRUIT &PAPAYAA decadent woody orientalwhere fresh mandarin combineswith cardamon, mastic and floralhints of rose, jasmin and orangeblossom. The base comprisesamber, sandalwood, patchouliand sweet vanilla. LUSCIOUS LIMEA fresh vibrant juicy citrusfragrance with notes of coolPersian lime supported by limepeel, green notes and a touch ofsweet mandarin.MONKEY FARTSA vibrant sweet fruityconcoction with leading notes ofbanana and pear supported byorange, lemon, lime, coconutand jasmine on a base of muskand vanillaTHAI LIME MANGOFragrant mango and a hint ofpassionfruit followed by pinkgrapefruit, melon and pineapple, a littlelight jasmine blossom and abackground of raspberry sorbet.PLUM & RHUBARBA vibrant fruity accord of fresh rhubarband juicy plum supported withinterludes of ripe pear and sweet peachwith vanilla and sugar in the baseSTRAWBERRY & KIWI A mouthwatering fruity accord withnotes of lush ripe strawberry, cool kiwiand a hint of juicy lime with abackground of vanilla sugarSWEET ORANGE & CHILLIA sweet and spicy blend of orange zest,tangerine, bergamot, cassis and neroliwith undertones of black pepper, chilliand muskRHUBARB & CUSTARDA sweet confectionary accord of juicyrhubarb and vanilla custardUNICORN SPARKLEA sweet accord with notes ofbergamot, orange, fig leaves andraspberry leading to heart notes oflily of the valley, candyfloss,liquorice and strawberry resting ona base of woods, powdery musks,vanilla and caramelVANILLA CREAM A rich mouthwatering fragrancesmoothed by vanilla pods and hintsof creamy coconut, white chocolateand a whisper of fresh candyflossalongside a hint of warm spiceWHITE CHOCOLATECARAMELA sweet marshmallow fragranceenhanced by mouth wateringvanilla, candyfloss and toffee notesTUTTI FRUITTIA delicious fruity fragrancecomposed of sweet candy notes ofraspberry, strawberry and peachlifted by zesty citrus notes oflemon, lime and orange. ZINGY LEMONFresh, tangy, juicy aroma of freshlysqueezed lemons. A potent blendof lemon, lime, grapefruit andmandarin
Page 42
ROMANSMASCULINE SCENT DESCRIPTIONSP U R E L U X U R YTOTALLY FABULOUSA warm, sensual harmony opening withclarysage, chamomile, bergamot and warmpepper leading to a heart of leather, orris,mimosa, almond and freesia resting on anintense base o cashmeran, amber, musk,tonka beans and liquorice.INSPIRED BY TOM FORD 2 SEXYA rich, sensual, fougere fragrance with a topnote of bergamot and mandarin, warmedby crisp cardamon, pepper and ginger,leading to a hot heart of sandalwood,cumin, cedarwood and musk. Harmonisedby tonka and vanilla, smoothed by tobaccoand hints of leatherINSPIRED BY CAROLINA HERRERA 212 SEXYFOR HIMTHE MALEA masculine Oriental accord opening withbergamot, lemon and orange blossomfollowed by jasmine, violet and lily warmedwith coumarin resting on a base of woods,amber, patchouli and vanilla.INSPIRED BY JPG AFTERSHAVEITALIAN NEROLIA delightfully refreshing citrus fragrancereminiscent of classic colognes withelements of bergamot, lemon and mandarinzest combined with a herbal whisper. Theheart is full blooming neroli blossoms,lavender sprigs and jasmine petals restingupon a sensual musk and amber baseINSPIRED BY TOM FORDAFRICAN ADVENTUREA rich woody fougere fragrance withfresh top notes of mandarin andbergamot giving way to an aromaticheart with herbal notes of basil, clarysage, geranium and rose. Vanilla andwarm musk make up the woody baseINSPIRED BY LYNX AFRICADARK HONEY & TOBACCOA rich intoxicating aroma of honey flower,crushed tobacco, warm amber, tonka beanand sandalwood. Combined with hints ofpatchouli, leather and bourbon on therocks.*Contains: Orange, Patchouli & NutmegEssential OilEVENTUSA sensual fresh aromatic, masculinechypre cologne with notes ofblackcurrant, bergamot and appleintertwined with incense, peppery roseand birch on a heart of jasmine, sandal,patchouli and muskINSPIRED BY CREED AVENTUSAFTERSHAVE
Page 43
ROMANSFEMININE SCENT DESCRIPTIONSCLASSIQUEAn Oriental amber accord opening with fruity topnotes followed by a floral bouquet heart warmedby ginger and cinnamon resting on a sweetwoody, musky baseINSPIRED BY JPG CLASSIC PERFUMEDARK OPIUMA warm Oriental spicy fragrance with top notes ofpink pepper, orange blossom and pear leading toa heart of orchid and coffee and a sumptuousbase of amber, patchouli, vanilla and cedarINSPIRED BY YSL BLACK OPIUMBLACK TO BLACK A decadent woody oriental where fresh mandarincombines with cardamon, mastic and floral hintsof rose, jasmin and orange blossom. The basecomprises amber, sandalwood, patchouli andsweet vanillaINSPIRED BY TOM FORDHYPNOTIC VENOMA rich floral Oriental accord with warm notes ofmusks and vanilla soothed by hot floral elementsof carnation and lily, spicy nuances of cinnamonand cardamom are also presentINSPIRED BY DIOR HYPNOTIC POISONMISTY CASHMEREA musky floral accord with soft citrus top notes,light florals and a sweet musk and woods baseINSPIRED BY DKNY CASHMERE MISTMADAME A chypre accord opening with bergamot, lemon,lime, orange, green leaf, apple, plum, cassis andgalbanum leading to a heart of jasmine, rose, lily,freesia, violet and gardenia with marine hints on arich base of patchouli, sandalwood, cedarwood,amber, vanilla, tonka and musksINSPIRED BY CHANEL COCO MADEMOISELLE PINK PASSIONIndulge in wild and luxurious sensuality of anintense full bodied floral oriental fragrance thatwon't let you go unnoticed, opening with plum,orange blossom, A seductive wink of pink pepperwith a twist of green mandarin sets pulses racing,harmonised by ylang and rose on a floral heart oftuberose and orchid. Resting on a vanillic fondwith musk and amberINSPIRED BY ROBERTO CAVALLIMY GIRLA sumptuous floral Oriental where top notes ofrose, peach and apple refreshed by a drop ofbergamot rest upon full blooming tuberose,jasmine and magnolia supported by rich woods,elegant ambers, vanilla and velvet muskINSPIRED BY CAROLINA HERRERA GOOD GIRLPERFUME SHANGHAI BLOSSOMA hypnotic oriental floral accord opening withnotes of pink pepper, bitter orange and bergamotleading to a floral heart of lily, jasmin andtuberose alongside warm clove supported withincense, vetivert, patchouli, smoked woods,cashmeran and vanillaINSPIRED BY TOM FORD SHANGHAI LILY
Page 44
ROMANSINSPIRED BY SCENT DESCRIPTIONSBLACKBERRY & BAYThis fragrance opens with fresh notes ofblackberry leaves and blackcurrant buds,followed by a floral heart of rose, geranium,muguet and bay. Rich notes of musks andsandalwood complete this fragranceINSPIRED BY JO MALONEBLUSH SANDSA fruity floral fragrance introduces citrussweet orange notes and a fruity medley ofcoconuts, strawberries, melon and bananaleading to a floral core of muguet, rose andjasmine scattered with clary sage and cloves,the base is enriched with sweet vanillaINSPIRED BY YANKEE PINK SANDSBLUE AGAVE & CACAOA vibrant Latin melody with sparkling citrusnotes of lime and grapefruit leading onto aheart of blue agava enriched by a sensualblend of cinnamon, vetivert and cacaoINSPIRED BY JO MALONECOSY MOMENTSEnjoy the feeling of being wrapped in yourfavourite cosy and clean sweater on a freshevening walk. Gentle sparkling elements oflemon and bergamot are complemented byoutdoorsy stemmy green and ozonic notes. Elegant lily and orchid provide a petallytransparent floralcy whilst gentle musks,wood and a drop of sugar wrap the baseINSPIRED BY BATH AND BODY WORKSDARK COCONUTA creamy woody coconut accord withcoconut, sweet vanilla, cedarwood, nuancesof tropical flowers and muskINSPIRED BY YANKEEDARK ORCHIDA spicy Oriental accord with opening notes ofbergamot, orange, ginger, pepper, clove,thyme, apple, cassis, plum, coconut and peachleading into a floral heart of jasmine, ylang, lily,violet and rose on a rich base of patchouli,sandalwood, cedarwood, amber, musks, tonka,vanilla, cinnamon, vetiver and mossINSPIRED BY TOM FORDDUSKA bright summery infusion of lavenderbuds simmered in warm creamy milkgently stirred into sweet mouth wateringwhite chocolateINSPIRED BY LUSH TWILIGHTENGLISH PEAR & FREESIASimilar in style and identity to Jo Malone.A fresh fruity floral accord with notes of juicy pear, followed by soft florals of freesiaand Rose supported by patchouli, amberand sheer muskINSPIRED BY JO MALONE
Page 45
FLUFFY TOWELSThe fresh scent of clean towels warm from thedryer with notes of lemon, apple, lavender andlilyINSPIRED BY YANKEEHALFETI A fragrance that is inspired by the MiddleEastern trade routes starting with notes ofgrapefruit, rose, saffron and armoise into ahear of jasmin, violet and muguet finally dryingdown into a heavy musky scent of amber,resins, leather and oudINSPIRED BY PENHALIGON'S PERFUME50 SHADES OF ROUGEA masculine aromatic woody accordopening with citrus medley of bergamot,orange & rosemary. The heart of thisfragrance is a modern complex blend ofalmond, jasmine and Tonka, resting on abase of leather, cedar, vetiver, patchouli,amber, vanilla and muskINSPRED BY JO MALONEINTENSE LUXURIOUSAn impactful fruity floral composition openingwith fruity top notes of pineapple, coconut,peach, apple, melon and orange supported byhints of fresh aldehydes leading to a floralbouquet of rose, jasmine, orange flower, lily ofthe valley, violet, peony and chrysanthemum. The fragrance is completed with a substantivebase of vanilla, precious woods, amber, tonkabean, musk, powdery heliotrope and sweetsugarINSPIRED BY COMFORTJO'S GRAPEFRUITA vibrant fruity citrus fragrance where notes offreshly sliced grapefruit are combined withsweet orange, mandarin and gentle green floralhints and a base of musk and patchouliINSPIRED BY JO MALONEENGLISH OAK & HAZELNUTA rich woody fragrance opening with freshlemon notes scattered with green leafy notesleading to a light nutty heart of translucentjasmine and hazelnut with hints of cypress andamber with a woodland trail of cedarwood,oakwood, patchouli and smoothed withpowdery musksINSPIRED BY JO MALONE LOST CHERRYA mouth-watering fruity floral accord withopening notes of cherry liqueur and almondwith heart notes of black cherry, plum, Turkishrose Sambac, jasmine and spices on base notesof vanilla, sandal, patchouli, vetiver, tonka andmuskINSPIRED BY TOM FORDMOUNTAIN AIRAn ozonic citrus opening with breezyaldehydes, fresh citrus and eucalyptus leadingto a heart of rose, lily and jasmine alongsidepine on a woody baseINSPIRED BY ZOFLORAA L L S C E N T S A R E A V A I L A B L EI N W A X M E L T S & M A N Y I NO T H E R P R O D U C T ST H R O U G H O U T T H E R A N G ENOIRA woody fragrance with a top note of fig andmandarin followed by a floral middle note oflily INSPIRED BY THE WHITE COMPANYPET ODOUR ELIMINATORA refreshing floral accord opening with topnotes of ozone, bergamot, orange blossom,gentle aldehydes and fruity hints followed by aclean floral heart of rose, jasmine, violet and lilyresting on a base of amber, soft woods andmusk.INSPIRED BY FEBREEZE POMEGRANATE NOIRThe fragrance starts with lime and lemon zestenhanced with light undertones ofpomegranate, raspberry and plum.Incorporated into the formulation for thisdistinctive fragrance is a wonderful traceaftertaste of vanilla, sweet musk and moss.INSPIRED BY JO MALONE
Page 46
WHITE FIGA stylish and beautiful blend of Exoticfresh fig fruit and green fig leaf, blendedwith fruity blackcurrant, warming amberand woody fig bark INSPIRED BY WHITE COMPANY TRANQUILITY A sensual herbal fragrance opening withrelaxing sweet orange and rosemary. It thenleads onto a calming lavender and geraniumheart, while resting on a cedarwood andpatchouli base.INSPIRED BY NEOM TRANQUILITY THAI ORCHIDA fresh floral fragrance with fruity top notes ofpear, apple, peach and bergamot leading to awatery floral heart of rose, jasmine, violet, lilyand chamomile with a base of soft woods.INSPIRED BY FEBREZESUMMER BREEZEA delightful floral fragrance where fresh greenapple rests upon a heart of violet, heliotropeand a touch of spice supported by a powderybase of tonka, musk and woodsINSPIRED BY LENORSTRAWBERRY & LILYA fresh fruity floral fragrance with green fruitytop notes, strawberry, gardenia, violet andjasmine in the heart and a soft dry down withwoods and vanillaINSPIRED BY COMFORTSEA SALT & WOOD SAGEA warm sophisticated aromatic fragrance withdelicate sage and grapefruit enriched by hintsof bergamot and tangerine leading to aninvigorating heart of fresh ozone, cool breezeand soft florals smoothed by shades of musk,ambergris and clear wood.INSPIRED BY JO MALONESWEET ALMOND MACAROON A creamy, edible smelling almond accord withdominant notes of sweet cherry and a hint ofsmooth coconut.INSPIRED BY JO MALONESALTED CARAMELA rich creamy fragrance with notes of sweetcaramel, brown sugar and smooth vanillaalongside a salted butter nuance creating amouthwatering accord.INSPIRED BY YANKEESWEET OPOPONAXSweet Myrrh Fragrance Oil Inspired byDesigners with an added Twist. A sophisticatedfloral accord blended with edible smellingnotes of nut, powdery sweet vanilla, coconut,caramel, walnut, soft woods, amber, musk andtonkaINSPIRED BY DIPTYQUE PARISRELAX STRESS RELIEFA woody herbal accord opening with lime,grapefruit, orange, lemongrass, green leaf,galbanum, cedar leaf, fennel, pine, spearmint,eucalyptus and lavender with floral heart notesof lily, jasmine, rose and violet with spicy cloveon a base of cedarwood, sandalwood,patchouli, amber, tonka and vanilla.INSPIRED BY RADOX
Page 47
Bubble GumCreamy Musk & SandalwoodDamson Plum Rose & PatchouliDark Honey & TobaccoDark OpiumDark OrchidEventusLost CherryMonkey FartsPink PassionPink SugarRhubarb & CustardTranquilityKIDS BATH ROCKSKIDS BUBBLE BATHLUXURY BATH ROCKSBATH BOMBSSHOWER GELBODY LOTIONBODY SCRUBBODY BUTTERBODY OILPICKINGYOURPRODUCTSBY SCENTBath & Body Coming Soon
Page 48
African AdventureBaby PowderBergamot & PatchouliBlack CherryBlack Raspberry & VanillaBlack To BlackBlackberry & BayBlue Agave & CacaoBlueberry & VanillaBlush SandsBrazilian BeautyBubble GumCandy Floss & MarshmallowClassique For HerCocoa & PatchouliCoconut & LemongrassCoconut & Lychee TwistCosy MomentsCreamy Musk & SandalwoodDamson JamDamson Plum Rose & PatchouliDark CoconutDark Honey & TobaccoDark OpiumDark OrchidDazzling PomegranateDriftwoodDuskEnglish Oak & HazelnutEnglish Pear & FreesiaEventusFluffy Towels50 Shades Of RougeGardeniaHalfetiHotel of DreamsHypnotic VenomIntense LuxuriousPREMIUMWAX MELTSSMALL CANDLEMEDIUM CANDLELARGE CANDLE3 WICK CANDLEROOM SPRAYREED DIFFUSER Home Fragrance
Page 49
Italian NeroliJo's GrapefruitLost CherryLuscious LimeMadameMisty CashmereMonkey FartsMountain AirMy GirlNoirPassion Fruit & PapayaPet Odour EliminatorPink PassionPink SugarPlum & Rhubarb Pomegranate NoirRelax Stress Relief Rhubarb & CustardSalted Caramel2 Sexy Sea Salt & Wood SageShanghai BlossomStrawberry & KiwiStrawberry & LilySummer BreezeSweet Almond MacaroonSweet OpoponaxSweet Orange & Chilli Thai Lime & MangoThai OrchidThe MaleTotally FabulousTranquilityTutti FruittiUnicorn SparkleVanilla CreamWhite Chocolate CaramelWhite FigZingy LemonPREMIUMWAX MELTSSMALL CANDLEMEDIUM CANDLELARGE CANDLE3 WICK CANDLEROOM SPRAYREED DIFFUSER Home Fragrance