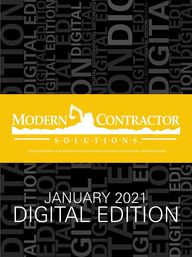 Return to flip book view
Modern Contractor Solutions January 2021
Page 1
JANUARY 2021DIGITAL EDITION
Page 2
JANUARY 2021 DIGITAL EDITION
Page 3
JANUARY 2021WWW.MCSMAG.COMON-SITE CRUSHING ON-SITE CRUSHING 2021 OUTLOOK2021 OUTLOOK INFLUENCE OF BIMINFLUENCE OF BIMBOURN BOURN IDENTITY IDENTITYGNSS HELPS GNSS HELPS RESTORATION RESTORATION PROJECT PROJECTAI TECHAI TECH TO CUT TO CUT EMISSIONSEMISSIONSPORTABLE EQUIPMENTPORTABLE EQUIPMENT
Page 4
Page 5
Page 6
Page 7
Page 8
JANUARY 2021 www.mcsmag.com42244JANUARY 2021VOLUME 15 ISSUE 01Inside This IssueON THE COVERPhoto courtesy of Topcon Positioning Group. The Topcon Automatic Excavator system in use at the training center in California is shown on the front cover. The system is used for automated depth control in order to dig to grade in flat, stepped or sloped applications. An article on a Maryland contractor using machine control from Topcon is available on page 44. www.topconpositioning.com32special focusIN EVERY ISSUEIndustry News ............................ 10Modern Construction Products ... 53Coach's Corner ........................... 54technology solution The Bourn Identity the help of GNSSenvironmental solution AI Technologycutting emissionsmanagement solution 2021 Outlooktransforming the landscape 36legal solution Unifying the Fieldclaims methodology422021 Outlooksoftware solution Gig Ready finding workers40equipment solution Versatility in Vegashow Hitachi machines conquer tough terrain and tight spaces2 WAYS TO HELP PREVENT CARBON MONOXIDE EXPOSURE ON JOBSITES Guest Post by Heather McGee, Milwaukee ToolIt's been called the "silent killer," and for good reason. Carbon monoxide is one of the most dangerous threats because it gives no clear warning to its victims – its odorless nature makes it utterly indistinguishable from other gases and smells. Milwaukee Tool has two ways to help prevent exposure.ON THE BLOG
Page 9
Page 10
DEPLOYED TO DEFEND PEACE OKINAWA, Japan (Jan. 16, 2021) Cryptologic Technician (Maintenance) 2nd Class John Durkee, from Birmingham, Alabama, assigned to the forward-deployed amphibious assault ship USS America (LHA 6), unloads a Mark 53 chaff launcher. America, lead ship of the America Amphibious Ready Group, along with the 31st MEU, is operating in the U.S. 7th Fleet area of responsibility to enhance interoperability with allies and partners and serve as a ready response force to defend peace and stability in the Indo-Pacific region. U.S. Navy photo by Mass Communication Specialist Seaman Theodore C. Leewww.mcsmag.com P.O. Box 660197 | Birmingham, AL 35266DONNA CAMPBELL Editor in Chiefdonna@mcsmag.comMIKE BARKER Publishermike@mcsmag.com RANDY MOON Media Consultantrandym@mcsmag.comMICHAEL FISCHBACH Media Consultantmichael@mcsmag.com JOHN FRIEND Media Consultantjohn@mcsmag.comKEVIN MCCLARAN Media Consultantkevin@mcsmag.comLISA AVERY Art Directorlisa@mcsmag.com SETH SAUNDERS Digital Media Specialist seth@mcsmag.comINGRID BERKY Office Manageringrid@mcsmag.comTIM GARMONCEORUSSELL HADDOCKPresidentCHRIS GARMONCFODONNA CAMPBELLVice President, EditorialTONYA BROWNINGVice PresidentSUBSCRIPTION inquiries or changes:205.380.2048No part of this publication may be reproduced or transmitted in any form or by any means, electronic or mechanical, including photocopy, recording, or any information storage-and-retrieval system without permission in writing from the publisher. The views expressed by those not on the staff of Modern Contractor Solutions, or who are not specifically employed by Highlands Publications are purely their own. All Industry News material has either been submitted by the subject company or pulled directly from its corporate website, which is assumed to be cleared for release. Comments and submissions are welcome, and can be submitted to donna@mcsmag.com.For reprint information, contact Chris Garmon at chris@mcsmag.com.Canada Post Publication Agreement #41578525. Undeliverables 355 Admiral Drive, Unit 4, Mississauga, ON L5T 2N1Modern Contractor Solutions Magazine@mcsmagModern Contractor SolutionsPROJECT PROFILECantilevered Ski Residence ....................................... 18EQUIPMENT SOLUTIONSVersatility in Vegas .................................................... 22Second Time Around ................................................. 24On-site Crushing ....................................................... 26ENVIRONMENTAL SOLUTIONAI Technology ........................................................... 32MANAGEMENT SOLUTIONS Decision-making: Part 2 of 3 ..................................... 342021 Outlook ............................................................. 36SOFTWARE SOLUTIONGig Ready .................................................................. 40LEGAL SOLUTIONUnifying the Field ...................................................... 42TECHNOLOGY SOLUTIONThe Bourn Identity ..................................................... 44MAINTENANCE SOLUTIONSWindow Soundproofing ............................................. 46Keep Track ................................................................. 48FEATURED PRODUCTSullair Air Compressors ............................................. 52Donna CampbellEditor in Chief2021: ANOTHER YEAR OF WOW On the day Biden took office, the press waves were full of optimistic quips of "let's work together" and "looking forward to your administration's policies to help the job market," and my favorite, "construction needs an infrastructure bill and emphasis on manufacturing in the U.S."In less than 12 hours, those optimistic messages turned sour with alarming RSS feeds resonating disappointment due to the 17 executive orders signed by President Biden, impacting the Keystone XL Pipeline, border wall construction, gas prices, immigration flow into the country, and other orders designed to undo the extensive work of improving the economy of the US by the past administration.In Alabama, extended safer-at-home orders were issued until March 5, and President Biden asked for a 100-day mask-wearing challenge. From sources to many name: businesses want to open, an infrastructure bill is needed, American workers who are employed want their job to exist tomorrow, and many are bracing for gas prices to rise (already an increase on Biden's first day in office). I say, "keep the faith." Life and living goes on. We as a dynamic country of spirited people have always navigated a way to prosper, using innovation and technology to find the solution. Sprinkled throughout this issue of MCS are articles to help your business stay on course. Need more to motivate your team? Check out the digital editions of past issues on mcsmag.com. Our content is strong and geared towards providing solutions. Let us be your resource.Be sure to check out the new column: Coach's Corner by Randy Goruk on page 54. Each month, Coach Goruk will present another teaching moment. Cheers,
Page 11
SUBSCRIPTION inquiries or changes:205.380.2048ROME specializes in disc plows, earthmoving scrapers, land leveling scrapers, and haul roadmaintenance equipment for the construction industry.ROMEROME manufactures construction disc plows from 6' wide up to 20' wide that range from 400 pounds per blade to an industry leading 1100 pounds per blade. ROME offers disc blade sizes from 28" up to 42" in diameter ontheirconstruction plows. No matter what your application or power unit size ROME has you covered on your construction tillage needs.tillage needs.ROME manufactures earth moving scrapers in both pivot dump and ejector styles. The pivot dump line ranges from 9 yards to 21 yards. The ejector line ranges from 16 yards to 35 yards.ROME's haul road maintenance line is far and above the most diverse in the industry. Whether you need a simple bottomless scraper, ejector finishing scraper, or a roller box scraper ROME has you covered.For more information on our products or for the closest authorized ROME dealer please contact us.
Page 12
Page 13
Page 14
JANUARY 2021 www.mcsmag.com10industry newsREDTEAM ANNOUNCES PARTNERSHIP WITH WHARTON-SMITH, INC.RedTeam announces a new partnership with Wharton-Smith, Inc.—a leading Southeast general contractor. The partnership will allow Wharton-Smith to optimize its business through RedTeam's construction management platform, specifically with a focus on accounting integration. Prior to using RedTeam, Wharton-Smith was using an aggregate method when it came to documenting, reporting, and other forms of communication within the company. RedTeam's construction management platform now provides Wharton-Smith with a centralized communication hub, increasing efficiency and decreasing overall production timelines. Wharton-Smith selected RedTeam as its first choice for a construction management platform, beating out top competitors in the industry.RedTeam's construction management platform is a model example of the newest class of hyper-vertical enterprise applications, purpose-built to facilitate collaborative workflows in the cloud. RedTeam and other such solutions are shaking up industries as they displace manual workflows and legacy back-office software applications.One reason Wharton-Smith chose RedTeam is because of the construction management platform's integration with Sage 300, a market leader in construction business management solutions. The integration combines RedTeam's industry-leading tools with Sage's end-to-end construction and property management software, increasing visibility into every facet of a contractor's business, including accounting, project management, estimating, and service management. For more, visit www.redteam.com. CURRY SUPPLY CELEBRATES ONE YEAR OF OPERATION AT GREATER PHOENIX LOCATIONCurry Supply celebrates an important milestone: a 1-year anniversary of the acquisition of a facility located in the greater Phoenix area, Gilbert, Arizona, and the company's westward expansion. The Arizona location is ideally located to cater to the clients in the southwest, including Arizona and South California. Like other strategically positioned Curry locations across the country, it offers its regional clients shorter lead times for vehicles and parts.Since the grand opening, Curry Supply Phoenix has received multiple updates and upgrades all with efficiency in mind. The interior office space was remodeled completely, fitted with numerous modern upgrades, including the state-of-the-art customer waiting area, as well as employee
Page 15
Page 16
JANUARY 2021 www.mcsmag.com12industry newsfacilities like the break room and bathrooms. Additionally, theproduction department was fitted with a brand-new coolingsystem, a necessity in the Arizona climate, as well as awarehouse racking system to make storage easier. For more,visit www.currysupply.com.BERNARD AND TREGASKISS LAUNCH JOINT WEBSITEBernard and Tregaskiss launched a new joint website to providea one-stop destination for semi-automatic, fixed automatic,and robotic MIG gun and consumables solutions. The websiteincludes a new look with improved mobile experience and a fullyfeatured search to make it faster and easier to find valuable MIGwelding information. The website has been designed for fullaccessibility for all visitors.A new Support page provides access to services and toolsto help users gain the best performance from their Bernard andTregaskiss MIG welding products. The page offers access tocustomer service, technical support, and welding distributorsfor personal assistance, along with answers to frequentlyasked questions about product manuals, replacementparts, and product maintenance. There is also a new onlinetool to help users visually identify their MIG gun, reamer,and consumables as reference for parts replacement andproduct reordering. In addition to product details for the brands' AccuLock™consumables, visitors can configure a semi-automatic, robotic,or fixed automatic MIG gun, step-by-step, for their exactapplication using the website's online configurators. Tregaskissreamers are also configurable using this tool.Other website features include an Industry section withpopular products and relevant technical articles for specificindustries such as automotive, heavy equipment and generalmanufacturing, along with construction, ship and more. Visit thenew joint Bernard and Tregaskiss website at tregaskiss.com. B2W SOFTWARE ANNOUNCES PROGRAM FOR 20THANNUAL USER CONFERENCEB2W Software, a leading provider of heavy constructionmanagement software, announces the program for InnovationForward, the company's 2021 User Conference. Online sessionsare slated for late February and early March.Content and the structure for the 20th annual B2W UserConference will take advantage of online technology to deliversoftware training along with opportunities for contractorsto explore new ideas about using technology to enhanceestimating and operational workflows. Basketball Legend BillWalton will share insights on big challenges, great leadership,and winning teams as the keynote speaker.OSHA CompliantGuardrail andStair Rail SystemsSafety Boot®
Guardrail SystemStringerShield®
Stair Rail System1.800.804.4741safetyboot.com• Non-Penetrating Design• Rugged Steel Construction• Exceeds OSHA Regulations• Simple, Aordable & Reusable• Residential, Multi-Family & Commercial Applications• Unique Free Standing Design• Keep Post Attached For Reuse On Next Level Or ProjectFeatured on osha.gov website!

Page 17
Page 18
JANUARY 2021 www.mcsmag.com14industry newsMain B2W User Conference sessions will take place on March 2-3. Four individual tracks will focus on advanced estimating, training on operational applications of the B2W Software ONE platform, collaboration across workflows, and future innovations. The pre-conference B2W Estimator University will run from February 23-25, with sessions for newer and intermediate users of the company's B2W Estimate application. Contractors can schedule one-on-one meetings on March 4 and 5 to discuss specific ideas and challenges with B2W product managers, developers, and support staff. For more, visit www.b2wsoftware.com.U.S. DEPARTMENT OF LABOR ENTERS PARTNERSHIP WITH NATEThe U.S. Department of Labor's Occupational Safety and Health Administration (OSHA) has signed a national strategic partnership with NATE: The Communications Infrastructure Contractors Association and the Federal Communications Commission (FCC) to improve worker safety in the communications tower erection industry. The goal of the 3-year partnership is to eliminate worker injuries and fatalities while performing wireless and telecommunications, tower erection, and maintenance operations. The partnership will address some of the industry's frequently encountered hazards, including falls from height, electric, falling objects, tower collapses, and inclement weather. "The demand for wireless communications and broadcast services has increased the need for construction, service and maintenance of towers throughout the country," says principal deputy assistant secretary of labor Loren Sweatt. "The partners will work together to focus resources on eliminating hazards and improving the safety and health of tower workers.""The timing of this national partnership agreement is critical as the Association's member companies and their technician workforce are on the front lines deploying the next generation technologies and broadband infrastructure that are simultaneously enabling a 5G future and helping close the digital divide," says NATE chairman Jimmy Miller. "The Association looks forward to partnering with U.S. DOL OSHA and the FCC in order to elevate and enhance the industry's safety culture and keep our workers healthy."OSHA's Strategic Partnership Program works with employers, employees, professional and trade associations, labor organizations and other interested stakeholders to establish specific goals, strategies and performance measures to improve worker safety and health. For more, visit www.osha.gov/partnerships/.• Well Rehab Products• Manholes• Bentonite• Filter Sock• Inline Chemical Mixers• Sampling Bailers• Clear PVC Pipe• Locking CapsAtlantic Screen& Manufacturing, Inc.Manufacturers of slotted & perforated pipe ranging from ½" to 24" in diameter302-684-3197Fax 302-684-0643142 Broadkill Road ■ Milton, DE 19968www.atlantic-screen.com ■ atlantic@ce.net
Page 19
Page 20
Page 21
Page 22
JANUARY 2021 www.mcsmag.com18project profileCantilevered Ski Residence structural thermal breaks support and insulate overhangsTHE VIEW FROM WHISTLER MOUNTAINPerched on the hillside of Whistler Mountain—one of North America's top ski resorts—the 20,000-square-foot Kadenwood residence complies with stringent energy efficiency and seismic requirements. Its footprint is a four-sided polygon with sweeping views of coastal mountains and alpine lakes. The four storey ski-in/ski-out structure features an elevator that transports occupants from the entry level to the ski slopes 50 feet below. The top three stories have year-round accommodations for the homeowners and separate suites for three other families. The building is a study in concrete cantilevers reminiscent of Frank Lloyd Wright's Falling Water, whose cantilevers appear to float above a waterfall. "We wanted to cantilever the top two floors over the ski slopes and toward the views, so that when in the house you felt you were floating in the clouds," explains senior technologist Eric Pettit of the Vancouver, B.C. architecture firm Openspace.When Kadenwood construction began, he says that building codes in Canada encouraged the use of structural thermal breaks to mitigate thermal bridging, and with the current BC Energy Step Code, the building would have to include them to meet the high energy performance target. TRANSFERRING LOADS, NOT HEATCantilevers impart high rotational and shear forces, especially in the mountains of Western Canada due to the district's snow loads of 176 psf, compared to design loads of 34.3 psf in low-lying Vancouver, which is 125 miles to the south. The designers needed cantilevered structures that could not only carry those loads, but also meet seismic requirements of the region. "The whole structure is concrete—from the basement to the roof," says concrete contractor Graham Roberge of Alpen Construction, subcontractor of Bradner Homes Ltd. "We used about 2,616 cubic yards of concrete and a million pounds of (reinforcing) steel on the project." Given the high thermal conductivity of concrete and steel, and its high surface area exposed to Whistler's frigid winter temperatures, the design team needed to mitigate thermal bridging and its unwanted effects. STRUCTURAL THERMAL BREAKS To prevent thermal bridging while supporting cantilever loads, the designers specified four types of structural thermal breaks. For the balcony and roof elements, the team specified Schöck Isokorb® concrete-to-concrete modules. Each 3.3 foot module consists of a block of rigid insulation penetrated by stainless steel rebar, which ties into the rebar of the interior slab and the cantilevered balcony. The insulation separating the interior and exterior slabs, together with stainless steel rebar that is one-third as conductive as carbon steel rebar, reduces heat loss at the penetration by up to 90 percent, according to the manufacturer. These modules are interspersed with a different kind of Isokorb concrete-to-concrete thermal break modules that transfer horizontal earthquake forces as required in the region.Above several windows the architects incorporated concrete "brows" that overhang a short distance similar to a sunshade. For these small cantilevers, the design team specified Isokorb concrete-to-concrete thermal breaks for slab edges. The stainless steel rebar penetrating the insulation block ties into the interior slab rebar. On the exterior side, the rebar forms into a loop to support the small cantilever. The fourth Isokorb thermal break used connects concrete to steel at the steel balcony that cantilevers from the concrete structure over the entry area. The stainless steel rebar on the interior side of the module is wired into the The wide roof overhang on the right is cantilevered while maintaining thermal and structural integrity using Isokorb® concrete-to-concrete structural thermal breaks. The concrete for the balcony is in place while the much thicker interior slab is being formed up.
Page 23
www.mcsmag.com JANUARY 202119floor slab rebar. Once cast in concrete, the exterior threaded side of each rod is bolted to steel balcony beams using backing plates and high strength stainless steel nuts. Roberge estimates his crew installed about 1,000 linear feet of concrete-to-concrete thermal breaks and 30 concrete-to-steel thermal breaks. PREVENTING CONDENSATION, MOLDIncreasing the temperature of structural penetrations on the interior side of the insulated envelope also prevents condensation and mold growth. Pettit explains: "Because of the thickness of the slab and the sheer volume of cold material connected to warm material, there's a threat of icing and frosting inside the building. The structural thermal breaks improve envelope performance in those areas."While the alpine climate on Whistler Mountain averages a nippy 7 to 19°F in mid-winter, temperatures also fluctuate dramatically year-round due to the region's proximity to the temperate coastal region, exacerbating problems of condensation and mold. "Whistler isn't like Alberta where everything freezes until spring. There is a constant freeze/thaw cycle," Pettit says. "Humidity in the house can start to condense on the cold surfaces and cause problems." CLOSING THOUGHTOpenspace began specifying structural thermal breaks in 2014 when designing another Whistler Mountain project. "On that building, we were trying to figure out how to hang heavy concrete cantilevers by designing our own bolt-on details. When we happened upon the Isokorb products, I was excited," Pettit says. "They were the perfect solution to the problem." for more informationFor more about Schöck North America's structural thermal breaks, visit www.schock-na.com.A rendering of the Kadenwood Residence shows an array of cantilevered elements in both concrete and steel.
Page 24
Page 25
Page 26
JANUARY 2021 www.mcsmag.com22equipment solutionequipment solutionAmidst the flashing neon lights, iconic landmarks, and desert terrain are construction and development companies that work diligently to bring larger-than-life, Las Vegas-sized projects, well … to life. New-Com Inc. is one of those companies. As they tackle jobs in and around Las Vegas, they need equipment with the strength to break through tough terrain as well as the versatility to work in tight spaces. With the demands of this work, they can't take gambles on their brand of choice. They trust Hitachi."Hitachi is our machine of choice because of the hardpan material we have to dig through," says Robert Crowell, general superintendent at New-Com. "Some machines get loose and sloppy in this hard material, but Hitachi definitely withstands the abuse."New-Com has 340 employees and a 20-piece fleet of Hitachi equipment. Their oldest is a ZX330LC with over 11,000 hours. Their newest? A duo of ZX345USLC-6 excavators."The 345 is like the little giant," says John Fornfeist, operations manager at New-Com. "I really haven't seen a machine that small with the ability to do so much. The 345 is my all-around universal machine that I can use on any job."And a little giant is what you need while working in the tough Las Vegas terrain. With more than 56 years of experience working in the area, New-Com is no stranger to the challenging hard rock and caliche material machines must dig through every day. The dependability to perform in that environment is critical."To me, its dependability is what sets it apart from the competitors," says Mark Burdo, equipment manager at New-Com. "With the Hitachis, all you have to do is add fuel, change oil, and grease the machine. They're really dependable machines."To Fornfeist, the ZX345USLC-6 is a well-rounded, dynamic machine that he says makes a difference no matter the jobsite. "It's definitely the scrappy running back of our equipment line-up," Fornfeist says. "I can take it from the middle of a street project digging 20 feet deep and I can place it in tight spaces, like in between two vertical casino walls." HANDS-ON EQUIPMENT PURCHASING APPROACHBurdo and Fornfeist often team up and offer their experience when it comes to making an equipment purchase. "Fornfeist is on the production side of it, I'm on the maintenance side of it. So, between his opinions on the machine with his background of being an operator, and my experience as a mechanic, we make a pretty good team when we make our purchases," Burdo says.In fact, Fornfeist won't buy a piece of equipment he wouldn't be happy to operate himself. "Before I buy a piece of equipment for the company, I like to get in it and run it myself," Fornfeist says. "I can get in a machine and tell if it's got the right Versatility in Vegashow Hitachi machines conquer tough terrain and tight spacesDEALERS CHOICEBy Caroline Schweitzer
Page 27
www.mcsmag.com JANUARY 202123amount of power, or if I see a flaw, and compare it to the competition."When Fornfeist hopped into the cab of the ZX345USLC-6, he felt a difference with the stability and power of the machine."The 345 stood out. The track width is great. I could tell right away that the geometrics of the 345 make for a very stable machine. I also like the stick configuration and the mobility of it," Fornfeist says.Another feature of the ZX345USLC-6 that caught the New-Com team's eye? Its three-pump hydraulic system."That third pump makes it not only fast for swing control and loading our trucks, but here in Las Vegas, there's a lot of side pressure work that occurs when opening up an excavation. That third pump gives it so much power to get slopes opened up in hard material," Fornfeist says. Another game changer for New-Com was the reduced-tail-swing design that still provided the muscle needed for dig reach and power. "The 345 can boom up literally all the way above the cab to where you can spin in very tight situations that we encounter all the time when we're working down in the Las Vegas strip," Fornfeist said. "With its size, I don't need a million permits to get the machine across town. It doesn't cost an arm and a leg to move it around."Their hands-on purchasing is made easier with the help of their dealer, Coastline Equipment. "Our Hitachi dealer reps are definitely top notch," says Crowell. "They present the latest specs and show us how the machines can outdo the competition. They keep us up and running." HITTING THE JACKPOTNew-Com has had a hand in many projects that have shaped Las Vegas, resulting in a snowball effect where one success leads to the next. And, Fornfeist says New-Com's culture has been a big driver in this success."We are constantly growing and getting better at who we are as individuals, which makes the whole company image look very good. Everybody cares about what they do; they care about how they operate," Fornfeist says.CLOSING THOUGHTBuilding a company with good people and good equipment is New-Com's winning strategy."With our projects, it's very important that we have not only the right people on site, but also that we have the right machinery," Fornfeist says. "Hitachi is what we trust." for more informationHitachi Construction Machinery Co. specializes in the production of hydraulic excavators, shovels, and rigid haul trucks for the mining and construction industry. For more, visit hitachiconstruction.com.TECHNOLOGY • MANAGEMENTTECHNOLOGY • MANAGEMENTMANAGEMENT • ENVIRONMENTALEQUIPMENT • SAFETYSAFETY • TECHNOLOGYENVIRONMENT • EQUIPMENTSOLUTIONSSOLUTIONSSOLUTIONSSOLUTIONSSOLUTIONSTECHNOLOGY • MANAGEMENTMANAGEMENT • ENVIRONMENTALEQUIPMENT • SAFETYSAFETY • TECHNOLOGYENVIRONMENT • EQUIPMENTSOLUTIONSSOLUTIONSSOLUTIONSSOLUTIONSSOLUTIONSLET MCS BE YOUR RESOURCE.LET MCS BE YOUR RESOURCE.SEEKING A SOLUTION? SEEKING A SOLUTION? Go to mcsmag.com for solution-based articles withinsight from industry experts.
Page 28
JANUARY 2021 www.mcsmag.com24equipment solutionSecond Time AroundSecond Time Aroundkey considerations when purchasing used equipmentBEST PRACTICESGoing with lower cost, used equipment enables a construction contractor to build its fleet and retain capital that can be better spent on attachments, additional needed equipment, or other areas of the business.For contractors evaluating used equipment, United Rentals shares these key considerations. THINK BEYOND THE PURCHASEEquipment servicing: An ongoing equipment servicing program that includes professional inspections, preventative maintenance and repairs by expert technicians can be an efficiency strategy for equipment owners. Training: Operator training on equipment is important both for worker well-being and worksite productivity. Training formats have evolved to accommodate worker availability and a choice of instruction methods.Warranty: Consider bumper-to-bumper warranty coverage options to safeguard your equipment investment and minimize any disruptions. CONFIRM THE QUALITY Maintenance history: Regularly-maintained equipment is likely to perform more reliably. Ask to see a machine's detailed maintenance history before you buy it.Inspection: The benefit to viewing equipment in person is that it gives you the opportunity to do a visual inspection prior to purchase. Consider use hours more than age: Check the hour meter and compare the annual usage to an industry benchmark for that type of equipment. Also take into account how you plan to use the equipment and the worksite environment as factors. BUY THE RIGHT MODEL AT THE RIGHT TIMEFinancing: Financing enables a buyer to manage the purchase cost of the equipment over time, and should cover all equipment-related costs, including warranty and freight. Tax savings: Consider purchasing the equipment before year-end for potential tax savings. Consult with a tax advisor for more information. CLOSING THOUGHT"More than ever, companies are looking to safely increase productivity with cost-effective solutions," says Mike Durand, senior vice president, Sales and Western Division Operations at United Rentals. "If you're planning to add to your equipment fleet, or buy your first machine, keep these considerations in mind as you shop the used equipment market."United Rentals advice to help customers successfully purchase used equipment is based on more than 20 years as a trusted partner on worksites. for more informationUnited Rentals, Inc., the industry's largest construction and industrial equipment rental provider, also makes a wide range of used equipment available for purchase, such as aerial work platforms, earthmoving equipment, light towers and generators, and more. United Rentals offers approximately 4,000 classes of equipment for rent at more than 1,180 locations and online at unitedrentals.com.
Page 29
Page 30
JANUARY 2021 www.mcsmag.com26equipment solutionAs general contractors look for ways to save money and have the ability to be more turnkey on road and bridge projects, where crushing rock on site is advantageous, portable crushers can be the answer to a healthier bottom line. To gain perspective on crusher equipment, MCS presents a Q&A with one company setting the stage for a prosperous 2021: Senya Tech.What equipment is in the Senya lineup? As a world leader in crushing equipment for almost 60 years, we offer the full spectrum from the largest to the smallest crushing machinery available. There is no manufacturer in the world that offers the range of crushing equipment of Senya Tech, many only available in our lineup.What are the benefits of the MICRO crushers? There are so many, with the primary being the portability and affordability of our MICRO Crushers allowing the user to crush on site, thus eliminating demo transportation and disposal costs and aggregate purchase costs. With our machines utilizing electric motors powered by either gas or diesel generators, the operation and maintenance costs are nearly zero—no hydraulics to service, no DEF fluid, our smallest crusher can run all day long on less than $20 in fuel while producing several hundred tons of aggregate. Our high wear parts are the jaws themselves, the conveyor belt, and the fly wheel drive belts. We shipped the first replacements of each this year, our 5th year in business. When our MICRO Screen plants arrive later this year, a single operator can easily run a complete MICRO Crushing plant simultaneously producing several hundred tons per day of several sizes of aggregate. The whole line can be loaded with the smallest skid steer, crusher to screen plant to conveyors, loading directly to the dump truck reducing manpower costs to the bare minimum. The advantages on all aspects are phenomenal.How do MICRO crushers benefit the environment? They recycle the most recycled material in the world, concrete. More specifically, they bring the ability to recycle concrete, asphalt, and general demo to even the smallest end user, dramatically improving the recycling ability of the entire industry in the most recyclable product worldwide. They also eliminate the need for transportation to and from crushing plants and the corresponding impact of the trucks on the environment and our infrastructure. They all run on minimal fuel especially compared to the larger traditional crushing machinery. In addition, our '21 machines will feature a stealthy forest green color for minimal on-site visual impact while in use in sensitive residential or urban settings. They are much quieter than traditional diesel motor-driven machines as well.Explain the portability, productivity, and affordability of the Senya machines. On-site CrushingOn-site Crushingreaping the benefits of portable crushing equipmentSPOTLIGHT: SENYA TECHSenya MICRO Crushers are easily pulled by vehicles, some even as small as a pickup truck, and can be set up and crushing in literally 10 minutes.PORTABILITY. PRODUCTIVITY. AFFORDABILITY.
Page 31
www.mcsmag.com JANUARY 202127Our MICRO Crushers are easily pulled by vehicles, some even as small as a pickup truck, and can be set up and crushing in literally 10 minutes. These tiny machines can still compete with larger crushers at as little as 1/3 to ¼ of the cost of the next smallest crushing machinery and still easily producing 200 to 600 tons per day! How does Senya set itself apart from its competitors? There simply is no other machine that can even come close to competing with our MICRO Crushers in size, portability, durability, affordability, and productivity. With our MICRO Crusher line starting at $59.5K and maxing out at $215K, the next step up from any manufacturer including our own line is in the $250K to $300K range and require a tractor trailer to move. With our machines running on electric motors, the operation and maintenance costs are literally negligible.In what ways can a general contractor benefit from having a crusher on a jobsite during a project? It simply eliminates the transportation cost, tipping fees, and purchase cost of aggregate. You no longer have to pay to transport and dispose of your material and then pay to buy and transport base aggregate back to the site. The competitive advantages in the bidding process, especially utilizing "green" recycled material are tremendous, and especially with government and local municipality jobs.
Page 32
JANUARY 2021 www.mcsmag.com28equipment solutionHow does a contractor determine the right machine for their needs? With our machines, it's all about the volume of material and how fast they need to process, as well as the input and output sizes desired. Hardness of material is a non-issue with the tremendous crushing power our massive flywheels produce. They also enable the unique and impressive reduction ratio our machines produce for the same reason. Our MICRO Crushers easily handle a 10/1-12/1 reduction in processing size, easily double anything remotely close to our machine's footprint. What's the ROI on owning a Senya machine? At only 20 truckloads per month in demo and purchase volume with conservative average costs, our smallest machine saves $250K the first year. With the Section 179 Tax deduction, that machine gives a positive cashflow of over $10K per year, BEFORE you even turn the machine on and AFTER you've made your loan payment. The machine pays for itself in 3.8 months. At 50 truckloads per month with our Senya 6, the numbers jump to $625K/yr savings, $25K first year before and after positive cashflow, and 100% ROI in 4 months. Don't take our word for it, see our website for the calculator to input your own figures or call us (919.323.4830) and we'll send you the calculator. What influence will Senya have in 2021 in the concrete recycling segment of the construction industry? We plan on nothing less than revolutionizing the crushing industry in the next few years as we roll out MICRO models of every single component of any major crushing plant. The plan for '21 is to roll out MICRO Screen plants and MICRO impact crushers later in the year. CLOSING THOUGHTWhen Senya Tech's MICRO lineup is complete, the small- and mid-size contractors will affordably be able to completely duplicate the major aggregate processing plants and their components all in highly portable units at a fraction of the cost yielding tremendous growth to their bottom line. Whether it's recycling concrete or asphalt, producing base aggregate, decorative rock, and even recycling glass, granite countertop scrap and on and on, the applications and income producing possibilities of our MICRO Crushers are endless. for more informationFor more information on Senya Tech and its crushing equipment lineup, including photos, video, product specs, package deals, and all the Senya Tech has to offer, visit senyacrushers.com.
Page 33
Page 34
TECHNOLOGY • MANAGEMENTTECHNOLOGY • MANAGEMENTMANAGEMENT • ENVIRONMENTALMANAGEMENT • ENVIRONMENTALEQUIPMENT • SAFETYEQUIPMENT • SAFETYSAFETY • TECHNOLOGYSAFETY • TECHNOLOGYENVIRONMENT • EQUIPMENTENVIRONMENT • EQUIPMENTSOLUTIONSSOLUTIONSSOLUTIONSSOLUTIONSSOLUTIONSSOLUTIONSSOLUTIONSSOLUTIONSSOLUTIONSSOLUTIONSTECHNOLOGY • MANAGEMENTTECHNOLOGY • MANAGEMENTMANAGEMENT • ENVIRONMENTALMANAGEMENT • ENVIRONMENTALEQUIPMENT • SAFETYEQUIPMENT • SAFETYSAFETY • TECHNOLOGYSAFETY • TECHNOLOGYENVIRONMENT • EQUIPMENTENVIRONMENT • EQUIPMENTSOLUTIONSSOLUTIONSSOLUTIONSSOLUTIONSSOLUTIONSSOLUTIONSSOLUTIONSSOLUTIONSSOLUTIONSSOLUTIONSGo to mcsmag.com for solution-based articles with insight from industry experts.LET MCS BE YOUR RESOURCE.SEEKING A SOLUTION?
Page 35
Page 36
JANUARY 2021 www.mcsmag.com32environmental solutionArtificial intelligence (AI) might have a bad reputation in popular media, but in recent years it's become a valuable tool for data management and predictive analytics. In some applications, it could even help reduce construction emissions. What impact can AI have on the construction industry, and how can it help these projects reduce their carbon footprint?INDUSTRY EMISSIONS In 2018, the global building and construction sector accounted for nearly 40 percent of the world's CO2 emissions. Producing construction materials such as steel, cement, and glass accounted for 11 percent of that. Every step of the process, from creating and gathering materials to assembling a home or commercial property, contributes to this ever-growing carbon footprint. The push toward a green and sustainable future has led to the global construction industry looking for new and innovative ways to reduce their carbon footprint and emissions. These actions have included using recycled materials, which could reduce emissions by 3 percent by 2050, using existing structures more efficiently and moving away from high-emission materials like those that rely on fossil fuels. These are not short-term solutions. This trend toward more eco-friendly initiatives represents a fundamental shift in the entire construction industry—and that's not even the most advanced or exciting option emerging from this shift to sustainability.SIMULATIONS, PREDICTIVE ANALYTICSOne of the most frequently cited applications for the current generation of artificial intelligence programs is predictive analytics. Essentially, predictive analytics systems use collected data to make predictions and educated decisions based on a previous programmed set of criteria. They can also generate simulations that help city planners and engineers determine how a decision might affect a project's results or what its long-term impact on city emissions levels could be.The HS2 Rail Project will eventually cut travel times between cities like London and Manchester. Currently, engineers are using AI to automate their Building Information Modeling (BIM) processes to create various simulations. These programs allow engineers to look at the same project built with numerous different materials. This, in turn, enables them to analyze the emissions and impacts of these decisions before they lay the first stretch of track down. This is a proactive approach to reducing construction emissions, where in more traditional processes, assessments would have to wait until after construction finished. 3D PRINTING, AI PARTICIPATIONConstruction waste contributes to a project's emissions in multiple ways, especially if leftover materials end up discarded and sent to the landfill. Everything adds to a project's carbon footprint—the production stage, transportation, assembly, and eventually the trip to the landfill. Reducing waste is one of the easiest ways to lower the AI Technologyhelping to cut construction emissionsA GREENER FUTUREBy Jane Marsh
Page 37
www.mcsmag.com JANUARY 202133emissions released by a jobsite, but how can companies start employing this simple change?Many companies are experimenting with and utilizing 3D printing on the jobsite. In most cases, these massive printers can complete the same job as a human worker with little to no waste, laying everything from bricks to concrete in a fraction of the time it would take a crew member. Pairing these devices with artificial intelligence can prevent even more waste, allowing the printers to make educated decisions based on a set of predetermined rules. While AI-powered 3D printers may never fully replace skilled workers on a construction site, utilizing them alongside those teams can help slowly but surely reduce CO2 emissions without negatively impacting efficiency and productivity.PROTECTING WATER RESOURCES Water scarcity is a growing problem around the globe, and it has far-reaching impacts beyond being unable to turn on the tap or flush the toilet. Power stations in the United States use upward of 195 billion gallons of water a day to cool thermoelectric power plants around the country, with more water used to create steam for powering turbines. Global water resources are so limited, with the entire planet's population subsisting on just 1 percent of Earth's available water, that everyone needs to do their part to protect them—including artificial intelligence. AI can track everything from the amount of water used on a construction site at any given time to whether a building has a leak that is costing lots of money and wasting water. A single leak can cost a company or homeowner hundreds or thousands of dollars every year, in addition to the water wasted. Water scarcity might seem like a random problem for the construction industry, but in many cases, everything is connected. One study found that water scarcity contributes to an increase in CO2 emissions and air pollution, increasing concentrations of nitrogen oxides and sulfur dioxide in the atmosphere. CLOSING THOUGHTThis is by no means an exhaustive list of possible applications for AI in the construction industry. These programs will continue to change and shape the sector's environmental impact for many years ahead. Indeed, we look towards a greener future. about the author Jane Marsh is an environmental and green technology writer who covers topics in sustainable construction and green building materials. She also works as the editor-in-chief of environment.co.
Page 38
JANUARY 2021 www.mcsmag.com34management solutionDecision-makingusing a matrix to improve success rateBEST PRACTICESBy Preston IngallsI truly believe our lives are the result of our decision making. We are either recipients of good outcomes for proper decisions or victims of bad decisions. The product of our lives has less to do with luck, chance, serendipity, destiny, Acts of God and more to do with our choices. So, why are some folks not as good at decision-making than others? Let's face it—some people are better at making decisions than others. But why? Here are nine suggestions to help you make better decisions. Determine your best time of the day for being productive and analytical. Avoid succumbing to pressures and pick the time where you can produce the best results in decision making. Are you rested enough to make a quality choice? Take time out to gather the information that leads to the right choices and not succumb to pressure or the attractiveness of quick gratification. The evidence will guide you, but you must be in the right framework to examine it. Elevate yourself to 20,000 feet and look down. Before you make a short-term decision, step back and look at the larger picture. You may have to live with the decision you are getting ready to make for a long time, so take the time to make a quality choice by looking at it from various angles. Ask yourself, "What are the long-term implications of this? Can I mitigate or do something to minimalize it?" Gather as much information as you can. What do the facts and data tell you? Avoid opinions and assumptions as much as possible. Research, research, research, but be aware of "analysis paralysis," where we feel we are doing something constructive by forever studying it. Gather facts and data, but don't become consumed by the activity. Avoid paradigms or at least be aware that yours may influence the decision-making process. Be open to different information and that it may not support what you have always believed in or hold dear. Paradigms create biases as to how we look at things and therefore can affect our decisions. We are often heavily influenced by "advisors." To make solid decisions, we need to become confident enough to challenge and question those so-called experts to ensure that the information is actually valid. Find your inner skeptic and never just assume that what you're being told is always true. Remember, it is their opinion. Avoid looking at too few or too many alternatives. Too few limits the process and too many can be confusing and intimidating. PART 2 OF 3Before you compare the options available, you must make an important root decision: where and what information to explore. An erroneous choice means insufficient information considered in evaluations.
Page 39
www.mcsmag.com JANUARY 202135 Use your intuition. Our intuition or "gut" is based on our experiences, so don't neglect it. It is useful to balance empirical logic with a systematic examination. Examine your own history of decision making. People often don't learn from previous mistakes because it's emotionally difficult to face up to them. But if you have areas in your life where you have produced an epidemic of mistakes, you may need to understand your approach and refurbish it. Why repeat the same errors? Practice heuristics; the experience from trial and error. Use solid decision-making tools like a decision matrix. You can weigh some criteria more heavily to make it more balanced. Also, conduct a pro/con analysis of your short list. It seems like an obvious step, but it is not always used. Remember, you are trying to select the best alterative based on what produces the maximum gain with the least risks. CLOSING THOUGHTPerhaps the most significant errors in decision making are lack of a logical or sequential method. A poor sequence to explore information and arrive at the best alternative(s) leads to poor choices. The inability or unwillingness to research the necessary information systematically will, no doubt, net poor results in arriving at the best choice. And, if you're confronted with too many options and too many choices, you go into overload and you lose the ability to sift and analyze only the information that's helpful. Look for Part 3 of this article in Look for Part 3 of this article in the next issue of MCS as a real-world the next issue of MCS as a real-world example clarifies the process with an example clarifies the process with an example of a decision matrix.example of a decision matrix.about the authorPreston Ingalls is president and CEO of TBR Strategies, LLC, a Raleigh, North Carolina-based maintenance and reliability firm specializing in the construction and oil and gas industries. Preston can be reached at pingalls@tbr-strategies.com.Without adequate research, or analyzing the facts and data, or the selection of multiple alternatives, it is difficult to make a thorough evaluation of the best solution.
Page 40
JANUARY 2021 www.mcsmag.com36management solution2021 Outlook2021 Outlookhow BIM is transforming the COVID-19 landscape BE PREPAREDNearly every industry has adapted in some way to the restrictions or changes caused by the COVID-19 pandemic. The construction industry responded swiftly by creating safer and smarter ways to build homes and office buildings. Many companies upgraded their field safety operations and adapted a health-first approach to their company core values and branding. As a result, the construction site is becoming safer every day. The COVID-19 pandemic protocols are a challenge since total prefabrication under controlled conditions is a long day coming. Everyone is looking to improve as designers, contractors, and owners seek visibility, efficiency, and sustainability in a constantly shifting landscape. BIM technology is helping construction projects create and manage high-quality construction documents at speed. With less people working in close proximity, a Common Data Environment (CDE) is even more valuable. Firms that deploy BigData, BigBIM, and BigAI in design and pre-construction gain tremendous advantages. They can plan projects faster and create a tighter schedule so that the right resources and materials arrive on site at the right time.As we look forward to a new year, many of the lessons learned in 2020 will set the construction industry up for success in 2021.COVID IMPACT ON 2020At the height of the initial COVID shutdowns in March and April, many jobsites completely stopped. According to a survey of construction firms by the Associated General Contractors of America, more than half of firms surveyed had projects stopped. As a result, 74 percent sought out Paycheck Protection Program loans to keep their staff. Unfortunately, not everyone was lucky enough to receive PPP money—nearly 40 percent of firms had to lay off employees due to the pandemic shutdowns. When worksites reopened, the consensus was that a maximum of 60 percent of workers could return under strict social distancing rules. Tighter staffing restrictions created to control the spread of coronavirus will only exacerbate the current labor problem in the building sector in 2021.HOW TO PREPARE FOR 2021Unfortunately, COVID isn't going anywhere anytime soon. 2021 will bring many of the same safety restrictions and social distancing rules that were created in 2020. But construction teams should take some important steps now to prepare for 2021. Contract Automation. With virtual work becoming the norm, automating the contract process is key for surviving 2021. "Smart contracts'' are efficient By Matthew Hudelson
Page 41
www.mcsmag.com JANUARY 202137tools that the construction industry has yet to fully embrace. These electronic agreements integrate with the execution of the terms and conditions of contracts. They enable the automatic enforcement or execution of certain terms/provisions upon the happening of a condition precedent or predetermined event. A smart contract is a "self-executing" software that can be integrated with BIM and AI at various project stages—since, a contract is really a collection of "if X occurs, then Y happens" logic. As previously agreed upon conditions occur, the smart contract automatically begins executing the terms of the contract. Intelligent Construction Drawings (ICDs)™. Advances in construction have offered solutions like augmented reality and 3D building but, despite more jobsite technology available now than ever before, working with construction drawings has remained a manual and inconsistent process. Smart drawing technology like Inertia's industry-first Intelligent Construction Drawings (ICD)™ leverages the power of BIM in a brand-new way to allow construction teams a Common Data Environment (CDE). It's a powerful way to access and manage information from a single source throughout the construction process. This new technology analyzes construction documentation and data to produce object-linked smart construction sheets, allowing users to assign records to items, rather than areas. By creating these smart objects, construction sheets are delivered to the field without the need for 3D modeling, enabling construction teams to implement smarter, faster decision making. Intelligent Construction Drawings that integrate with BIM and AI is a critical step in the industry-wide shift to increase collaboration, negate risk, and empower a safety-first workforce. With these data-driven drawings, everyone on a project can leverage the data within the BIM model, in an interactive, construction sheet—all tied together through an object-based location map. The manual process of creating construction drawings is a near-constant pain point for every construction team, and ICD can solve this.BIM is being used to deliver progress reports in real-world, real-time context to any mobile device. Model-based simulation, take-offs, scheduling, estimating, inspection, and progress tracking also drive significant value in workflows and personnel management. AI speeds through design algorithms to predict the massing, layouts, and workflows that best respond to the physical and environmental conditions of the site. This level of prediction and automation leads to pre-fabrication and installation of building components in the cleanest, safest conditions possible. CLOSING THOUGHTThe health and safety of the teams working on construction sites has always been, and will remain, critical in 2021. As COVID-19 continues to impact the industry, project sites use exercise and other health management systems to encourage communication and behaviors that build trust. Many aspects of 2020 will remain habit in 2021—the handwashing, the social distancing, the increased work being done offsite. With more people working remotely, it's more important than ever that construction crews, owners, and architects adopt BIM and ICD technologies to not only streamline the construction process, but also keep crews employed and guide the industry through the next uncertain year. about the authorMatthew Hudelson is the founder and CEO of Inertia Systems. Since 2010, Matthew has worked alongside builders, owners, inspectors, and design teams to learn and solve the challenges they face on complex construction projects with technology. Today, the Inertia Platform is used by leading general contractors, owners, and jurisdictions. For more, visit www.inertiasystems.com.
Page 42
JANUARY 2021 www.mcsmag.com38www.sunflowerboatandbarge.com • 563-583-0556• Sectional Barges• Spud Barges from 75x32 to 195x70• Hydraulic Dredges• Truckable Tugboats from 300 – 600 hp• Traditional Tugboats• Support EquipmentAvailable for Lease:
Page 43
Page 44
JANUARY 2021 www.mcsmag.com40software solutionGig ReadyGig Readyusing technology to find the right workforceFINDING WORKERS TODAYImagine, if you will, a construction project void of people. You see equipment and robotics and hear a slight hum … but not a human in sight. As the world become more technocratic and humans are seen as a resource versus a sovereign, free-thinking individual, robots are taking over human jobs. I know what you're thinking … I've seen too many Twilight Zone episodes in my lifetime. Yet, 2020 and the start of 2021 feels odd like the old show that started in 1959. Is there a solution to avoid the labor gap on commercial jobsites coast to coast? Yes, there is. Let's take a closer look at GigSmart via this Q&A.What is GigSmart?GigSmart has two free staffing apps that connect businesses to hourly workers, called Get Workers and Get Gigs.Get Workers connects general contractors with local hourly construction professionals who can be hired for same day shifts or up to 30 days in advance. Currently, there are more than 250,000 workers available for hire across the U.S.Are commercial general contractors able to use this staffing app?Yes. Commercial general contractors can use Get Workers to build out their crew. GCs can create free Gig posts based on skill to find and hire workers for any type of construction job. Source painters, carpenters, plumbers, framers, floorers, roofers, electricians, general laborers, handymen, and more. With more than 3,000 available skills, Get Workers can help contractors find skilled professionals for any task on their jobsite.How does the app work? Are the workers verified or go through any checks (background, driving record, COVID-19 test, drug test, etc.)?With Get Workers, you can quickly post your Gig to a pool of thousands of vetted and reviewed workers—free of charge.Download our mobile app or sign up for a desktop account. Post a Gig by selecting the skills you require. Then, decide how much you'd like to pay the worker per hour, and when you need them. Get Workers will instantly connect you to hourly construction professionals who are ready to get to work.
Page 45
www.mcsmag.com JANUARY 202141Read past reviews, review applicant profiles, and securely communicate with workers all from the app. And, when you're ready, you can hire the workers you need.Every eligible worker you hire is covered by Occupational Accident Insurance (OAI). Additionally, worker background checks and motor vehicle records (MVR) checks can be added to your Gig, but they are not required.What are the benefits of using the app?• In an industry plagued by high turnover, Get Workers can help you find and hire hourly workers for any task at your jobsite, even same-day.• Try it for free. Create your hiring account and post your first Gig with zero upfront costs and no commitment. Get Workers connects you to local applicants in minutes, and you can hire and rehire great workers over and over again.• Pay the lowest fees in the industry. Starting at just 15 percent of the worker's total compensation, Get Workers is a fraction of the cost of other staffing solutions. You're only charged after work has been completed.• Source vetted, background-checked, and insured professionals. You decide who to hire, and every eligible worker is protected by GigSmart's occupational accident insurance coverage.• Hire stress-free knowing every GigSmart worker comes backed by our One Hour Worker Guarantee. If someone's not a good fit, send them home, and we'll refund you for their time. Any commercial companies using the app already? Any testimonials?Since March, GigSmart has seen a 68 percent increase in the number of construction workers being hired and paid through Get Workers. You can join the ranks of restoration, concrete, and roofing companies, and general contracting firms, that are using Get Workers to easily find and hire skilled construction workers to staff up their crews.CLOSING THOUGHTWith demand for construction workers on the rise, there's no better time than now to add Get Workers to your staffing toolbelt. for more informationRich Oakes serves as GigSmart's president responsible for the company's overall strategic direction and national operations. Oakes has more than 23 years of experience in sales, marketing, product development, project management, and operations. Prior to GigSmart, Rich served as the VP of sales and originations with a national automotive finance company responsible for driving growth opportunities. For more, visit gigsmart.com.
Page 46
JANUARY 2021 www.mcsmag.com42legal solutionOver 100 years ago, the U.S. Supreme Court decided the landmark Spearin case (248 U.S. 132 (U.S. 1918)), affirming a contractors' right to pursue claims on public projects for "defects in the plans and specifications." While the right to recovery is well established, there remains no universally accepted methodology to calculate damages attributable to those claims, whether on public or private projects. Over the years, states, federal district courts, and the U.S. Court of Federal Claims developed their own set of precedent—decided cases—instructing claimants on methods to present claims that pass judicial muster. This piecemeal approach results in an unnecessarily complex and somewhat confounding tapestry of damage calculations. With their proposed new standard, "Identifying, Quantifying, and Proving Loss of Productivity," set to be published this year, the American Society of Civil Engineers (ASCE) offers a new way of looking at a category of construction damages which could unify the field. LAW NOT UNIVERSALConstruction claimants must consider the legal landscape when developing a damages model. Not every state or federal jurisdiction is bound by the same set of case law, so understanding what will and will not be allowed is essential. However, some general principles do apply. In every jurisdiction, the contractor bears the burden to prove its claim, both entitlement and quantum. Proving the second element, the amount of damages incurred, is where a great diversity of methodologies exists. What constitutes "reasonable certainty" or sufficient evidence of the value of the claim may be widely different in different states, and not all models will be admissible in every jurisdiction. This may be further complicated by the contractor's inability to prove the precise amount of damages due to their amorphous nature, such as with labor inefficiency claims. Generally, whether a party has produced sufficient evidence in support of a claim is a "fact question" left for the decisionmaker, either arbitrator or jury. However, judges are "gatekeepers" of expert testimony, and so, when a damages model is presented through a construction claims expert, whether it will be admitted depends on the judges. A contractor's inability to precisely calculate its damages led to the development of a number of methods which attempt precision: the "total cost method" and the "modified total cost method." Under the total cost method, damages are calculated by subtracting the original estimated cost to perform the work (generally the bid amount) from the actual total cost of performance. It is simplistic, fraught with assailable assumptions, and is disfavored by courts. Somewhat more accepted is the modified total cost approach, which adjusts the original bid and actual cost to complete to eliminate inaccuracies and segregate costs not the responsibility of the owner, or the result of the contractor's own inefficiencies. Yet, even this approach has its limitations and critics.NEW APPROACH PROPOSEDRecognizing the divide in proving labor productivity claims, the ASCE, through its Standards Committee, developed a draft methodology to identify, quantify and determine causation, liability and quantum for labor productivity losses. The approach presents a consensus document with input from various stakeholders, including owners, designers, and contractors. Its drafters note the "key principles presented herein can be used by any project stakeholder both prospectively and retrospectively to identify, establish, and quantify loss of productivity." It provides construction professionals with a complete claim lifecycle roadmap, from initial data collection to verification and analysis. From the outset, the standard recommends project stakeholders proactively identify processes and metrics to accurately measure productivity and periodically compare it to project expectations. Doing so could prevent a loss of productivity claim before its onset, but, if nothing else, provides the yardstick to measure the claim. The core objective of the standard is "to help minimize and resolve disputes over identifying, quantifying, and proving the loss of productivity on a project." With that in mind, early arrival on an accurate productivity measurement must be made (the project's "measured mile") so assessing work completed to Unifying the FieldUnifying the Fieldnew year, new claims methodologyPROPOSED NEW STANDARDBy William S. Thomas
Page 47
www.mcsmag.com JANUARY 202143date against labor-hours expended to accomplish that work can be analyzed and adjusted as necessary. These frequent "temperature checks" are critical, because of draconian language in many construction contracts' claim provisions, change order, and payment application documents and their associated waiver language. If claims must be presented the moment the contractor becomes aware in order to be preserved, or if claims are waived by signing pay applications or change orders that do not include a calculation of productivity losses, without some affirmative action, a contractor can unwittingly relinquish its claim. It is best to consult with a legal advisor to review contract claim prerequisites and change order/pay application language to ensure claims are properly presented and pursued. To establish a claimable impact, the contractor must show its measured mile rate of productivity was unachievable due to some disrupting event. Using project specific measured mile data is preferrable to any other source because it shows the contractor's actual productivity rate on the project in issue. It is recommended the measured mile encompass at least 10 percent of the total work, and could be quantity, time, or area based. The disrupting event must be the "cause and effect" of the inefficiency, as opposed to some other concurrent or alternative cause. If there is a "cumulative impact," where separate impacting events or factors cannot be segregated from the other, a clear explanation of the inability to separate these factors will be required. After a detailed review of industry standards and literature on claims analysis, the ASCE standard promulgates a preferred order of methods for quantifying productivity loss given their reliability and credibility. The preferred order of the various damage quantification methods is hierarchically set in three tiers, beginning with the most preferred method (Tier 1), the Measured Mile approach; then (Tier 2) academic and industry productivity factors and studies, or Modified Total Cost; and finally, the least preferred method (Tier 3), Total Cost. Before moving from a higher to a lower tier, the standard recommends it be shown by a reasonable degree of certainty that a higher-tier method could not be used. Further, because of the complexity of the models, the standard recommends the evaluation of any large loss of productivity claim be performed by a qualified, independent claims expert. CLOSING THOUGHTThe standard, once published, will carry the endorsement of the American National Standards Institute Standard Guidelines, bringing with it a certain level of industry credibility. It is not just a roadmap for documenting and proving claims, but also offers construction contractors a guide to preventing loss of productivity claims from the outset. Construction claims professionals should become familiar with the logic and examples presented in the document, as their work will undoubtedly be tested by whether or not they considered the standard in their analysis. Eventually, adherence to the recommendations of the standard will come to be judged by the courts, as they weigh the credibility of expert opinion. While the current version of the document notes it is "advisory, not mandatory," perhaps industry momentum will make it "the gold standard" by which loss of productivity claims will be measured, bringing uniformity to this area of law. about the authorWilliam S. Thomas is a principal at Gausnell, O'Keefe & Thomas, LLC in St. Louis, Missouri, where he focuses his practice on construction claims and loss prevention. He is a member of the International Association of Defense Counsel, for which he serves on the Construction Law Committee, as well as the American Institute of Architects and American Society of Civil Engineers. He can be reached at wthomas@gotlawstl.com.
Page 48
On a project to remediate 16,000 linear feet of Piney Run, a Baltimore-area stream, Bourn Environmental augmented its usual process with some "help from above." By adding the use of GNSS technology, the Mitchellville, Maryland-based company recouped lost time and helped ensure that the stream and its adjacent watershed could flourish again. PLAYING TO STRENGTHSBourn Environmental was established in 2014 by Christopher Perry, a U.S. Army veteran of tours in Iraq and Afghanistan, and a holder of degrees in environmental science and environmental planning and management. After first working for a firm doing similar work, he went out on his own."I always loved nature and wildlife," he says. "My experience in the Army was as a combat engineer so, when I separated, I paired up my two strengths—engineering and love of the environment—by doing wetlands mitigation. Today, we have a crew of nearly 20, with capabilities in stormwater management, living shorelines, streams—anything having to do with wetlands."Bourne's project called for the remediation of more than 3 miles of a Piney Run tributary. He says the project—done for Maryland to earn credits under Clean Water Act provisions—was an effort to correct decades of stormwater mismanagement.CHANGE OF TACTICSFor years, Bourn Environmental had relied on survey stakes and a laser level for layout, and a small excavator to handle the earthmoving facets of the job. However, a visit to a training session in Wyoming, and hearing other environmental remediation companies sing the praises of GPS technology, convinced Perry to take his operation to the next level."Those companies raved about how much it sped up their production," he says. "I thought the time had come give it a try; having the Piney Run job coming up seemed the ideal opportunity to do so."With that in mind, Perry contacted the team at JESCO, Inc., the local Topcon dealer. Although Bourn's initial interest was in a GPS dozer, the JESCO team let Perry know of other options available to them. "We knew we wanted a dozer with machine control because of all our flood-plain work," says Perry. "However, JESCO brought an excavator equipped with a Topcon X53i system out for us to demo and our guys loved it immediately. Today, we have two such systems and can't imagine doing another project without it."JANUARY 2021 www.mcsmag.com44technology solutionThe Bourn IdentityThe Bourn IdentityGNSS helps Maryland environmental firm in stream restoration project TECHNOLOGY BENEFITS OUTCOMEBy Larry Trojak
Page 49
www.mcsmag.com JANUARY 202145STREAMING SERVICESRemediating Piney Run was no small feat. Once a meandering, at-grade stream, scouring from flash storms created sections with 8-10 feet banks, preventing the stream from overflowing and emptying onto the adjacent flood plain. "At Piney Run, we literally buried the old channel and carved a new one through the flood plain," says Perry. "We raised the stream bed and lowered the plain so that water could empty onto it more easily. In addition, engineers designed a series of natural structures—using wood and boulders—to affect the direction and velocity of the stream. Because we had to maintain tolerances of .2 throughout the project, our excavator operators really embraced using GPS to create those structures."For some larger, 3-4 ton boulders, the excavators had to dig deep into the stream's subbase so the top of the structure could hold grade and create a pool after it. There, Bourn's operators found the GNSS solution invaluable."It's hard to get huge boulders to stack perfectly to create a step-pool, yet still appear uniform," says Steve Griffin, Bourn's foreman. "Digging down to a specific grade for two different rocks each time allowed us to keep a constant elevation on the top. Our operators would measure two rocks that stacked well on top of each other, subtract that from final grade on the system, and then simply dig to that subgrade."LOST TIME RECAPTUREDChallenges Bourn faced at Piney Run included heavy rains, issues with pumps used to dewater areas, as well as some unforeseen red tape that forced them to fall behind in the early portions of the project. Once the GNSS solutions were added, however, their value became evident."We were 40 days behind schedule at one point but, after bringing the new equipment on board, reduced that by 25 days," says Perry. "We increased efficiency creating the new flood plain with the GPS dozer, as well as from the excavators handling material movement and placement." Even the impact of the rover—a Topcon HiPer V with FC-5000 controller—was huge, according to Perry. "Being able to have any management-level person take that instrument—and, armed with the finished elevations, spot check things—was great from a quality control angle."CLOSING THOUGHTPerry says the new solutions will afford them a competitive edge, particularly considering some of their bigger competitors either don't have GNSS-based solutions yet or are only dabbling in it. "We feel we've gotten into this technology at a great time," he says. "The payback in efficiency alone is impressive. I can come onsite first thing in the morning and tell my operator to start work and he has everything he needs. Suddenly, he's one of the most productive people on the crew."Bourn's work window was subject to closures to accommodate trout spawning season—essentially shutting down the operation from October through May."That made our improved performance all the more appreciated," says Perry. "With these changes in place, it's hoped that greater numbers of trout will once again find it a suitable spawning area. Because most of my guys fish, they feel a real connection to the work we did here. In heavy rains, that flood plain will be a massive wetlands and serve as a great area for waterfowl. So yes, the new design will hold back nutrients and sediment, but it is also doing a whole lot of other good. We're proud to have made that happen." about the authorLarry Trojak is president of Trojak Communications, a Minnesota-based marketing communications firm. He has written for the construction, recycling, demolition, scrap, and aggregate processing industries.technology • managementtechnology • managementmanagement • environmentalmanagement • environmentalequipment • safetyequipment • safetysafety • technologysafety • technologyenvironment • equipmentenvironment • equipmentsolutionssolutionssolutionssolutionssolutionssolutionssolutionssolutionssolutionssolutionssolutionsLet MCS be your reSourCe.Search mcsmag.com for solution-based articles with insight from industry experts.Seeking a SoLution?
Page 50
JANUARY 2021 www.mcsmag.com46maintenance solutionWindow SoundproofingWindow Soundproofingboosts desirability for downtown apartment complexTHE LUXURY OF QUIETCommercial and residential property owners, managers, and agents of urban apartment buildings face a common concern in reducing loud external environmental noise, such as screeching traffic, blaring car horns, etc., which can disturb sleep, interrupt conversation, and otherwise diminish the allure of even the best locations.Fortunately, real estate professionals in large and small projects alike are implementing a quick, proven, cost-effective solution which can dramatically reduce external noise intrusion by up to 95 percent with the addition of a second soundproof window in the most problematic locations (i.e., facing traffic). This selective approach can help to not only increase lease and occupancy rates but also decrease turnover. The same tactic can be applied to both oversized windows and sliding glass doors, which due to their larger size can be an even greater source of external noise.CUT NOISE, BOOST APPEAL When Lincoln Properties developed the multi-million-dollar Mozaic Apartment project, the goal was to bring a designer lifestyle to downtown Los Angeles apartment living. From the roof top pool to the Internet cafe, Mozaic Apartments set the standard in a luxury apartment community.However, being in the middle of downtown Los Angeles also subjected the property to an incredible amount of external street noise. Even given the high-end amenities, the amount of outside noise could be prohibitive and turn off potential tenants without adding soundproofing. Particularly challenging were the units which had oversized, floor-to-ceiling windows.With lease rates in the downtown area commanding upwards of $3,000 per month, not having a 100-percent occupancy rate could be expensive. Lincoln Properties, the developer of the project, decided the best soundproofing tactic would be to exceed the government noise abatement requirements to help attract prospective residents.Soundproof Windows curb outside noise to create a quiet living environment.
Page 51
www.mcsmag.com JANUARY 202147"We wanted to provide a high quality of life to our tenants and we felt that included a quiet environment," said the project manager for Lincoln Properties, Sasha Cooper. "To exceed the Los Angeles requirements by soundproofing and be noticeably quieter than our competition, we set some tough noise reduction targets." THE CHALLENGELincoln Properties hired an acoustic consulting firm, Veneklasen Associates, to do a detailed site survey and review as well as extensive sound testing to evaluate the noise levels.Multiple studies have shown that 90 percent of exterior noise enters through windows, and for similar reasons conversations can just as easily exit through them as well. Such noise intrusion can be a particular problem for both commercial and residential properties located near outside street noise, transport corridors, or city centers. Initially, high quality double pane windows were installed and tested, but these turned out to fall short of their target. Double pane replacement windows are designed to keep out heat and cold, but not noise. While the seals of a new window provide some noise reduction, the two pieces of glass in double pane windows are separated by an air space, and sealed into one solid glass unit. Like a drum, this causes both pieces of glass to vibrate together. This drum effect defeats the noise reduction benefit of double pane windows. THE SOLUTIONAfter doing online research in search of a solution, Cooper turned to Soundproof Windows, Inc., a company with expertise engineering windows for some of the most noise sensitive environments in the world, such as recording studios. The company has adapted recording studio window soundproofing technology for commercial and residential properties by creating a secondary soundproofing window that installs inside, behind the existing window. The product is custom designed specifically to match—and function—like the original window. Installation is simple, straightforward, and usually can be completed in about an hour or two.The inner window essentially reduces noise from entering on three fronts: the type of materials used to make the pane, the ideal air space between original window and insert, and finally improved, long-lasting seals. The combination can reduce external noise by up to 95 percent.The first noise barrier is laminated glass, which dampens sound vibration much like a finger on a wine glass stops it from ringing when struck. An inner PVB layer of plastic further dampens sound vibrations.Air space of 2-4 inches between the existing window and the Soundproof Window also significantly improves noise reduction because it isolates the window frame from external sound vibrations.Finally, the company places spring-loaded seals in the second window frame. This puts a constant squeeze on the glass panels, which prevents sound leaks and helps to stop noise from vibrating through the glass. These spring-loaded seals stay as acoustically sound 15 years down the road as they were on day one.EXCEEDING EXPECTATIONSFor Lincoln Properties' Mozaic Apartment project, the next step was to install Soundproof Windows in several of the nosiest units and perform more sound tests to evaluate the soundproofing results.The soundproofing surpassed their expectations and noise reduction goals in every room tested. The result even amazed John LoVerde, the associate principal consultant from Veneklasen. "I had heard of Soundproof Windows previously and was impressed after testing their installed product.""The windows exceeded our requirements for soundproofing. Now, despite all the downtown city noises outside, all our units have a very quiet and less stressful living environment," explains Cooper.In regard to the apartments with oversized floor-to-ceiling windows, Cooper says, "We didn't expect to see as much difference in the level of noise because of the number and size of the windows. But we were quite surprised and pleased with the results."Another positive aspect of these soundproofing windows is how well they fit in with the decor. Looking at a room, the occupant would not know that a powerful STC 54 rated Soundproof Window had been installed.When choosing soundproofed windows, the most objective measure of sound reduction is the window's Sound Transmission Class (STC) rating. In this rating system, the higher the number the more noise is stopped. A typical rating for standard windows is 26 to 28, for example. The acoustic soundproof windows, by comparison, earn a 48 to 54 STC rating.CLOSING THOUGHTWhether commercial or residential property managers seek to enhance occupancy or rental rates by protecting their renters and tenants from stressful external noise intrusion, economically soundproofing existing windows can provide a real competitive edge.for more information:For more about Soundproof Windows, Inc., visit www.soundproofwindows.com.
Page 52
JANUARY 2021 www.mcsmag.com48maintenance solutionEvery golfer I know keeps score each round and can tell you several numbers about their game. These include best score ever, target score on home course and, if they are serious, their handicap. Why keep track? As a long-struggling golfer, I can tell you, it is to measure improvement and strive to be better. I recommend that construction managers and executives responsible for their fleet profitability take a similar approach, assisted by construction equipment maintenance software. TRACKING THE NUMBERSMost businesses track key numbers. In construction, these include annual revenue, gross profit margin, and backlog. Refining this with additional metrics tailored to the business called key performance indicators (KPI's) has become vogue. The intent is to create and track KPI's that reflect significant aspects of the business, so management can improve them. Think of this as a handicap for each key business activity.I have been surprised in my consulting, and other industry activities, to learn how few heavy construction contractors track KPI's related to their equipment fleets. I have written in previous white papers about how significantly a company's bottom line can be influenced up or down by the quality of its fleet management program. FLEET MANAGEMENT KPISThere are many KPI's for fleet management, but these are my five favorites. They are common, and collectively cover most of the profit related issues of fleet management. For each one, I will identify the KPI, show how it is calculated, tell you the industry benchmark for good performance, and explain what it measures and why that is important for improving construction fleet profitability. UNSCHEDULED DOWNTIMEThe single greatest equipment related profit leak, in my opinion, is unscheduled downtime. When a piece of equipment is on a jobsite and is needed, but cannot be operated, it creates three unnecessary costs.• The loss of recovery of ownership costs.• The potential rental costs of a substitute piece of equipment.• Most importantly, is the disruptions of the job schedule and workflow.The industry average for unscheduled downtime hours is approximately 25 percent. Best-in-class companies Keep Trackimprove construction fleet profitability with KPIsIMPROVE WHAT YOU MEASUREBy Herb Brownett
Page 53
www.mcsmag.com JANUARY 202149drive this to under 5 percent. The key factor is a rigorous and disciplined program of preventive maintenance. PERCENTAGE OF PREVENTIVE MAINTENANCE HOURSAs noted above, preventive maintenance is the key to reducing unscheduled downtime. This metric measures whether mechanics are spending time on the appropriate amount of preventive maintenance versus emergency repairs. In other words, they spend more time preventing fires than fighting fires. MAINTENANCE COSTS AS A PERCENTAGE OF ESTIMATED REPLACEMENT VALUEThe cost to maintain and repair aging equipment, at some point starts to jump by increasingly large amounts each year. This metric for an individual piece of equipment is a good tripwire to indicate that it's time to evaluate further whether it's time to dispose of the asset. PERCENTAGE OF MAINTENANCE OVERTIME HOURSHeavy equipment mechanics are valuable assets. Excessive overtime wears them down, decreases productivity, and may indicate that you do not have enough mechanics. Efficient use of mechanics can be improved by automating scheduling and their work orders. MAINTENANCE COST AS A PERCENTAGE OF REVENUETotal maintenance costs are a significant part of company costs. The total is influenced by many things, including some of the previously discussed items. At a high level, it is important for management to know if total maintenance costs are in line with a company's work volume and revenue.CLOSING THOUGHTBest-in-class heavy construction companies track these KPI's, and others, to constantly improve. Construction equipment maintenance software provides tools to facilitate this. While you are out improving your golf game, think about improving your construction fleet profitability. about the authorHerb Brownett, CCIFP, is the president of Brownett & Associates, LLC, a construction financial management consulting firm in Philadelphia, Philadelphia. Herb is a longtime member of CFMA and was national chairman of both CFMA and the ICCIFP. Herb is a construction financial management consultant working with heavy construction management software provider B2W Software, and is a nationally recognized author and speaker. For more, visit www.b2wsoftware.com.
Page 54
JANUARY 2021 www.mcsmag.com50
Page 55
Page 56
From the smallest jobs to the biggest projects, Sullair has the portable diesel air compressor to help contractors get the job done—whether for general construction, winterizing irrigation systems, abrasive blasting, or performing utility work, among other applications.Many contractors opt for the Sullair 375 Series of portable diesel air compressors. With three units in the family, the compressors deliver 375-425 cfm at 150-200 psi. The 400HH unit is a textbook example of versatility. With the turn of a switch, you can shift from low pressure (150 psi) to high pressure (200 psi).Just a few of the many features and benefits contractors realize from the Sullair 375 Series include:Long Runtimes: With improved fuel efficiency for up to 10 hours of runtime, there's no need to stop midday to refuel. This is a 5-7 percent improvement in fuel consumption compared to legacy units. Sullair portable diesel air compressors are designed to put in a full day's work, just like you.Easy Serviceability: Serviceability is key in how we design our equipment. The 375 Series features doors on all four sides of the unit, making it easy to access nearly every nook and cranny. You'll benefit from easy access to key components including the cooler, aftercooler, battery, battery disconnect, fluid filter, air filter, engine filters, and more. We realize there's no time for downtime.Easy Maneuverability: Whether towing to and from the jobsite or storing at your facility, the unit's compact design means taking up less space and more convenient storage.An Intuitive Controller: The Sullair controller, which is located on the curbside to help keep the operator safe, features an LCD graphic display showing all key machine operating parameters. Quickly and easily understand the status of your compressor.Renowned Sullair Air End: At the heart of the compressor is a Sullair air end, continuing the tradition of reliable durability. This is a reputation we've built over the past 55 years, meaning you can rely on your compressor, day in and day out.Value in Versatility: With select units, such as the 400HH, having both high- and low-pressure options helps create more opportunity. You can use the same machine for more applications. For instance, low pressure applications may include construction, while high pressure applications could include well drilling, media blasting, heavy construction, and pipeline/utility/communications line work. You're able to get more bang for your buck using the same compressor.The 375 Series is only one option in the Sullair portable air compressor lineup. Sullair offers small, medium, and large portable air compressors, ranging from 185 to 1600 cfm, with multiple engines to give customers additional choices. JANUARY 2021 www.mcsmag.com52featured productSullair Air Compressors: Helping You Get the Job DoneTo learn more, visit america.sullair.com/en/products/portable-diesel-air-compressors.
Page 57
www.mcsmag.com JANUARY 202153modern construction productsSKATEPLATE is an award-winning innovative product that transforms a circular saw into a portable table saw. With SKATEPLATE you save time and money with faster precision cuts and greater control and accuracy. Made of high-impact nylon with polyure-thane rollers and Delrin bearings, SKATEPLATE glides across surfaces with less vibration, eliminates scratch-ing and enhances safety by reducing kickback. SKATEPLATE fits 95% of the most popular corded and cordless 7¼" saws. It comes with the SKATEGUIDE, an extended cutting guide with rollers that allows for cuts up to 12". Measure once and make multiple identical cuts. For more, visit www.skateplate.com.SKATEPLATEPortable Table SawBrass Knuckle SmartCut™ BKCR2403 composite yarn includes a blend of high-strength filament fibers for unbeatable cut resistance, upwound with nylon and spandex to create push-the-button, set-the-gauge, or pick-up-the-nail dexterity. The 18-gauge HPPE (high performance polyethylene) and glass-fiber shell is light-weight and provides the ANSI cut level 2 protection. A black polyure-thane palm coating delivers reliable abrasion protection and enhanced grip. The thinner yarn composition allows for smaller and more stitches per inch and is more flexible, lightweight, and comfortable than other cut-resistant options. The flat polyurethane palm coating provides nimble handling ability on dry surfaces. For more, visit www.brassknuckleprotection.com. BRASS KNUCKLE SmartCut™ BKCR2403KIOTI's versatile CX Series compact tractors boast two ROPS models with either a manual (CX2510) or HST (CX2510 HST) transmission, both with a 24.5 hp KIOTI engine and PTO hp ratings of 19.3 and 18.8, respectively. The CX Series comes standard with an open platform and tilt steering wheel to accommodate operators of any size and an adjustable suspension seat. The front-end loader's single lever joystick returns to neutral when released and incorporates a float function allowing the bucket to free float over the ground. The CX2510 HST model includes a dual pedal hydrostatic transmission delivering power smoothly and efficiently.For more, visit www.kioti.com. KIOTICompact TractorsFeaturing the field-proven, twin-power design to boost cycle times, the new Cat 657 Wheel Tractor-Scraper (WTS) elevates productivity and operating efficiency to deliver low-cost earthmoving. A 7% increase in fuel efficiency over the 657G WTS means more material moved per unit of fuel burned, and improved onboard payload estimating accuracy helps opti-mize productivity. The largest open bowl scraper in the Caterpillar line, with a rated load of 52 tons, now has a more spa-cious cab to boost operator comfort and efficiency in high volume earthmoving, highway construction, and mining applica-tions. The two-engine design includes the Cat C18 powering the tractor and Cat C15 in the scraper, both meeting stringent U.S. EPA Tier 4 Final/EU Stage V emissions standards. For more, visit www.cat.com. CATWheel Tractor-ScraperThe newest entrant to Komatsu's iMC 2.0 lineup is the 165 hp PC210LCi-11 excavator. The PC210LCi-11 is Komat-su's smallest machine control excava-tor. Weighing 51,397-53,882 lbs, this intelligent excavator excels at digging precise footings, retention ponds, and utility work. Its updated, factory-inte-grated system minimizes over-excava-tion and empowers operators to dig straight to grade quickly and accurately. Operators can finish grade quickly and accurately with bucket angle hold con-trol that automatically holds the bucket angle to the design surface during arm operation, enabling operators to perform finish grading using only arm input.For more, visit komatsu.ae-admin.com/smart- construction/intelligent-machine-control. KOMATSUPC210LCi-11 Excavator
Page 58
JANUARY 2021 www.mcsmag.com54✖ INTERRUPTIONSWe leave ourselves open to productivity thieves by letting them interrupt us. "You have a problem? Bring it to me," we declare. We can let emails especially interfere with our train of thought and consume our mental energy. Let's say we're working on project "A" (ours) and someone immediately wants an answer for project "X" (not ours). In the spirit of teamwork, we drop everything to help. ❍ Solution: Set availability boundaries and communicate them to others, then stick with them.✖ MEETINGSWhether it is a one-on-one meeting, a jobsite meeting, or an all-company meeting, many are often unproductive. To ensure meetings advance the work, insist each one has a purpose (why you are having the meeting), an objective (what you want to achieve), and a timeline (by when you want to accomplish the purpose and objective). If any one of these three ingredients is missing, you could be headed for a personal productivity challenge. ❍ Solution: Include all three—purpose, objective, timeline—in your meetings.✖ COUNTERPRODUCTIVITYThis invisible enemy can rob you of your time, your professional development, your business growth, and your leadership credibility. In these common examples of counterproductivity, you: • Take the time to plan your day, but you don't follow the plan. • Conduct an employee engagement survey and do nothing with the results. • Hire people to do a job but don't take time to train them on how to do that job. Take a few minutes to review your calendar over the past month or two to identify and eliminate any counterproductive activities. Be brutally honest with yourself. ❍ Solution: Identify which behaviors were counterproductive, then don't repeat them going forward. ✖ WRONG PRIORITIESIn construction, we get busy and get things done, but rarely do we slow down to ask, "Is this what I should be working on?" We may like doing task "A" better than task "B," so we don't work on "B" until the last minute. Next thing we know, we're out of time and wishing we had more! Then we face that "silent stress," which zaps our energy and eats at us for not working on task "B." ❍ Solution: Establish the right priorities and be disciplined to stick with them until they're complete. Then move onto the next.✖ LACK OF DELEGATIONTo become more personally productive, adopt this motto: "As a leader, the less I do, the more I get done." It will serve as an important reminder how empowering people and delegating work is crucial to your personal productivity success.CLOSING THOUGHTAs the leader of your construction business, you need to focus on running your business instead of letting the challenges in your business run you. I hope these solutions will help you become more productive. Please let me know if you need assistance tackling timewasters in your world. about the coachAs a leadership development expert, Randy Goruk works with construction industry leaders to improve employee engagement and business growth. Register to receive his Leadership Tip of the Week at www.LeadersEdge360.com, or contact him directly to learn how he can help you and your team: randy@LeadersEdge360.com.Dear Productivity Poor Pete:My suggestion is to identify and CRUSH TIMEWASTERS in your world. Consider these solutions to five common timewasters. HEY COACH, My world is chaotic and unproductive. I typically don't accomplish everything I set out to do in a day. I find myself running from one thing to another. I don't have enough time for my family. What suggestions do you have to improve my productivity?
Page 59
Page 60