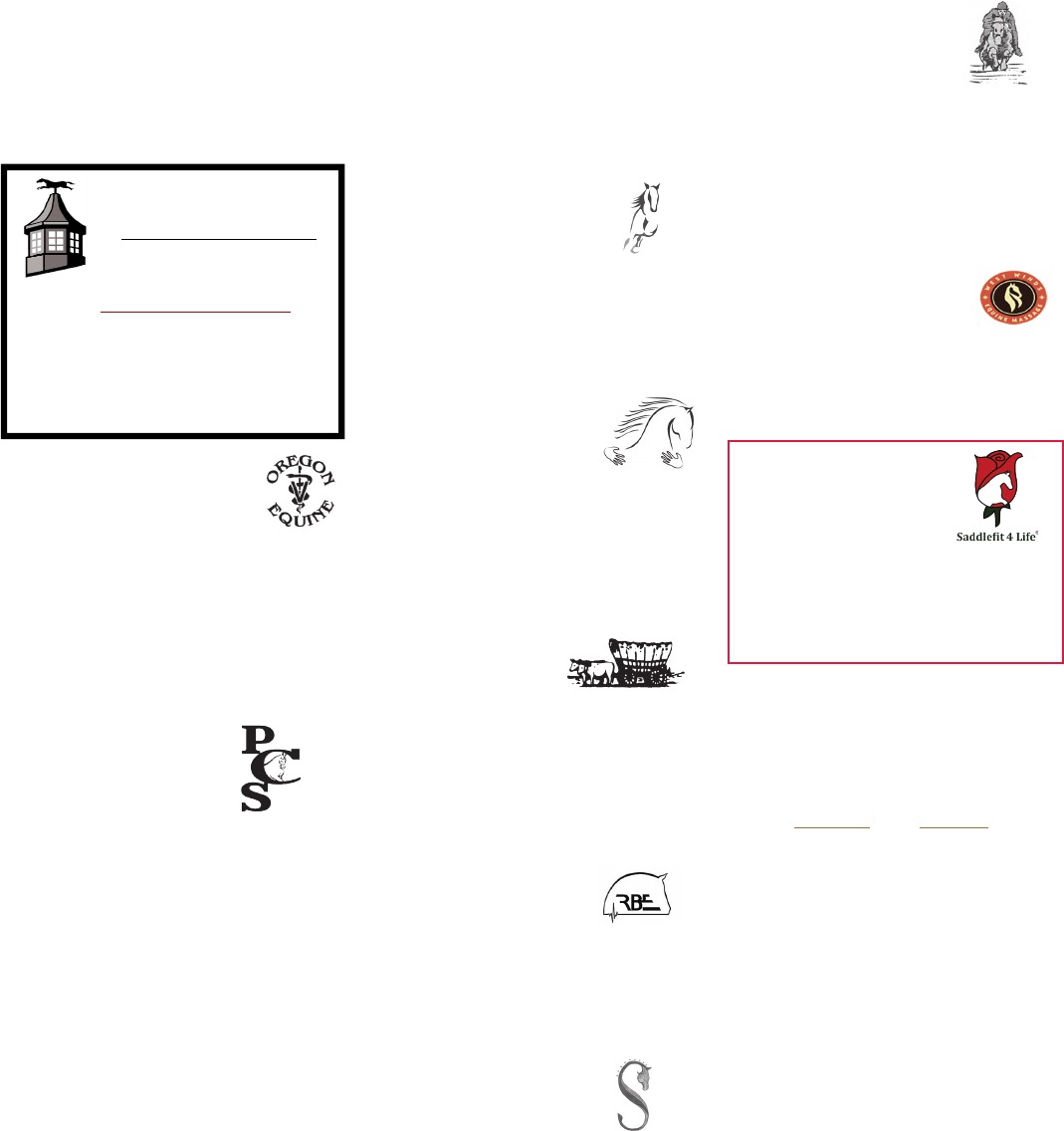 Services Directory
Page 80

November 2018
Pegasus Equine Rehabilitation
7620 260th Ave NE
Redmond, WA 98053
(425) 898-1060 office
www.pegasustrainingcenter.com
State-of-the-art rehabilitation center for all breeds &
disciplines. Featuring a hyperbaric oxygen chamber,
swimming pool, underwater treadmill, eurocizers &
more! Great for post surgery recovery, physical thera-
py & conditioning.
Performance Horse
Massage Therapy
Kristi L. Zimbelman, LMP, CCST, LAMP
14325 200th Ave SE, Renton, WA 98059
(425) 922-3919
www.performancehorsemassagetherapy.com
Treatment tailored to the horse's individual activity
levels using deep tissue, trigger point, myofascial
release to decrease muscle pain, increase range of
motion, decrease recovery time & promote overall
well-being.
Pilchuck Veterinary Hospital
360-568-3111 Equine Care & 24/7 ER
11308 92nd St SE
Snohomish, WA 98290
www.pilchuckvet.com; www.facebook.com/
pvhequine
Founded in 1963, Pilchuck Veterinary Hospital offers
comprehensive equine referral & ambulatory ser-
vices, 24/7 emergency, & specialized care for the
sport horse through the Equine Performance Sports
Medicine Institute.
Pioneer Veterinary Services, P.C.
Medicine & Surgery of the Horse Since 1977
Steven M. Haugen, DVM
(503) 648-6472
33845 SW Tualatin Valley Hwy
Hillsboro, OR 97123
PioneerVet@att.net; www.pioneervetservices.com
Equine ambulatory veterinary practice providing
quality, personalized care & practices preventative
medicine. We offer dentistry, pre-purchase exams,
lameness exams, Cold Laser therapy for lameness,
eye, tendon & suspensory problems.
Rocky Bay Equine Veterinary
Services
12604 189th Avenue KPN,
Gig Harbor, WA 98329
(253) 858-4529
www.rockybayequine.com
Quality, compassionate veterinary care for the life of
your animal companions.
Your trusted health care partners serving equine and
small ruminant patients in Gig Harbor, Key Peninsula,
Port Orchard, Belfair, Silverdale, Poulsbo.
S. Moore Training
Shelly Moore
33431 Nieblock Ln
Creswell, OR 97426
(541) 895-3196; wisdomhorse@hotmail.com
Offering outstanding personalized care and training for
both you and your horse. New indoor arena. Clinics,
consulting, bodywork, rehab, lay-up, training and lessons.
Systematic Mindful Teaching. TTouch, TTeam, Equine
Touch, Horseoneship, Centered Riding, Bio-Scan/Light,
Alpha-Sonic, Vitafloor.
Northwest Veterinary Acupuncture
Megan Wickersham, DVM, CVA
Mobile Services based out of Battle Ground, WA
Serving SW Washington & NW Oregon
(360) 666-9501; www.nwvetacupuncture.com
Mobile equine veterinary acupuncture. Acupuncture
can be used to ease pain, promote healing & allow
your equine athlete perform to the best of its ability
or lead a comfortable retirement.
Oregon Equine, Inc.
Janine Wilson, DVM, CAC
(503) 631-4100; www.orequine.com
Ambulatory Practice
Serving the Greater Portland Tri-County Area
Dr. Wilson offers a personalized, experienced
approach to diagnosis & treatment of your horse.
Her practice philosophy emphasizes client education,
treatment options, & open communication while
practicing evidence-based lameness, medicine, &
chiropractic care. As a rider, Dr. Wilson understands
the relationship between you & your equine partner
& welcomes the opportunity to help you with your
horse.
Pacific Crest Sporthorse
Barb Crabbe, DVM
Jennifer Posey, DVM
15056 S. Spangler Rd.
Oregon City, OR 97045
PO Box 526, Beavercreek, OR 97004
(503) 632-6336; www.pacificcrestsporthorse.com
Veterinary care for the performance horse including
lameness diagnostics & treatment, dentistry, preven-
tative health plans & emergency care. We offer full
reproductive services including breeding with fresh &
frozen semen, foaling & limited boarding for brood-
mares & foals at our farm. Now offering acupuncture.
Warmblood horses for sale.
Peak Performance Equine
Sport Horse Veterinary Medicine
Cierra Dedeker, DVM
(503) 403-9617 Office/Appointments
(503) 403-9617 Cell/Emergencies
DrCierra@gmail.com
Mobile equine veterinary practice specializing
in sports medicine. Mobile digital radiology &
ultrasound available. Everything your sport horse
needs to perform at their peak! Leave your trailer
unhitched & we will come to you. Practice area
includes Yamhill, Washington & Clackamas counties in
Oregon. Check out our website for more information:
Peakperformanceequinepllc.com.
Spinnaker Farm
Equine Veterinary Clinic
Heather J. Wenzell, DVM
PO Box 3384, Lacey, WA 98509
(360) 584-3964
Ambulatory equine practice serving WA & OR.
Performance dentistry, lameness, reproduction, pre-
ventative health care, & emergency services offered.
Comprehensive veterinary care for the performance
equine utilizing power dentistry, digital radiography &
ultrasound capabilities. See our website for specifics
& experience: www.spinnakerfarmequine.com
West Winds Equine Massage
Sabina Pariser
(206) 661 3263
Equine massage therapist that encourages an organic
and intuitive therapeutic process with all of the horses
in her care. Sabina specializes in a wide variety of
modalities, including, myofascial release, stress point,
and trigger point therapy.
EQUESTRIAN SERVICES DIRECTORY
Providing Excellence in Diagnostics
and
Comprehensive Veterinary Care
of the Equine Athlete for over 20 Years
18175 NE Hwy 240, Newberg, Oregon 97132
503-554-0227
Please visit us at
www.oakhurstequine.com
Oakhurst
EQUINE VETERINARY SERVICES
SaddleFit4Life oers a unique philosophy that mirrors
your own care and concern about horses, health and
the riding industry in general. Our superior training
and gender specic tting techniques represent the
only equine ergonomic centre that helps you deliver
comfort, health and safety not only for the horse but for
the rider too.
Saddlet4Life®
Holland Landing, ON
saddlet4life.com
info@saddlet4life.com
1.800.225.2242 x30
ANNUAL SERVICES
DIRECTORY LISTING
IN PRINT AND ONLINE
$150 LINE LISTING
AND LOGO
$180 PER YEAR LINE LISTING,
LOGO
AND WEBSITE OR
EMAIL LINK
$300 CUSTOM DESIGN LISTING
CONTACT US TO
RESERVE YOUR
SPOT IN OUR NEXT ISSUE
mail@yingchanges.com
or
call or text +1 (503) 317 4956