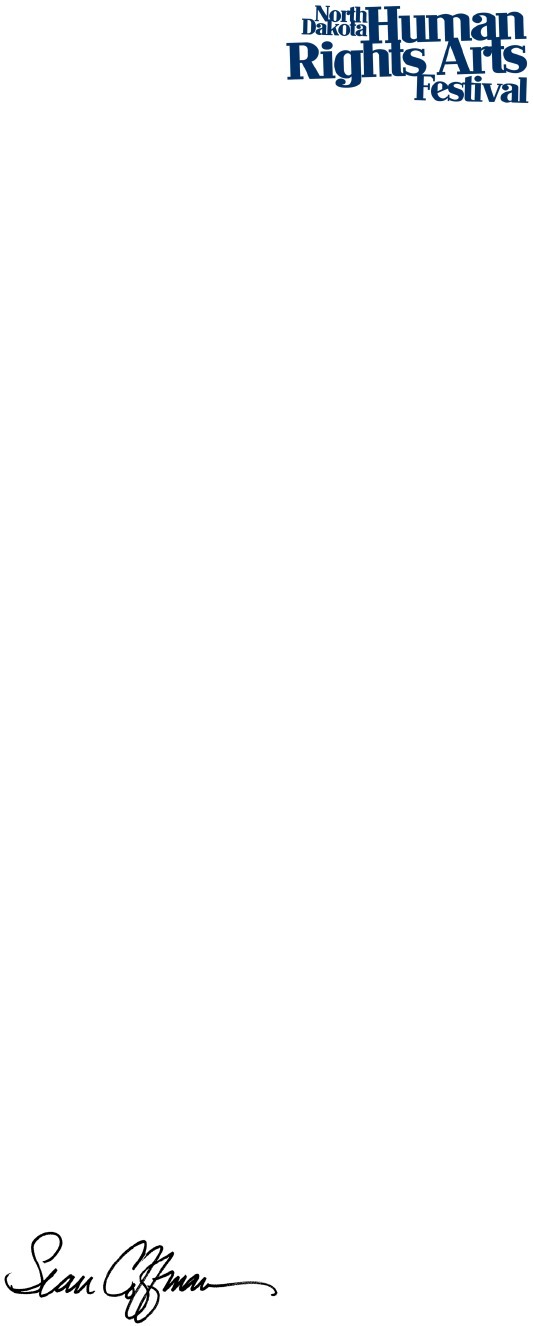 4
Cover and official poster design: "Year in Review" by Jescia Hopper
Welcome
A
s we looked into 2021, we weren't sure
what to expect. Looking into 2021 and
the pandemic's continuing impacts, it was
hard to determine what the future had in
store for us. And it was made even more
dicult because this year's festival spans
across eight months and six dierent museums
and galleries. We open in January at the
Plains Art Museum and then travel to Grand
Forks, Bismarck, Jamestown, Minot. Williston
wraps up the festival in August. In terms of
the pandemic, what it looks like in January
could be very dierent from what it looks like
in August. We also weren't sure what level
of engagement the art world would have
with the festival. It's been a challenging year
financially for artists.
But we also recognized all that has
happened. 2020 has seen the rise of mental
health needs in our society and our health
care systems' deterioration and strain. It
has seen the rise and cultural acceptance
of white separatism and nationalism. It has
seen a Presidential Administration that has
embraced and emboldened systems of
racism that continue to create and maintain
racial inequality in nearly every facet of life
for people of color.
We've seen bigotry extended in
North Dakota with hundreds of Republican
lawmakers voting to accept anti-LGBT
language within their NDGOP resolution.
We've also seen inequities expand due to
the pandemic, with human rights issues such
as access to food and housing being daily
subjects in the media.
But there has also been hope.
Our nation's collective consciousness that
supports equality, equity, and inclusion
has risen against these injustices: From the
continued Indigenous-led Water Protector
movement that shields our environment from
corporate interests; to the Black Lives Matter
movement, which is demanding reform from
our police and criminal justice systems; to the
50th Anniversary of the Stonewall Riots, and
the acknowledgment of the Supreme Court
that the Civil Rights Act of 1964 protects gay,
lesbian, and transgender employees from
discrimination based on sex; and to the Get
Out the Vote movement that has inspired a
new generation of voters to elect leaders that
represent the best of who we are as a nation.
As artists and activists for human rights and
social change, there was much to speak to.
We decided to move forward to see
what the artist's response would be. If we had
submissions, we'd move forward. If we didn't,
we'd postpone for a year. To help artists
financially, we waived submission fees for
local artists and, in individual cases, oered
help to pay for shipping to and from Fargo.
The art in the festival this year
captures the heart of the challenges and
hopes that have defined 2020. It is, I believe,
one of the most important curations of art our
Jury had crafted since our beginnings in 2017.
This year, artists have shared their experiences
with isolation created by the pandemic,
their domestic violence experiences, and
their experiences with colonialism and white
separatism. The exhibition captures and
highlights the fear, the angst, and the hope
that 2020 has come to define.
On behalf of the entire team, it is
my pleasure to welcome you to the fourth
annual North Dakota Human Rights Arts
Festival. Thank you for supporting the work of
these artists and the humanitarian eorts they
document. We hope you leave the festival
inspired by the individuals working to protect
our fundamental human rights.
With love and respect,
Sean Coman
2021 Festival Director | NDHRAF4