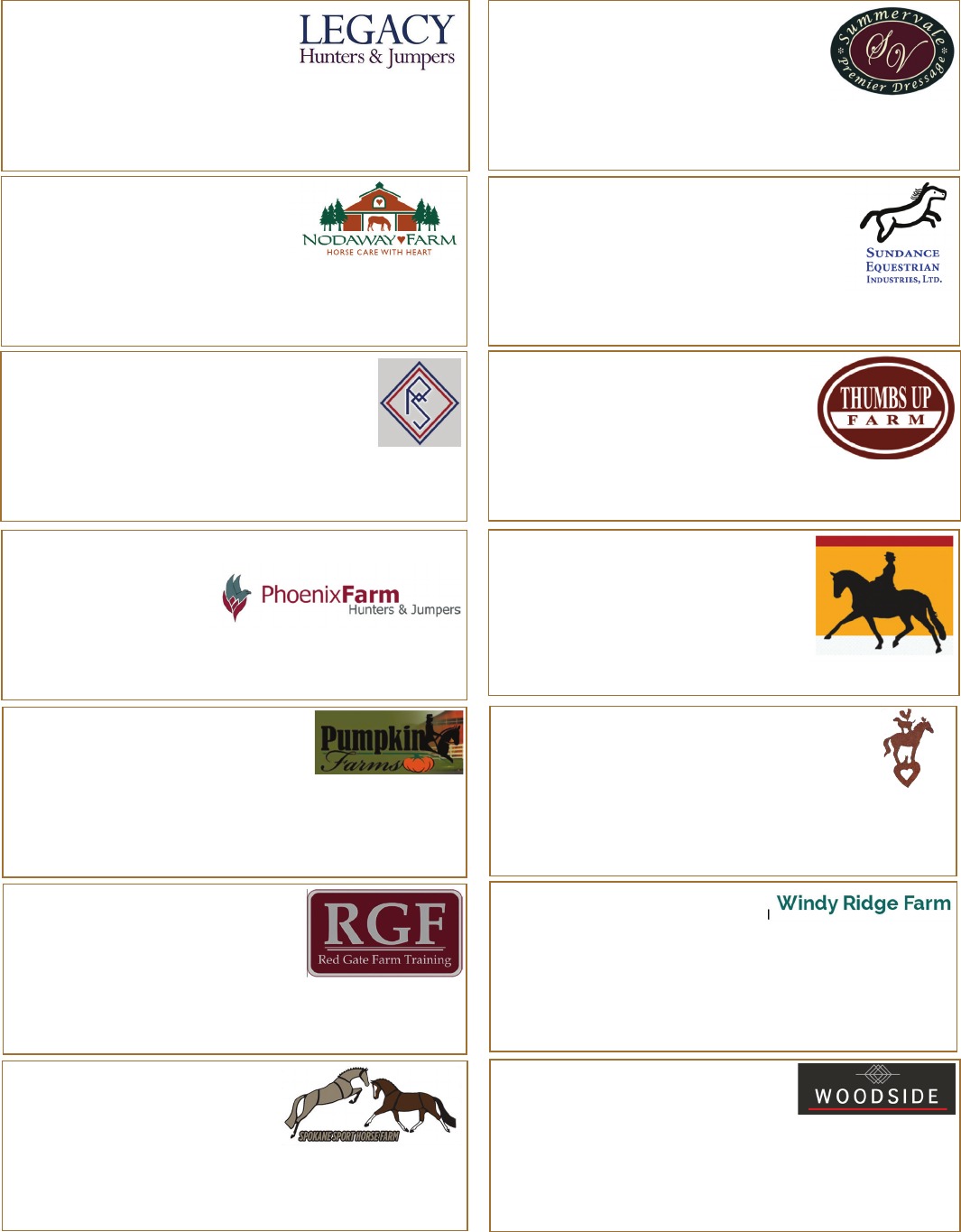 74
www
.F
LyINg
c
HaNgeS
.
com
S
eptember
2019
TRAINER & STABLES DIRECTORY - WASHINGTON
Full service providing great care & education at an aordable price. Indoor
& outdoor arenas, round pen, locker room, wash rack. Lesson horse pro-
gram for all skill levels.
Phoenix Farm Hunters & Jumpers
8832 222nd St SE
Woodinville, WA 98077
(206) 229-2711
Trainer: Teri Duplass
www.phoenixfarm.com
Red Gate Farm is a full service training facility.
We oer everything from Lessons to "A" circuit horse shows and have
horses and ponies available for lease. We also provide a fun Summer Day
Camp for ages 6-12.
Red Gate Farm
23836 SE 24th Street
Sammamish, WA 98075
jamie425@earthlink.net / (425) 392-0111
Trainer: Jamie Smith
www.facebook.com/redgatefarmtraining
W
ashington's leading Hunter & Jumper training facility.
Easily accessible from Seattle and all points on the Eastside. We provide top level
training for horse and rider in a comfortable, family atmosphere. First lesson to
the National level, our trainers can support you and your hunter, jumper, and
equitation goals. We will help you reach your full potential
.
Parkside Stables
Morgan & Nora Thomas Trainers
13020 NE 39th Street, Bellevue, WA. 98005.
(425) 885-5025
Parksidestables@msn.com
www.parksidestables.com
State of the art dressage training facility located in Snohomish Washington
USDF Bronze, Silver and Gold medalist and National competitor, Catherine Reid
Oering lessons, training and sales.
Reid Sporthorses / Pumpkin Farms
17732 Butler Rd, Snohomish, WA 98290
Catherine Reid, Trainer (720) 641 7319
reidsporthorses@hotmail.com
www.pumpkinfarmsdressage.com
Denison Rauw, Owner/Manager
2056 Palo Alto Road
Sequim, WA
(360) 582-9514
www.nodawayfarm.com
Experienced, quality full-care specializing in retirement, post-surgery, injury, and equine senior care •
Tranquil 20-acre farm provides superior climate for horse health • Year-around pasture board or lay-up stall
board with state-of-the-art barn and field shelters • Vacation board with close access to Olympic National
Forest and Olympic National Park • Partners with Still Creek CPR & First Aid Training for Equestrians www.
stillcreekcpr.com. • Nodaway Farm – Horse Care with Heart.
Nodaway Farm
Hunter Jumper training facility operated by third generation horse trainer, Shelly
Kerron. Quality lesson horse program. Beginner thru accomplished show rider.
Legacy Hunters & Jumpers, Inc.
19802 NE 148th St
Woodinville, WA 98077
trainer@legacyhuntersandjumpers.com
(425) 869-1527
Trainer: Shelly Kerron Trainer: Lizzie Kerron
Assistant Trainer/Instructor: Hannah Podgorski
Barn Manager/Instructor: Leanne Wortley
www.legacyhuntersjumpers.com
10710 S Sherman Rd
Spokane, WA 99224
Owner: Christel Carlson
Manager: Gail Mackie
Phone Mgr. (509) 999 6611 Owner(509) 993 6786
www.spokanesporthorse.com
Training, Boarding, Showing, Breeding Farm on 150 Acres. 7 Level 3 USDF Shows, 2 USEA
Events, All levels, Many Clinics, schooling shows and events.
Great lay over just off I-90.
Spokane Sport Horse Farm, LLC
Summervale Premier Dressage provides an Elite Equestrian Sales experience
in dressage horses for sale. We make dreams come true matching top quality
dressage horses to their partners.
Summervale Premier Dressage
29722 - 22nd Ave E
Roy, WA 98580
www.SummervalePremierDressage.com
dressagespecialties@yahoo.com
253-381-2811
We oer training for both the horse & rider looking to compete & have fun
in a team environment. Hunters, jumpers, equitation, sales, leases, & clinics.
Full care boarding & beautiful covered arena.
Sundance Equestrian Industries
18221 236th Ave NE, Woodinville, WA 98077
(425) 205-3775
USHJA Certied Trainers:
Katherine Wade-Easley & Chelsea Crabb
Assistant Trainer: Danika Green
www.sundanceequestrian.com
Trainers: John Turner, Jack Hammond,
Quinn Partridge & Keri Bailey
24221 NE Union Hill Road, Redmond, WA 98053
Mailing address: P. O. Box 816,
Mercer Island, WA 98040
(206) 396-2681 John; (253) 686-0221 Quinn
thumbsupfarm@aol.com
www.thumbsupfarm.com
Hunters, Jumpers, Equitation, Sales, Leases, Clinics
Thumbs Up Farm
Sonja Vracko, S Judge, Dressage Trainer, Clinician
14050 18th NE
Woodinville, WA 98072
(425) 417-3222; sonjavracko@msn.com;
www.sonjavracko.com
'S'JUDGE DRESSAGE, CLINICIAN, TRAINER.
BEGINNERS THROUGH GRAND PRIX
View Ridge Farm
10821 Wacky Nut Way, Bainbridge Island, WA 98110
(206)780-1617 Barn Manager: Marlo Parham
manager@wackynutfarm.com; www.wackynutfarm.com
A premier dressage training & boarding facility offering lessons and training at all levels through FEI.
Regular clinics and active show participation. Excellent individualized care includes 4 daily feedings,
stalls cleaned twice daily, year-round turn out, all 15 stalls w paddocks. Indoor arena 80x180 w
excellent footing, mirrors, heated viewing area, outdoor 100x200. All season farm trail. Heated tack
room w private lockers, rider kitchen, heated groom areas. Resident caretaker.
Trainer, Emily Sorensen: www.sorensendressage.com/about/
Wacky Nut Equestrian Farm
38206 SE Gibson Road, Washougal, WA 98671
Owner: Rick Bishoprick (360)-831-4304
info@windyridgewashougal.com; windyridgewashougal.com
We offer full care boarding, blankets and fly mask changing (weather depending),
feeding of Eastern Oregon hay included (grain not included). We are on 86 acres with
access to trails, indoor and outdoor arenas, 5/8 mile race track, cross country course,
several guest trainers, 60 foot lighted indoor round pen, 12x12 stalls, large group or
individual turnout, tack lockers, cross tie tack up areas, and hot water wash racks.
Windy Ridge Farm Inc.
9368 NE Derby Way
Kingston, WA 98346
Trainers: Cindy Daniels, Sara Petersen, & Lisa Crittenden
(360) 860-1335; (425) 466-5662
woodsidestables@msn.com; woodsidestables.com
Hunters, Jumpers, Equitation, Sales, Leases, School Horse Lessons. Full-care
facility with indoor & outdoor rings, state-of-the-art footing, & daily turn
out. Close to trails.
Woodside Stables