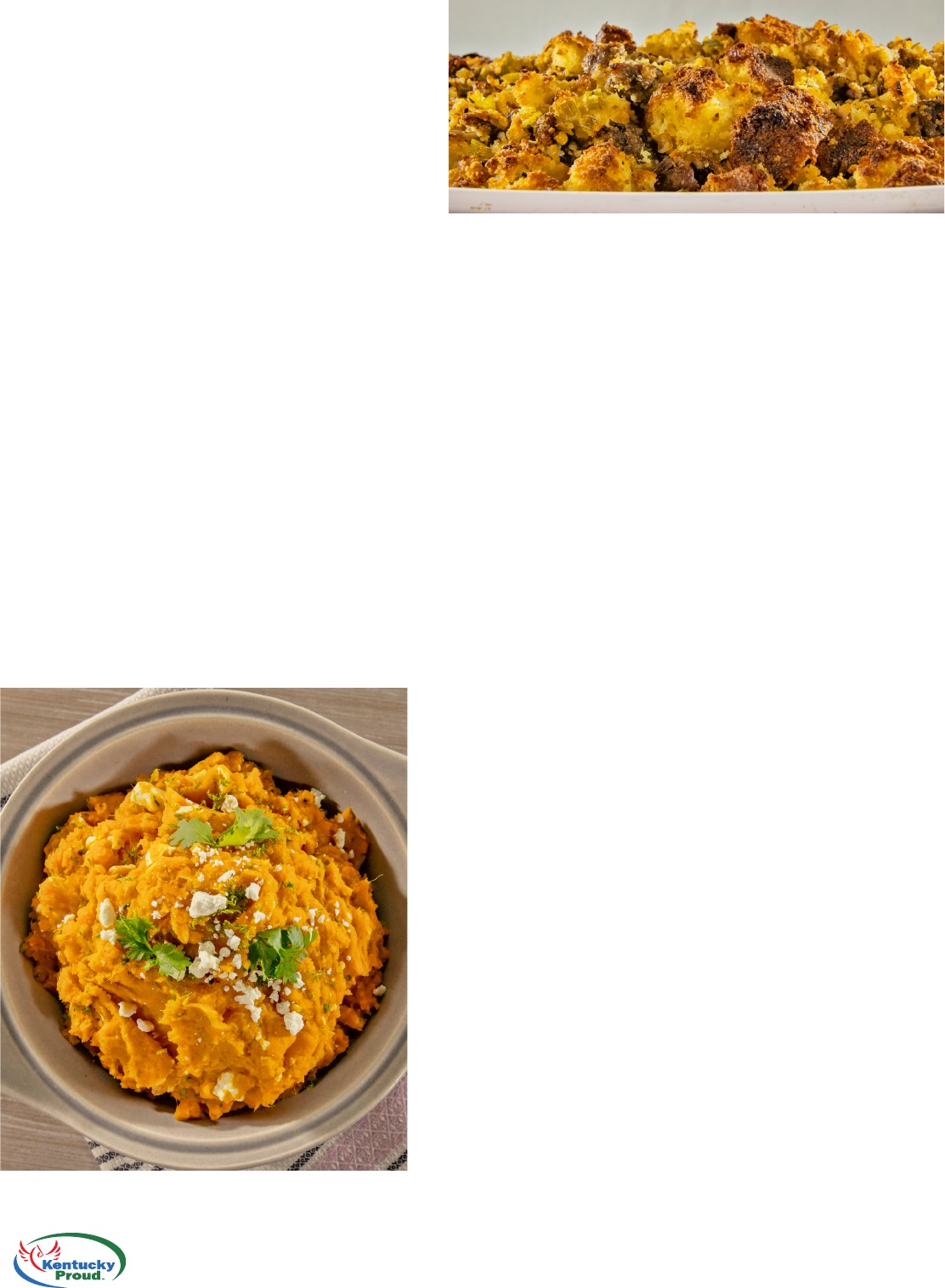 1.
Preheat oven to 400 degrees. Spread the cornbread out
on 2 rimmed baking sheets and toast for 8-10 minutes or
until lightly browned. Transfer to a large mixing bowl and
allow to cool. Butter a shallow 3 quart baking dish and a
piece of aluminum foil. Set aside.
2.
In a large skillet, heat olive oil over medium high heat. Add
sausage and smoked paprika. Cook, breaking up into small
pieces with a wooden spoon. Cook until browned and no
longer pink, about 7-10 minutes. Remove with a slotted
spoon and add to the cornbread.
3.
Add onions, celery and leeks to the skillet. Saute', stirring
often, until onions are browned and soft, 10-12 minutes.
Scrape into the cornbread mixture. Return skillet to
medium-high heat and pour in the apple cider vinegar,
sherry or white wine to deglaze. Scrape up any brown bits
and cook until almost all the liquid has evaporated. Add
the ½ cup of butter and allow to melt. Pour over cornbread
mixture. Whisk eggs and 2 cups stock in a medium bowl
and add to the cornbread, along with the pecans,
chopped chili and thyme. Season with smoked salt and
pepper. Mix well to combine. If stufng seems dry, add
more stock, ¼ cup at a time, until thoroughly moistened.
4.
Pour stufng into baking dish and dot with remaining 4
tablespoons of butter and cover tightly with foil, buttered
side down. Bake for 30 minutes. Remove foil and increase
oven to 450 degrees. Bake until top is browned, about 20-
25 minutes more. Serve warm.
Note: toasting cornbread and pecans and cooking sausage and vegetables
can all be done a day ahead. Right before baking, toss everything together
and add melted butter, eggs and stock. Proceed as directed.
Serves 8-10
13x9 pan of cornbread, cut
into 1" pieces
3 tablespoons olive oil
19 ounces hot or sweet
Italian sausage, removed
from casings
2 teaspoons Bourbon
Smoked Paprika
2 onions, small dice
4 stalks celery, small dice
1 leek, white and pale green
parts, chopped and rinsed
¼ cup apple cider vinegar,
sherry or white wine
½ cup (1 stick) unsalted
butter, plus 4 tablespoons,
cut into small pieces
2 eggs
2 cups chicken stock, plus
more if needed
1 cup pecans, toasted and
chopped
1 fresh chili (such as fresno),
deseeded and chopped
ne (optional)
2 tablespoons fresh thyme,
chopped
3 teaspoons Bourbon
Smoked Salt
2 teaspoon Bourbon
Smoked Pepper
CORNBREAD STUFFING WITH SAUSAGE
AND PECANS
Serves 8-10
1 tablespoon Bourbon Smoked Salt
3 ½-4 pounds sweet potatoes, peeled and cut
into large chunks
2 tablespoons extra-virgin olive oil
¼ cup Bourbon Barrel Aged Sorghum
2 limes, zested and juiced
1 teaspoon Bourbon Smoked Salt
½ teaspoon Bourbon Smoked Pepper
5 ounces feta cheese crumbles, reserving some
for garnish
¼ cup cilantro leaves, chopped, reserving some
for garnish
1.
Bring a large pot of water to a boil. Add the salt
and sweet potato and cook until soft, about
10-12 minutes. Drain into a colander. Allow to
steam dry for 5 minutes. Transfer sweet potatoes
to a large mixing bowl. Using a potato masher,
mash sweet potatoes.
2.
Stir in the olive oil, sorghum, lime zest and juice,
salt and pepper. Fold in the feta cheese and
cilantro. Check for seasoning, adding more salt
and pepper if needed. Spoon into a serving
bowl and garnish with reserved feta and
cilantro. Serve warm.
MASHED SWEET POTATOES WITH
SORGHUM, LIME AND FETA CHEESE
bourbonbarrelfoods.com