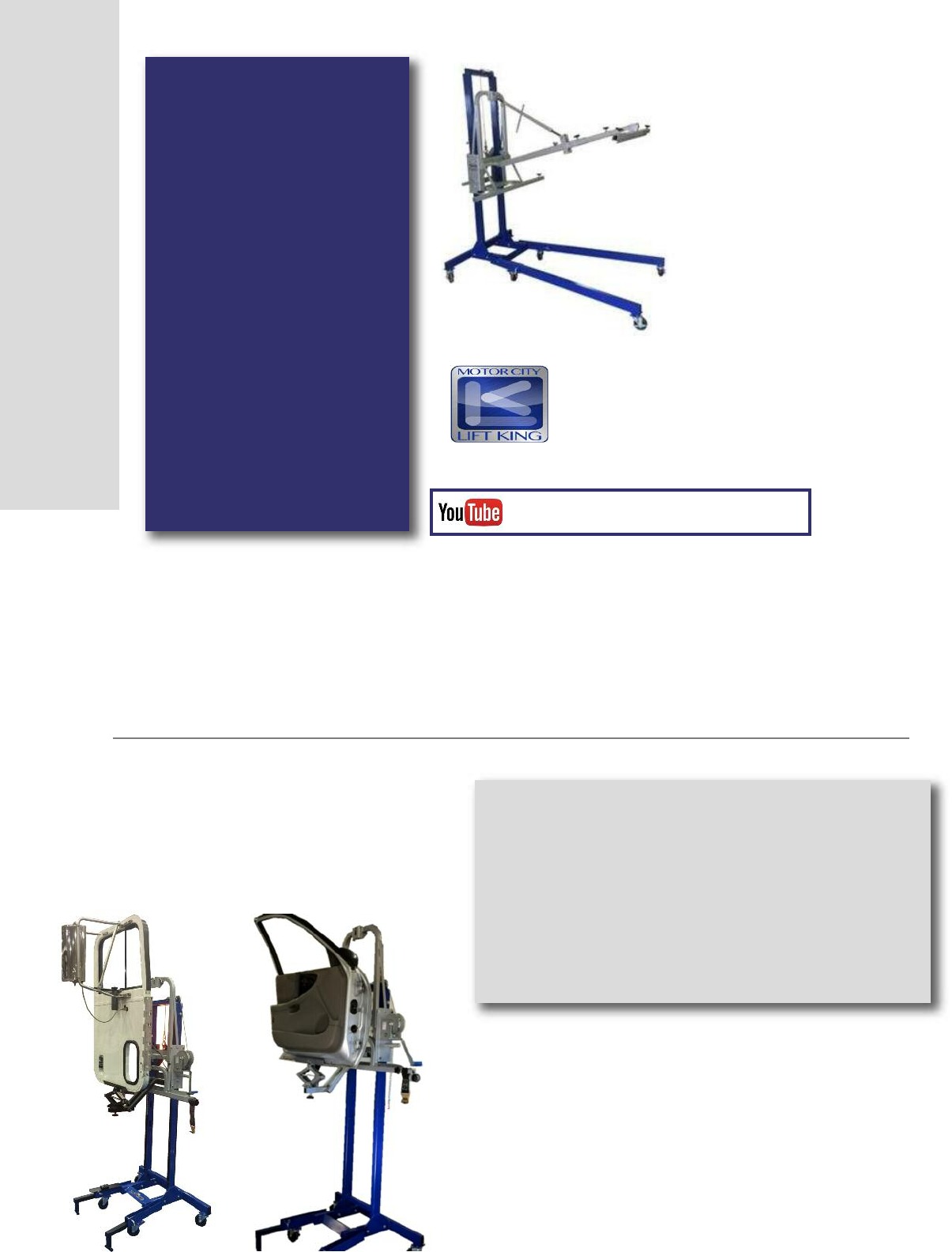 8
The Door Attachment is much different than the typical
door attachments available to purchase in the industry.
This Door Attachment connects to the lift with only two
pins and only a couple seconds of effort. The key to this
Door Attachment is the lifting height it offers. If a
technician has a vehicle on a frame rack and determines
the door needs to be removed or adjusted, this Door
Attachment is designed to connect to the door while the
vehicle is on the frame rack or hoist. This Door
Attachment fits cars, trucks and semi-trucks.
Main Component
Item #LK4000
- Main Component
- Built with steel construction
- Durable powder coat finish
-
Hard rubber brake casters for
easy moving
- 600lb weight capacity
- (NO attachments included)
Benefits
• Designed for one person use
•
Only requires 3'x3' floor space when folded into the
stored position
•
Unfolds to the working position within seconds
•
Reduce labor hours and increase labor productivity
• Requires no power or fuel
Our superior and rugged design
is safe, simple, and engineered
to save you time and only takes
3 square feet of floor space
w
hen in the stored position. The
Lift King is a fast, easy and safe
way to remove or install a
pick-up box, topper, semi hood,
c
ar or truck door. This product
is designed to be used by one
p
erson quickly and efficiently
while performing the job of
many. The Lift King also
features a safety system to
protect the product and
OPERATOR at all times. There
are several different
attachments available for the
Lift King that allows an
OPERATOR to perform different
lifting functions. Each
attachment can be switched out
with only a couple of pins in a
matter of seconds.
• Multiple use lift, several attachments available for other
applications
• Safest way to remove or install a pickup bed, topper, door,
or semi hood
• Great tool for mechanic or collision shops
https://youtu.be/z7PBbqqpyjk
Door Attachment
Item #LK4052
- Built with steel construction
- Durable powder coat finish
Benefits
• Designed for only one person to remove or install a door
•
Connects to the lift with only two pins
•
Fits cars, trucks, and semi-trucks
•
Remove or install a door with the vehicle on a hoist or on a
frame rack