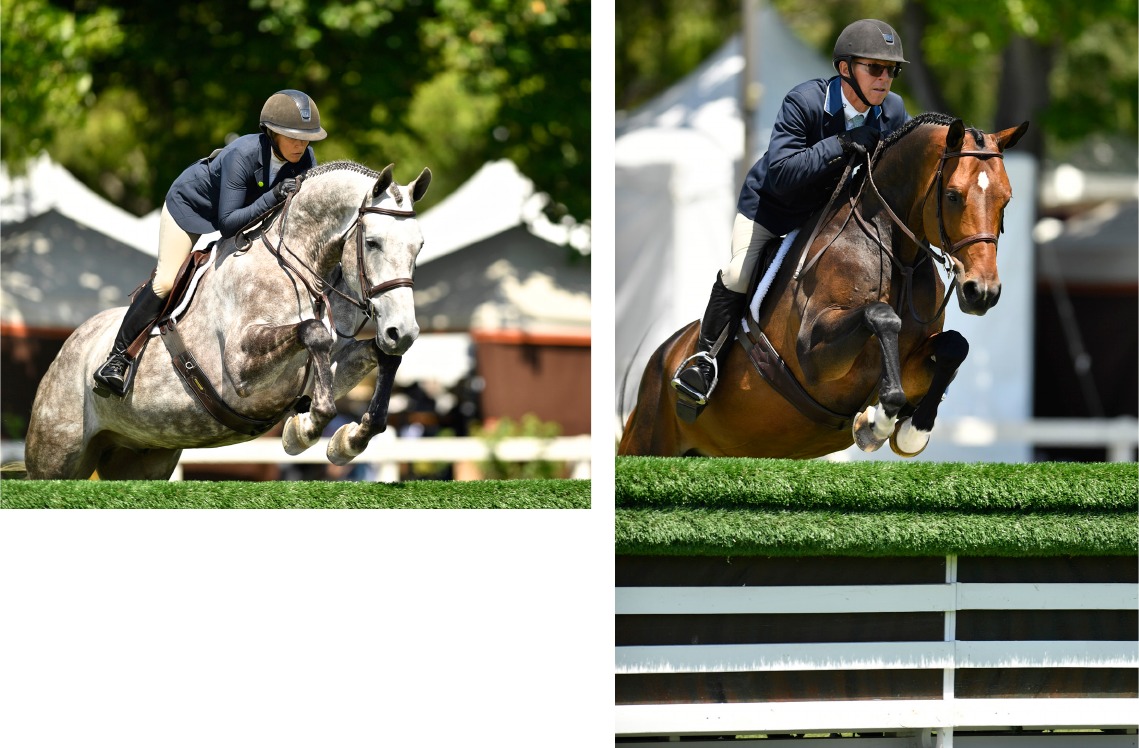 also has a group of riders ying in from New York "
Their horses will not compete at MCHS, but we have
fresh horses on the grounds ready to compete. So in
total three or four riders will compete in the Grand Prix
and others will enter Hunters and Equitation Classes".
"We really have a great bunch of kids, supported by a
great bunch of parents, it makes it very rewarding. We
have been here for over seven years and I am lucky to
have grown a large equestrian program. We are very
blessed" said Brown.
Olivia Brown, Harley's wife and business partner had
the ride on Chacco D'accord, and was over the moon
with her rst blue ribbon in a Hunter class at Menlo
winning one of the 3'6" Performance Hunter classes.
"Chacco D'accord is a 6 year-old that we bought as a 4
year-old in Europe, so we have produced him. He was
purchased for Emma Riechow who rides him in the
3'6" Juniors, so it is pretty special to win on a horse
that we have made. Last year he did the 5 year-olds
here at MCHS and he was very green and spooky, so
to come back here and have him march right around
was wonderful."
Harley and Olivia Brown work as a great team and
when asked about the family dynamics Olivia Brown
said with a laugh "It really works well. He is very loud
and vocal and I am very stubborn. I put him back in
his place every once in a while and we carry on. We
Olivia Brown & Chacco D'accord ©Alden Corrigan Media
really do work well together. We have two children,
Zoe who is 14 years old is a rider and our son Dexter
is eight. Dexter enjoys martial arts and likes computers
and has not found his true passion yet. He understands
our work and comes to the barn on occasion and
causes havoc. Zoe enjoys both Hunters and j\Jumpers,
and is doing 1.40m Jumpers and 3'6" Junior Hunters
and Equitation, she really likes it all and is pretty on a
horse so could really go anywhere."
The nal of the three winners that shared their story
was Philip Cillis of Westwood Showjumping Stables.
Cillis had the ride on Bayou owned by Michelle Filanc
in the 3'6" Performance Hunter and was winner of the
rst class
"Bayou
(aka
Cricket)
was
purchased
from
Meridith Herman last spring, she had started him in
the 7 year-old Young Hunters and he ended up being
Horse of the Year. I bought him for Michelle Filanc
who is an Amateur Owner rider and she does a great
Philip Cillis & Bayou ©Alden Corrigan Media