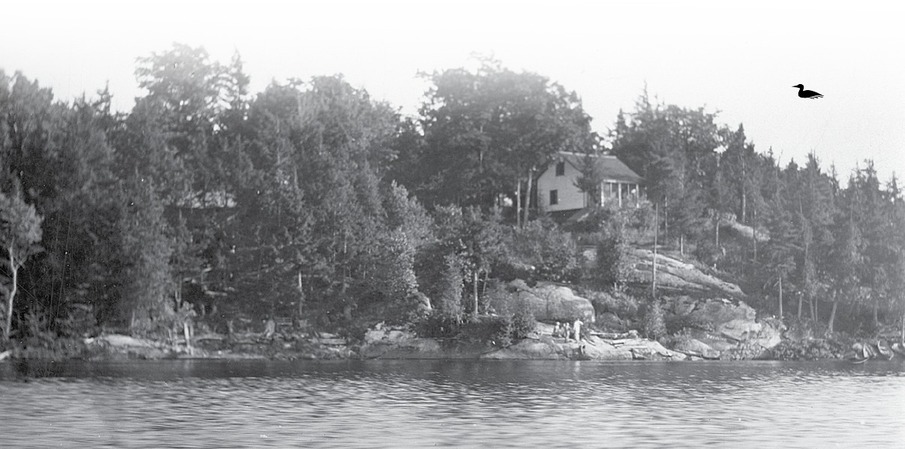 From Gravenhurst, the Micklethwaites became steamship passengers to
Bala, then aboard Captain Frank Tooke's steam launch continued down the
Moon River to their cottage. Built by Fred on the rocky promontory during
the Great War, he used glass photography plates as windowpanes. Fred's
grandson Bill Micklethwaite and wife Kathie Droy reside here today.
34
UNIQUE MUSKOKA

Spring 2020
Today these "FWM" black-and-white images
endure as the single best photographic
resource for what Muskoka was like. e
inimitable Micklethwaite-style that rst
catapulted him to fame is seen in every
photograph. ey clearly and artistically
capture the reality, elegance and adventure of
a bygone Muskoka era.
What also makes these photographs rare,
and hence
Micklethwaite's Muskoka

such a
treasure, is that virtually all his Toronto
photography plates were destroyed, reused or
made into greenhouse glass roofs or even
used as the 8 x 10 inch windowpanes in the
1915 Moon River cottage, one with traces of
somebody's image still on it to this day.
irty years ago when Denison investigated
National Archives holdings in Ottawa, he
discovered to his astonished delight dozens of
wooden boxes loaded with the heavy glass
plates of Micklethwaite Muskoka negatives,
generally untouched since they arrived. More
sleuthing in Toronto and Muskoka newspaper
morgues and other archival records lled out
the story for Denison's landmark book. e
realism and documentary-like authenticity of
its photographs blend with excerpts from
contemporary published accounts and
Denison's breezy direct writing style.
"ere's something magical about holding
a slice of history in your hands," he says of his
love for old photographs. Gazing at people
frozen in time in a black-and-white
Micklethwaite regatta scene at Port Sandeld
made him at one with "ladies in big owery
hats and long white muslin dresses that
whispered in the summer breeze, and men in
blue blazers and cream trousers on the
emerald-green grass." He savoured a scene
"clear, artistic and brimming with presence."
As a boy, in the basement of his widowed
grandmother Ellen Micklethwaite's Toronto
home, Bill Micklethwaite had studied with
rapt interest hundreds of these glass plates of
Muskoka images, taken by his great-
grandfather Frank and grandfather Fred.
John Denison obtained 240 prints from these
glass plates at the National Archives, from
which he selected 144 appearing in his book.
He also got another 16 photo-prints and a
photocopy of the 55-page alphabetic log of
photos Frank Micklethwaite, himself,
prepared around 1905. Knowing the
importance of these heritage materials,
Denison has contributed them all to Bill
Micklethwaite's invaluable project.
Bill hopes publicity about his centralized
scanning and cataloguing project will alert
other people to contact him at micklethwaite.
photos@gmail.com about "other unknown
Micklethwaite photographs" in hopes they
too can be recaptured. He now has over one
thousand Micklethwaite images digitized
and transcribed into his digital archive. Some
3,600 Micklethwaite photos are catalogued
in the National Archives, accompanied by
66,000 descriptive items – most being a page
entry from Frank Micklethwaite's notebook.
e project is as vast as it is vital to Canadian
heritage, and nobody else could bring to it
such background knowledge as William
Barton Micklethwaite's great-great-grandson
and photographer.
e inuence Micklethwaite photos have
had on peoples' image of Muskoka is greater
than imagined. First, it gave such a
pronounced denition to the district that
disciples have followed it ever since. Secondly,
folks frequently see photographs in books
and magazine articles, on walls and mantles,
without realizing they are Micklethwaite
images reproduced without credit to their
originator because publishers and website
content providers no longer know the
provenance of the compelling image they're
keen to use as an illustration.
Public perceptions of Muskoka today are
thus still being dened, directly and indirectly,
by photographs of F.W. Micklethwaite. ere
are plenty. Frank William Micklethwaite and
his middle son, Frederick William
Micklethwaite, worked together for three
busy decades from the turn of the last century
to 1929 when Frank died. Each signed their
photographs using their same rst initials
"F.W." ose who'd posed before their camera
knew which Micklethwaite took it, but to
others, Micklethwaite is legendary as a prolic
worker blessed with longevity.
Micklethwaite photographs speak to us so
poignantly because, for decades, they've been
prized images uniquely portraying what
Muskoka is like. Choice of subject, how it is
framed within its surroundings, developed
and presented, all separate the artist from the
mere technician. It was to Muskoka's
enduring benet that the Micklethwaite
family were not technicians but master artists
of their craft.