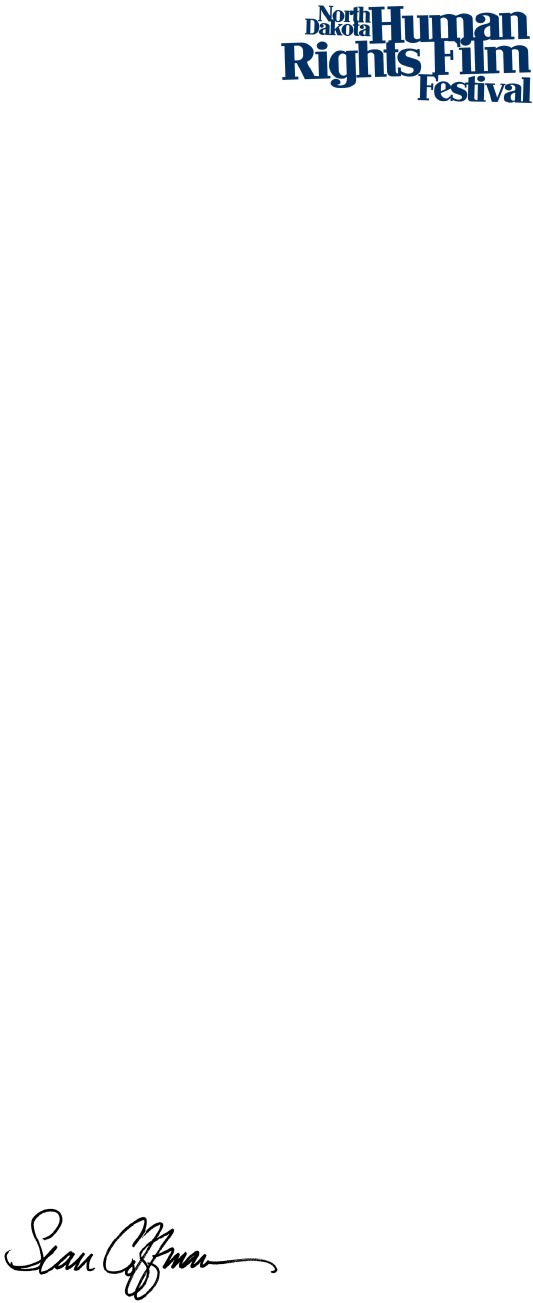 3
Cover & Official poster designed by D.C. Houle
Opposite: "What Was Ours" | Directed by Matt Hames | 2016
Welcome
I
n June, we were optimistically hopeful
that elected state leaders would rise to the
challenge that the COVID-19 pandemic
presented to North Dakota. Unfortunately,
that hasn't been the case. As of this writing,
North Dakota leads the nation in per capita
COVID-19 cases. Each week brings another
broken record: The number of active cases.
The number of hospitalizations. The number
of our friends and family members who have
died due to complications of the deadly virus.
As summer transitioned to fall, it was clear
that our leaders' failure to act would make
traditional screening options inaccessible to
us. That left us with a decision: To cancel our
fourth season or transition the festival online.
We decided, with the support of the filmmakers
in the festival this year, to bring these films
online for you to experience from the safety of
your home.
This year, more than any of our festival's
history, we felt it essential to bring these
important films to North Dakota. 2020 has
seen the rise of mental health needs in our
society and the deterioration and strain of our
health care systems. It has seen the rise
and cultural acceptance of white separatism
and nationalism. It has seen a Presidential
Administration that has embraced and
emboldened systems of racism that continue
to create and maintain racial inequality in
nearly every facet of life for people of color.
But there has also been
hope
. Our nation's
collective consciousness that supports
equality, equity, and inclusion has risen
against these injustices: From the continued
Indigenous-led Water Protector movement
that shields our environment from corporate
interests; to the Black Lives Matter movement,
which is demanding reform from our police
and criminal justice systems; to the 50th
Anniversary of the Stonewall Riots, and the
acknowledgment of the Supreme Court that
the Civil Rights Act of 1964 protects gay,
lesbian, and transgender employees from
discrimination based on sex; and to the Get
Out the Vote movement that has inspired a
new generation of voters to elect leaders that
represent the best of who we are as a nation.
The films in the festival this year capture the
heart of the challenges and hopes that have
defined 2020. It is, I believe, one of the most
important curations of film our Jury has crafted
since our beginnings in 2017. More, while the
pandemic has created challenges for the
festival, the silver lining is this: by moving online,
we have had the opportunity to engage with
more filmmakers this year than ever before.
From Belfast to India, from Sweden to New
Zealand, from California to Australia, we have
been able to have incredible conversations
with filmmakers risking their lives to document
critical human rights, civil rights, and social
justice issues.
On behalf of the entire team, it is my pleasure
to welcome you to the fourth annual North
Dakota Human Rights Film Festival. Thank you
for supporting the work of these filmmakers
and the humanitarian eorts they document.
We hope you leave the festival inspired by the
individuals working to protect our fundamental
human rights.
With love and respect,
Sean Coman
2020 Festival Chair
The North Dakota Human Rights Film Festival