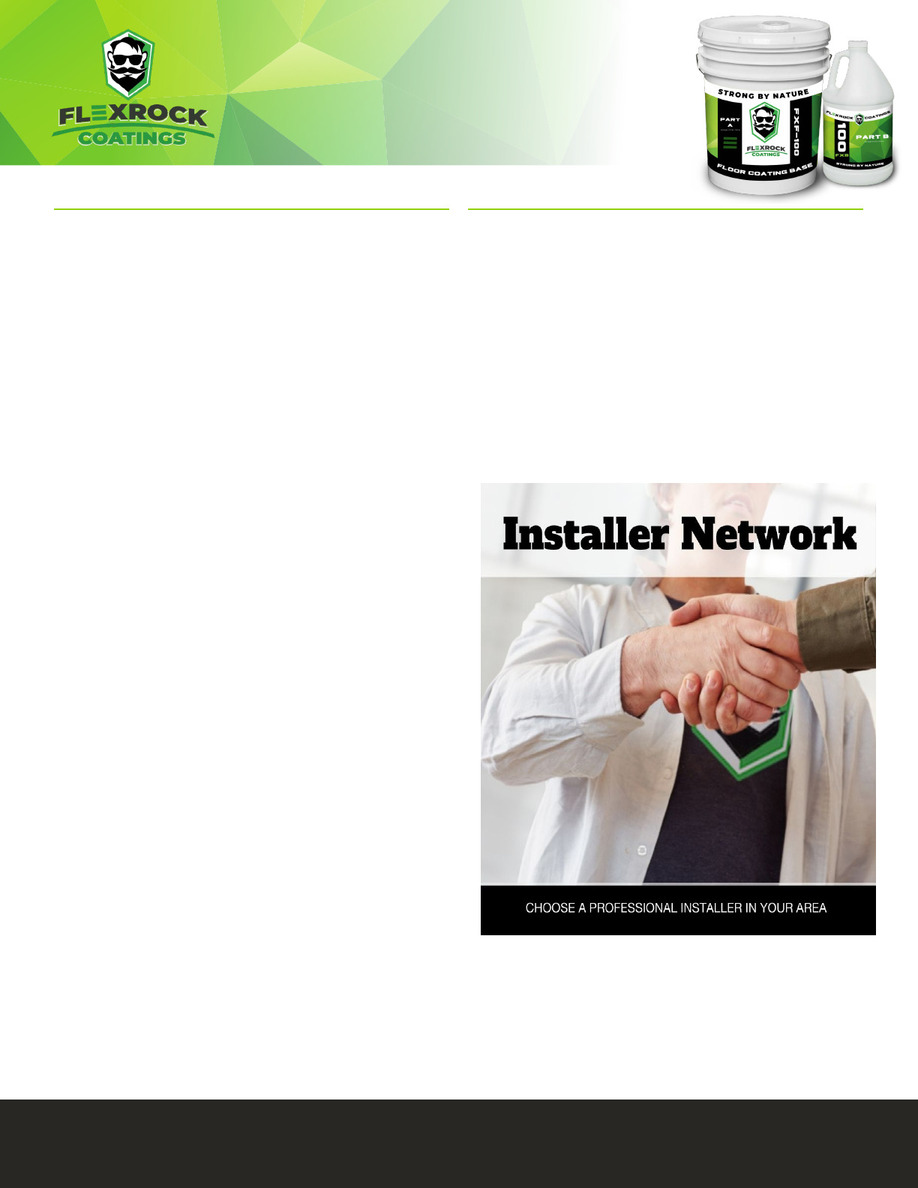 GET COATED
STRONG BY NATURE
• HIGH PERFORMANCE INDUSTRIAL FLOOR COATING SYSTEM
Shot Blasting
Steel shot blasting involves steel shot being centrifugally propelled at
high velocity onto the surface. This process is confined in an enclosed
blast chamber that recovers and separates dust and reusable shot.
Shot blasting is principally used to roughen horizontal surfaces
in preparation for the application of sealers, coatings, or polymer
overlays. This method is also used to remove polyurethane coatings
up to 10 mils thick, tile mastics, and brittle coatings such as epoxy or
methyl methacrylate systems up to 1/8 inch thick. Removal of thicker
materials may require multiple passes. Shot blast systems produce
very little airborne dust or contamination. Most models can be fitted
with a filter to further lower the level of airborne dust produced.
Diamond Grinding
Diamond grinding is the rotation of one or more abrading stones
or discs applied under pressure at right angles to the surface. This
method may be used on horizontal surfaces to remove deposits or
coatings, and to reduce or smooth surface profile. The grinding stone
or disc is applied under pressure and moved across the surface until
the desired effect is achieved Diamond Grinders can utilize both
metal or resin bond diamonds that can be used either wet or dry for
concrete grinding. Solid carbide scarifying cutters are used for thicker
coatings. Grinders can also be used effectively to level uneven
joints
or
high
spots
of
1/16
to
1/8
inch.
Grinding
provides
contractors with a smoother nish than shot blasting, scariers
or scabblers.
Scarifying
is
the
rotary
action
of
the
cutters
(toothed
washers) impacting the surface
at a
right angle
to fracture
or
pulverized
the
top
surface
of
the
concrete
to
expose
a
clean, fresh surface. The cutters are assembled on tempered
steel rods mounted at the perimeter of a drum that rotates at
high speeds. Scarication is used for the removal of concrete
or coatings up to 1/4 inch thick. It may also be used to prole
concrete
surfaces.
Scarication can also cut deep grooves
into the concrete to provide a non-slip surface.
Scabblers use compressed
air to hammer piston-mounted bits
into the concrete surface, roughening the concrete surface
more than grinding or scarifying. Scabblers can remove up to
1/4 inch of concrete
surface
in a single pass. Scabblers are
ideal
for
removing
spalling
concrete,
removing
epoxy, and
removing loose or deteriorated concrete.
Please read all safety data before using product.
DISCLAIMER:
All statements and recommendations are
based on experience we
believe
to
be reliable. The use
or
application
of
these
products
being
beyond
the
control
of
the
Seller
or
the
Manufacturer,
neither
the
Seller
nor
the
Manufacturer make any warranty expressed or implied, as to
results or hazard from its use. The suitability, risk and liability of
a product for any intended use shall be solely up to the user.
Need To Hire A
Professional?
Call Us 800-808-0414
info@
FlexRockCoatings.com

| 800.808.0414 | FlexRockCoatings

.com