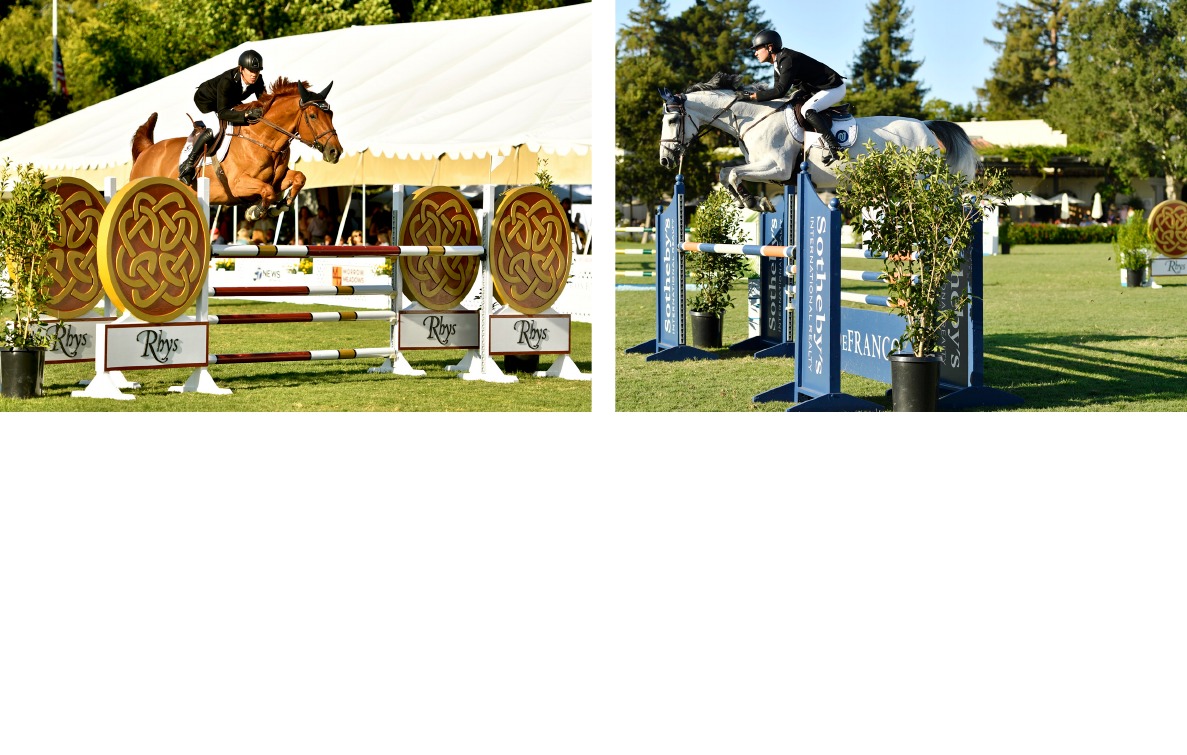 things ironed out, but knowing who our partners
and Sponsors are going to be and how we can best
collaborate together is still in the works. at said,
we did manage introduce our new jump to the Grass
Jumper Field this year. I can assure all of those who
have been concerned, the giant wine bottles formerly
used as jump standards, have been preserved, and are
safe and sound in my garage at home."
We have a new Italian project called Aeris, which is
not under the Rhys Vineyard name, and that has been
extremely well received. Under the Rhys Vineyard label
we have just started a sparkling wine project, which is
my new favorite thing. I almost had asked my husband
if we could show a little tonight, but it had completely
sold out immediately on release. e winemaker's wife
and I have begged for years and years to do sparkling,
but it is a really long process, and can take ve years
to produce. We have done our rst release, so it is an
exciting new change for Rhys."
Fast Forward to the Field of Play
Cassio Rivetti and Dakota Of e Lowlands owned by
Jamine Talley made the challenging Bernardo Costa
Cabral designed course look easy, turning in a fault free
round to secure the win the $10,000 Rhys Vineyards
Ryman Memorial Speed Class. Not to be outdone for
second place, secured the red ribbon as well for trainer,
Neil Jones' horse Isoline Van Doperheide.
"e horses both jumped great today" Rivetti said. "My
rst horse (Dakota Of e Lowlands) was at the top
of the order of go. I had a plan, and it went well. My
Results:
$10,000 Rhys Vineyards 1.30m
Ryman Memorial Speed Class
1st Dakota Of e Lowlands and Cassio Rivetti – 61.2
secs
2nd Isoline Van Doperheide and Cassio Rivetti – 64.568 secs
3rd Zario and and Tara Ardalan – 66.611 secs
4th Karo and Leslie Wright – 67.868 secs
5th Baccus and Rowen Willis – 68.69 secs
6th Djin Djin and Lauren Whitlock – 69.164 secs
7th umb's Up and John French – 69.477 secs
8th Janis Joplin and Vanessa Hood – 70.263 secs
9th Lana Capri and Ruben Acre – 75.618 secs
10th Celine B and Daniel Zilla – 76.473 secs
Cassio Rivetti & Isoline Van Dorperheide
Photo ©Alden Corrigan Media
Winner of the Rhys Vineyards Ryman Memorial Speed Class Cassio
Rivetti & Dakota Of e Lowlands Photo ©Alden Corrigan Media
horse has a huge stride, so I could go forward a little.
e second horse (Isoline Van Doperheide) is a really
fast and careful mare, which really makes her excel in
this type of speed class. I am grateful to the owners and
to Neil Jones who is supporting everything. All of his
horses are for sale, so it is great that we do well. I also
want to thank my sponsors; I could not do this without
everyone in our team."
Cassio Rivetti will return tomorrow with both horses
to compete in the $40,000 Stephen Silver Grand Prix.