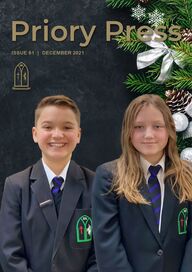 Return to flip book view
Priory Press, Issue 61, December 2021
Page 1
ISSUE 61 | DECEMBER 2021Priory Press
Page 2
Tue, 4 JanuaryStart of Term(Covid Testing -see letter for schedule)Wed, 5 JanuaryStart of Y11 & Y13 MockExamsTue, 11 JanuaryHeadteacher's Clinic(Virtual 3.30 - 5pm)Tue, 25 JanuaryYear 9 Parents' Evening(virtual via School Cloud)Tue, 1 Feb & Wed, 2 Feb Gym & Dance ShowWed, 2 FebruaryHeadteacher's Clinic(Virtual 3.30 - 5pm)Thu, 10 FebruaryYear 11 Parents' Evening(Virtual via School Cloud)Our new Extra Curricular timetable for the Spring term will beavailable on our website shortly.The Priory Press2Upcoming Dates

Page 3
3The Priory PressHeadteacher's LetterIt has been another busy term, full of enriching activities and a real buzz around the school. As a community we have worked together to ensure that all our students continue to feel safe and develop as individuals. This would not have been possible without your support, the drive and passion from our staff and most importantly the commitment and hard work from our students.It was a real pleasure to watch many of our students perform at the Winter Concert this year. Despite the COVID situation, we were able to continue with the event safely. The talent and confidence demonstrated by the students was incredible. I speak a lot about us as a community and the fact that our students thrive from us working together. This was also evident over the past couple of months with so many of you donating money for our sponsored walk, offering wonderful prizes for our Christmas Raffle and sponsoring our fantastic Greenpower racing team. The sponsorship for the racing team has enabled both our teams to compete again next year and allowed them to modify many parts of the cars. We have reached a total of £5,868 which has helped us get closer to the target of a new school minibus. At the end of this term we say goodbye to Mrs Lowe and Mrs Bradley; we wish them every success for the future.I hope you enjoy reading today's Priory Press as much as I have. I wish every one of you a safe and peaceful Christmas and a happy and healthy 2022.We look forward to seeing all our students back on Tuesday 4 January. Best wishesMrs TrimnellDear parents and carers
Page 4
They saw The Waste Age: What can Design do? An eye opening experience that evaluates the throw away culture in which we live. This exhibition captures the devastating impact of waste and showcases some of the visionary designers who are reinventing our relationship with it. Providing inspiration and a captivating insight into a brave new world.'We must face the problem of waste – we can no longer ignore what happens to things when we get rid of them. Instead of thinking of objects as things that have an end life, they can have many lives. This is not just an exhibition it is a campaign, and we all have an active part in our future.' Gemma Curtin, Curator.Students also had the opportunity to view a collection of artifacts and works from Amy Winehouse's lifetime. Students discovered the story of Amy's early musical career through her recordings and teenage notebooks to unravel the Design students in year 10 and 13 went to the Design Museum in London to enrich their studies by engaging in the current exhibitions and permanent design collection. The Priory Press4Design will change our world
Page 5
creative process behind her music, and pay tribute to her rich range of influences.Lastly, students visited the permanent collection of Designer Maker User, which features almost 1000 items of twentieth and twenty-first century design viewed through the angles of the designer, manufacturer and user. The exhibition covers a broad range of design disciplines, from architecture and engineering, to the digital world, fashion and graphics.The inspiration gathered will be used in lessons and coursework to reflect on product design from many different perspectives. From the most inspirational to those that possibly wont even work, from those we remember when growing up to the most iconic, taking inspiration from all aspects to appreciate the power of design and our role in developing the world that surrounds us, for a more sustainable and fascinating future ahead.Mrs Lowe5The Priory Press
Page 6
The Priory Press6Year 10 Artists at St Paul's Church
Page 7
On Thursday 11th November, the Year 10 artists went on a trip to St Paul's church in Dorking. While we were there we took some photographs of the architecture and did sketches of pillars, windows, stained glass, carvings and the patterned tiles in the church. Our sketches turned out well and will be used to resource more work back in the classroom.The staff told us that both they and the members of the public were very impressed by our behaviour and the standard of art we produced.Isobel Castle7The Priory Press
Page 8
To commemorate Rememberance Day, students made poppies with Mrs Flanders and created a beautiful display outside Mrs Trimnell's office.On the 11th November the school held a two minute silence to honour the memory and sacrifice of those who have lost their lives fighting for peace.RememberancepoppiesThe Priory Press8
Page 9
Our Post 16 college partners continue to provide enrichment for our students.On Tuesday, 8 students from year 11 were invited to visit Reigate College to discuss applying to universities like Oxford and Cambridge and how Reigate and our other colleges of choice could help us get there. We discussed what A-level options we could choose and how they could help us in applying and also which extracurricular activities would improve our chances of a succesful application. A previous Reigate student who now attends an Oxbridge college talked to us about their journey and what helped them to get there. We also looked into each of the separate colleges within the two universities in detail. Reigate encouraged us to participate in a mock debate to give us a look into the activities available to us at such prestigious universities. It was a useful and insightful evening and we were all grateful for such a good opportunity that can help us in deciding our futures. Written by Jess Harrington and Molly PalmerCongratulations to Vihaan for being the first student to achieve the Bronze Science Canon Award. Vihaan read the following 6 popular Science books to achieve this award.1. Unlocking the Universe by Stephen & Lucy Hawkins2. The Body: A Guide for Occupants by Bill Bryson3. Fermat's Last Theorem by Simon Singh4. What If by Randall Munroe5. Everything You Ever Wanted To Know About The Universe by Andrew Newsam6. Six Easy Pieces by Richard P. FeynmanSubject Canons and the Literary Canon Award is open to all students. Check out our website or ask Mrs Hall in the LRC.First Priory Canon AwardYear 11 students gain invaluable Oxbridge advice9The Priory Press
Page 10
The paper rockets were one of the first things we did at science club. First, we made the actual rockets out of lots of different kinds of paper, such as card and just normal paper. Then we put the rockets into a tube and built up the pressure with a bike pump. We also did fire writing, which was very fun. To start with, we got some sugar paper or filter paper and painted something on it with a chemical called oxydizer, and we dryed it with a hairdryer. We lit the Bunsen burners, then we got a splint, put it on the fire, blew it out and and put the red hot end onto the chemical. It was meant to burn through the chemical and make the shape you painted onto the paper. These are only a few experiments that we have done, we hope to have lots more! Elena ScanlonScience ClubAnti bullying weekThis year we celebrated anti bullying week with the traditional odd sock day on Monday as well as a focus in tutor times and assembly on reporting concerns and seeking help when required. It was good to see lots of the students supporting individuality by wearing odd socks and understanding the importance of having an inclusive and accepting community in discussions. We will challenge all forms of bullying.As a reminder, anyone who has any concerns should report them to a member of staff and in most cases this will be their tutor or Head of Year but ultimately any member of staff would be happy to help. Students must ensure they report their concerns and experiences to ensure action can be taken.We are aware that seeking help can cause students to worry about the consequences and as a result, to coincide with anti bullying week we have now placed a worry box in the centre of school to run alongside toot toot for the reporting of concerns. This is in case a student does not feel confident to approach a member of staff or wishes to remain anonymous. This year our school theme was based around proverb 31:8 to encourage students to speak up for those who can not speak up for themselves. Mr CurrieIn November we hosted the Year 11 and 13 Leading Learners exam preparation evening. Year 11 and 13 parents and students attended the evening to hear about the plans for exams this summer. The evening also featured some guidance on mock exam preparation. This year the mock exams are in January and students can view their exam timetable on the school website in the examination area. We have recommended the following resources to students to support them in their revision; GCSE Pod, the free Chegg revision app and our own online video guides to revision delivered by Mr Terry. Additional follow up workshops were run for small groups of parents and students and those who attended said they had found them very useful. The school runs an extensive extra-curricular revision programme for GCSE students. All of the information about this can be found on the school website in the curriculum section.Mrs AbbottExam Information EveningThe Priory Press10
Page 11
Priory6 Raise Money for MacMillan Cancer SupportCarrying on the great tradition of Priory6 charity fundraisers, the committee organised a Covid safe bake sale raising vital funds for a great cause.Many charities have seen their donations fall during the pandemic and Priory6 are determined to continue with their fundraising to help fill this gap. To this end, the sixth form committee of Taylor, Abby, Todd, Ollie, Chloe and Dylan contacted all year groups and invited them to contribute bakes for a three day cake sale at breaktimes. All cakes where baked following strict Covid protocols and the students helped the committee sell them in their morning breaktimes. We had some fabulous bakes including treacle tarts, chocolate brownies, fudge and of course a contribution from the always 'Star Baker' Mr Terry. All of them would have been worth a Paul Hollywood handshake but the bakers will have to settle for two House Points instead!At the end of the three days we were very please to find we had raised just over £200 to assist the invaluable work of Macmillan Cancer Support who provide nurses, advice and respite for families experienceing the difficulties associated with a cancer diagnosis. Prioy6 now turn their attention to planning a RAG week in the new year where we hope to again raise funds for our chosen charities.Mr Harrison11The Priory Press
Page 12
Poppy wins GoldThe Priory Press12
Page 13
Massive congratulations to Poppy, Year 7, who finished in first place at the 2021 Acrobatic Gymnastics British Championships Finals. Poppy started gymnastics when she was a toddler, but moved into acrobatic gymnastics around age 5 with a local club. Acrobatic gymnastics does not use equipment, they compete in partnerships of two-four gymnasts and compete routines of balancing and tumbling moves. She started competing age 7 and a half, mainly in South East acrobatic competitions. Over the years she has progressed through a few clubs. During lockdown at the beginning of 2021 she decided to trial for an elite club, Tigers gymnastics in Tunbridge Wells, Kent, where some of the GB acrobatic gymnasts train. She was accepted and joined them when clubs reopened in April. She started working with her partner as a mixed pair in youth category in April and her first competition with him was the National Qualifiers in October. They won a gold medal which put them through as winners of the South East region to compete against the winners of other regions across Britain. In November she travelled to Stoke to represent the South East and her partnership finished in first place against the best in the country, making them 2021 Acrobatic Gymnastics British Champions in Youth category. It is a big commitment, as she travels to Kent four times a week and trains 12 hours a week there. Each week she also does 4 hours trampolining, 2 hours dance and an hour of aerial/circus skills on top. As acrobatic gymnastics is not currently an Olympic sport, her goal is to represent Great Britain in the acrobatic world championships, their equivalent of the olympics. Well done Poppy!13The Priory Press
Page 14
Each shoebox gift becomes a tangible expression of God's love for a child in real need. We are a group of Year 10 Silver DofE students who have worked with The Samaritan Purse Charity for Operation Christmas Child. We completed this project as part of our volunteering commitment for the silver DofE Award we are working to. This charity aims to send shoeboxes full of gifts and essential health items to children in need overseas. Over the last 6 weeks we have been busy coordinating this task and ensuring this community task was achieved. The Priory School community of students, parents and teachers rose to the event by providing the items for the shoeboxes. Items included - hygiene items, toys, hats, gloves, reading books, colouring books and many more things to make children happy at Christmas.Key stage 3 tutor groups students also raised £5 for each shoe box to pay for transportation overseas. Each shoebox also contained handwritten letter from our students.Operation Christmas ChildShoeboxes ready to leave The PrioryShoeboxes received by Reigate Methodist ChurchPriory School community fills shoeboxes full of gifts for children in need overseas. We were overwhelmed by people's generosity and consequently had fun checking and packing the boxes on Mondays after school. Each item was a gift of kindness. We've delivered 16 boxes and collected £80 (transport costs) to Reigate Methodist Church on Tuesday 23rd November. The shoeboxes are now on their way to Serbia, Moldova, Nigeria and many other places where children's lives are difficult as their parents and communities struggle with political unrest and geographical disasters. We hope these boxes will give these children and their families a tiny boost of hope. The many items that were left over went to our local family centre at Goodwyns to help families provide Christmas gifts for local children in need.Holly Abbott, Matilda Banton, Maisie Tyrrell, Emma Roberts Year 10The Priory Press14
Page 15
As part of their Duke of Edinburgh Award, two of our Year 9 students, Liam and Shay volunteer at the Dorking Wanderers Youth Football Club coaching the U7s for the rest of the season. Duke of Edinburgh students volunteer at Dorking WanderersIs there something you would like to speak to Mrs Trimnell about? Is this something your child's tutor or their teachers can't help you with?Each month Mrs Trimnell is running virtual Headteacher clinics. These are 10 minute slots bookable via the School Cloud. Mrs Trimnell wants all Parents to have the opportunity to ask her any questions or discuss concerns with her directly regarding the school. Please look on the School Cloud via the School Website to book an appointment.Headteacher's Clinics15The Priory Press
Page 16
On the 24th November the Music Department held the first "post-covid" Winter Concert! It was an amazing success which featured performances from soloists, ensembles, duets as well as both upper and lower school steel drums bands! We had an audience of over 120 people and we raised over £500!Mr PohlmanThe Music Department would like to thankeveryone who was involved in making thisconcert happen.The Priory Press16Music Department NewsWinter Concert
Page 17

On the 25th November theMusic Department hosted a tripup to London's West End to seethe fabulous musical productionof "Matilda". Over 50 studentscame along and enjoyed anepic evening of song and dance!Another trip to "Lion King" isplanned for March 1st in the NewYear.Mr Pohlman17The Priory PressMatilda

Page 18
On Saturday 11th December the Priory School Music Department performed in Leatherhead town centre as part of the Mole Valley Christmas Concert series 2021. The crowd enjoyed music from steel drums, soloists, and duets and a great time was had by all!Mr PohlmanLeatherhead Christmas Market PerformanceThe Priory Press18
Page 19
Step into the NHS WorkshopA workshop introduced year 9 students to lots of job roles in the NHS in a fun and interactive way and lasted 45 minutes.On Monday 29th November 2021 the 'Enact' theatre company put on an NHS SUCCESS performance to Year 9 pupils. The team of actors, Tania Gasa, Jason Morley and Lex Stephenson put on a play highlighting some of the over 100 different careers that the NHS offers as the UK's largest employer. The session highlighted that many jobs within the NHS are not directly related to front line healthcare at all. Students enjoyed learning about the wide range of careers available and it has given them some ideas to think about ahead of their GCSE options. Mr Harrington19The Priory Press
Page 20
The year 9 Raptor team have now graduated. The year 7 students have had an assembly and applications are now closed. We will announce the successful applicants who will make the new Hunter team at the end of term.We have been impressed with the level of interest from local businesses to be sponsors of the team for 2022, so far we have received sponsorship donations from: Cummins Hardware, George Broom (Environmental Services), Leith Mergers and Acquisitions, Broccoli Marketing Agency and Dorking Service Centre. We always welcome new sponsors, if you want to join us as a sponsor, please email abh@priorycofe.com for further information.At club sessions this half term the team have been stripping down both cars ready to be cleaned and rebuilt with some modifications for the 2022 season. We hope to be racing in the spring.Mr Hadler & Mrs BrundishGeorge Broom Environmental Support ServicesThe Priory Press20Greenpower UpdateWhat have the Greenpower team been up to since collecting 2nd place at the international final in October?
Page 21
Many thanks to all of you that supported the raffle this year, either by donating a prize, an item for the hampers or by buying a ticket. We raised well over £1,000 towards our minibus. Congratulations to the lucky winners, we hope you enjoy your prizes.The Friends of The Priory SchoolA special thank you to the following companies for their generous donations: Betchworth Park Golf ClubBocketts FarmHead for the Hills Bike Shop DorkingLegoland WindsorDorking HallsDorking Service CentreDorking Wanderers Football ClubSeymours Estate AgentsSurrey Hills Cafe Beare GreenDorking Service CentreWaitrose DorkingChristmas RaeSurrey Hills CafeCallum and Kieran (Year 8) receiving the top prize of the Legoland VIP Package.21The Priory Press
Page 22
Year 7 unfortunately were unable to play St Andrews as planned and had to wait until late November for their next outing in the emerald green shirts of the Priory School. An A and a B team were taken to Three Rivers Academy to play in the inaugural 6 a-side tournament where all schools from the North Surrey Schools Partnership were invited to attend. 5 schools took the invitation in the form of The Priory, Three Rivers Academy, St Andrews, Esher High and Blenheim. Both teams represented the Priory with pride and fought well in all their games; with the A team drawing their final two games showing great progress throughout the tournament. Year 8 FootballResultsESFA Cup Round 2 vs Royal Russell (Lost 7-0)NSSSA League vs Epsom and Ewell High School (Lost 1-0)FootballThe Priory Press22SportFootball
Page 23
Year 8 have been busy this halfterm when traditionally footballfixtures are impacted due to lackof light. However, with a numberof schools now equipped withfloodlights they were able tocontinue their fine form fromthe previous ESFA Round 1 cupwin back in October. The ESFACup drew the Priory againstRoyal Russel School who werea deserved winner of Round 2.The Priory's determination andperseverance throughout thegame was commendable withonly a 1-0 deficit at half time to ateam that won their first round14-0. The defence of F Abbott,M Bates, and L Birch along with some excellent goalkeepingfrom X Sellings kept RoyalRussell frustrated throughoutthe first half. However, RoyalRussel's fluid passing andexcellent shape proved to betoo much for the Priory scoring6 goals in five minutes. Priorywere able to refocus and kept anever attacking Royal Russel atbay limiting them to no furthergoals throughout the match.Despite the scoreline it was anexcellent performance and allthe students who played shouldbe proud of their performance.Player of the match: X Sellings.After the master classperformance of Royal Russelit gave the year 8's plenty toconsider when playing theirnext game at Epsom and Ewella week later. The students learnta lot from their performance andput in an excellent performanceof their own. Some excellentpassing on an oversize 4G pitchunder floodlights did not bringthe result they deserved. Havingdominated the majority of thematch the Priory lacked thecutting edge in front of goalto get their just reward fromthe possession football theydisplayed. It was in fact Epsomand Ewell with a long-range freekick midway through the secondhalf that proved to be too highin to the net for J Perry to save.F Abbott tried to level the score with a rocket of a freekick of hisown from 30 yards for it only tocannon off the cross bar andbounce the wrong side of thegoal line. A draw was the leastthe Priory deserved but a greatperformance none the less.Player of the Match S Arjones.Year 8's final fixture of theAutumn term was the inauguralyear 8 6 a-side tournamentthat was again hosted by ThreeRivers. This time the teamswere made up of: The Priory,Three Rivers Academy, CobhamFree School, St Andrews andThe Ashcombe. There weregood performances from bothteams who had an enjoyableexperience. Well done to all thestudents who played.23The Priory Press

Page 24
Just like the 8s the Year 10 football team have taken full advantage of schools with floodlights. It has been a very busy half term for the 10's playing three games with one still to play.Year 10 kicked off with a narrow defeat by St Andrews at home.After their recent Cup defeat Year 10 were looking to bounce back with a win against St Andrews who were the visitors. Unfortunately, both schools got caught out by the changing of the clocks on Sunday and the game only lasted approximately 40 minutes before bad light stopped play. The reduced game time turned out to be very important in the end as we managed to play our way back into the game after being 2-0 down. Our play brought a deserved goal that was exquisitely taken by M Hall. The boys had the wind in their sails after this as they pushed for an equaliser but sadly there just wasn't enough time. Overall, it was a pleasing and hardworking team performance with The Man of the Match award for an impressive defensive display going to R Attridge.Next was the first away fixture of the year for year 10 against Epsom and Ewell High School. An unlucky score line where finishing proved to be the difference between the two sides. It was a fairly even match with some good football being played by both sides. Through some unfortunate errors Epsom and Ewell found themselves 2-0 up at half time. A formation change by the Priory allowed for more control of the ball; and a comeback seemed inevitable. However, due to some minor errors and high press from Epsom and Ewell in Priory's defensive third gave them 2 more goals taking the score out of reach. A result that was not deserved but the students were looking forward to developing the new formation into the next game. Player of the Match: O Franks.Up next for the Year 10's was Three Rivers Academy. This game had an echo of similarity to Epsom and Ewell. The Priory dominated the ball for the large proportion of the match but lacked the killer instinct in front of goal. Something that Three Rivers had in abundance. Three Rivers seemed to convert the majority of their chances which were outnumbered by the Priory's opportunities but some great saves from the Three Rivers Goalkeeper meant that Priory had to wait patiently to break their deadlock. Their goal came in the second half with B Spencer being moved from midfield to striker to utilise his killer instinct with a calmly taken goal having dribbled past 3 Three Rivers defenders. This proved to be too late as the score was already out of reach. However, the students representing the Priory continued to fight and search for more goals. A good performance despite the result where students continue to learn their roles within the team. Player of the Match B Spencer.ResultsNSSSA League vs St Andrews (Lost 2-1)NSSSA League vs Epsom and Ewell High School (Lost 4-0)NSSSA League vs Three Rivers Academy (Lost 6-1)The Priory Press24
Page 25
On Tuesday 30th November the Priory School and 11 brave students were prepared to take on the cold weather at Nonsuch Park in search for a qualifying spot to represent Central Surrey in the County Championships to be held in January 2022. Well done to all the runners who tried their hardest and particular congratulations to E Hollis who finished 6th in the Under 17's category who is now expected to be selected to represent Central Surrey in January. Well done Elise.Other congratulations go to E Cornwell as the highest placed finisher from the Priory in the under 17 boys category finishing 24th (12th best year 10). Definitely a hopeful for qualification next year. Full results for Priory AthletesDistrict Cross CountryUpcoming eventsAs the Football teams wrap up their fixtures in the NSSSA leagues, the focus will turn to Rugby with fixtures already scheduled against: Cobham Free School, St Andrews and Boxhill, with more to follow.Gym and Dance show is in full swing with students having started rehearsals for the show which is to be held in February.Interhouse football, netball and badminton singles competitions to be held throughout next half term.Name Category Category PositionE. Hollis U17 Girls 6thJ. Harrington U17 Girls 32ndE. Cornwell U17 Boys 20th R. Barker U17 Boys 24th S. Stephens U17 Boys 35th B. Harrington U15 Boys 29thA.Wyatt U15 Boys 42ndD. Minercik U15 Boys DNFJ. Taylor U15 Girls 48thS. McGarrity Year 7 Girls 37thS. Tierney Year 7 Girls 38th25The Priory Press
Page 26
Stars of the TermCharley Butcher 7A1 For a positive and cheerful return to schoolEmma Johnson 7A2 For an excellent attitude to learning.Charlie McGinnis-Ralph 7A3 Good start to the half term and support to a friend Grace Barton 7B1 Amazing amount of sponsorship raisedJames Copus 7B2 Biggest % increase in housepoints in the last week of term.Rijil Kariakose 7A1 ConsistencyCaitlin Crispin 7A2 Excellent behaviourTuniz Heyrettin 7A3 The first to bring in a completed shoe box for Operation Christmas ChildHarry Baker 7B1 Most improved behaviour log this weekHarry Grimley 7B2 Being wonderful! Poppy Cassidy 7A1 For being an example of dedicationMacey Pegg 7A2 For increased housepoints over the past two weeksBen Sanders-Broad 7A3 For being positive and cheerful Maddie Franklin 7B1 Great contribution to charity appealGeorgia Hutchings 7B2 Massive % increase in housepoints this half termHarvey Hafez 7A1 Constant enthusiasmSophie Hall 7A2 For consistent politeness and hard workCharlie McGinnis Ralph 7A3 Progress in lessonsHarry Wisbey 7B1 Excellent behaviour and wonderful attitudeEvie Rose Bullen 7B2 Being wonderful and helping out the communityLydia Adams 7A1 Always contributingJokobus Blazevicius 7A2 Excellent work during art lessons.Oscar Tomkins 7A3 Improved attendance and lots of housepoints last weekLibby Cambell 7B1 Amazing return after a short absence.Marcus Mir 7B2 Being a really positive person Jessica Pope 7A1 Bringing Christmas to the classroomBeth Roberts 7A2 All round great studentSkye Welch 7A3 Consistently working well Ruby Aylward 7B1 Excellent behaviour and wonderful attitudeDarcey-Mae Brennan 7B2 Good number of housepoints and for being organised and helping remind me of notices! Poppy Cassidy 7A1 For her achievement being an example to us allSophie Hall 7A2 ResilienceCharlie McGinnis-Ralph 7A3 Super first termNicole Barnes 7B1 Highest standard of behaviour and always happy to helpTilly Barnes 7B2 House pointsHenco Swanapoel HoY For a great start and for being such a proactive member of the communityCharlie Butcher HoY For making such a positive start to year 7 and for resilience.The Priory Press26
Page 27
Alfie Turner 8A1 Getting 3 house points in 1 dayAnnabel Wightman 8A2 An excellent start at The Priory SchoolAva Mae Baines 8B1 For being helpful during tutor times.Preston Staples 8B2 Enthusiasm in class discussions and willingness to run errandsXanda Henry 8A1 For coming to tutor time every day 5 minutes early to help get the tutor room readySarah Clemments 8A2 Progress in lessonsMia Stewart Smith 8B1 Excellent attitiude during tutor timeJake Perry 8B2 Drama - fully immersed himself in characterXander Selling 8A1 For contributing a full shoebox for the Christmas ParcelMelissa Stubbs 8A2 Being a good friend and showing maturitySam Naing 8B1 Excellent attitude to learningPeter London 8B2 Responsibility and showing leadership to the tutor groupHolly Kempster 8A1 Contribution to Winter ConcertFinley Abbot 8A2 Being helpful during tutor timeDanny Minarcik 8B1 Excellent attitudeSam Green 8B2 OrganisationKyla Nicks 8A1 Asking for help in lessonsPhoebe Muckle 8A2 Amazing member of the tutor groupMegan Barker 8B1 For being a great member of the tutor groupKatie Coppard 8B2 All-round excellent weekLeanna Lopes 8A1 For getting 7 house points in one week.Luke Birch 8A2 Achieving 5 house points in a week.Mia McGinnis Ralph8B1 For an excellent week with lots of house points.Narin Elmas 8B2 For continued improvement in Drama and assessments.Callum Brennard 8A1 For a fantastic number of house points, for all his involvement in the Green Power team on and off the track this term.Emily Steele 8A2 For outstanding progress in all subjectsAva-Mae Baines 8B1 For challenging herself to improve her behaviour and progress all term.Aaron Harris 8B2 All round excellenceJemimah Taylor HoY For continuing the great effort into year 8Kieran Brennand HoY For consistently high standards27The Priory Press
Page 28
Lily Amy 9A1 Consistent achievements throughout the last half term.Sonny Franks-Whiteley9A2 Always polite, respectful and positive.Eden Beggs 9B1 Brilliant attitude to school life.Eliza Bennett 9B2 Making a positive start to her time at The Priory School and is achieving regular house points.Grace Murrell 9A1 Excellent attendnace and rising merits.Rhys Davis 9A2 Impressive number of house points.Frankie Manton 9B1 Increase in house points this week.Logan Ford 9B2 Positive engagement in tutor time activities.Christos Thoukydides9A1 Continuing to receive plenty of house points and also offering to get involved in additional activities such as MacMillan Coffee Morning.Krystyna Howe 9A2 Helpful and supportive in tutor time while Mr McLaren is away.Brandon Hale 9B1 A big increase in the number of house points earned this week.Brooke Millett and Millie Guenigault9B2 Great work in coordinating and organising two shoe boxes from the tutor group as part of the Christmas shoe box appeal.James Glennon 9A1 Excellent contribution towards the Christmas Shoebox Appeal.Elliott Simas 9A2 Always polite, respectful and also working well in maths lessons.Maria Farthing 9B1 Increase in House Points reflecting a positive 'can-do' attitude.Harrison Clements 9B2 Always helpful and always ready to learn and be involved.Josh Lucas-Portelli 9A1 For overall improvements with an increase of 4 house points and no demerits.Samantha Fletcher 9A2 Highest number of house points.Caiden Chappell 9B1 Improvement over the week with an increase in house points and a reduction of demerits.Daniel Blair 9B2 Very positive in PE and most house pointsBradely Harris 9A1 For picking up the most merits, helping me to keep track of time and always having a full kit of stationaryLuca Mazewski 9A2 Highest number of house points last weekSophie Bibby 9B1 Recommendation from PE: attitude and progress in NetballRomilly Fountain 9B2 Always giving her best in lessons and during tutor timeEmily Buttle 9A1 Emily was selected by confidential tutor vote - the tutor group nominated her for being helpful, smart, creative and good listener.Noah Kempshall 9A2 Well behaved and hard working studentJake Waller 9B1 Increase in HP- good attitude to lessonsJoshua Hubbard 9B2 Always having a positive attitude Lily Amy 9A1 Most popular vote within the tutor group for her work outside of school by supporting small children learning how to swim and for being a reliable friend.Kitty Palmer 9A2 High attendance, works hard, an example to others.Shay Glover 9B1 Consistently doing the right thing, polite and considerate to everyone, everyday.Elizabeth Sparks 9B2 99% attendance, many house points, 0 demerits. Always ready to learn and do as requested.Stars of the Term continuedThe Priory Press28
Page 29
Harry Brett 10A1 100% attendance since half term and for also making a concerted effort to catch up work.Holly Abbott 10A2 For being consistently excellentEmma Roberts 10A3 For her maturity and helpful natureTaylor Ward 10B1 Consistent effort and resilience when things get difficultVaughan Newman 10B2 For being a thoughtful friend and leading the way for housepoints in our group this week!Louisiana Hearn 10A1 100% attendance & persistent effortCam Snook 10A2 A consistent positive attitude and for helping out with the tie consultationLily Kay-Hoather 10A3 Excellent involvement and support with the tie consultationErica Fanlo Doane 10B1 Excellence across the boardAmy Rogers 10B2 Impressive work on the Art trip and an increase in HP's Daniella Kent 10A1 100% attendance and 5 Housepoints last weekMegan Russell 10A2 Perseverance with work, especially in FrenchLuna Fernandes-White 10A3 Commitment to form timeArchie Clipperton 10B1 Most Housepoints in the Tutor Group Ryan Edgar 10A1 Housepoints 100% attendanceFinlay Reed 10A2 Great week with House Points and 100% attendanceToby Rawlinson 10A3 HousepointsEthan Walsh 10B1 Working well across all subjectsAlex Angus 10B2 Excellent work in Food TechGeorge Johnson 10A1 Housepoints and attendanceJemima Dixon 10A2 Great week with Housepoints and 100% attendance Matt Hagan 10A3 Improvement in Tutor timeEvan Cornwell 10B1 Participation in the cross country and doing so well Eden Muckle 10B2 Working hard across all subjects and increasing House Points over the weeksJamie Sharpe 10A1 4 housepoints and 100% attendanceBen Long 10A2 Housepoints and 100% attendanceToby Rawlinson 10A3 Housepoints!Millie Deloford 10B1 Excellent high standards all of the timeStars of the Term continued29The Priory Press
Page 30
Maia Ciolac 11A1 Excellent all round effort and highest house points in the groupAshleigh Matcham 11A2 Great start to year 11. Working hard across all aspects of school.Emma Coles 11A3 Her effort in all aspects of school life has been outstanding.Ruben Cornelius 11B1 Showing a conscientious attitude to studies this term. Oliver Foskett 11B2 Consistent and sustained effort in all subjects this half term!Amelia Jordan 11A1 Determined and continuous effort since the start of term.Charlie Nichols 11A2 Showing an improvment to learning after half termLaura Pusey 11A3 Lots of effort in all subjectsLuke Overington 11B1 Excellent work this term in EnglishConnor Bethell 11B2 Excellent effort and attitude since return to schoolZoe Nicholls 11A1 Has had a positive weekMia Cooper 11A2 Settled and focused in lessonsSean Norton 11A3 A postive person who contributes to the schoolEllie Green 11B1 Making good progress in lessons and contributing around schoolOscar Chemlinski 11B2 For showing effort and dedication in his role with the YearbookBryn Griffin 11A1 Good effort this week with housepoints achievedHannah Flashman 11A2 Outstanding contribution to the communityElise Hollis 11A3 Exemplary record and student in general.Noah Jolly 11B1 Boxing competitionScarlet Glover 11B2 Most housepoints in the tutor group last week and continious commitment to her prefect dutiesZach Tracey 11A1 Making good progress in lessons and showing improvementDaisy Livey 11A2 Consistent and sustained effort in all subjectsRuby Roberts 11A3 Showing good improvement and focus in several subjectsEdie Blythe 11B1 Gettting involved in the school comunity baking for charityChloe Fletcher 11B2 Always focussed and exemplary behaviourLola Badderly-Watts11A1 Sustained effort and one of the most housepoints in the tutor groupJack Milner 11A2 Consistently well performing across subjectsCameron Cobb 11A3 Helping in tutor time and had a positive few weeksHannah Pepe 11B1 Excellent attitude to independent study and revision clubsPoppy Calicott 11B2 Positive and working hard to make progressAmelia Jordan 11A1 Quetly hard working and determined all term and showing resilience.Lewis Conway 11A2 Excellent effort in all subjects, great attitude to learning. On track and exceeding across all subjectsFaith Harding 11A3 A really positive term showing a good attitude and aptitude for learningPhoebe Bernal 11B1 A very hard working student who has shown great resiliance and keeps smiling.Mary Rennles 11B2 Excellent focus throughout the term and has worked really hard to attend revision and take control of her own learningCharlie Elphick 11B1 Determined, focused, engaging and helpful. Working hard to catch up, meet targets and exceed expectations.Jessica Beckett 11A2 Quietly confident, diligent and studious. Taking control of her learning in a positive way and contributing to the community.The Priory Press30
Page 31
Advice for parents and carersA lot of us will continue to rely on technology over the winter break, for entertainment and keeping in touch with friends and family. Here are three articles about how to help parents and carers keep their children safer online over the festive period. Privacy settingsA guide for parents and carers. Children love to socialise and share online. This article looks at privacy settings and how they can help your child to manage the content they share and who they connect with.https://www.thinkuknow.co.uk/parents/articles/a-parents-guide-to-privacy-settings/Gaming What parents and carers need to know. It can be difficult to keep up with the latest games and how they work. This article looks at key safety concerns and how you can support happier, safer gaming for your child.https://www.thinkuknow.co.uk/parents/articles/gaming/What is the Internet of Things (IoT)? Our daily lives have become more connected than ever before. Internet-connceted devices can be found everywhere, from smart speakers to Bluetooth-enabled toothbrushes. These devices have also changed how children interact and play, altering our and our children's daily lives.https://www.thinkuknow.co.uk/parents/articles/what-is-the-internet-of-things-iot/31The Priory Press
Page 32
Page 33
We would like to wish all our students and their families a restful Christmas and a happy and healthy 2022.
See you in January.