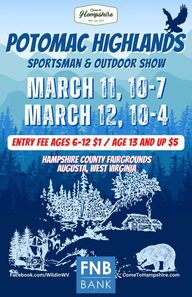 Return to flip book view
Potomac Highlands Sportsman & Outdoor Show 2023
Page 1
Potomac HIGHLANDS Sportsman Outdoor Show March 11 10 7 March 12 10 4 Entry fee Ages 6 12 1 Age 13 and up 5 Hampshire County Fairgrounds Augusta West Virginia Facebook com WildInWV ComeToHampshire com
Page 2
Explore the Potomac Highlands of West Virginia!A sampling of everything younever knew West Virginia has tooffer at the Potomac HighlandsSportsman & Outdoor Show.
Page 3
FREE PARKING NO PETS NO LOADED WEAPONS Potomac Highlands Sportsman Outdoor Show March 11 10am 7pm March 12 10am 4pm For The Kids Bounce House Kids Activities 10 4 on Saturday Laurel Fork Falconer Shows that s for everyone on Saturday Sunday at 11am 2pm Entry fee Ages 6 12 1 Age 13 and up 5 Hampshire County Fairgrounds 173 Fairground Dr Augusta West Virginia
Page 4
Potomac HIGHLANDS Sportsman Outdoor Show BIG BUCK CONTEST You re invited to bring your mounted bucks to the Potomac Highlands Big Buck Contest to be held in conjunction with the Potomac Highlands Sportsman Outdoor Show at the Hampshire County Fairgrounds in Augusta West Virginia Mounts can be dropped off on Friday evening March 10 from 4pm 7pm but no later than Saturday at noon Mounts MUST remain at the show until 3pm on Sunday March 12 Contestants will be asked to fill out a registration card for each entry No mounts will be allowed to leave the exhibit without a numbered receipt Anyone with a mount for the competition will receive free entrance into the show on Saturday Sunday Winners will be determined by the highest score In the event of a tie the judging committee will select the winner by drawing BIG BUCK Contest Rules Mounts can be dropped off Friday evening from 4 7 or Saturday morning from 10 12 Mounts must remain at the show until 3pm on Sunday Contestants will be asked to fill out a registration card No mounts will be allowed to leave the exhibit without a numbered receipt This numbered receipt will correlate to a registration tag that will stay with your mount which will be put on display at the show All registered hunters must comply with the rules regulations set forth by the West Virginia Department of Natural Resources or in accordance with appropriate rules in which State the animal s is are harvested All scoresheets and photographs of registered entries and their animal become property of the Potomac Highlands Outdoor Sportsman Show and may be used for future promotions and or advertisements Potomac Highlands Outdoor Sportsman Show reserves the right to add or alter rules at its discretion Scoring Points Inside Spread x 3 Left Beam Circumference x 4 Total Highest Score Wins In the event of a tie the judging committee will select the winner by drawing Prizes Age 18 over 1st place Howa Model 1500 308 2nd place Ruger 10 22 Mule Deer 3rd place 100 Cash Prizes Age 17 under 1st place 100 cash 2nd place 75 cash 3rd place 50 Cash
Page 5
Potomac HIGHLANDS Sportsman Outdoor Show BIG BUCK CONTEST Prizes Age 18 1st place Howa Model 1500 308 2nd place Ruger 10 22 Mule Deer
Page 6
The mission of the National Wild TurkeyFederation is the conservation of the wildturkey and the preservation of our huntingheritage.https://www.nwtf.org/
Page 7
The mission of the National Wild Turkey Federation is the conservation of thewild turkey and the preservation of our hunting heritage.https://www.cometohampshire.com/wildinwv
Page 8
r iste Reg m 0a at 1 test Con at rts Sta m 11 a POTOMAC HIGHLANDS CLASSIC NWTF SANCTIONED CALLING CONTEST POTOMAC HIGHLANDS OUTDOOR SHOW 173 FAIRGROUND DR AUGUSTA WV MARCH 11 2023 All contestants competing in the PHC must be a current member of the National Wild Turkey Federation Members should have a card to prove their membership Memberships may also be purchased on site the day of the event Contestants 18 years and older must be current NWTF member 35 Contestants 17 years and younger must be current JAKES 10 00 member Entry fees are as follows Open Division 20 Friction Division 20 Amateur Division 20 Youth Division 15 Owl Hooting Open Division 35 Gobbling Open Division 20 Winners of the Open and Friction divisions will be qualified for the Grand National Calling Contest Feb 2024 Open 600 total 1st 200 2nd 150 3rd 100 4th 75 5th 50 6th 25 Friction 600 total 1st 200 2nd 150 3rd 100 4th 75 5th 50 6th 25 Amateur 420 total 1st 150 2nd 100 3rd 75 4th 50 5th 25 6th 20 Youth 165 total 1st 50 2nd 40 3rd 30 4th 20 5th 10 6th 5 Owl 330 total 1st 100 2nd 80 3rd 60 4th 40 5th 30 6th 20 Gobbling 330 1st 100 2nd 80 3rd 60 4th 40 5th 30 6th 20
Page 9
https://wvdnr.gov/Acres of wide-open public lands. Expansive lakes and flowingstreams. Abundant wildlife that calls the mountains home. This isWest Virginia. A place where you can discover nature in a new wayand enjoy world-class hunting and fishing opportunities.Sponsor of the Potomac Highlands Sportsman & Outdoor Show.
Page 10
Page 11
2nd Mo st Sear ched Show o n Pursu it Channe l God Family Hunting Friends Watch Episodes Here https pursuituptv com bone shack outdoors Jody Frye is the C E O of Bone Shack Outdoors His love for hunting started at the early age of six while hunting with his grandfather Those early years are what have fueled his passion for hunting Jody has taken several mature animals with his largest whitetail scoring over 190 He is a father coach and business man God family friends and hunting are his life The love of hunting and building friendships over the years has taught Jody many things that he can now pass on to his children as they are learning to hunt and love the outdoors Jody has lead Bone Shack Outdoors through 7 seasons airing on National TV on the Pursuit Channel and season 8 will be airing this spring Joey Charlton was born and raised in the small town of Kirby WV He is a proud Christian family man coach businessman and of course a hunter Joey is a Real Estate agent that specializes in recreational land but can also find you the home of your dreams Like many of you he has a very busy schedule but when he is able to sneak away for some free time you will find him in a tree stand pursuing his passion of hunting Joey has always enjoyed spending time in God s creation and hunting mature animals Hunting provides him a gateway to fuel his competitive spirit and allows him to spend valuable time with family and friends Additionally Joey loves America and was handpicked by Turning Point USA to be one of their 300 National ambassadors https www BoneShackOutdoors com
Page 12
Just Pawn It, LLChttps://www.facebook.com/justpawnitincbFFL Dealer-Details to Follow on Gun Purchases at Show
Page 13
2A Firearms 2A Firearms is a FFL licensed firearms dealership located in Lost City West Virginia https www facebook com 2AFirearmsWV
Page 14
Potomac HIGHLANDS Sportsman Outdoor Show Gun Purchases Just Pawn It LLC a gun and firearm FFL Dealer from Capon Bridge West Virginia 2A Firearms will be at the Potomac Highlands Sportsman Outdoor Show and will have guns for purchase at the show Below is a condensed list of regulations followed by a link to ATF Information 5300 23A available online The regulations from that publication as they pertain to residents and non residents of West Virginia are also listed below Just Pawn It LLC 2A Firearms will follow ALL rules and regulations in place NO EXCEPTIONS and please keep in mind that forms background check etc does take time so please be patient during the process if you are purchasing a firearm Regulations Must be 18 years or older to win purchase rifles Must be 21 years or older to purchase handguns Valid Driver s License or Picture ID required Background check required and will be done at the show Handguns must be transferred to the state your driver s license is issued Non residents of WV have to adhere to rules based on their state of residence information will be provided by the FFL dealer at the show Buyer is responsible for any shipping transfer fees NO LOADED FIREARMS NO EXCEPTIONS https www atf gov firearms docs guide importa nt notice dealers and other participants gunshows atf i 530023a download
Page 15
Laurel Fork Falconerhttps://laurelforkfalconry.com/
Page 16
Potomac Highlands Sportsman Outdoor Show March 11 12 Hampshire County Fairgrounds Meet the Laurel Fork Falconer Showtimes 11am 2pm on Saturday Sunday One of the youngest licensed Master Class Falconers in the state of West Virginia Collin has been practicing falconry since he was 14 years old He started this adventure by trapping his first falconry bird a Red Tailed Hawk named Ace from the wild Collin has also trained an American Kestrel for the Carnegie Museum of Natural History in Pittsburgh PA and is one of the youngest people in the US at the age of 18 to work with a Bald Eagle The Bald Eagle Mr Spectacular is a non releasable bird and is now an educational ambassador Collin is a homeschool graduate and that in itself allowed him to follow his passion as a falconer and educator hoping to impact his home state of West Virginia by providing educational presentations that help people understand the nature of birds of prey and help people realize that they are a very important part of the environment in which we live Right after graduation he spent 10 months working at the Ararat Ridge Zoo located at the Ark Encounter in Williamstown KY Armed with over 9 years of experience being a falconer working with a Raptor Rehab Center and the Ararat Ridge Zoo Collin has worked with a number of different birds including some that a raptor would consider lunch Collin was the Executive Director of a raptor rehab center in West Virginia for over a year and traveled more than 10 000 miles doing Raptor Educational programs In the summer of 2022 Collin presented a falconry program for the Embassy of the Czech Republic and the European Union in Washington DC People are often amazed at Collin s God given talent of working seemingly effortlessly with birds Of course if you ask him he will assure you that there is more to training birds than what meets the eye
Page 17
Learn About theWild Side ofWest Virginia!
Page 18
Find the Equipment You Need to Homestead, BlazeYour Own Trails, or Grow your own Food Plots! OR- plant a garden for you & your family!Mahindra TractorsStihl ChainsawsHustler Mowers
Page 19
I have been an artist for a long time. I just did not have the courage to put my work out there foreveryone until now. A recent health scare, the pandemic, and the perspective of grandchildren haveall helped move me to the creation of TroutMountainWorks. I was classically trained and have experience with a wide range of media including oils, acrylic,watercolor, pastels, pen and ink, sculpture and illustration. Until recently I only did work forfamily, friends, and myself. Now I want to bring my work to others who share a passion for theoutdoors and artwork that brings a smile. I was fortunate to travel North America extensively while hunting and fishing. But it is not theanimals or fish that I remember most, it is the images, the mountains, the rivers, trees, flowers,rocks, northern lights, colors and textures, that I hold dear. From the Torngat Mountains inLabrador to Cabo San Lucas Mexico, from the Salmon rivers of Bristol Bay Alaska to the Zane GreyBar in Islamorada Florida, I have a lifetime of photographs to help me paint and to inspire me goingforward. Like Carl Rungius, my art hero, from a hundred years ago, I work from photographs andwhen I am not outside, I am in my studio. With the assistance of my sons, Andrew and John, we hope to make TroutMountainWorks amemorable experience for you and for us. Inspired by the outdoors and all its wonders, we areproviding creations for the outdoor enthusiast. Thanks for visiting with us.https://troutmountainworks.com/
Page 20
www.hometownsolutionswv.com/Welcome to HomeTown Solutions—another greatbusiness brought to you by the Bohrer family. We areexcited to serve the customers in our hometown ofAugusta, WV. Stop in and be greeted by the friendliest staff, getprofessional advice on your project. Come in with anyhome improvement questions, and our team will help youfind the best solution and show you exactly what youneed.When you choose HomeTown Solutions for all your home-improvement and hardware supplies, you will leave ourstore as another satisfed customer.We are 100% committed to ensuring our customers leaveour store feeling completely satisfied with their HomeTown experience.
Page 21
Liberty Gun Safeswww.hometownsolutionswv.com/
Page 22
Local Shop in Augusta, WV carryingfirearms, ammunition, optics,reloading products, and huntingaccessories.https://www.facebook.com/mountainammunition
Page 23
Eastern WV Community & Technical Collegehttps://easternwv.edu/For over 20 years, Eastern has been serving theeducational needs of the Potomac Highlands throughoutGrant, Hampshire, Hardy, Mineral, Pendleton, and Tuckercounties. Eastern students receive a high-quality, hands-on learning experience in state-of-the-art classroomsand laboratories. We offer personalized attention toindividual educational and career goals and customsolutions that are unmatched in our region.MISSION, VISION, AND VALUESEastern's mission is to provide accessible and affordableeducational opportunities for academic, technical,workforce training and life-long learning for thePotomac Highlands regional community.
Page 24
Are you ready to take on the world?Are you ready to take on the world?Having a weekend adventure?Having a weekend adventure?Preparing for your first campingPreparing for your first campingexpedition? Look to us for the highexpedition? Look to us for the highquality vehicles you need.quality vehicles you need. https://fortashbycampers.com/
Page 25
The Haines Companyhttps://www.facebook.com/thehainescompany
Page 26
The Haines Companyhttps://www.facebook.com/thehainescompany
Page 27
Campers Have S'moreFun!Dave's Welding
Page 28
Fort Ashby VFW #6667All Gave Some, Some Gave Allhttps://www.facebook.com/FortAshbyVFW
Page 29
https://reaperbaitco.com/Here at Reaper Bait Company, We takepride in every lure that gets sent out toevery customer! Our main focus is toprovide a quality lure with eye catchingdesigns and fish catching action.
Page 30
Custom T-Shirts, Hoodies, Hats, Hunting Supplies, Dog & Cat Food, Supplements, Deer Attractant Terminal Game Calls, Key Chains, Window Decalshttps://www.facebook.com/profile.php?id=100063531876175
Page 31
D & G Equipment SalesThe toughest tractors on Earth. These dependable,rugged, and value-packed beasts offer the ultimateversatility and plenty of power for any home or municipalproject. You can purchase loaders, mid mount mowers,backhoes and snowblowers for the front and rear.https://dandgequipment.com/Buy red,SAVE GREEN
Page 32
Veteran operated, non-profit Organizationthat provides outdoor opportunities to ourdisabled Community Members.https://www.facebook.com/OperationHeroesSupport
Page 33
Wood Duck Carvingshttps://www.facebook.com/groups/380066116573712
Page 34
https://www.highqfuncars.com/
Page 35
Susan Carroll will be on hand offeringchildren's activities! Susan proudly servesJefferson, Berkeley, Morgan, Hampshire,Mineral,Grant, Hardy and Pendleton Counties.https://dep.wv.gov/environmentaladvocate/yep/Pages/default.aspx
Page 36
For over 20 years, we have strived to bring the absolute best softgun cases to the market. Staying deeply rooted in our ruralcommunity and being steadied by American values only strengthensthat commitment.Using only American made 1000d Cordura that is DupontPolyurethane backed, along with high quality foam fromPennsylvania, ensures years of carefree durability and reliability.Soft commercial grade fabric liner ensure the firearm's finish isprotected and our optional fully adjustable Molle tie down systemwill keep the firearm safely in place, protecting the optic andaccessories during transport. Self-repairing zipper and slider willkeep you from being stuck in a situation and an attached d-ring forlocking to the slider for added security.Offering gun-specific cases and an array of sizes allows the customerto choose a product made to fit their firearm properly. Today'sfirearm industry provides many options and accessories tocustomize an individuals rifle or pistol to fit their specific use. Weoffer the ability to adjust to those needs, and configure cases foraddition of suppressors, larger optics, and bi-pods etc. FromDerringers to Goose Guns, Unique Cases has them covered! https://uniquecases.com/U n i q u e G u n C a s e s
Page 37
Dave's Weldinghttps://www.facebook.com/profile.php?id=100057282256471
Page 38
Timbrook FordKeyser, West Virginiahttps://www.timbrookford.net/We are proud to be your local Ford dealerand meet your service, new car sales andused car sales needs! We have all of thelatest Ford trucks, Ford cars, Ford SUVs,Crossovers and Hybrids, from the best-selling F-150 and Super Duty trucks to ourfull car line.
Page 39
WHITETAIL PROPERTIES REAL ESTATE, LLCLAND FOR SALehttps://www.facebook.com/DrewBaggarlyWP/Find Your Middle of Nowhere
Page 40
https://www.wvdeer.org/WEST VIRGINIA DEER ASSOCIATION
Page 41
Augusta Volunteer Fire CompanyAugusta Volunteer Fire Company https://www.augustavolfireco.com/shop/The Augusta Volunteer Fire Company was establishedon November 25, 1955. We were the second firecompany to form in Hampshire County. We organizedwith 54 charter members and the company wasofficially charted on August 27, 1956. Our first meeting was held at the Augusta ElementarySchool. We voted towards the purchase of a fireengine. We bought a 1934 Ford fire engine from MarionFire Company in Marion, Pennsylvania. Our secondengine was a 1963 Ford fire engine. The original fire station was located just past Ford HillRoad, across from Dewey's Appliances in what wasMountain Ammunition Supplies on Route 50. In 1980,we purchased the land across from L&M Market andbuilt a three-bay station with a dining hall. In 2001, webuilt on four more bays, making a seven-bay station tohouse all our trucks in single file. Our station is alsoequipped to land medivac with a helicopter landingpad in the field behind the firehouse. Currently, we have three engines; 1990 Ford Pierce,2002 KME engine/tanker, and a 2006 KME custom; a2012 KME International Rescue, 1995 Ford S&S Mini-pumper, and a 2002 Ford F-350 brush truck. We stillutilize our 1963 Ford, but it is more or less retired. It isour pride and joy and we are maintaining it withrestoration and it still has all its equipment. There are approximately 50 members volunteering inAugusta Fire Company. Many are third and fourth-generation members. You Can Buy Tickets at thePotomac Highlands Sportsman &Outdoor Show!
Page 42
WHY CALL A CONVENTION OF STATES?Simple: to bring power back to the states and thepeople, where it belongs. Unelected bureaucrats inWashington, D.C. shouldn't be allowed to makesweeping decisions that impact millions ofAmericans. But right now, they do. So it all boils downto one question: Who do you think should decidewhat's best for you and your family? You, or the feds?We'd vote for the American people every single time.https://conventionofstates.com/
Page 43
Page 44
http://www.wvtrappers.com/
Page 45
https://valleyfertilizer.net/The Valley Fertilizer & Chemical Company, Inc., has beenserving the local agricultural community since 1937.Originally formed to serve the orchard industry, ValleyFertilizer, has expanded its horizons into other agriculturalventures to better serve the Shenandoah Valley andsurrounding areas. Valley Fertilizer offers a variety ofproducts and services, such as, bagged and bulk fertilizers,bagged and bulk ice melt, chemicals, orchard products,various seeds, fertilizer and lime spreading, customagricultural applications, soil sampling, nutrientmanagement planning, poultry litter ammonia control, andstorage facilities. Valley Fertilizer is a licensed pesticideapplication business in Virginia and West Virginia. ValleyFertilizer is also a seed dealer for Pioneer and NK (Northrup-King) seed products.THE VALLEY FERTILIZER & CHEMICAL CO., INC.PROVIDING AGRICULTURAL SERVICES SINCE 1937
Page 46
Cross Hairs Indoor Gun Range was founded by Betsy Delozier an avid gun enthusiast with a passion for responsible gun ownership The only indoor live fire shooting range in the area we offer six 75 foot lanes in a climate controlled setting We also provide various classes like taser defense NRA basic pistol training and a virtual reality training course No matter your age or experience level we ll provide you with a place to hone your skills in a completely safe clean and fun environment https crosshairsindoorgunrange com
Page 47
STS Taxidermy Hunting Supplies https www facebook com sts taxidermy
Page 48
wildflavor Chef Jeremy Critchfield has combined a lifetime in the outdoors and a 5 star culinary career to bring you HuntChef a resource to help everyone better prepare what they harvest from the woods and waters or the grocery store and garden https www huntchef com
Page 49
Bait Tackle Barn Mike Michelle Fort Ashby WV 301 876 8544
Page 50
CSVFC will be selling tickets at the show
Page 51
Page 52
Augusta Ruritan Club on the menu World Famous Country ham sandwiches hamBurgers Cheeseburgers Hotdogs Fries Soft Drinks
Page 53
With over a decade in the business we aretaking the grilled cheese to a whole new level.Formaggio!https://www.facebook.com/bricellos
Page 54
B-Rad's Pizzahttps://www.facebook.com/profile.php?id=100048134808077
Page 55
Drunken Sassy Moonshine SauceTry Our New Sauce,On Sale atthe Show!Delicious BBQ & Country Sides!Look for the smoke, we'll feed ya!https://www.facebook.com/gigsbbq
Page 56
Page 57
Appalachian Forest NHA Celebrate the Forest The Appalachian Forest National Heritage Area celebrates the central Appalachian forest its history culture natural resources and forest heritage We focus on cultural heritage conservation and tourism to support rural community development in western Maryland and the highlands of West Virginia THANK YOU THANK YOU THANK YOU THANK YOU THANK YOU THANK YOU THANK YOU This event was sponsored in part by a Tourism Development Grant from the Appalachian Forest National Heritage Area https www appalachianforestnha org
Page 58
Serving West Virginia communities for over 100 years! FNB Bank's mission is to facilitate a robust work environment in whichour team is empowered to provide for our community's financial needswith a friendly focus on availability, accessibility, and adaptability.We've grown through the years to facilitate financial needs in variouscommunities throughout West Virginia. Our Romney, Capon Bridge andFort Ashby locations are full-service branch offices, while additionalATM services are available in Augusta, WV. FNB Bank in West Virginia - providing the right solution for yourfinancial needs!FNB Bank, Inc.https://fnbtoday.com/
Page 59
Our local businesses are putting out the welcome mat for you
Page 60
Page 61
Page 62
March 11 12 Potomac Highlands Sportsman OUtdoor Show our local businesses are putting out the welcome mat for you Traditional Recipe Made with Ingredients from the Farm MOONSHINE Flying Buck Distillery 13841 Northwestern pike Augusta WV
Page 63
March 11 12 Potomac Highlands Sportsman OUtdoor Show our local businesses are putting out the welcome mat for you A farm to table varied menu featuring home style cooking with world class international flair Crystal Valley Restaurant Saloon 222 Private Ranch Rd Romney WV
Page 64
Page 65
March 11 12 Potomac Highlands Sportsman OUtdoor Show our local businesses are putting out the welcome mat for you The Little Place with a Big Heart Come in as Strangers Leave as Friends ay aturd S n e Op m 6 30a oon until N Romney Diner 44 N marsham st Romney WV
Page 66
Page 67
Page 68
Page 69
Page 70
March 11 12 Potomac Highlands Sportsman OUtdoor Show our local businesses are putting out the welcome mat for you Made In West Virginia Bent River Trading Co 3464 Northwestern Pike Capon Bridge WV
Page 71
March 11 12 Potomac Highlands Sportsman OUtdoor Show our local businesses are putting out the welcome mat for you Fashion Boutique The White House on Main 205 E Main street Romney WV
Page 72
March 11 12 Potomac Highlands Sportsman OUtdoor Show our local businesses are putting out the welcome mat for you A fresh take on rustic decor Farmhouse Studio 2675 Slanesville Pike Points WV
Page 73
March 11 12 Potomac Highlands Sportsman OUtdoor Show our local businesses are putting out the welcome mat for you Great Food Great People Great Times On Main Street or at The Diner Main Street Grill Main Street Diner Romney Slanesville
Page 74
March 11 12 Potomac Highlands Sportsman OUtdoor Show our local businesses are putting out the welcome mat for you Local Food Local People Farmer s Daughter Market Butcher 2908 Northwestern Pike Capon Bridge WV
Page 75
March 11 12 Potomac Highlands Sportsman OUtdoor Show our local businesses are putting out the welcome mat for you Country Primitive Decor The Country Store on Main 205 E Main street Romney WV
Page 76
March 11 12 Potomac Highlands Sportsman OUtdoor Show our local businesses are putting out the welcome mat for you Quality products for great prices New Leaf Greenhouse Market LLC 34040 Northwestern Pike Burlington WV
Page 77
March 11 12 Potomac Highlands Sportsman OUtdoor Show our local businesses are putting out the welcome mat for you Fresh Local Produce Spring Valley Farm Market 22580 Northwestern pike Romney WV
Page 78
March 11 12 Potomac Highlands Sportsman OUtdoor Show our local businesses are putting out the welcome mat for you Daily Specials at the Diner JJ s Diner Deli 15105 Ford Hill Rd Rio WV
Page 79
March 11 12 Potomac Highlands Sportsman OUtdoor Show our local businesses are putting out the welcome mat for you Great Food Great People Great Times On Main Street or at The Diner Main Street Grill Main Street Diner Romney Slanesville
Page 80
March 11 12 Potomac Highlands Sportsman OUtdoor Show our local businesses are putting out the welcome mat for you Life Begins After Coffee Romney Brew Station 43 West Main St Romney WV
Page 81
March 11 12 Potomac Highlands Sportsman OUtdoor Show our local businesses are putting out the welcome mat for you Delicious Subs Burgers Pizza Wings Sides Salads Ice Cream Cheryl s Snack Shack 3926 Paw Paw Rd Paw Paw WV
Page 82
Rest Your Head Koolwink Motel South Branch Inn
Page 83
Come To Hampshire Around the Area Capon Springs Capon Springs Farms Capon Bridge area Food El Puente Farmer s Daughter Market Butcher Anthony s Jr Pizza Jesse James Outlaw Bar Grill American Legion The Kettle Stop The River House Shop Bent River Trading Co Farmer s Daughter Market Butcher The River House Sherrard Auction Co Just Pawn It LLC Liberty View Quilt Shop Rose Jane Vintage Visit Ice Mountain Ravens Rock Buffalo Gap Retreat Fort Edwards Archeological Site Museum Cacapon River Stay Basswood Buffalo Gap Retreat On the way to Augusta from Capon Bridge Smith s Fruit Stand on Cooper Mountain Flying Buck Distillery Big Riggs Farm GreenSmith Farms in Pleasant Dale Bloomery Omps Grocery Slanesville Area Shop Slanesville General Store Farmhouse Studio Food Tavern 29 Main Street Diner Visit Ice Mountain Augusta area Food Four B s Pizza Subs El Centro L M Market Shop White Oak Consignments HomeTown Solutions On the way to Romney from Augusta Rt 50 Biscuits Burgers Romney area Food Romney Diner Italian Touch Main Street Grill Lost Mountain BBQ Shop Hampshire County Co Op Anderson s Corner White House on Main Country Store on Main Romney Cycles Visit Trail at Fort Mill Ridge Civil War Trenches Walking Tour of Romney South Branch River Stay at the Koolwink Motel or South Branch Inn