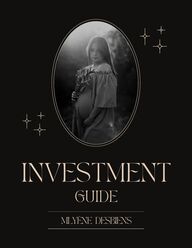 Return to flip book view
Portrait Investment Guide
Page 1
GUIDEINVESTMENTMLYÈNE DESBIENS
Page 2
Frequently askedquestionsThe process010203040506Hey! I'm Mylène! PackagesTABLE OF ContentsReviewsPortfolio07Contact me
Page 3
Let me tell your story through imagesBased out of Ottawa. Ontario, I've been doing photography for over five yearsnow. I aim to shoot in a lifestyle format, which is a branch of photographythat aims to take portraits of everyday life situations or events, in an artisticway.The goal is not just to take pretty pictures, but to capture this excitingstage of your life, as it is now. Hello! I'm Mylène!
Page 4
Whether it's over the phone,video conference, over a nicecup of coffee or tea, the firststep is getting to know eachother! If you decide to workwith me, I will send you thecontract.Once the contract is signed andyour deposit paid, I will officiallyput you on my calendar! Thenwe will discuss your vision andwhat you plan for your session:clothing, location, time ofday...etc.You'll want to look your best onthe big day, and a first step todoing that would be to getenough sleep the night before.Give yourself more time toperfect your wardrobe, do yourhair and get on the road. Youwill be able to enjoy a fewmoments of relaxation beforestarting.01 02 03HOW THEPROCESS WORKSI am there with you every stepIt all starts with adiscovery callFun times & planningit all out hereImplementation forthe big day
Page 5
YOU HAVE QUESTIONS ?Q: What sets you apart from other photographers? A: With years of training under my belt, I know how to pose andguide clients to make them feel relaxed while looking their verybest. I use natural lighting as often as possible and make sure mysessions are intimate & fun! Q: Will we get the print release to our photos after our session? A: Yes! Upon receiving your images, you will also get a full printrelease. Q: Will my photos be posted publicly on your site or social media? A: I respect your privacy and allow each client to decide whether ornot they want their photos displayed publicly. I'd love to show offyou & your images, if you're game! If not, that's okay, too. Your day,your way! Q: Will our photos get featured in a magazine or blog? A: While some of our sessions do get featured, this isn't somethingthat is guaranteed. Most publishers are interested in uniquelydesigned weddings.
Page 6
I HAVEANSWERS.Q: Will you retouch my images to hide any unwanted spots, wrinkles,etc? A: Minor edits will be made to all of your images, but I believe ourimperfections are what make us beautiful & unique. If there are specificedits you want, these will be charged according to the number andcomplexity of edits. Q: Do I have to order prints through you? A: I highly recommend ordering prints through one of my professionalvendors, but it isn't required. The difference in quality is huge when itcomes to ordering through a professional lab, so I always love to helpwith prints! Q: What equipment do you use? A: I use all Canon equipment. I always carry two R6 Mark II, a 24-70mmf/2.8, a 70-200mm f/2.8, an 85mm f/1.2 and a minimum of two flashesamong other items. Q: Are the people featured on your site models? A: No! I am lucky enough to work with gorgeous clients ,all the imagesshown on my site and blog are of regular, paying clients.
Page 7
Page 8
Page 9
Page 10
Page 11
Mylene is hands down the best! She has a verykeen eye for details, always takes stunningpictures, talented, she takes time and pride in herwork.L I S A & J E S S EWhat they said
Page 12
S T E P H A N I E & S T E V EMylène has the innate ability to capturelove and all of life's greatest moments.Her passion for photography ispalpable. Mylène put us at ease withher easy going approach, all whilegiving us direction when needed.
Page 13
SessionpricingPortraitI N C L U D E Spackage n°1350$+ Quiz + Pinterest Board+ One hour session+ One location+ Two changes of clothes+ Online Gallery+ Minimum of 25 edited images+ Printing rightsS T A R T I N G A TPortraitI N C L U D E Spackage n°2500$+ Quiz + Pinterest Board+ One and a half to two hour session+ Two locations+ Three changes of clothes+ Online Gallery+ Minimum of 50 edited images+ Printing rightsS T A R T I N G A T
Page 14
Page 15
emily MARIEMylène DesbiensWEBSITEEMAILPHONESOCIALWWW.MYLENEDESBIENS.CAINFO@MYLENEDESBIENS.CA705-498-3025@MYLENEDESBIENSC O N T A C T M E A N Y T I M E , B Y T E X T ,P H O N E O R E M A I L , F O R M O R EI N F O R M A T I O N A B O U T M Y S E R V I C E S .THEBEGINNINGOF A LONG &BEAUTIFULFRIENDSHIP